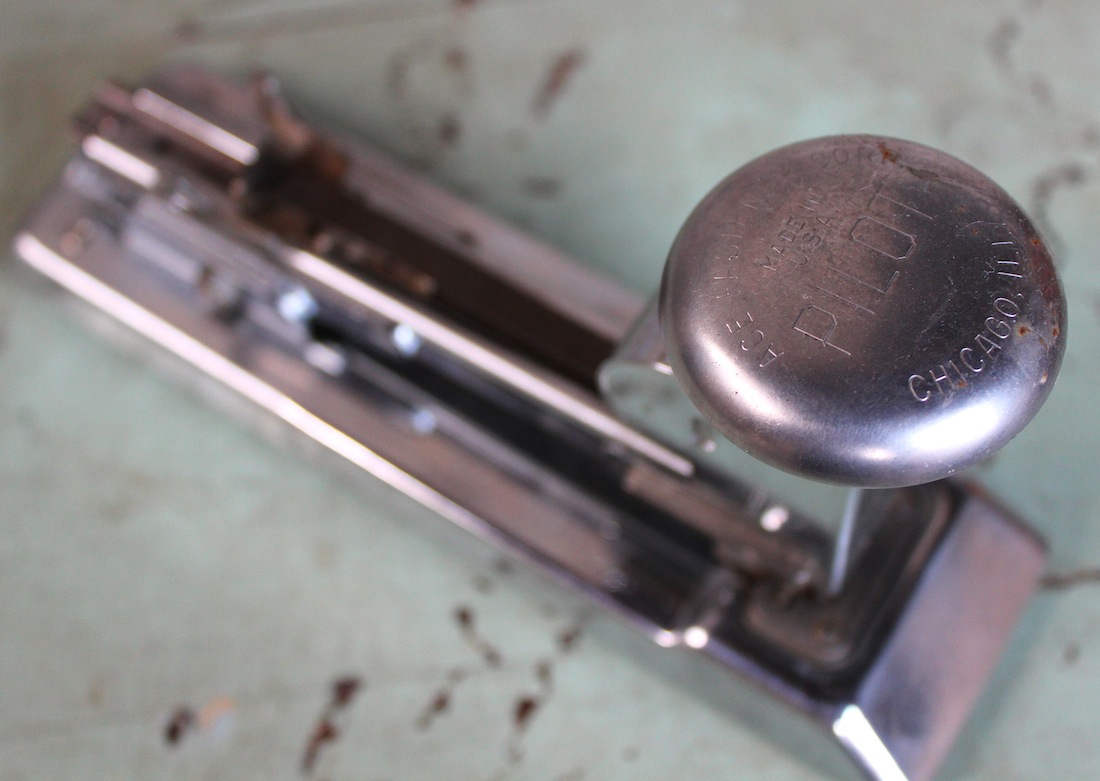 Museum Artifact: Ace Pilot Stapler 404, c. 1950s
Made by: Ace Fastener Corp., 3415 N. Ashland Ave., Chicago, IL [Lakeview]
Trying to pinpoint the age of an Ace Pilot stapler—much like trying to figure out the complicated history of the Ace Fastener Company itself—is a bit of an exercise in futility. This stylishly utilitarian 404 model of the Pilot was based on a patent that Ace acquired way back in 1938, but because the same steel-and-chrome design was reproduced with minimal alterations over the decades that followed, I can only really claim the artifact in our museum collection as "vaguely mid-century."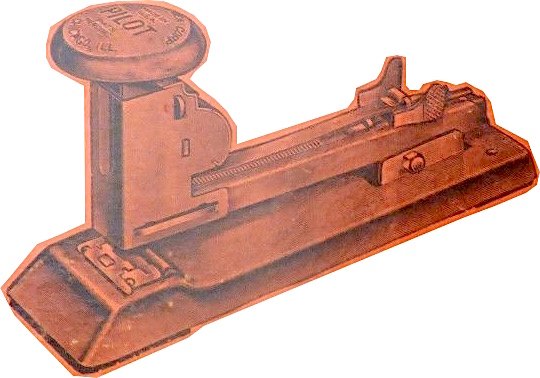 As late as the 1980s, the Ace Fastener Corp. (by then owned by the New York banking firm Dominick and Dominick) was still based in Chicago and still producing many of its famous brands—including the Pilot, Clipper, Aceliner, and Concorde—the same way they had for half a century.
"The Ace Pilot is the stapler that established Ace Fastener Company's reputation for High Quality Office Products," read a 1984 advertisement. "Pilots put on the job over 50 years ago are still performing flawlessly. This timeless design features heavy gauge all steel construction for the maximum service life in a desk top stapler. Clean functional lines are accentuated with durable chrome plating and non-skid rubber pads protect your work surfaces. The Ace Pilot has a stapling reach of 3-3/8″ and a magazine load of 210 Pilot Standard Staples. For lasting beauty and time proven performance, choose a classic—THE ACE PILOT STAPLER."
Based on comments from visitors to the museum, many of those old vintage Pilots are STILL getting the job done even 30+ years after that advertisement ran. It's a pretty rare event in the ever-changing world of office supplies for a single product to remain relevant for this long with no major mechanical or technological changes. But by some magical confluence of genius and restraint, William Ferdinand Weber—inventor of the first Ace staplers—just knocked it out of the park.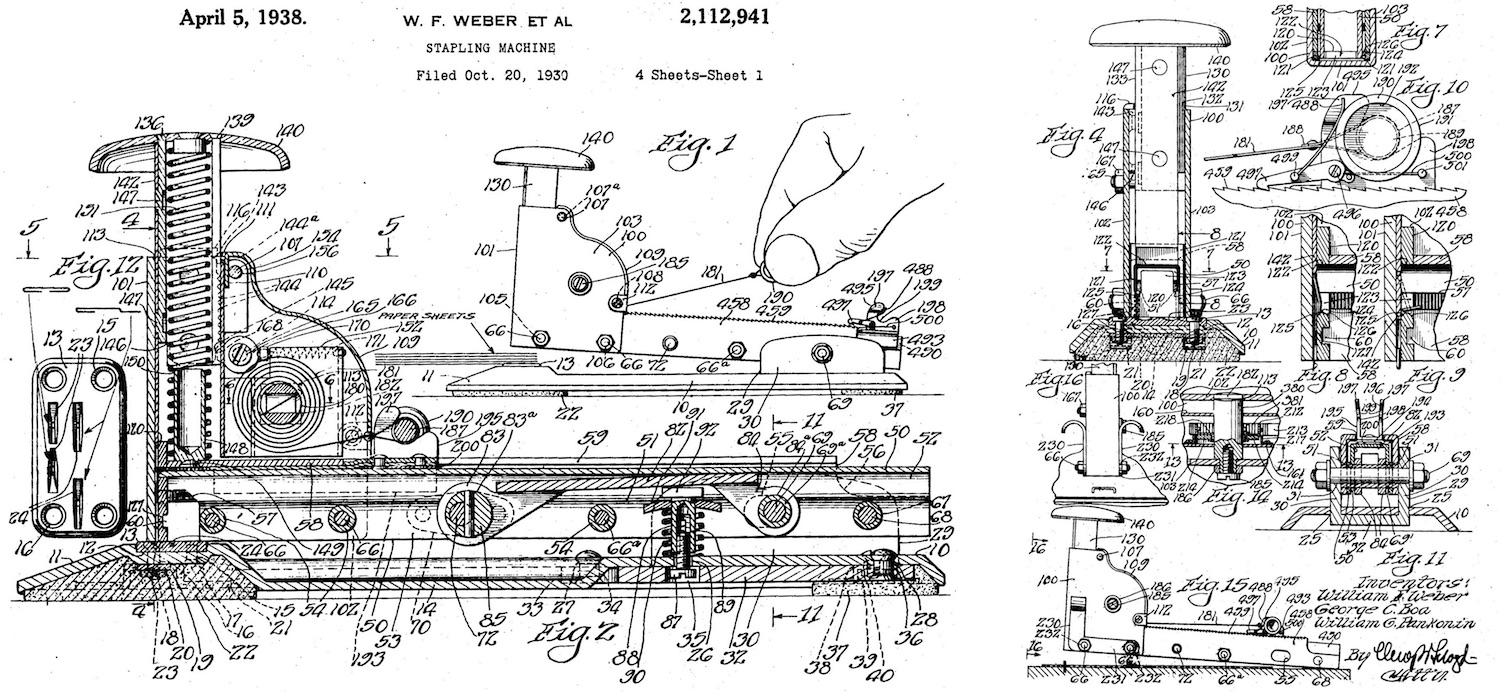 [Patent drawing for the original Ace Pilot Stapler, approved in 1938, and invented by Ace vice president William F. Weber]
Sadly, we don't know a hell of a lot about William Weber's road to glory. Despite his major contributions to the world of office supplies, Weber and the company he helped found and lead are both surprisingly shrouded in mystery (and that goes for its current incarnation, as well, as you will soon find out). Some sources date the origins of the Ace Fastener Corp. as far back as 1919, while others settle closer to 1930, when Weber applied for one of his first stapler patents. The earliest mentions I could find in newspaper archives pop up in 1931. Any way you slice it, though, Weber's name consistently appears as the driving creative force during the company's formative era.
By 1938, when our Pilot model stapler was patented, Weber was 56 years old and serving as the Ace Fastener Corporation's Vice President. He had a handful of stapler patents to his credit, and was now seemingly focused on refining his original vision. Sadly, he would die just a few years later in his Evanston home at the age of 60. Based on the longevity of his final creations, though, he may have achieved his goals in the long run.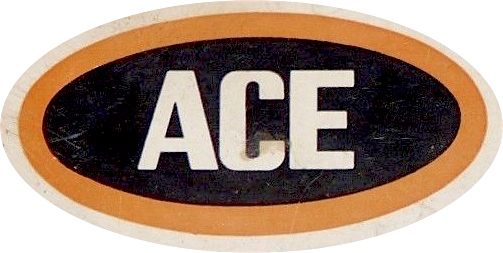 For a ubiquitous office tool, the Ace Pilot's lasting appeal comes down to a couple key breakthroughs and benefits. For one thing, it marked a considerable upgrade in functionality. It rarely jammed, and it included an innovative two-position anvil—meaning you could put it one position to staple something together, or shift to the other position to create a temporary hold, pin-style, that could be removed. Beyond that, there was that big shiny knob on top, just asking to be punched. Generations of office workers took pleasure aggressively connecting stacks of paper with a gavel like swing of their palm. The side effect for the overly enthusiastic, unfortunately, was bruising, which in turn led to the development (and eventual proliferation) of stapler designs with levers instead of knobs.
It's safe to say that the Pilot Stapler in our collection was manufactured at Ace's longtime primary headquarters at 3415 N. Ashland Avenue in Lakeview. This factory not only rolled out the full line of commercial Ace staplers, but also became a top supplier of staplers and other goods to the government during WWII. That Ashland factory is seen below, now home to the Marvel Electric Co.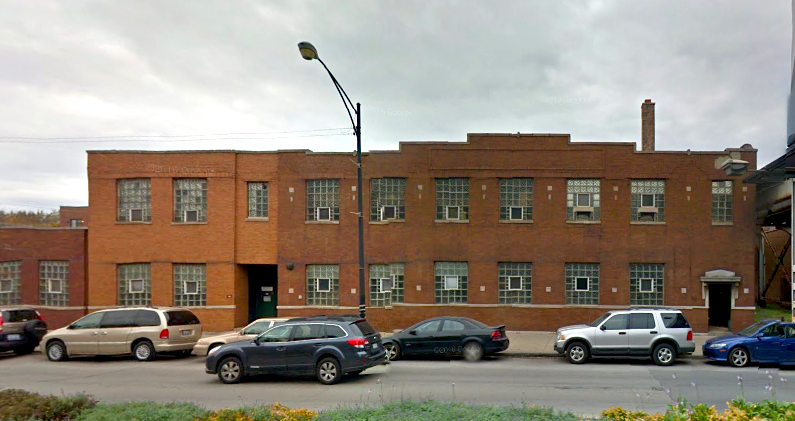 [Former Ace Fastener headquarters at 3415 N Ashland Ave.]
In 1953, Ace Fastener employed 250 people at the Ashland plant, with a man named E. H. Bolz now in the role of company president. Just four years later, though, the business was sold off, transforming into a subsidiary of the mighty Swingline company. The Ace headquarters was subsequently moved to a new building at 4100 W. Victoria St. in North Park. Swingline, in turn, was purchased by American Brands in 1970, which then sold off both Ace Fastener and the Spotnails company (of Rolling Meadows, Illinois) to that aforementioned New York banking firm in 1983. Ace continued to operate into the 1990s, moving its home base into the Spotnails facility in Rolling Meadows. Tracking things from that point forward, however, leads us into some murky waters.
If you visit acefastener.com today, you might get the impression that the company has somehow carried on independently in Camden, New Jersey, as "Ace Fastener & MFG, Inc." That website even includes the classic Ace staplers like the Pilot, Ace Liner and Clipper. …But then you might notice that acefastener.com hasn't been updated since 2011, and that the company cites its own founding year as 1952—even though the Ace Pilot stapler was already patented and on the market more than a decade prior. A map search of the listed address in Camden also reveals a rundown, shack-like building that looks more like a stapler smuggling den than a factory. So, if acefastener.com isn't Ace Fastener, who IS Ace Fastener?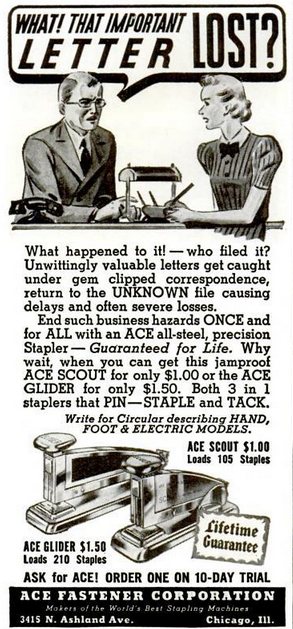 Well, a Museum patron named Jeff recently offered a possible answer:
"I was talking to the company Spotnails in Chicago the other week about getting some staples manufactured for my company, and I found out some interesting information about the 1950s Pilot stapler in your write-up as well as who owns Ace Fasteners. Spotnails (1100 Hicks Rd., Rolling Meadows, IL) apparently bought out Ace Fastener and the rights. A manufacturer named Peace Industries from Korea owns Spotnails and Ace as subsidiaries, i think. After the guy at Spotnails told me that information, I went to USPTO.gov and checked the trademark registration (for the Pilot brand) just to be sure. Sure enough, the guy at Spotnails was telling the truth about acquiring Ace Fasteners."
Yes, indeed, if you follow the long paper trail of 15 owners of the "Pilot" patent since its initial registration in 1934, Peace Industries is the current holder, with the last renewal in 2007. There was also a litigation suit over some related patents that Peace settled for just $7,500 in 2014.
Patron Jeff adds: "It seems as if the Pilot staplers and other Pilot branded products are manufactured and sold in Mexico on a pretty large scale. I don't think they are exporting too much of it into the US. Not real sure."
Peace Industries does own locations in Mexico, too, which might explain this Spanish language AceGrapasFifa website, featuring various old Ace products.
One thing the AceFastener.com, Spotnails, and AceGrapas websites all have in common is a love for 1996 web design templates and a mild impression of being poorly veiled fronts for a Korean drug cartel.
My what a long strange road its been since those simpler days of the 1930s, when the world was a John Steinbeck novel and a stapler was just a stapler.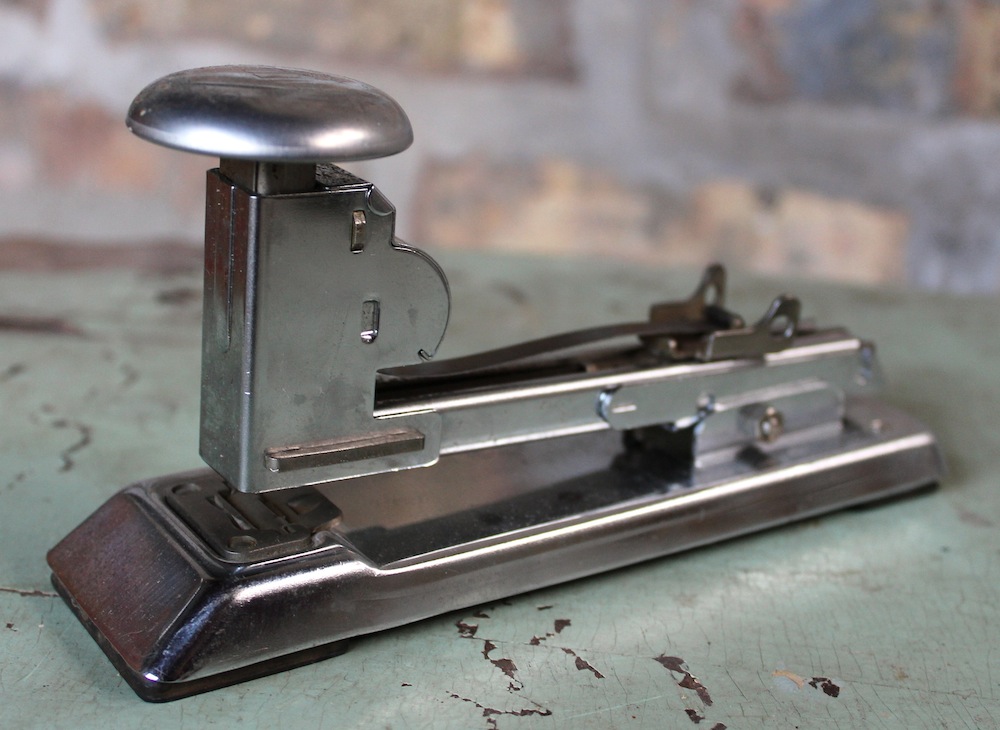 Sources:
"Spotnails Part of American Brands Sale of Ace Fasteners" – Fastener Industry News, 1983
"William F. Weber" (Obit) – Chicago Tribune, June 30, 1942
"Ace Fastener Corp." – Chicago Tribune, Jan 12, 1937
Office Management and Equipment, Vol. 10, 1949
Lodging Hospitality, Vol. 40, 1984
The Rotarian, April 1941
Archived Reader Comments:
"Love the article on Ace Fastener Corp. I happened upon it while checking out if my still working Ace Liner Model 502 was in any way the oldest of that model still in use. I have it since 12th Sept 1977 the day I started work with a large construction company in Dublin (no, not Ohio) Ireland. Both myself and the Ace Liner are still working for that same construction company 41 and a bit years later. We're still faithful to each other after all these years.


"