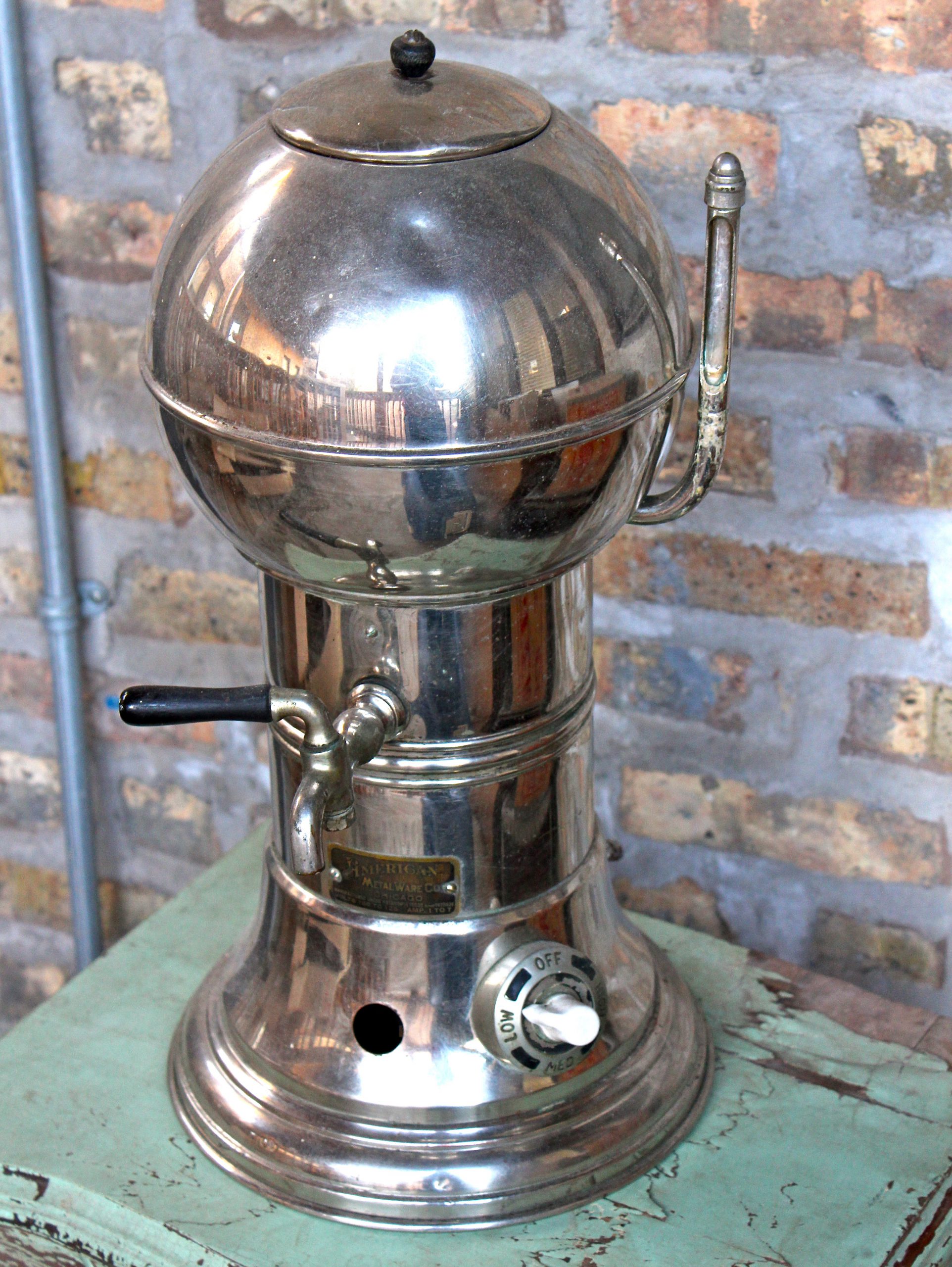 Museum Artifact: Electric Hot Water Urn, 1920s
Made by: American Metal Ware Co., 368 W. Huron St., Chicago, IL [River North]
It's 18 inches tall, has a 6-pint fill capacity, and looks like a leftover evil robot prop from a low budget sci-fi movie. Rest assured, though, the "American" hot water urn is not to be feared. In fact, you might consider it the patriotic, groundbreaking grandpappy of whatever instant-brewing dynamo you currently have in your kitchen.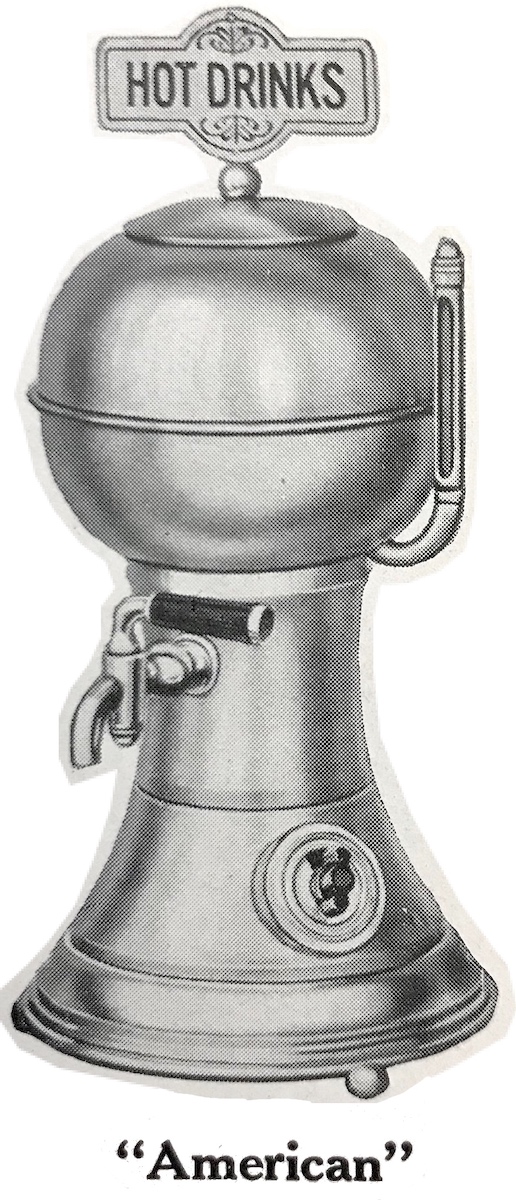 This machine was likely built in the early 1920s, and was one of more than a dozen different electric urns produced at the time by Chicago's American Metal Ware Company. A hundred years later, we're probably more inclined to call them all "coffee percolators," but according to American Metal Ware's own 1918 catalog, the "American" urn design, in particular, was utilized more for "hot cocoa, chocolate or bouillon . . . where a limited supply of hot water water is needed."
"These compact Urns are not only handsome in design, but scientifically made, simple, rugged and wear-resisting. [They are] made of heavy gauge, non-corroding and water resisting metal throughout, plated with the finest nickel, highly polished, and will last a lifetime."
I suppose, by any reasonable measure, the artifact in our collection has indeed lasted a "lifetime," as it seems relatively in tact after a century; still shinier than a set of timpani drums and marred only by a few dings and the disappearance of its "Hot Drinks" cap signage. I am admittedly quite hesitant, however, to attempt plugging this sucker into any working 21st century electrical outlet. So let's just celebrate our robot friend without bringing him out of his well earned retirement.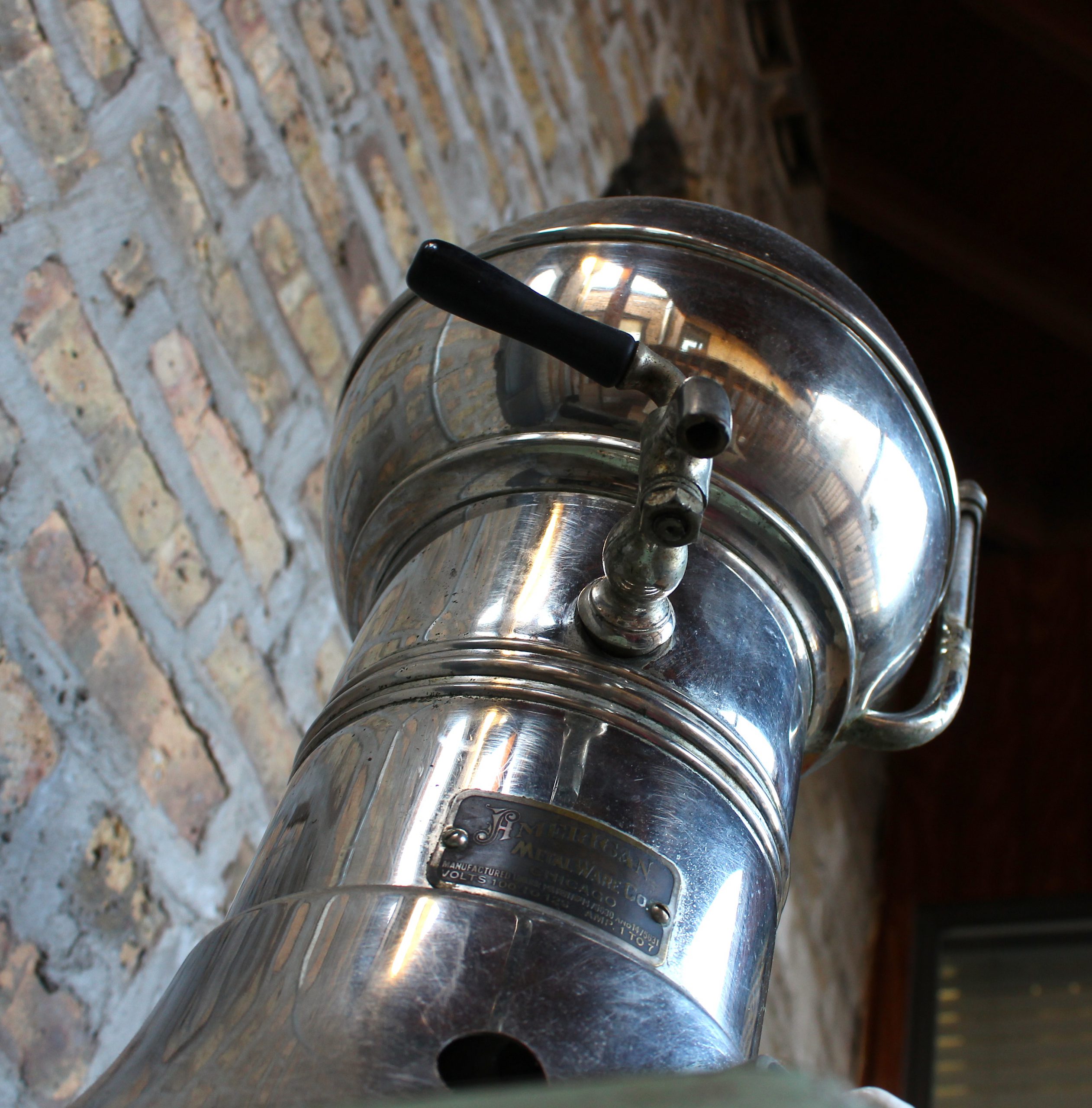 [The nameplate on our percolator lists manufacturing patents of 1,457,630 and 1,475,631, both of which refer to circuit breakers developed by Chicagoan Alfred Herz in the early '20s]
It was probably no accident that an early 20th century kitchen appliance wound up looking like a space alien's gumball machine. The American Metal Ware Co. was operating in what were still the early years of the electrical age, and while the mere novelty of a electric percolator could have sold itself, the best manufacturers recognized the value of a little extra futuristic flair in their designs. If American cafes and diners could now heat up their customers' morning joes at record-breaking speeds, why not do so in a device straight out of an H.G. Wells novel?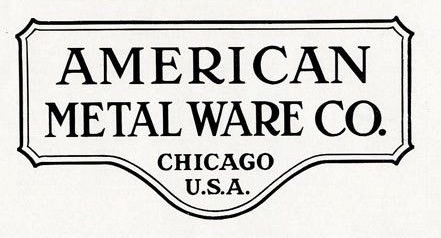 "Attractive equipment stimulates patronage," claimed a 1924 American Metal Ware Company advertisement in Soda Fountain magazine. "Good equipment increases the rate of profits. Ask your dealer for the American Ware Co.'s line, for nearly 40 years the standard of excellence. Scientifically designed and constructed of the finest materials. Attractive in appearance, perfect in operation, ever-lastingly satisfactory in performance."
In the case of the American urn and its sister model, the "Eureka," that performance hinged on an efficient 660 watt heating system, which the user could change from "Low" to "Med" to "High" settings via a control switch. The thing was streamlined, state of the art, and only occasionally led to billowing kitchen fires. So, its 1918 price tag of $19 sounds pretty agreeable. Add inflation, though, and it's more like $320 . . . a significant purchase for a home, and more likely to be put to use in a professional kitchen / hotel / restaurant.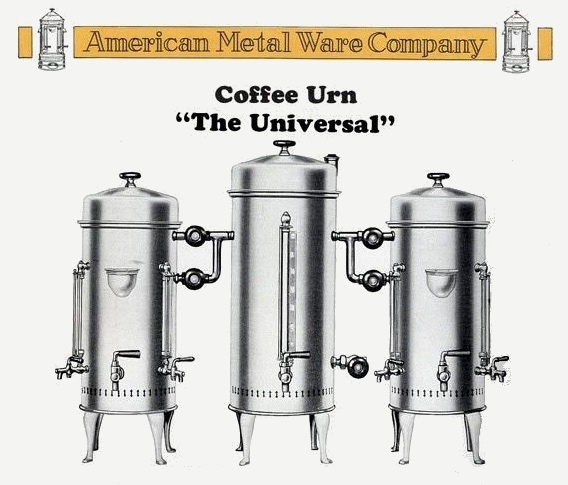 [The "Universal" coffee urn system was another professional model, seen here in the company's 1928 catalog]
History of the American Metal Ware Company
The trajectory is a familiar one; an immigrant-led business, formed in a rebuilding Chicago of the 1880s, helps build a bridge to the 20th century through spunkiness and innovation. Yada yada, and yet, unceasingly impressive.
The American Metal Ware Company actually still exists today, after 130 years or so, albeit under the ownership of Grindmaster-Cecilware since 1995. Their manufacturing base is now located in suburban Northbrook, IL. . . . I actually used to work in Northbrook myself. I don't miss it.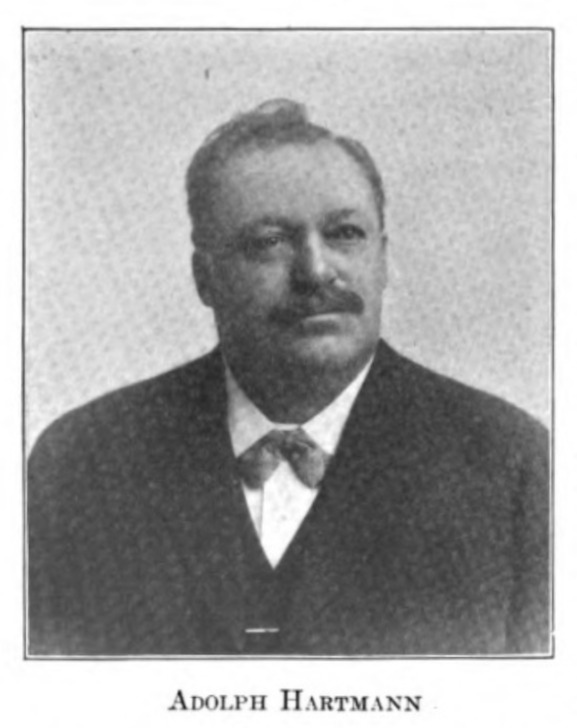 For about 80 years, American Metal Ware was associated with a very different address: 368 W. Huron Street in Chicago's River North neighborhood, a rather iconic four-story building that's still standing today. Company founder Adolph O. Hartmann—a German-born coppersmith and iron cornice manufacturer—selected the ground for that structure way back in the memorable year of 1893, as described in the 1918 book, Manufacturing and Wholesale Industries of Chicago, Vol. 3:
"In the year that thus marked the opening of the World's Columbian Exposition in Chicago, Mr. Hartmann purchased property at 368 and 370 West Huron Street, and there he erected a modern brick factory of four stories and basement with lateral dimensions one hundred forty-three feet, so that there was made available an aggregate floor space of 21,450 square feet. In this building, which he equipped with the best machinery and accessories, Mr. Hartmann engaged in the manufacturing of brass bedsteads and hot-water and coffee urns of copper, besides stamped metal ware of various description. Special attention was given to the manufacturing of the copper urns, and this phase of the enterprise still continued an important part of the substantial business now controlled the American Metal Ware Company, they being the largest manufacturers of these urns west of Buffalo."

[Inside the factory at Huron and Sedgwick, c. 1918]
Adolph Hartmann initially organized his new firm as the "Breitting Metal Ware Manufacturing Company," named for his new business partner and company manager, Charles Breitting (another partner, Gustav Stieglitz, apparently wasn't as narcissistic). The fledgling outfit employed about 30 metal workers, and quickly started promoting a wide range of titles for its various pre-electric hot water urns, including the "Excelsior," "Lilly," "Tally-Ho," "Columbia," "Champion," and "Mikado."
These devices were designed to quickly heat about a pint of water at a time (presumably on a stove). When one pint was piping hot, the next bit of water would flow down into the heating tumbler. This was more efficient, in theory, than trying to heat a big tank all at once, but it was also just a stopping point on the road to the even greater promise of electrical urn technology.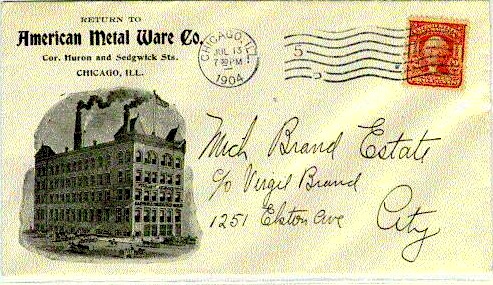 After just a few years in business, for reasons lost to history, Hartmann bought out his partners, scrapped the Breitting name, and re-organized as the American Metal Ware Co., bringing in his sons Adolph Jr. and Carl to serve as his new directors. The family business was growing swiftly, expanding to more than 60 workers as the new century unfolded. The state-of-the-art factory space was fully operational at Huron and Sedgwick, and was loosely connected to the larger Brunswick Balke-Collender industrial complex, designed by famed Chicago architects Louis Sullivan and Dankmar Adler.
It was at the Huron Street plant that our coffee robot was eventually built. It's also where American Metal Ware grew into an international brand, making hot water containers, coolers, shakers, twine boxes, bottle caps, soda glasses, dish carts, and—to some additional level of acclaim—brass bed frames.
The telegram below, from an unknown German-American reviewer in 1901, heaps some praise on the young company.
In his later years, Adolph Hartmann Sr. was further celebrated in the pages of Wholesale and Manufacturing Industries of Chicago, noted as "one of the pioneer business men of Chicago" and "in the fullest sense one of the world's productive workers. His success in business has been the direct result of his own well ordered efforts . . . and here he has the confidence and esteem of all who know him."
Roughly the same year that praise was bestowed on him, Hartmann's company touted its own achievements in its 1918 catalog, noting that "years of experience have enabled us to build up an organization unexcelled in the production of high-grade metal ware. The mechanical equipment of our plant is of the latest and best, and we employ none but first class workmen. . . . Hot water and coffee urns are our leaders. Every faucet we use is made in our own plant, and every urn is carefully tested with hot water before being packed. We depend on no other firms and are, therefore, sure of our product."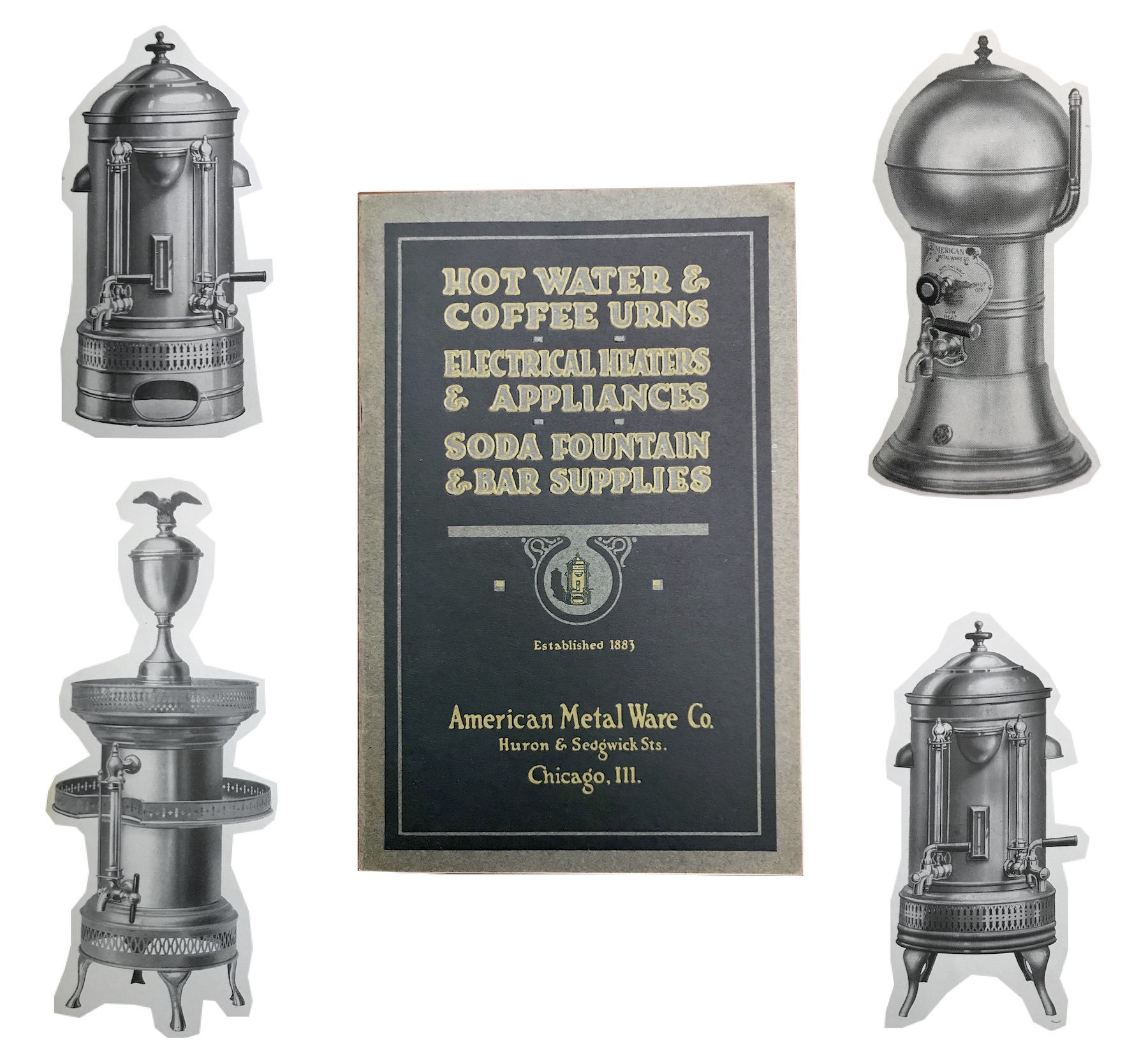 [A selection of electric urns from the AMW catalog, circa 1918]
Adolph Hartmann died in 1932, just before his first name would officially be retired from public use forever. Unfortunately, his son Adolph Hartmann Jr. had to carry the weight of that moniker with him through the years ahead. As an even more trying test, perhaps, he was also a fairly young executive, age 45, taking over a manufacturing business smack in the middle of the Great Depression. The new boss wasn't green, however. He'd been working at the Huron Street offices under his pops since the age of 20, and he'd prove a worthy successor, keeping the American Metal Ware Co. moving forward into more practical electric appliances up until his own death in 1966 at age 79.
American Metal Ware was still based out of its original factory in the late 1960s. But by the 1970s, Northbrook finally came a calling. What became of the old Huron Street plant, though, is a whole separate tale.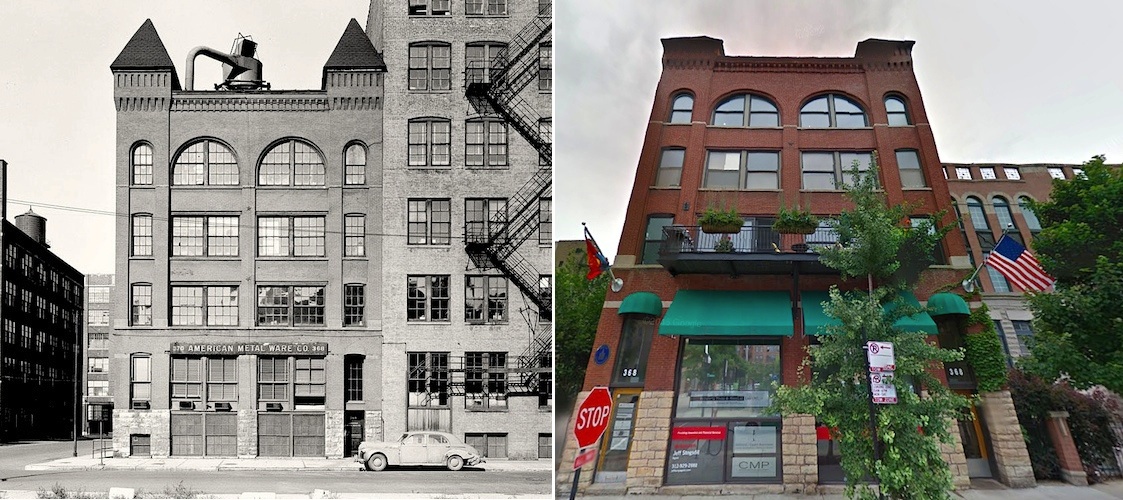 [The former American Metal Ware Co. building, 368 W. Huron St., then and now]
In 1976, art dealers Robert Zolla and Roberta Lieberman bought the old American Metal Ware building and converted it into a unique gallery space. Within a decade, dozens of other galleries had taken up residence in the former Brunswick Balke-Collender block, creating a thriving River North art scene. The repurposed, post-industrial warehouse vibe, which would become a cliché by the '90s, was still a pretty fresh concept at this point, and people flocked to the area.
According to a 2005 article by Jessica Curry in Chicago Life magazine: "The structure's 'Chicago pink' brick exterior was non-descript, but it was the interior that would ultimately captivate art enthusiasts. No future spaces were ever able to live up to the 13-foot ceilings and expansive floor plans. The hardwood floors were supported by timbers, which reportedly still dripped sap. Massive elevators, which had been used to transport entire Brunswick bowling alleys, lured dealers to work with art of a much larger scale than they'd ever before imagined."
Unfortunately, the fun of renovating a 100 year-old factory into a safe public space came with a lot of unexpected problems—specifically asbestos and fire hazards.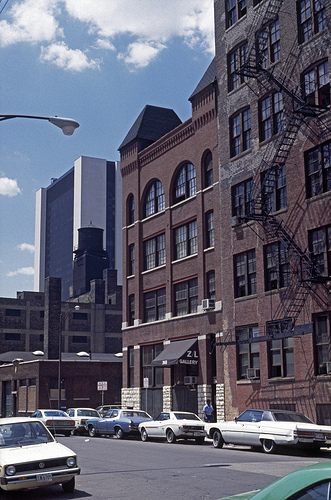 In the late '80s, there were several small fires that raised major warning flags. But nobody was prepared for April 15, 1989. That's when the entire Brunswick complex was engulfed in flames, destroying millions of dollars worth of art and nearly all the old factory structures… except for the American Metal Ware building, which fire fighters somehow saved.
As Curry pointed out, "What the dealers and artists cherished about the Brunswick complex—the rough-edged joists and timber beams, the expansive hardwood floors—fed the fire. Investigators later learned that many of the fire doors had been removed during the construction, and some had been replaced with plywood. The sprinkler system had not only been shut off—it was partially dismantled. …A couple of firefighters were injured during the fire, but none seriously. A cat, who'd been living in the American Metal Ware building, safely jumped from a fifth floor window, landing on her feet."
Well that's a very specific and adorable detail. The American Metal Ware building, like its resident cat, lived to see another day. And it's still hanging on today, though only the exterior would bear any resemblance to the place Adolph Hartmann and his pals would have known.
Meanwhile, the River North art scene never quite recovered. It's too bad, too, because if ever there were a piece of industrial art worthy of a gallery display case, it's an American Metal Ware coffee urn.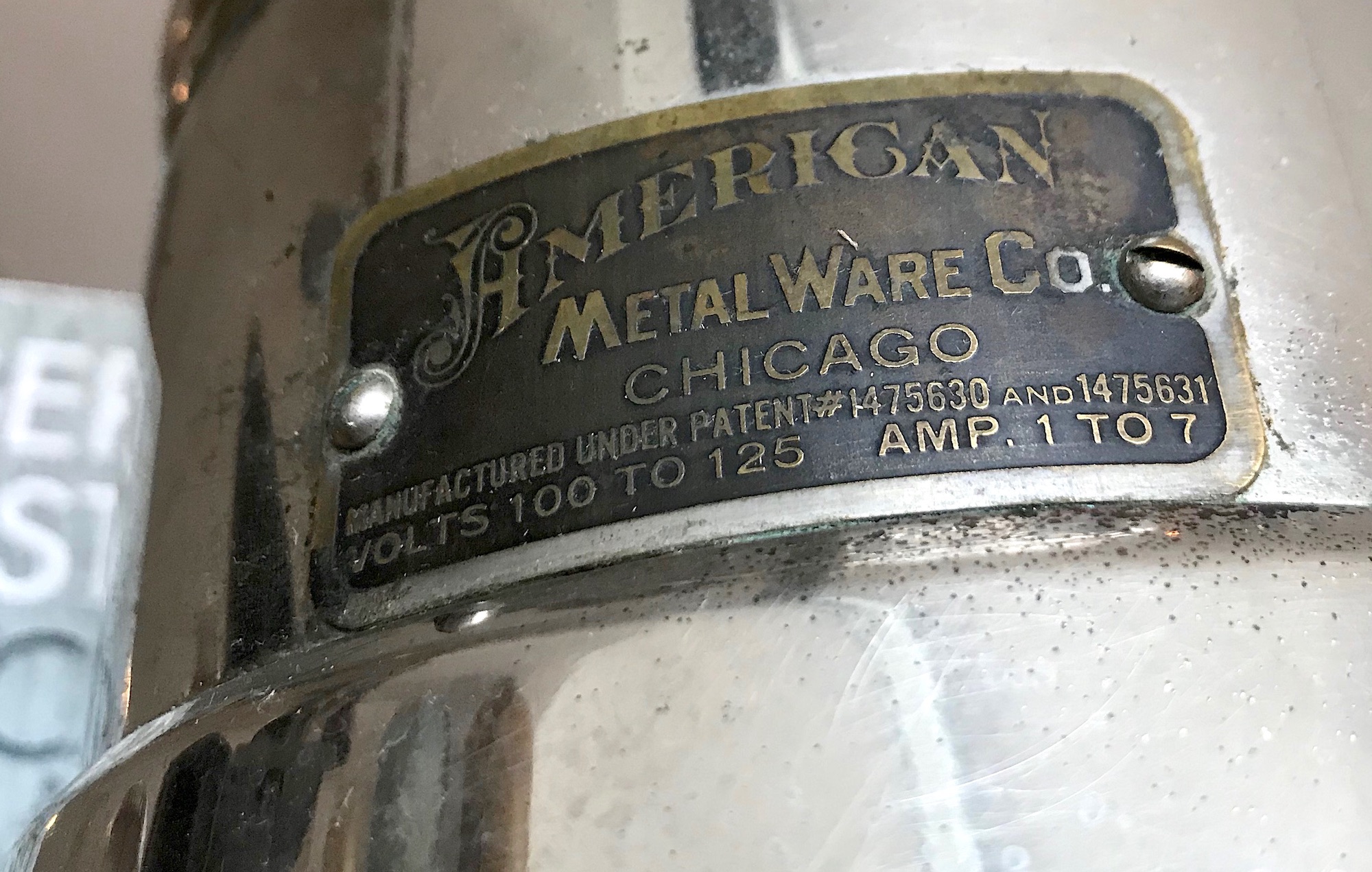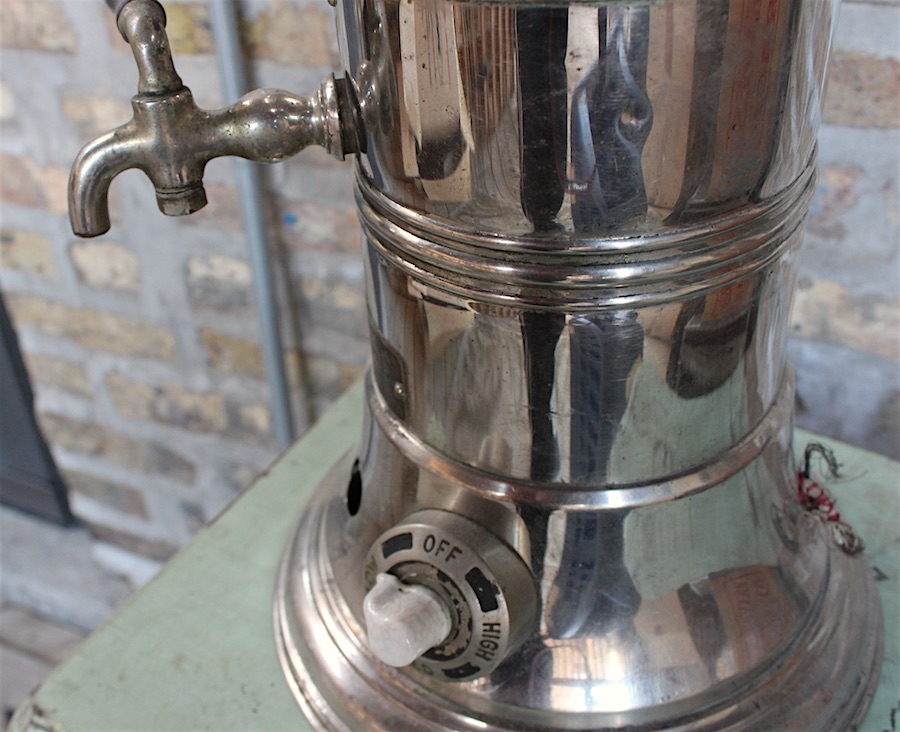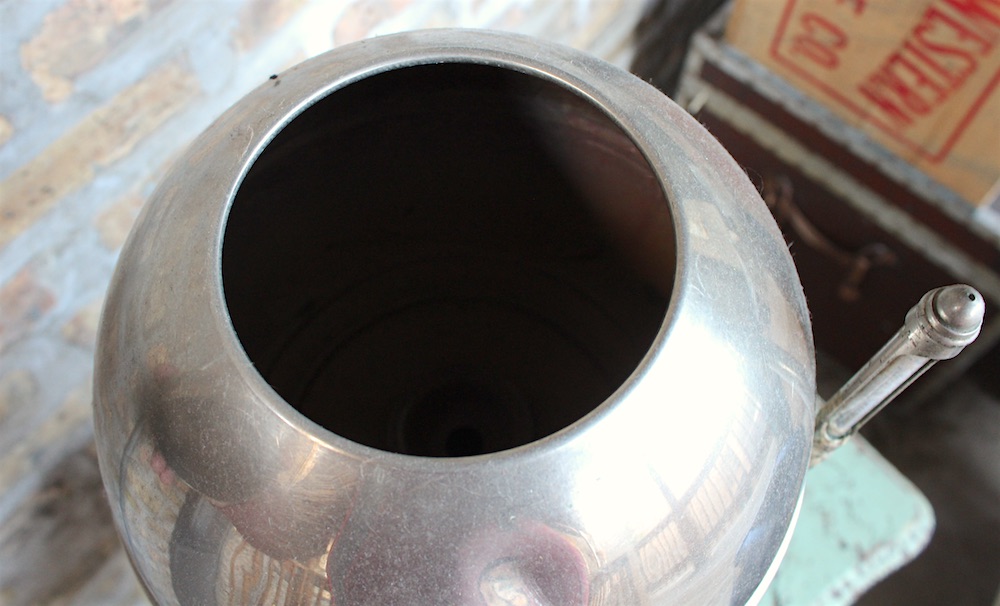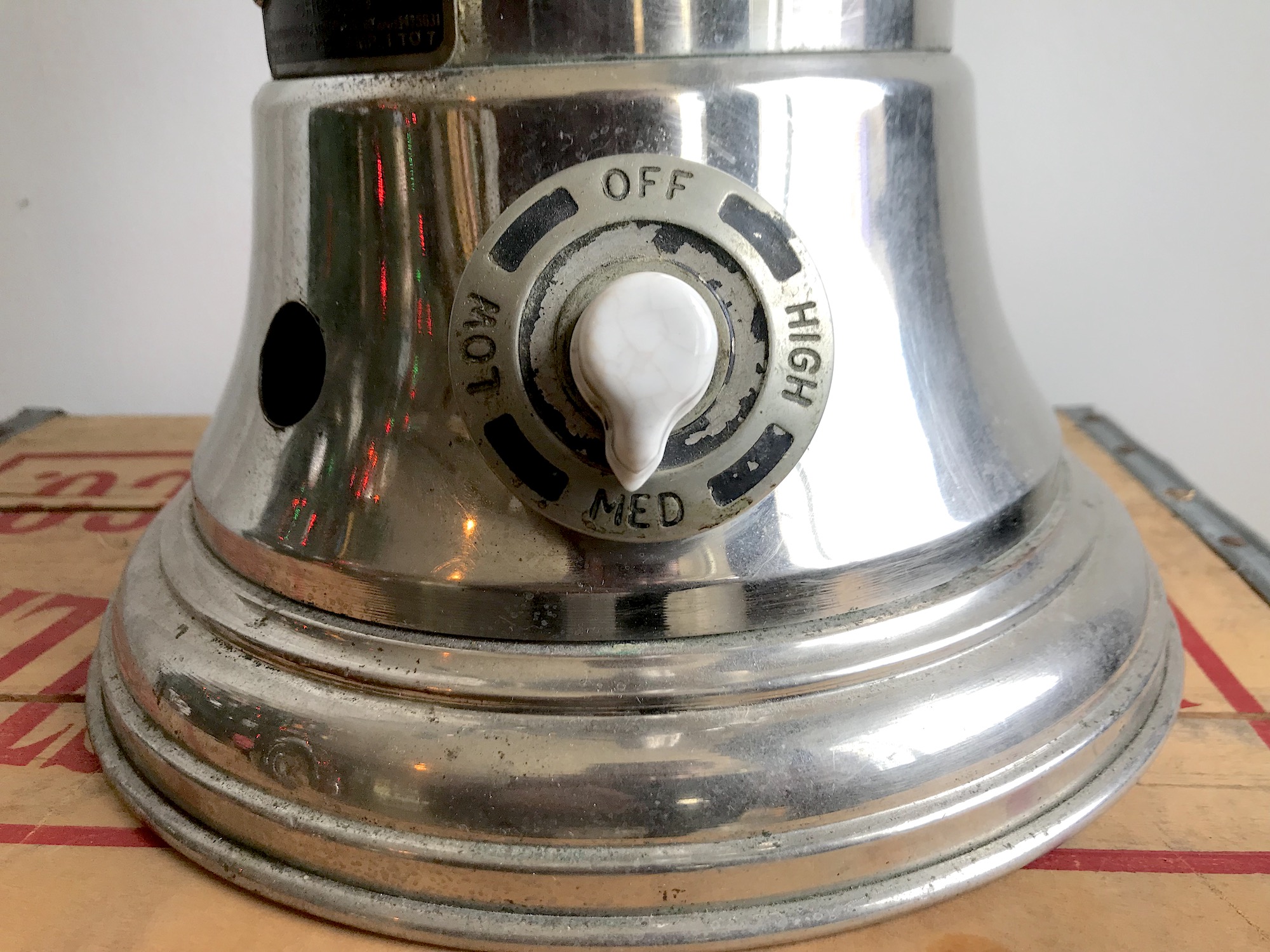 Sources:
Manufacturing and Wholesale Industries of Chicago, Vol. 3
American Metal Ware Co. Hot Water & Coffee Urns catalog, circa 1918
"The Great Gallery Fire" – Chicago Life
Sanitary & Heating Age, 1893
Archived Reader Comments:
"I just picked up an awesome (American) hot water urn

"– Kip, Caledonia NY, 2020
"I bought an old metal cart today and there's a small tag that says American Metal Wear Co.  Chicago IL. I'd love to know how old it is.   This was an interesting article,  thanks!" —Heather Broxton, 2018