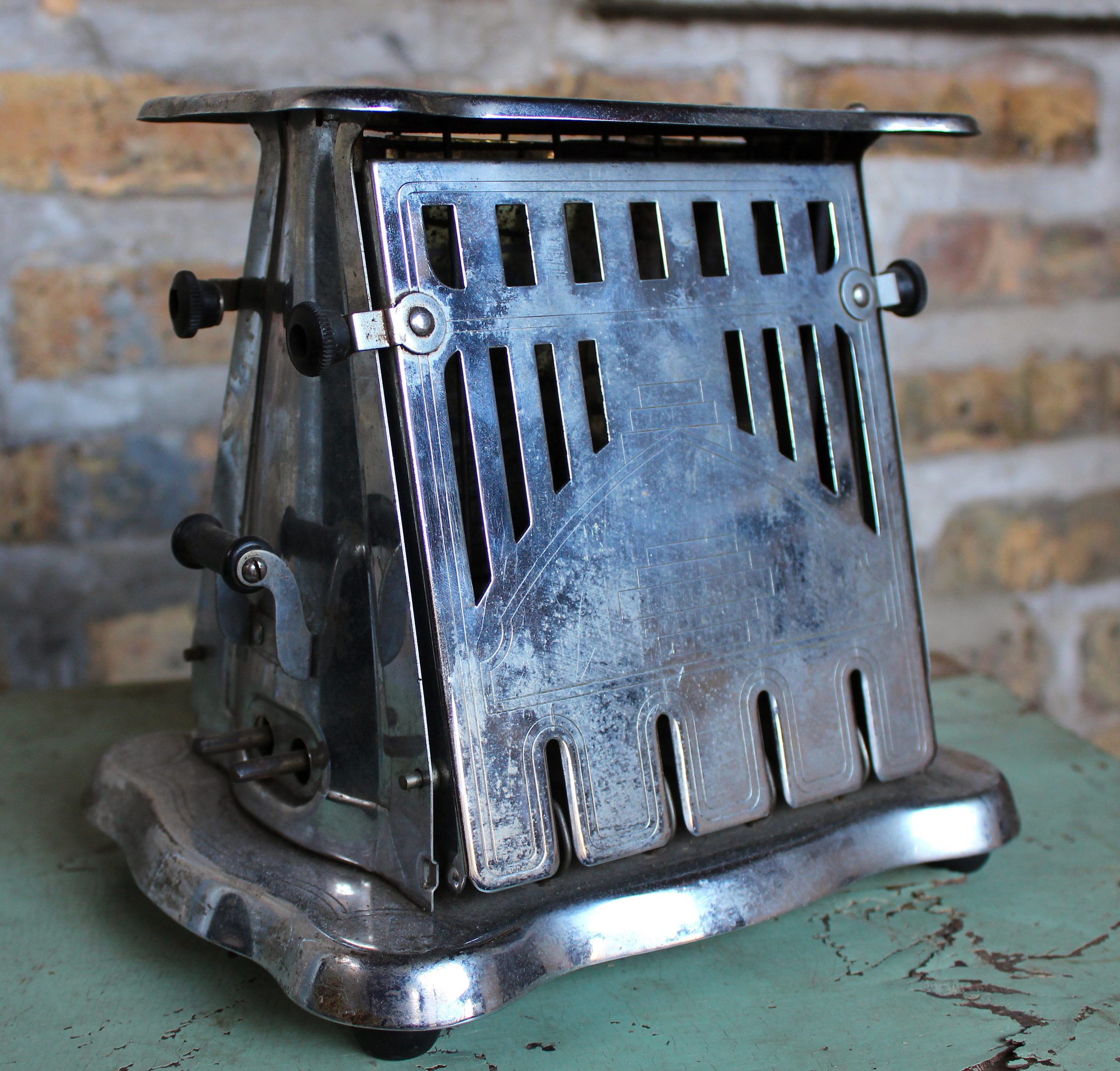 Museum Artifact: Bersted Electric Toaster No. 74, c. 1932
Made By: Bersted MFG Co., 5201 W. 65th St., Chicago, IL [Clearing]
The toaster of the future! The toaster for all times! The apex of toasterdom!
Looking like a miniaturized attraction from the "Century of Progress" World's Fair, this majestic creation by Chicago's Bersted MFG Company was actually a bargain basement brand for its day; something you could buy at a dollar store in the early years of the Great Depression. "Toasts two slices at one time!" one advertisement proclaimed. "A real bargain!"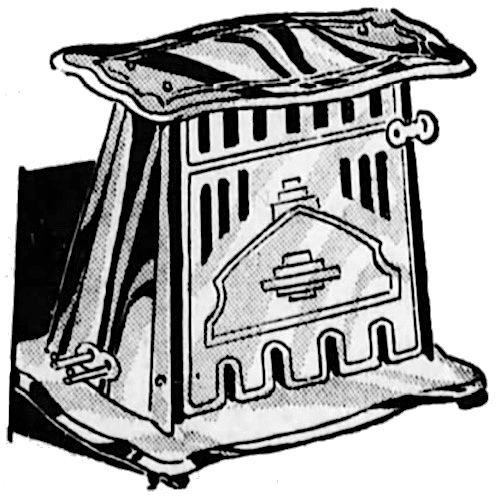 What the Bersted Toaster lacked in mechanical quality, however, it more than made up for in aesthetic appeal. Seven inches tall, chromium plated, and highly polished, it was among the early entries of the Art Deco movement into the world of kitchen appliances. One could say that the resulting combination was the greatest thing since sliced bread, but the two concepts actually arrived almost simultaneously, and by no coincidence.
In 1927, a Missouri man named Otto Frederick Rohwedder designed a machine for slicing bread before it went to market, sparking an overnight "pre-sliced" revolution. In a nation now willing to spend its hard-earned bread on this grab-and-go "Wonderbread," it wasn't just the bakeries that had to adapt to the new normal. The rules of American breakfast had been rewritten, too. The battle for electric toaster supremacy was on.
Between 1922 and 1930, toaster sales tripled from 400,000 to 1.2 million, as dozens of upstart manufacturers jumped into the game, including Bersted. Eventually, the "pop-up" toaster design popularized by the "Toastmaster" brand became the industry standard, but for a long while, everybody was still experimenting with different styles. There were flatbed horizontal toasters, "pinchers" with spring-loaded doors, "swingers" with rotating bread baskets, and the "flopper" or "flip-flop" style—as seen in the Bersted model no. 74—in which a door literally flips open and drops the toast down on to your plate.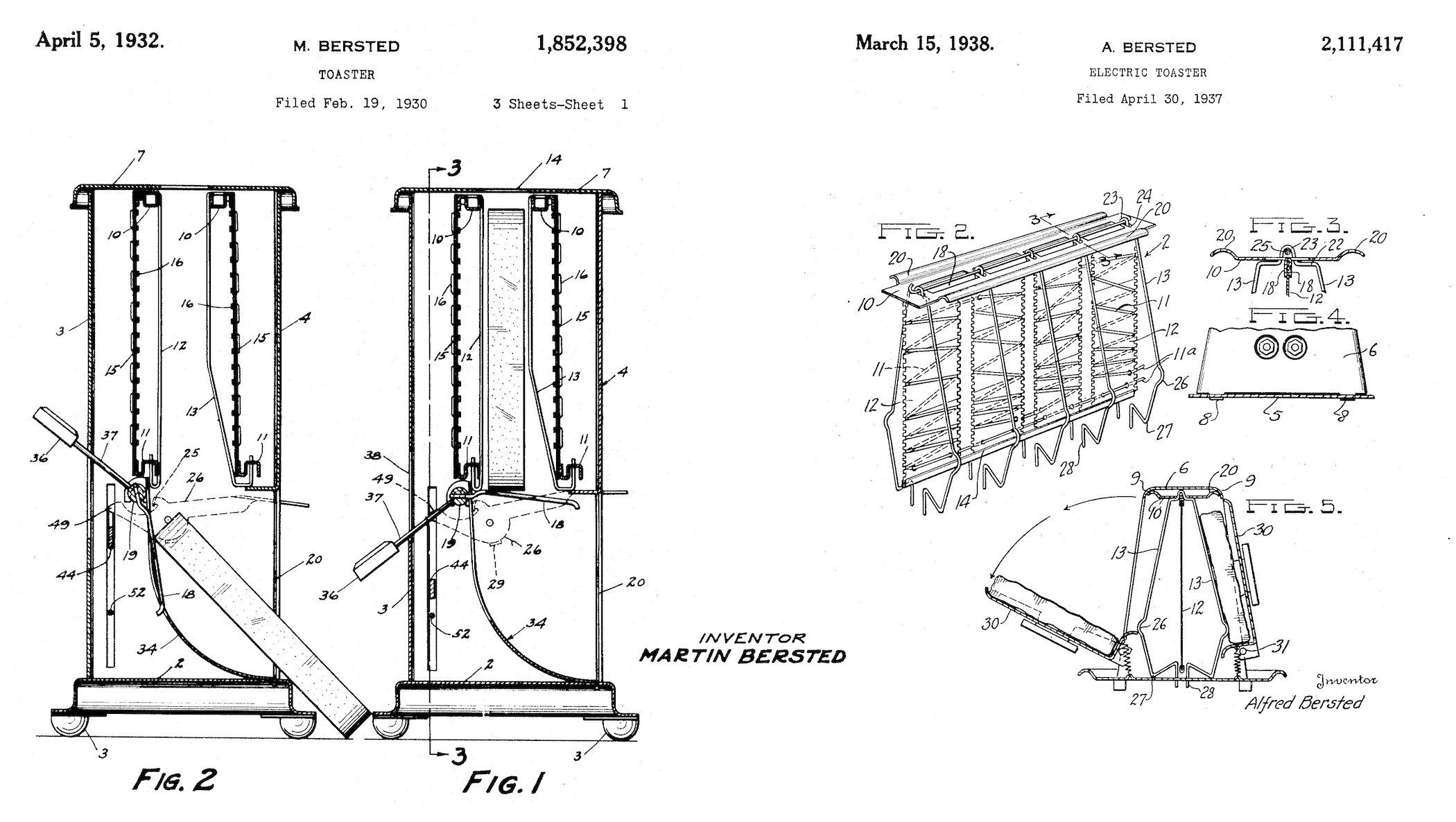 [Two toaster patents belonging to the Bersted MFG Co. using the flip-flop model: 1930, designed by Martin Bersted, and 1937, designed by Alfred Bersted]
Bersted certainly wasn't alone in using the flip-flop style, so in order to stand out from the competition, the company needed to find its own niche.
If you talk to some of the snootier art critics out there, they might tell you that the distinctive sunbursts and etch-a-sketch ornamentation of Art Deco are merely lazy artifice, substituting for real substance. Deco fans have a million good ways to refute that argument, but unfortunately, the toasters sold by Al Bersted might not be the best place to start. By most accounts, the shiny exteriors of many early Bersted appliances really were there to mask a line of unreliable, poorly-made products. That didn't stop the savvy, ahead-of-his-time Al Bersted from carving out a significant chunk of the market, however. Call it lipstick on a pig if you will, but this cheap art sold better than Thomas Kinkade's.
History of the Bersted MFG Co.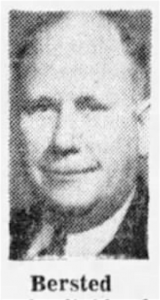 Alfred Bersted [pictured] was born in Chicago in 1898, the youngest of five kids raised by a pair of Norwegian immigrants, Martin and Julia Bersted. He began his professional career as a mechanic for his father's tool and die business, the Bersted Forming Tool Company (771 Mather Street), which specialized in early automobile parts production and was also a big supplier to the Victor Talking Machine Company. The gig helped Al get an early taste for the high stakes commercial marketplace.
At some point in the early 1920s, Alfred took a larger role in the family business, and the company's name was changed to the Bersted Manufacturing Co., implying an effort to expand into new territory beyond tool and die. By 1925, the factory had moved to a sprawling one-story complex at 5201 W. 65th Street, a stone's throw from the new "Chicago Air Park," later to become Midway Airport.
At the new plant, Bersted started making a wide variety of low-budget housewares, including not only automatic toasters, but irons, waffle molds, electric fans, etc. Several of these products, including one of the company's early flip-flop electric toasters, were actually designed and patented by Martin Bersted, but it was his son Alfred who was leading the way in bringing them to the market.

[The former Bersted MFG plant, in 1927 and 2016]
The company's rapid growth soon caught the attention of Max McGraw at the McGraw Electric Co., who purchased majority ownership of the business in 1926, but kept young Al Bersted on board as president (papa Martin had since retired to California). McGraw was impressed with Al's mix of technical savvy and salesmanship, and invested in his new protege.
Given relatively free rein, Bersted proceeded to systematically plant his flag in a whole new world of commercial opportunity: drug store merchandising! Working with Walgreens and other pharmacies, he made his cheaply-made appliances available at appropriately cheap prices, cashing in with impulse buyers and people still excited about the simple novelty of relatively safe electronic appliances.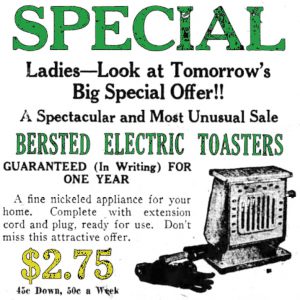 "In the early days, manufacturers didn't deliberately make poor products," Bersted said in 1970, looking back on changes in his industry, "but there was almost no such thing as quality control as it is known today. In one sense it wasn't really necessary because a manufacturer who undertook to make a fairly good appliance had reasonably good expectations of being paid properly for it. But then, as the market grew, more people got into it, competition became increasingly severe, and in order to meet a certain price manufacturers began taking short cuts and quality suffered. Since the start of the portable appliance business, I would guess that at least 250 or 300 manufacturers have come and gone in it. There must have been 50 different people that once made electronic irons."
And yet, through all the turnover, Bersted carried on.

[This 1926 wanted ad from the Tribune indicates that a good portion of Bersted's factory workers were young women, trained to operate the machinery that pieced together the company's appliances.]
Following the economic crash, Bersted actually bought his division back from McGraw in 1930 and went about buying out smaller competitors in the cheap appliance genre. While he couldn't sell a toaster for the high prices of more respected brands [including Chicago rivals Sunbeam], the fact that most of his products had such a short shelf-life proved sneakily lucrative, as consumers were willing to pay cheap prices repeatedly rather than pay high prices once. It's worth noting that a top-quality Toastmaster during these years could cost the equivalent of what a decent flat-screen TV would cost today, while a lowball Bersted toaster was under three bucks, or about $40 after inflation.
Bersted also worked with distributors to sell package deals on various appliances. One advertisement from the early 1930s—aimed almost laughably at a the lady of the house—promised a free toaster with the purchase of a Bersted Waffle Mold.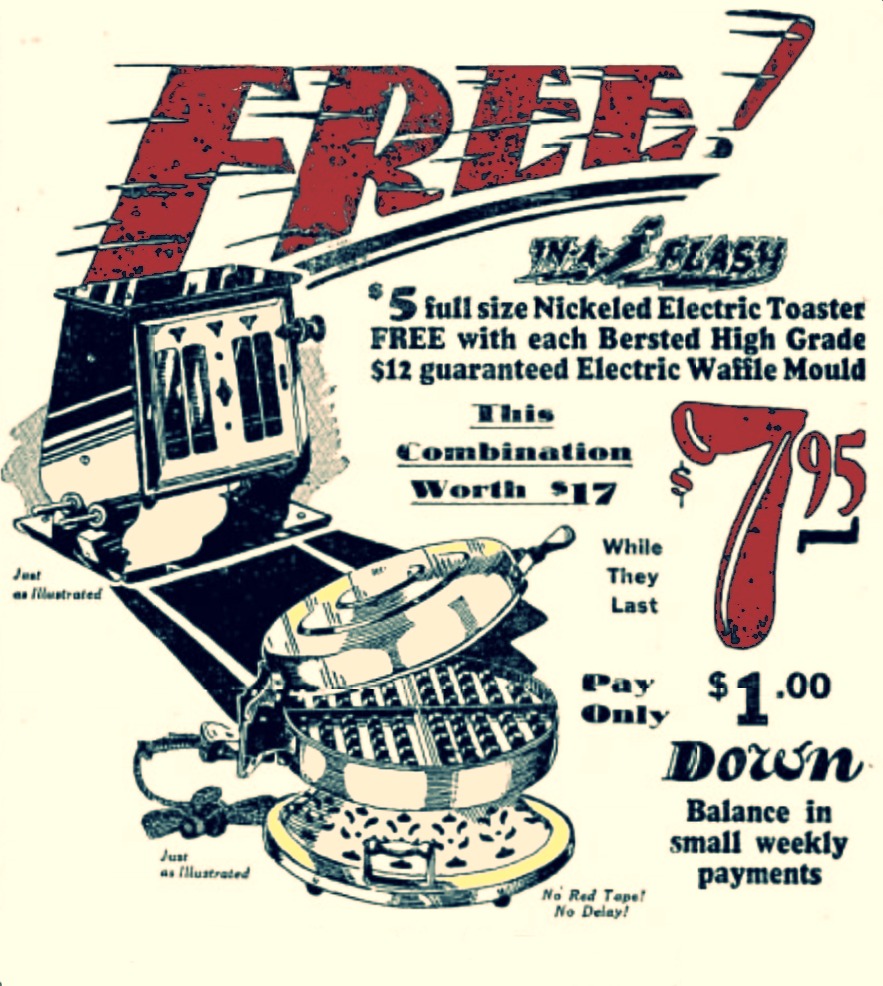 "You women who have longed for an electric waffle mold—" the ad read, "you women who have yearned for an electric toaster—can now have BOTH, AT LESS THAN ONE HALF THE REGULAR PRICE. . . . The Toaster is full size and of exceptionally superior quality. Its highly nickel-plated surface adds to its very attractive design. Will toast two large slices of bread to a tempting golden brown. Toasts both pieces at the same time. A quick acting toaster that lives up to its name (IN-A-FLASH). Fully guaranteed heating element. Comes equipped with full length heater cord. The regular retail price of this household gem is $5."
In 1934, Al Bersted—a Chicago native and University of Illinois grad—made the surprise move of relocating his company to the small town of Fostoria in Northwest Ohio. He found continued success there, and by 1948, decided to repeat history and sell his business back to his friend Max McGraw (now president of the McGraw-Edison Company), roughly 20 years after their first partnership.
"I made a nice deal with him," Al Bersted recalled. "Max paid me with 155,000 shares of McGraw stock. Subsequently, it was split three times and I ended up with 1,240,000 shares."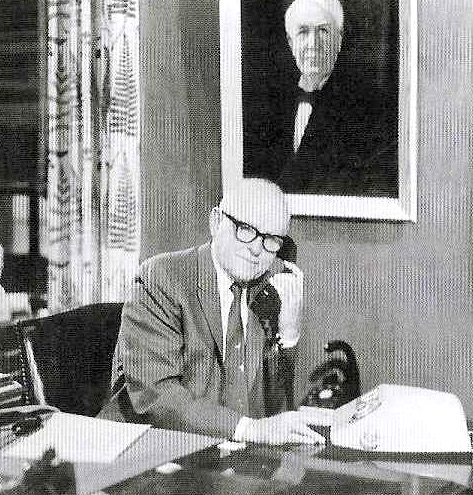 [Electronics magnate Max McGraw, Al Bersted's on-again, off-again business partner for 40 years]
Bersted again was kept on to manage his own division, eventually moving up the ladder to become McGraw-Edison's president in 1960, working at their Elgin, IL, offices. For 10 years, Bersted would oversee over 50 plants across the world. And his reputation as a true character—a relic from another age in American industry—was quickly solidified. [pictured below: Al Bersted in 1966, while serving as president of McGraw-Edison]
According to William George's book Antique Electric Waffle Irons: 1900-1960 (hey who am I to judge a person's hobby?), a former Bersted employee, Dick Moran, described his boss as such:
"Mr. Bersted (he preferred Al) was 5-foot-6 inches tall, heavyset with winkley blue eyes and usually chewing on an unlit cigar. He traveled constantly and was usually in his office only on weekends or for a little while Friday afternoon or Monday morning. During the week he would tour our factories, look over others for acquisition, call on our biggest customers, and whatever else might teach him something for our company's benefit. Whether he was in a factory, store, or office, Al would talk to anyone. He preferred to wander through these places alone so employees would feel free to talk and give him straight answers."
Then there is this nugget:
"He hated wasted time. One morning in 1957, Al flew into Midway Airport in Chicago but when he went to retrieve his car from the parking garage discovered that that someone had borrowed it and blown the engine. He wasn't so angry about that, but his immediate thought was how was he to get back to the office in Elgin the fastest way possible. His answer was to walk next door to the Buick agency and buy a new car. The only one immediately available was an outrageous looking tri-colored model in black, red, and tan. He purchased it on the spot just to get back to the office with the least amount of time wasted."
Yes, as with the manufacturing of those early toasters, Al Bersted was never a believer in time equating to quality. In the end, it was all about the final results.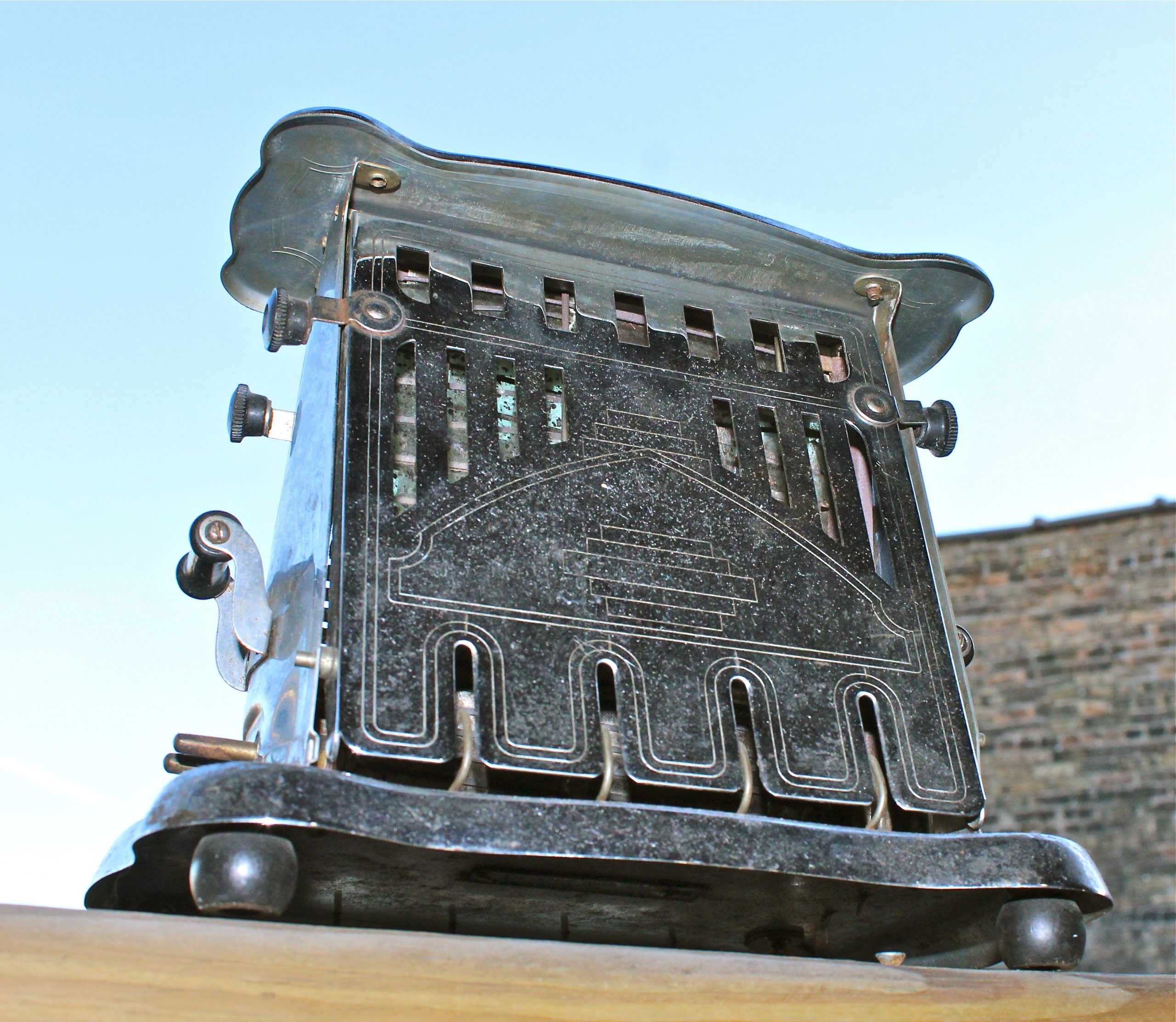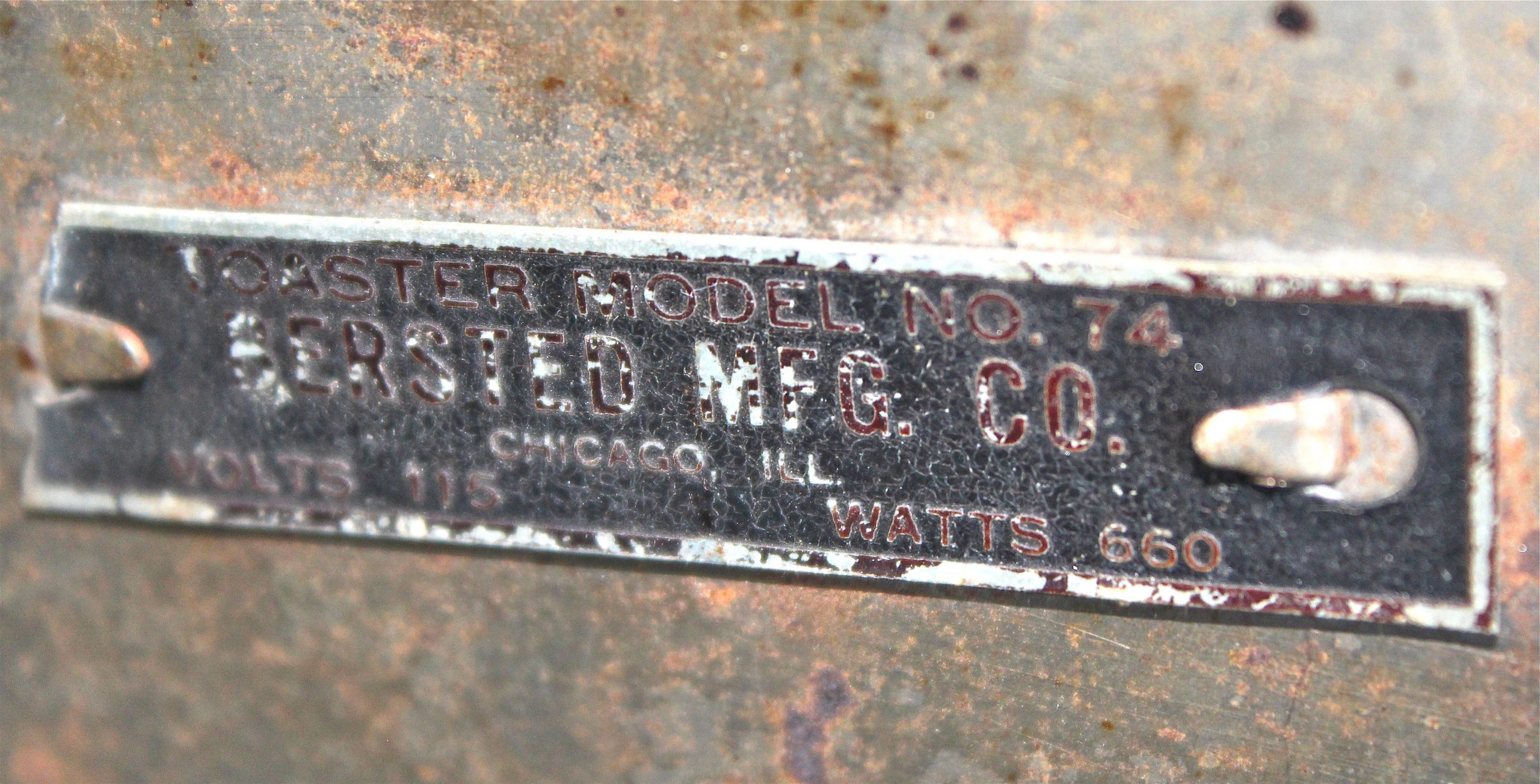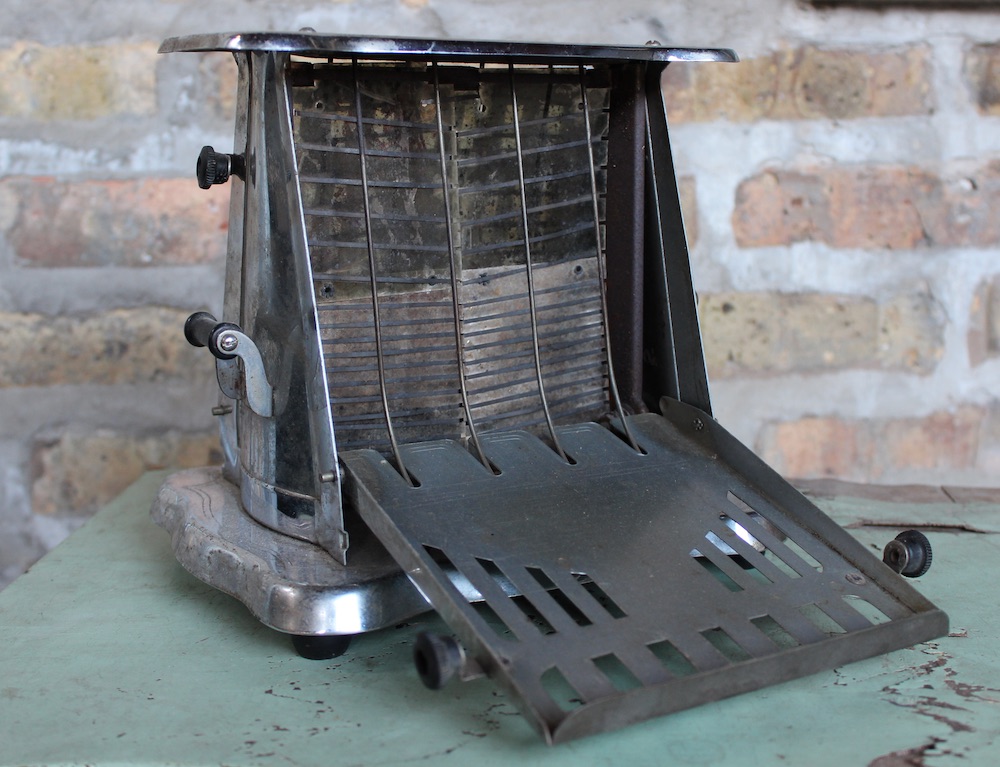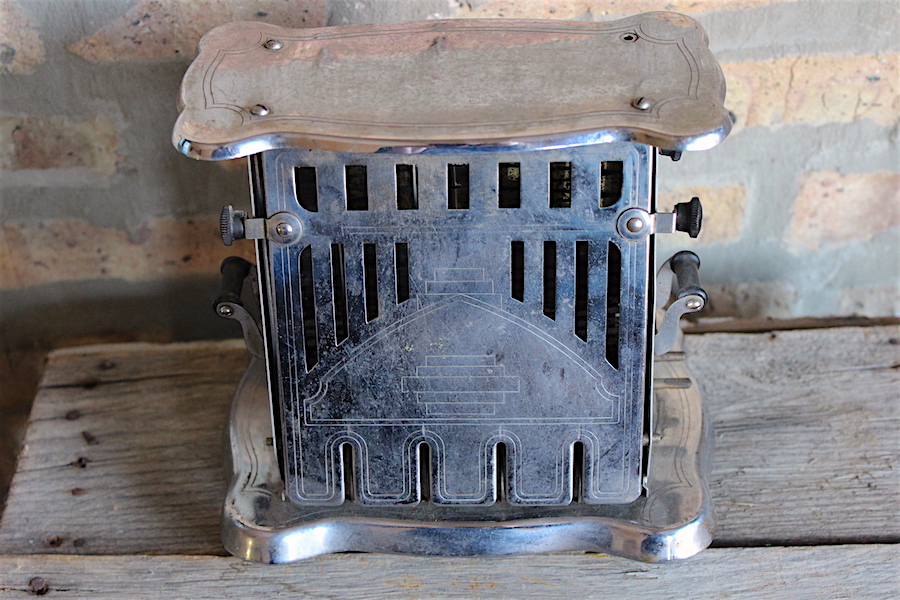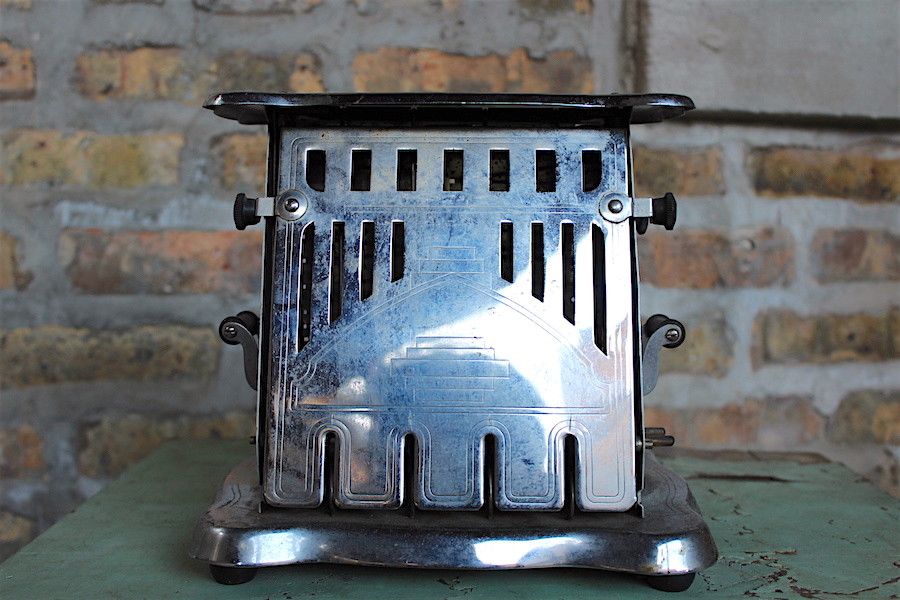 Sources:
The Housewares Story, by Earl Lifshey, 1973
"Alfred Bersted New Head of McGraw-Edison" – The Post-Crescent (Appleton, WI), May 31, 1960
"Eggers Dollar Stores" ad, San Bernardino County Sun, Aug 31, 1933
A Little Known Story of the Land Called Clearing, by Robert Hill
www.Toaster.org
Antique Electric Waffle Irons: 1900-1960, by William George