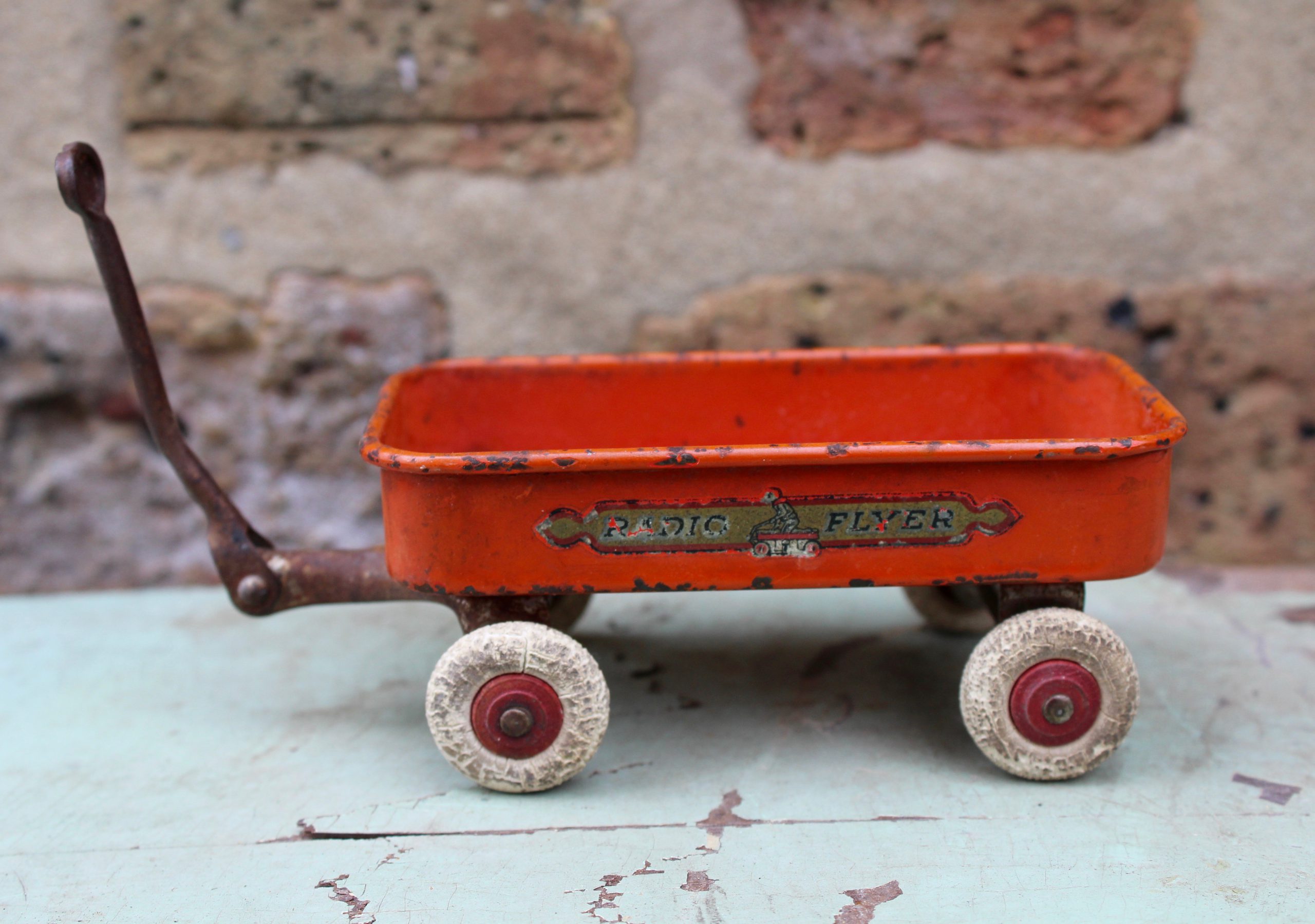 Museum Artifact: Miniature Radio Flyer Wagon from 1933 World's Fair
Made By: Radio Steel and MFG Co., 6041 W. Grand Ave., Chicago, IL [Belmont-Cragin]
In retrospect, it looks like one of the savviest and most successful promotional stunts of its era. But when Antonio Pasin—inventor of the Radio Flyer—decided to invest $30,000 into a coaster wagon exhibit for the 1933 World's Fair, he considered it the riskiest make-or-break moment of his life.
"That was the only time my grandmother saw him stressed out in any way," Antonio's grandson Robert Pasin—current 'Chief Wagon Officer' of Radio Flyer— told Investor's Business Daily in 2014. "That was the big one."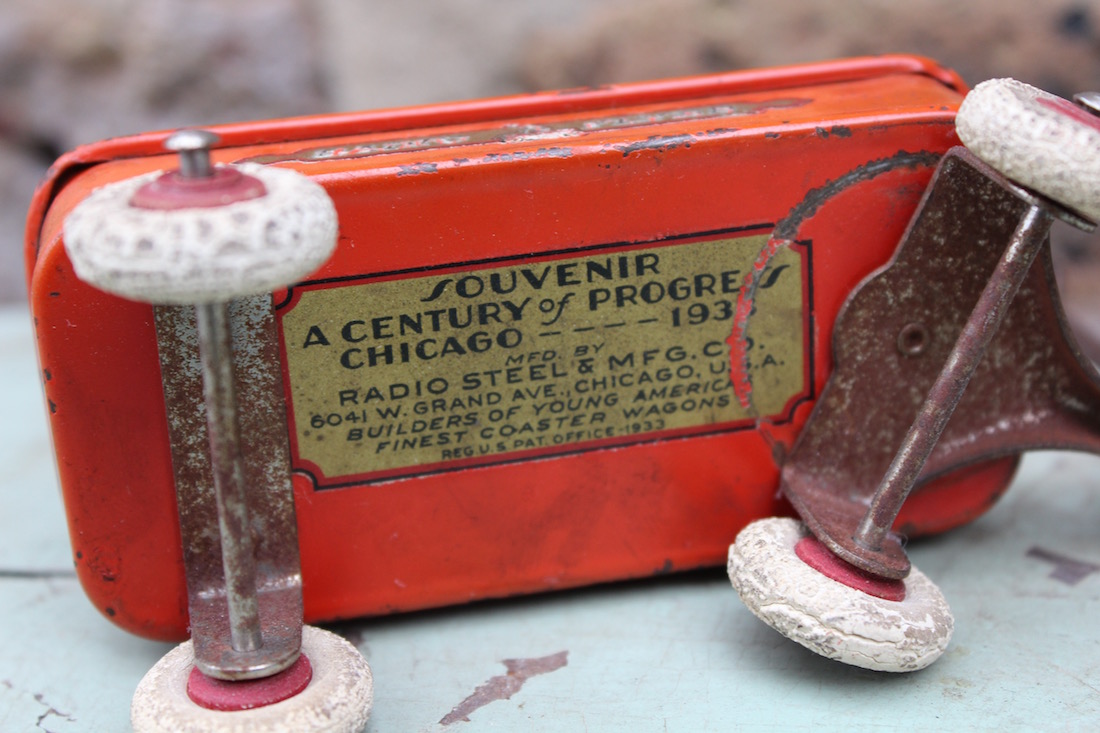 Keep in mind, this was a guy who'd immigrated to the U.S. from Italy in 1914, at just 16 years of age—bringing along little more than a Fievel-like desire to pursue the American dream. So he was no stranger to a risky proposition.
"Antonio got off of that boat with no money, no friends, nobody," his wife Anna later said [she would move to the States from Italy herself in the '20s]. "He came to this country and nobody would give him a job because he was too young. He couldn't even make enough to eat. So he had to do a lot of odd jobs in order to get along."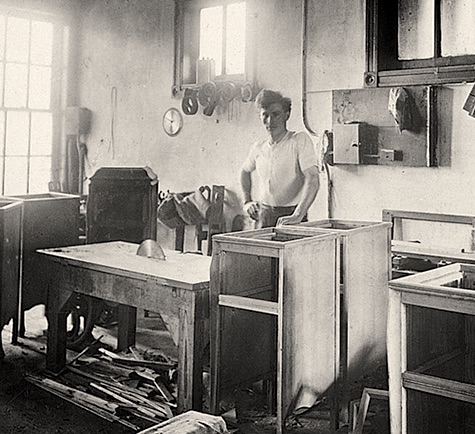 [A young Antonio "Nonno" Pasin in his workshop]
And yet, the humble son of a Venetian cabinet maker persevered and found his niche in Chicago, using his carpentry skills to create a popular line of wooden coaster wagons—starting with the brand name Liberty in 1917. Soon, the Liberty Coaster MFG Co. was also producing tricycles, scooters and other kid vehicles—a tiny fraction of which have stood the test of time.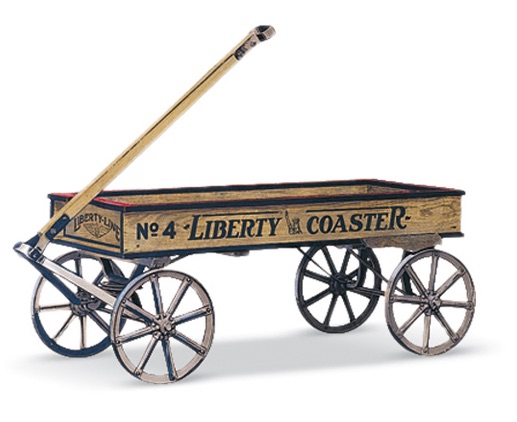 When Pasin started emulating the automobile industry and switching to a stamped steel construction in the late 1920s, he called his new wagon the "Radio Flyer" as a reference to two of the great technological feats of his lifetime. Contrary to popular belief and obscure Tom Hanks movies, the wagon could neither take flight nor broadcast episodes of "The Shadow."
By 1933, Pasin had set up his newly rechristened business, the Radio Steel & MFG Company, at a large manufacturing facility on Grand Avenue in the Belmont Cragin neighborhood. Radio Flyer's corporate headquarters is, remarkably, still essentially in the same location today—although all manufacturing has unsurprisingly moved to China.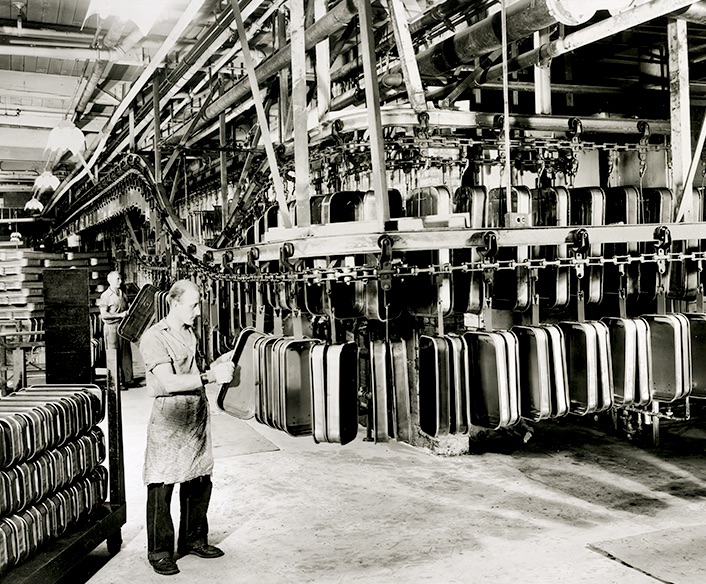 [Inside the Radio Steel & MFG factory, circa 1930s]
In any case, the company was performing admirably in the midst of the Great Depression, churning out 1,500 wagons per day on average through a Ford-like assembly line process. The Radio Flyers and several other brands were marketed towards both boys and girls—a rarity—and eventually adults, since the wagons could serve just as well for gardening and other yard work. Still, Papa Pasin was keenly aware that his coasters needed a true coming out party to ensure their long term viability in a hazy marketplace, and the return of the World's Fair to Chicago seemed like the end-all-be-all opportunity.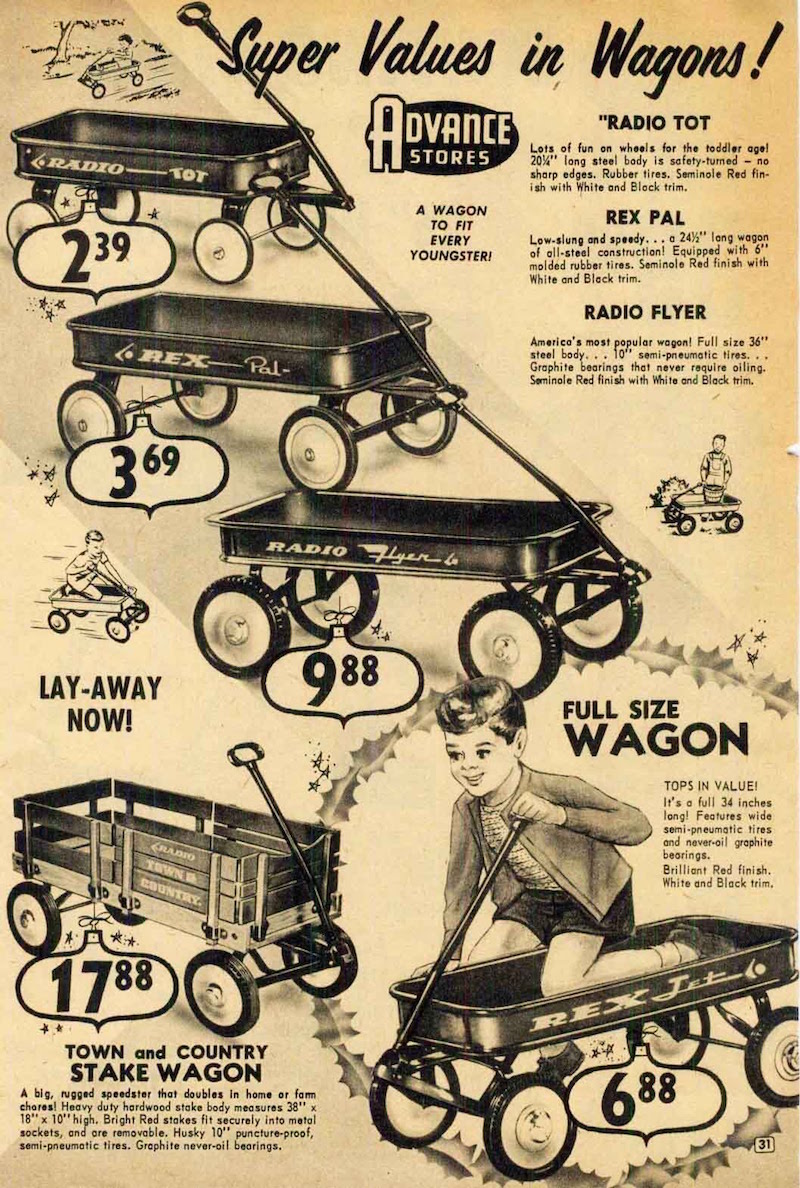 [Early Radio Flyer brands also included the Rex line, as well as the "Radio Tot" for the wee ones]
People tend to forget that both of Chicago's World's Fairs—the Columbian Exposition in 1893 and the Century of Progress in 1933—took place during major economic depressions. So while every participating company did its best to showcase a brave face, joining in the city's spending splurge wasn't always viewed as the wisest investment.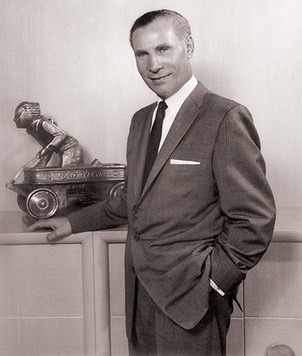 "You're-a gonna think I'm-a crazy," Antonio Pasin told his employees in our embarrassingly stereotypical re-imagining of events, "but here's a-what we're gonna do."
What he revealed was a plan to shrink the standard 3-foot long Radio Flyer wagon down to a decidedly less functional 4-inch scale model—"piccino size, for the little bambinos"—and to build a boatload of them to sell as 25-cent souvenirs at the fair. Antonio believed the pocket-sized novelty prize, at a price a kid could afford, could help turn Radio Flyer into a household name once the fair's millions of visitors had come and gone.
"Sounds good to us," replied the loyal crew of the Radio Steel & MFG Company, many of them fellow Italians.
"Ah, but I'm-a not-a finished!" piped Antonio, bubbling over with nervousness and excitement. He then revealed a blueprint for a ludicrously enormous, 45-foot tall sculpture of a boy—made of wood and plaster—crouching in a Radio Flyer wagon that was roughly the size of a post office. "This-a gonna go right above our display window," the company founder said with a smile. "They'll-a see him from every corner of da fair. I call him the 'Coaster Boy.' Whatdya think, miei amici?"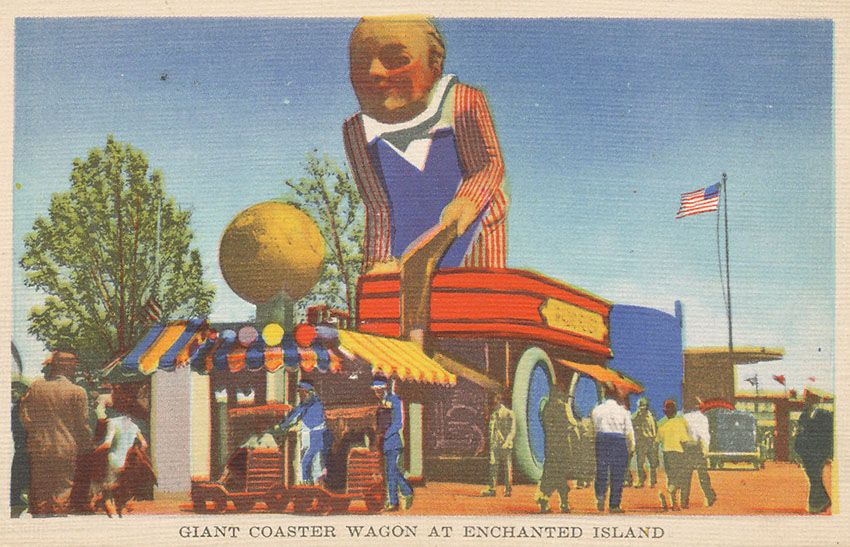 To guess at the workers' reaction might be going even further into poetic licensing than we already have, so let's just say that not everyone in Antonio Pasin's life agreed with his battle plan—be it the small-scale or large-scale aspects.
Furthermore, just objectively speaking, "Coaster Boy" was and still is a terrifying sight to behold. That's an observational fact that other Radio Flyer historians just aren't willing to be frank about. No matter what angle you look at that bizarre art-deco-ish monstrosity, it seems like the people on the ground below should be running away in manic desperation rather than gathering calmly in the giant wagon-child's orbit. But I guess that's neither here nor there.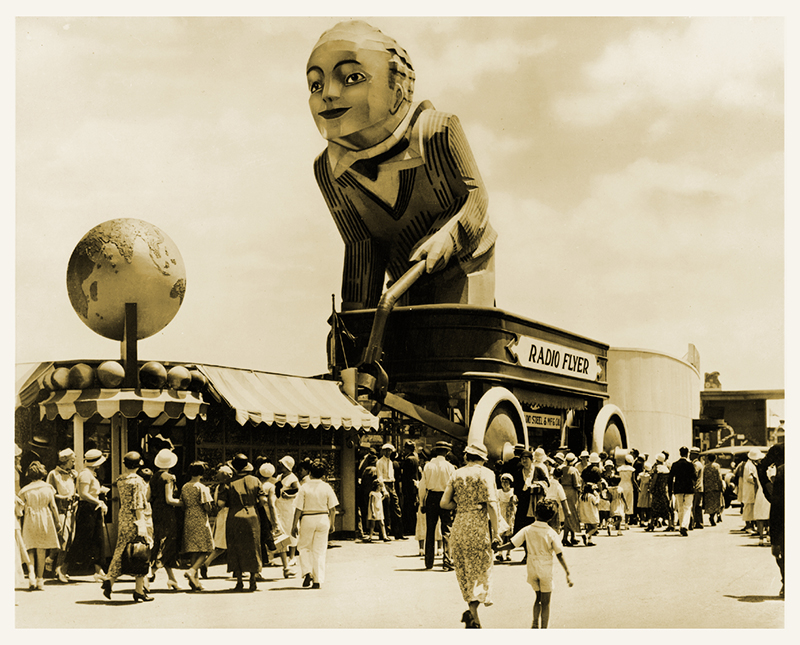 [Run for your lives, dammit!]
For the first time in his sixteen years in business, Antonio Pasin was taking out a large bank loan, as he needed it to cover the $30,000 investment into building the exhibit. That's well over half a million dollars in today's money, so he was genuinely going all-in.
"I enter so many ventures in business with more nerve than capital," Pasin once said. And that, unlike everything else we've attributed to him, is a real quote.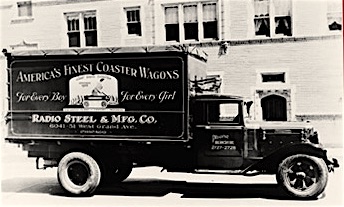 Finally, in the summer of 1933, the moment of truth arrived. Coaster Boy was towering over the Century of Progress, strategically positioned as part of a children's entertainment portion of the fairgrounds known as the "Enchanted Island." It was literally promoted as a spot for parents to drop off their kids, unsupervised, while mommy and daddy went to look at the cool grownup exhibits.
In the Sunday Tribune, University of Chicago professor William Garrison Whitford wrote about the World's Fair experience from the perspective of two fictional child visitors left to their own devices, "Robert and Peggy."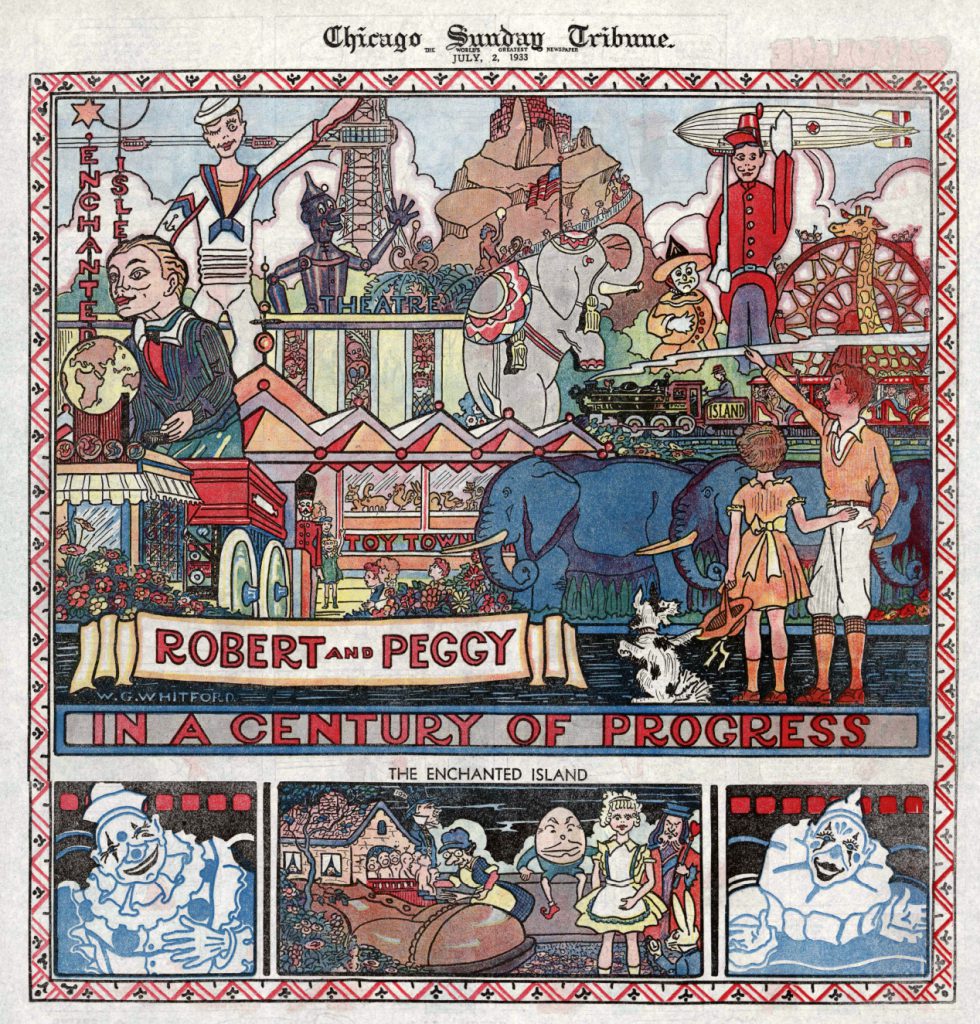 [William Garrison Whitford wrote and illustrated the adventures of the fictional Robert & Peggy "In a Century of Progress." Note the appearance of "Coaster Boy" on the far left.]
"On the Enchanted Island," he wrote in July of 1933, "the two children saw a sailor and a soldier, each as tall as a tree. They also gazed in wonderment at a colossal elephant, a giant Indian, a clown, the Tin Woodsman, and other characters right out of the pages of story-books, everyone of them as big as a house. They beheld a giant coaster wagon with the huge figure of a boy riding in it, and went into a house built out of millions of colored marbles. They visited marvelous shops filled with every kind of a toy known in the world today."
Basically, the Enchanted Island was a bonkers, jumbo wonderland for the penny pinching kiddos of the '30s, and by earning a spot right at the front entrance, Coaster Boy became one of the most surprisingly popular attractions—despite looking like the giant cyborg child of the devil.
By some estimates, Pasin's sales team sold more than 120,000 miniature coaster wagons by the time the fair concluded in 1934. Many were red, like the one in our collection, but blue and green were also available, among others. Considering the volume of the souvenirs produced, many of these special 1933 mini Radio Flyers are still in circulation. But as evidenced by the condition of our artifact, time can take its toll on the rubber wheels and paint job. These were meant for putting on a shelf more than playing with.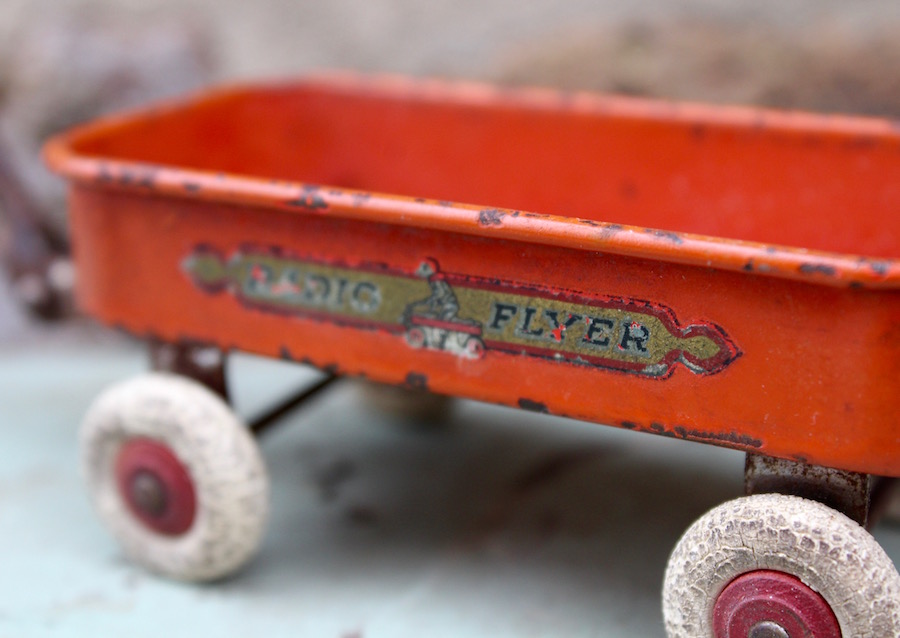 More important than the longevity of the souvenirs themselves, though, Pasin had indeed ensured the lasting popularity of his full-size product. The classic red Radio Flyer wagon became one of the great American toy brands of the 20th century, and perhaps even more impressively, the company behind it remained independently and family owned every step of the way.
When Antonio Pasin died in 1990 at age 93, his son Mario had already taken charge, and Mario's son Robert took the reins in 1997. Robert has helped the company dramatically turn around its sinking market share, battling back against stiff competition from bigger toy corporations both foreign and domestic. Sacrifices had to be made along the way, however. As mentioned, Radio Flyer closed the manufacturing portion of its Chicago operations in the '90s, and they also discontinued the original classic steel wagon, moving over entirely to plastic.

[Radio Steel & MFG employees gathered outside 6515 W. Grand Ave in the 1930s. The company still has offices at the same location, but no manufacturing]
As for the whereabouts of Coaster Boy? Besides the summer home he holds in my nightmares, the statue appears to have been lost to history. But the company did celebrate its 80th anniversary in 1997 by building another giant 40-foot Radio Flyer wagon—sans boy—which is still parked outside their corporate offices in Belmont Cragin. Anniversary no. 100 arrived in 2017, though sadly, company matriarch Anna Pasin didn't quite live to see it. Antonio's widow died at the ripe old age of 107 (!!!) in 2016.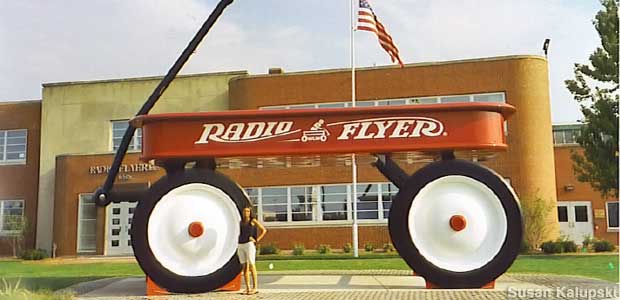 [World's largest still-existing Radio Flyer, outside the home office on Grand Ave., c. 2015]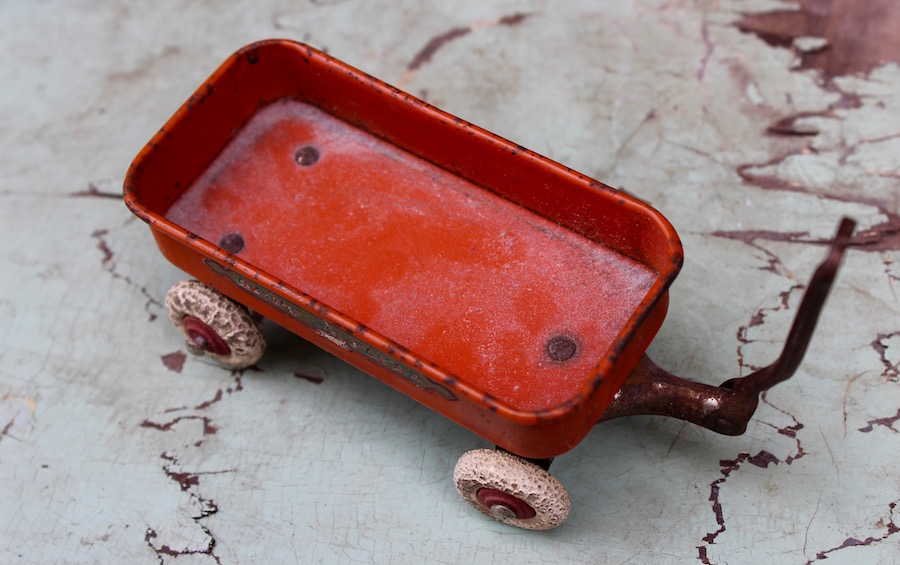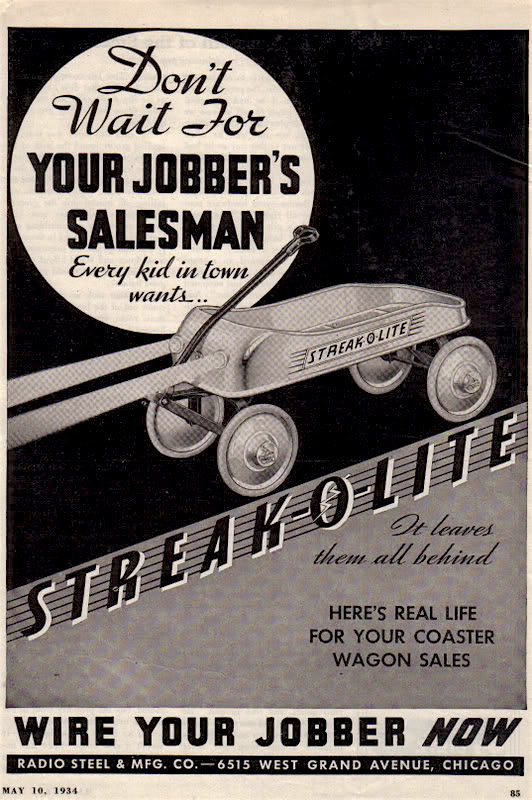 [1934 ad for Radio Flyer's Streak-O-Lite wagon]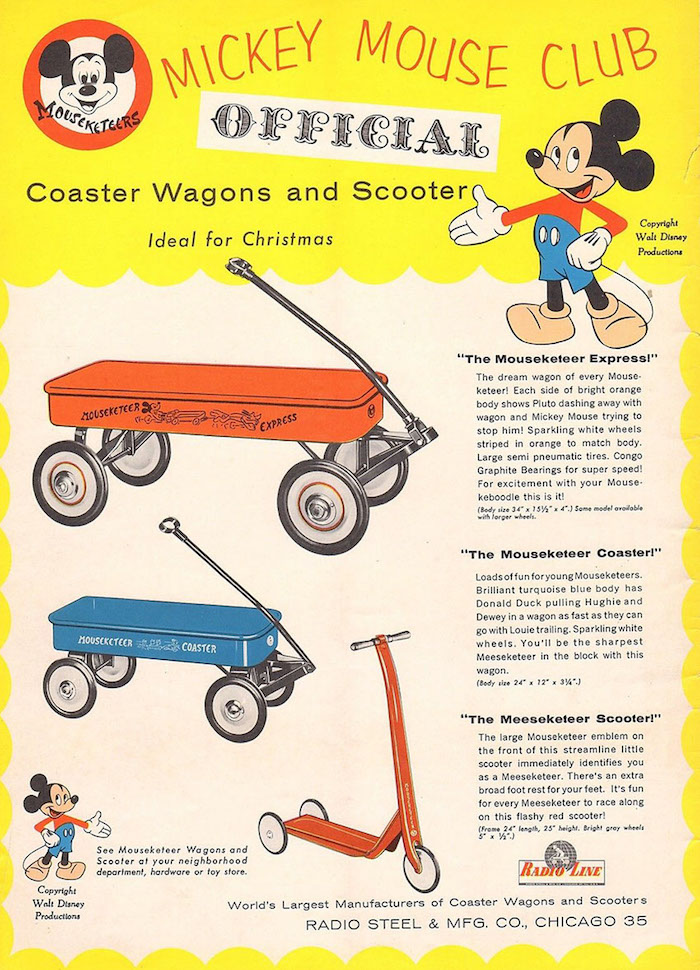 [Radio Flyer made Disney themed wagons for a while, with this ad dating for 1956]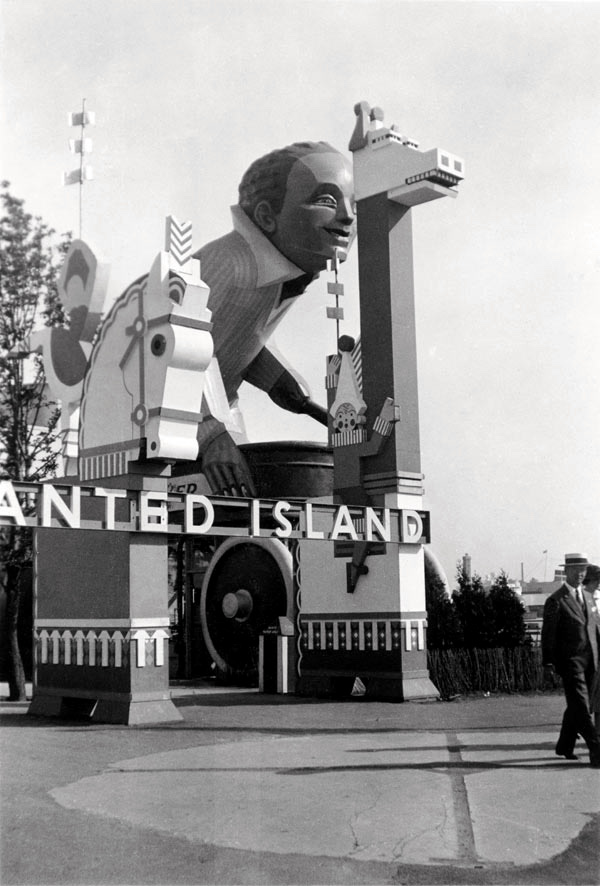 [He must be stopped!]
Sources:
"Antonio Pasin Steered Radio Flyer Red Wagons Upwards" – Investor's Business Daily
Sharing Wisdom, Building Values: Letters from Family Business Owners to Their Successors, by Denise H. Kenyon-Rouvinez, Gordon Adler, Guido Corbetta, Gianfilippo Cuneo
Timeless Toys: Classic Toys and the Playmakers Who Created Them, by Tim Walsh
Archived Reader Comments
"We still have one of the wood stake radio flyer wagons. I'd buy a new one for my grandkids if they still made them. sincerely," —Ray Paddock Sr, MSGT USAF Retired
"As a small boy i had a blue coaster wagon with head lights witch i received from royal blue grocery store im 89 now lots of good menories of that little wagon

" —T. Bachman, 2017