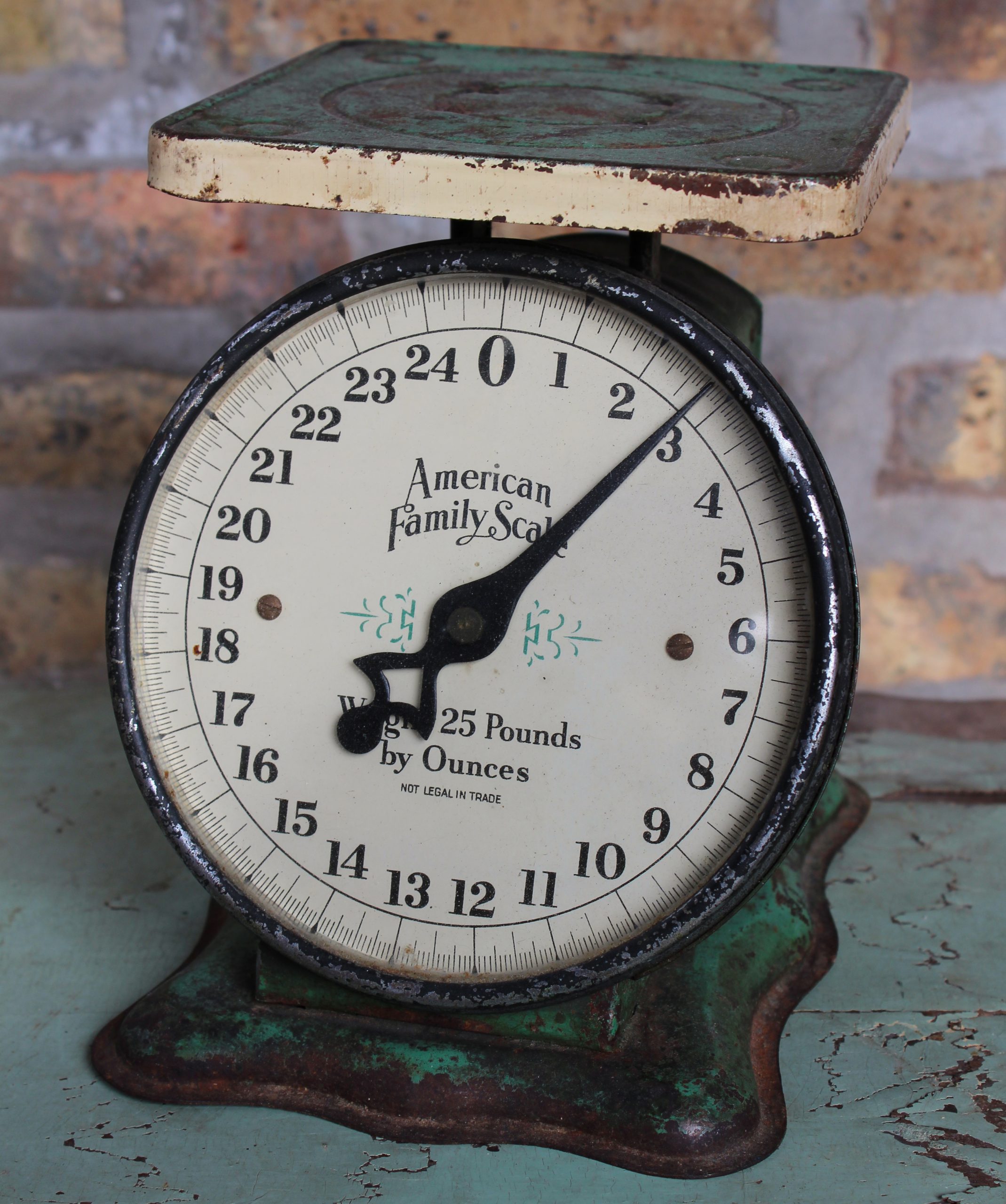 Museum Artifact: 25 LB Kitchen Scale, c. 1950s
Made by: American Family Scale Co., 515 S. Laflin St., Chicago, IL [University Village]
A television metaphor might not be entirely apropos for the time period, but when the American Family Scale Company was established in 1928, it was essentially a "spin-off" of Chicago's venerable American Cutlery Company. In fact, all the classic hallmarks of a TV spin-off were there: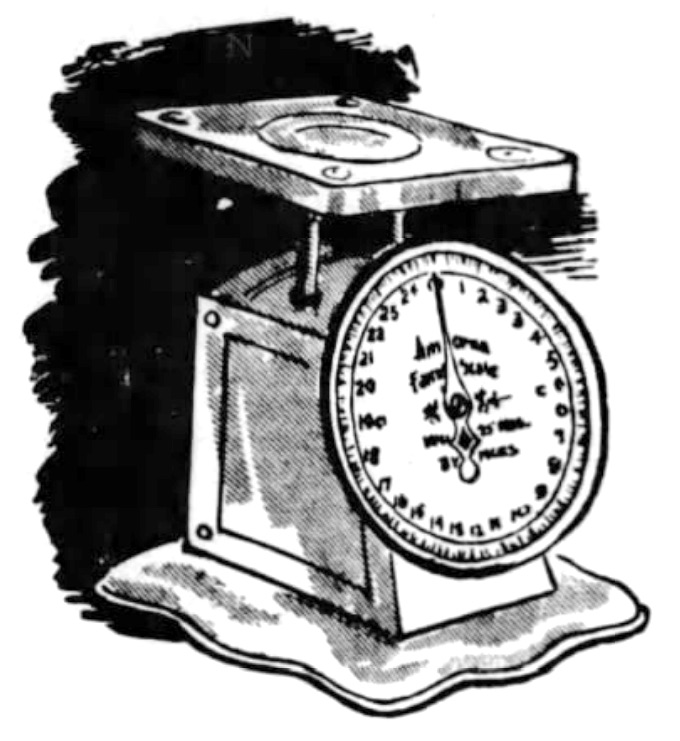 1—The original, beloved series was coming to an end: American Cutlery, once among the largest cutlery manufacturers in the world, had lost substantial marketshare in the years after World War I.
2—A secondary character in the original series seemed to be worthy of its own franchise: Kitchen scales had been a low-cost, high-profit side item for American Cutlery since the turn of the century.
3—The creators of the original series were still interested in making a lot of money after their first cash cow dried up: Moses Hirsch, son of American Cutlery Co. founder Meyer Hirsch, wasn't about to walk away entirely from his family's 70-year old business.
Famously, most spin-offs fall flat on their face. The American Family Scale Co., however, was one of those rare exceptions—like "Frasier" or "The Jeffersons"—that found its own following and stayed around nearly as long as its origin series. Up against plenty of competition from other spring scale manufacturers (many of them local Chicago foes), the company bucked the odds and excelled largely on the strength of its budget kitchen scales—a product which, in retrospect, might have appealed to consumers more on the merits of its prettiness than its practicality.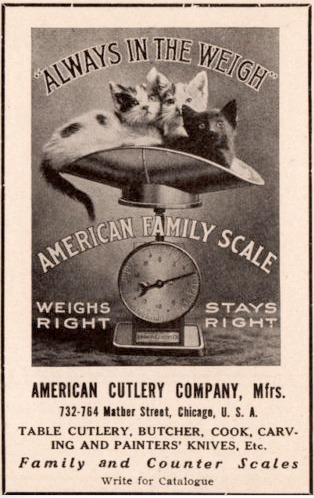 "I remember, in the early years, asking customers and anyone else I could find what our kitchen scales were actually used for, and no one really seemed to know," former American Family Scale president Bill Gould told us, recalling his days as a young sales manager in the late 1960s. Gould later helped modernize the company by focusing more on its baby scales, farm scales, and bathroom scales, but to this day, he remains somewhat baffled as to why his predecessors put the emphasis on the kitchen.
"Recipes, except in extreme cases, were in cups and teaspoons, and measuring out several pounds was a lot of anything when you were cooking," he says.
"Some people thought that it could be useful in home canning, and I pursued that angle, but truly many home canners didn't have or need a scale. Anyway, I must assume from their popularity in the first quarter of the 20th century that people found the scales useful, but maybe they were just nice solid housewares that were such a good value, why not have one?"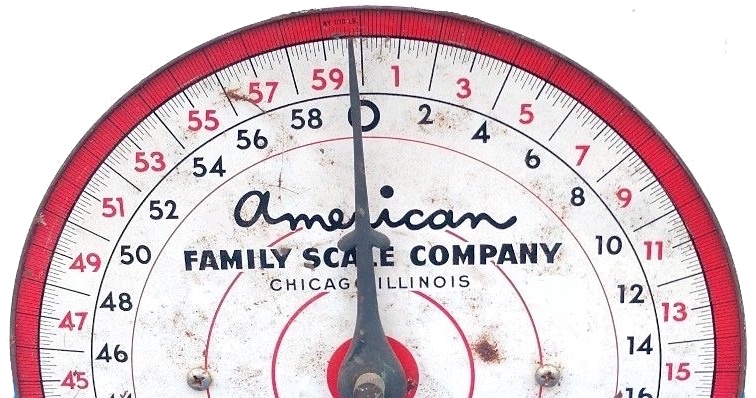 History of the American Family Scale Co., Part I. Deep Cuts
As explored in far greater detail on our American Cutlery Co. history page, the business that would eventually become American Family Scale was first organized in Chicago just after the Civil War by German immigrants Meyer Hirsch and Moses Rubel. It would take another several decades for American Cutlery to start manufacturing spring scales, but they did so with some gusto from the get-go, translating the refined aesthetic of their hand-forged steel knives for the purposes of weights and measures.
It was Meyer Hirsch's three sons—Isaac, Henry, and Moses—who really led the push into the scale biz at the dawn of the 20th century, smartly recognizing the long term benefits of diversification. Not everything about the venture was a success; the company's attempts at competing with Triner and Pelouze in postal scales, for example, didn't gain much traction. But the "Young America" and "American Family" kitchen scales were a whole other story, quickly challenging Hanson's established U.S. Family scale.
[pictured below: Clip from a newspaper ad in the Dayton Daily News, May 28, 1900, for an American Family scale available at the May & Co. department store]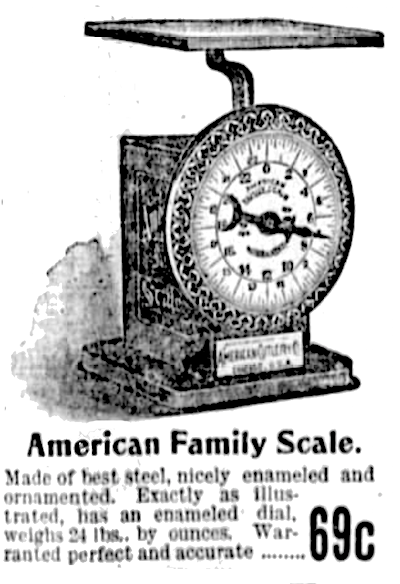 Along with selling to various regional housewares retailers, the Hirsches had managed to win a lucrative supply contract with America's favorite retail giant: Chicago's own Sears-Roebuck. Once the American Family scale started gracing the pages of that particular catalog, it was off to the races.
If you were flipping through the 1902 edition, for example, you'd find a handsome AF steel scale priced at just 83 cents (about $25 in modern dough); well below the cost of the competition, and doubly appealing, considering the way Sears' wordsmiths sold it: "beautifully enameled and ornamented. . . . Occupies but little space, is light and easily moved. . . . You can look this one in the face to prove its accuracy."
As for the mystery of why a kitchen scale, accurate or otherwise, would have seemed like a worthwhile investment for the average American household of the era, a later 1920 issue of Simmons Spice Mill offers at least one other possible explanation. "The family scales [of American Cutlery Co.] are said to be exceedingly popular, the reason assigned being that during present times of high prices the housewife feels the need for checking up purchases." In other words, you could use your home kitchen scale to see how much your typical produce weighed and game plan your shopping accordingly to outsmart the grocer's scale . . . I guess?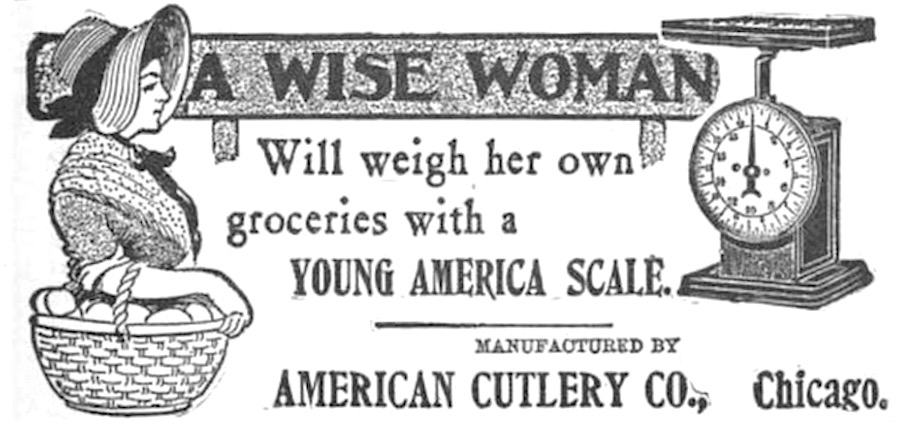 [A 1905 magazine ad suggests that weighing one's groceries for cost accuracy was indeed a practical function of American Cutlery's family scales in the early days]
Anyway, housewives weren't the only ones pinching pennies as the 1920s set in. The American Cutlery Company was feeling the squeeze, as well, as increased competition from cheaper, imported silverware was putting the hurt on the original bread-and-butter of the business. Things got decidedly worse between 1922 and 1923, when both Isaac Hirsch and Henry Hirsch died at relatively young ages, leaving Moses Hirsch as the sole remaining head of a floundering operation.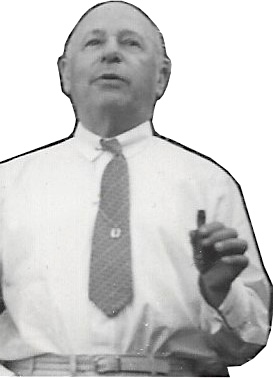 Fortunately, Moses [pictured] was more than capable of holding the reins. By now he was nearly 60 years old, and while he had as much experience in the cutlery trade as just about anybody, he also remained open-minded about the future and what survival might entail. And so, in 1928, Hirsch made a bold decision: he sold the last vestiges of the American Cutlery Co. to his nephew and business colleague, Lawrence H. Powell, who absorbed it into the new American Stainless Knife Company.
This freed up Moses Hirsch and his wife Meta to incorporate the former American Family Scale manufacturing division as its own stand-alone entity, the American Family Scale Company. The spin-off was officially green-lit.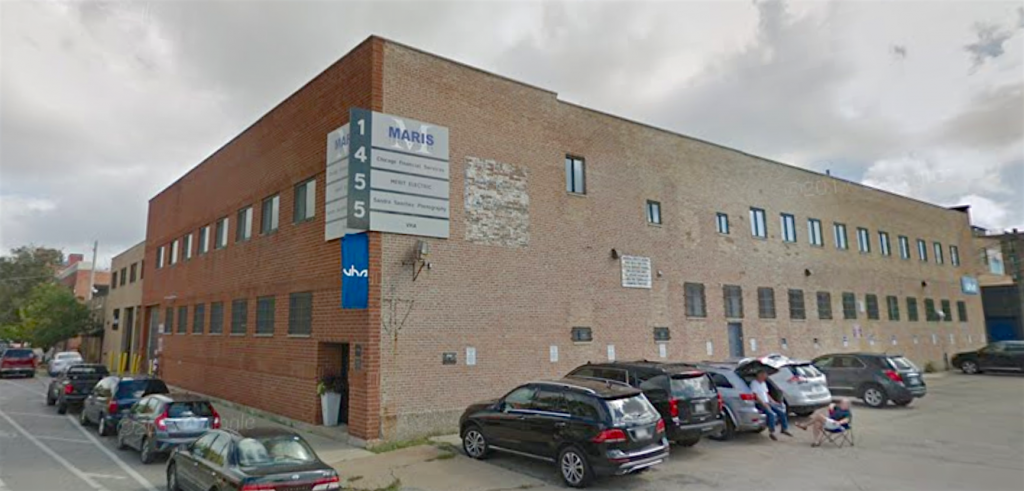 [The former American Family Scale Co. plant at 1455 W. Hubbard St., its HQ in the 1930s]
II. What's Old is New Again
Depending on how you look at it, Moses Hirsch's timing was either brilliant or rotten. He'd managed to pawn off the cutlery business just a year before the stock market collapse likely would have consumed it, but he'd also put his eggs in a new, arguably riskier basket with this scale racket. It might have spelled disaster had American Family not retained its enviable arrangement with Sears. Those mail-order sales continued to help buoy the upstart company through the Depression, keeping things going even after two separate fires at its West Side factory (1455 W. Hubbard Street) set production back.
Of course, even a critically acclaimed spin-off series sometimes drops a bit in the ratings or has to shake up the cast, and American Family certainly had its own re-sets on the horizon. In the 1940s, metal rationing during the war put all scale manufacturing on hold indefinitely. Around the same time, American Family moved its central operations from Hubbard Street back to the old American Cutlery plant at 754 Mather Street (by then re-named Lexington Street), and presumably picked up a military contract or two to keep the machines running; although I can't confirm what, if anything, they produced during the war years.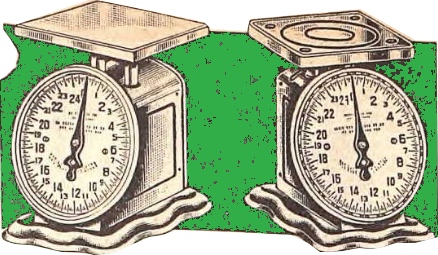 When the war ended, American Family was free to get back to work, and in some ways, it was as if nothing had changed. The company's post-war countertop scale designs, like the green model in our museum collection, looked and functioned much as they had a half-century earlier. In an era when streamlined futurism was the trend in most housewares, the kitchen scale maintained a retro folksy appeal . . . at least for a while. By no coincidence, perhaps, Moses Hirsch—whose career dated back to those earliest scales—was still actively involved in the running of his business.
"The newest claimant for the title of Chicago's oldest active merchant," the Tribune reported in 1950, "is Moses Hirsch, who at 85 is at his president's desk daily at the American Family Scale company."
Hirsch never did retire. The Grim Reaper had to force his resignation in the winter of 1951. Afterward, his son-in-law, Dr. Gail I. Gould, kept American Family "in the family," becoming just the second president in the scale company's history.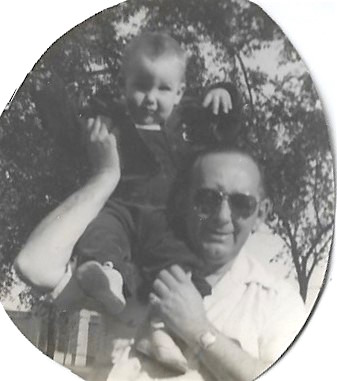 During the 1950s, Gould [pictured here with his son and future company president Bill] was faced with trying to keep American Family Scale relevant in a rapidly changing landscape. The notion that the scale industry would somehow carry on unaffected by the electronic revolution was clearly a pipe dream. The challenge was figuring out how to maintain the company's appeal—cheap, cute weighing devices—without being left completely in the dust by technology.
The effort started with a move to a new 13,000 sq. ft. facility at 515 S. Laflin St. in University Village, where American Family Scale remained through most of the 1950s and '60s (the building has since been demolished). The factory employed a team of just 35 regular workers in 1953, with Ervin McDonald serving as plant manager, R.E. Fireman as sales manager, and Louise H. Gould—Gail's wife and Moses Hirsch's daughter—in the role of vice president.
It's a good bet that the green American Family scale in our museum collection was manufactured at the Laflin Street plant during this period in the early '50s. While determining the precise age of any of these scales is always exceedingly difficult, we do have the aid of the 1953 Sears catalog below, which reveals an image of a scale that seems to match the exact construction and design of our artifact, save for the color.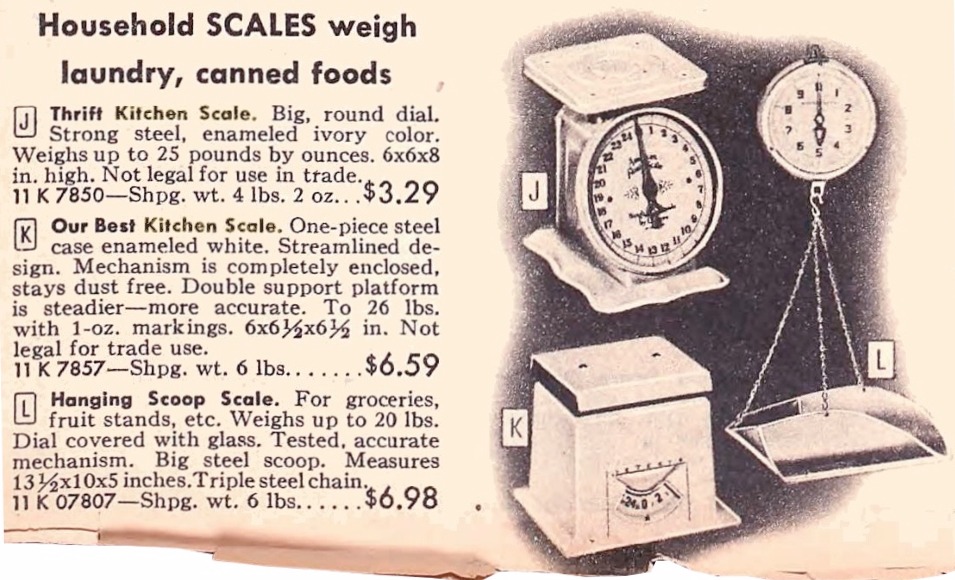 [Source: 1953 Sears catalog]
By this point, the classic American Family metal spring scale model was being marketed as the "Thrift Kitchen Scale"—"Big, round dial. Strong steel, enameled ivory color. Weighs up to 25 pounds by ounces. 6x6x8 in. high. Not legal for use in trade. $3.29." By comparison, the "more accurate" but boxy / boring looking model pictured below it was twice the price, and promoted as "Our Best Kitchen Scale." Neither of these options had yet transitioned over to electronic tech.
It's worth noting that American Family would later produce a series of vintage-style reproductions of its kitchen scales in the '70s and '80s—a fact which has severely muddied the waters for modern day collectors. As Bill Gould told us himself, the American Family scales that say "1906 model" on the dial—of which there are many on eBay—are NOT genuine antiques. They were actually cheaply made modern reproductions, which often replaced brass gears with nylon, metal tops with plastic, and glass lenses with polystyrene. In most other ways, the "1906" scales look a lot like the 1950s models, and nothing like the actual turn-of-the-century models. Which begs the question, what the huh? But I digress.
[Left: Another mid-century American Family scale from our museum collection. Right: A very similar looking "1906 model," sans pointer, which was actually a reproduction, circa 1980s.]
III. Modernization and Moving On
After Gail Gould passed away in 1957, Louise Gould became American Family's third president, carrying on her father's tradition and leading the company through some of its roughest years in the 1960s. Late in the decade, to save money, she moved the HQ to a rented plant at 1301 W. 35th Street in Bridgeport. The outlook, however, looked gloomy at best. This was the situation her son, Bill Gould, observed in the late '60s, as he was pondering his own future.
"I knew by the time I was a senior in college – a business major – that if I wanted to ever work for American Family Scale I'd have to start now," Gould told us. "I could tell that with low sales and recurring loses that I had to act promptly."
[Former American Family Scale presidents Louise Gould and Bill Gould (left) along with brother Bob, 1968]
Before he'd even graduated, Bill took on the role of sales manager for the family business, working with a secretary named Nancy Klee—"a very bright young lady"—to hire a new sales force and track down more customers.
As Bill Gould ascended to the presidency, he calculated new strategies for success and sought to correct some of the strange decisions of the past.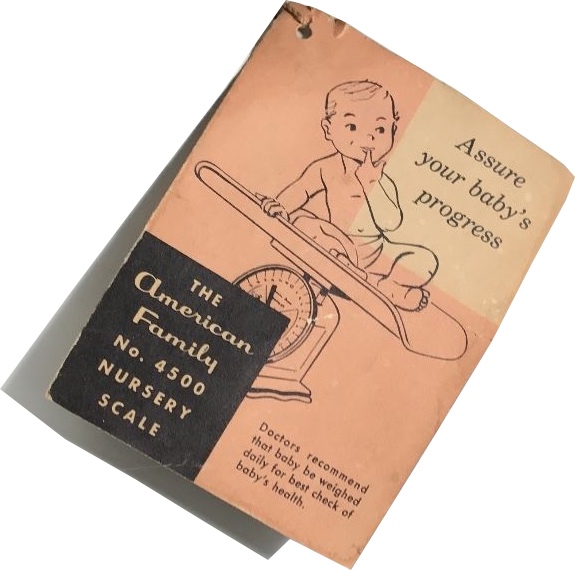 "I never could figure out why they didn't get into the bath scale business, which was much larger than the kitchen scale business," he says, acknowledging that it probably boiled down to a lack of necessary capital. In the '70s, the easier transition was a shift to baby / nursery scales, which functioned under the same basic principles as the kitchen scales.
"It made sense to me that a nursing mother would want to weigh her baby on a more regular basis than visits to the pediatrician," Bill says. "I increased distribution from JC Penney first to Toys R Us, then S & H green stamps, which in one year netted me a national Good Housekeeping ad – '7 lbs., 5 oz….3 books.' We sold a lot of baby scales for a while and eventually nosed Hanson out of the Sears catalog. Baby scale sales rose to over 100,000 units a year."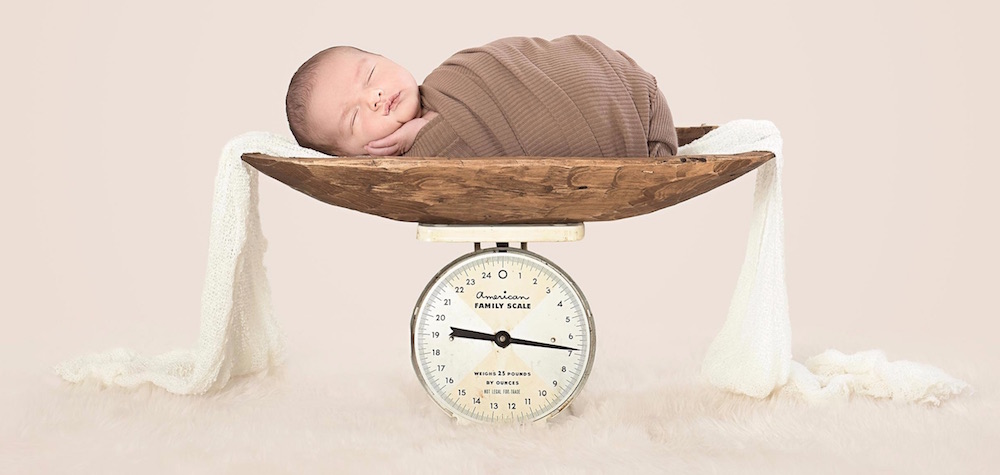 Shortly thereafter, Gould saw that Bloomingdales in New York was advertising a Detetco peddler scale that was painted in bright vibrant colors and priced way up to $50 as a "decorative item."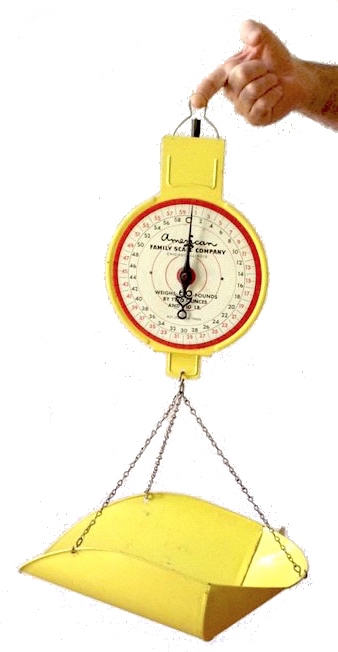 "It was successful so I copied the idea," he admits, "using our hanging farm scale; in bright yellow, red and avocado green! Our scale was less expensive to manufacture and we were able to retail at $20 and sold a lot of them, including one year being the top houseware item in the Sears Christmas catalog."
This was the dawning of what might be called American Family's "disco era," when the company churned out plenty of hyper-colored products, including kitchen scales with tacky images of cartoon fruit on the dials. Plastic was increasingly replacing the quality metal, as well, but such was America. The louder styles were working in capturing the attention of a new audience.
"As I progressed with the business I did generate enough capital to buy a building (at 3718 S. Ashland Avenue, former factory home of Rival Dog Food) and get out from under our landlord at 1301 W 35th Street, but what we spent on new products never seemed enough to make the big jump. . . . I think the scales continued to be about what they always were function wise, but the market wasn't good – try to find new 25 LB kitchen scales or baby scales today – not much for sale."

[Two former American Family plants still standing today at 1301 W. 35th Street (left) and 3718 S. Ashland Avenue (right)]
As late as 1982, a piece in the Chicago Tribune still cited the American Family Scale Co. as "the country's oldest and largest manufacturer of kitchen scales," and there were hopes that society's new obsession with diet fads and calorie counting would bolster sales long term. Bill Gould looked at the tea leaves, though, and soon made a decision that book-ended the one his grandfather Moses Hirsch had made 60 years earlier.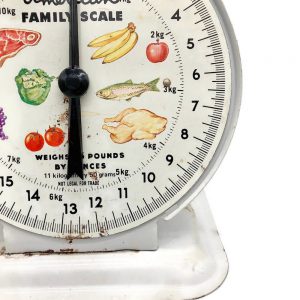 "Despite sales growth from $280,000 to over $3,000,000 since my arrival, I didn't feel like anyone was helping me steer the ship," he told us. "Health-O-Meter [formerly the Continental Scale Co.] offered to buy us out [in 1986] and I took the deal. I then worked for them for about a year and a half and was happy when they planned to be bought out by an investment group and didn't need me. With a year's severance I eventually ended up with (and then running) Piel Associates.
"Anyway, it all worked out for the best. I actually worked longer as a moulding rep than as a scale guy and got more out of passing that business on than I did from Health-O-Meter."
This time around, there would be no spin-off. The American Family saga had reached its end. The show, however, lives on in permanent syndication. Just stop by your local Goodwill or antique shop and you're likely to see one.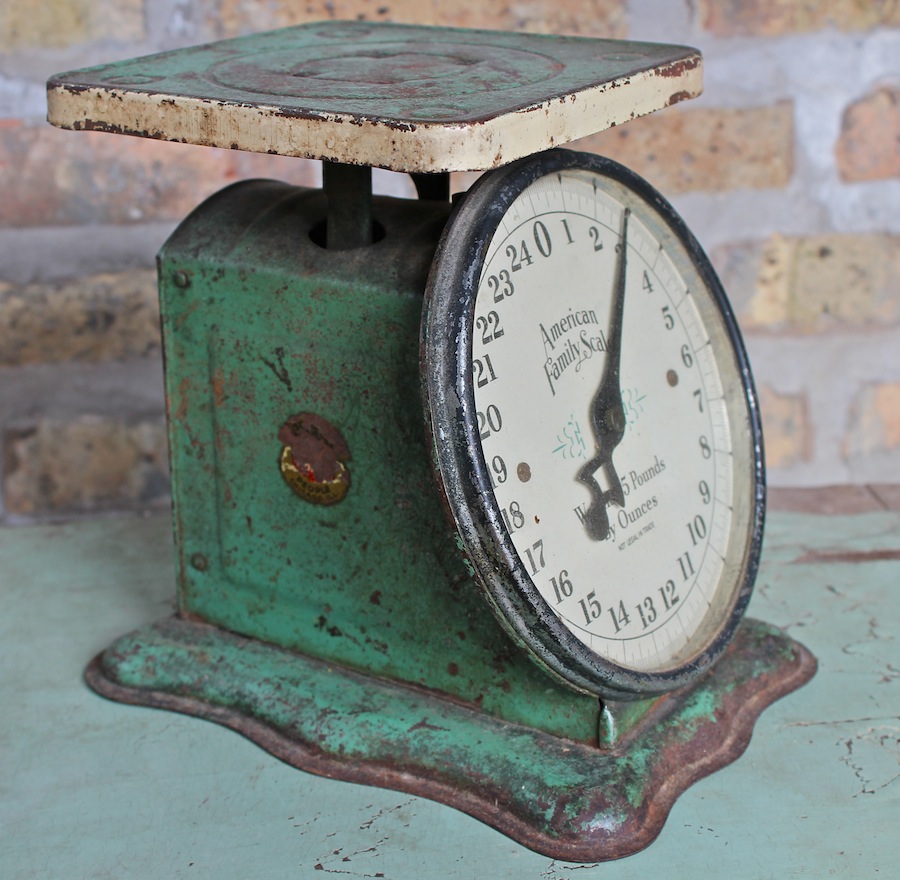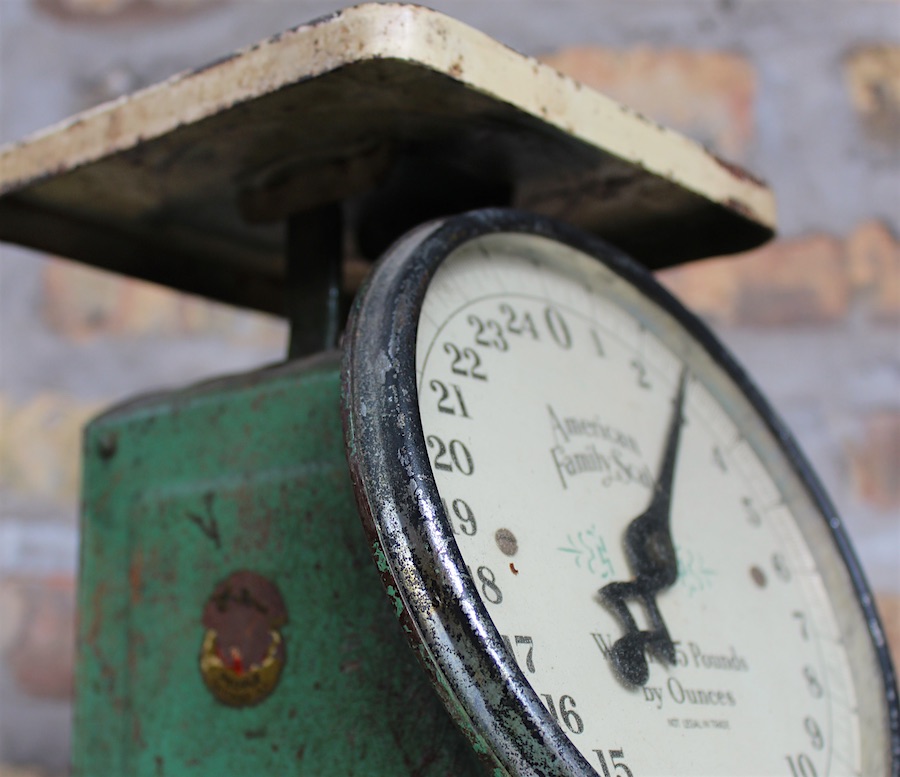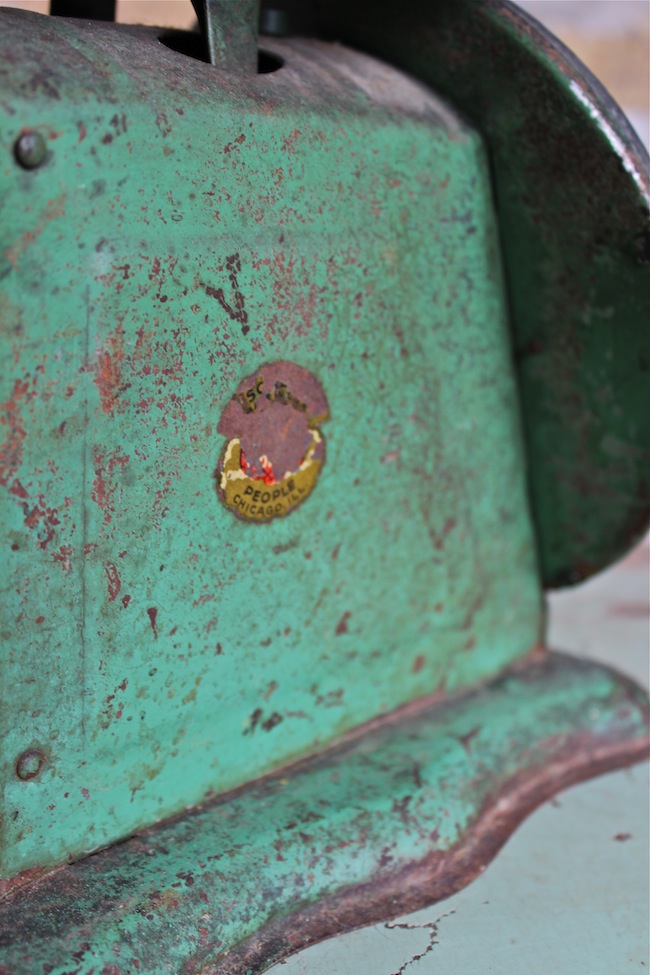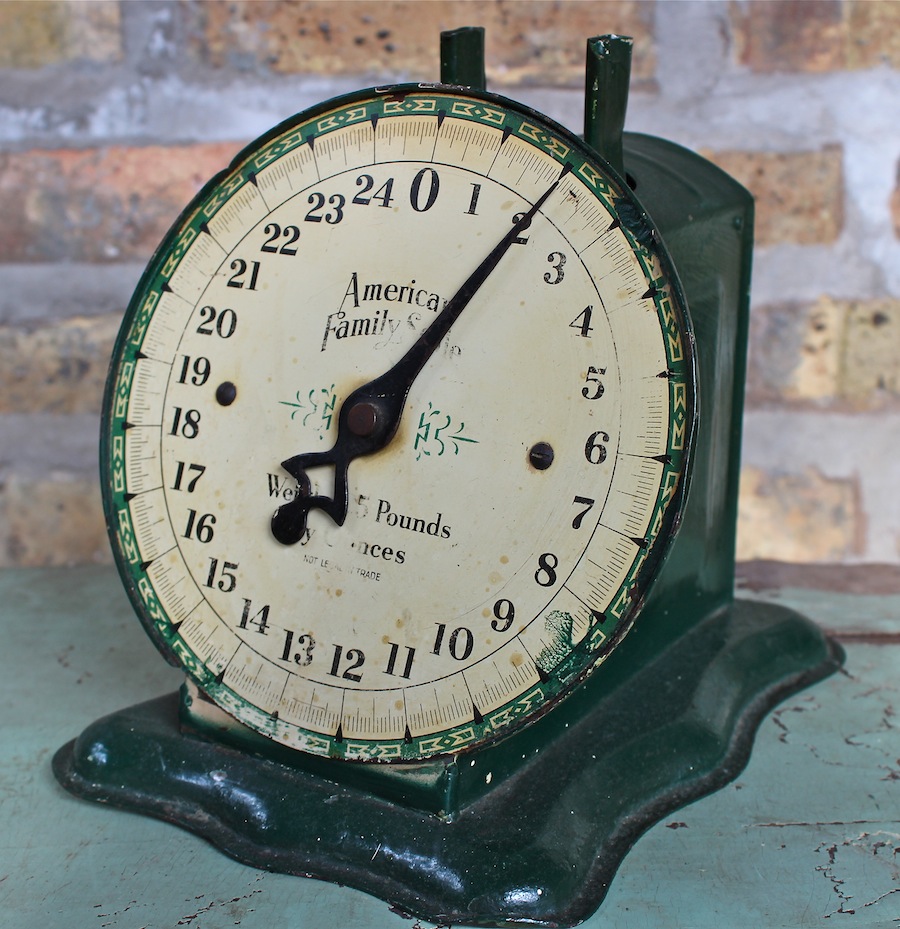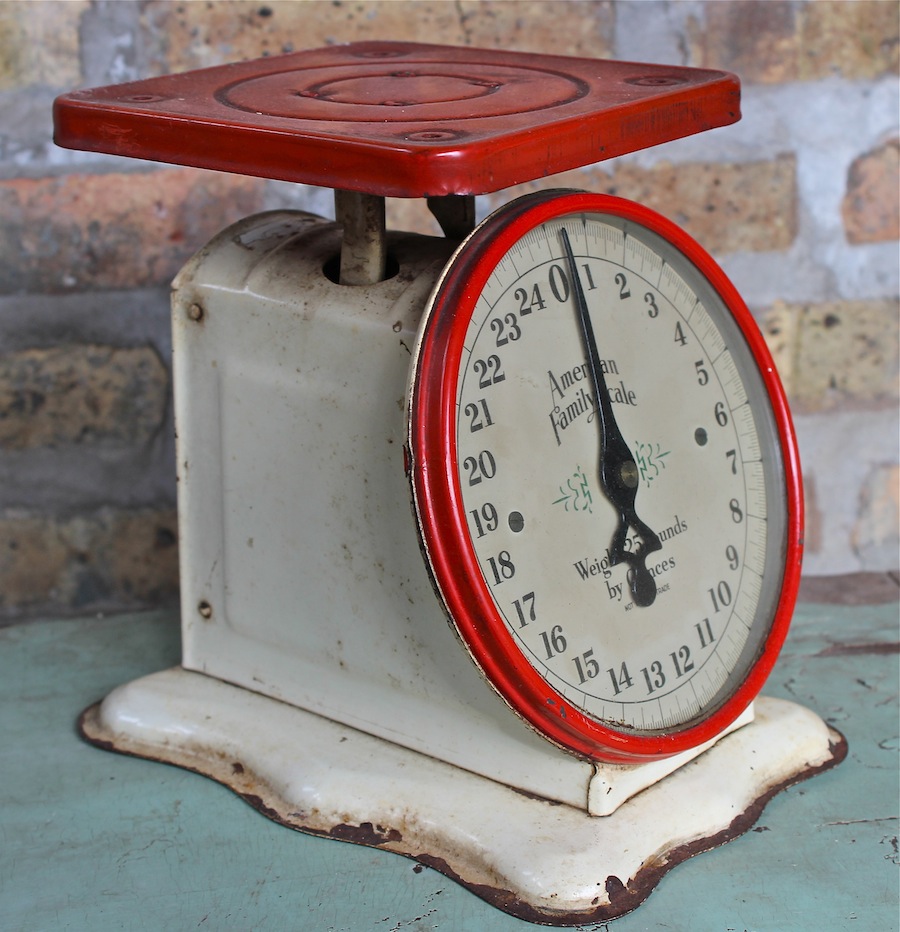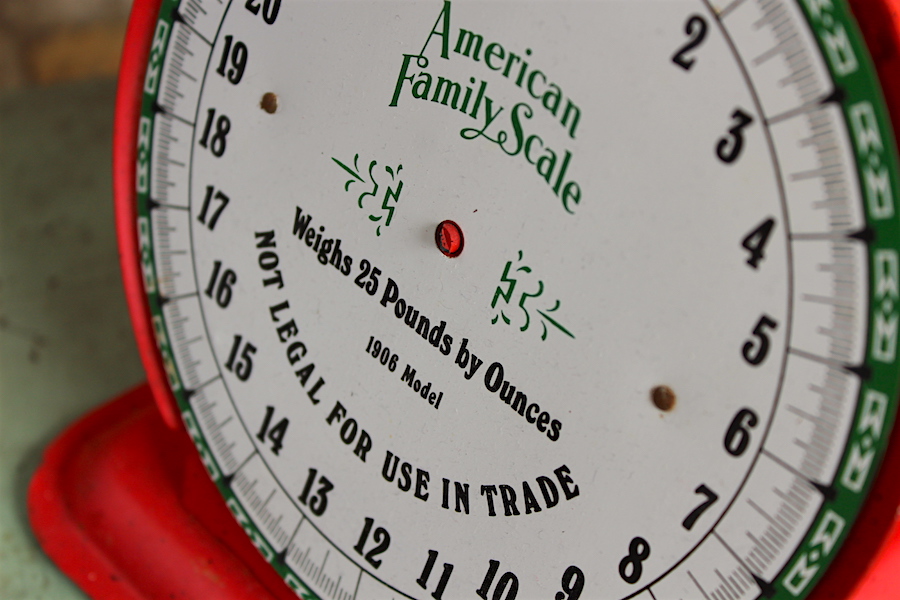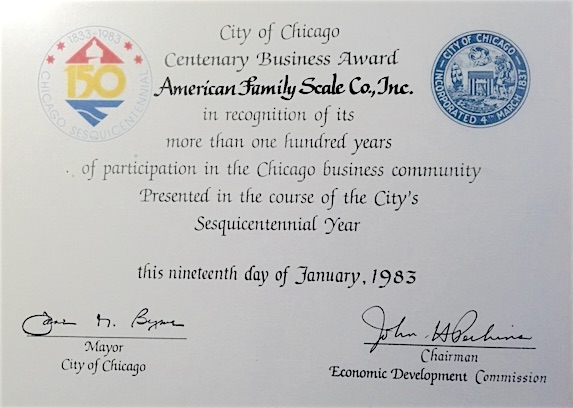 Sources:
Chicago and Its Resources Twenty Years After: 1871-1891, by Royal L. La Touche
Chicago Tribune, January 14, 1950
"One Weighty Problem Is Enough, Let a Scale Count the Calories" – Chicago Tribune, March 21, 1982
Manufacturers News, Vol. 33, 1928
Hardware Age, Vol. 122, 1928
The Economist, Vol. 101, 1939