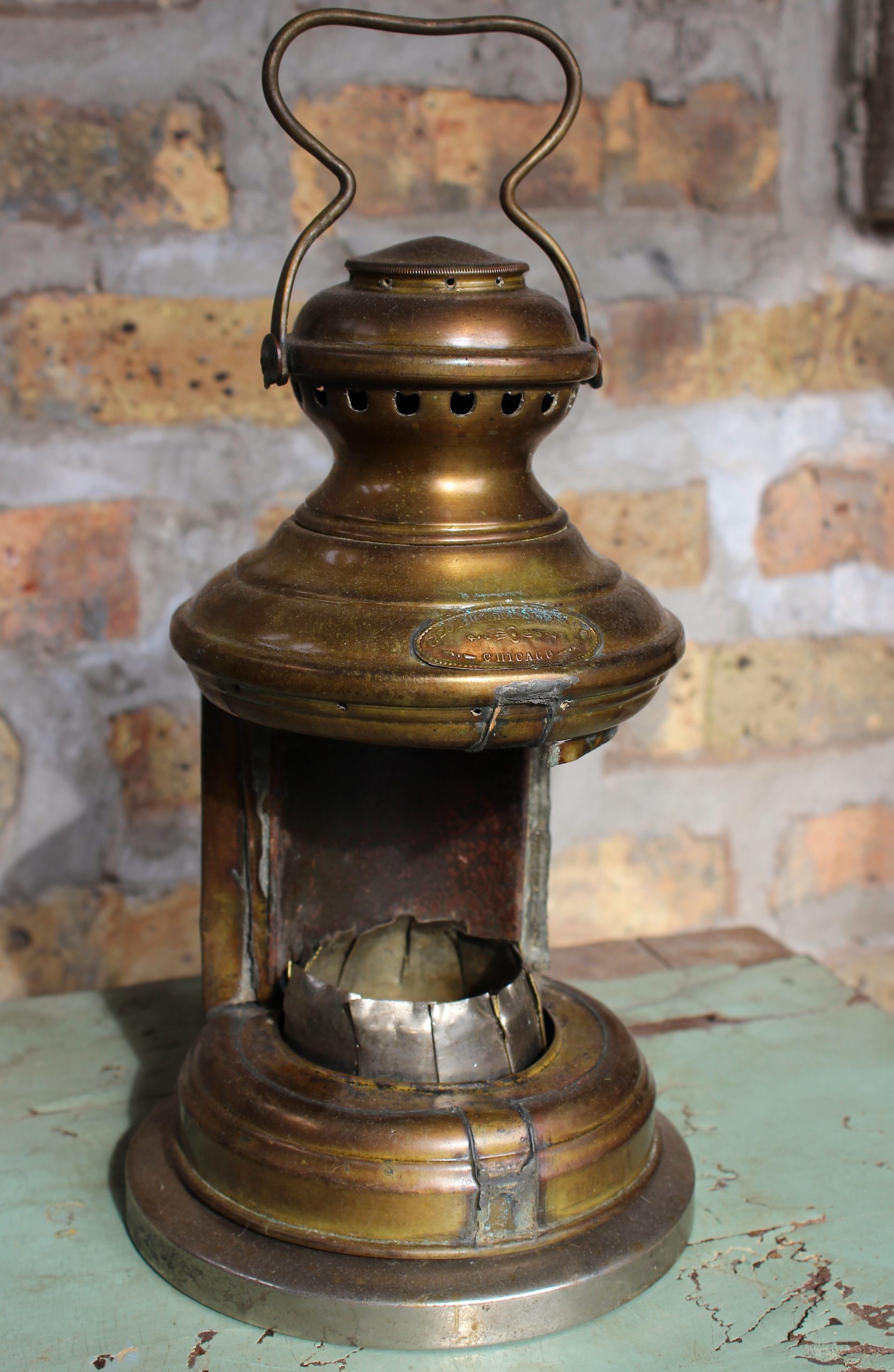 Museum Artifact: Nautical Lantern, 1910s
Made By: Geo. B. Carpenter Company, 440 N. Wells St. [River North]
"Navigation lamp" or "nautical lantern" would be the more romantic terms, but according to the official 1917 catalog of George B. Carpenter & Co., our brass relic here was actually marketed, generically, as a "motor boat light," with a more specific designation as the No. 5 Combination Light. It originally would have included two separate Fresnel lenses (like the kind in a lighthouse), one green and one red, separated by a removable front screen—which unfortunately, in our case, has been permanently yoinked. The interior has a single-wick kerosene configuration, and the "combination" aspect refers to illuminating both the port and starboard side of a boat.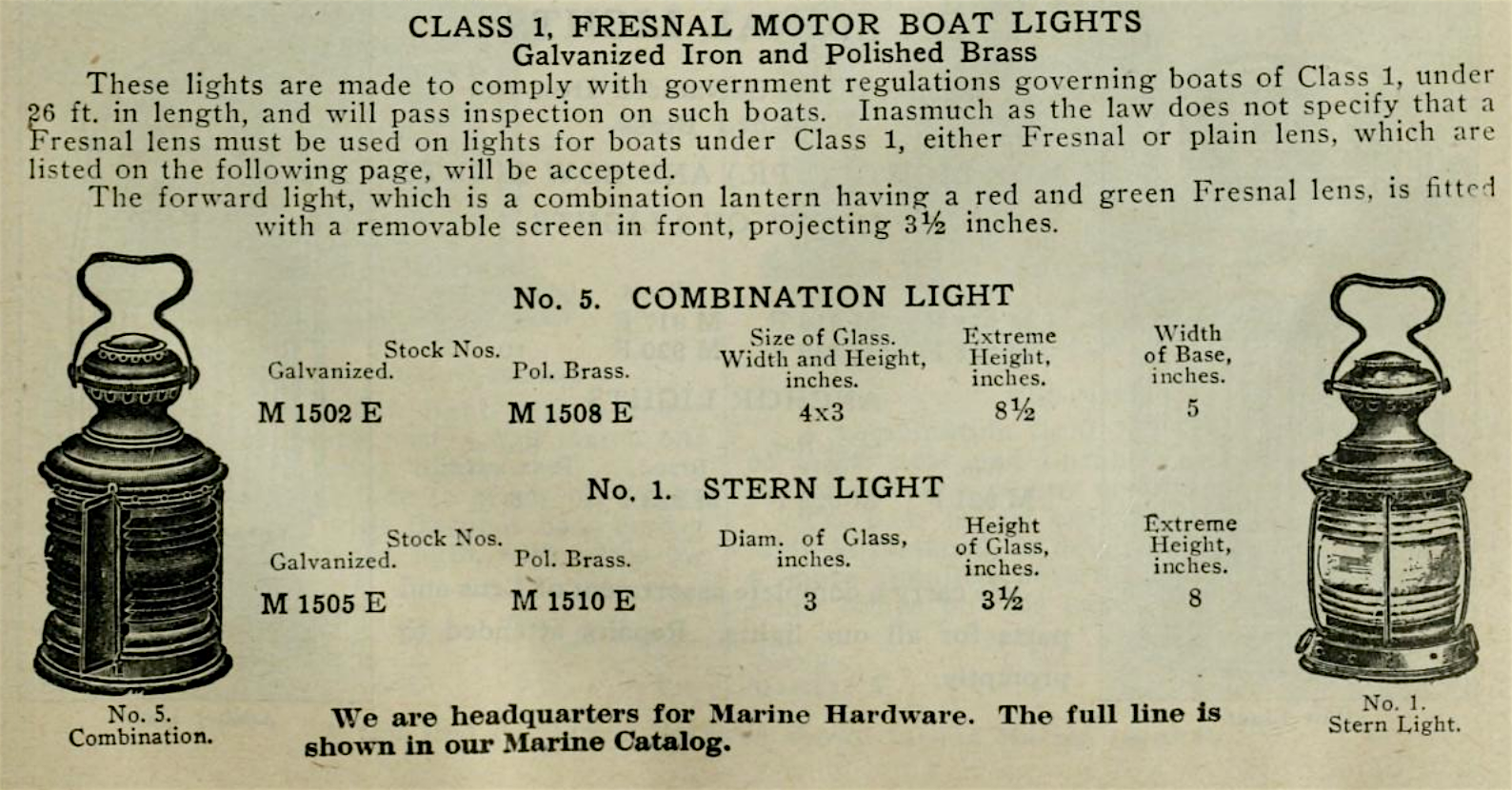 Carpenter's early 20th century motor boat lights were just one small part of a massive "Marine Hardware" inventory that had already been the company's calling card for roughly 75 years.
"The Marine Supply Department in point of age represents the corner stone of the Carpenter business," according to the 1919 edition of Manufacturing and Wholesale Industries of Illinois. "There has always been a very definite link binding it to the maritime interests and to 'the men who go down to the sea in ships.' There is a good, old tarry smell which seems to permeate the various stockrooms, which suggests all sorts of romantic associations."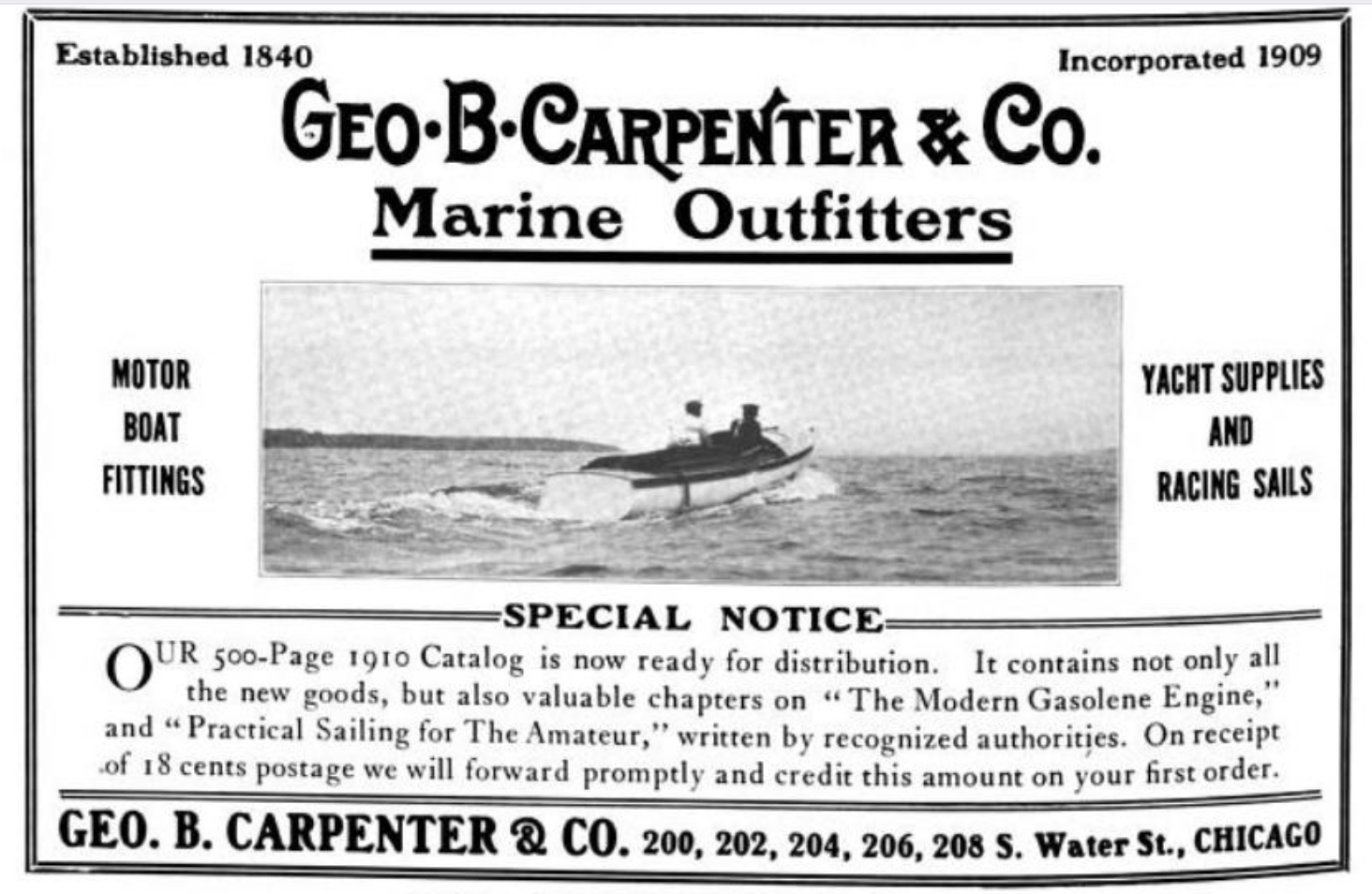 Indeed, even before the company had a long history—or George Carpenter's name on its banner, for that matter—writers were freaking out over the glorious romance of a mighty American business, built on a great river, serving the needs of the ambitious, bold and seaworthy.
In 1862, right in the middle of the Civil War, History of Chicago author Isaac Guyer described the firm, which was then known as Gilbert Hubbard & Co. In the process, he also does a pretty amazing job summing up the rise of the city itself.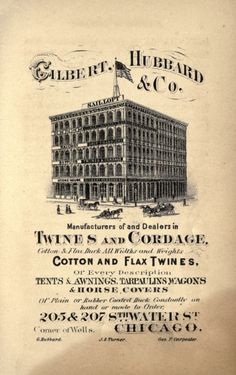 "Few great cities present such commercial attractions as Chicago, and few commercial houses represent so great and important an interest as the one of which this article will illustrate. Chicago is the commercial centre of the Northwest, with a population, today, of more than nine million of souls, which has sprung into existence, and developed the proportions for an empire, since the War of 1812, situated at the head of a vast chain of inland seas, upon which floats a marine of more than fifteen hundred vessels, with an aggregate of nearly four hundred thousand tonnage, employing more than eighteen thousand men. At the present time there are sixty-five more vessels on the stocks in the process of building, many of these at the different ports on the shores of Lake Michigan, and most of them, as is the case with most of the ship building on this lake, are supplied with their tackling by the leading commercial houses in this city.
"The principal and leading one is that of Messrs. Gilbert Hubbard & Co., who occupy that massive iron structure of architectural grandeur, which will defy the desolation of time and the spoil of ages, located on the corner of South Water and Wells Streets. If the reputation they have already attained, for sagacious, careful and honorable merchants, shall continue as unsullied by the hand of time, as the iron building they occupy, long will they be proudly numbered with merchant princes. …Their long experience makes them masters of the business in all its minute details, as most of the sailing masters of the upper lakes can attest; their large capital enables them to produce the best articles at the lowest price."
That "massive iron structure which will defy the desolation of time" actually burned to the ground in the Great Chicago Fire about a decade later. But nonetheless, Guyer was at least partially correct. This company was primed for longevity and influence.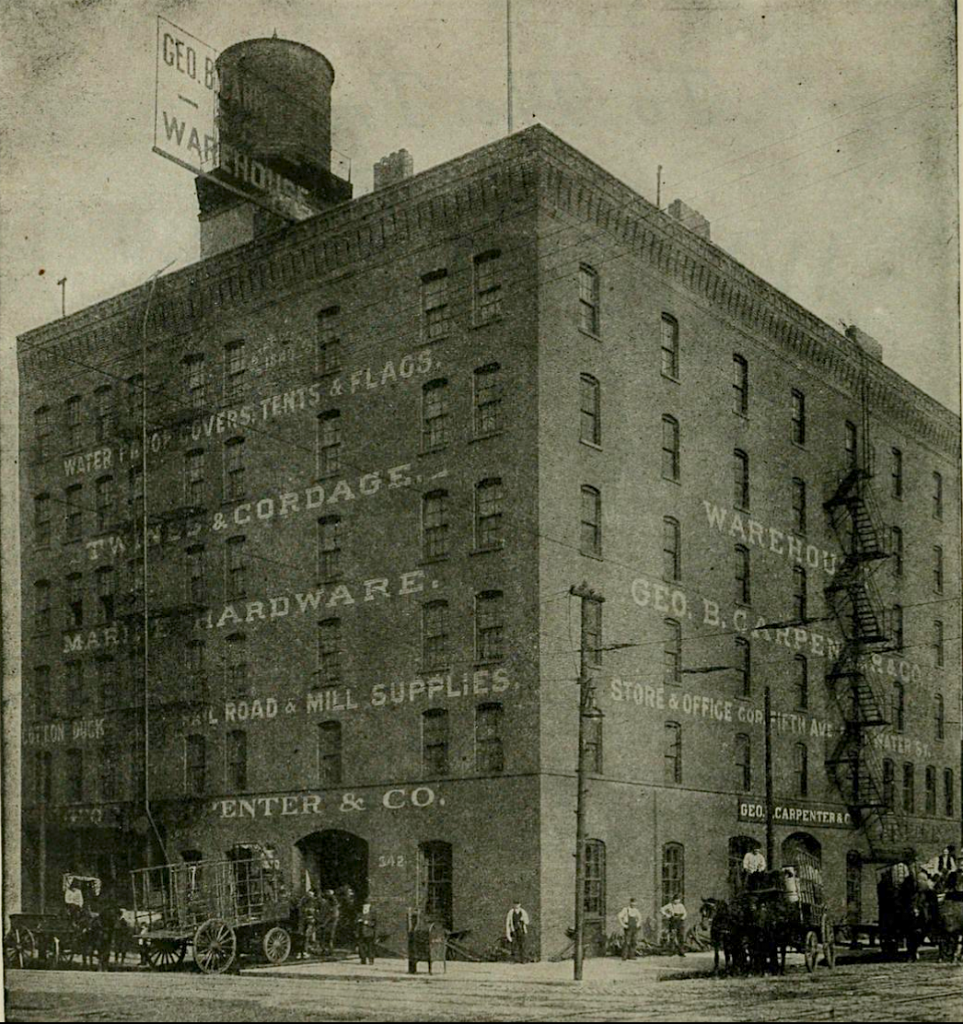 [Carpenter & Co. Warehouse at Grand and Orleans Streets, early 1900s]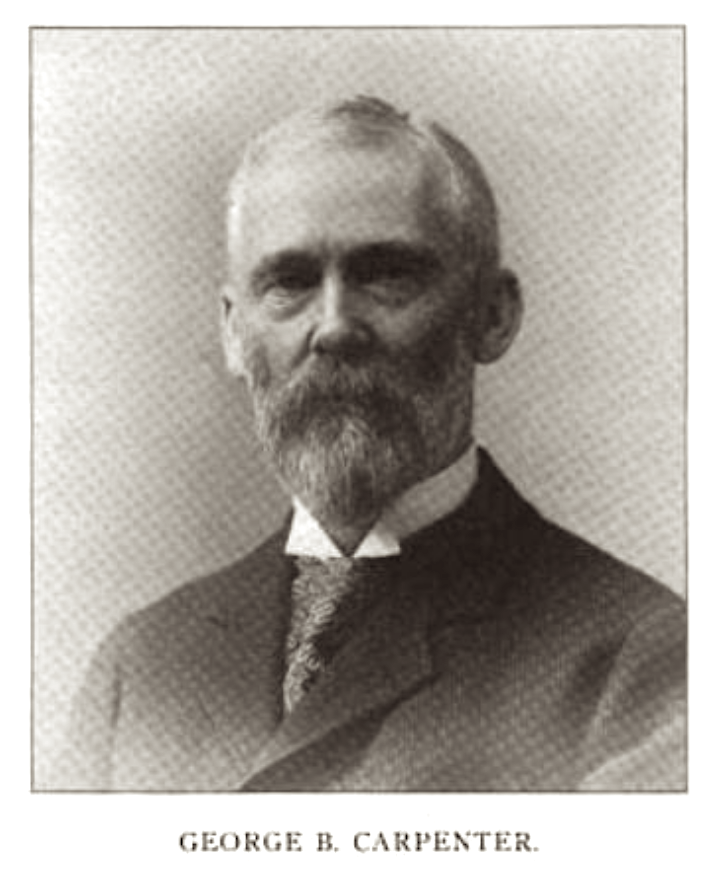 George B. Carpenter, himself, joined the already flourishing business in 1857 at the age of 23, leaving behind his dad's meatpacking plant to buy a one-third share in Hubbard & Co. The company's reputation was well established (it had initially been founded under the name Foster & Robb back in 1840, just three years after Chicago was incorporated), but most folks associated it solely with twine, ropes, nets, burlap sacks and the like. Over the next couple decades, however, Carpenter teamed with the savvy and well-connected Gilbert Hubbard to expand their operations into hardware, railroad supplies, and more. They even shook off that little Great Fire setback to return stronger than ever with another "massive iron structure" across the street from where the first one had stood.
Then, in 1881, George B. suddenly lost both of the central mentors in his life; his father Benjamin and Mr. Hubbard, each of whom he'd named a son after. The following year, Gilbert Hubbard & Co. was officially handed over to George, and—presumably with encouragement from the Hubbard family—he renamed it George B. Carpenter & Co.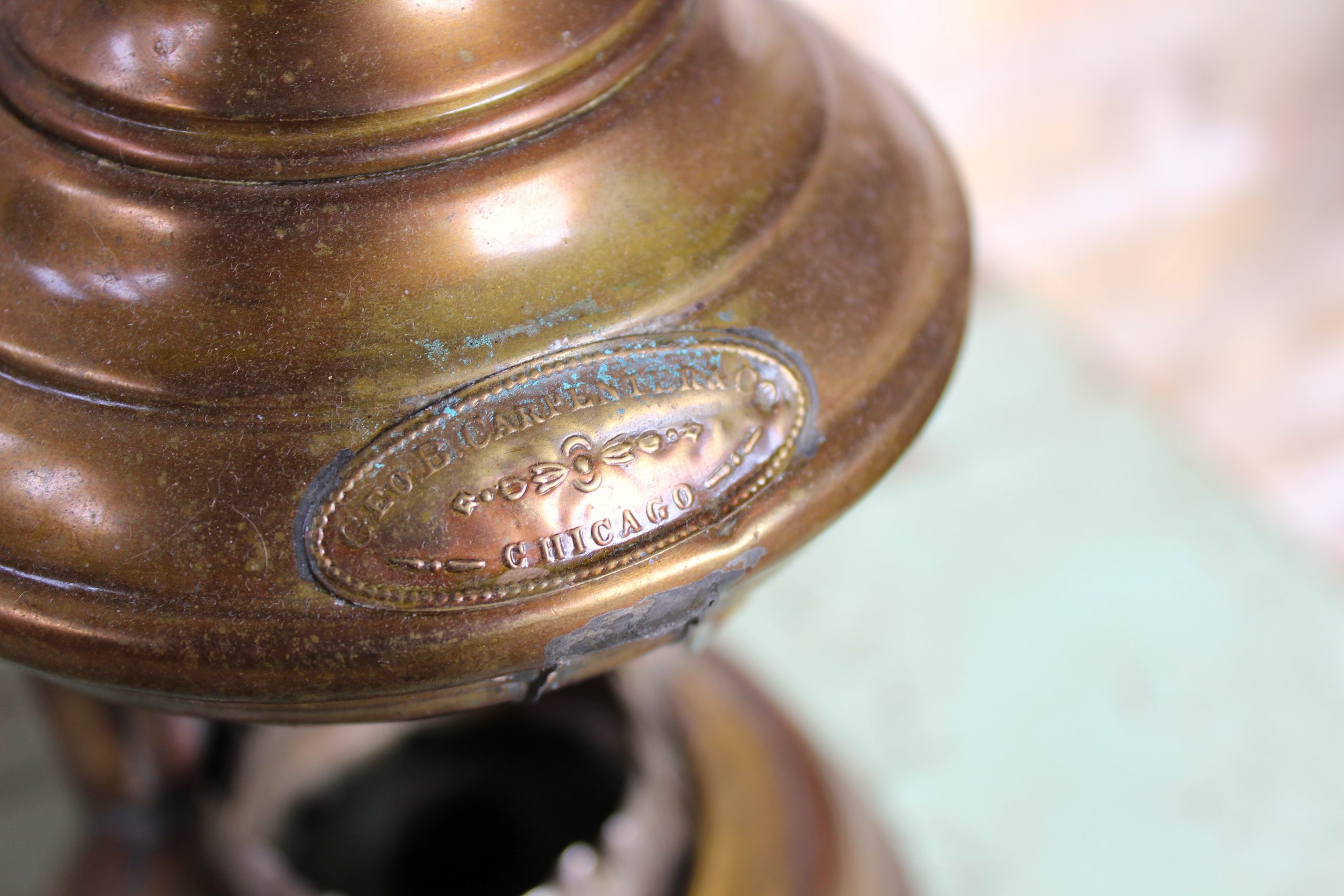 "The vast business of the old concern passed into the hands of Geo. B. Carpenter & Co.," recounted the 1886 ed. of Marquis' Handbook of Chicago, "and they have since managed it with the same far-reaching enterprise and unswerving integrity that characterized the old establishment through so many years of eventful history. Today, Geo. B. Carpenter & Co., constitute the oldest and most favorably known ship chandlery house in the west. …And they have been prominently identified with every step of the commercial development of Chicago for more than a quarter century."
So much praise! Either Carpenter & Co. was a great company or they were incredibly skilled at paying off historians and guidebook writers. We'll presume the former, if only because business was clearly booming straight through into the 20th century.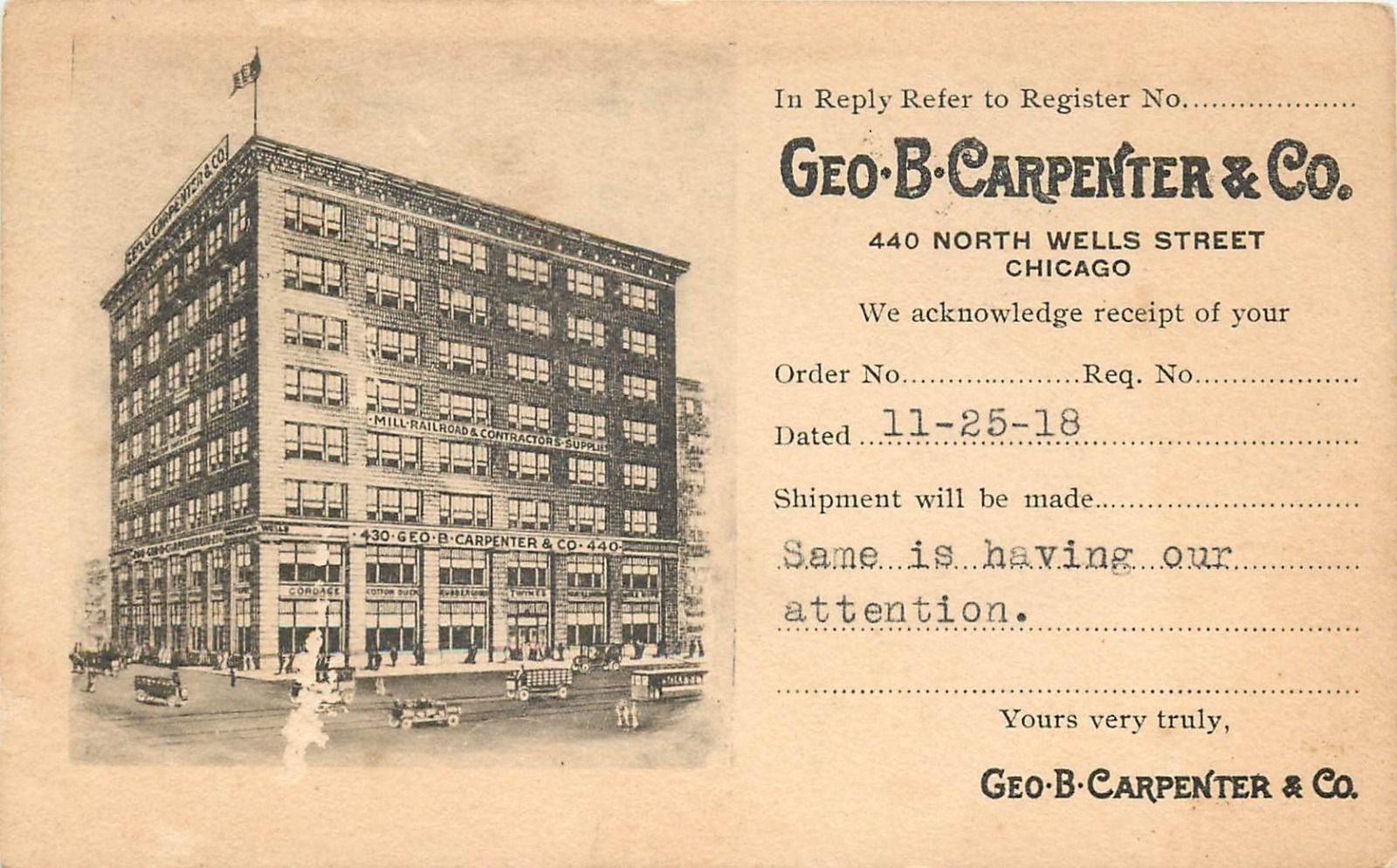 By 1900, George had brought three of his sons, Benjamin, Hubbard, and John Alden, into the company, and Geo. B. Carpenter & Co. had multiple factories, warehouses, and storefronts—with massive print catalogs proving it was more of a distribution giant than a manufacturing one at this point. That same year, 66 year-old George B. was asked to explain his success as part of a company profile in the book, A History of the City of Chicago: Its Men and Institutions. The interviewer was, presumably, a young man.
"Young man," Carpenter told him, "I attribute the success of our house very largely to our old fashioned method of doing business on the square, insisting that agreements must be kept and bargains lived up to, no matter what the cost. Of course, it is well to have around you men who will not make agreements which they cannot fulfill, or bargains which are not bargains, and who are not always watching the clock."
The interviewer made a point of noting that Carpenter delivered that last line with a "twinkle in his eye." And that does seem weirdly relevant. From most accounts, George B. Carpenter wasn't just the nose-to-the-grindstone taskmaster type. He was a thoughtful gent and a humanitarian, giving a lot of his substantial wealth to local charities. After his death in 1912, his personal library of more than 1,000 books was donated, as well, helping to essentially launch the local public library in his home of Park Ridge, Illinois.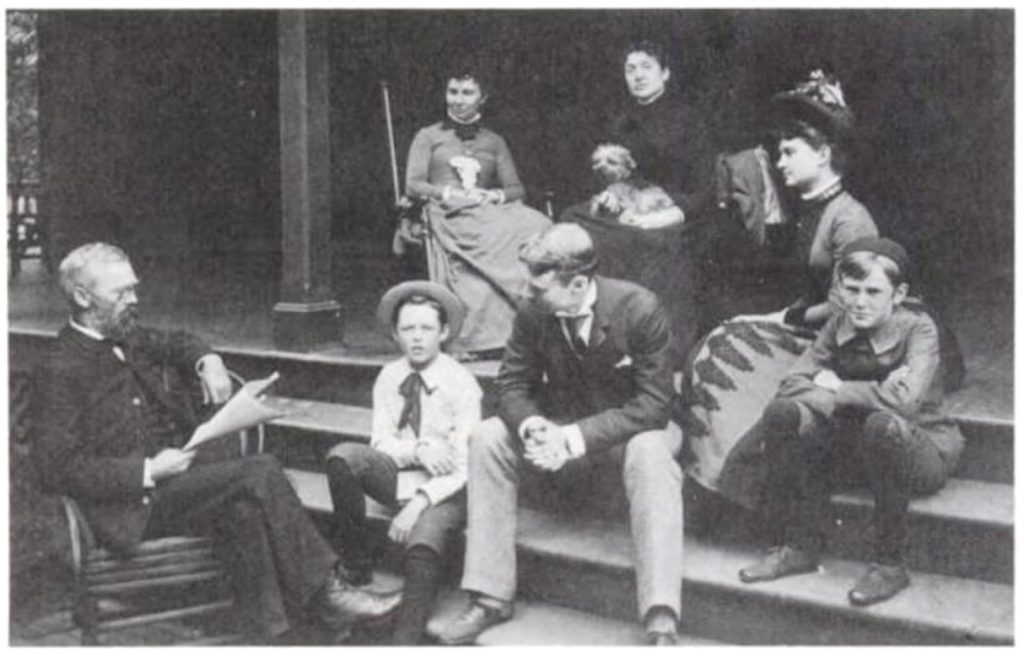 [George Carpenter (far left), wife Elizabeth (holding the dog), and sons, from left to right, John Alden, Benjamin, and Hubbard, all hanging out at the family's Park Ridge estate]
George's sons took over the family business after their father's passing, with Benjamin as president, Hubbard as secretary, and John as vice president (another son, George, went into law). They settled into a new main office in 1912 at 440 N. Wells St. and continued the expansion of the business into the 1920s, with warehouses as far off as Seattle.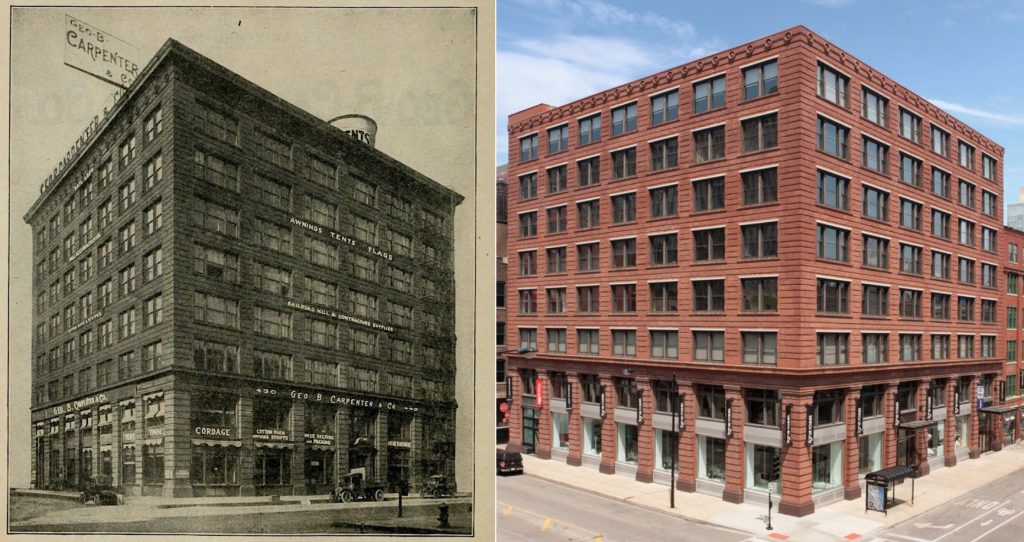 [The former Geo. B. Carpenter headquarters at 440 N. Wells St., 1917 and 2016]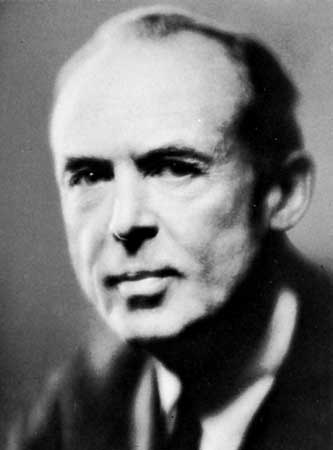 Along the way, John Alden Carpenter [pictured in his later years] managed to find success in a wildly different field—music composition. He'd gained a passion for songwriting mainly from his mother Elizabeth, who was a fine singer. And while he never left his post as V.P. of Geo. B. Carpenter & Co. from 1909 to 1936, John carved out time to write a wide range of ballets, piano pieces, and orchestral suites, some of which were met with wide acclaim. His 1926 ballet Skyscrapers debuted at the Metropolitan Opera in New York, while back in Chicago, most of John's employees and clients in the industrial trades had no clue they were in the presence of a great artist.
As the positive reviews rolled in, John Alden Carpenter certainly could have left the company at any point to focus on his music, but he remained at his post right up until his retirement at age 60. Was it a sense of devotion? An enjoyment of the distractions or inspirations from the daily grind? I guess you might have to listen to the music to figure it out.
Once the Carpenter sons did leave the company, the impact of the Depression and increasing competition from foreign manufacturers led to an inevitable downturn in business. I have yet to pinpoint the exact path of Geo. B. Carpenter & Co. into the mid 20th century, but it appears the company was purchased by a former competitor, the Astrup Company of Cleveland. Astrup, in turn, eventually fell under the umbrella of a company called TRI Vantage, which still exists and, according to a few questionable sources, still counts Geo. B. Carpenter & Co. as a loose sub-division of its operations.
It's not the grand fate that wide-eyed journalists were envisioning for the firm 100+ years ago, perhaps, but sometimes even the brightest lantern can only shine so far into the mists of a Great Lakes night.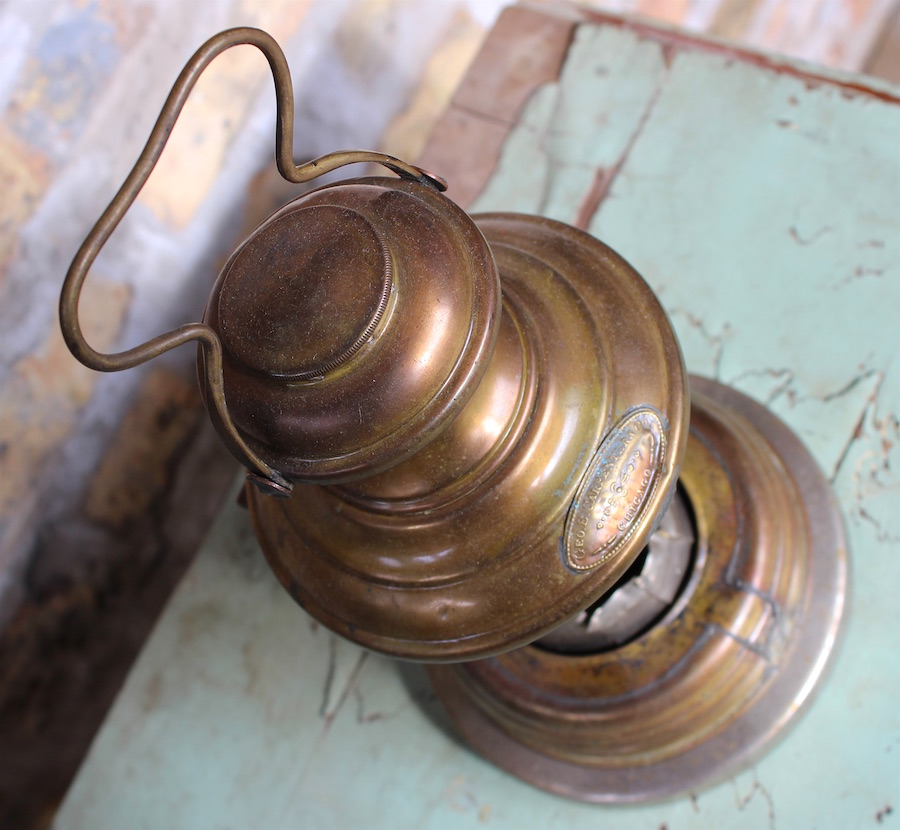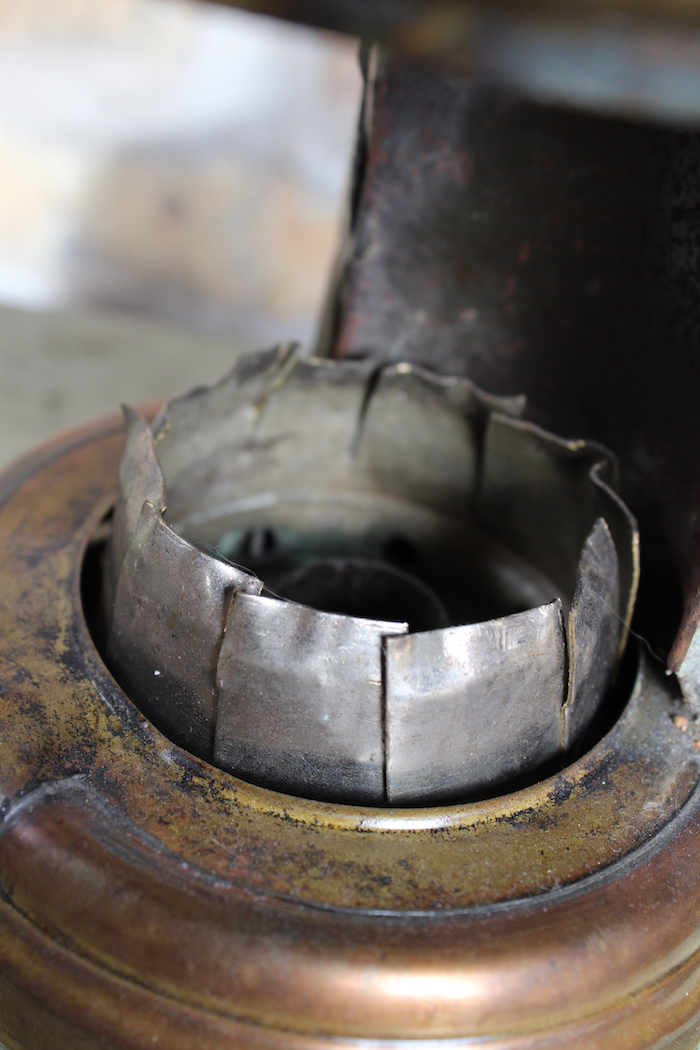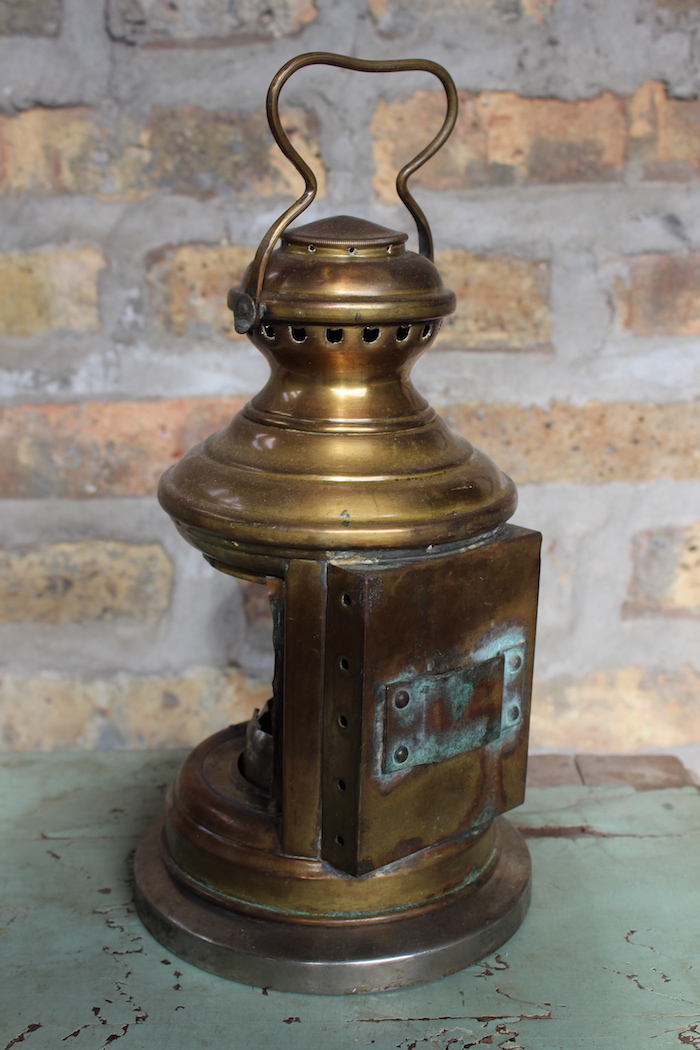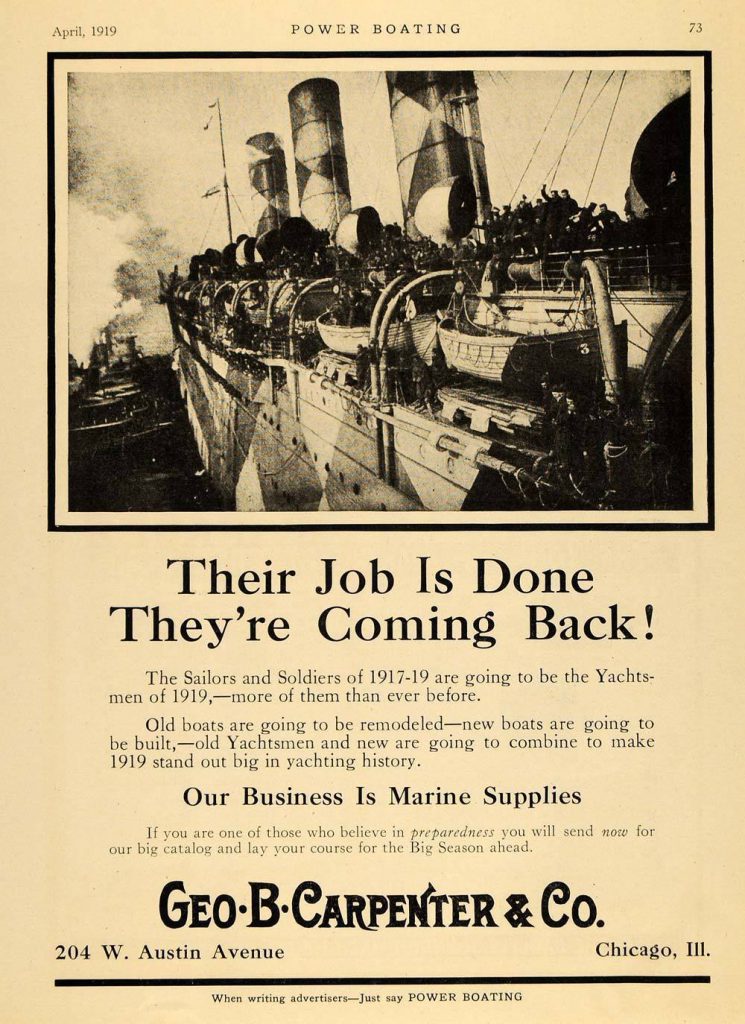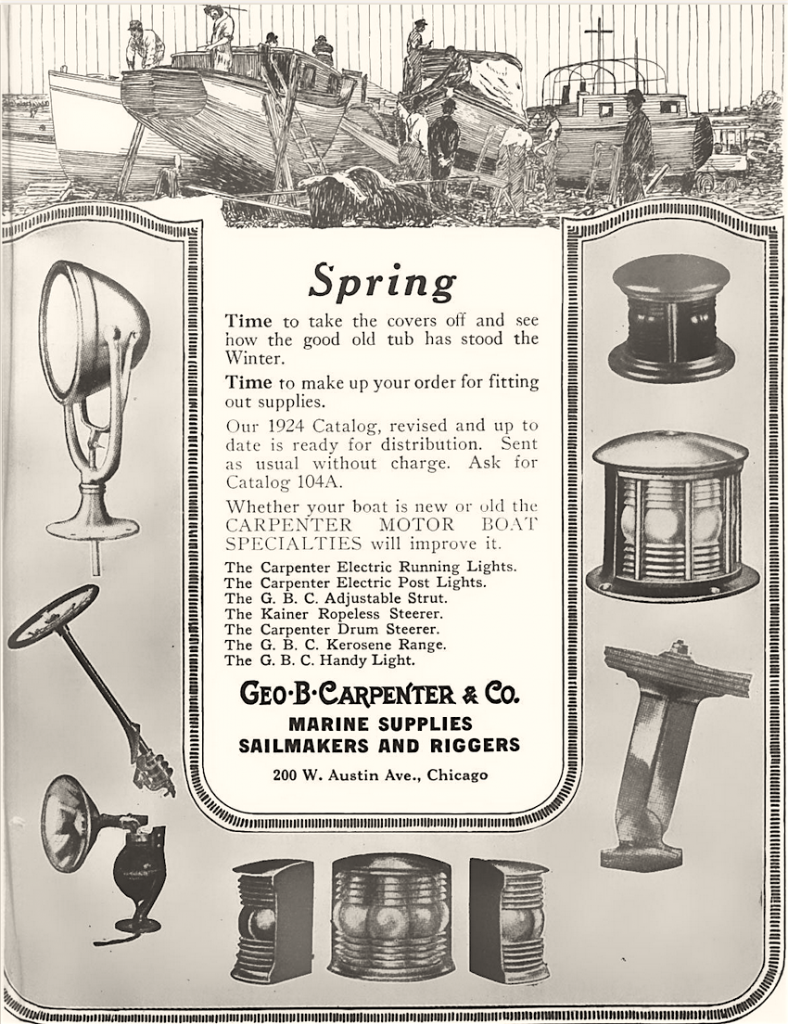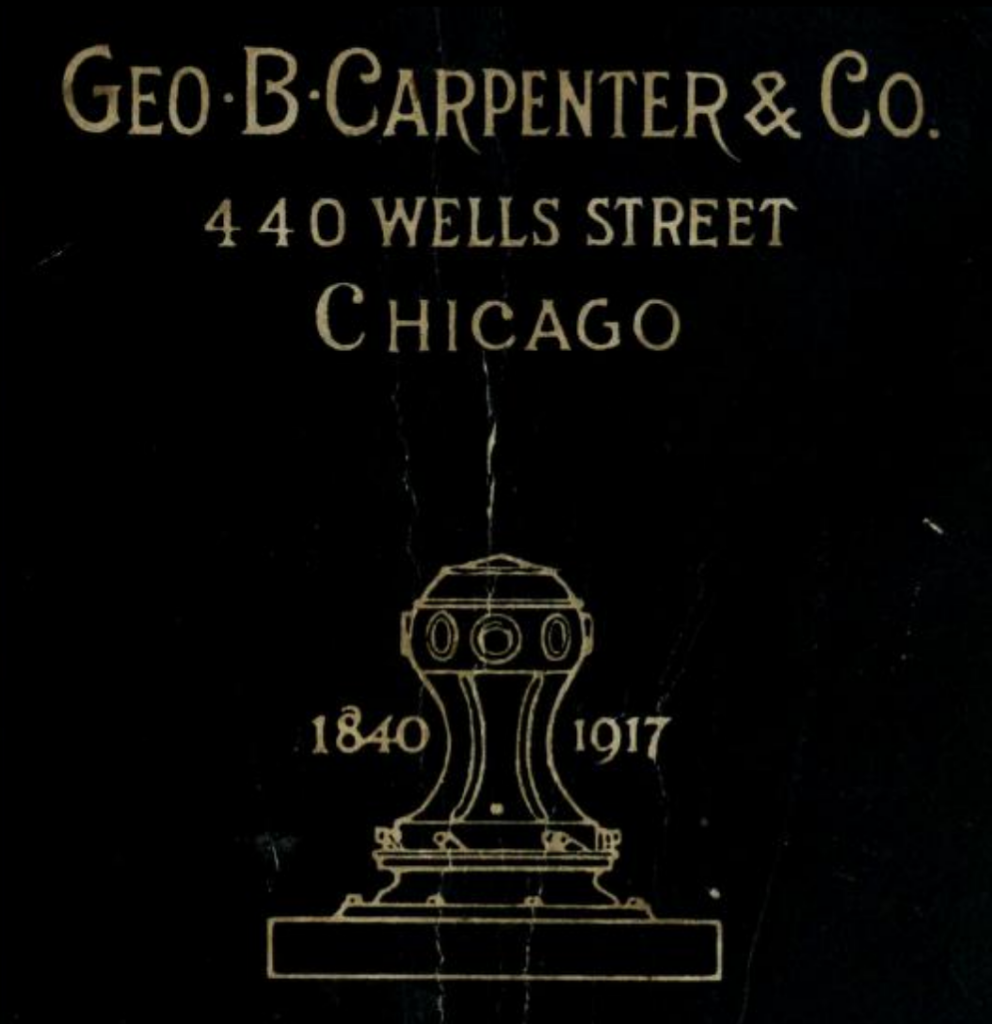 Archived Reader Comments:
"Apparently they also made cloth and canvas items for the War Effort- I have a very good photos of a Class-B Standardized Military 'Liberty' Truck built at Diamond T in Chicago where the canvas cover of the cargo bed clearly shows 'Geo B Carpenter & Co.' which is fascinating to me since they appear to have focused more on nautical supplies…" —Ian, 2018
"I have a Chelsea ship clock and on the face of the clock it says GEO B. CARPENTER & CO. CHICAGO My Grandfather gave me the clock in 1960. I don't know where he got it from." —Gregory Stasch, 2018