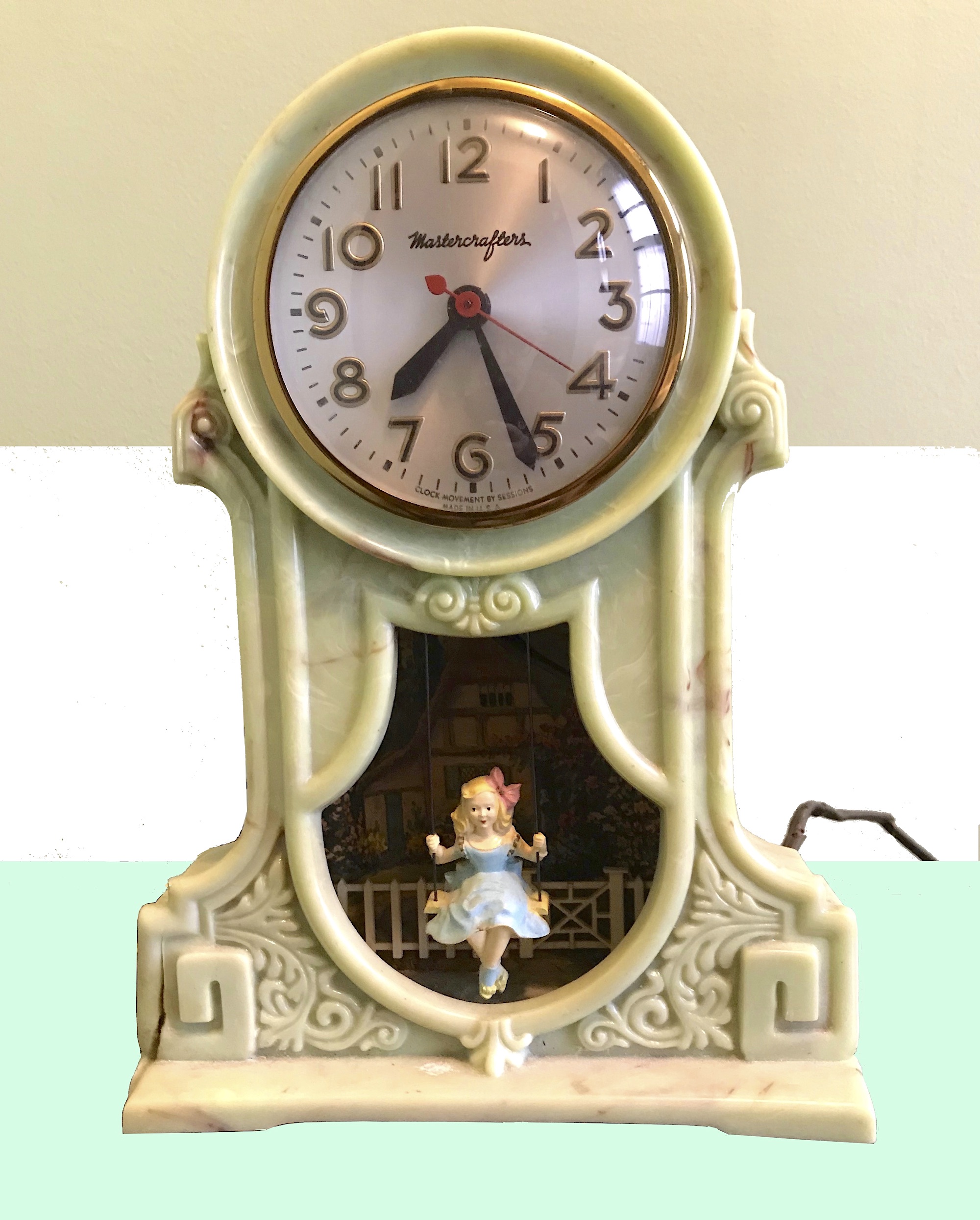 Museum Artifact: "Swing Girl" Electronic Mantle Clock, c. 1950
Made By: MasterCrafters Clock & Radio Co., 216 N. Clinton St., Chicago, IL [Near West Side]
The MastersCrafters Clock & Radio Company was a literal mom and pop shop through most of its 50 year existence—operated first by Ben Lerman and his wife Kate in the 1940s and '50s, then by their daughter Doris and her husband Bernard Ellman into the 1980s. And yes, the similarities of the Lerman/Ellman surnames can create some unnecessary confusion in this story, as can the inconsistency in model numbers and mechanisms used across the company's deep catalog of novelty electric clocks. The appeal of Mastercrafters designs, however, isn't hard to grasp—as modern gimmicks like illuminated dials and motorized adornments were paired up with various visions of kitschy post-war nostalgia: handsome horses, pretty ballerinas, clipper ships, and cherubic children, to name a few.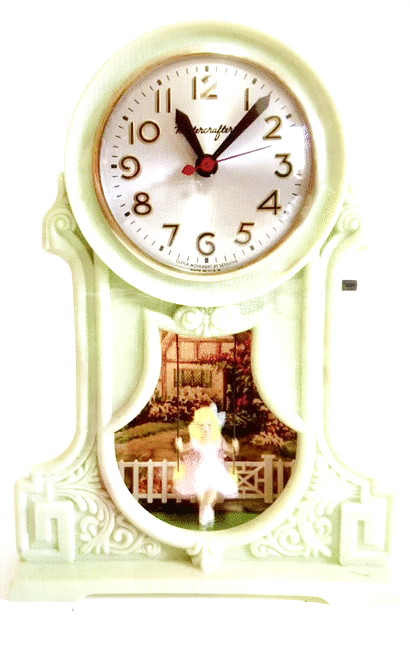 "What sets Mastercrafters clocks apart from other mechanical clocks of its time are the animated features," says Jimmy Eisenberg, who runs an online store (VintageClockRevival) specializing in the restoration of Mastercrafters' mid-century "Swingtime" motion models. "From the classic swinging girl to the flickering fireplace clock, they all tell a story that sparks an emotional response. Other clock manufacturers from the 30's through the 70's did create motion clocks but they didn't have the well-finished designs that Mastercrafters produced."
The "Swing Girl" mantle clock in our museum collection likely dates from the early 1950s, and is one of the more recognizable and increasingly collectible designs the firm created. It wouldn't be accurate to call it a "rare find" exactly—a whole bunch of these were produced in various iterations over more than a decade. Thanks to a fragile plastic case and fritzy wiring, though, it is quite rare to find one in good working condition—leading to plenty of restoration opportunities for guys like Jimmy Eisenberg.
Back in its day, our green onyx Swinging Girl would have had its quaint background garden scene illuminated from the inside, with an internal motor providing the gentle push needed for the swinging girl to live up to her name. One magazine ad in 1950 painted the full picture:
"The Clock everybody loves . . . the Swinging Girl! Gloriously captures the charm of childhood's golden days . . . so true-to-life that it actually transports you to an exquisite springtime garden where a lovely girl joyously swings beside a rustic gate. The automatic swinging action of the beautifully detailed girl-figurine is amazingly realistic . . . a built-in indirect night light marvelously enhances the garden scene. Self-starting electric movement . . . Tenite plastic case in Walnut or Onyx finish . . . height 10-3/4", width 7-3/4", depth 3" . . . weight 3-1/2 lbs. Retails at $15.95″ [that's about $170 after inflation].
Ben Lerman applied for a patent on the mechanism for the original Swinging Girl clock in 1948—one of about 30 patents he and his wife collected between 1939 and 1950—although some folks credit this specific invention to Mastercrafters' longtime chief engineer John L. Hancock, who was known to his cohorts, appropriately enough, as John HanCLOCK.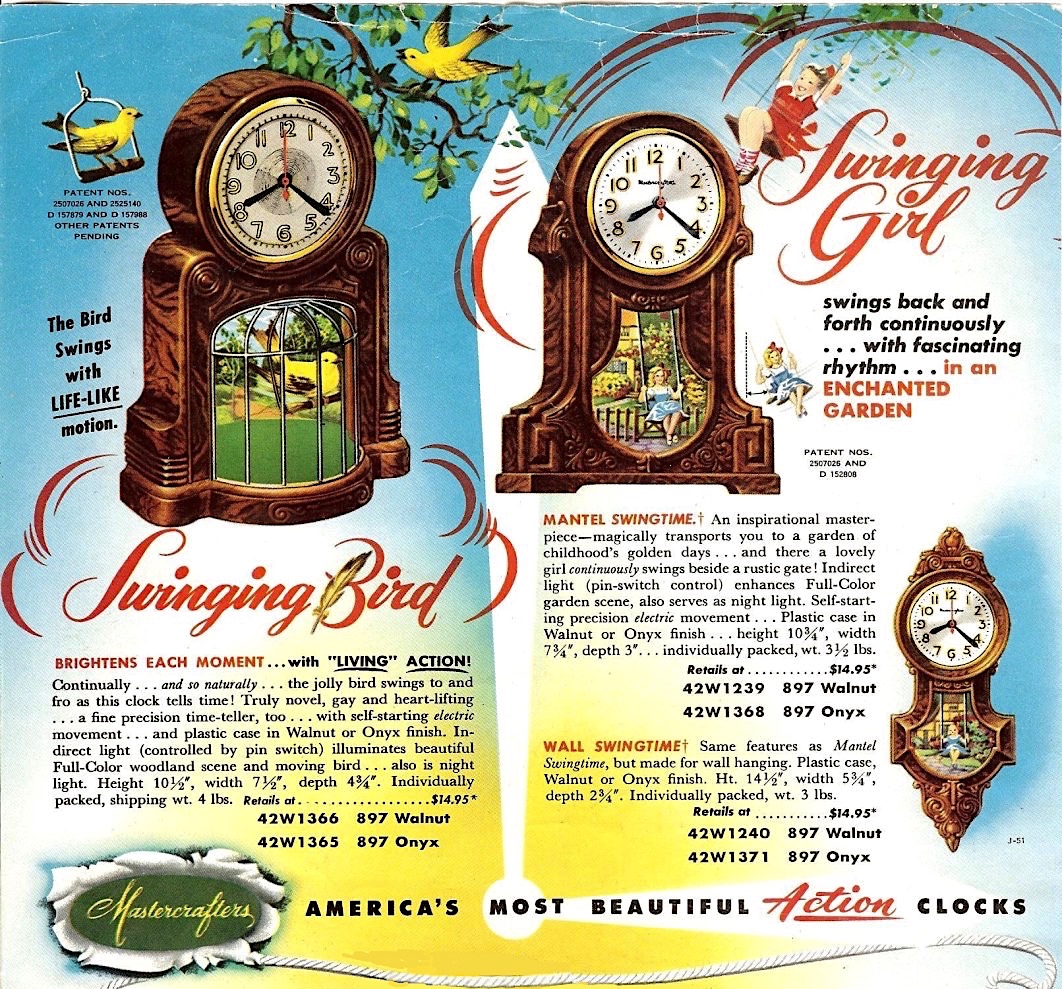 History of Mastercrafters, Part I: The Lermans
In 1920, a 28 year-old Chicago shoe salesman named Ben Lerman married 23 year-old stenographer Kate Reich, and while that life partnership would also become a fruitful business partnership, considerable patience would be required.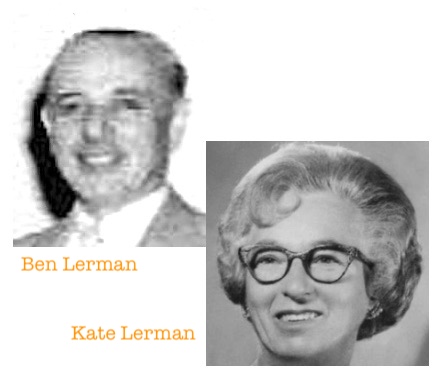 Ben was a Jewish immigrant, born in Lyubar, Ukraine (as Boruch Lernerman), while Kate was a first generation Jewish-American, born in New York to Russian parents. Throughout the 1920s, the young Lermans shared a home in Chicago's Ukrainian Village neighborhood (2124 W. Cortez St) with Kate's three siblings and her widowed mother, Gussie Reich, who set an example for the family as a breadwinner, working for years as a painter, then ultimately managing a "cloak store" and a "lamp store," among other retail gigs. By 1930, Gussie's son-in-law had followed a similar path; after years as a shoe and jewelry salesman, he hoped to better his economic odds in the Depression by going into business for himself, running a "novelty factory," according to the census that year.
It's not clear what that early enterprise was called or what it peddled, but as early as 1933, Benjamin Lerman's name appears on a patent for a "scenic display device," which was later put to use in a clock produced by the Ceramic Clock Company—an apparent sister business to Mastercrafters.
By the early 1940s, the Mastercrafters name had come into use (as the Mastercrafters MFG Co.), and a plant was established on the sixth floor of a building at 216 N. Clinton Street in the West Loop. Kate Lerman was also involved by this point, not just in co-managing the business, but possibly as its central creative force.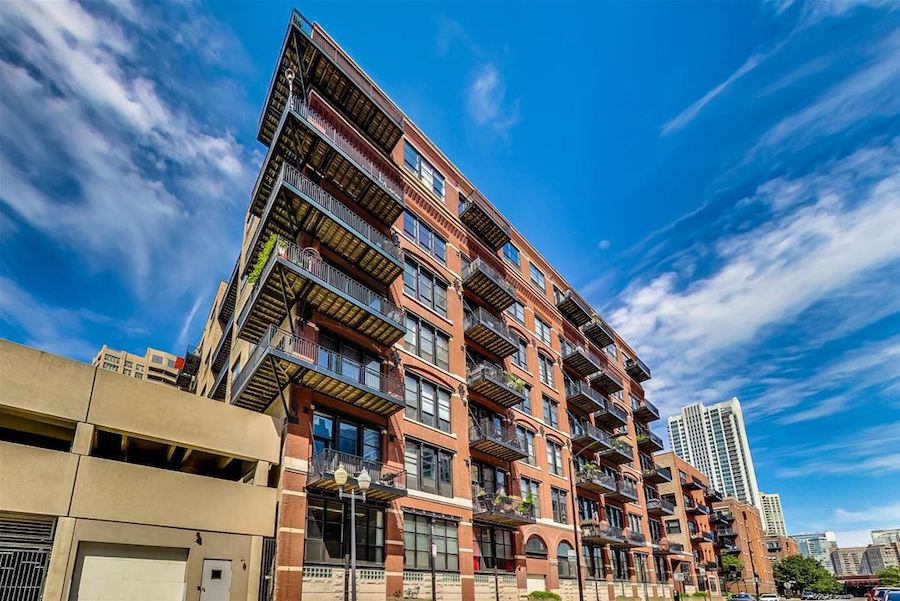 [Mastercrafters was headquartered on the sixth floor of this building at 216-226 N. Clinton Street from 1939 to 1958, along with a lot of other novelty manufacturing businesses. The building has since been converted into loft apartments.]
Between 1939 and 1941, Kate secured patents, under her own name, for at least a dozen different ornamental designs for " a clock, radio, or similar article." The blueprints weren't revolutionary in concept, perhaps—sail boats and propellor planes mostly—but they revealed a keen eye. In fact, Kate's three-masted miniature ship design (featuring a wood base and metal sails) may have essentially launched the Mastercrafters business in '39, used first as a housing for a short-lived radio known as the "Melody Cruiser."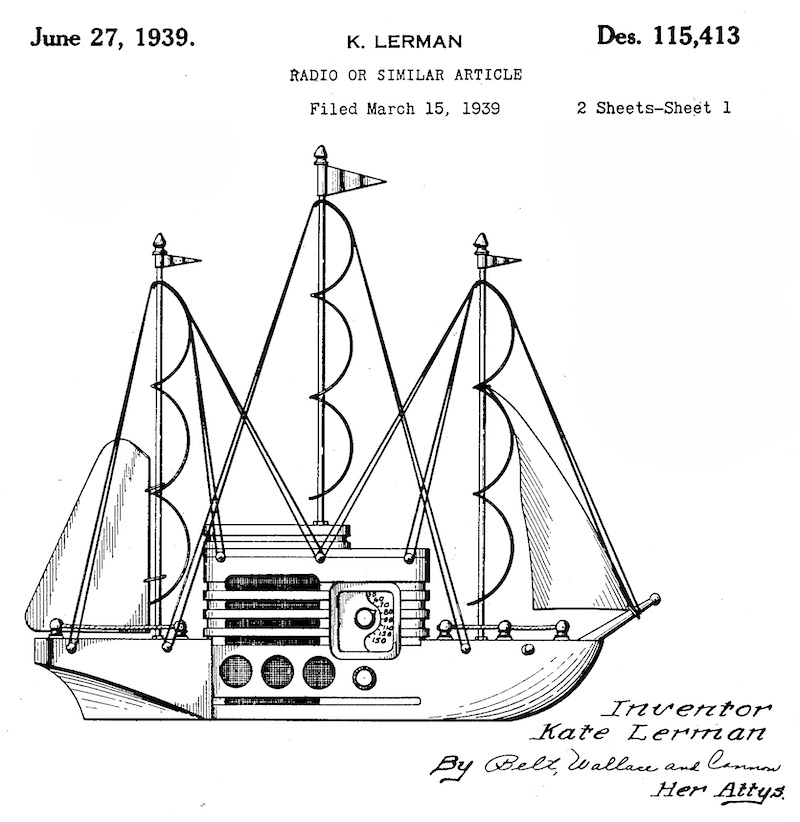 The new company was just coming into its own when the U.S. entered World War II in 1941. Over the next few years, as new wartime rationing and manufacturing rules were instituted, only a few U.S. companies were still permitted to produce clocks, and Mastercrafters wasn't one of them. Instead, the Lermans kept the plant going by making screw machine products for the military under the temporary name Mastercrafters Machine Products.
By 1947, with the war in the rearview, the business re-organized as an Illinois corporation under the name Mastercrafters Clock & Radio Company. But it's hard to say they were picking right back up where they'd left off. Kate Lerman doesn't appear to have applied for any more patents of her own, suggesting she either took a less active role or—perhaps more likely—let her husband and other male designers take all further credit. Despite the company's new name, the "Radio" part of the business never really re-emerged either, as Kate's pre-war masted ship is considered by some researchers to be the only actual Mastercrafters radio ever sold. The same casing was used for many years after, however, as one of the company's popular clock models, the "Yankee Clipper."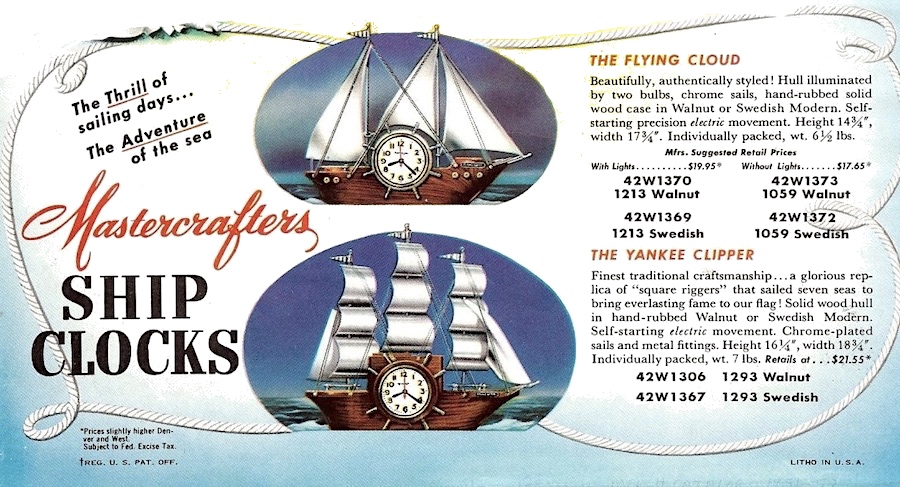 II. The Swinging '50s
Most of Ben Lerman's post-war patents related to the aesthetic appearance of various clock cases, but the model that would come to be known as the Swingtime was a far more complex invention, suggesting chief engineer John Hancock's involvement. It was described in the 1948 patent application as: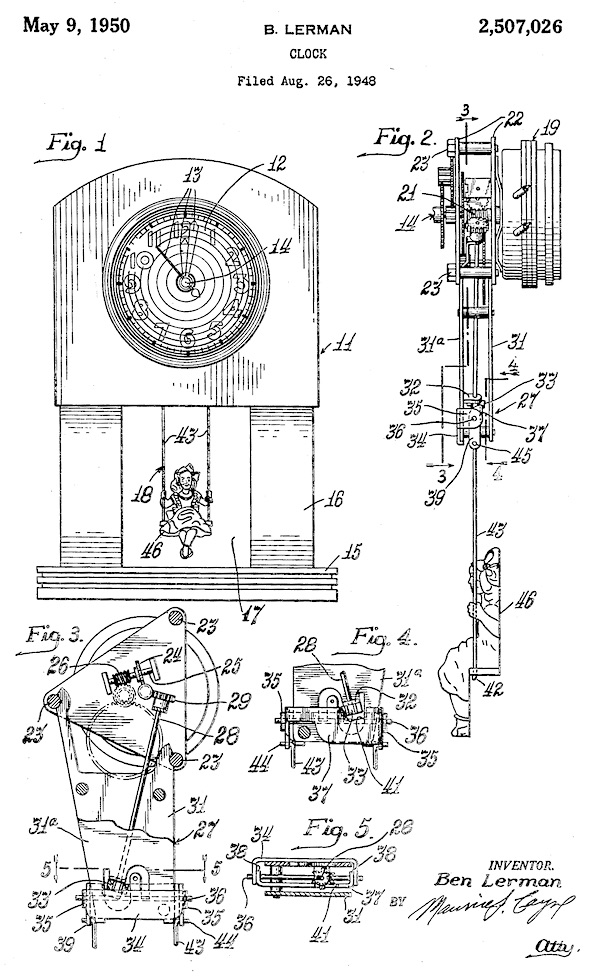 ". . .  an electrically driven clock embodying a novel swing action movement effective to actuate an ornamental pendulum in a vertical plane perpendicular to the plane of the clock face. . . . In prior known devices of this character, the swinging pendulum is intimately associated with the clock's mechanism. In the present disclosure the pendulum is connected with a swing action movement actionable by engagement with a continuously rotatable but wholly independent drive means."
This same "novel swing action" was used in several other Mastercrafters wall and mantle clock designs into the 1950s and 1960s; including not only the Swinging Girl, but "Bird on a Swing" and "Swinging Playmates." Over this same period, the company also repeatedly used the same basic plastic case seen in the Swinging Girl design; recognizable as late as 1970 in some of the company's other popular motion clocks, including the "Magic Lite" and "Waterfall"—which created the appearance of movement through reflected light, rather than a pendulum.
Possibly Mastercrafters' longest tenured clock was another of these light-motion designs: the "Fireplace"—convincingly animated through a mechanism developed by John Hancock. Over 20 years, the Fireplace clock was made with several different types of clock movements, as the company shifted from using Sessions movements (as seen in the Swingtime) to Sunbeam movements to whatever else fit the mold. Another popular model, known to collectors as "Horse Over Clock," confusingly switched from using a mold created by Hartland Plastics to a nearly identical one credited to the Breyer Molding Company. Switching horses in midstream, to forgive the expression, was the norm at the Mastercrafters offices.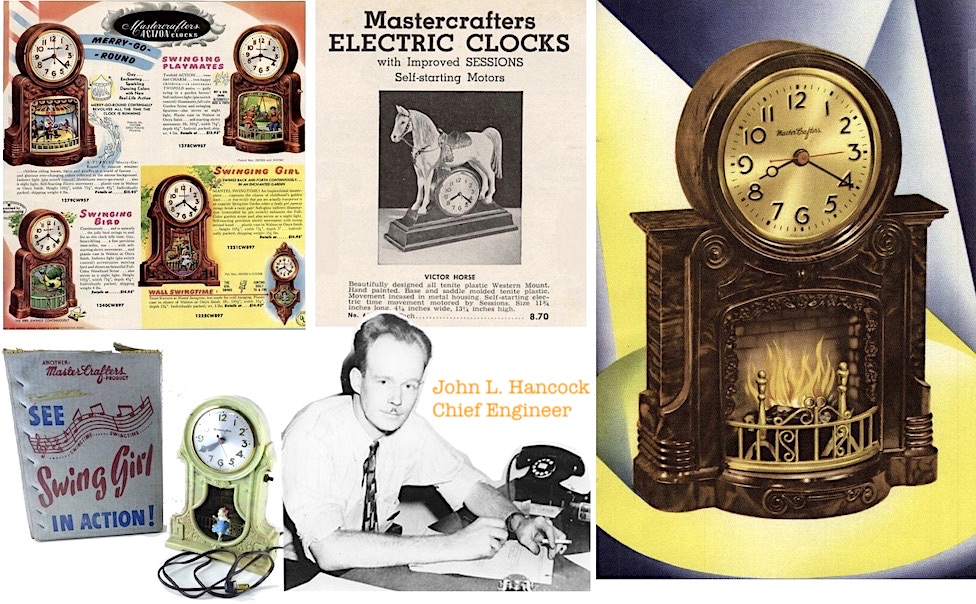 [Clockwise from top left: Mastercrafters "Action Clocks" ad from 1950; "Victor Horse" clock ad from 1949; "Fireplace" clock ad from 1954; John L. Hancock at work in the Mastercrafters offices; the box that came with the Swinging Girl clock in the '50s: "See Swing Girl in Action!"]
"Mastercafters seemed to work with whatever parts they had at hand," Jimmy Eisenberg notes. "Even though every clock looks the same on the outside, inside there are several variations of clockworks, parts and method of assembly. They even repurposed existing mechanical and decorative parts to create new styles."
Sometimes, those "new styles" fell more into the "knockoff" category, as Mastercrafters did what a lot of smaller manufacturers do—basing some of its designs on established "luxury" models in an effort to undercut the competition at lower prices. In 1955, for example, the Mastercrafters Model 308 "Dorell" clock drew the ire of esteemed Swiss manufacturer Vacheron & Constantin-LeCoultre, who claimed the design blatantly ripped off its famed "Atmos Clock." Unlike the Atmos, which was operated by atmospheric pressure and sold for $165, the Mastercrafters 308 was electric and went for about 30 bucks. Even so, a circuit court judge eventually determined that "some customers would buy Mastercrafters' cheaper clock for the purpose of acquiring the prestige gained by displaying what many visitors at the customers' homes would likely assume to be an Atmos clock. . . . Neither the electric cord attached to, nor the plaintiff's name on its clock would be likely to come to the attention of such a visitor; the likelihood of such confusion suffices to render plaintiff's conduct actionable."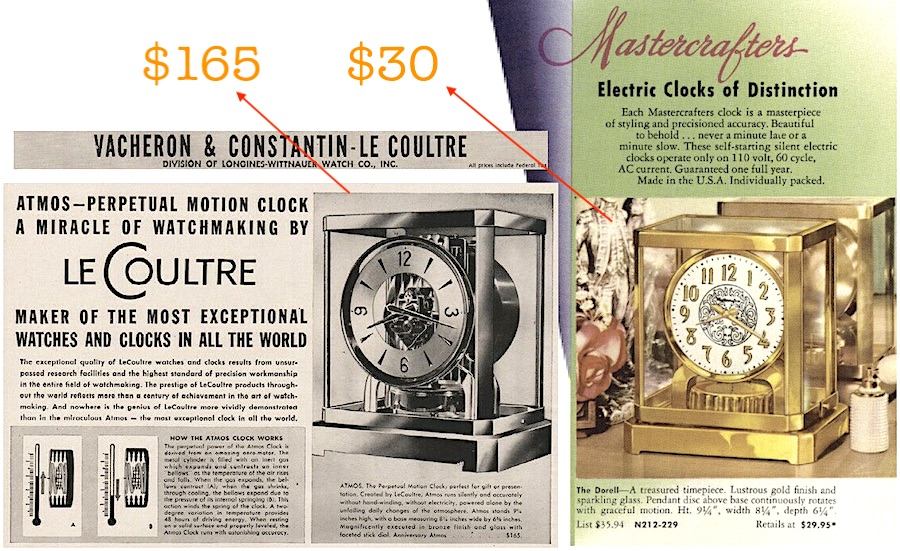 [The LeCoultre Atmos Clock, left, operated on atmospheric pressure and cost $165 in 1950. Mastercrafters' electric knockoff version, the Dorell, sold for less than 20% of the cost and got them in legal hot water, forcing a design change.]
To be fair, these copycat games were a two-way street. The beloved "Swinging Girl" herself—a Mastercrafters original—was apparently fabricated by some other fly-by-night clockmakers shortly after its debut, prompting the Lermans to take out an ad in Billboard magazine in 1950, expressing their intention to "vigorously prosecute all infringers" on the Swingtime patent.
In Mastercrafters' later years, the company seemed to bow out of the intellectual property game altogether, never seemingly applying for another patent after 1970—perhaps in recognition that, in the deep sea of budget-priced electric clocks, it was just as easy to get ripped off as to rip off somebody else. The litigation just wasn't worth it.
III. The Ellmans
In 1958, Ben and Kate Lerman handed over the day-to-day control of Mastercrafters to their daughter Doris Ellman (b. 1922, Chicago) and son-in-law Bernard Ellman (b. 1921, Chicago). Bernard—who was a World War II vet and the son of a hardware store owner—married Doris in 1946. Like the Lermans, the Ellmans' partnership was a 24/7 arrangement, at home and at work. Their marriage would ultimately outlast the business, as the self-described "soulmates" were together for 68 years, up until Bernard's death in 2014.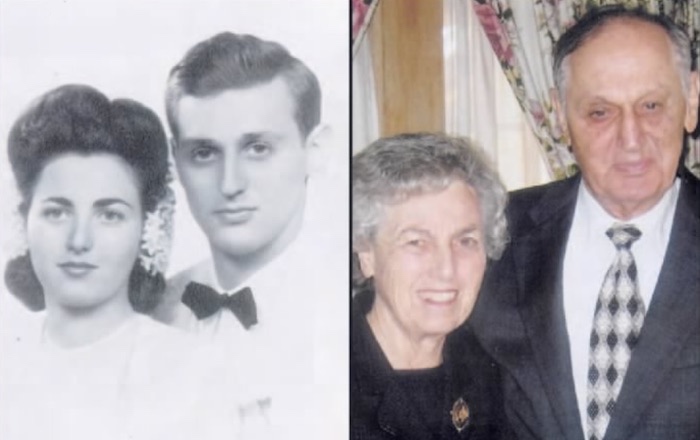 The Ellman era at Mastercrafters began with some immediate challenges, starting with a move to a new factory in 1959, located at 1750 W. Fulton Street. That summer, retired chairman Ben Lerman also passed away at 66, putting a bit more pressure on the new generation to carry the torch.
Going into the 1960s, Mastercrafters (which finally simplified its identity to the Mastercrafters Clock Corp. in 1964) continued to produce many of its popular designs from the previous decade, including the Yankee Clipper and the Fireplace. The familiar Swinging Girl even resurfaced in a new line of "cottage clocks."
According to a 2004 article in the NAWCC Bulletin (National Association of Watch and Clock Collectors), however, the Ellmans generally pushed the firm in a "more sales driven orientation," heavily promoting some less memorable but equally gimmicky new designs—such as a series of sports figure clocks (a golfer, a baseball player, a football player, etc.), a percolating teapot, and a new line of glass of "TV clocks" developed by John L. Hancock, with glittery space-age designs known by names like "Starlight," "Action Starlight," and "Eternalight."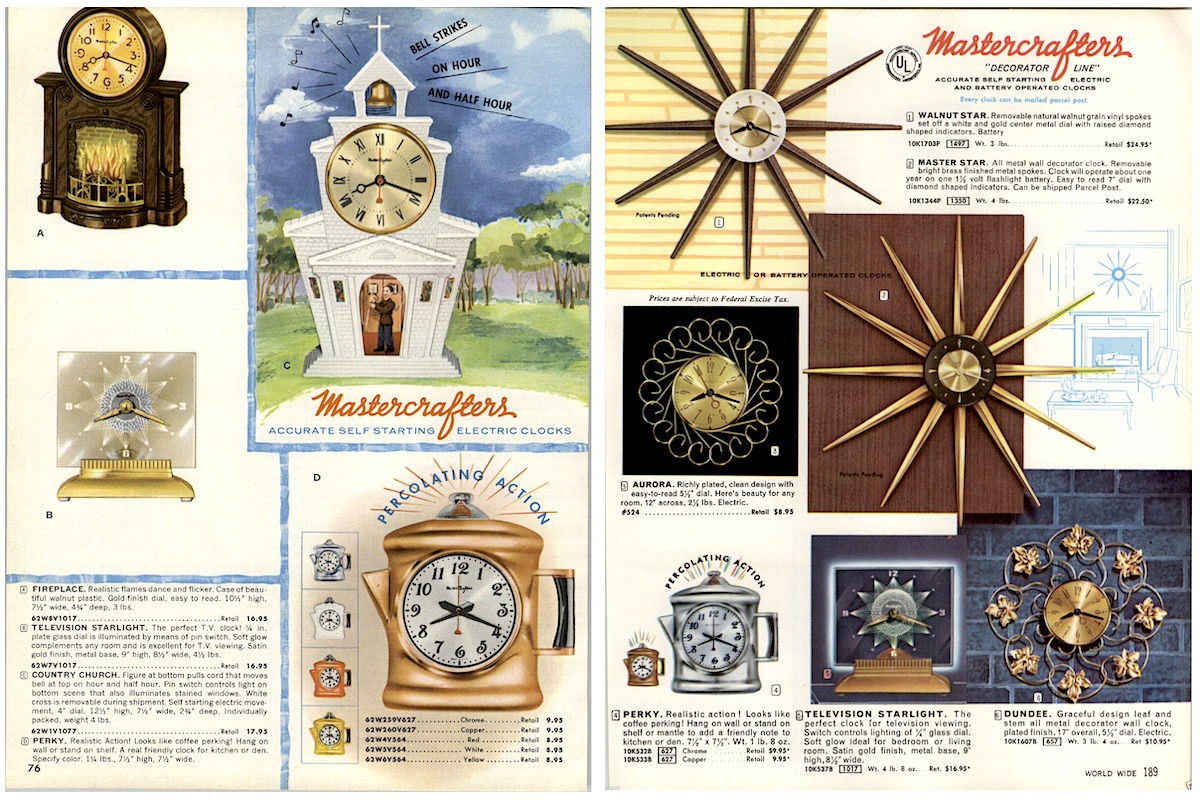 [A pair of ads from the Ellman era, dating from 1959 (left) and 1962 (right)]
"Mastercrafters was very aggressive sales wise," according to the NAWCC article, "with representatives throughout the United States, Canada and South America targeting retail outlets. Display racks for the retailer's use were provided free with orders for clocks. . . . Retail chains such as McCrorys, K-Mart, and the True Value and Ace Hardware chains sold Mastercrafters clocks. Many of the large catalog companies, including Bennett Brothers, Beckers, Braudes, Sears, and Montgomery Ward also carried the line, advertising the clocks with ad layouts provided by Mastercrafters."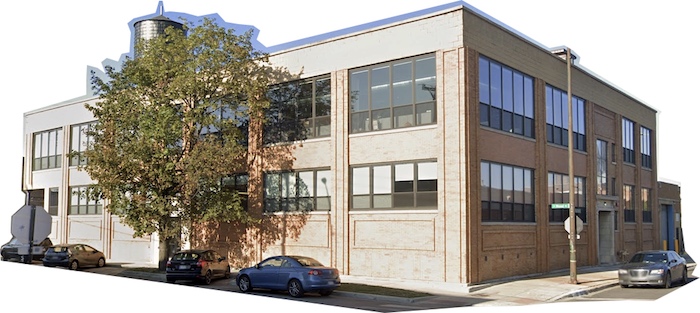 While the '50s are generally considered to be the company's heyday, it seems clear that this small but prolific little clock business created a good life's work for the Ellmans and their team for many years beyond that point. After the death of engineer John Hancock in 1976, though, the metaphorical motor of the enterprise did begin to slow.
Finally, in 1980, Doris and Bernard elected to sell Mastercrafters to Creators, Inc.—a firm owned by Doris's cousin Lester Lerman, hence keeping it in the family a while longer. As a subsidiary, the Mastercrafters offices moved to 1642 Besly Court for the next five years, and while this era produced a few interesting designs, including the "Infinity Mirror" series, it was short lived. Another sale in 1985 sent Mastercrafters over to ISM, Ltd., located at 672 E. Irving Park Road in Roselle, IL, and by 1988, production ceased for good. Notice that I skillfully avoided any puns about "time running out" on the clockmakers.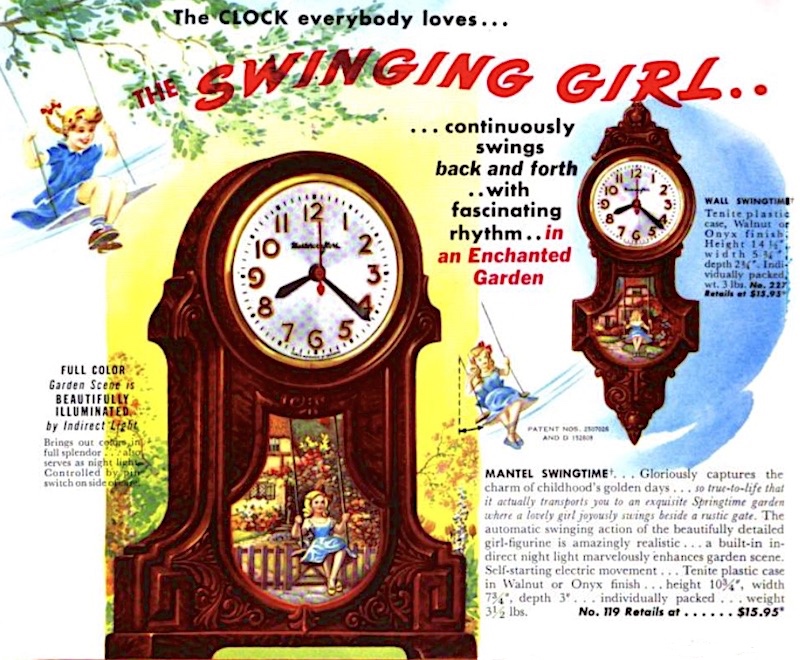 Bernard Ellman would later estimate that Mastercrafters produced between five and six million clocks across from 1939 to 1985; a stunning figure for a relatively obscure company, and certainly more indicative of America's move toward cheap plastic gadgets over actual "master craftsmanship." Nonetheless, there was real thought, passion and skill put into many of Mastercrafters most popular models, and nearly forty years since the firm dissolved, its appreciation among collectors only seems to be growing.
"What appeals most to me about Mastercafters clocks is the nostalgia," Jimmy Eisenberg says. "From the ornate design of the case to the sound of the mechanical clockworks running; it brings me back to when I was a kid watching my own mother's Swingtime clock running. Nearly every guest that visits my online shop shares a story or family connection to these clocks. Folks have a strong emotional attachment to them, no matter which style."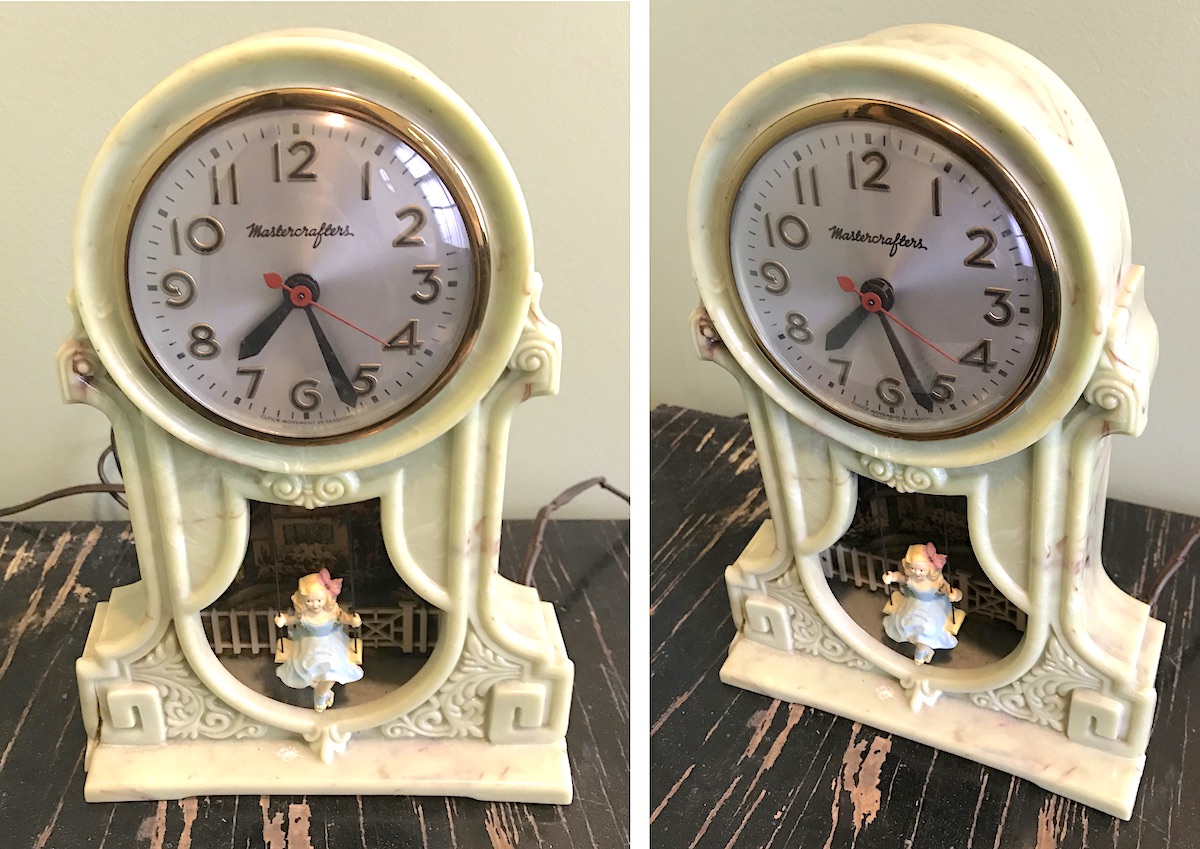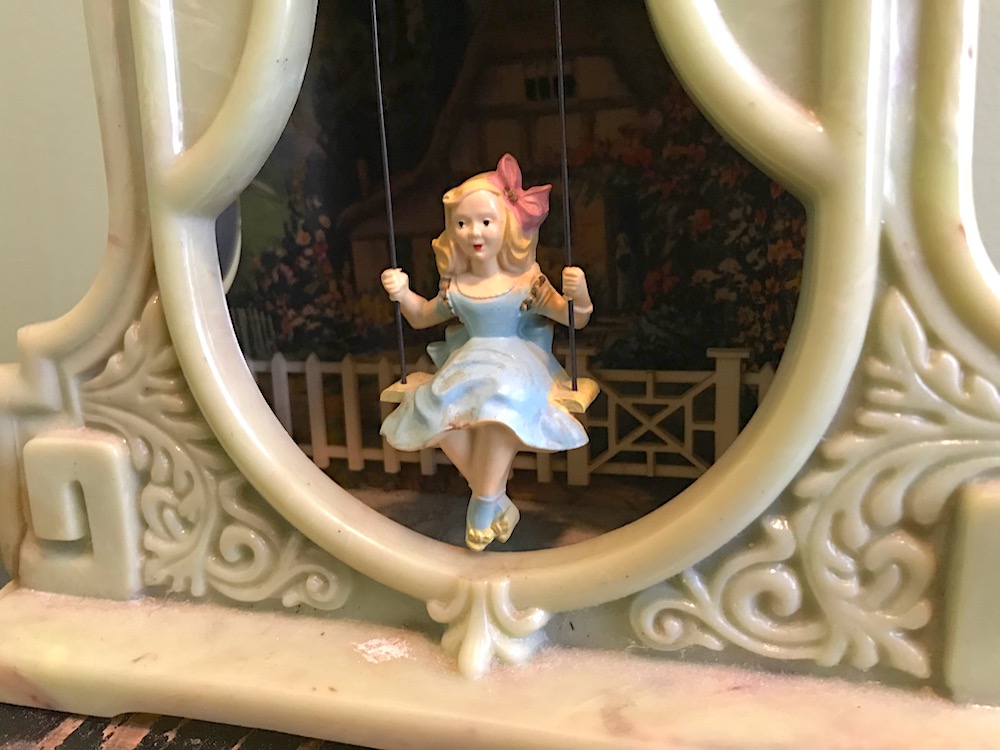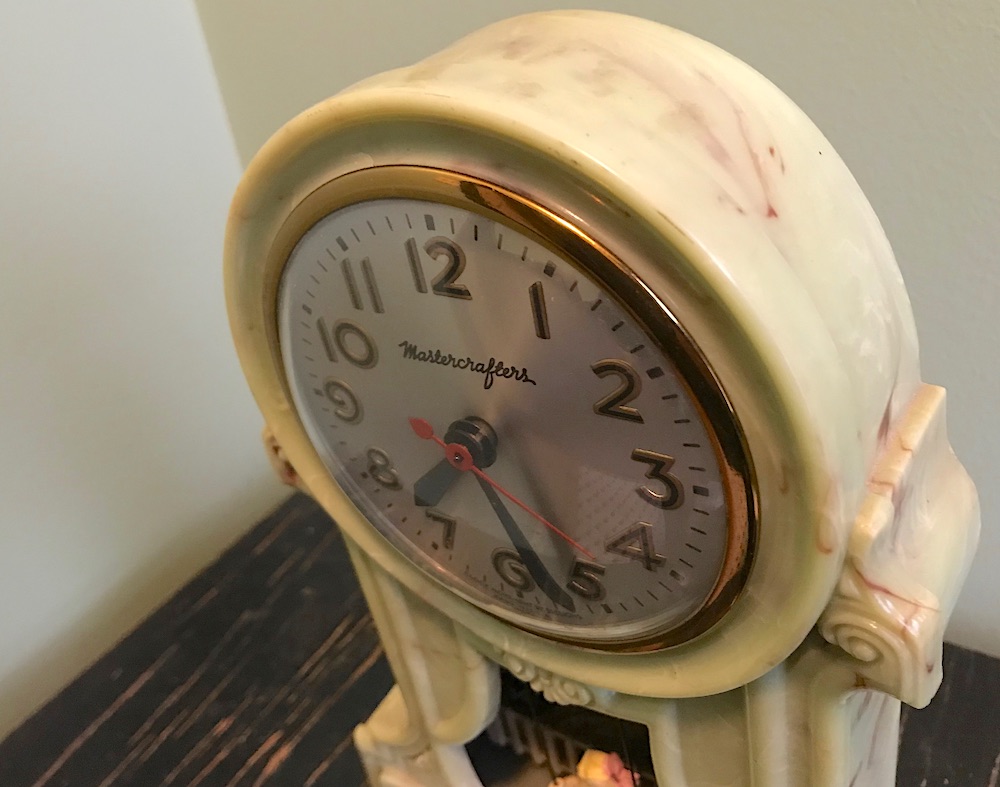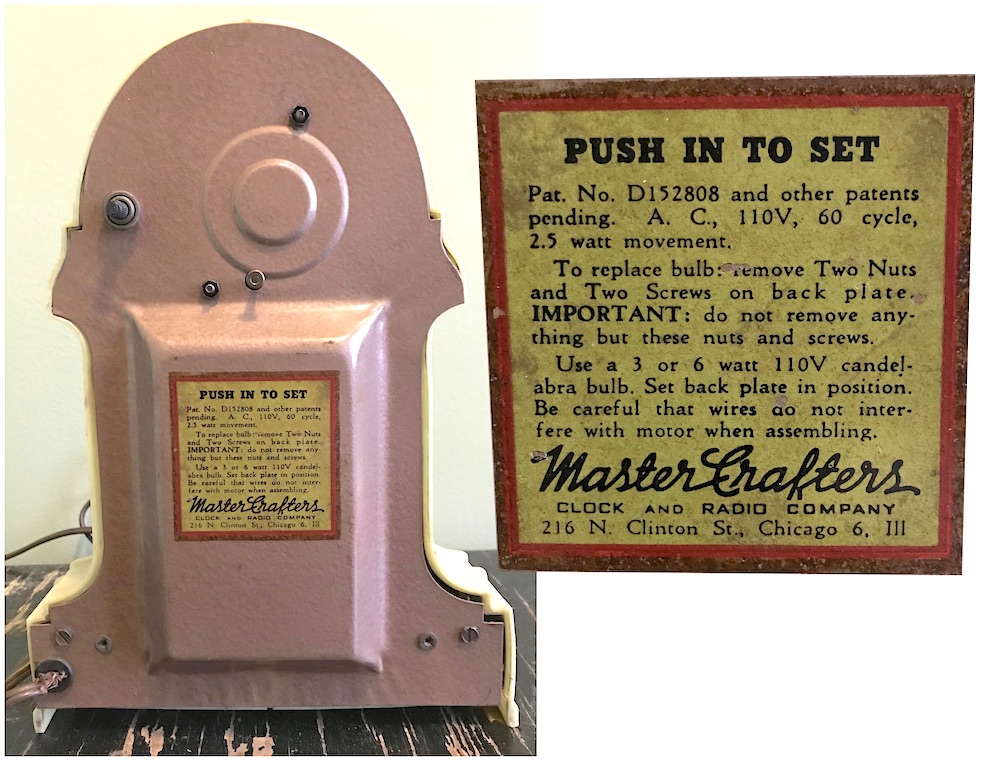 Sources:
"The Mastercrafters Story: 1939-1988," by W. Clark Eldridge & William F. Keller – NAWCC Bulletin, Vol. 46/5, No 352, 2004
Vintage Clock Revival – Etsy Store
"Mastercrafters Clocks" – MyHartlands.com
"Important Patent Notice" – The Billboard, June 24, 1950
Ben Lerman Patent: Clock, U.S. patent 2,507,026A
Copyright and Unfair Competition, by Benjamin Kaplan and Ralph S. Brown, Jr., 1958
Ben Lerman obit, Chicago Tribune, July 28, 1959
Kate Lerman obit, Chicago Tribune, Jan 23, 1992
Bernard Ellman obit, Chicago Tribune, Jan 28, 2014
Doris Ellman obit, Chicago Tribune, July 21, 2016