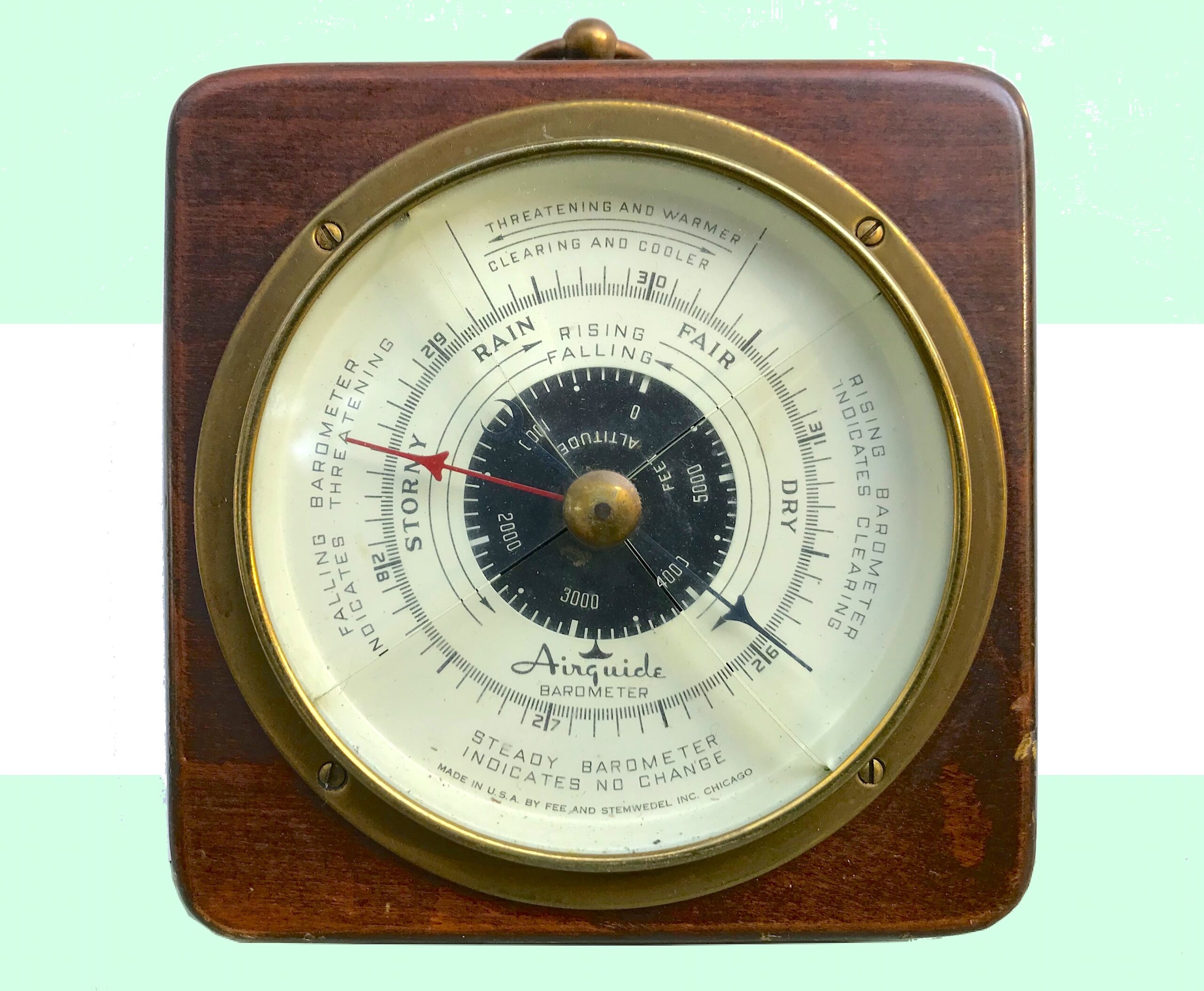 Museum Artifact: Airguide "Highlander" Wall Barometer and No. 36 Field Glasses, c. 1948
Made by: Airguide Instrument Co. / Fee & Stemwedel, Inc, 2210 W. Wabansia Ave. [Wicker Park]
"Into every Airguide instrument go the finest of materials, the painstaking care of skillful workers, and the thorough inspection of an exacting laboratory. No instrument leaves the factory until it has proved its dependability under conditions more severe than those actually encountered throughout the year. . . . Be sure to look for the name 'Airguide' . . . it is your assurance of perfect satisfaction." —Airguide 'Weather Instruments' flyer, circa 1938
Established inauspiciously at the outset of the Great Depression, the Airguide Instrument Company—originally known as Fee & Stemwedel, Inc.—managed a 60-year run as one of the country's leading producers of "weather instruments," i.e. thermometers, barometers, rain gauges, hygrometers and the like.
The lovely "Highlander" aneroid wall barometer in our museum collection is an example of one of the company's standard post-war offerings—budget priced at $10 and sporting a 5×5" walnut casing with a (fake) brass bezel. A built-in altitude dial could be set anywhere from 0 (sea level) to 5500 feet, delivering a more accurate air pressure reading. "Because it predicts weather trends hours in advance, Highlander is most convenient," according to one newspaper ad from 1948.
At the height of its popularity, the Airguide brand name was associated not only with weather measuring devices like this one, but a slightly broader line of products one might categorize as "scouts equipment." Advertisements in Boy's Life and Popular Mechanics during the '40s and '50s showcased a healthy assortment of Airguide compasses, telescopes, and binoculars—the latter of which we also have represented in the museum collection.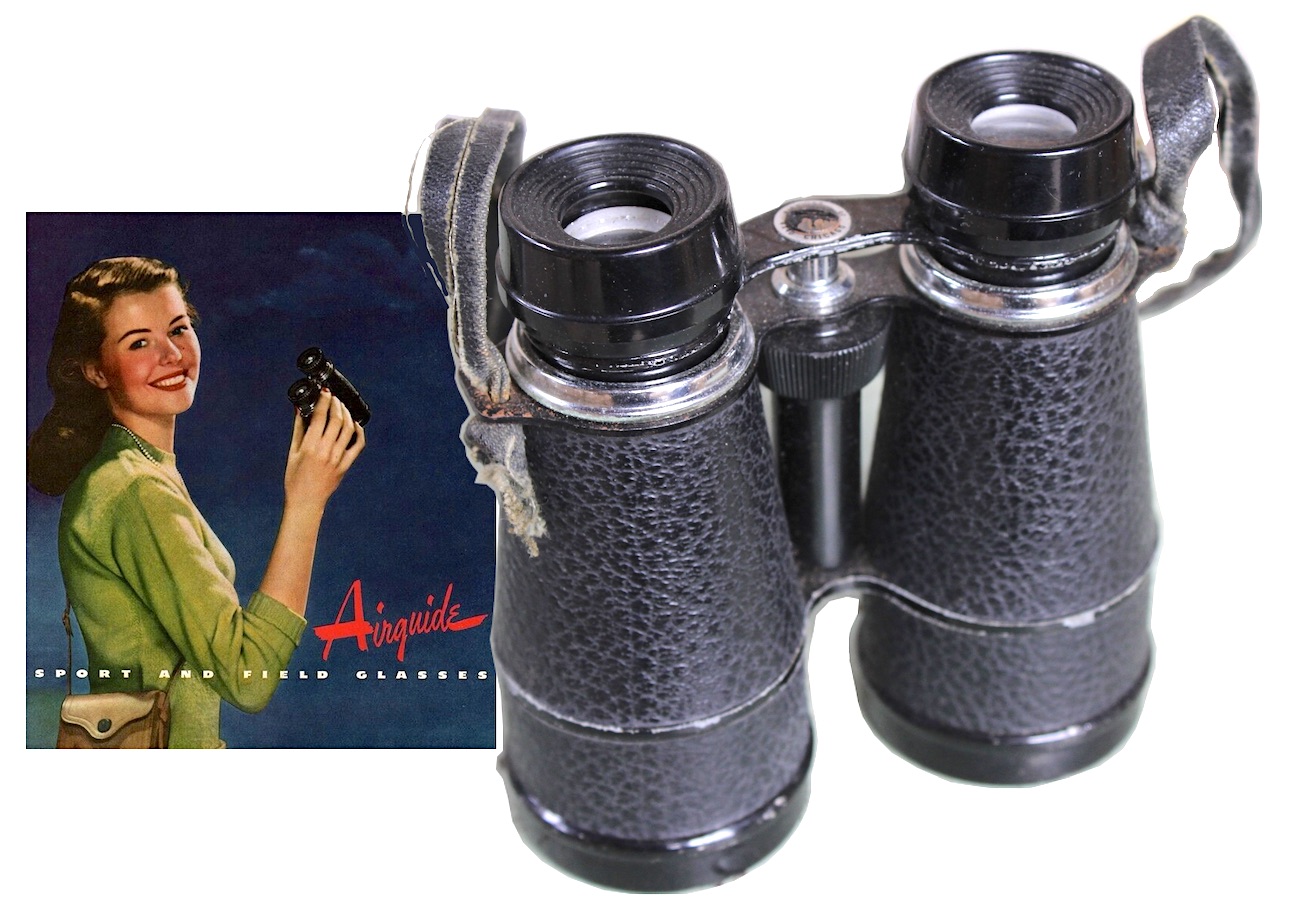 [As an avid birdwatcher and lifelong appreciator of faraway objects, in general, I can't help but have a soft spot for these well traveled Airguide field glasses from our museum collection. This particular pair likely dates from the late 1940s, when chickadees still listened to jazz and goldfinches feared Communism.]
More artfully described in Airguide catalogs as "field glasses," the specific model we acquired is the No. 36, which sold for the same $10 retail price as the Highlander barometer (bearing in mind, $10 in 1950 is over $100 today). They don't necessarily look worthy of David Attenborough, but these were decent binoculars for the era, made from metal finished in chrome and black enamel, with 40mm lenses, "neat plastic eye pieces," and "easy-to-grip" leatherette covered barrels with a handy leatherette carrying case.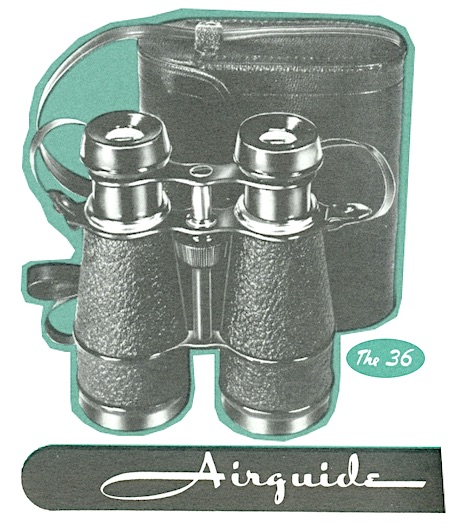 I could attempt to sing their praises a little more, but Fee & Stemwedel's ad agency handled it much better back in 1948:
"Famed for quality workmanship, Airguide Sports and Field Glasses are prized for their smooth, quick-focusing action, optically ground lenses, and rugged but lightweight construction. . . Thrilling close-ups add to your pleasure all along your vacation route. Through the clear, precision-ground lenses of your Airguide Glasses, you're there when scenic splendors beckon from afar. You're there . . . when 'they're off' at the racetrack, or when a merry white sail bridges the horizon."
Now it's time to point our Airguide field glasses in the direction of the past, for a little more clarity on the company, and the people, that made them.
History of the Airguide Instrument Co., Part I: Fee & Stemwedel
Coming of age during the wireless revolution, electrical engineers Albert L. Stemwedel (b. 1904) and Richard L. Fee (b. 1900) were part of the same generation of young Chicago entrepreneurs who'd launched radio giants like Zenith, Motorola, and Admiral. They were just slightly late to the party.
Fee spent the '20s (which were also his 20s) working as an electrician in Waukegan, while Stemwedel—a graduate of the Armour Institute of Technology—was an electrical contractor living in Rogers Park. We don't know if their paths crossed in the interim, but it wasn't until after the stock market crash of 1929 that they seem to have officially gone into business together, striking while the iron was lukewarm.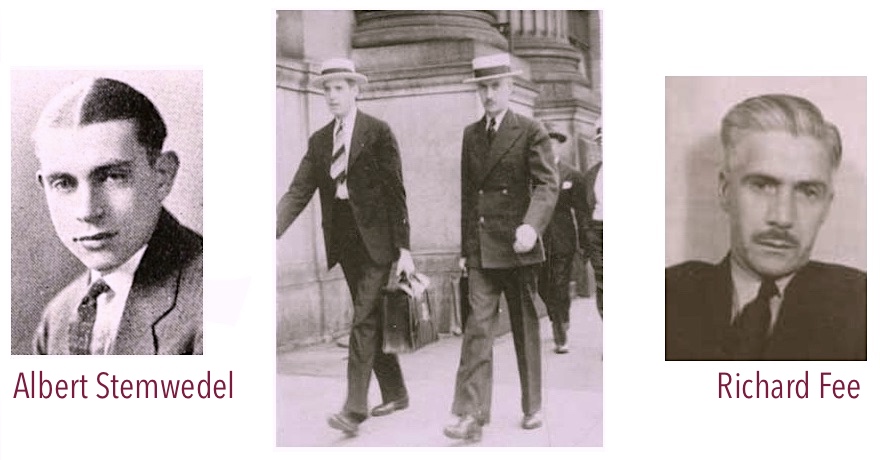 "My father and his partner got $1,000 together to buy a company that made battery eliminators for radios, or what we'd call transformers today," Stemwedel's son Charles G. Stemwedel later told the Tribune in a 1979 interview.
The new enterprise, briefly known as the Chicago Service Station, Inc., opened an office at 219-221 W. Chicago Avenue in either 1930 or 1931. According to the late Fred D. Eckert, who worked for the business for 35 years, the company quickly shifted from radio parts into the world of weather instruments, based on a single random observation.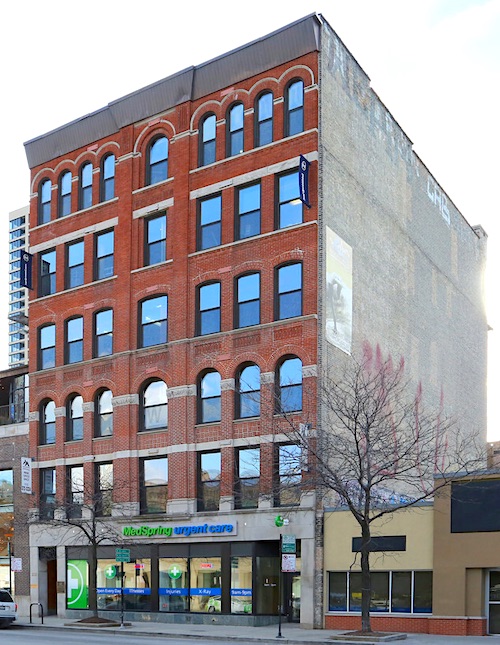 "While operating the Chicago Service Station, Dick Fee and Al Stemwedel observed that paper used in condensers curled in damp weather and was flat in dry weather," Eckert said in 1975. "It occurred to them that this might be used to indicate relative humidity in place of the wet and dry bulb thermometers then in use. Howard Taylor, who was working as a service man for them, appeared to have an inquiring mind and a lot of practical know-how. He was given the task of using the principle to develop a direct-reading hygrometer."
Taylor, who'd recently been laid off by Western Electric, was apparently up to the challenge. He combined a paper and brass hygrometer with a conventional thermometer inside a snazzy bakelite case. Eckert claimed this was "the first direct-reading thermometer/hygrometer of this type for home use," though we can't substantiate that—let alone track down a patent if there was one.
Either way, "A new company was formed to manufacture and market this device," according to Eckert. And by 1933, Fee & Stemwedel, Inc. had an exclusive contract with the famed Chicago department store Marshall Field's to sell its dual-purpose weather instrument in their stores. As part of the deal, the device was given a catchy brand name; one that would literally come to define the company in the decades ahead.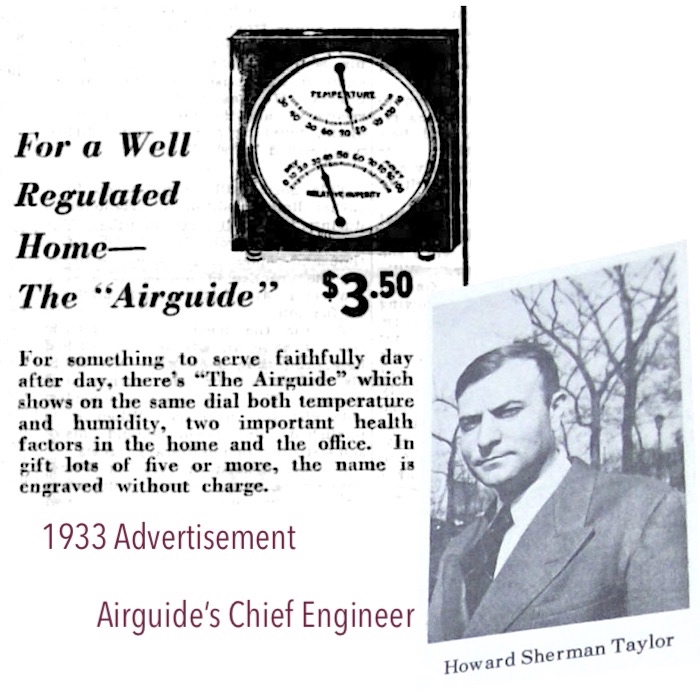 "For a well regulated home—The 'Airguide'" read a Fields ad in a 1933 edition of the Tribune. "For something to serve faithfully day after day, there's 'The Airguide,' which shows on the same dial both temperature and humidity, two important health factors in the home and the office." The asking price for this exciting new tech was $3.50, and if you bought a gift lot of five or more, name engraving was free of charge.
Despite the economic climate, Fee & Stemwedel's Airguide was a smash success, and it quickly prompted a whole stable of related products under the same trademark, including large-scale streamlined thermometers, barometers, and "air condition indicators." Howard Taylor, who would remain chief engineer into the mid 1960s, developed many of these designs, but there was some question at the time as to whether they were all actually being built in the Fee & Stemwedel factory.
In 1937, despite operating a sizable plant at 4949 N. Pulaski Rd., the company became the focus of an investigation by the Federal Trade Commission, which accused the firm of misleading the public about where its Airguide products were produced.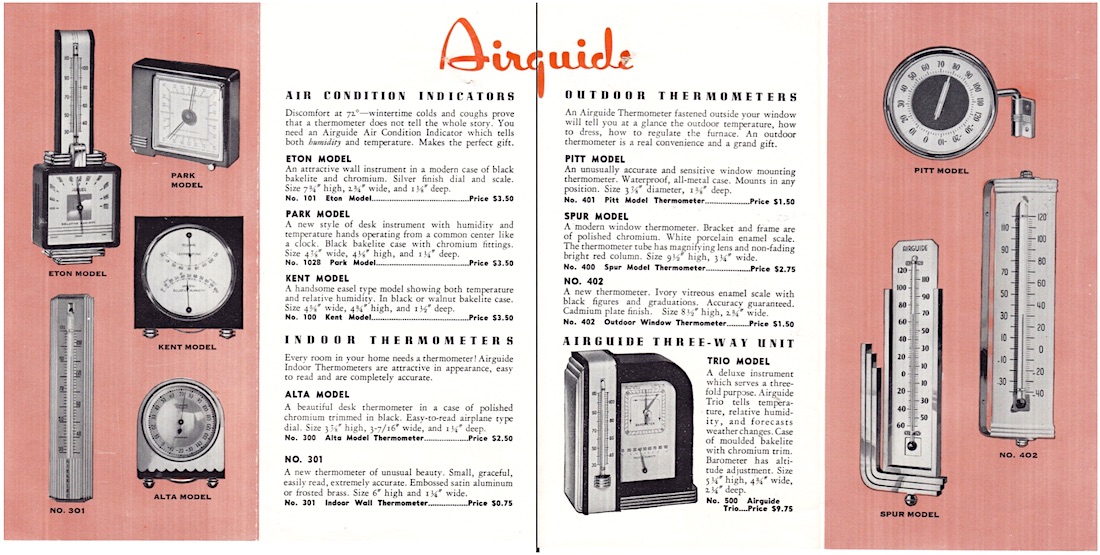 "The commission said that the company assembles various models of weather-indicating instruments," the Tribune reported in August of that year. ". . . According to the complaint, they add a dial and indicator to the complete barometer mechanism and enclose the mechanism in a case bearing the words 'Made in U.S.A. by Fee & Stemwedel, Inc., Chicago.' Actually the barometers and other instruments are made abroad and imported into this country, the commission alleges."
Fee and Stemwedel took a slap on the wrist for this, but rather than acknowledging their products were imported going forward, they seem to have rededicated themselves to doing more manufacturing in-house. The words "Made in USA by Fee & Stemwedel, Inc., Chicago" are still there on our 1940s barometer, and during World War II, the company's new plant at 2210 W. Wabansia Avenue became a highly active defense contracting facility, making barometers and telescopes for the Navy and compasses for the Army, among other gadgets.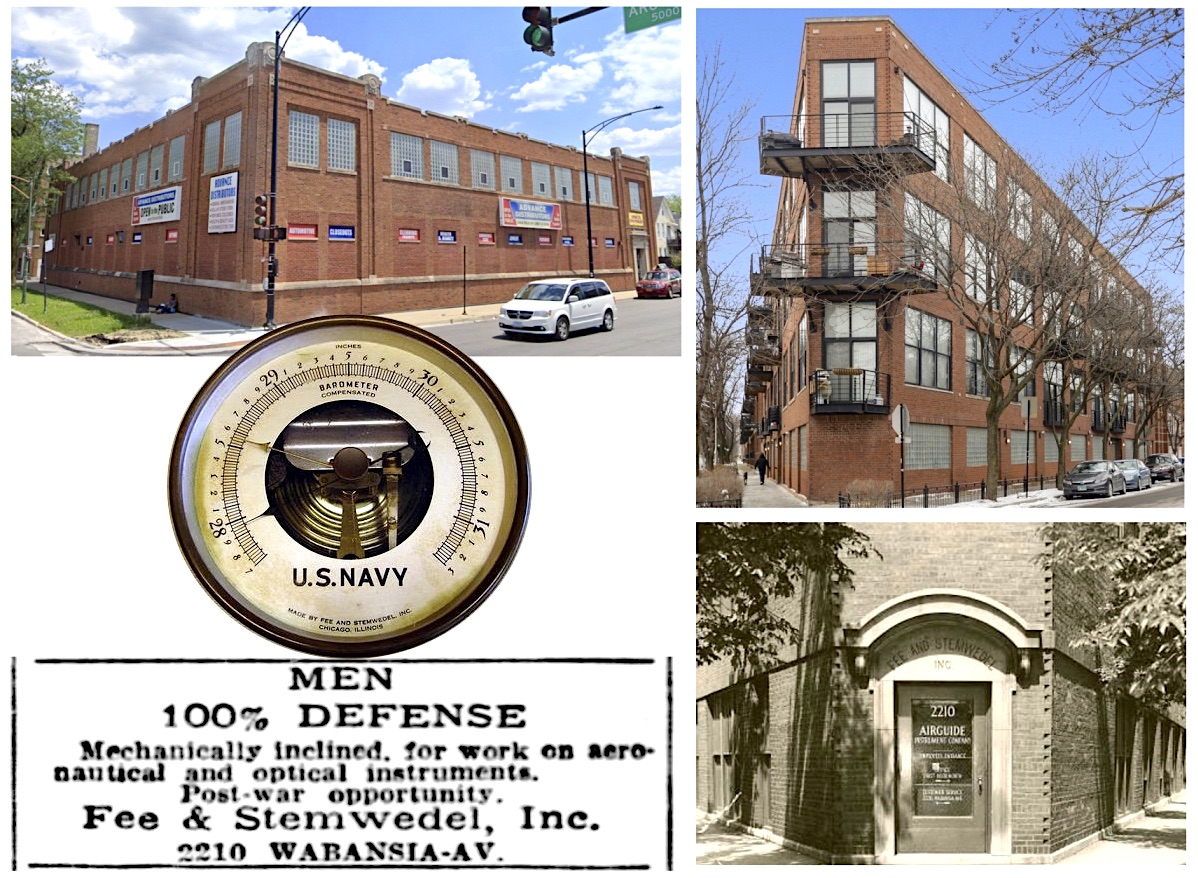 [Top Left: Former Airguide plant at 4949 N. Pulaski Rd., in use from the late '30s to the early '40s. Middle Left: A barometer made for the U.S. Navy during WWII. Bottom Left: 1943 newspaper ad calling for men at the Fee & Stemwedel plant for "100% Defense" work. Top Right: Airguide's longtime factory at 2210 W. Wabansia Avenue, as it looks today (converted into loft apartments). Bottom Right: The front of the same building on Wabansia as it looked in the 1940s]
Part II. The Airguide Instrument Co.
Coming out of the war, Fee and Stemwedel were better equipped to pivot back to the consumer market with a wider range of outdoor equipment, including the field glasses, telescopes, and compasses mentioned earlier. The workforce at the Wabansia Avenue plant also grew to 200 people by 1953, with Howard Taylor still serving as chief engineer and war veteran Fred Eckert on board as sales manager and ad manager.
After Dick Fee sold his shares and retired in the mid 1950s, Al Stemwedel re-branded the business as the Airguide Instrument Company, and continued to venture into new territory, making "speedometers, tachometers, and other measuring instruments," according to the Tribune. "Most of them were for marine applications, but an aftermarket for automobiles opened up."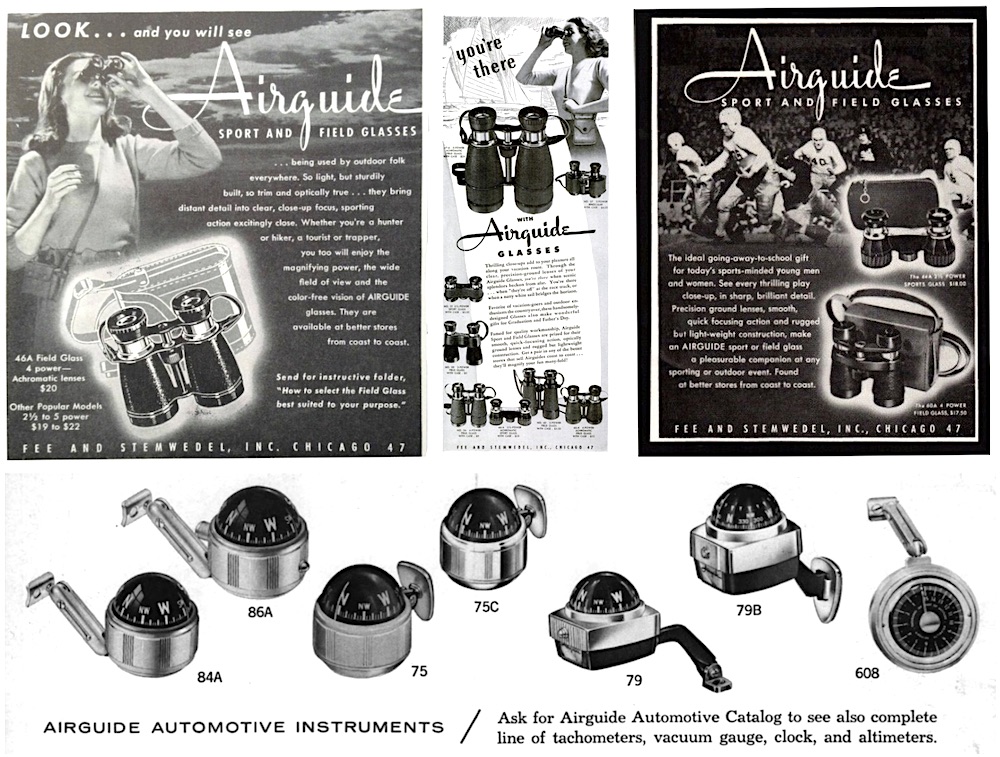 [Top: 3 ads for Airguide binoculars from the late 1940s. Below: A selection of Airguide automotive instruments from 1966]
For his part, Al Stemwedel seemed genuinely invested in his employees and the surrounding community around the Airguide plant, which sat essentially on the border of Bucktown and Wicker Park. "I worked for Mr. Stemwedel at Airguide for a short time between 1964-1967," a museum visitor named Alan Wayne told us in 2020, "and found him to be a very kind and considerate person."
In 1964, Stemwedel took a leadership role in a drive to establish a "cooperative community employment bureau" to encourage businesses in the region to hire locally.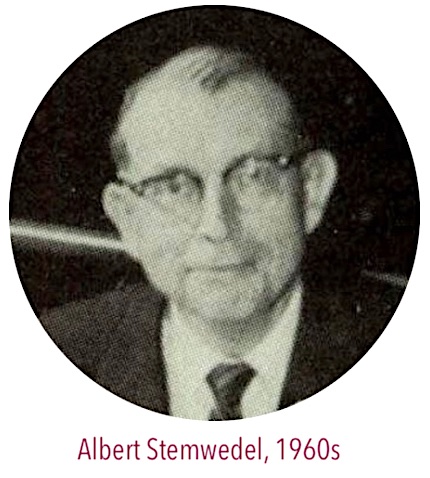 "We have tried to hire within the neighborhood, and are very happy with this policy," Stemwedel told the Tribune. "It enables our employes to walk to work. The women we employ are close enough to home that they don't have to worry about being far away in case there is trouble. We're quite sold on this policy.
"I think that by employing persons in the community, the business tends to keep community standards up, and business value increases. If a neighborhood is bad, you can't get good people to work there when they're afraid to walk the streets."
Stemwedel's concern with neighborhood safety and finding "good people" might have been slightly influenced by a rather dark incident from Airguide's history, which made headlines back in 1952.
In October of that year, a factory worker in Fee & Stemwedel's thermometer department, Robert James, was arrested by Chicago police after admitting to the murder of his wife Harriet, whose body he'd buried under the porch of their apartment at 1621 N. Winchester Avenue—about a 10 minute walk from the Wabansia Avenue plant.
The story was as bizarre as it was gruesome. Robert James was apparently separated from but still legally married to two other women at the same time, and had originally hired Harriet—the victim—to be a nanny for a young child he'd fathered with one of those other women. Harriet then agreed to marry James just a few weeks later.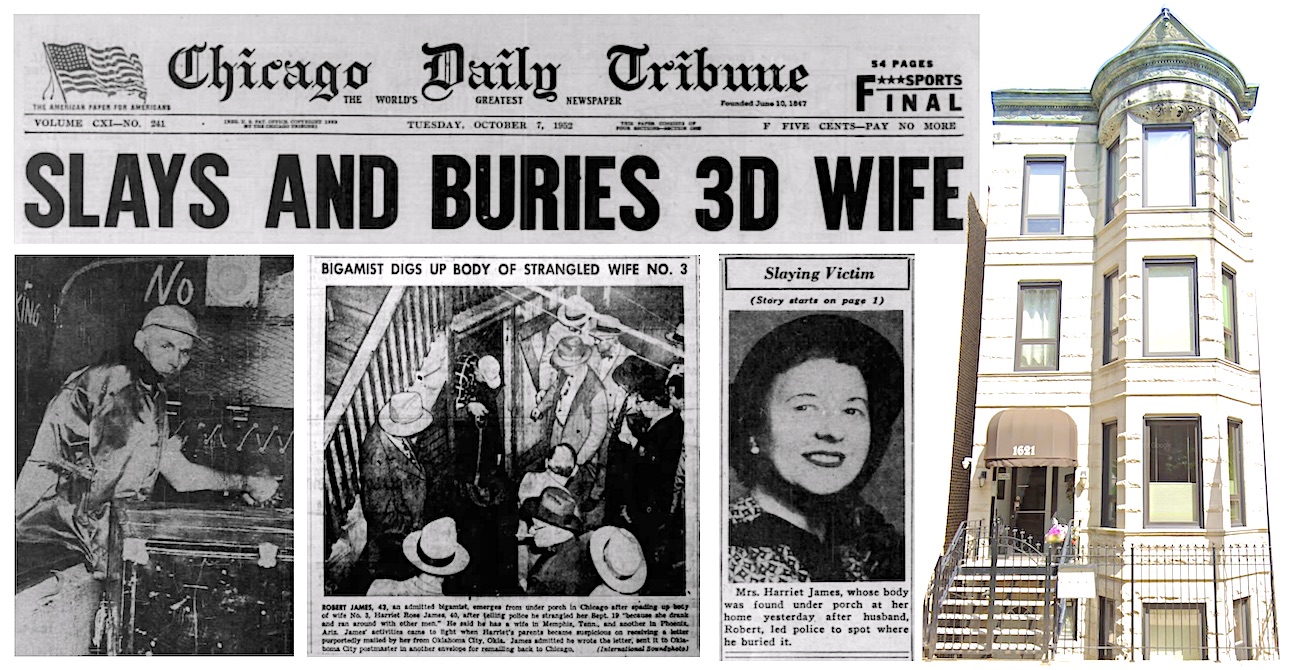 [From left: Airguide employee Robert James, arrested for murder and sitting in the back of a police wagon; James showing cops where he buried the body of his third wife; the victim, Harriet James; 1621 N. Winchester Avenue, where it happened]
Seven months into the marriage, supposedly acting out of a rage over Harriet's drinking habits, James strangled his new bride to death, and initially kept her body stored in a trunk for several days. He also sent an incredibly twisted letter to Harriet's parents—pretending it was from Harriet—in which he claimed "she" had met a new man and was driving out west with him through Oklahoma. "I am not coming back to Chicago any more," it said, in part. "I will be O.K. I will have a home and someone who likes to drink and go out to taverns and have a good time. Tell Mom not to worry about me. I will be just fine."
The weirdness of the letter, which was absurdly long considering the purposes, raised serious concerns for Harriet's parents, and eventually led to an investigation and Robert James's arrest. It must have been an interesting mood the next day at the Fee & Stemwedel factory, as Robert's old thermometer assembly buddies tried to make sense of their former co-worker's face on the front page of the newspaper—a confessed murderer.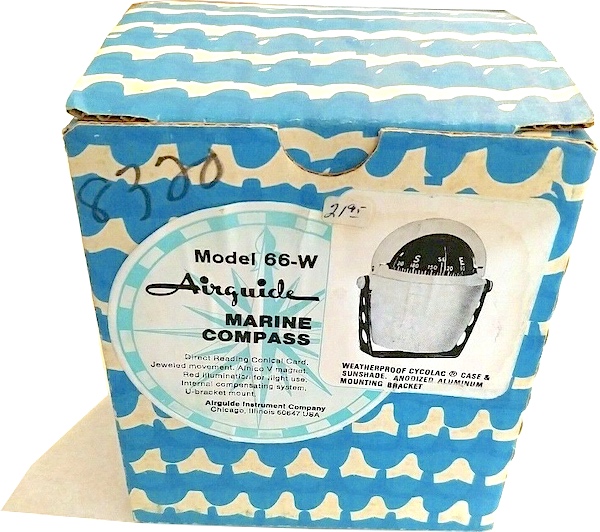 As best we can tell, Airguide stayed mercifully murder-free in the years that followed, but the company did face other threats of a less evil but more inevitable sort. Foreign competition had trampled their weather instrument sales in the '60s and '70s, and the once revered Airguide thermometers and barometers now only represented about one-third of the company's sales, with marine and auto instruments doing more to keep the business afloat.
As Al Stemwedel stepped into retirement, Fred Eckert took a shot at reviving the business, but was replaced by Stemwedel's 42 year-old son Charles Stemwedel in 1979. An attorney rather than an engineer or salesman, Charles brought in a new vision, hoping to aim the Airguide brand at a more discerning audience.
"What we've tried to do is to take a product that has appeal for a large segment of general users, and then to hit the top of that group," he told the Tribune. "We want to make the best thermometer, a little fancier than the rest, and a little more expensive."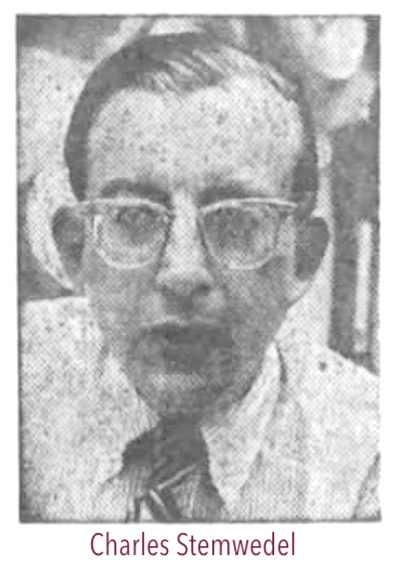 It wasn't a horrible notion. Airguide, though a small business with $10 million in annual earnings, still had a staff of 150 and a reputation established over 50 years. Even in his optimism, though, Charles Stemwedel seemed to recognize the glaring obstacle standing in their way: "Instrumentation in all of the areas in which we deal is rapidly going electronic," he said. "We're moving quickly to make use of that."
Airguide met the challenge in principle, introducing new tech and carrying on at the Wabansia plant through the 1980s, but a boom in sales was not forthcoming. The business was finally sold to Wisconsin's Johnson Worldwide Associates in 1990, with some manufacturing relocated to the Chicago suburb of Buffalo Grove. By the year 2000, both the Airguide business and the brand appear to have faded from all use.
Albert Stemwedel, in the end, outlasted the company he founded, as he died in 2002 at the age of 97.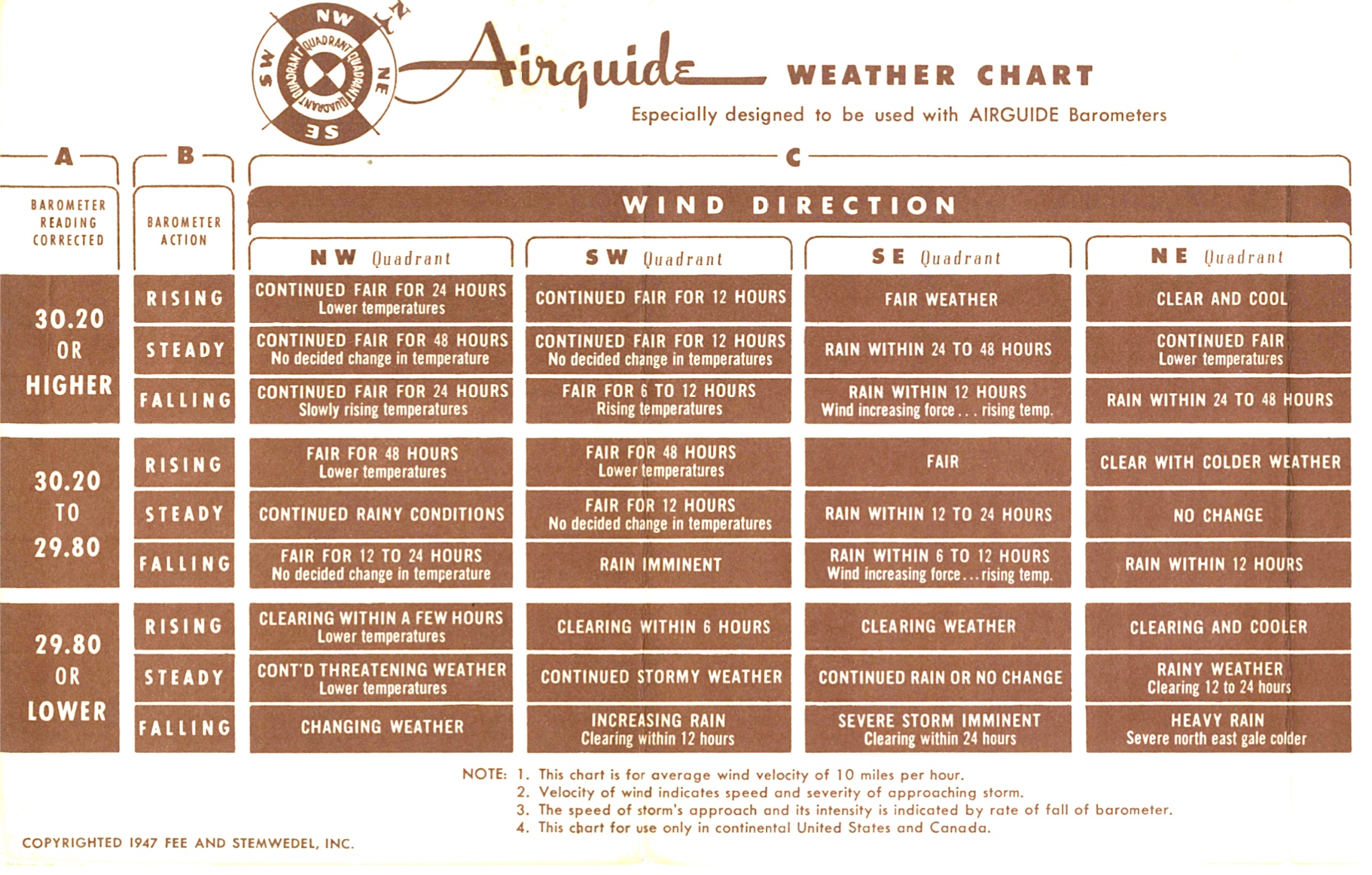 Epilogue
A recent museum guest, Thomas Clune, Jr., recently shared his memories of his father's days at Airguide:
"My late Father, Thomas Clune Sr., was a design engineer at Airguide from ca. 1960 to 1969, with a brief interruption in 1967 while he finished his degree in Aeronautical Engineering in CA. I remember the name Stemwedel, and that Dad worked for someone named Schwinghammer. Just seeing the Airguide logo brings back strong memories. Dad used to tell me about the smoke that came in the windows from the tire dump across the street. Years later, taking the Blue Line downtown to work as an architect, I would pass the old Airguide HQ on Wabansia and Milwaukee Avenue, and there was the tire dump!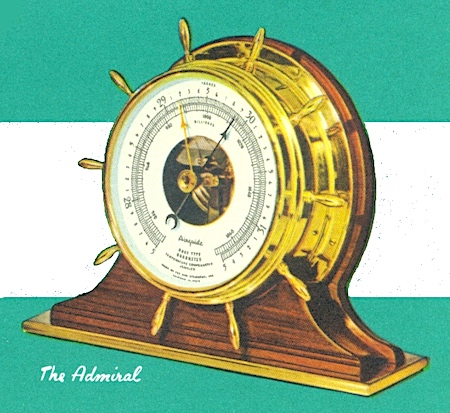 "We always had an Airguide product in our home growing up–usually a thermometer / barometer / weather / wind gauge–and a compass on the dashboard of our car. The colonial and nautical case designs on eBay are familiar. Recently I had a conversation about weather with my youngest daughter and told her about the Airguide gauges we use to have and that her grandfather designed. After visiting eBay and seeing how affordable these are, I decided I had to get one in my home. But I don't know specifically which ones my father designed, nor did it occur to me to ask him while he was alive. What a regret! If I buy a model from the mid-'60s there's a chance, but it would be great to know with certainty. I'd love to hear from anyone who worked with my dad, or at Airguide during that time, and who might have some knowledge about the design provenance of the products out there for sale. Many thanks."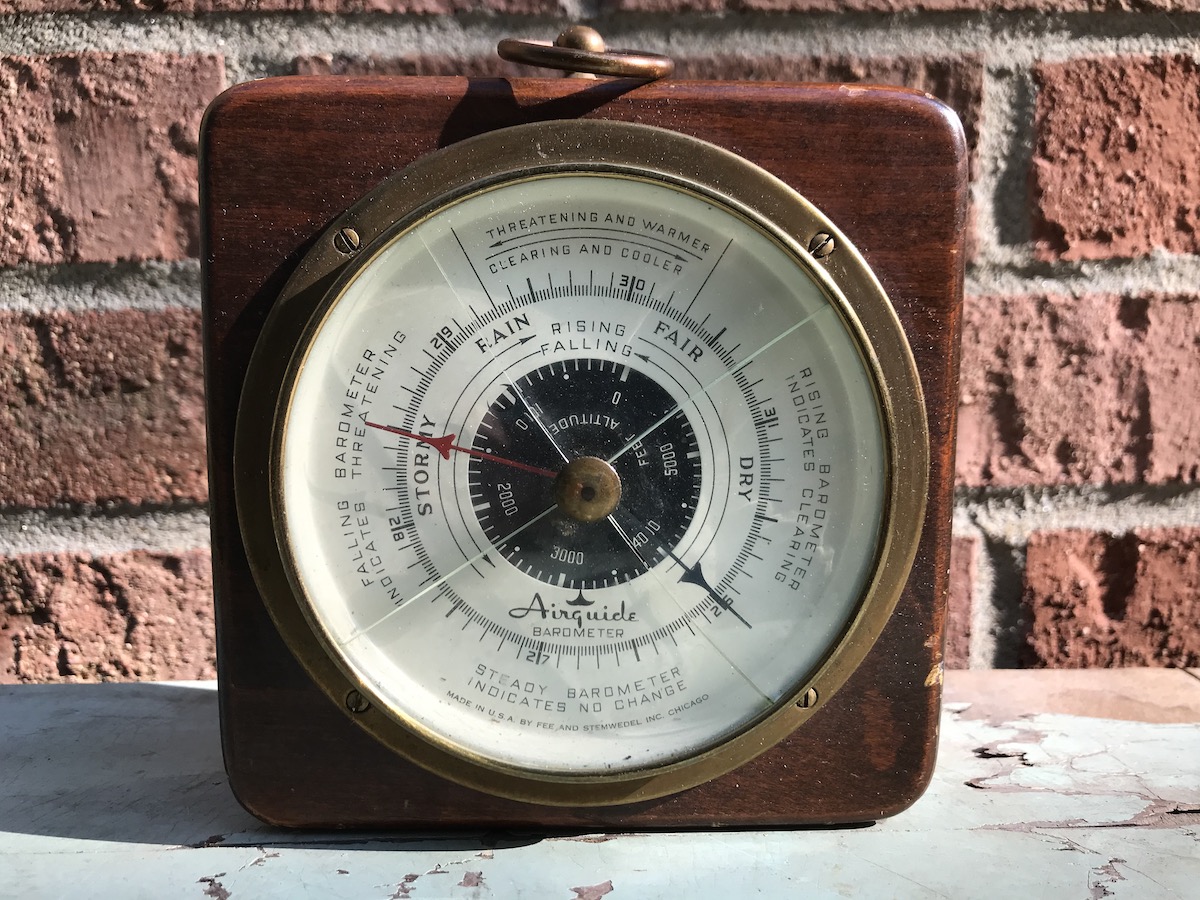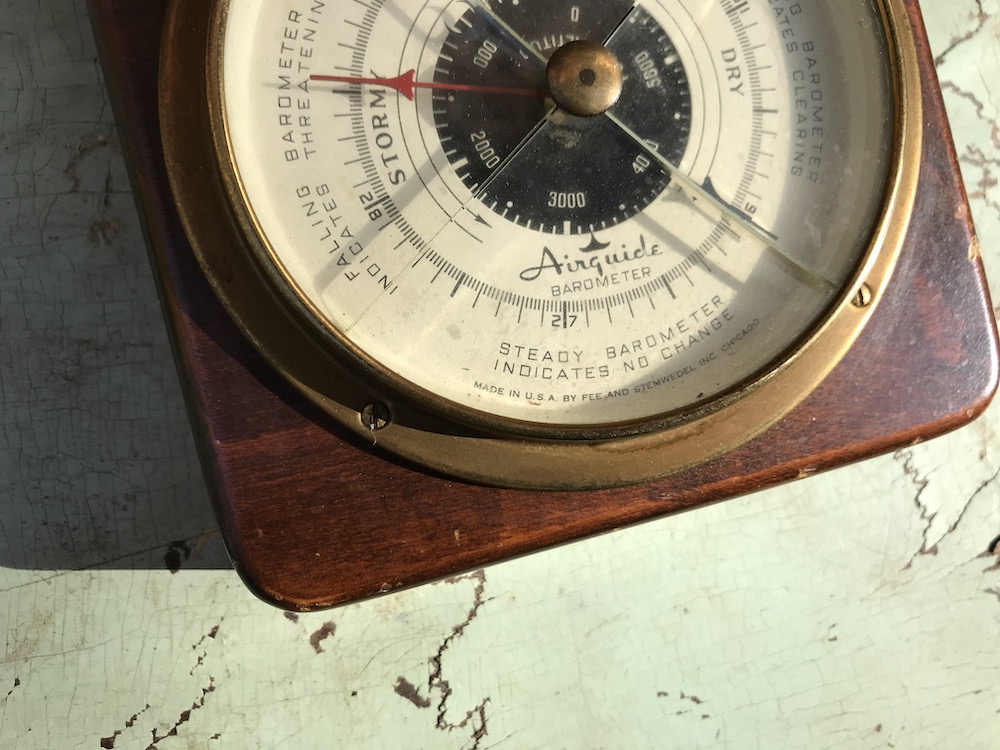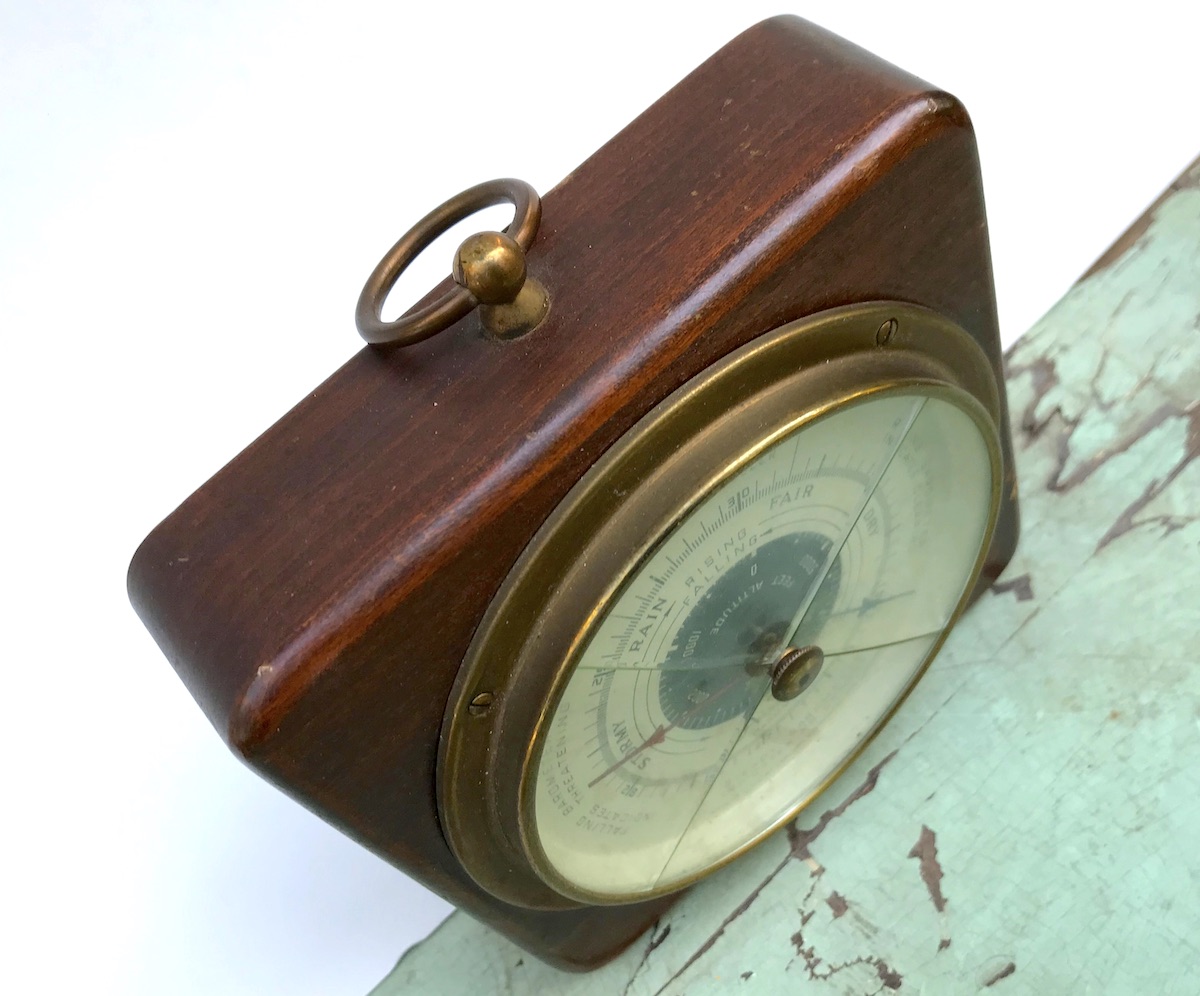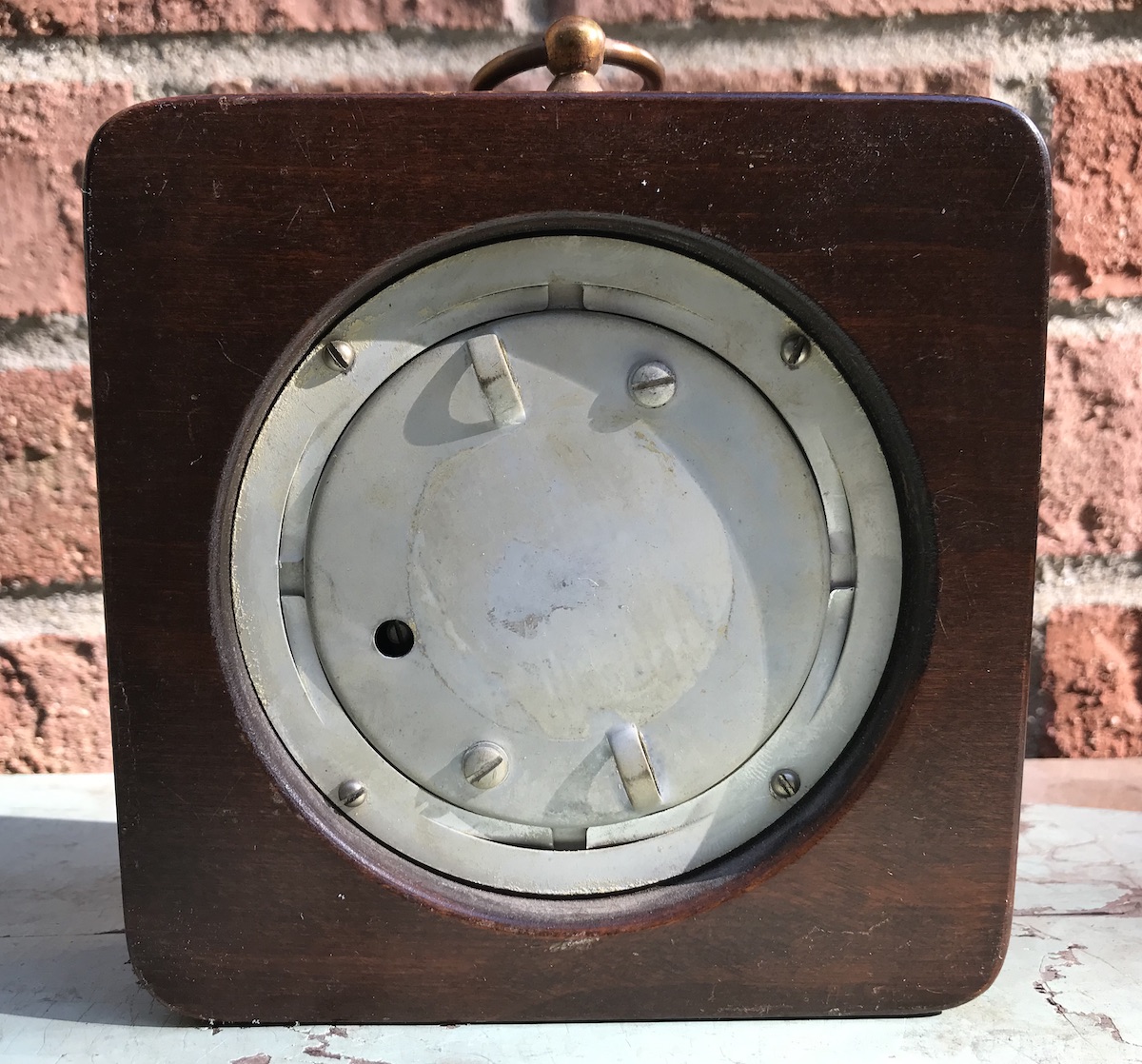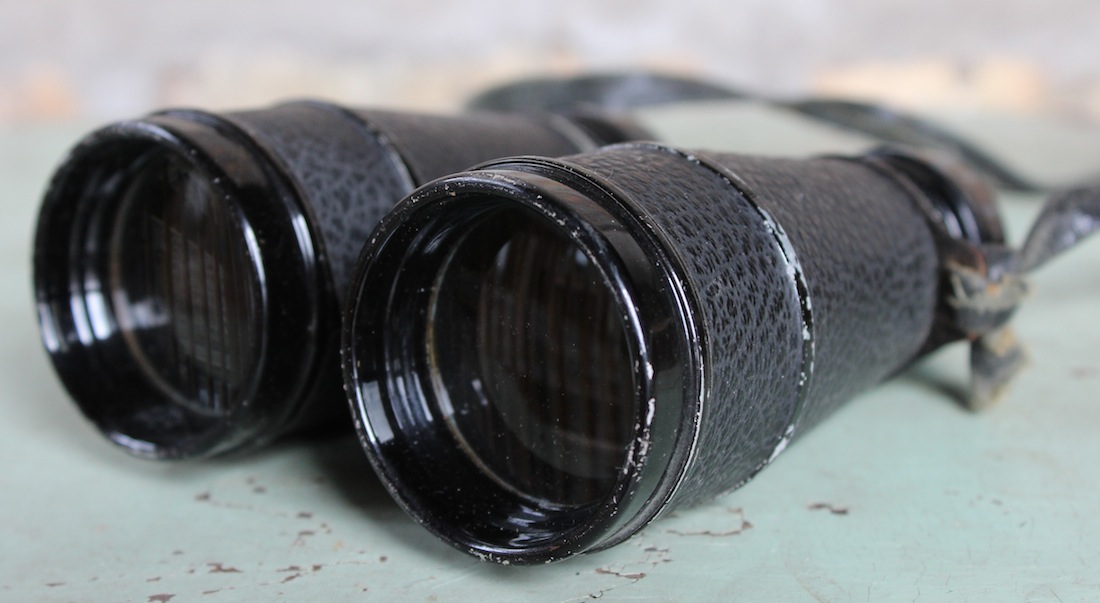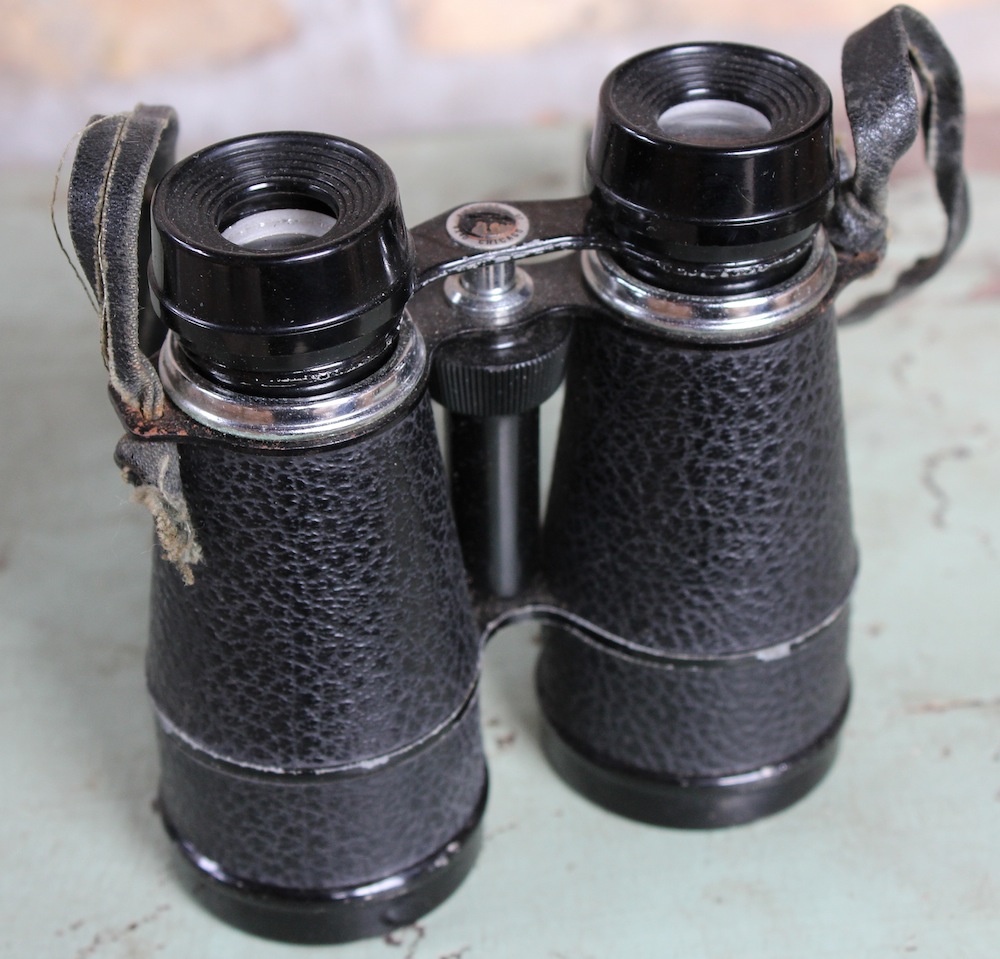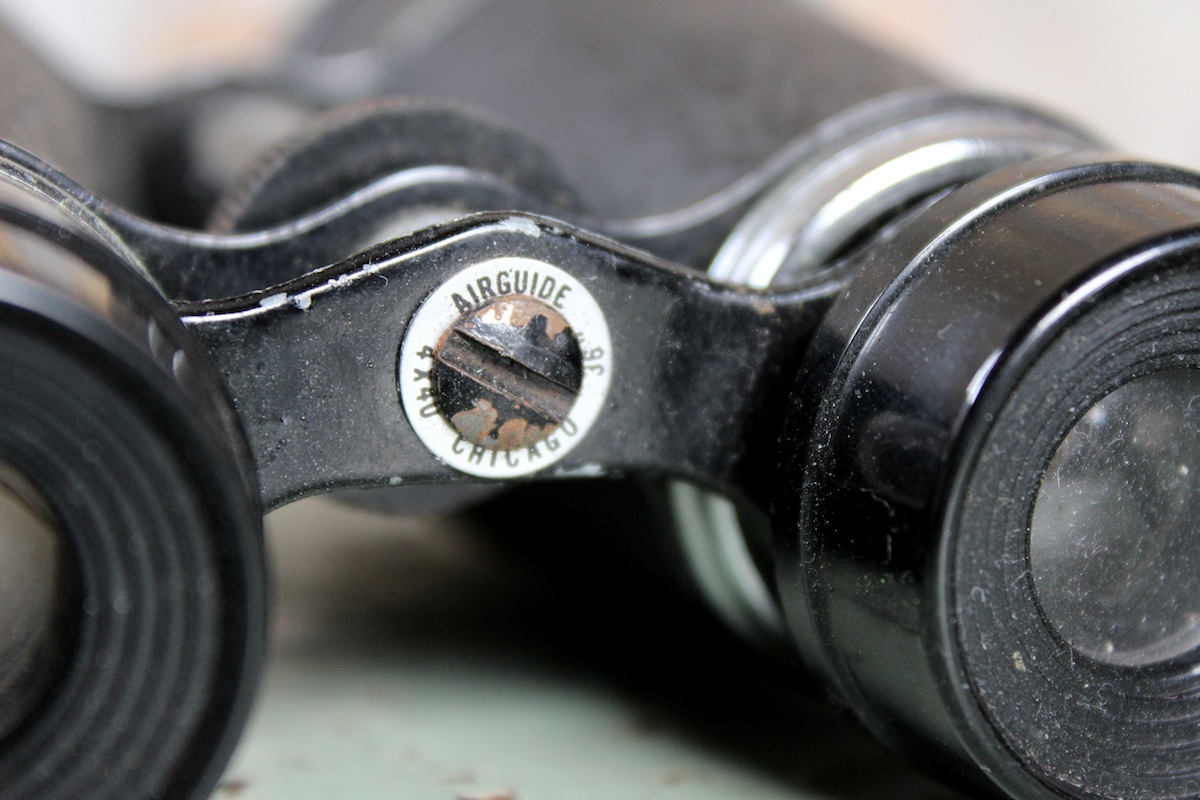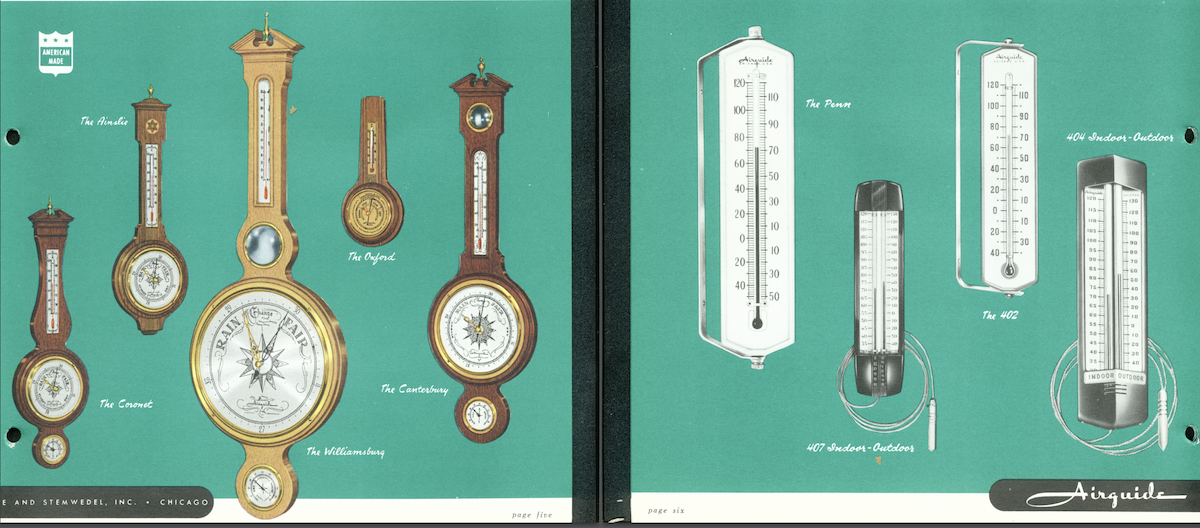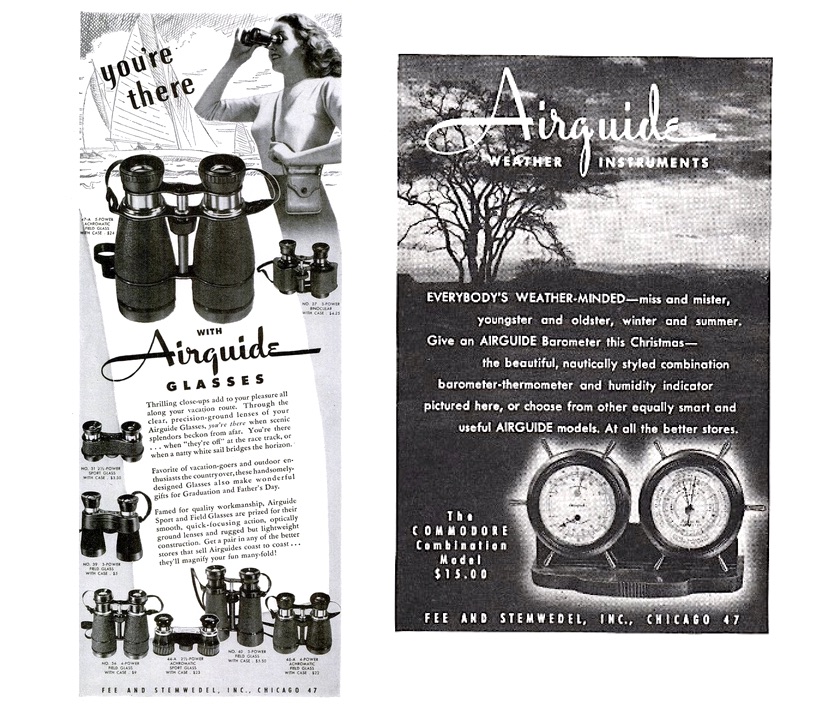 Sources:
Airguide Sales Sheets / Catalogs – 1938, 1952, 1966 – AnalogWeather.com
Taylors at the Devil's Kitchen, by Noel M. Taylor, 1975
"Federal Trade Bureau Cites Chicago Firm" – Chicago Tribune, Aug 17, 1937
"Slays and Buries Third Wife" – Chicago Tribune, Oct 7, 1952
"Group Plan Employment Bureau" – Chicago Tribune, Aug 23, 1964
"Measure of Success" – Chicago Tribune, Nov 5, 1979
"Johnson Worldwide Buys Compass Maker" – Press & Sun-Bulletin (Binghamton, NY), June 16, 1990
Fred D. Eckert obit – Chicago Tribune, Nov 10, 2000
Albert L Stemwedel obit – Chicago Tribune, Feb 7, 2002
Archived Reader Comments:
"I worked for Mr Stemwedel at Airguide for a shot time between 1964-1967 and found him to be a very kind and considerate person.  Airguide also had a line of Automobile Compass', Marine Compass', Marine Engine Tachometer, Marine Pitot Tube Speedometers and Marine Radio Direction Finders. My job responsibilities were primarily associated with the radio direction finders as they had just purchased that company." —Alan Wayne, 2020
"I picked up a Fee and Stemwedel desktop barometer — the one that's roughly 5″ by 5″ — at an antique shop 20 years ago.  It worked then and still does." —Mike B., 2020
"In the mid 60's my babysitter's father was a design engineer for Airguide. He gave us a combo thermometer/barometer which was quite stylish in the contemporary 60's look which I remember well." —Marc, 2019