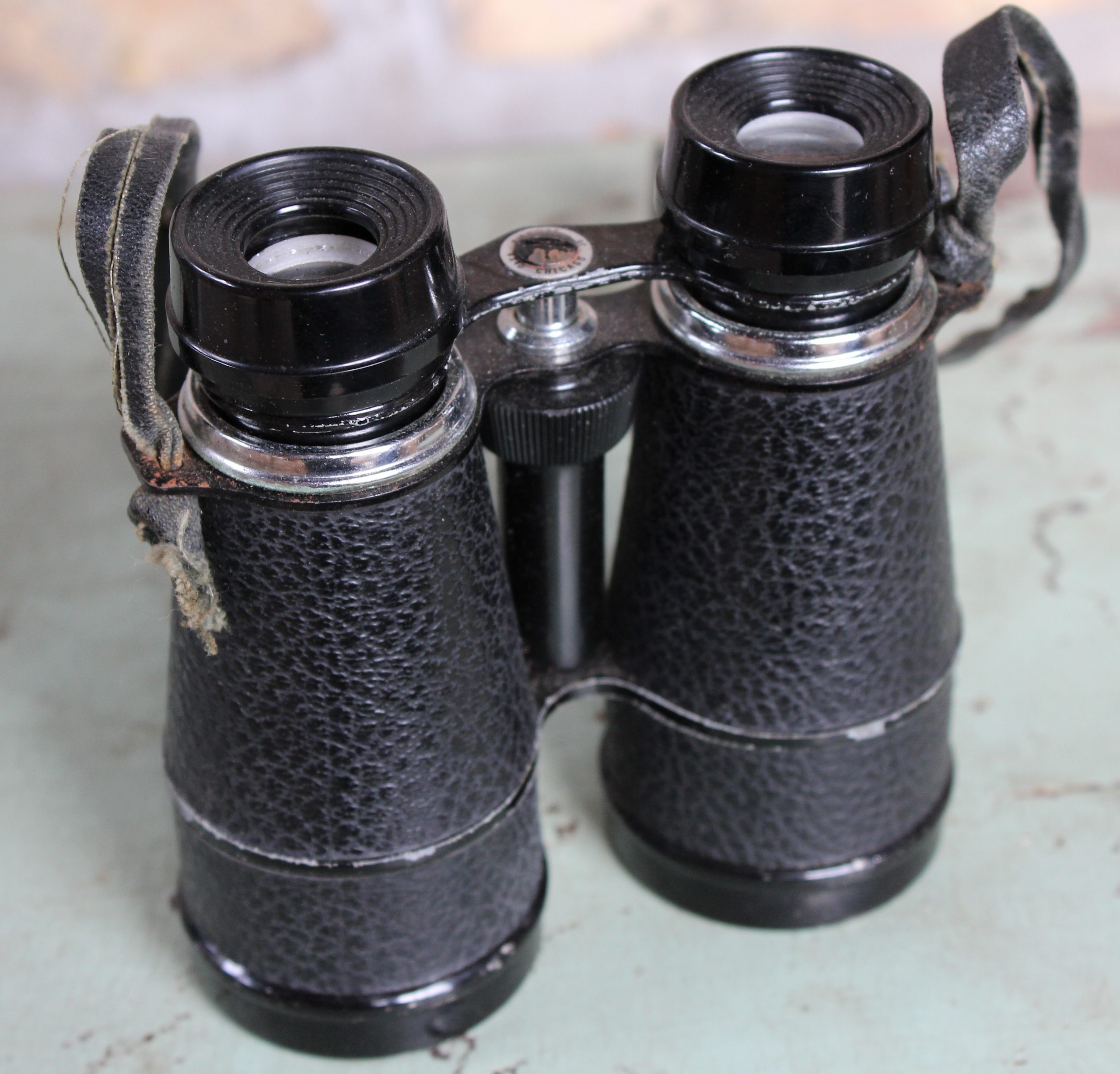 Museum Artifact: No. 36 Field Glasses, c. 1940s
Made by: Airguide Instrument Co. / Fee & Stemwedel, Inc, 2210 W. Wabansia Ave. [Wicker Park]
As an avid birdwatcher and lifelong appreciator of faraway objects, in general, I can't help but have a soft spot for these well traveled Airguide field glasses. This particular pair likely dates from the late 1940s, when chickadees still listened to jazz and goldfinches feared Communism. The manufacturer was Chicago's Fee & Stemwedel, Inc., which would soon be changing its name to the Airguide Instrument Company—making its long established commercial brand an official corporate identity.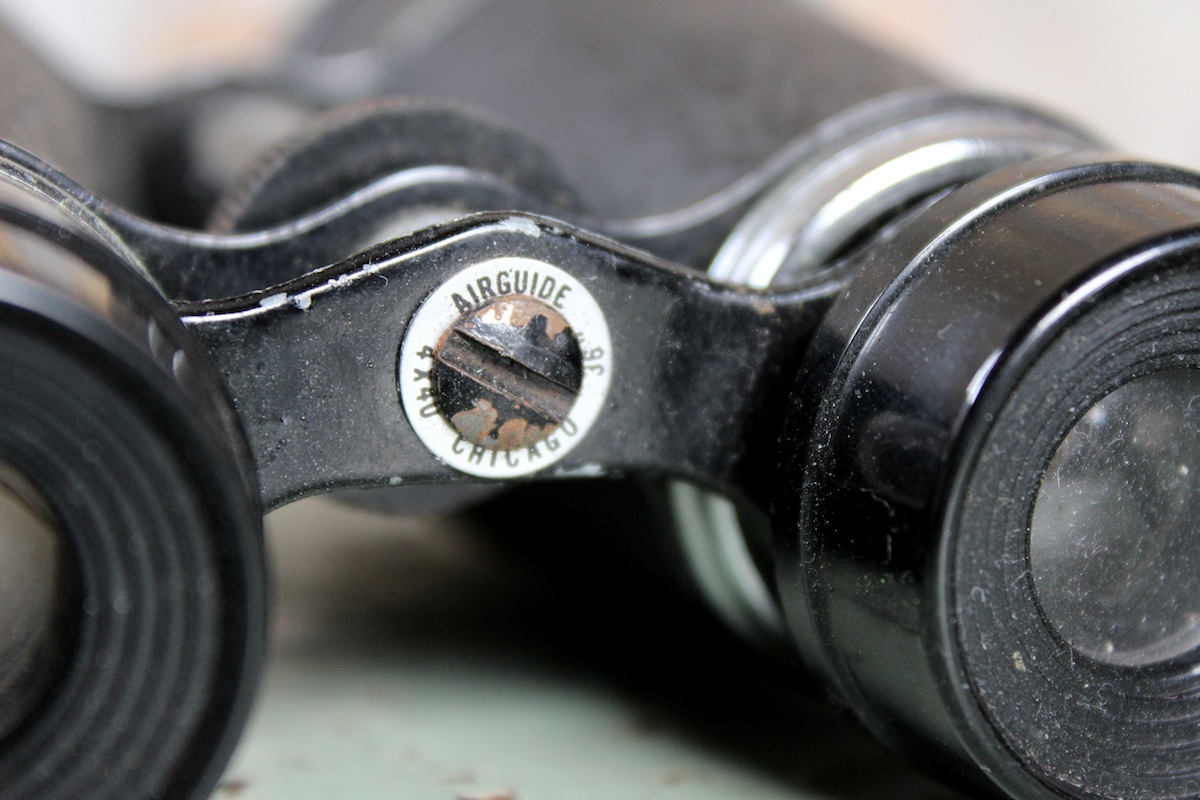 Airguide has its origins at the dawn of the Depression, 1930, when Richard Fee and Albert L. Stemwedel launched their business, manufacturing battery maintainers for the growing home radio market. By 1932, they'd expanded into hygrometers and thermometers, landing a big contract to manufacture the latter for Marshall Fields. Their first main headquarters was located at 219 W. Chicago Avenue, but by World War II they'd taken over buildings at 4949 N. Pulaski Road and their eventual long term home, 2210 W. Wabansia Avenue. Both locations are still standing and pictured below, with the Wabansia building now serving as upscale loft apartments.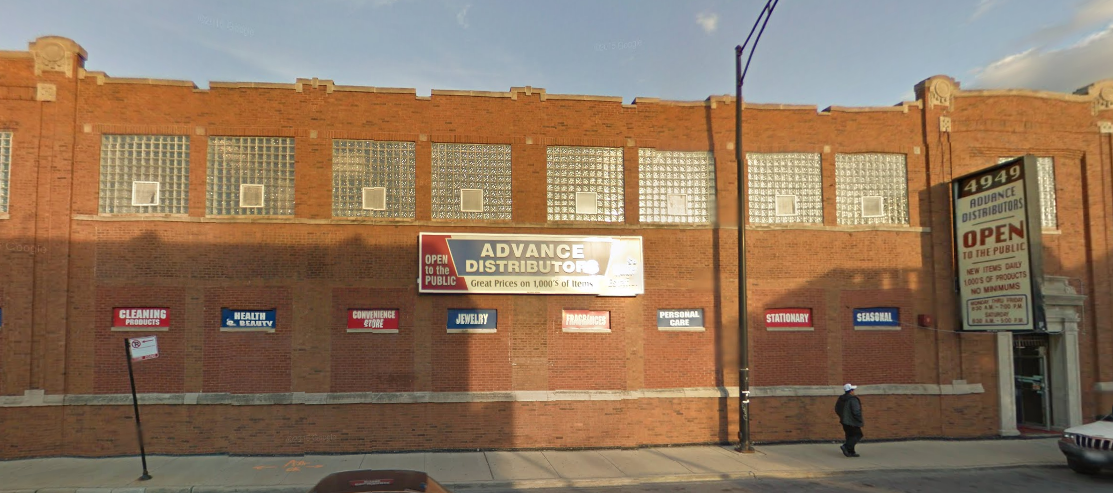 [Above: Former 1940s factory space at 4949 N. Pulaski Rd., as it looks today. Below: Former plant at 2210 West Wabansia, since converted into lofts]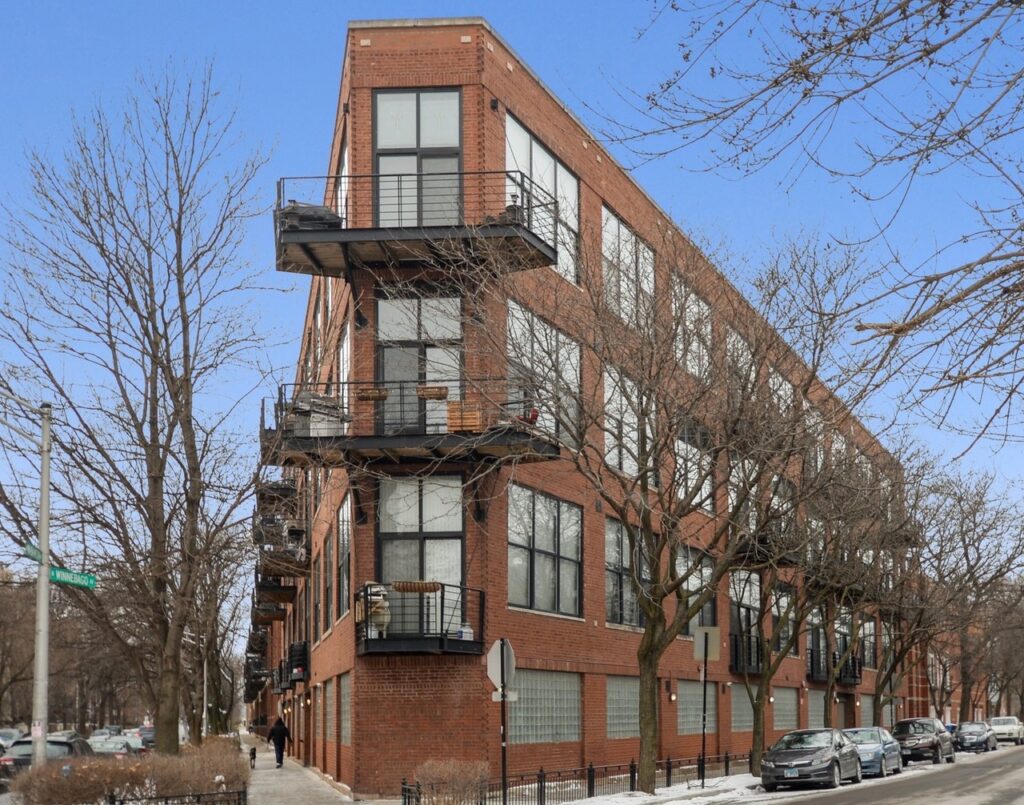 From early on, Fee & Stemwedel used "Airguide" as the brand for most of their products ("Trojan" was just about the only other brand I could find under their banner), and the name became associated with a fairly distinct line of goods one could best describe as "scouts equipment."
Advertisements in 1940s and '50s issues of Boy's Life and Popular Mechanics showcased Airguide compasses, clocks, rain gauges, barometers, inclinometers, and of course, binoculars—more artfully marketed as "field glasses."

The field glasses in our museum collection are the No. 36, 4×40 model, which retailed for about $9 in 1950, or roughly $90 in modern coin. I would describe the crystal clear majesty of these solid binocs, but some ad agency handled it much better 70 years ago:
"Thrilling close-ups add to your pleasure all along your vacation route. Through the clear, precision-ground lenses of your Airguide Glasses, you're there when scenic splendors beckon from afar. You're there . . . when 'they're off' at the racetrack, or when a merry white sail bridges the horizon.
"Favorite of vacation-goers and outdoor enthusiasts the country over, these handsomely designed Glasses also make wonderful gifts for Graduation and Father's Day.
"Famed for quality workmanship, Airguide Sports and Field Glasses are prized for their smooth, quick-focusing action, optically ground lenses and rugged but lightweight construction. Get a pair in any of the better stores that sell Airguides coast to coast . . . they'll magnify your fun many-fold!"
Magnify your fun many-fold! That's some acrobatic double-alliteration there.
Anyway, by the 1950s, Fee & Stemwedel had a workforce of 200 men and women, along with a pretty lucrative defense contract making pocket compasses for the U.S. military. The Wabansia plant continued to grow, and business was booming much like the baby-making practices of the period.
There was at least one disturbing, dark chapter in the midst of these good times, however. In October of 1952, a factory worker in Fee & Stemwedel's thermometer department, Robert James, was arrested by Chicago police after admitting to the murder of his wife Harriet, whose body he'd buried under the porch of their apartment at 1621 N. Winchester Avenue—about a 10 minute walk from the Wabansia Avenue plant.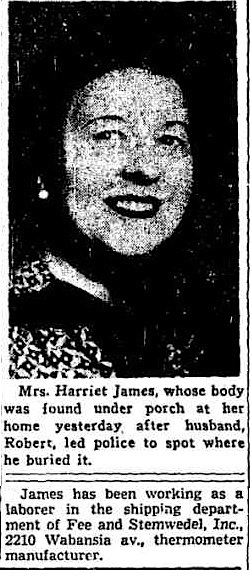 The story was as bizarre as it was gruesome. Robert James was apparently separated from but still legally married to two other women at the same time, and had originally hired Harriet—his third wife / victim—to be a nanny for a young child he'd fathered with one of those other women. They were married just weeks later.
Seven months into the marriage, supposedly acting out of a rage over Harriet's drinking habits, James strangled his new bride to death, and initially kept her body stored in a trunk for several days. He also sent an incredibly twisted letter to Harriet's parents—pretending it was from Harriet—in which he claimed "she" had met a new man and was driving out west with him through Oklahoma. "I am not coming back to Chicago any more," it said, in part. "I will be O.K. I will have a home and someone who likes to drink and go out to taverns and have a good time. Tell Mom not to worry about me. I will be just fine."
The weirdness of the letter, which was absurdly long considering the purposes, raised serious concerns for Harriet's parents, and eventually led to an investigation and Robert James's arrest. It had to be an interesting mood the next day at the Fee & Stemwedel factory, as Robert's old thermometer assembly buddies tried to make sense of their former co-worker's face on the front page of the newspaper—a confessed murderer.
But, like I said, things were mostly going really well for Airguide!
By 1956, company co-founder Richard Fee decided he'd get out of the business while the getting was still good, and sold his shares to Albert Stemwedel, who—in turn—changed the name from Fee & Stemwedel to the Airguide Instrument Co.
Like so many of its contemporaries, Airguide was eventually doomed by the rise of foreign competition, particularly cheap instruments from East Asia. The company was sold to Wisconsin's Johnson Worldwide Associates in 1980, and the Airguide brand name was discontinued for good by 2000.
Albert Stemwedel, in the end, outlasted the 70-year run of his company, as he died in 2002 at the age of 97.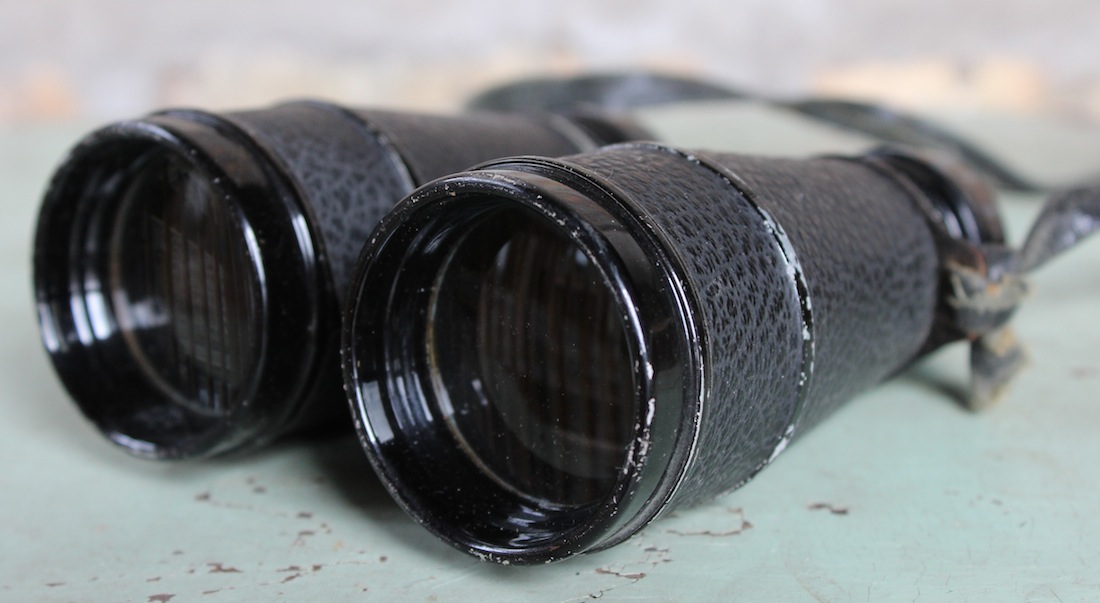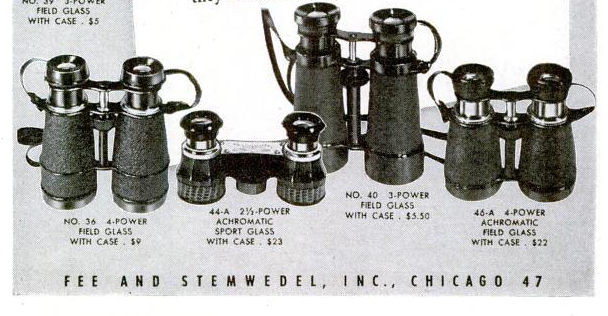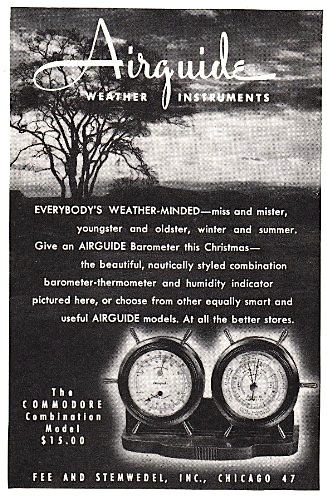 Archived Reader Comments:
"I worked for Mr Stemwedel at Airguide for a shot time between 1964-1967 and found him to be a very kind and considerate person.  Airguide also had a line of Automobile Compass', Marine Compass', Marine Engine Tachometer, Marine Pitot Tube Speedometers and Marine Radio Direction Finders. My job responsibilities were primarily associated with the radio direction finders as they had just purchased that company." —Alan Wayne, 2020
"I picked up a Fee and Stemwedel desktop barometer — the one that's roughly 5″ by 5″ — at an antique shop 20 years ago.  It worked then and still does." —Mike B., 2020
"In the mid 60's my babysitter's father was a design engineer for Airguide. He gave us a combo thermometer/barometer which was quite stylish in the contemporary 60's look which I remember well." —Marc, 2019