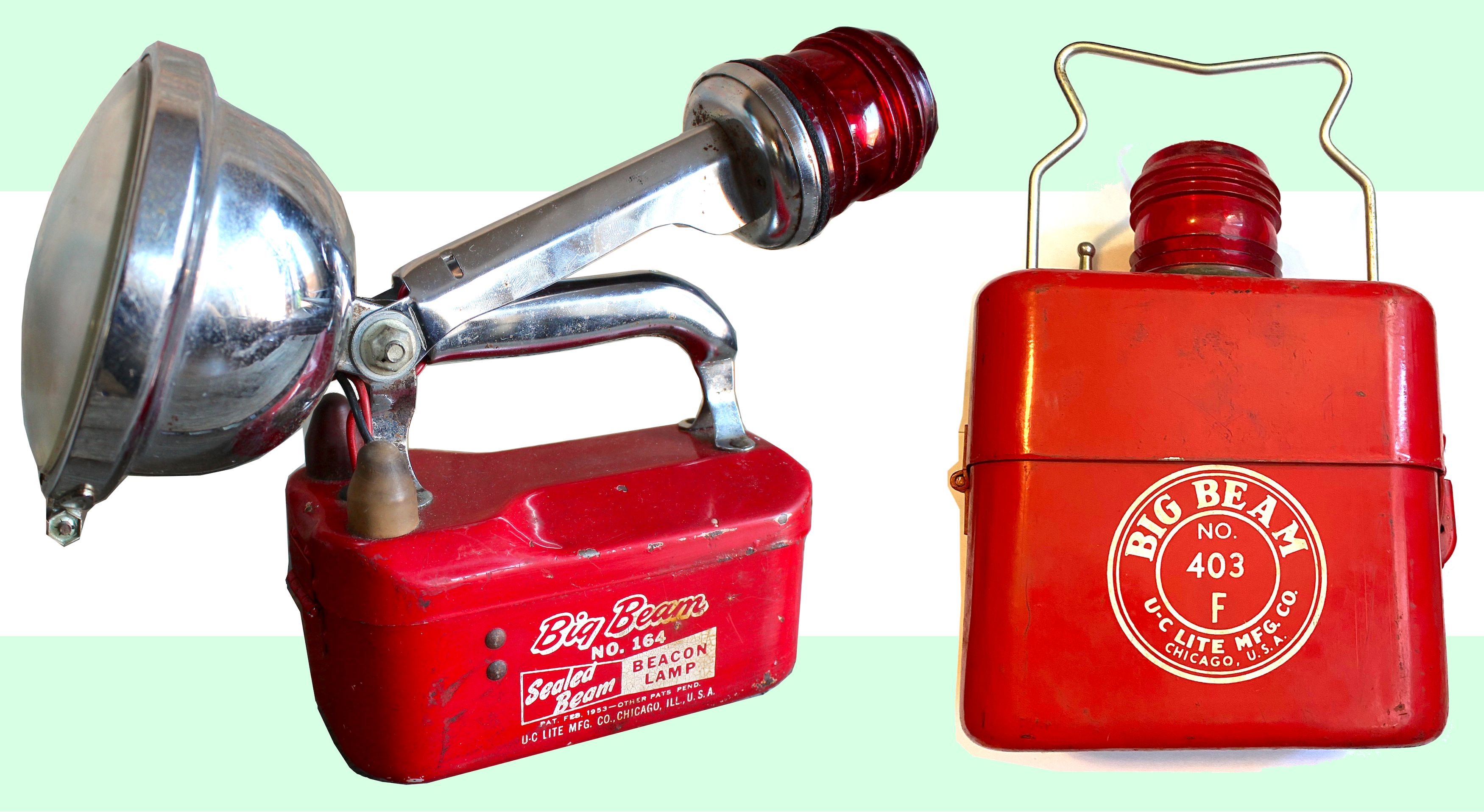 Museum Artifact: Big Beam No. 164 Sealed Beam Beacon Lamp and Big Beam No. 403 F Emergency Lamp, 1950s
Made By: U-C Lite MFG Co., 1050 W. Hubbard St., Chicago, IL [West Town]
First of all, don't call it a flashlight. This particular style of life-saving, portable illumination was known as a "hand lamp" (or "hand lantern"), and similar models are still being manufactured today—some of them by the very same company that produced the two mid-century artifacts in our museum collection.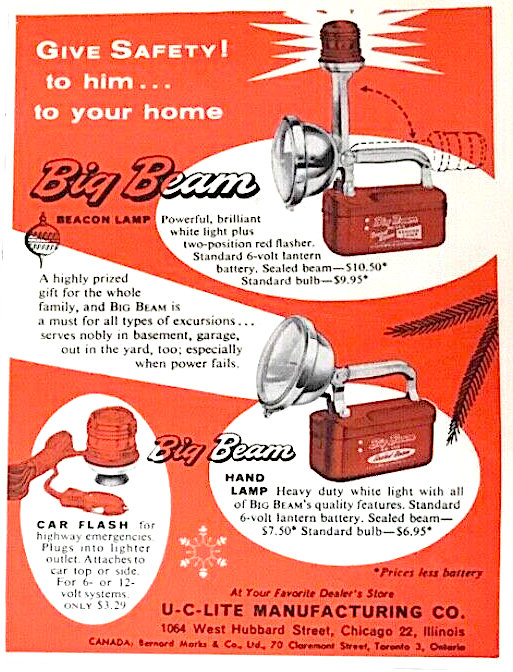 Since 1962, Big Beam Emergency Systems, Inc.—as the business is now known—has been based in suburban Crystal Lake, Illinois, where they've remained a leading supplier of hand lanterns, as well as a broad array of emergency lights and exit signs. The firm's first 25 years, however, were spent in Chicago, under the name of the U-C Lite Manufacturing Company. "Big Beam" was originally just a brand name conceived for U-C Lite's debut product in 1938; a "portable storage battery hand lamp" that could "cast a light for 2,500 feet" and burn for "ten hours continuously on one full charge of its battery," according to a review in the June 1939 issue of Motor Boating magazine.
"The construction is such that the storage battery is completely enclosed in the steel carrying case, of which the lamp is a part," Motion Picture Herald noted that same year. "A built-in rubber reservoir seals the battery vents, protecting both the lamp and the person carrying it against corrosive fumes or spillage."
From early on, the power and durability of the Big Beam gave it a very diverse field of logical clientele, including not only the yachtsmen and theater owners who read those aforementioned magazines, but anyone potentially working in dark or dangerous conditions: firefighters, electricians, security guards, campers, motorists, train conductors, etc.
That latter group, the railroad man, was also the target audience for the Big Beam 400 series, which is represented in our museum by a No. 403 F model donated by Russ and Jessie Koci of Auburn, Kansas. This "combination emergency lamp and signal flare" was introduced by U-C Lite in the 1940s, and was made of "weatherproof baked enamel steel," according to Modern Railroads magazine, "with two standard dry-cell lantern batteries and two independent bulbs . . . covered with a red Fresnel lens of molded plastic, which directs the light in horizontal beams."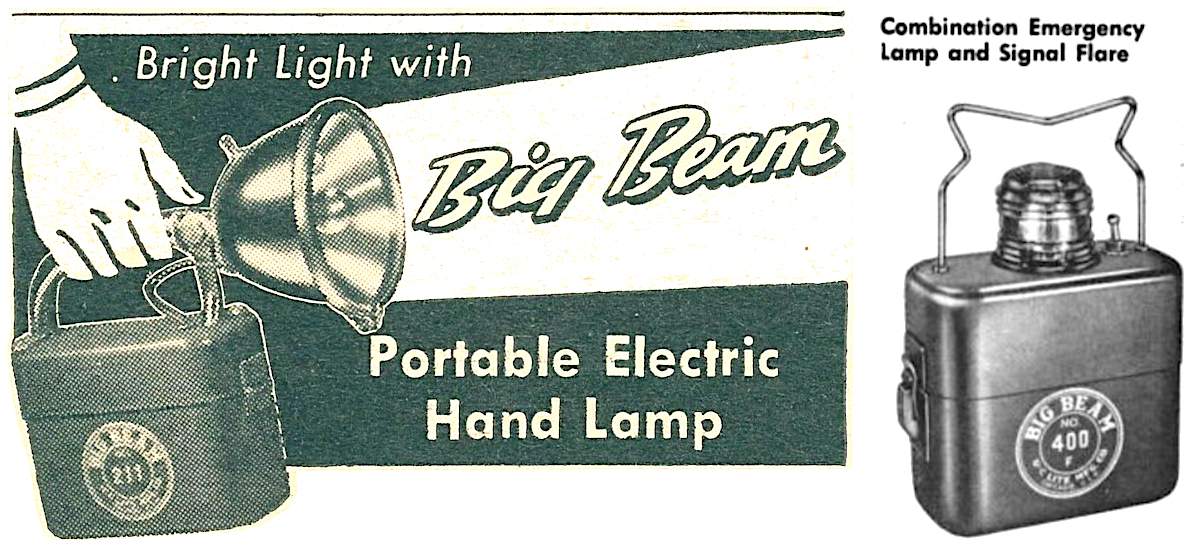 [Left: 1946 ad for the Big Beam #211 Hand Lamp, a predecessor of the larger, adjustable #164 Beacon Lamp in our museum collection. Right: A 1948 sketch of a Big Beam 400 F Emergency Lamp and Signal Flare from an issue of Modern Railroads magazine. Our collection includes a similar model #403 F, which was donated by Ryan Koci on behalf of his grandparents, Russ and Jessie Koci of Auburn, KS]
The other Big Beam in our collection, the adjustable hand-lamp + signal hybrid known as the No. 164 "Beacon Lamp," debuted in the mid 1950s, and was promoted as "a highly prized gift for the whole family . . . a must for all types of excursions . . . serves nobly in basement, garage, out in the yard, too; especially when power fails."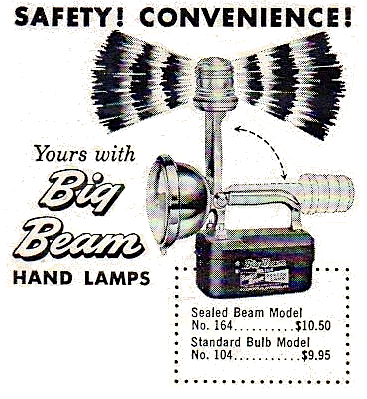 "Turns Darkness Into Daylight," read another ad in a 1955 issue of Hardware Age. "Customers just can't resist the fabulous new BIG BEAM BEACON LAMP with its powerful 1500-foot beam and exclusive two-position flashing red beacon.  . . . Serves as a taillight (in down position) or tower beacon (in up position)."
The man behind most of these early Big Beam lamps, and the co-founder of the U-C Lite MFG Company, was Cyrus G. Talbot. And while we're 60 years too late to chat with him about his business, current Big Beam Inc. general manager Steve Loria was thoughtful enough to pass along some photos and factoids to aid in our efforts (and kudos to Steve and his company for celebrating their roots).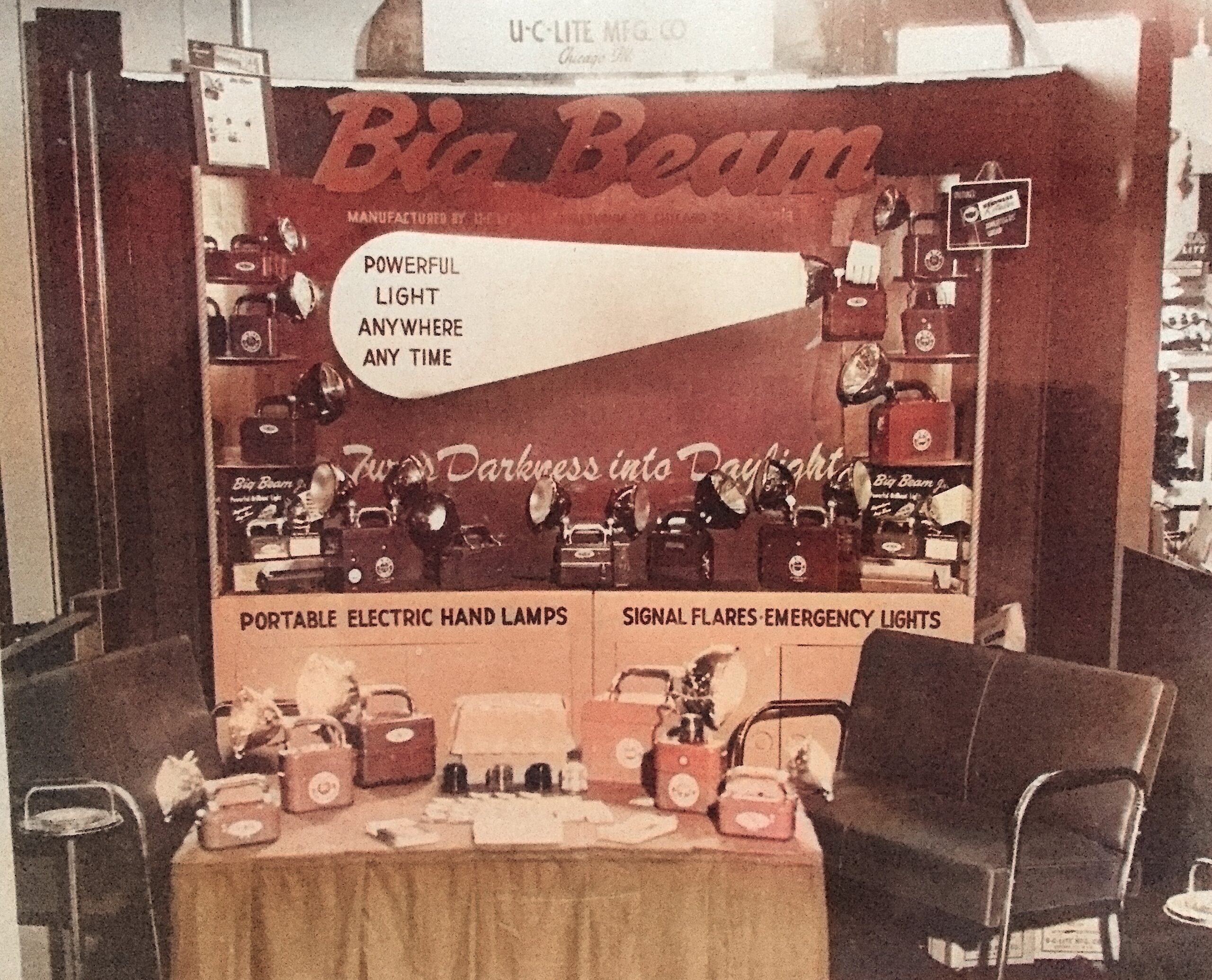 [A display of U-C Lite's "Big Beam" products at a trade show, 1950s]
History of Big Beam and the U-C Lite MFG Co.
"The BIG BEAM name in emergency lights is probably familiar to you—it has been in use since U-C Lite's founding in 1938 and has been synonymous with safety and protection of lives and property ever since." —Citizen Newspaper, McHenry, IL, 1966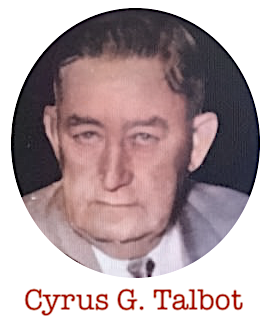 Cyrus Grover Talbot (1885-1962) wasn't one of these youthful, wunderkind entrepreneurs that we often encounter in Made in Chicago origin stories. Instead, he was already 53 years old by the time he sold his first flashlight—err, hand lantern.
Talbot was born and raised on the South Side and spent the majority of his adult life there, as well. An electrician by trade, he worked in the Stockyards early in his career before getting a job with the city. According to his grandson Joseph F. Talbot, Jr., Cyrus was gainfully employed for more than 30 years with the Chicago Fire Department, managing the CFD's electrical equipment. This work logically included selecting, developing, and probably tweaking the lighting methods firefighters depended on to navigate their way through smoke and darkness.
Battery powered flashlights had existed since around the turn of the century, but it was an evolving science—and one Cyrus Talbot began to seriously ponder as a second career path in the midst of the Depression.
In 1938, he built his original "Big Beam" prototype lantern in his basement, using a wood case and a motorcycle headlight. His goal was not only to create a stronger, "bigger beam" of light for firemen to use, but to develop a more efficient means of keeping the batteries charged.
In January of 1939, with his fledgling business off the ground, Talbot and his co-assignee Adrian H. Townsend applied for a patent on a "charging system for electric lamps."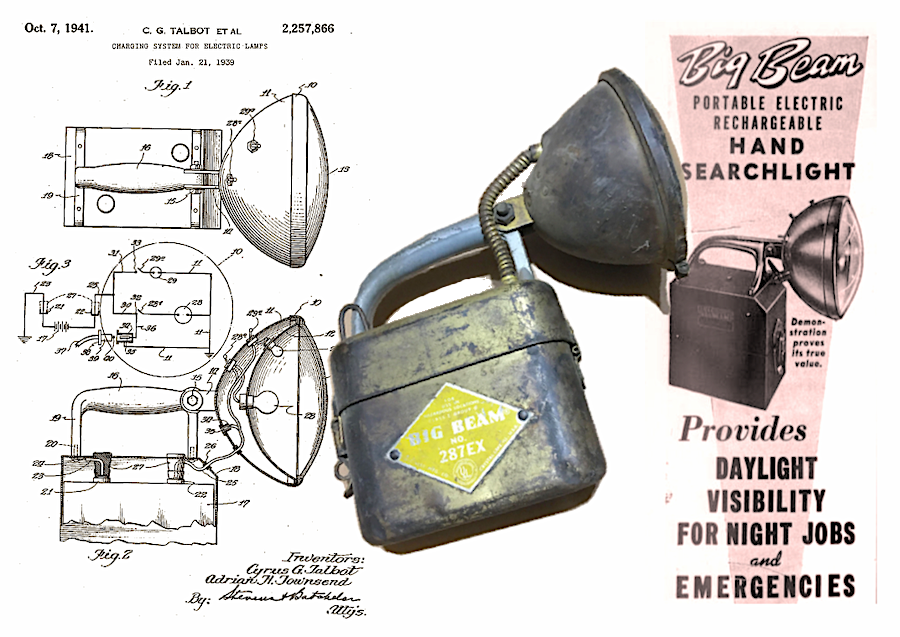 [Left: 1941 patent for Cyrus Talbot's "Charging System for Electric Lamps." Center: A Big Beam 287EX miner's lamp. Right: 1944 ad for the Big Beam Hand Searchlight]
"Portable electric lamps which are battery-operated," Talbot wrote in his patent application, "have become popular in late years where illumination is required in places where electric service is absent or has been interrupted, or where a handy lamp is desired for use in different places. It has been found that longer and more economical service is obtainable from such a lamp when it is operated by a storage battery, but the problem of re-charging the battery from time to time has been a difficult and unsatisfactory one."
Their innovation was using the Big Beam's oversized lamp head as a "carrier or support for the charging receptacle." This would provide a charging unit that was "distant from the battery, whereby to render the receptacle immune to acid fumes issuing from the battery during the charging operation."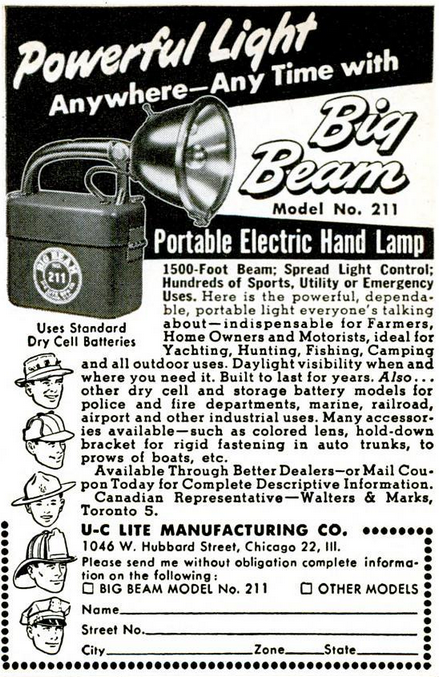 Okay, so patent language isn't as exciting as firefighting. But it's all connected, man.
Talbot and Townsend's design was officially patented in 1941, and during the war years, it was actually Adrian Townsend (a professional salesman by trade) who took on the main leadership role of the upstart business, serving as the president of the new U-C Lite MFG Co. until Talbot finally left his cozy government job behind to run the company. Alfred H. Davis and Cyrus's brother Joseph Talbot were also partners in the enterprise.
U-C's first home office was located at 500 Dearborn Street, followed quickly by a move to 11 E. Hubbard Street (current home of Andy's Jazz Club). A major, dedicated factory was also established in the mid 1940s at 1050 W. Hubbard Street in West Town. That building is still standing today, and is now residential.
"I lived right across the street from the factory, at 442 N. Aberdeen St.," recalls Ray Masterson, a visitor to the Made In Chicago Museum. "During the war my mom worked at Big Beam in the basement as a welder. Every day when I got home from school, I had to go across the street, lie down on the sidewalk and look into the basement window so mom knew I was home. War days but happy days for a school kid."

[The former Big Beam factory at 1050 W. Hubbard St., 1940s vs today]
According to current Big Beam GM Steve Loria, "U-C Lite made varied sizes, types, and finishes of lanterns and flashers" right from the beginning. "In the late 1940s, they started making emergency lights—when the power failed, the self-contained battery lit up the heads."
By the mid 1950s, Cyrus Talbot had earned patents on his battery retainer and signal hand lamp design, which included the ability to manually adjust the positioning of both the main headlight and emergency light.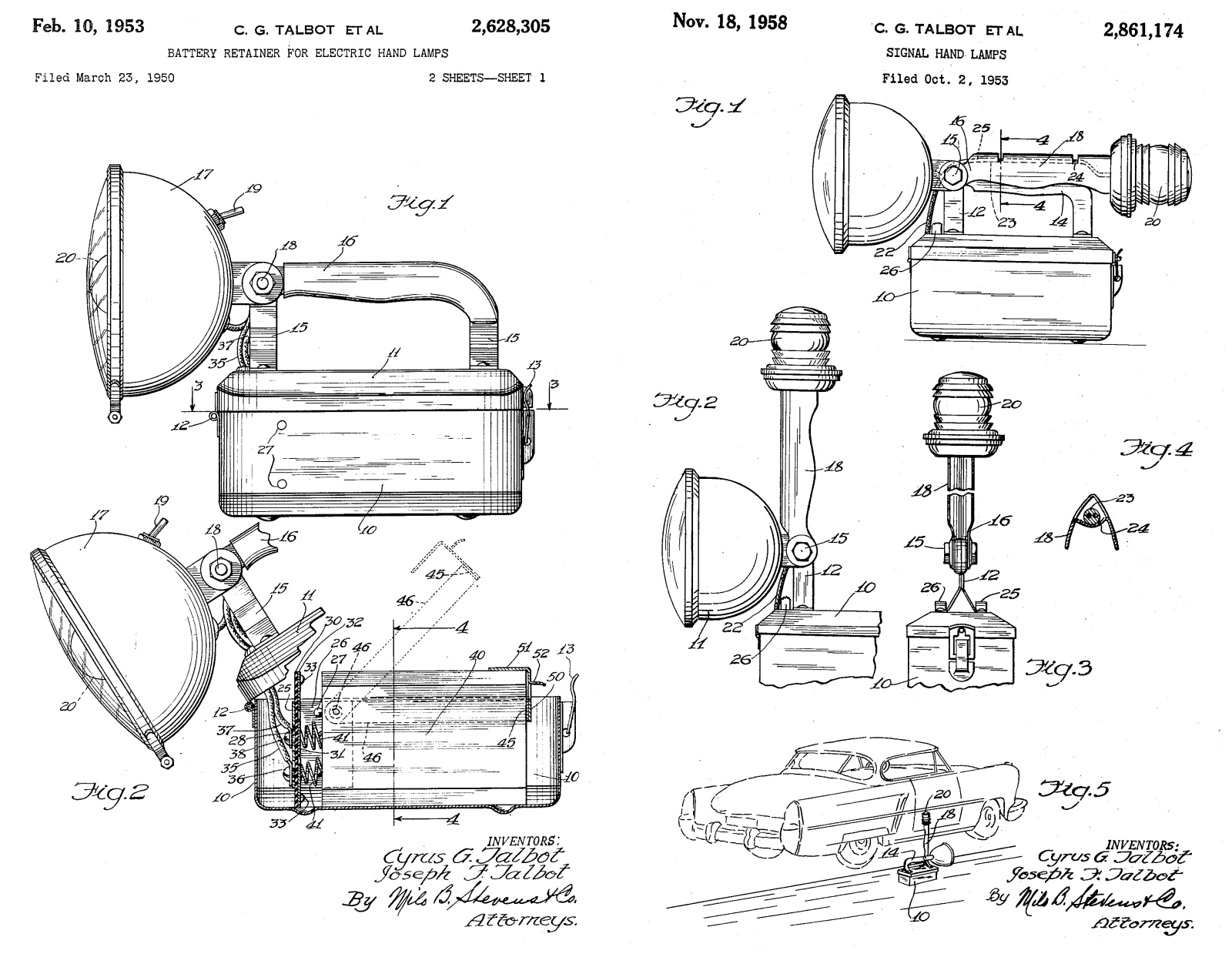 [Between 1953 and 1958, Cyrus Talbot added a red emergency light to the back of the Big Beam Hand Lamp]
Another museum guest, Rick Spence, claims that his father also played a role in developing the Big Beam battery retainer, as well as several other company innovations. "He also owned a business that painted and silk screened the company information [on Big Beam products]," Spence says.
"As a young boy, I sat at the kitchen table and watched my father etch the silk screen templates. I had made several trips to the Hubbard Street factory and it was far from Art Deco. It was dark, dingy, and not what a little boy would consider a cool place. As with most, if not all industry in the '40s and '50s, it was just too dark.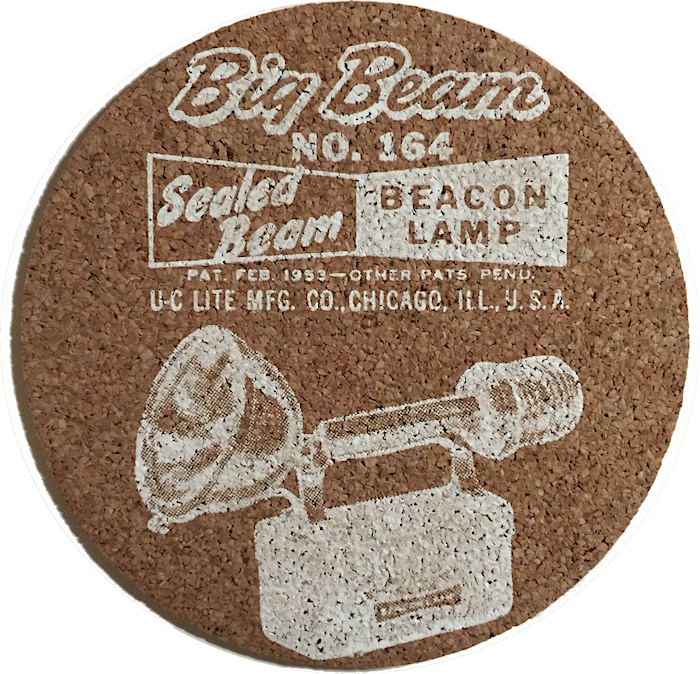 "One of my indelible memories was when a man that worked for my father, John Newicki (not sure of the spelling) was injured by a machine that had an anomaly. One of the punch presses had a rod that, if all things were aligned, would kick out. That rod happened to come out of the machine and hit John in the head, causing his brain to swell. Medicine not being what it is today, the swelling led to his death; devastating all who knew John."
Factory tragedies aside, few could argue that the Big Beam didn't save far more lives than it ever put in jeopardy.
While commercial advertising in magazines like Sports Illustrated emphasized the Big Beam as an everyday outdoorsman's tool, the product always remained—first and foremost—a trusted staple of the firehouse, helping first responders find and save victims in the darkest and smokiest of circumstances.
"We have some glossy old photos of fire trucks with Big Beam lanterns lined up, ready for use," Loria says. "Some hand lanterns were sold with an optional hold-down bracket so that the lantern could be mounted on the fender or storage cabinet of the fire truck for easy access."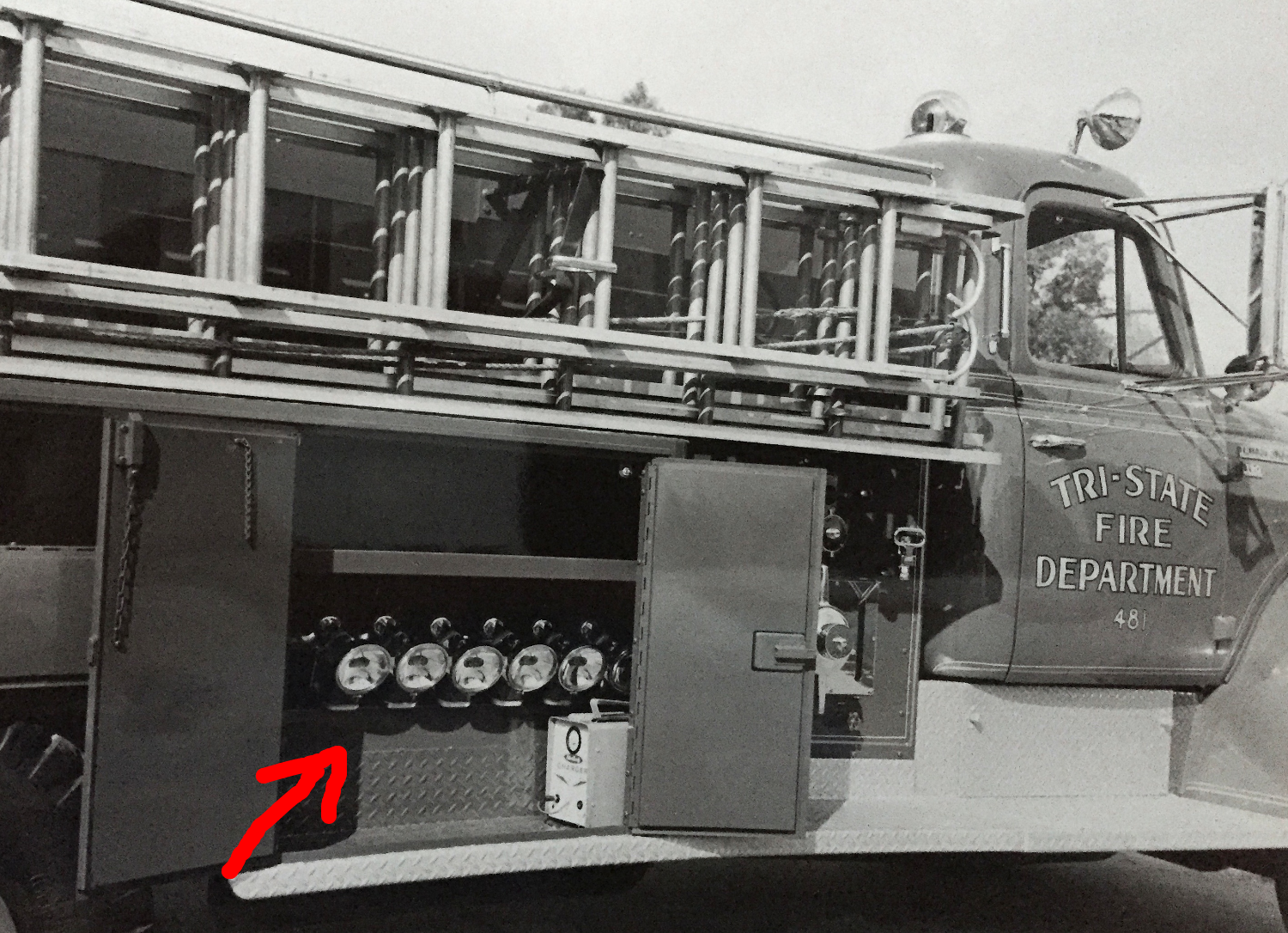 [Fire truck loaded with Big Beam Hand Lamps, photo courtesy of Big Beam Emergency Systems, Inc.]
After decades working alongside Chicago firefighters, Cyrus G. Talbot wound up making a lasting contribution to that noble profession. As mentioned earlier, Big Beam still produces similar hand lanterns to this day, although in fewer numbers than their mid-century peak.
Talbot died in Mount Prospect, Illinois, in 1962, aged 77, and his brother and successor Joseph followed two years later. In 1965, U-C Lite president Alfred Davis (who'd also been there from the beginning) announced the sale of the company to Penn-Union, though U-C Lite would carry on as its own entity. By then the manufacturing operations had already moved to Crystal Lake, IL.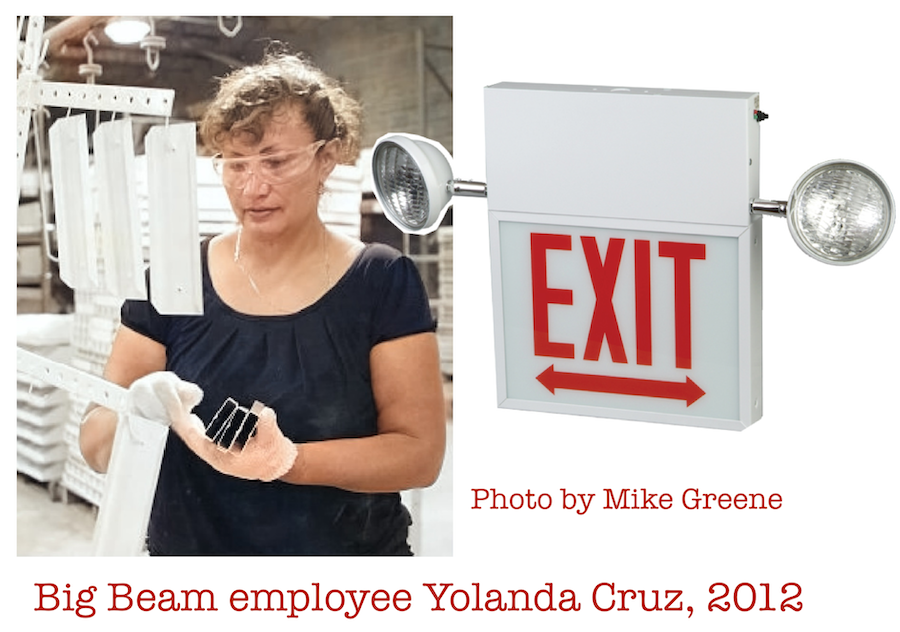 "One hundred thirty two employees are busy in this beautiful Crystal Lake plant," the Citizen Newspaper of McHenry County reported in 1966. "and it could be that because it is so pretty and pleasant about 75% of them are women. Most of the work is assembly type, however, U-C Lite has its own machine shop and does punch press and spot welding work, too, as well as maintaining their own paint department."
In Crystal Lake, the focus of U-C Lite's business moved increasingly in the direction of emergency lighting and exit signs, and the company was eventually renamed Big Beam Emergency Systems, Inc., to reflect this. By 2012, the workforce at the plant had decreased to 30, mainly due to a dwindling demand for the hand lamps, which required more intensive labor than the signs. Still, the beat goes on. 2022 marked Big Beam's 60th year in Crystal Lake and its 85th year in business.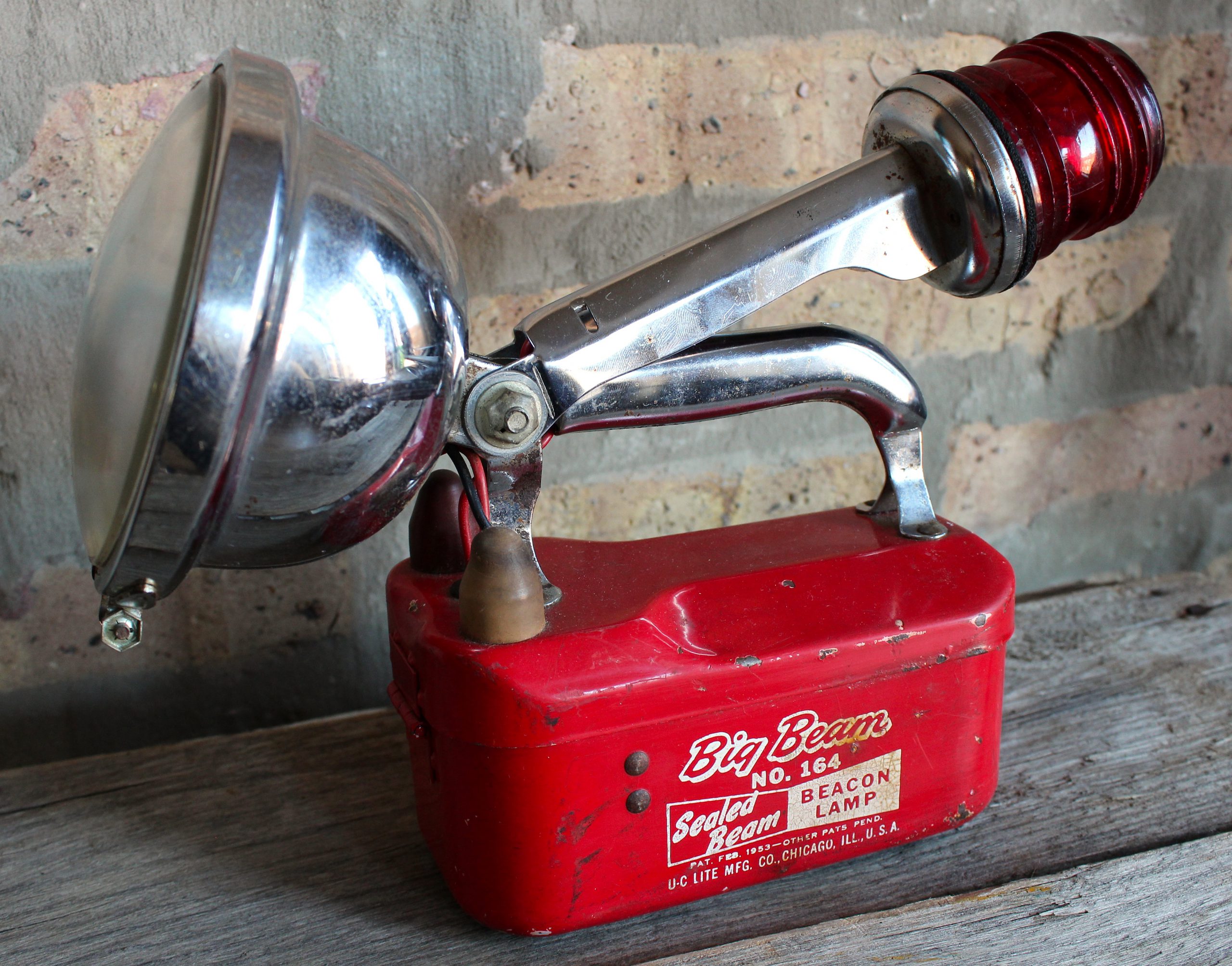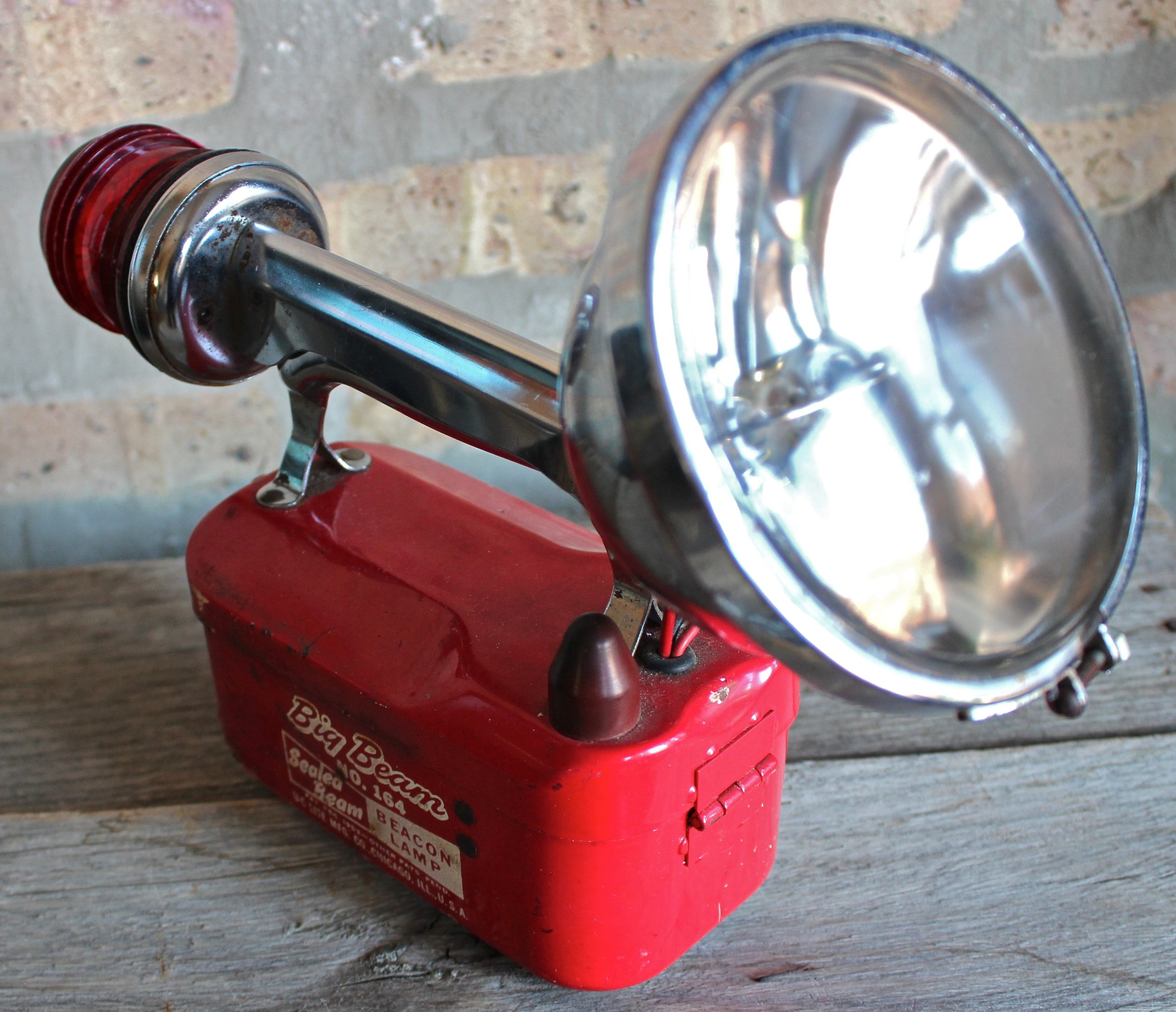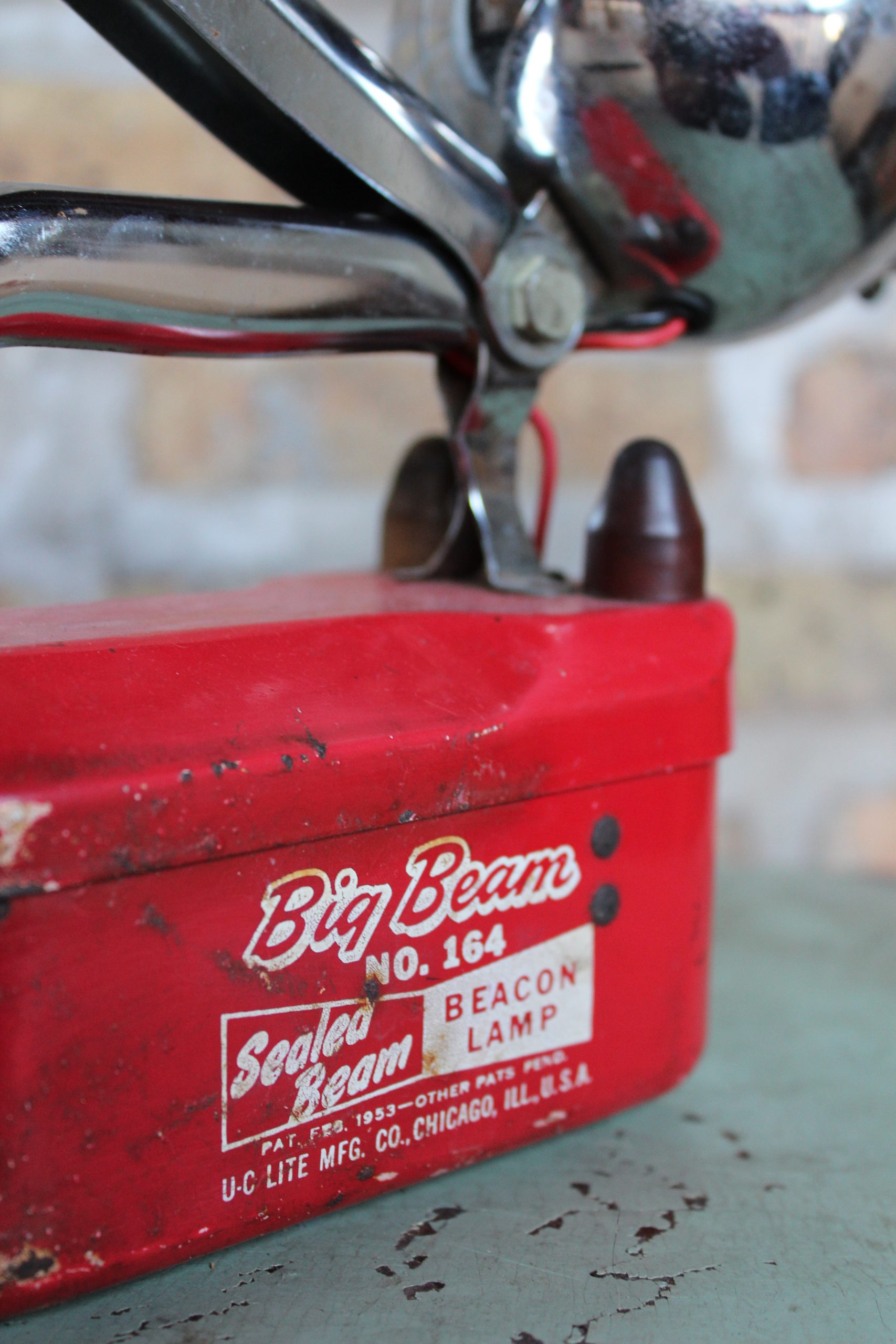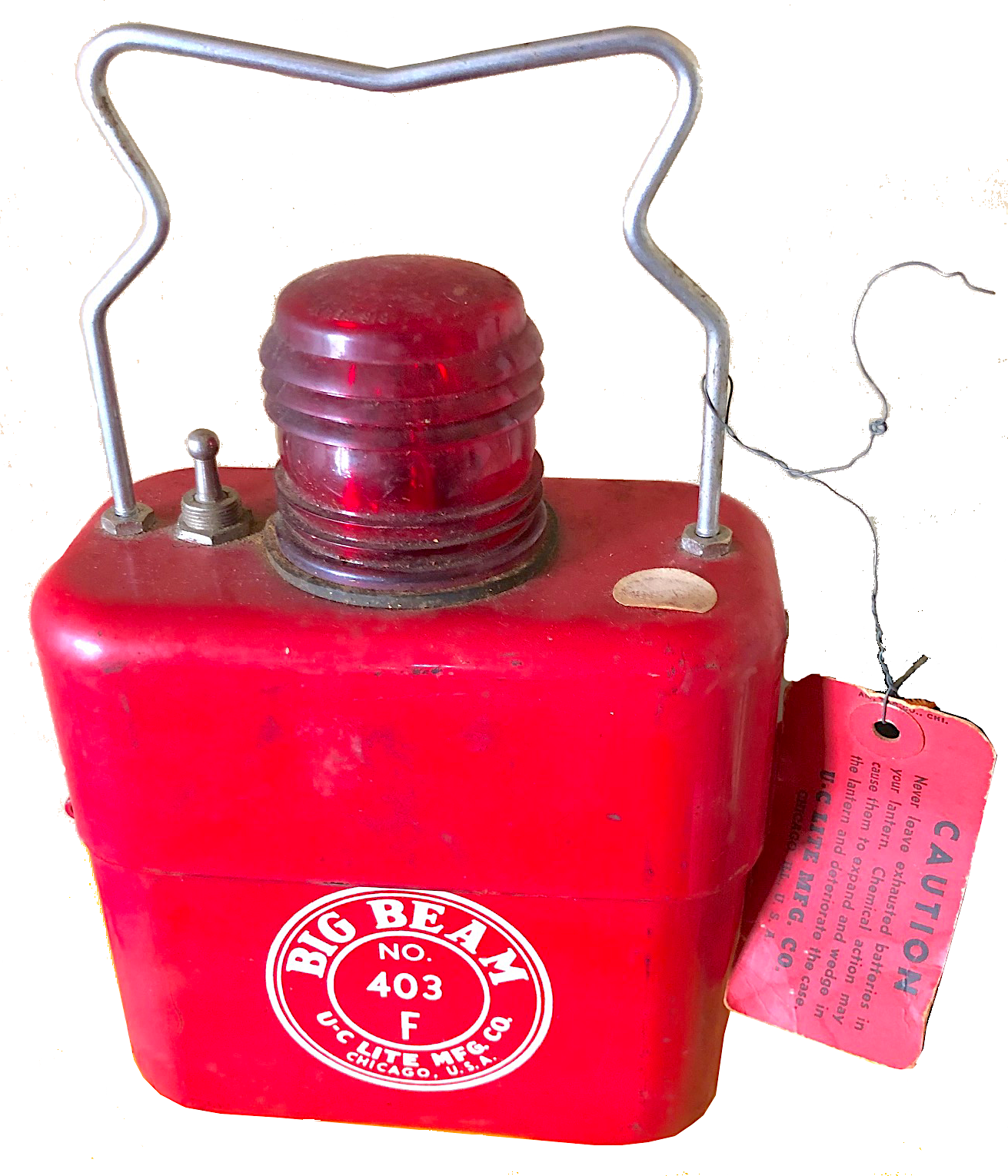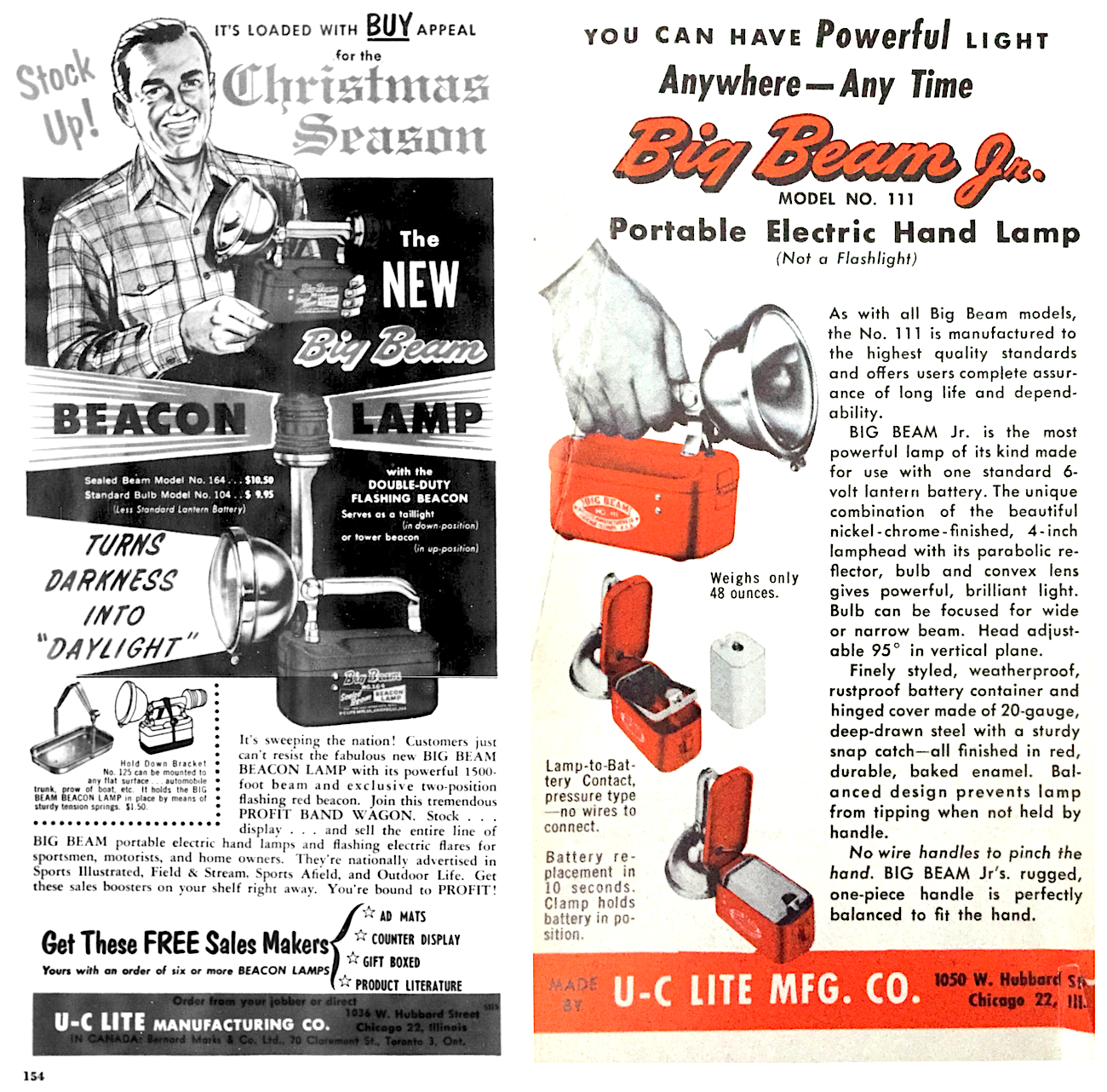 Sources:

"Portable Lamps for Cleaners' Use" – Motion Picture Herald, March-April 1939
"Portable Electric Hand Lamp" – Motor Boating, June 1939
"Combination Emergency Lamp and Signal Flare" – Modern Railroads, December 1948
"About Northwest Meadows" – Daily Herald, Dec 16, 1954
"Cyrus G. Talbot" [obit] – Chicago Tribune, Jan 10, 1962
"Joseph F. Talbot" [obit] – Daily Sentinel, May 18, 1964
"Where People Work in McHenry County: U-C Lite MFG Co." – Citizen Newspapers, September 17, 1966
"Big Beam Shines Bright in CL" – Northwest Herald, April 29, 1998
"Big Beam Lights the Way" – Northwest Herald, Aug 10, 2012