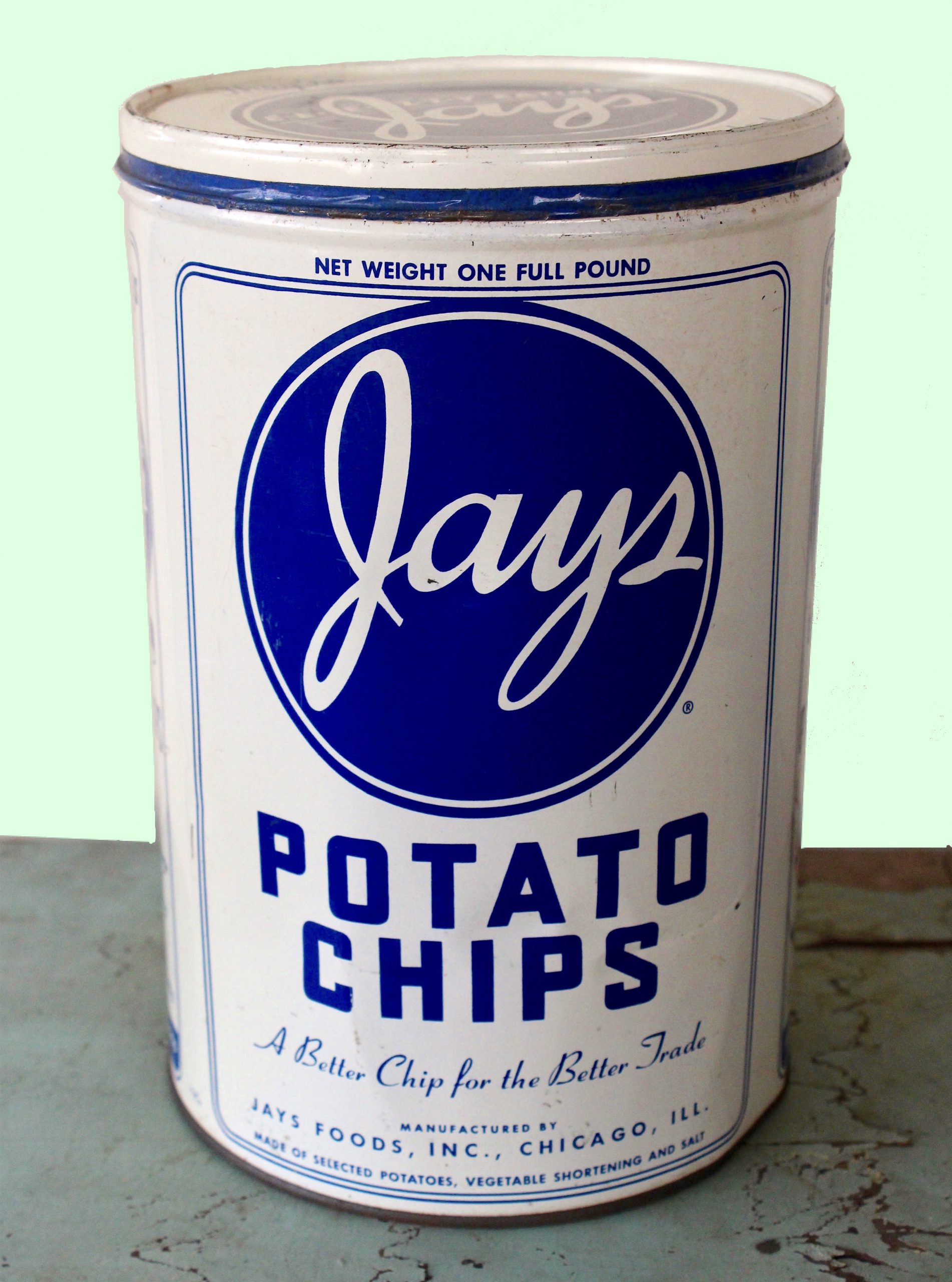 Museum Artifact: Jays Potato Chip Tin, 1950s
Made By: Jays Foods, Inc., 825 E. 99th Street, Chicago, IL [Pullman]
For over 75 years, Chicagoans have voraciously chomped away on handfuls of Jays Potato Chips—sharing in the communal assumption that some guy named Jay must have invented the salty snack for them back in the proverbial day. If you give it a closer look, however, the familiar Jays logo—with its conspicuous lack of an apostrophe—raises some questions. Turns out, there isn't a "Jay." Never was a Jay.
There was, however, a Japp.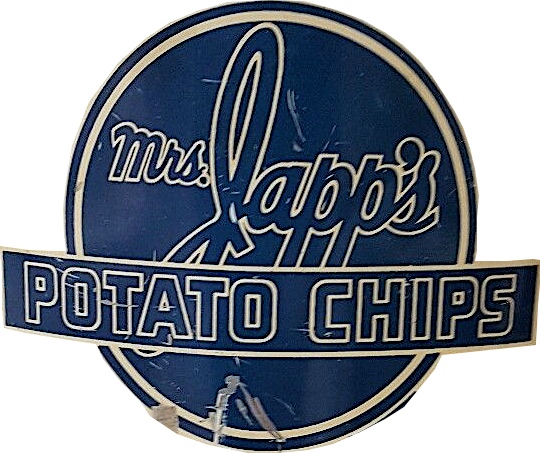 If you had to pick the worst possible time in American history for a fellow named Leonard Japp to start a company under his own last name, you might be inclined to go with 1941; the year the Japanese attack on Pearl Harbor instantly turned the J-word into the one-syllable ethnic slur du jour. In truth, though, poor Leonard managed to time things up even worse than that. He launched the "Mrs. Japp's" brand of potato chip not in '41, but in 1940, giving it ample time to establish a wide manufacturing base, grocer distribution, and local recognition BEFORE the war came to Hawaii.
"We got into that wrangle with the Japanese and the grocers started calling us immediately, asking us to get those chips out of their stores," an elderly Mr. Japp recalled to the Chicago Tribune in 1985.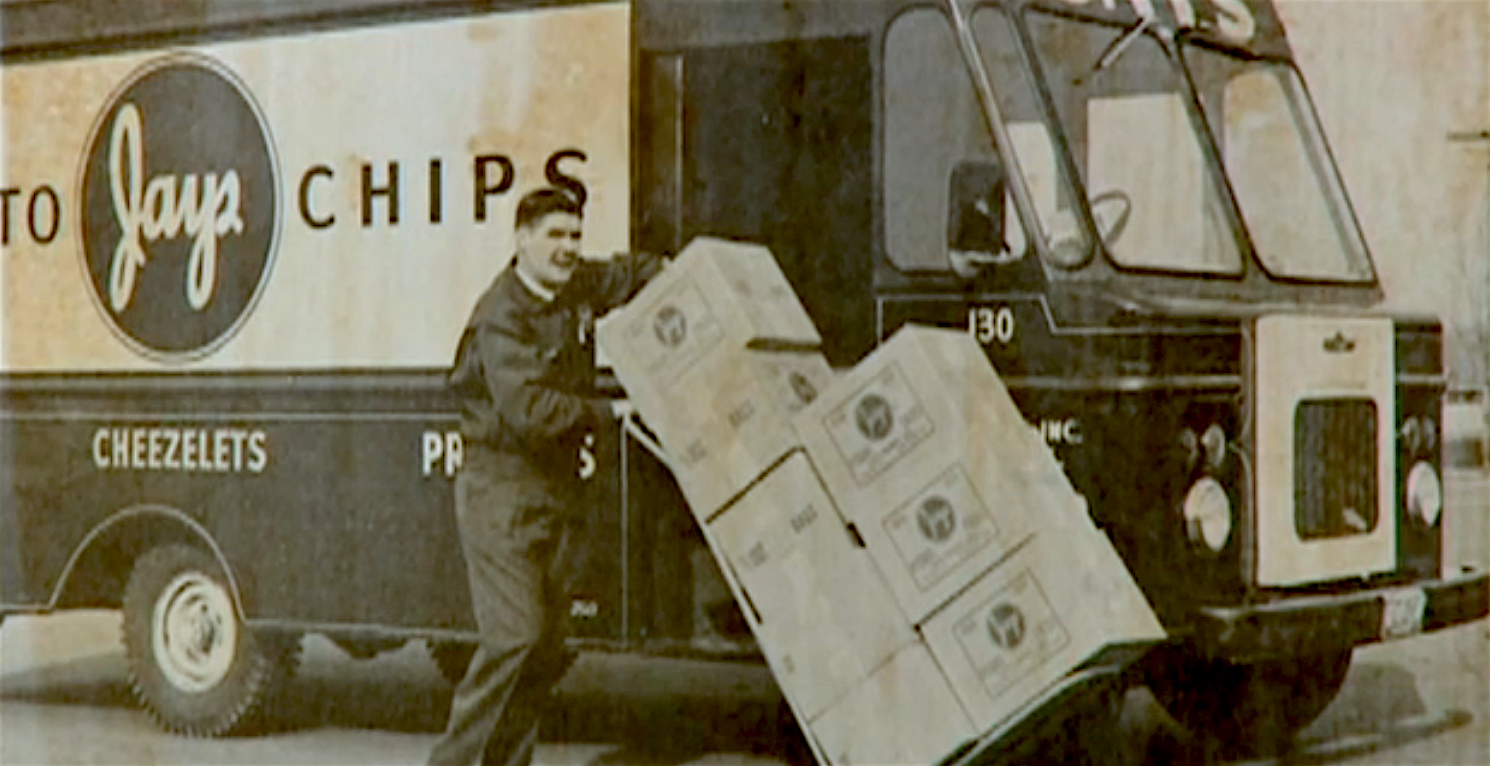 [Jays employee Jack C. Williams, circa 1960s]
After beating the odds and finding success as a Chicago snack merchant during the Depression, Japp had hit an unexpected snag in the road at the age of 35. His dream of a company with his own name on it (or I suppose his wife Eugenia's name, since he called it "Mrs. Japp's") would have to be abandoned, and a new name would be needed lickety split.
"We wanted 'Jax,'" Japp said, "but it was taken by a brewing company. 'Jays' was available. It took a couple of weeks, but we started putting tags on plain bags with the Jays name on it."
And that, folks, is the origin story of the beloved Jays brand. It's not only NOT a person's name, it's not even a fun reference to anything Chicagoie. It's basically just a word that (a) started with the letter J, (b) sounded like the already established "Lay's" brand name, and (c) was "available."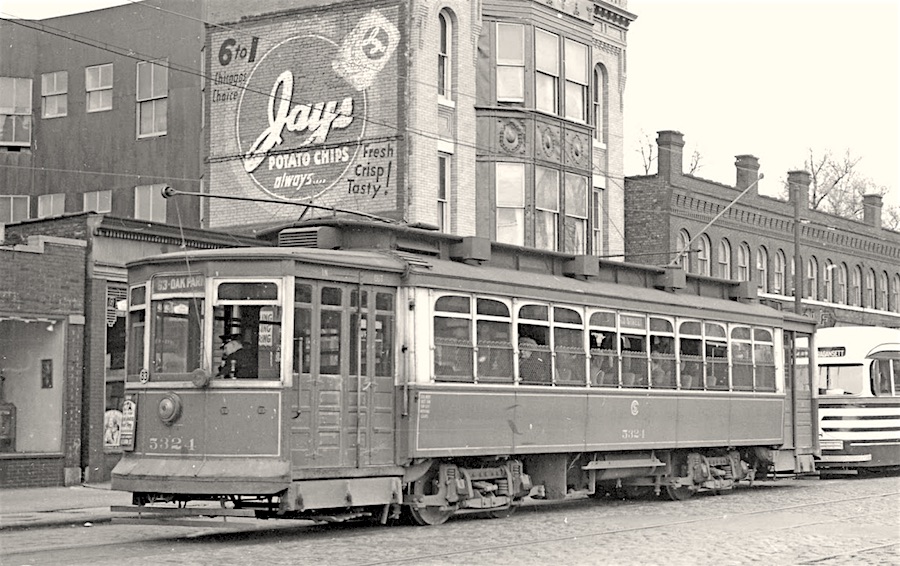 [An early 1940s Jays ad on a building touts the chips as being "Always Fresh, Crisp & Tasty!"]
Fortunately, Leonard Japp—the person—was considerably more interesting than his nomenclature skills.
In an interview with a trade pub called Chipper Snacker in 1974, Japp said of his youthful days in Minnesota, "I was probably the meanest kid in town, as well as the poorest. It seems when you're poor, you have to fight twice as hard to prove yourself. I worked hard. I cut lawns, shaved necks in barber shops, and picked coals off railroad tracks so my family would have enough to eat and enough heat to warm our house. It was a tough life, but we made out."
As a teenager, Leonard hitched a ride on a train bound for Chicago, looking for the next buck. From there, his adventures routinely drift into tall-tale territory, complete with an over-abundance of celebrity cameos.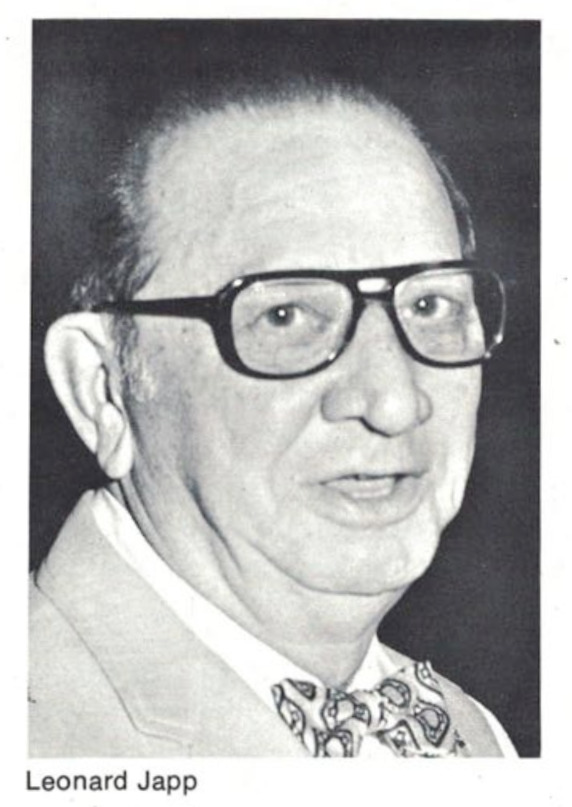 Depending on your sources and the enthusiasm of the storyteller, Japp supposedly spent time as a boilermaker, a bridge builder, a bouncer, a cemetery plot salesman, and a "steeplejack"—a guy who spends his days scaling clock towers and church spires, Batman-style, doing repair work. He was also apparently a lifeguard alongside future Tarzan screen star Johnny Weismuller, and a sparring partner of both heavyweight contender Buddy Baer and a young entertainer named Bob Hope. There was an inevitable Al Capone connection, too, of course.
In 1927, Leonard Japp and his buddy George Gavora started their first food business, largely designed to cater to Chicago's growing speakeasy underground and its rogue's gallery of gangsters and flappers, all in need of smokes and something to nosh on.
"George and I knew about the speaks," Leonard told the Tribune, "so we decided to buy an old broken down truck for five dollars down to sell pretzels, nuts, cigarettes, what they needed for sandwiches. Pretty soon, they started asking for potato chips. I didn't know anything about potato chips."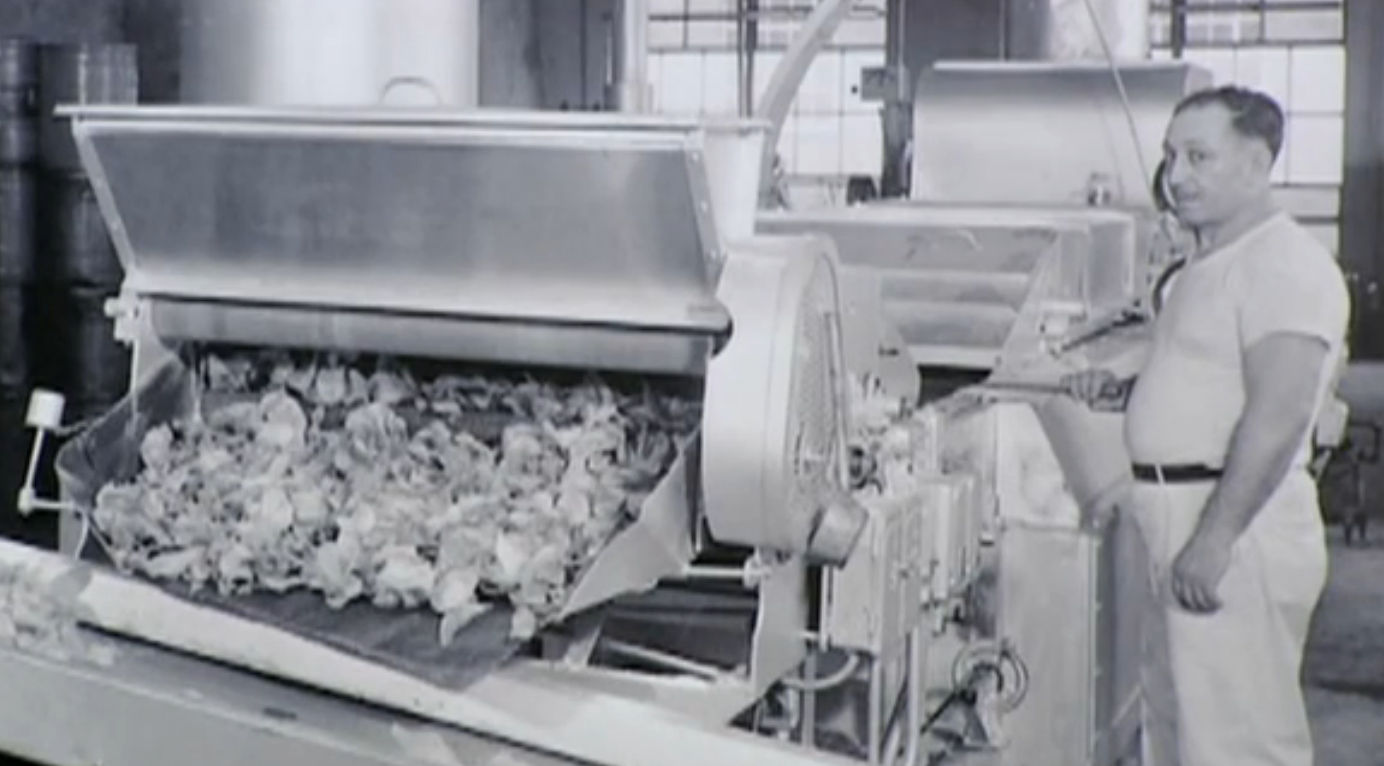 [An automatic potato chip making machine in operation, c. 1950s]
According to legend, it was Capone himself who'd come back from a trip to Saratoga Springs, New York—birthplace of the potato chip—and personally requested that Japp bring more of the salty delights to Chicago.

In any case, by 1929, the Japp & Gavora Food Co. (which is generally cited today as the starting point of Jays Foods Inc.) had become a self-made success story, expanding from one food truck to fifteen. Then, like so many other businesses born in the late '20s bubble, the stock market crash put them back at square one.
"We had our money in the Casper State Bank. When they went broke, everyone went broke with them."
After some lost years roaming the earth, boxing all comers, and presumably teaching Shirley Temple how to dance, Leonard Japp re-emerged in the mid 1930s, ready to take another shot at the snack game. He got himself a new truck, loaded it with various chips, pretzels, and other goodies, and hit the pavement making sales.
By 1938, he'd formed a new partnership with a salesman from Kraft Foods, George Johnson, creating the Special Foods Co. Purely a distributor, the firm sold a wide assortment of edibles (including Rival brand dog food). Over time, though, with potato chips again emerging as their best cash cow, Japp and Johnson decided they'd had enough of buying their goods from other manufacturers, and bought themselves an $18,000 automatic potato chip making machine. Special Foods moved into a factory space at 40th Street and Princeton Ave., and started producing the aforementioned Mrs. Japp's chip—one of the very first on the market to be fried in corn oil, creating a lighter snack than the old fashioned lard-dipped chip.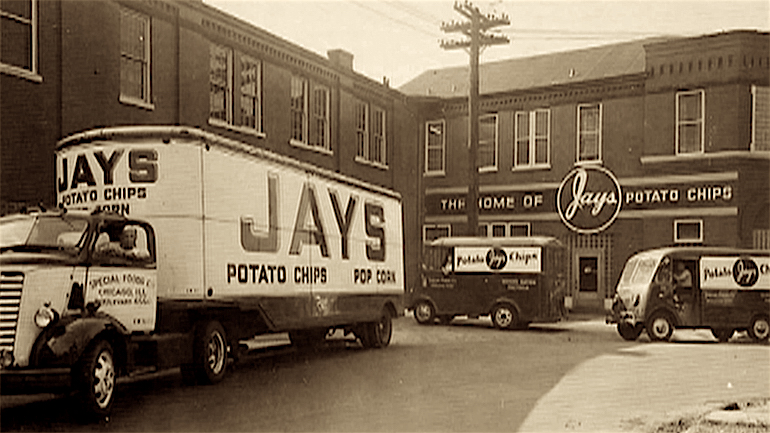 [This is likely the original Jays factory at 40th St. & Princeton Ave., c. late 1940s]
During the war years, a lot of Chicago food companies were starting to cannibalize one another to pool resources. In 1944, Leonard Japp and George Johnson were still doing fairly well, but surveying the landscape, they decided there wasn't enough room in Special Foods for the two of them. So, in a ridiculous game of chicken, they agreed to make simultaneous bids to buy one another out—winner take all.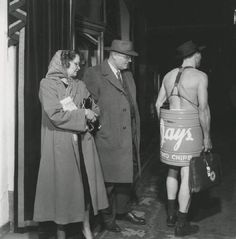 "We wrote our bids out on a piece of paper and agreed the higher one would win," Japp said in 1985. "I wanted to bid $120,000, but my wife said that if we wanted to keep the company, we should bid $150,000. When we turned over the bids, George had bid $145,000."
Bear in mind, this was an 80 year-old man describing events from 40 years in the past. Did it really go down like that? Who knows? But the result was that George Johnson was out, Special Foods was no more, and Jays Foods was born.
From early on, the blue and white Jays potato chip tin—like the one in our collection—was a common sight in grocery stores and kitchen cabinets, changing little in design from the '40s into the '50s and '60s. The slogan on the tin—"A Better Chip for the Better Trade"—was at least a step up from Jays' other primary tagline: "Can't Stop Eatin' 'Em" (another lazy ripoff of the Lay's brand and its' "Bet You Can't Eat Just One").
Once the contents of a tin were consumed, many people kept the cylinders as waste baskets or storage bins, meaning plenty of them stayed in circulation even after boxed and bagged variations made the store-bought 1 LB tin obsolete.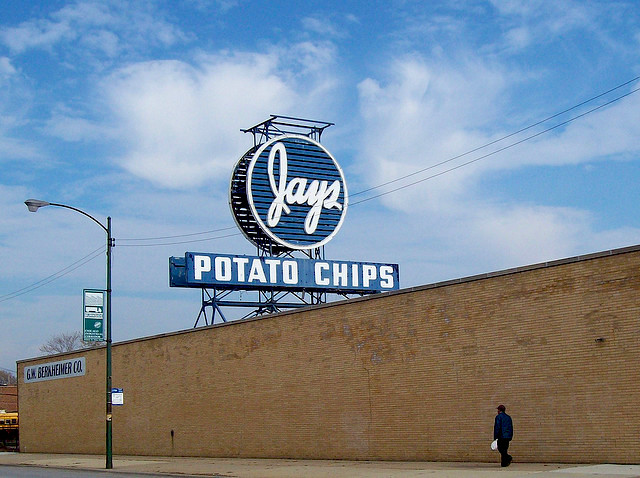 [Former Jays Foods factory at 825 E. 99th Street. Photo by Eliezer Appleton, Flickr.]
The chips themselves were being produced by state-of-the-art machines and a small army of workers at the sprawling Jays plant on 99th Street and Cottage Grove, opened in the mid 1950s. Here, Leonard kept a close eye on his crunchy empire, transforming a humble family business into the undisputed chip king of the Chicagoland market. He had profit sharing plans for his employees and free daily lunches, and the factory itself was a regular stop for local school field trips (the kids all got free lunches, too).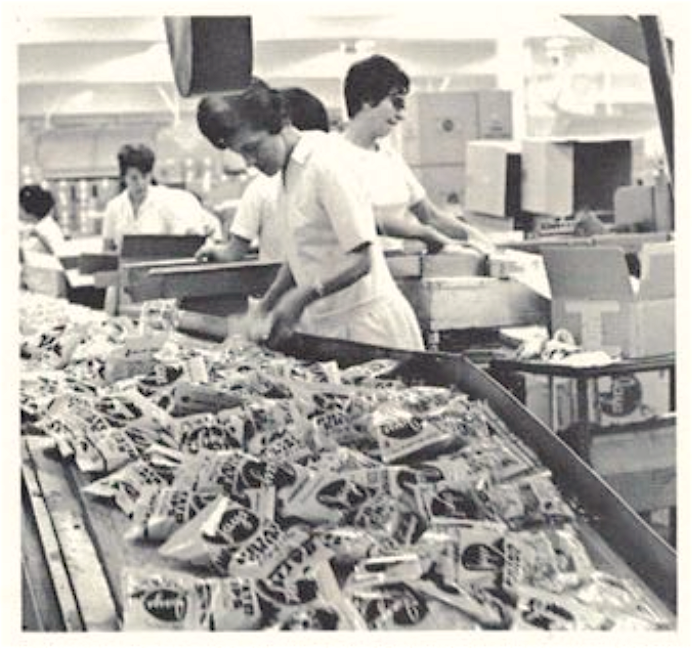 [Inside the Jays factory, c. 1960s]
"If you worked here for a year or more, Mr. Japp knew you by your first name," a former employee named Al Keetan once told the Tribune. "He'd come in around 7 a.m. with his big old briefcase and walk the floor, and the floor had to be clean or he'd shut down production until it was clean."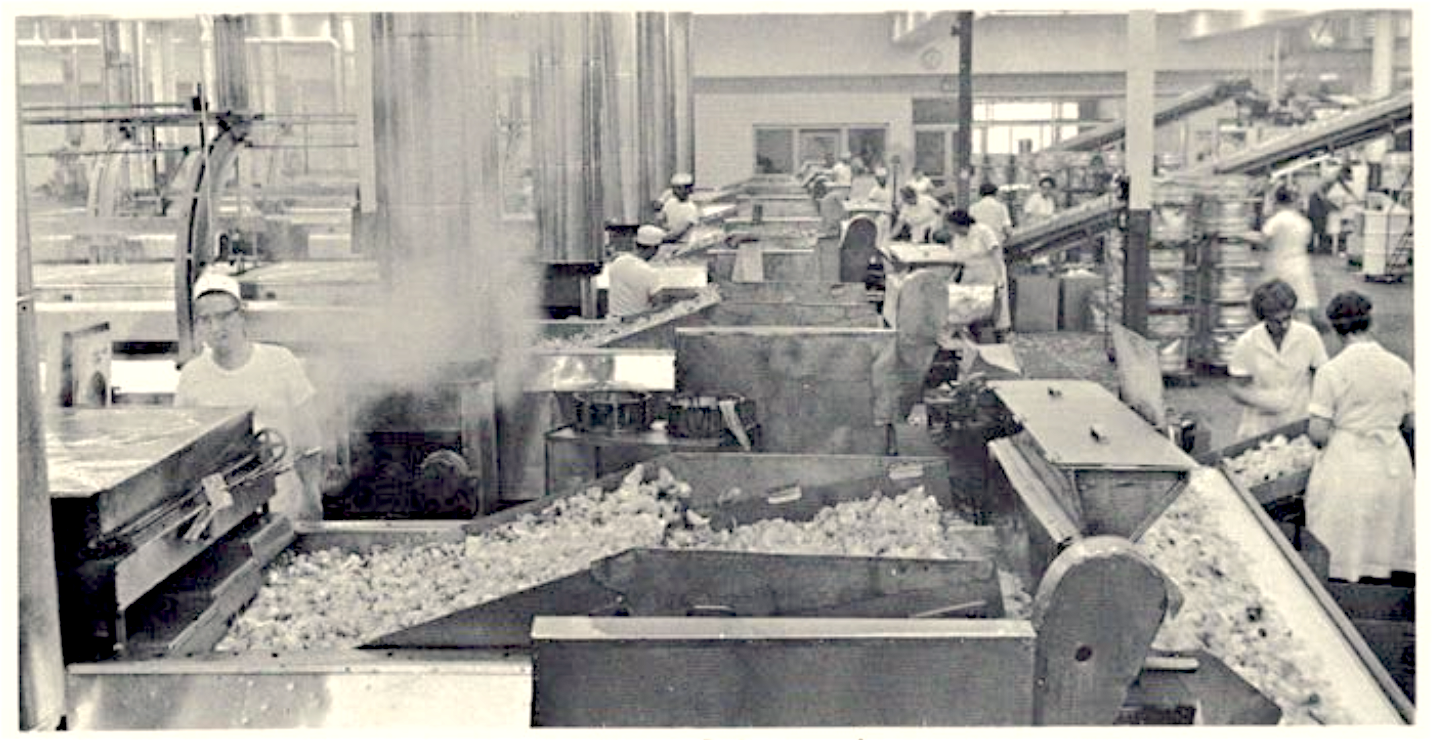 Even for a perfectionist, though, ambition had its limits. For as much as Jays emulated Lay's in its marketing, it was never going to compete with them on the national stage. The Japp family was more concerned with defending their Midwestern turf, and they held off challengers successfully for decades.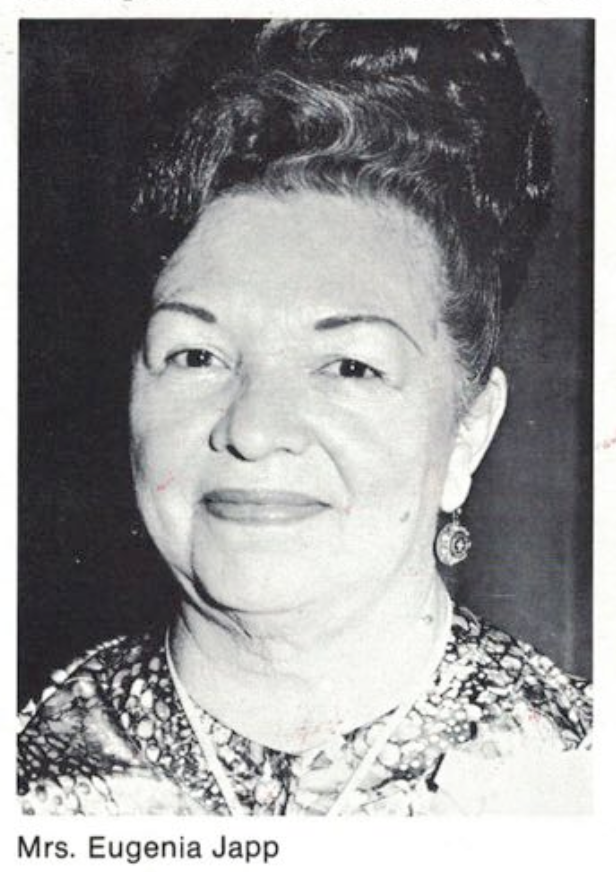 Leonard Japp's wife Eugenia played an important role in Jays' sustainability, serving as executive vice president and pioneering the inclusion of chip related recipes on the backs of Jays containers—"potato chip tuna casserole" being her calling card.
"Eugenia had great compassion for women who cooked for large families," Leonard Japp told the Tribune in 1996. "She listened to their concerns and comments and always looked for new ways to stretch the food dollar."
Eugenia died in 1983, and three years later, with sales still strong, Leonard Japp—now 81—decided the time was right to finally sell the family business. After the company tanked in the next eight years under the unfocused ownership of Borden Inc., however, the Japp family stepped in and bought back the business in 1994—with manufacturing still chugging along at the 99th Street plant; the familiar smell of chips lingering in the air around Cottage Grove Heights.
When Jays returned to the Japps, there were now three generations of the family helping to run the show. Leonard, now in his 90s, was still going strong; his son Leonard Jr. was the new CEO; and grandson Leonard III was soon to become company president. Jays Food, Inc. seemed in good hands for the 21st century.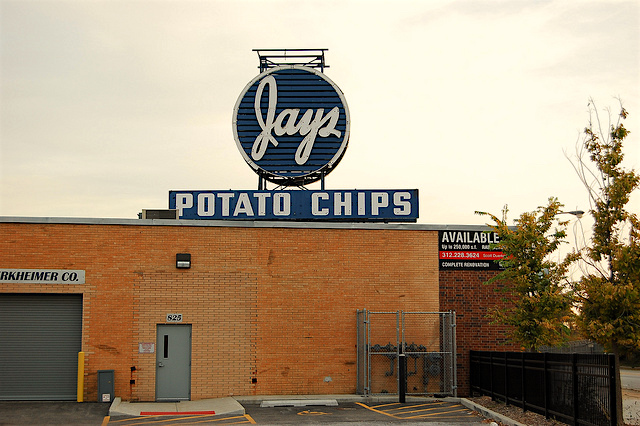 [2010 Photo by Eric Allix Rogers, Flickr]
But this lighthearted tale of snack foods and legacy has a rather stunningly sad ending. In October of 1999, Leonard Japp, Jr. died of an aneurysm at the age of 67. The following spring, tragically, Leonard Japp III died of a heart attack at just 40, improbably leaving the company founder—now 96—as the last living Leonard Japp. Likely heartbroken, Leonard Sr. breathed his last in August of 2000. The Japp family line had been decimated in the span of just ten months.
By 2004, the company was re-sold, and by '07, it was bankrupt, leading to the closure of the Chicago plant after 50 years in operation. The brand name survives under the ownership of Snyder's of Hanover, and remains easy to find in any local grocery. As to whether the chips taste the same—nostalgia seems to be a formula consistently difficult to replicate. Maybe if they used a tin instead of a bag?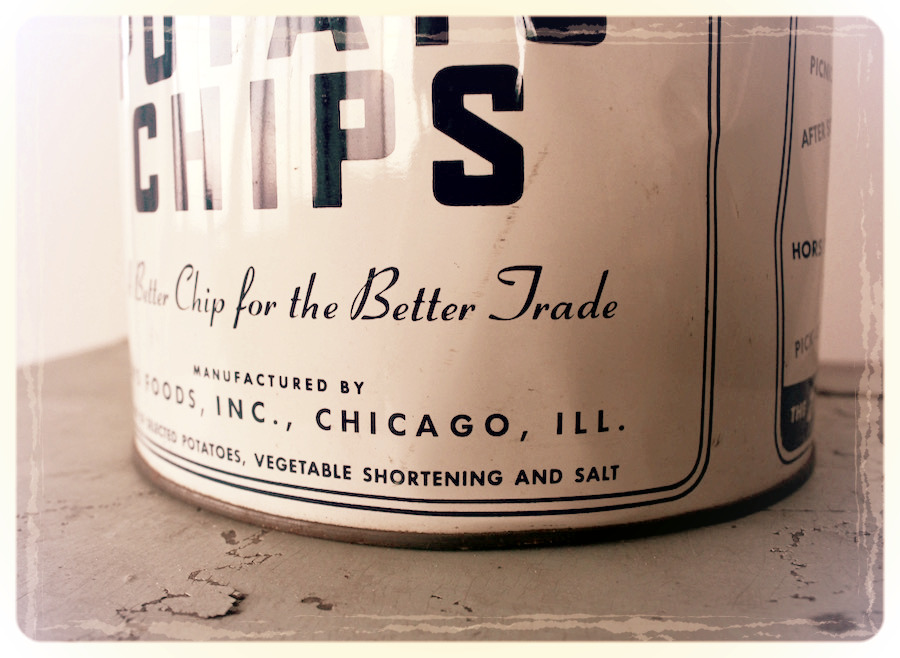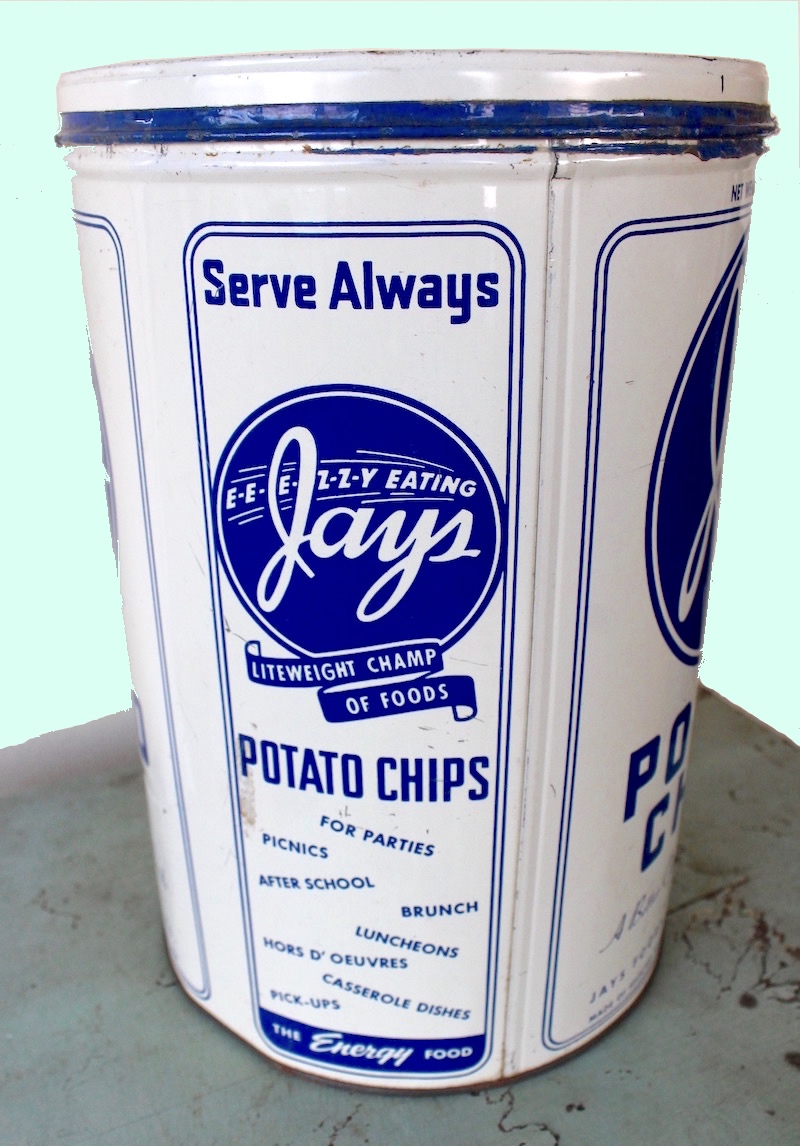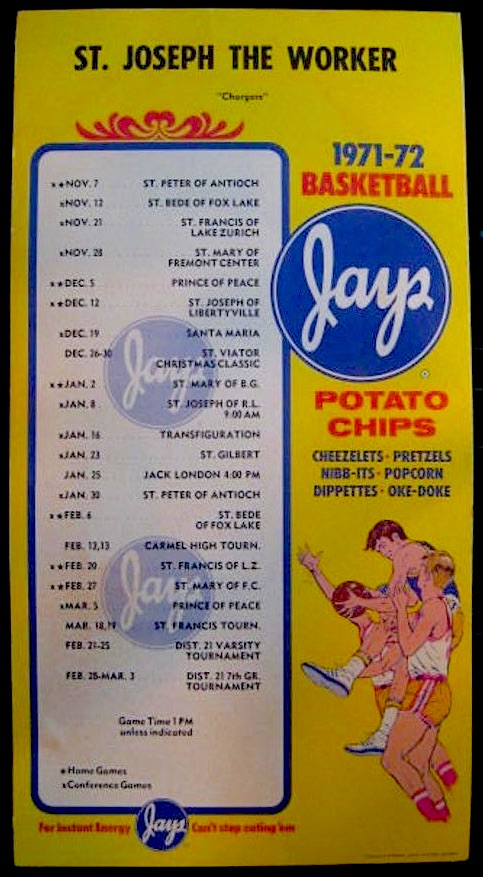 [Jays sponsored basketball schedule for St. Joseph the Worker Catholic School in Wheeling, IL, 1971]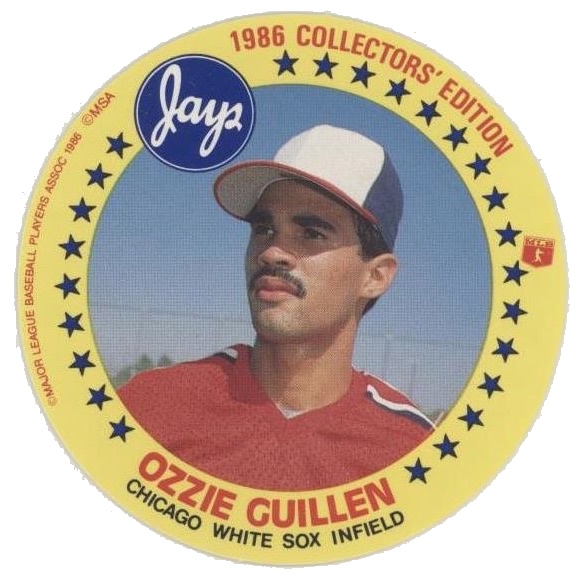 [Like Cracker Jack, Jays sometimes gave away collectibles in its bags]
[Jays TV ad from 1987, when it was under the ownership of Borden, Inc.]
Sources:
"Jays: Undefeated and Still Champion of Chicagoland Market" – Chipper, 1974
"Potato Chip King: Man of the People" – Chicago Tribune, August 26, 2000
"Jays Founder Japp Wasn't Always in the Chips" – Chicago Tribune, Nov. 25, 1985
"Jays Potato Chips" – PBS WTTW
Archived Reader Comments:
"Leonard Japp,Sr. was my grandfather. Your story is very accurate. People always ask about him. It was like being Chicago royalty. Thank you for keeping the memories of the original Jays." –Kathy Whelan Daly, 2020
"The story about mr. Japp picking up coal along the railroad tracks to keep the family house warm and the other odd jobs is very representative of his Generations ability and willingness to busted huh to get whatever they need and not just expect things nor want a trophy for breathing like today's generation could you even imagine chip or anybody coming out with a company that even inferred or inadvertently hurt somebody's touchy feelings oh my god there be lawyers coming out of the sky and parachutes great company great product great man

" –Samuel C., 2019
"I worked on the Jays Potato Chips ad account for over 10 years and visited the plant/office on 99th street frequently.  The TV ad you show here won many creative awards, including a National Clio (at the time, I was too young to know how important an achievement that was.).  Jays was famous for many of its ad campaigns created under the "Mad Men-era" account guy, Jim J. J.  Jim convinced the brand to do some very funny and famous radio ads in the 1980s-90s with Dick Orkin's radio ranch (the famous comedic duo of Dick & Bert, with a staff of funny people including Tom Posten and Dodie Goodman)." –Carol, 2018
"Growing up in chicago in the 60's, Jays made the best potato chips available in chicago, no others even came close. the store brands tasted horrible and I told my mom to only buy jays." –Frank, 2017