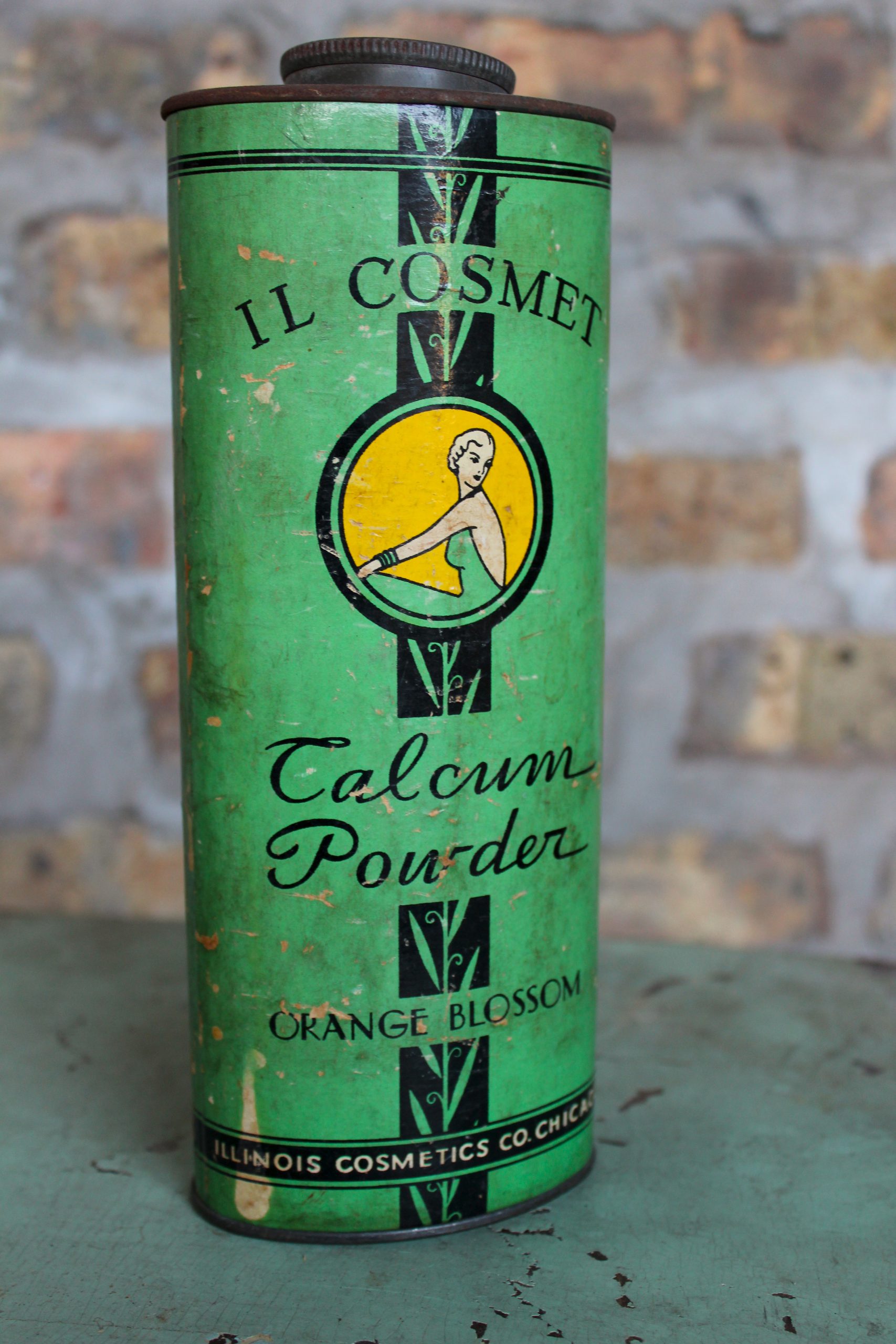 Museum Artifact: IL Cosmet Talcum Powder, c. 1920s
Made By: Illinois Cosmetics Co., 2108 W. Lake St., Chicago, IL [Near West Side]
"This is the day of the Flapper. With the Armistice she came, and today she is firmly established in the hearts of all America."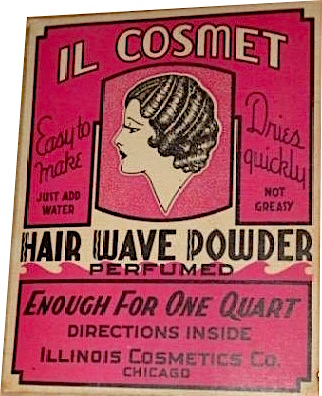 Those words appeared in a 1927 advertisement for the Illinois Cosmetics Company—aka Il Cosmet—and for all intents and purposes, it's what we're left to remember about them. For a business that did its fair bit of national promotion in the toiletries industry from the '20s into the 1940s, the actual details of the operation are very difficult to pinpoint outside of its sophisticated approach to selling cheap bathroom products.
The company had two different main office spaces over its existence, first at 2311 W. Erie Street, then at 2100 W. Lake Street during the Depression and war years. While one old newspaper ad described them as "one of the largest manufacturers of toilet preparations in the United States," it's hard to say whether Il Cosmet was actually producing its own talcum powder, bath salts, shampoos, etc., or focusing more on the packaging and distribution end of things. There is little evidence of any company patents for actual cosmetic products, but there are some designs for fancy tins and bottles attributed to the company during its prime Flapper years. And yes, they had an actual line of products called "Flapper."
In the early 1920s, dozens of American cosmetic companies were starting to realize that fancy, European-inspired packaging could mean the difference in determining which version of an otherwise generic toiletry a customer might select at a department store.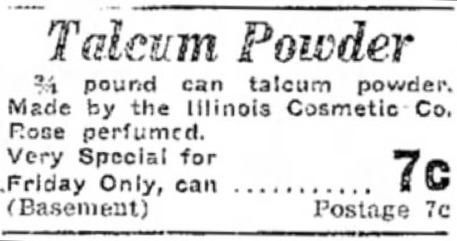 As evidence of this trend, a 1922 issue of The American Perfumer and Essential Oil Review recounts a meeting of New York City's Perfumery, Soap & Allied Industries, in which a representative of the Tin Decorating Company (Baltimore, MD) addressed the room as its keynote speaker.
"The talcum powder business has exerted a great influence on the production of artistic tin containers," explained William H. Green, who then proceeded to show that "the demands of manufacturers of toilet preparations for artistic packages had spurred the makers of these containers into the production of some very attractive designs."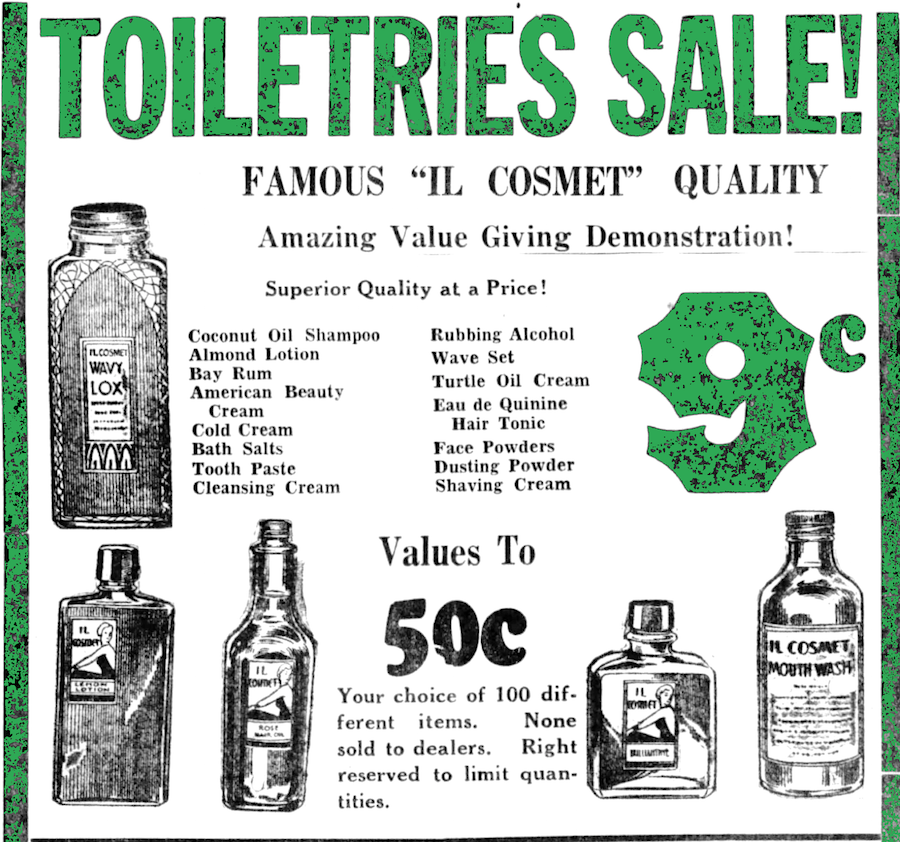 [Newspaper advertisement for Il Cosmet products, 1937]
Without question, Il Cosmet was one of the companies piloting this ship. The tall, green Orange Blossom Talcum Powder container in our collection, complete with a flapper logo and floral/deco design, is certainly quite easy on the eyes. Being made from cardboard, though, it's surprising it managed to outlast so many of the company's more aesthetically appealing tin bottles.
"Buyers the country over have discovered something!" proclaimed a 1927 Illinois Cosmetics Co. ad in Chain Store Age magazine. "They have found that the IL COSMET line of Toilet Articles is bringing more trade to their toilet goods counters than anything they have displayed in years. In large stores and small stores—in department stores and variety stores—in 'chain' stores and the corner dry goods 'emporiums,' no matter where, the story is the same! …The Reason? Astounding Values!"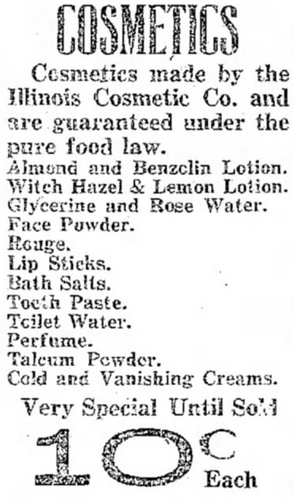 Over the past two generations, there has been an increasing bit of paranoia surrounding talcum powder—or more specifically, talc—and its possible connection to some rare cancers. As is often the case in these matters, the actual cause-and-effect connection has never really been established, but that hasn't stopped a growing anti-talc movement from filing lawsuits and forcing cosmetic companies to develop talc-free powdering alternatives.
This would all seem a bit silly to the people of the 1920s, who essentially moved through life within a perpetual floating cloud of fresh-smelling talcum powder. The life expectancy was also a bit shorter back then, too, I suppose. But I think we could find many better scapegoats for that than a friendly 10-cent can of Il Cosmet. In fact, I wouldn't hesitate to use the remaining powder in our vintage bottle to powder my own unborn child's bum. …Actually, I'm going to back out of that proposal right now on the off-chance that talc becomes super-toxic after a 100-year gestation period. But the point remains.