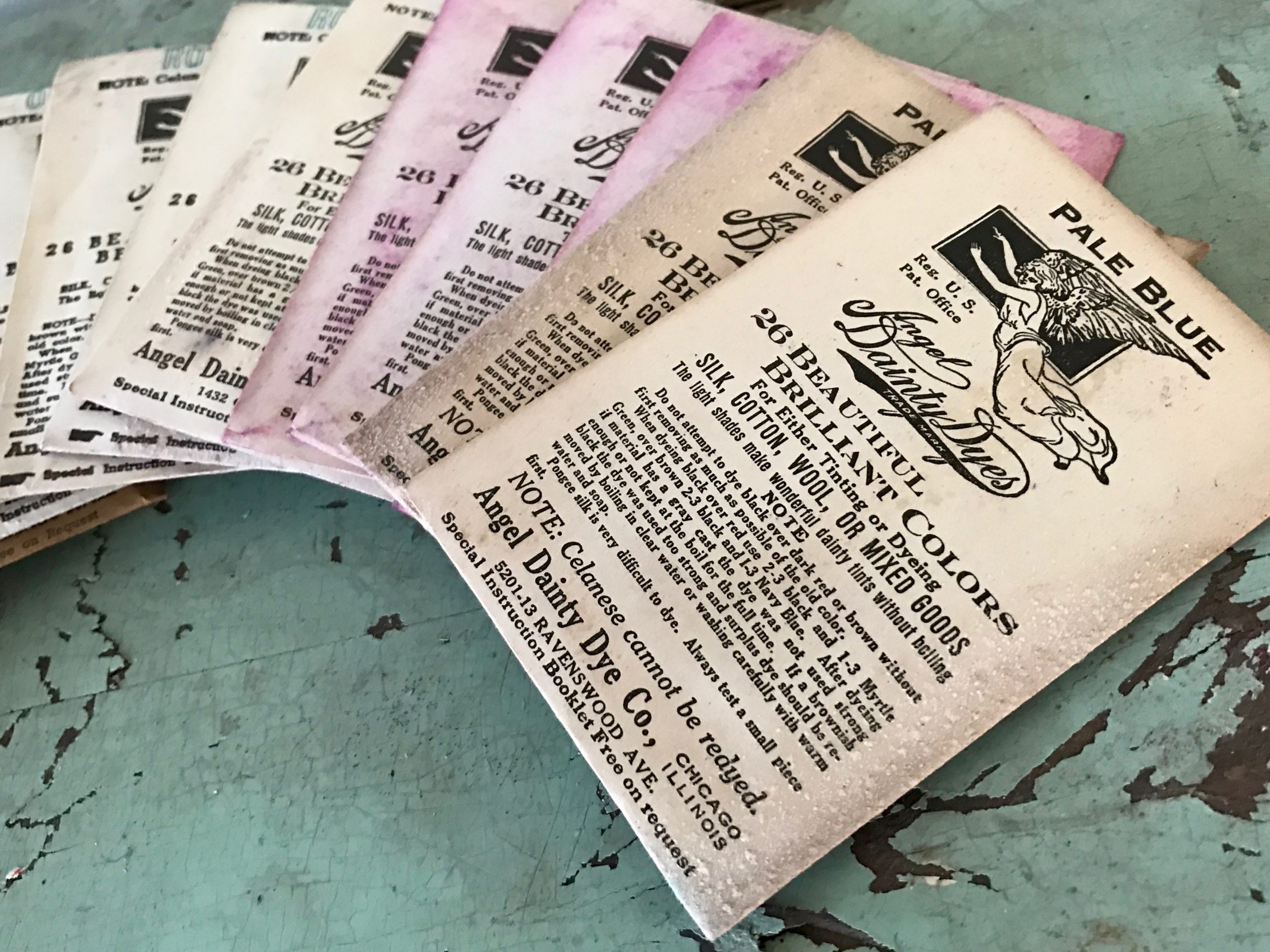 Museum Artifact: Angel Dainty Dyes Color Packets, 1930s
Made by: Angel Dainty Dye Co., 5201 N. Ravenswood Ave., Chicago, IL [Edgewater]
Their fabric dyes were promoted as colorful miracles in a paper packet, but the Angel Dainty Dye Company itself may have been founded on a dastardly fib.
"The Angel Dainty Dye Co., Chicago, have something which everyone wants," read an ad in an 1899 issue of the American Druggist and Pharmaceutical Record, "namely a dye which will not stain the hands nor the vessels in which it is used, and neither washes nor fades out of the fabric which is treated with it. Each package dyes cotton, wool, silk and mixed goods, an advantage over package dyes which has been very highly appreciated by the public."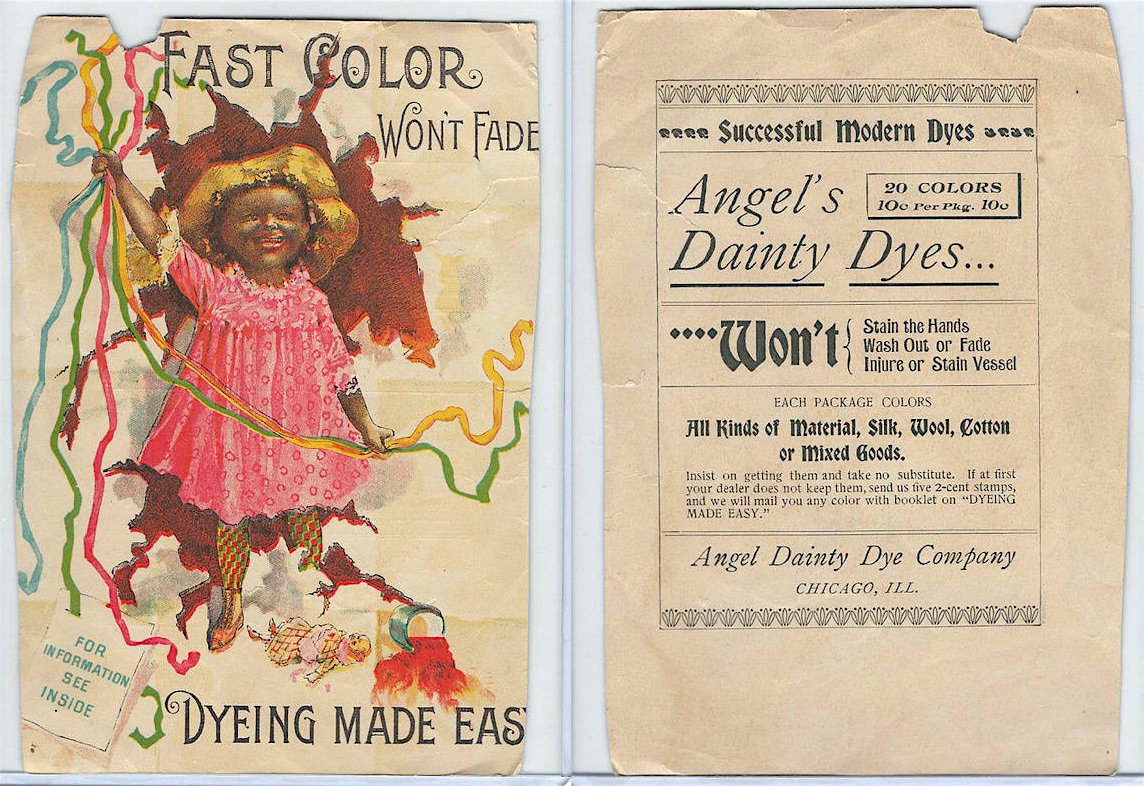 [An early promotional card for "Angel's Dainty Dyes," circa 1899]
Yes, twas the holy grail of the dye-maker's trade—a fabric coloring agent that was versatile across materials and wouldn't tattoo its user. Even some skeptics within the industry had to have been intrigued.
The new product's namesake, Samuel M. Angel (not a stage name), was a reputable third-generation English dye-maker who had immigrated to the U.S. in 1884, joining his Irish-born wife Emma and their gaggle of children. Professionally known as S.M. Angel, Sam was already in his mid 30s when he landed in the States, and he was nearly 50 by the time he started promoting "Angel's Dainty Dyes" in 1898.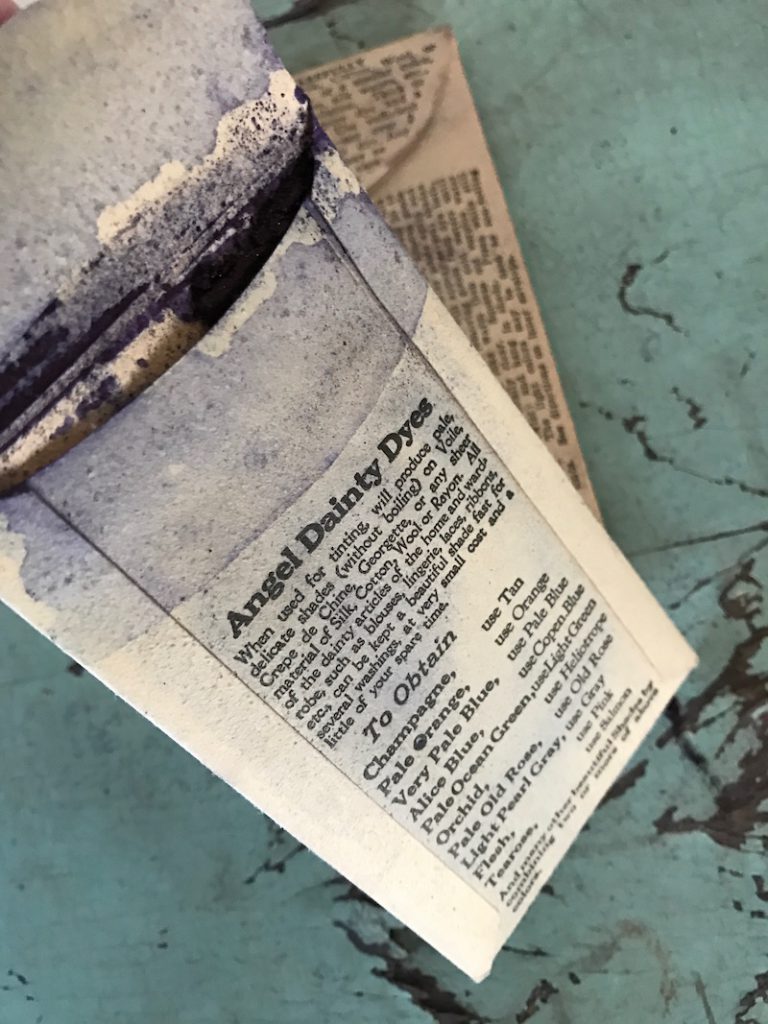 Claiming he had cracked the code for a dye formula that wouldn't stain the hands, Angel set up an office on State Street and went looking for investors. In short order, he struck a deal with some interested parties, and the Angel Dainty Dye Company was officially incorporated in 1899 with a capital stock of $20,000. The "Dainty" part referred to the dyes' effective use on smaller, delicate items. "All of the dainty articles of the home and wardrobe," one of our dye packets reads, "such as blouses, lingerie, laces, ribbons, etc., can be kept a beautiful shade fast for several washings, at very small cost and a little of your spare time."
S.M. Angel wasn't a businessman, so rather than running the new company himself, he worked out a bit of an unusual agreement. He would work independently for the Angel Dainty Dye Co. for $25 per week during a trial period, and—if the directors agreed to incorporate—he would then hand over the secret of his formula in exchange for 50 shares in the company, valued at $5,000 (equivalent to something like $150,000 today).
Everything seemed to be going smoothly at first. Angel and his wife were producing their dyes at home, and the Angel Dainty Dye Co.—presided over by a woman named Mary E. Dean—was finding success selling the packages from its offices at 22 Randolph St. As part of a series of bold marketing campaigns, Dean and her team were wisely packaging the dyes in elegant display boxes, which would wind up on druggist's countertops to grab customers' attention. In retrospect, the fancy window dressing may have done more to sell the product than anything else, as the line-up of Angel Dainty Dyes—while fine in quality—weren't necessarily performing beyond other similar household dyes on the market. Nevertheless, sales were good, and it was time for the next step.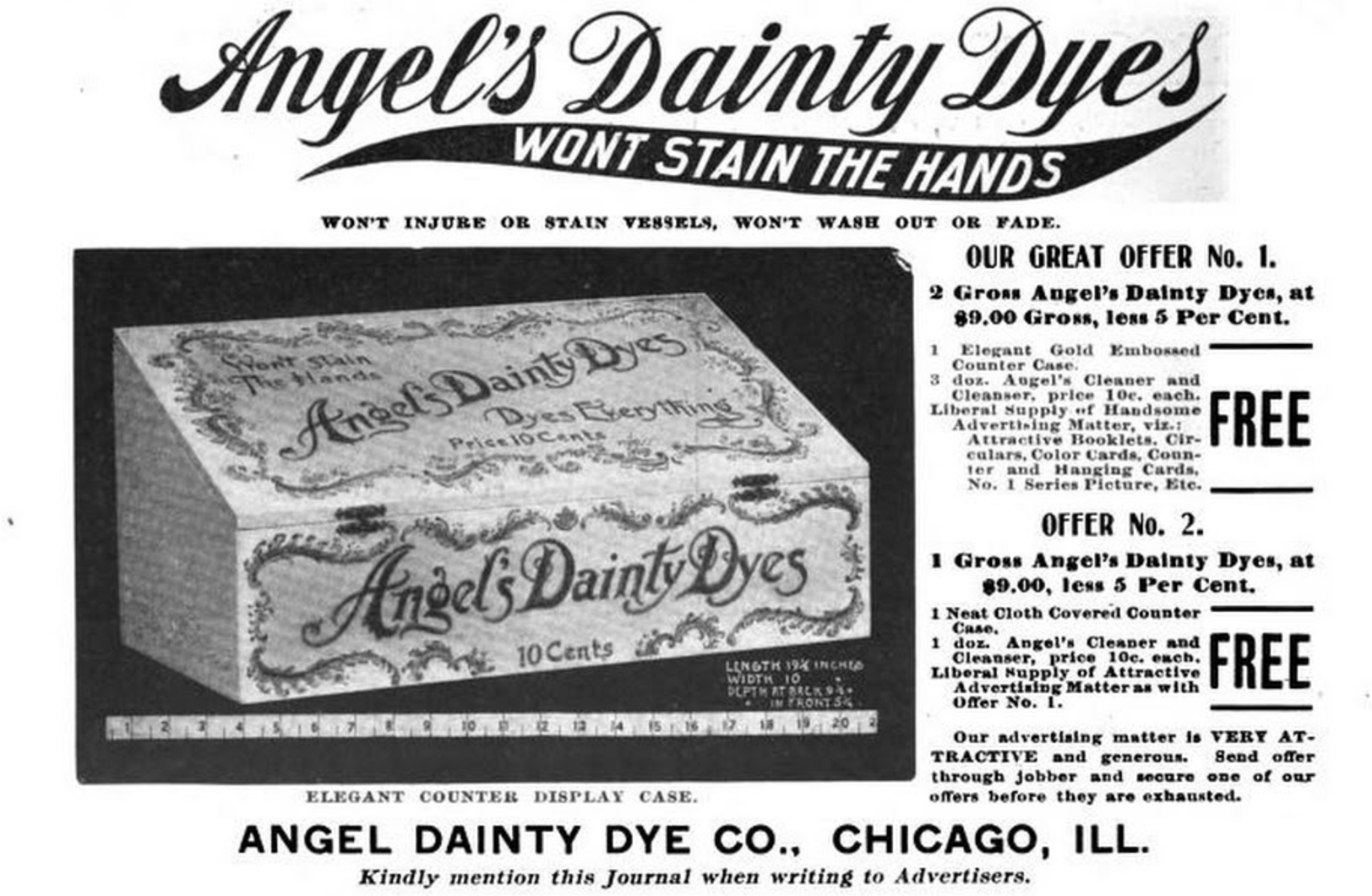 When S.M. Angel was finally asked to hold up his end of the deal and reveal his formula, however, the honeymoon abruptly ended. Claiming that the original verbal agreement had somehow been voided, Angel—by now already in possession of his 50 shares of stock—refused to hand over his magic formula as payment. Instead, he demanded a separate cash transaction to "get the goods," as it were. Feeling hoodwinked, the company called his bluff, terminating Angel's contract while claiming his formula to be nothing but a myth—a con job, essentially.
In a subsequent, inevitable court case in 1901, company president Mary Dean's lawyers argued that "the properties and characteristics of [Angel's] dyes and the means and ways to produce them were well known to the dye trade, and the company had no trouble in securing information, without expense or cost to it, from the large dye manufacturers, as to the methods and ways of manufacturing household and package dyes, containing all the properties and characteristics claimed by Angel for his dyes." They also found upon further investigation "that the alleged secret invention and discovery of said Angel was no invention or discovery whatsoever, and that there was no merit or validity to his claim."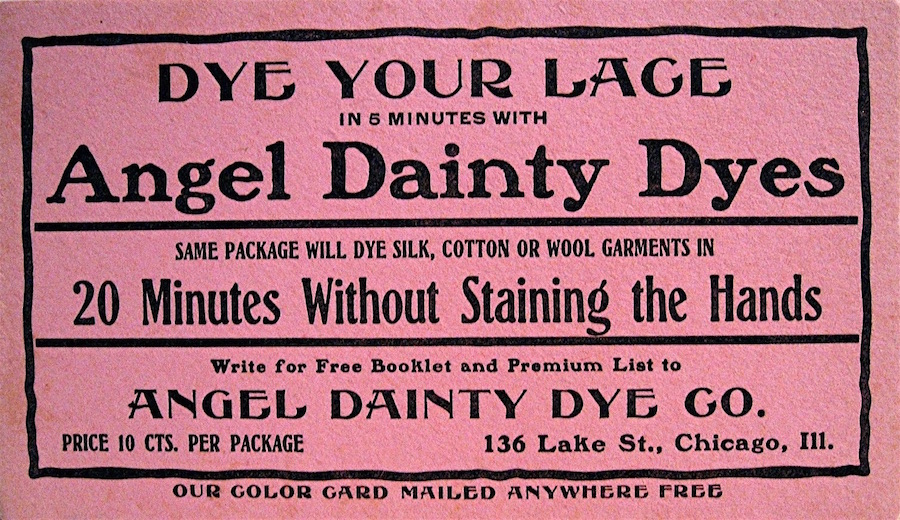 [Angel Dainty Dyes ink blotter, circa 1905]
So, after little more than a year, the actual "Angel" behind the Angel Dainty Dye Co. was cast out forever—though it didn't stop the company from carrying on with the name for several more decades.
It's hard to know what S.M. Angel's actual motivations were in this odd tale. Did he truly believe he'd stumbled on to something new in his field, or was he intentionally using his expertise to bamboozle some local investors into giving him a king's ransom? Was he a desperate man with a dream or a greedy tradesman looking for an easy way out of the game? Either way, Angel managed to slink his way out of the situation quite skillfully, beginning by selling his "formula" and shares to a third party for just $300, in essence washing his hands of the mess before the court case began. He and his wife then eventually retired to Los Angeles (the city of Angels!) where we lived to the ripe old age of 84.
As for the Angel Dainty Dye Co., it rebounded well from its mildly embarrassing origin story to produce excellent—if not entirely heavenly—products for much of the early 20th century. The company's artful dye packets, available in a wide range of colors at about 10 cents per pack, were common household solutions for tinting or for bringing faded color back to life in dresses, draperies, and even the feathers in ladies' caps. The dyes were sold in drug stores, laundries, and in major catalogs like Sears Roebuck, and they continued to promise vibrant colors and even cleansing powers with no staining, all achievable in just a 20 minute wash. The secret formula had been right there in their hearts all along!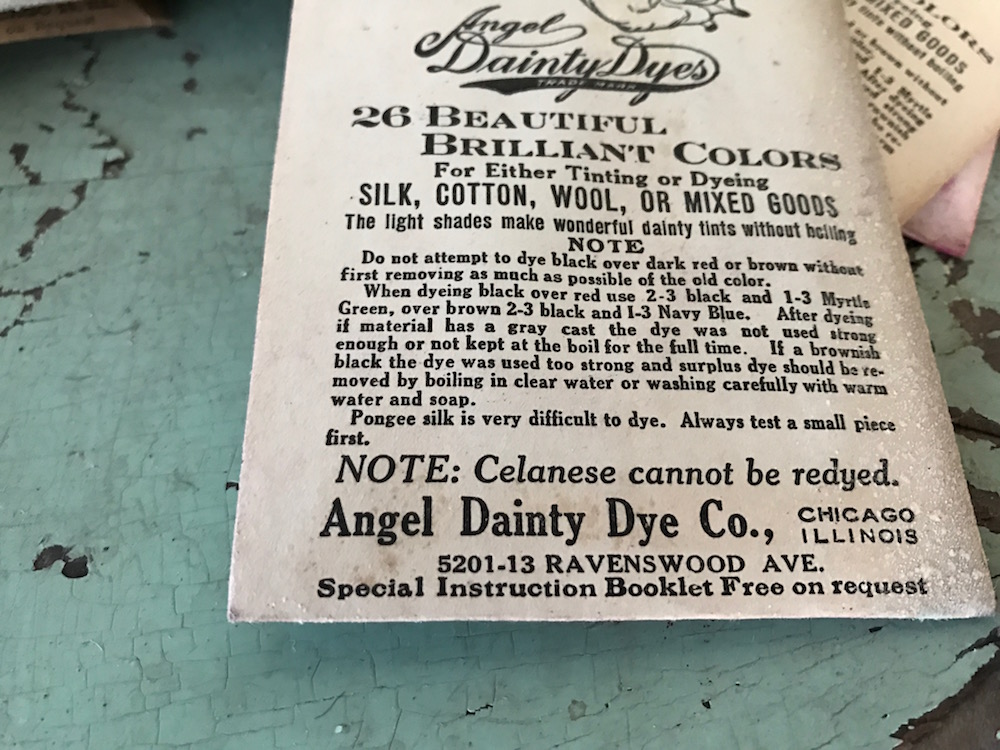 Over the years, the Angel Dainty Dye offices were located primarily at two spots. Much of the early era was spent at 136 Lake Street in a small facility operated by just 3-4 regular employees. That same office (renamed 112 W. Lake Street in 1911) suffered some fire damage in a large 1916 blaze. From there, the company eventually settled in at 5201 N. Ravenswood Ave., its central HQ from the early 1920s through into the early '40s (the building has long since been demolished). There were some other stops along the way, most likely in the company's final years. In our small collection of dye packets alone—all essentially the same in design—the company's listed addresses include the Ravenswood factory, along with 1432 Orleans St., 2611 Sunnyside Ave., and 2023 W. North Avenue.
From the 1920s onward, a man named Eames Dean Elliott (1892-1966) served as the company president, taking over the reins when he was still shy of 30. Elliott got his start as a "color chemist" for the company at the original Lake Street office, and eventually ran the show at the Edgewater location for roughly two decades. At the time of his death, he was survived by four daughters and six grandkids.
By most indications, the Angel Dainty Dye Co. shut down sometime during or after WWII, likely outpaced by new superior methods for dyeing and/or less demand for fabric dyes in general.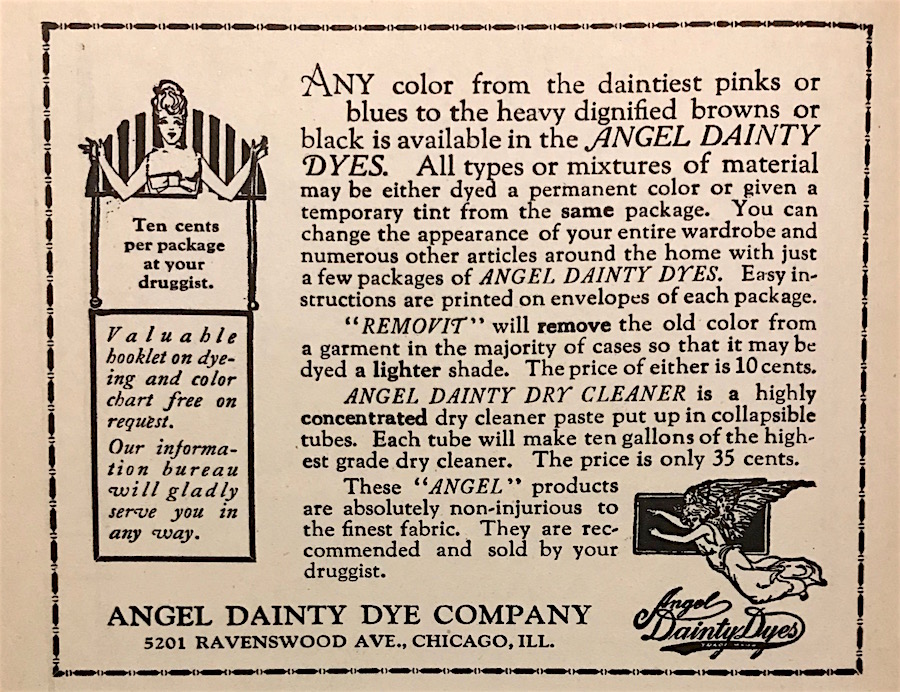 [Angel Dainty Dye advertisement from the North American Almanac, 1929]
How It Works!
If you have some old Angel Dainty Dye powders and have an ill-conceived notion of dyeing something in your house "the old fashioned way," the 100 year-old directions on the ADDCo. packets should still apply. By the 1930s, the dyes were available in "26 Beautiful Brilliant Colors," including winners like Heliotrope, Cerise, Golden Ecru, and . . . Pink. The packets also advised ways to get certain desirable tints—for a "champagne" color, use tan, for "tearose," use salmon, etc.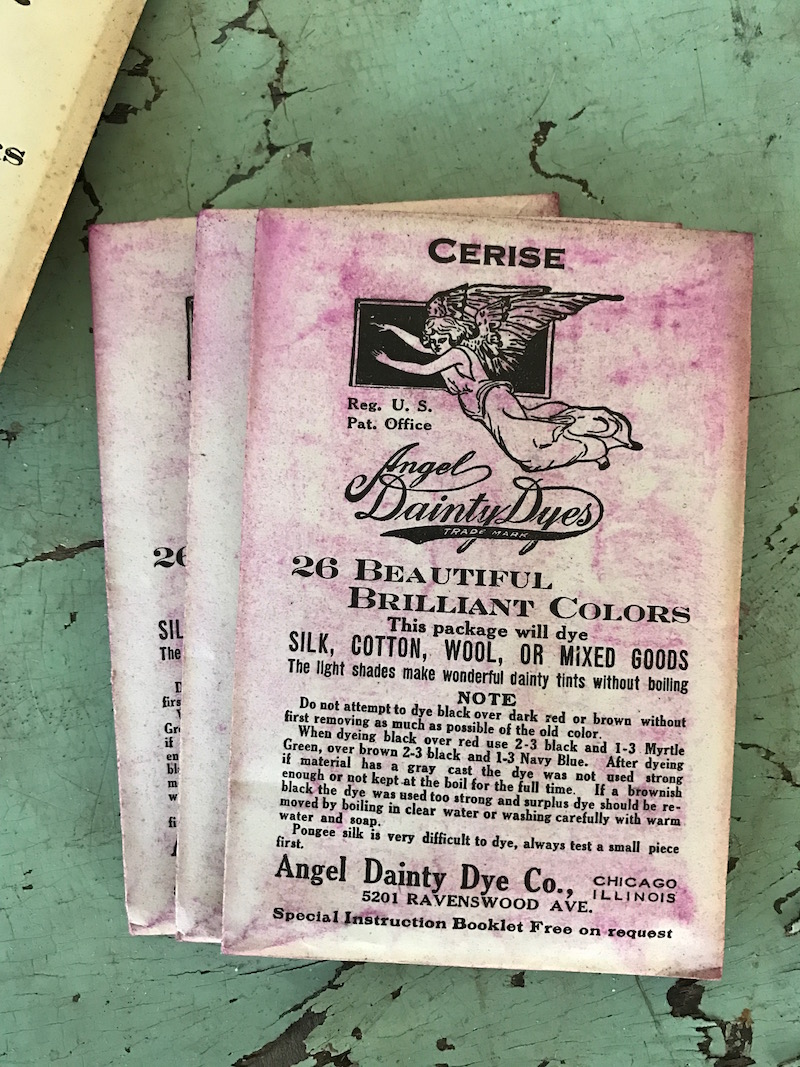 Preparation of Material:
Thoroughly wash goods to be dyed and remove old color as much as possible by boiling. If old color runs considerably, change waters until clear. When colors should match, such as on draperies, parts of a garment, etc., all the pieces must be dyed at the same time.
Instructions for Preparing Dye Solution:
Dissolve dye in one pint of hot water for each package used, adding 3 heaping tablespoons of salt for each package. Boil and stir until thoroughly dissolved (2 to 3 minutes). Strain carefully through close woven cloth into warm water in which material is to be dyed. . . .
Immerse goods while moist, keeping goods under surface of water and stir and turn during entire dyeing process. Allow plenty of room so material will not bunch. Boil Silk, Wool, or mixture of Silk and Wool from 15 to 40 minutes, depending on depth of color desired. Cotton or Linen, bring slowly to the boil and reduce heat to slightly below boiling point for from 15 to 40 minutes. USE NO VINEGAR. All goods except Silk should cool in the dye bath (heat turned off) from 20 to 30 minutes. If shade is not dark enough, remove goods and add additional dye solution. Enter goods again and boil until dark enough. Goods will appear several shades darker when wet. After removing goods from dye bath, thoroughly rinse in luke warm then cold waters until water is practically clear. Squeeze out surplus water (do not twist) and hang in shade. Press while still moist. The light colors may be used as non-boiling tints.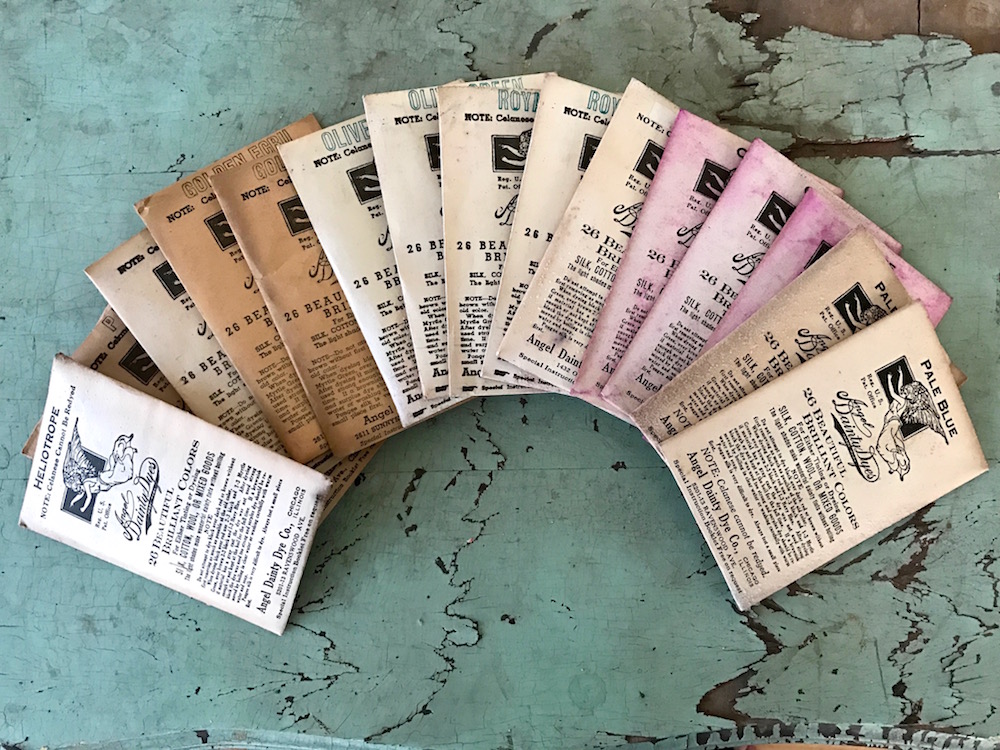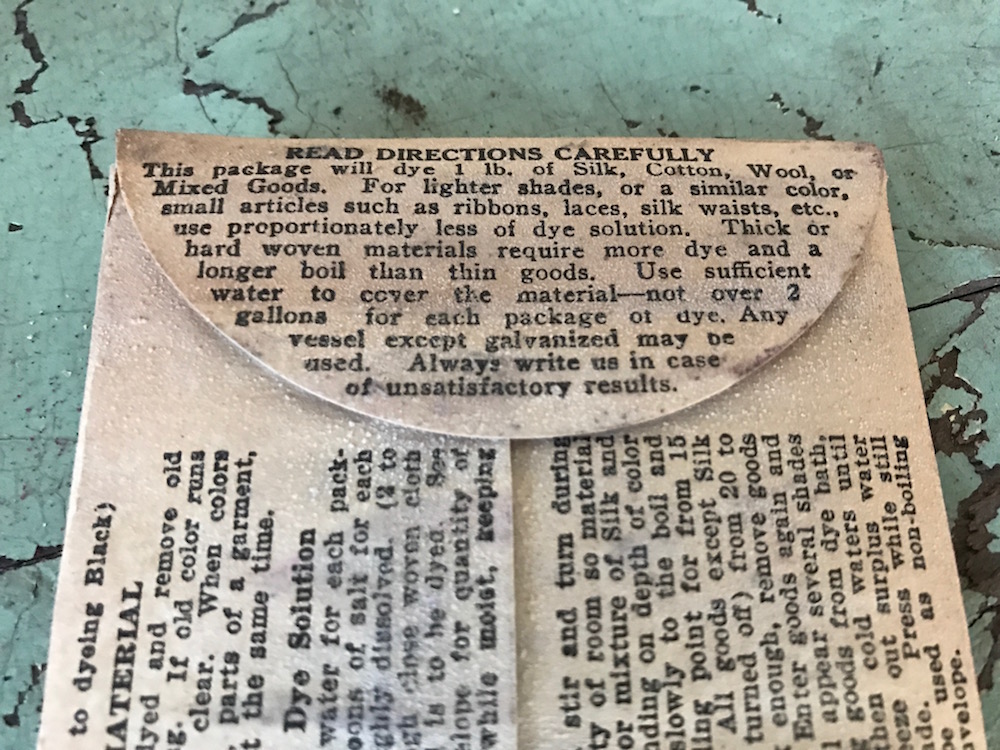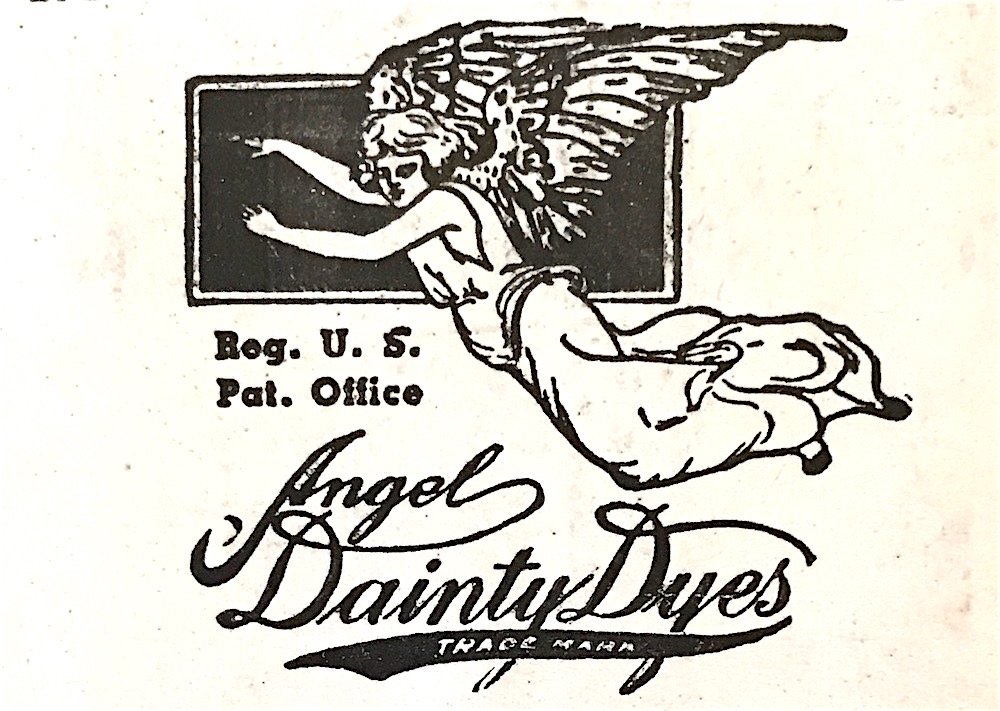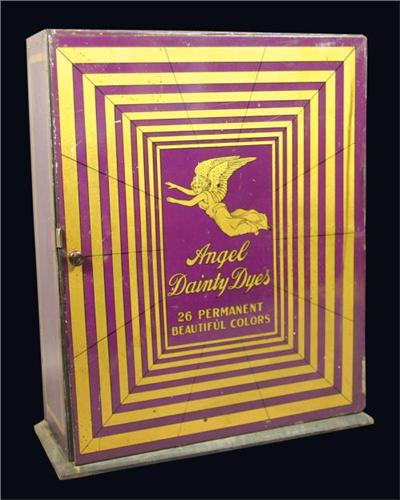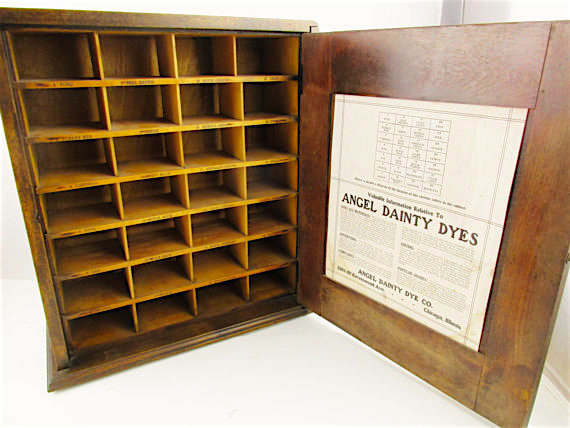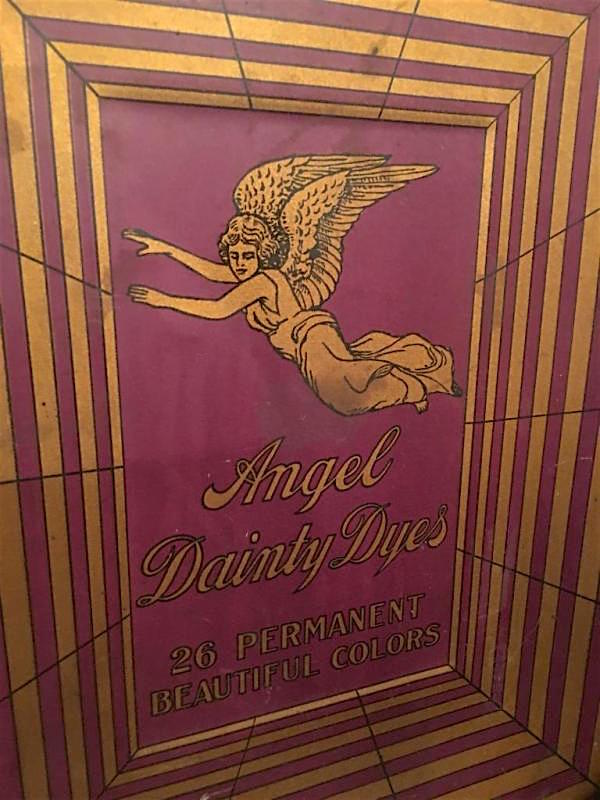 Sources:
The Pharmaceutical Era, Volume 21
American Druggist and Pharmaceutical Record, 1899
"Dean vs Baldwin," Illinois Appellate Courts, 1901