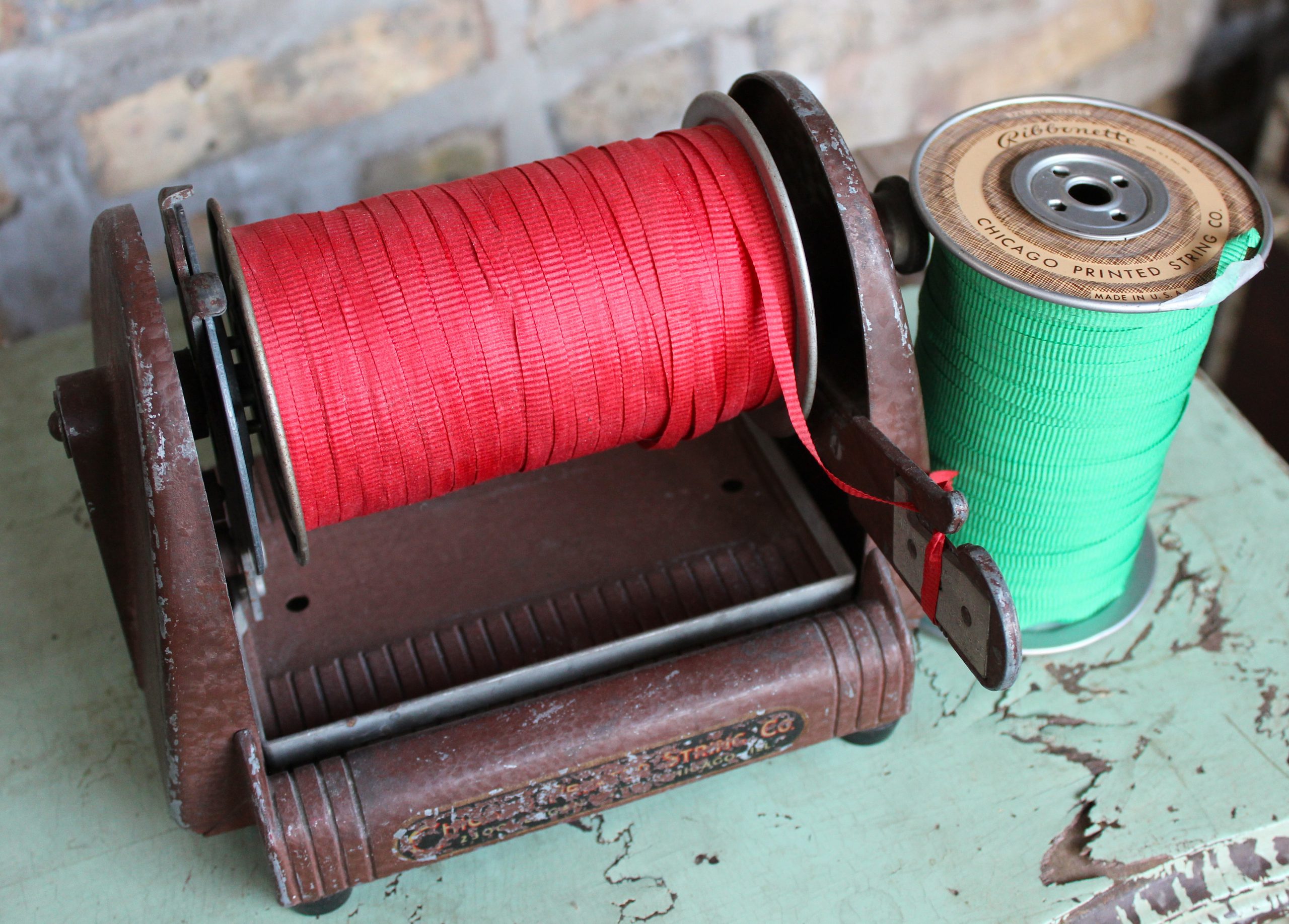 Museum Artifact: Ribbonette Ribbon Spool Dispenser, c. 1940s
Made By: Chicago Printed String Co., 2300 W. Logan Blvd, Chicago, IL [Logan Square]
"In the decorative wrapping and ribbon business, you can't find any larger than Chicago Printed String." —Chicago Tribune, August 5, 1960
While the name would certainly suggest a homegrown original, the Chicago Printed String Company could actually trace its beginnings about 4,500 miles to the east, with a small business called the Victor Tape Company, located near Prague (then the capital of the Kingdom of Bohemia). Founded in 1898 by a Jewish craftsman named Aron Weiner (1856-1923), Victor's primary specialty was hats. Well, not hats, exactly—but the cotton bands that went around the perimeter of said hats. A bit niche maybe, but since it was the turn of the century and everyone wore hats, business was pretty good.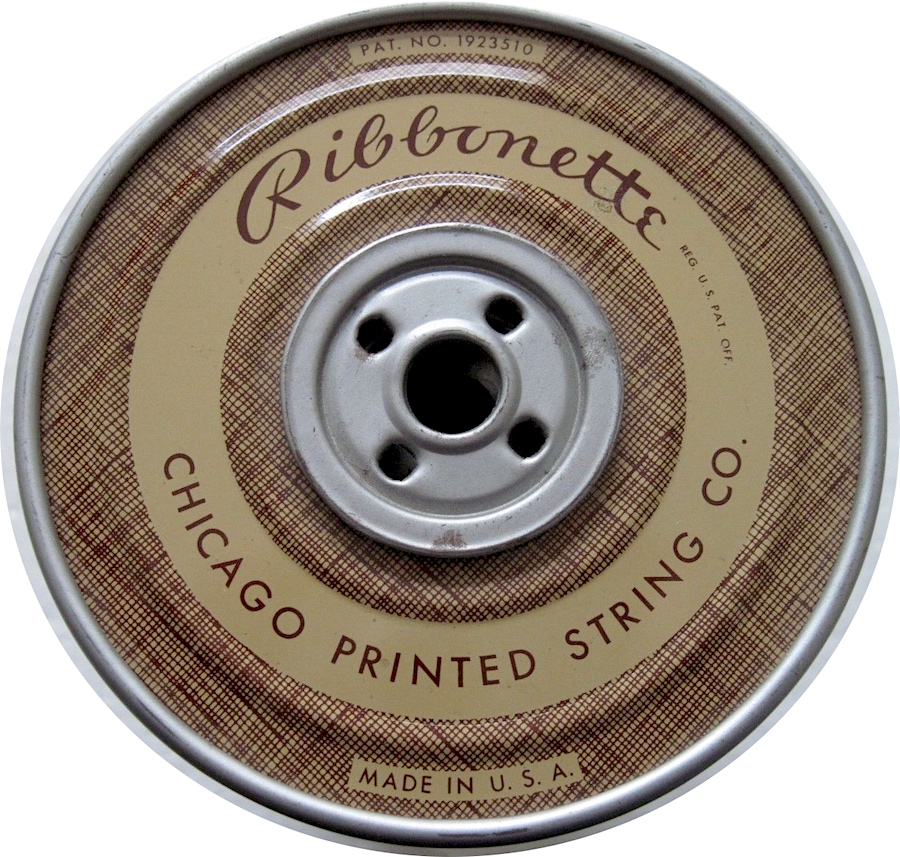 The political scene, unfortunately, was another issue entirely, and between the years 1912 and 1913 (just before the Great War would re-draw the borders on their homeland), Weiner and his family made a bold leap to the New World, eventually settling in Chicago.
From the looks of it, Aron Weiner actually kept the original Victor Tape Company going for a while in his new home, as his name is listed alongside the same business in the 1920 Certified List of Domestic and Foreign Corporations (headquartered at 2689 Holly Street in Chicago). It was his son Charles, though, who was building a more lasting adaptation of the family business.
By 1915, Charles Weiner (1885-1966) had already established an office at 309 S. LaSalle Street for a new enterprise he called the Chicago Printed String Company. A few years later, following the end of World War I, he was sharing an apartment in Edgewater with his sister Margaret and her new husband Otto Vogl. Likely as no coincidence, the couple soon joined him as partners in the string business, eventually helping to finance a larger facility at 2411 N. Clybourn Avenue in Lincoln Park.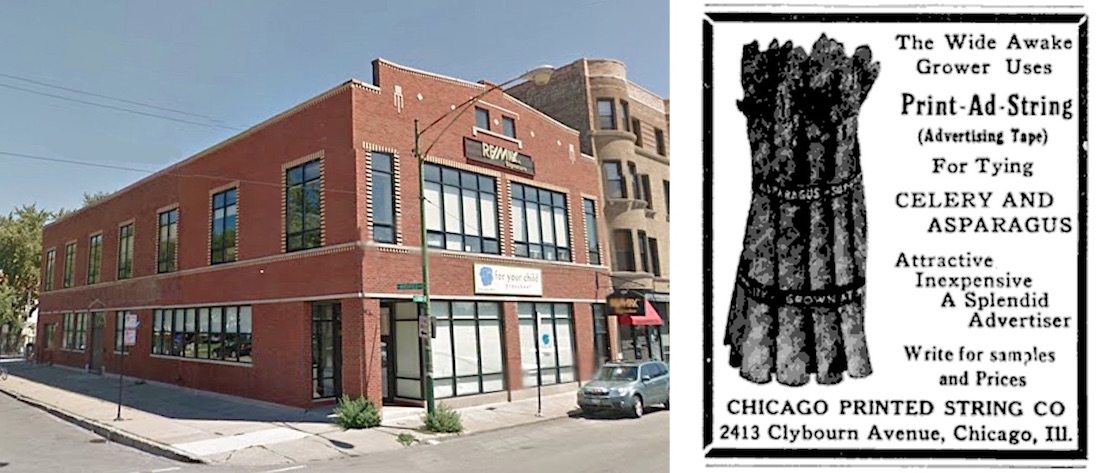 [Left: The first main Chicago Printed String facility at 2411-13 N. Clybourn Ave. The building has been significantly remodeled since the 1920s. Right: A 1920 ad for "Print-Ad-String" aimed at farmers and grocers.]
"Identity and Distinctiveness"
From the very beginning, Charles Weiner [pictured] and Otto Vogl distinguished themselves from other tape manufacturers; including, presumably, Charles's own dad. They did this by essentially re-imagining the potential of their product, going beyond its basic functionality into something more recognizably 20th century in its commercial ambitions.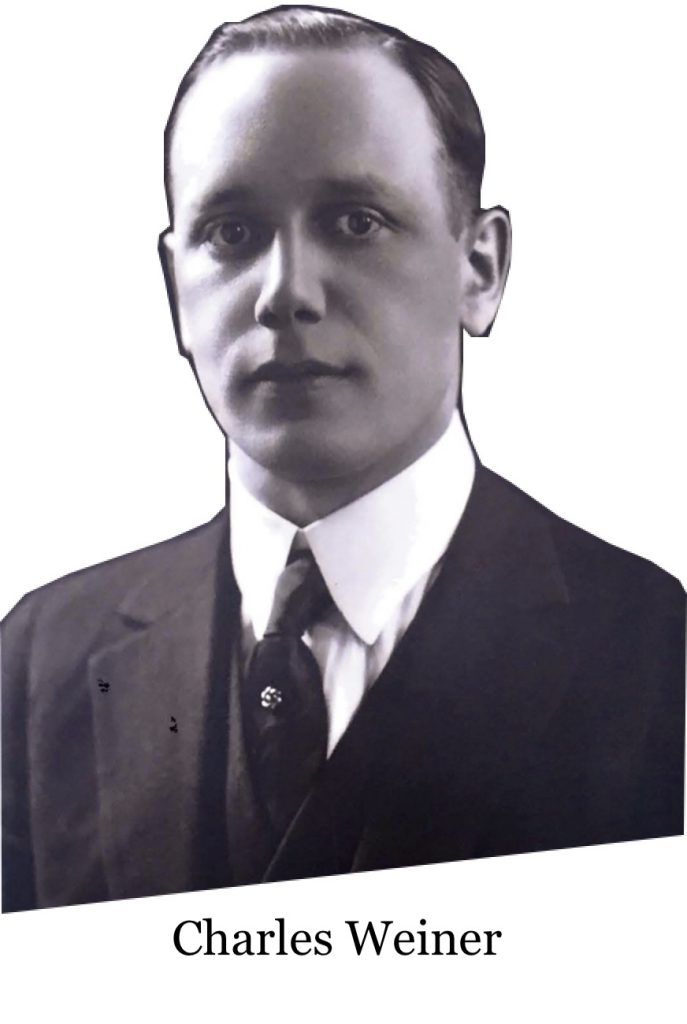 As a key example, the company patented several forms of "advertising tape"—binding material which was made from string, and printed with the name of a customer's business. Their key early creations were "Print-Ad-String"—flat, customizable, cotton-yarn tape—and "Ribbonette," an affordable alternative to silk and satin ribbons that quickly gained popularity with candy confectioners and high-grade textile manufacturers.
"The old method of tying packages with ordinary cord or twine is rapidly being replaced by the new method of using a distinctive tape which not only binds, but advertises as well," read a 1920 ad for CPS's Print-Ad-String. "The wide-spread use of this new method is shown by the fact that manufacturers in all parts of the country are purchasing millions of yards of PRINT-AD-STRING. . . .
"We also offer RIBBONETTE for tying the better grades of textiles. The beautiful combinations of colors that can be obtained make RIBBONETTE superior to silk and satin ribbon, while the cost of it is only one-third; made in any color or design, in either flat or crimped finish."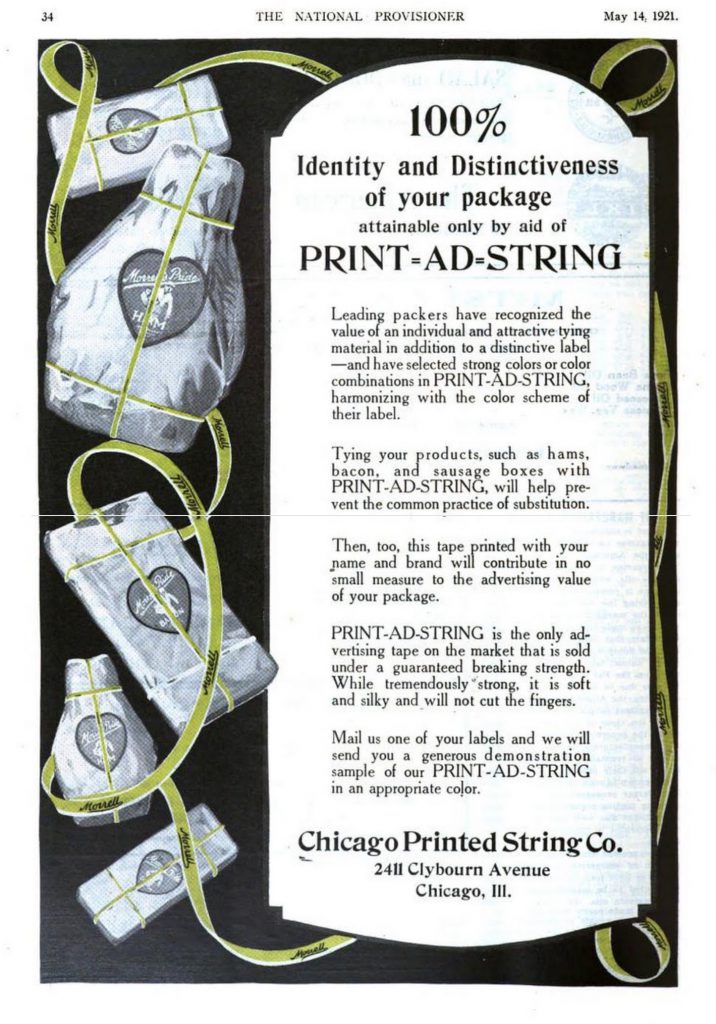 [1921 advertisement for Print-Ad String]
These products ushered in a whole new type of customized mass marketing that was perfectly timed for the presentational excesses of the 1920s. As the Chicago Printed String Company would remind its customers, "Your packages are in a very real sense your representatives. Make them worthy of your goods."
Special ribbon holders / dispensers like the one in our collection were soon designed to help crafty people trim off the exact amount of colorful decorative binding they needed, without loose strands flying around the room and distracting house cats. You would also find ribbon holders in some offices, as companies took to sending out packages with their own custom binding on the outside. It's unclear, unfortunately, where the metal dispensers were manufactured, but it's likely that Chicago Printed String outsourced the work.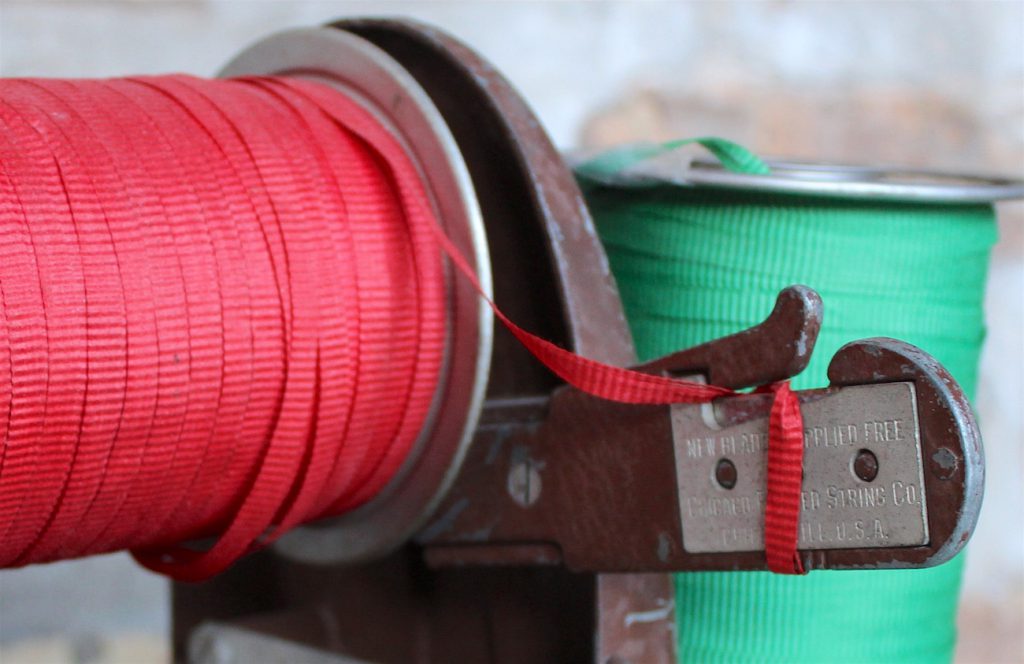 ["New Blades Applied Free" says the current 70 year-old blade on our museum's ribbon cutting artifact]
Defending the Brand
With profits soaring, the Chicago Printed String Co. outgrew the Clybourn factory by 1929, and thus relocated to a larger headquarters at 2300 W. Logan Blvd. The timing wasn't fantastic this time, as the market crash of '29 hit within months of the move.
Nonetheless, CPS soon had over 25,000 customers on the books and a team of 30 salesmen seeking out more across the country. While advertising-string might have seemed frivolous to some businesses as the Depression set in, others saw even greater value in affordable marketing gimmicks. And so, Weiner and Vogl systemically sought to solidify their empire during the economic downturn—scooping up more patents and keeping a vigilant eye for the many copycats trying to undercut them along the way.

[The former CPS building at 2300 Logan Blvd. seen on the top left in the 1940s, was saved from the wrecking ball recently and re-structured for storefronts, as seen on the right in 2018. Pictured below is Charles Weiner's office at the Logan factory, circa 1944.]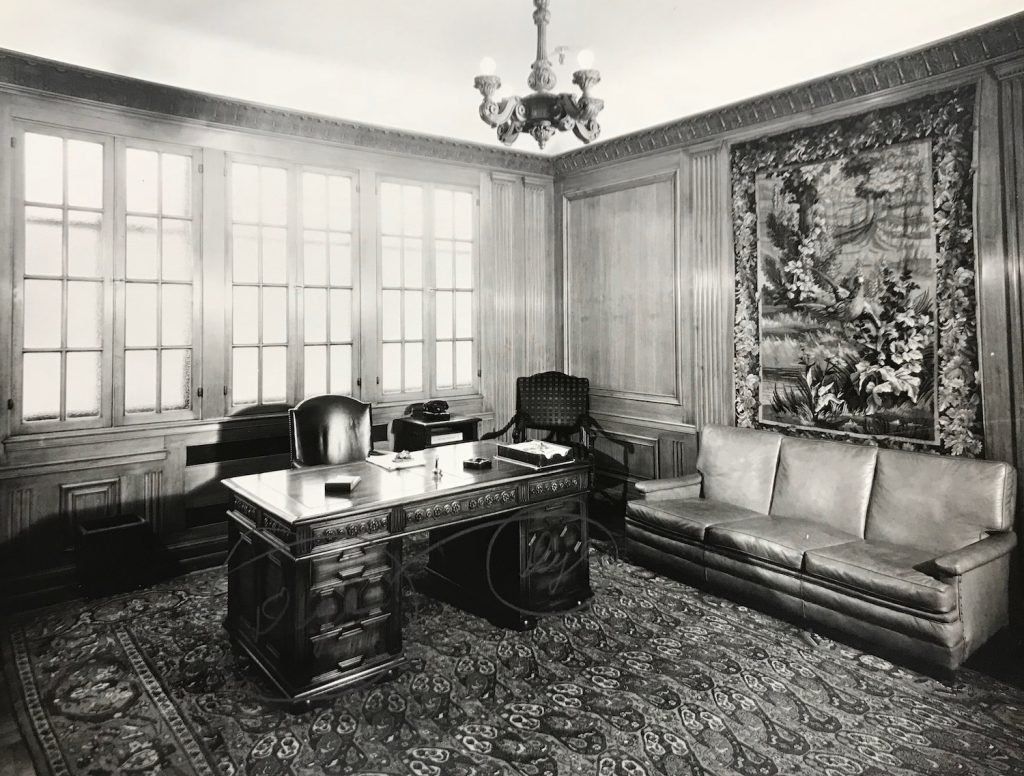 One fellow, in particular, a Mr. William A. Elbers, spent much of the 1930s as a thorn in the ribbon men's sides. With a weird, obsessive level of dedication, Elbers—representing random, fly-by-night entities like the Milwaukee Printed String Co., United Printed String Co., and National Tinsel MFG Co.—repeatedly tried to market obvious knock-offs with names like "Tie-Ad-String," "Tye-Ad-String," and "Ribbontye." Charles Weiner, in turn, kept taking Elbers to court, usually with open-and-shut success.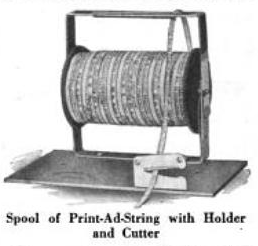 One of the earliest lawsuits, in fact—filed in 1930—related directly to the design of the company's spool holder, which Elbers had also copied, right down to the "crinkled green" paint job that was standard on early CPS models [the 1940s era dispenser in our museum collection looks brown, but its coloration might have been a tad different before 75 years in storage].
"The spoolholder is not like a container that is emptied and discarded," court records of the 1930 case state, "but is a machine into which, by manipulation of certain parts, the loaded spool is inserted and the empty spool removed. …The spool and the holder are only used together, and should be considered together."
Weiner and Vogl were still winning court cases against Elbers as late as 1940, but by then, the stability of the Chicago Printed String Company was no longer in doubt. After the war, the company jumped more aggressively into products geared at the general populous, specifically holiday gift wrapping and bows. A new "Tie-Tie Products" division was established to focus on this field, and while it still sometimes incorporated the use of branded advertising elements, it also offered a wide range of colorful designs and patterns that helped set the standard for the modern gift wrap industry.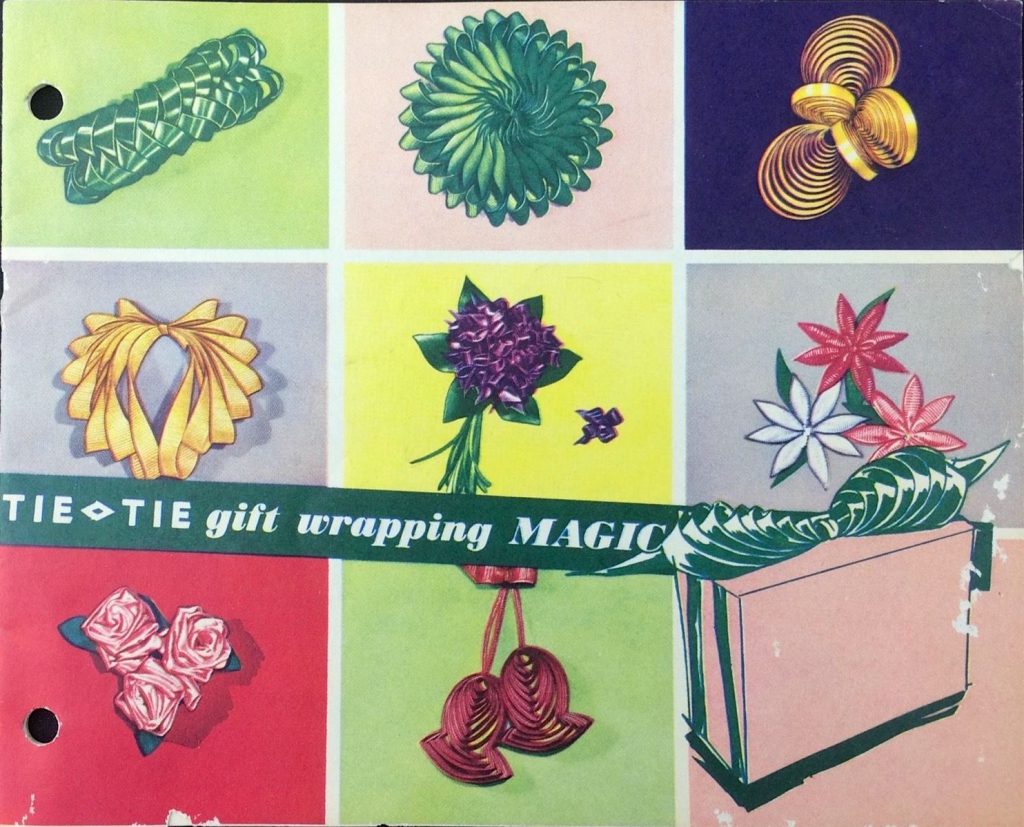 [Cover of a 1954 Tie-Tie gift wrapping catalog, by Chicago Printed String Co.]
"Chicago Printed String Company last year put out some 600 million yards of decorative ribbon and 210,000 reams of wrapping paper under its Tie-Tie and other divisions," the Tribune reported in 1960. "The firm, based at 2300 Logan blvd., with 650,000 square feet of plant space in four other locations, uses designs of freelance artists in addition to those of its own staff.
"Gift wrappings have become a fashion business," relates Sol S. Weiner, president of the company. "Each of the new paper designs we produce in a year are obsolete before the year is out."
Weiner Takes All
Following the post-war retirement of Charles Weiner, Chicago Printed String announced the appointment of its second company president. His name was Sol S. Weiner [1919-2003], but rather confusingly, he wasn't a direct relation of Charles Weiner.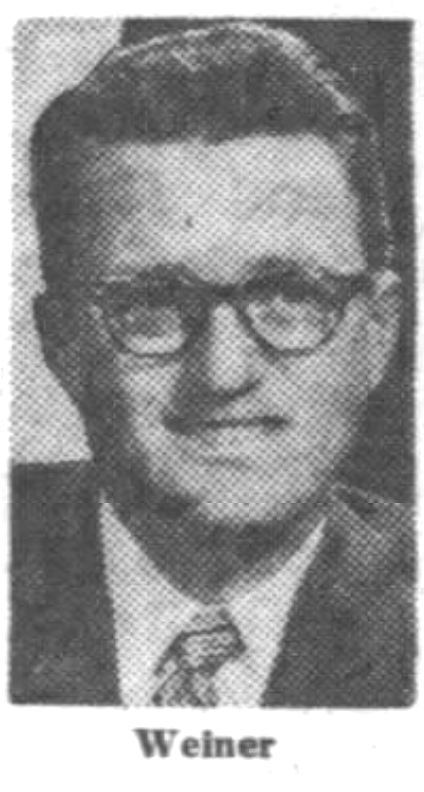 Instead, Sol Weiner [pictured] was the son-in-law of CPS's other founder, Otto Vogl. Long story short . . . Otto's daughter Ruth Vogl met Sol at the University of Chicago in the early 1940s (the surname Weiner is quite common in the Jewish community); they got engaged and married after Sol returned from Navy service in WWII; the newlyweds then settled in Evanston, with Sol accepting a job at his father-in-law's company.
The future looked mighty bright, as Sol Weiner informed the Tribune in 1960 that Chicago Printed String was easily "the largest producer in the country of tying materials for decorative and industrial use," and that he anticipated a "10 percent a year" growth in the gift wrap business. The Tie-Tie Division's Western Sales Manager at the time, Robert Overtree, provided some additional gaudy stats in a chat with the San Francisco Examiner: "We produce enough ribbon to go around the world every four days," he said, noting CPS sales were up 8% from 1959 to 1960. "That amounts to 1.6 billion yards, with part of it going into 18 million pre-tied bows to make package wrapping easier."
Around the same time, Chicago Tribune columnist Ruth MacKay, known as "the White Collar Girl," helped paint a picture of Chicago Printed String Co.'s busy production plant, where more than 700 workers—many of them young women—put in late hours ahead of the Christmas rush.
"You may not know it," McKay wrote in the article from Sept. 16, 1959, "but while you're in the land of nod, a staff of women is busily making ribbon in the early morning hours—for you to tie your Christmas presents. They work at the Armitage and Logan plants of Chicago Printed String Co. It seems like a page in long ago history when the first girl pages were introduced in metropolitan banks. Now a lot of bright youngsters get their start that way. . . . Which reminds me of the young miss asked by a personnel director for references who handed over a letter: To Whom It May Concern. Sara Blank worked for us one week and we're satisfied."
[Tie-Tie gift wrap ad from Billboard magazine, 1959]
Wrapping Up
With America's seemingly boundless wrapping paper infatuation feeding its engines, Chicago Printed String began outgrowing the confines of the old humble family business. Leaving a 50-year comfort zone wasn't necessarily a good thing in the long run, however, and as competition increased, the company was suddenly losing money. By the mid 1960s, with Sol Weiner now serving as CEO and founders Charles Weiner and Otto Vogl both deceased, a new president was brought in from outside the family to try and bring the business into the "modern era."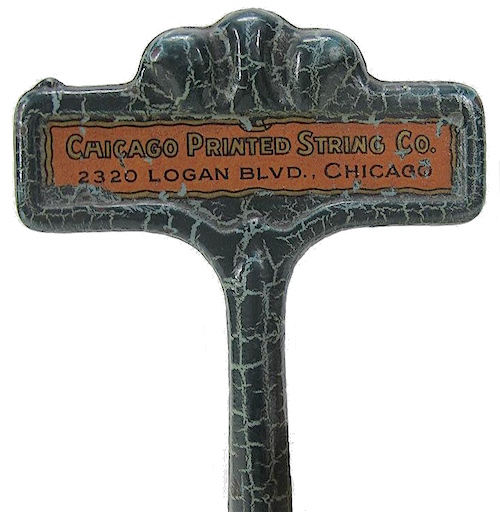 Jack Culberg was a noted marketing guru and idea man who'd worked for Revlon, Schick and Chicago's Ekco Products, but he had no experience in the wrap-and-tie biz. Despite owning a national-best 17% of the gift wrap trade, Culberg took aggressive action from the get-go to break out from the status quo. "The first thing I'm going to do is to change the name of the company from Chicago Printed String to CPS Industries," he told reporters in 1965. "The company started out 50 years ago with printed string . . . but today we have 5,000 different products, including paper patterns and ribbons. . . . Today we are 50 years old, but I feel we are being reborn."
In retrospect, the more likely reason for Culberg's name change was that he had also committed to move the majority of CPS manufacturing from Chicago to Franklin, Tennessee, where the company had already opened another plant. The move put hundreds of Chicagoans out of work and didn't really even pay off financially. Just two years later, the still scuffling CPS Industries was sold to Pittsburgh's Papercraft Corp. Both Culberg and Sol Weiner called it quits shortly thereafter, ending any lasting connection to the Chicago days.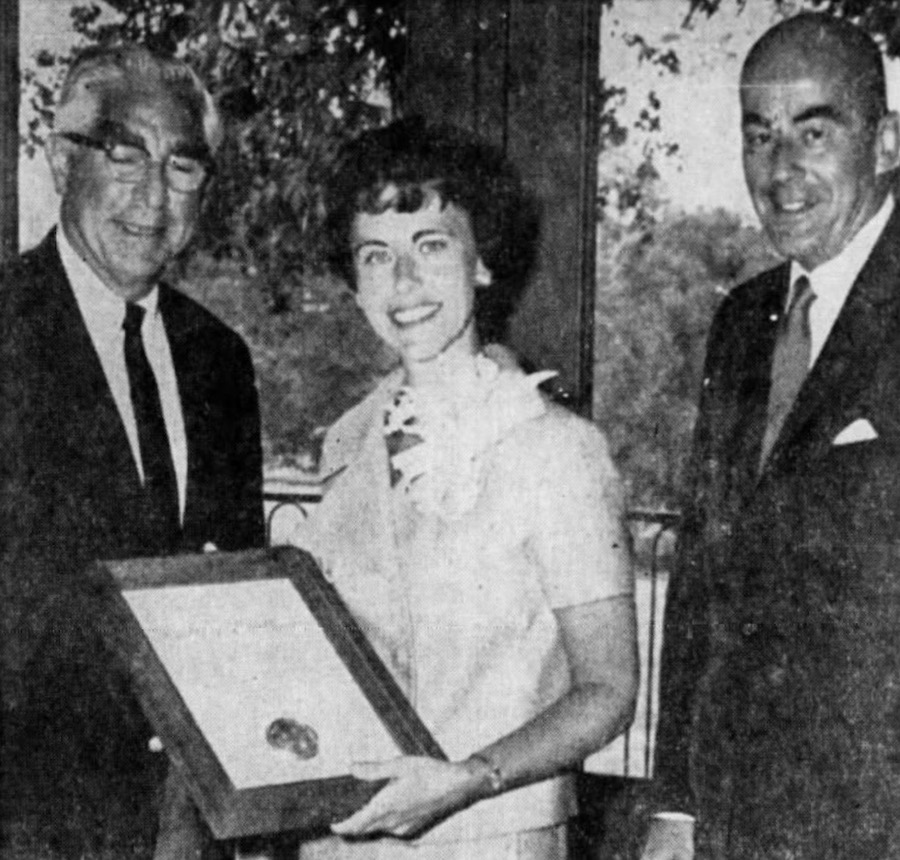 [CPS president Jack J. Culberg, left, and VP James A. Dayton, right, receive a Sears Roebuck "Symbol of Excellence" award from Jeanne Poduska at the company's new headquarters in Franklin, Tennessee, 1967. Culberg retired from the job shortly thereafter]
Following the thread from there gets fairly complicated. Papercraft Corp. was CPS's nearest competitor at the time of the merger, and the FTC actually ruled that the new business represented a violation of competition laws. They ordered Papercraft to divest themselves of CPS, but it took a ridiculous eight years for them to finally do so, peddling the business off to the Arcata Corporation in 1975.
CPS Corp. came under the banner of the Fox Valley Corp. in the 1980s, and in 2000, was purchased by American Greetings, essentially ending the story.
Internet research can confuse matters further, as there is still a corporate website called Fibertek, Inc. claiming to be the direct descendent of the original Chicago Printed String. They even brazenly date their history waaaay back to Aron Weiner's tape business in Europe. It should be noted in bold font, however, that the Fibertek website hasn't been updated since 2003, and pretending that the Chicago Printed String Co. "still exists" in any way is beyond a stretch.
On the brighter side, I can at least mention that CPS's old Logan Square headquarters has survived. In this happy story from Preservation Chicago, the Art Deco building was actually saved from the wrecking ball at the last minute in 2004, and has since become a successful retail space with a mattress store and a Panera. So… there ya go. The ribbon of time spools onward.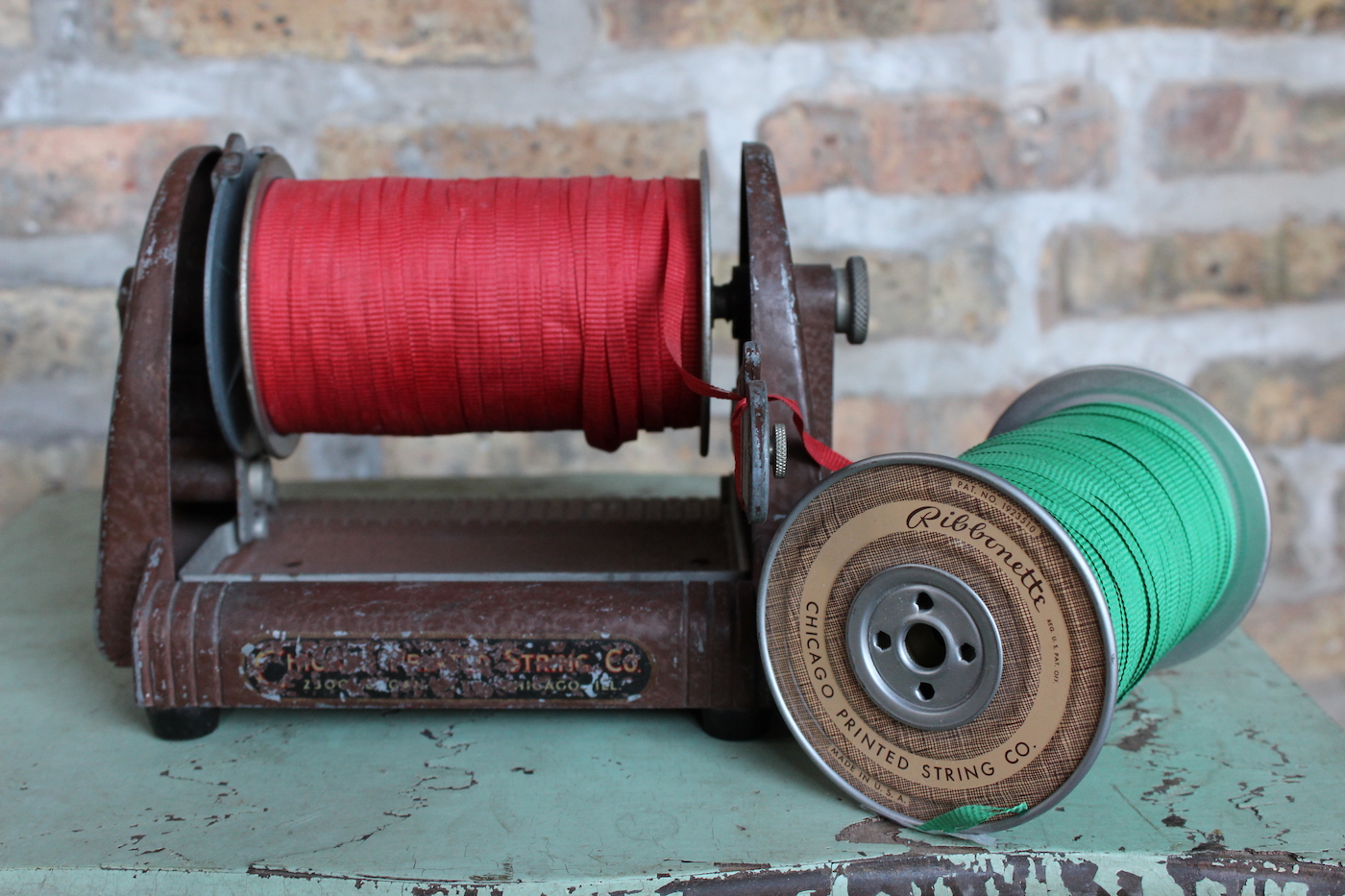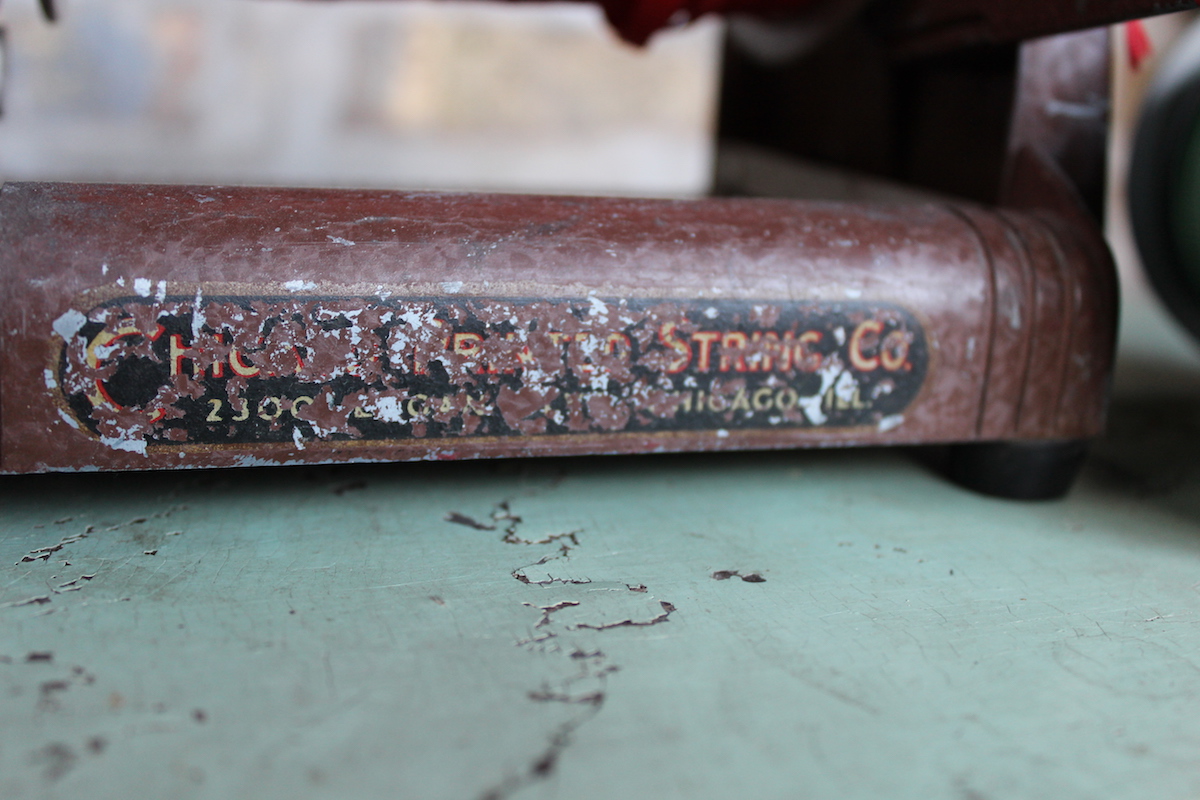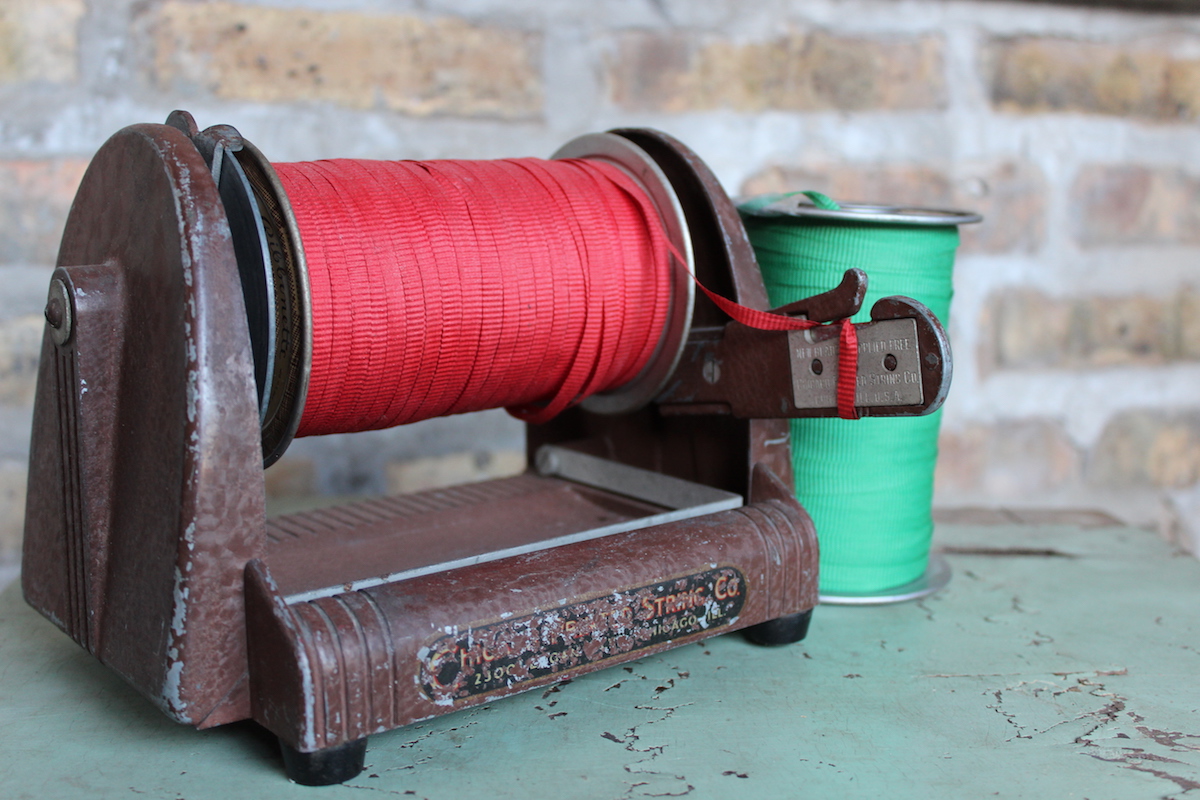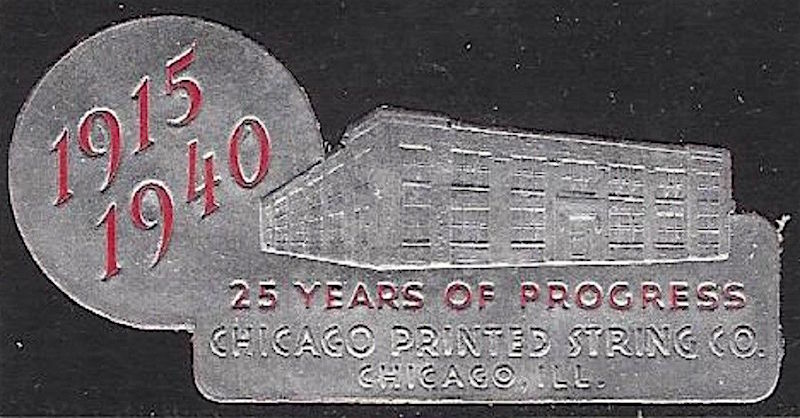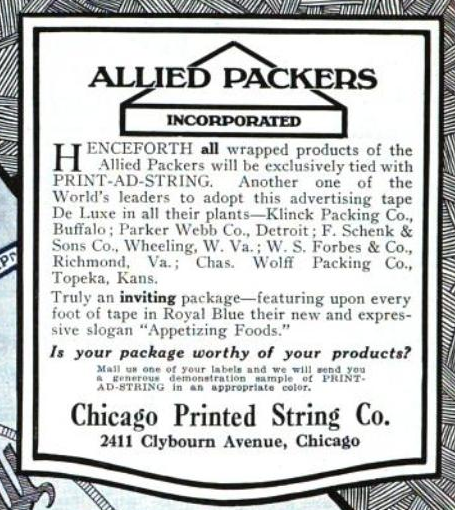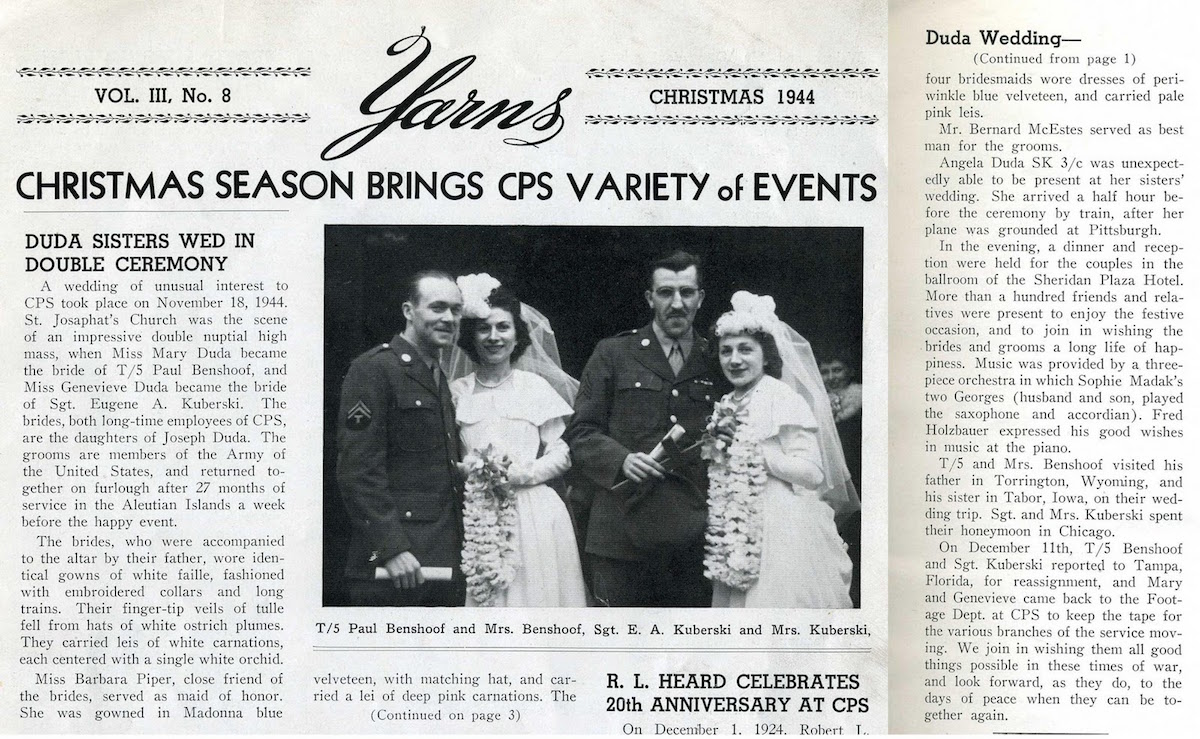 [Excerpt from a 1944 issue of the Chicago Printed String Co. employee newsletter, "Yarns." Courtesy of itsadudakindoflife.blogspot.com]
Sources:
"Weiner vs National Tinsel MFG Co.", District Court, E.D. Wisconsin, December 2, 1940
"Gift Wrapping Booms as Fashion Business" – Chicago Tribune, April 11, 1960
"Financial Gossip" – UPI, December 13, 1965
"Papercraft Acts to Buy CPS Ind." – Chicago Tribune, December 8, 1967
"Papercraft Sells CPS" – Pittsburgh Press, June 4, 1975
"Site Helps Wrap Up Mission of CPS" – The Tennessean, December 10, 2000
"American Greetings Acquires Franklin Wrapping Paper Company" – Nashville Post, June 12, 2000
Sol S. Weiner obituary – Chicago Tribune, March 16, 2003
Otto Vogl obituary – Chicago Tribune, July 7, 1960
"Who's Thinking About Christmas" – San Francisco Examiner, August 5, 1960
Archived Reader Comments:
"Hello everyone! I'm a great-granddaughter of Charles Weiner. Thank you so much for writing this article! First off, I want to let you know that the partnership between Charles Weiner and Otto Vogl wasn't mere happenstance; they were brothers-in-law. Actually, from what I understand, CPS was very much the family business from the 1910s to the 1940s or '50s. Secondly, Charles immigrated to America in June 1913 with his brothers and sister though it's possible the business didn't start in Chicago until 1915. I'd have to check on that. Once again, thank you so much for this article on CPS' history!" —Rebecca Stanley, 2018