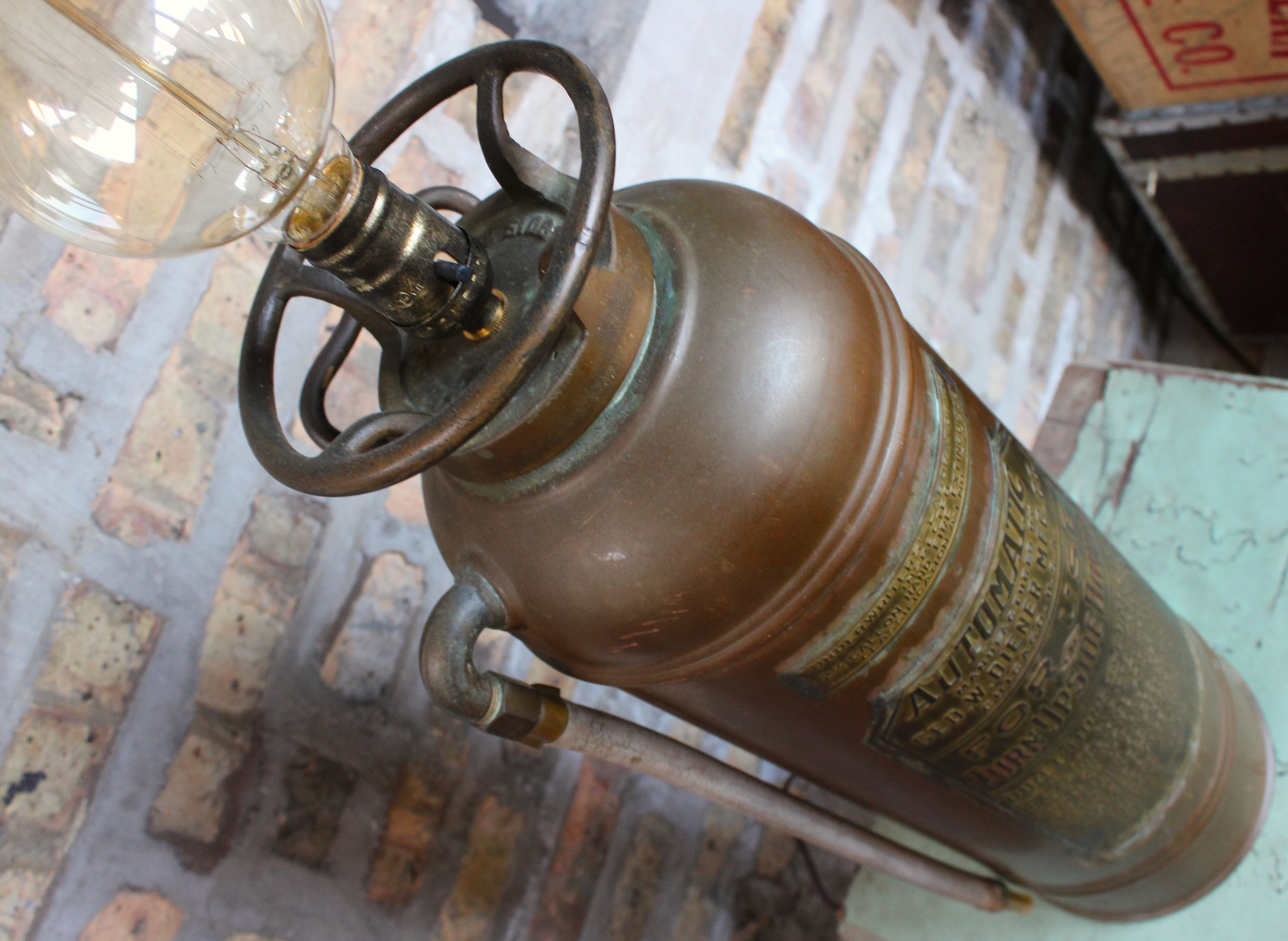 Museum Artifact: Automatic Fire Extinguisher, 1920s
Made By: Geo. W. Diener MFG Co., 400-420 N. Monticello Ave., Chicago, IL [East Garfield Park]

Sometimes a lamp is just a lamp. Other times, it's an early 1920s soda-acid fire extinguisher—which then became a lamp. I suppose it would be ironic if our extinguisher lamp started an electrical fire, and then—having been gutted of its old chemical contents—was completely useless in helping the situation. But in the mean time, it's at least an illuminating display piece.
It's possible that George Diener himself might not be as enthused about seeing his life-saving creation turned into an upcycled piece of hipstery home décor. But then again, evidence indicates that a magically re-incarnated George Diener would find the nearest golf course first, then worry about his legacy second (he was an active member of both the lazily-named "Old Colonial" and "Colony" Golf Clubs, as well as the much snazzier sounding "Westward-Ho" Golf Club—the latter representing the oldest golf course in England).
Anyway, before he shifted his focus to the links, Diener was yet another one of those German-American wunderkind entrepreneurs in the late 1800s, launching the Geo. W. Diener MFG Co. in 1899 at the ripe age of 23. The company's original offices were at 215 Lake Street, where they manufactured various hardware goods like sewer rods, blow torches, safety cans, and the "Torrid" brand of gasoline appliances. Within a decade the business had migrated to a bigger factory space at 400-416 Monticello Avenue in East Garfield Park, and they were soon strutting their stuff—sodium bi-carbonate stuffs, specifically—in the fire extinguisher game.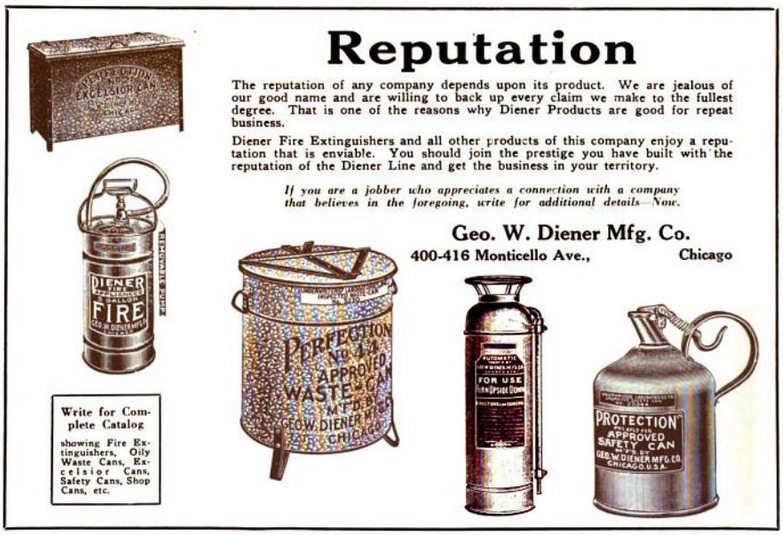 Diener was definitely among the leading brand names by the 1920s, with ads touting the value of "fire prevention" over "fire insurance." Still, while there's no denying that a 2-foot tall, heavy copper cylinder with embossed lettering looks really cool, the actual functionality of these devices leaves a little to be desired. For one thing, owners of an extinguisher like this would have to manually update its contents at least once a year, adding in both water (which filled the main compartment of the tank) and the soda-acid chemical solution, which sat in a smaller container near the top of the cylinder. When your inevitable 1920s tenement fire broke out, you would turn the extinguisher upside down, which would begin the reaction of the water with the chemical solution, producing carbon dioxide. The external nozzle-tube thingy then becomes your fire-fighting weapon, as the release of increased CO2 into the air suppresses the flames. To put it in nerd language:
2NaHCO3 + H2SO4——–> Na2SO4 + 2H2O + 2CO2
Don't fact-check any of that, by the way.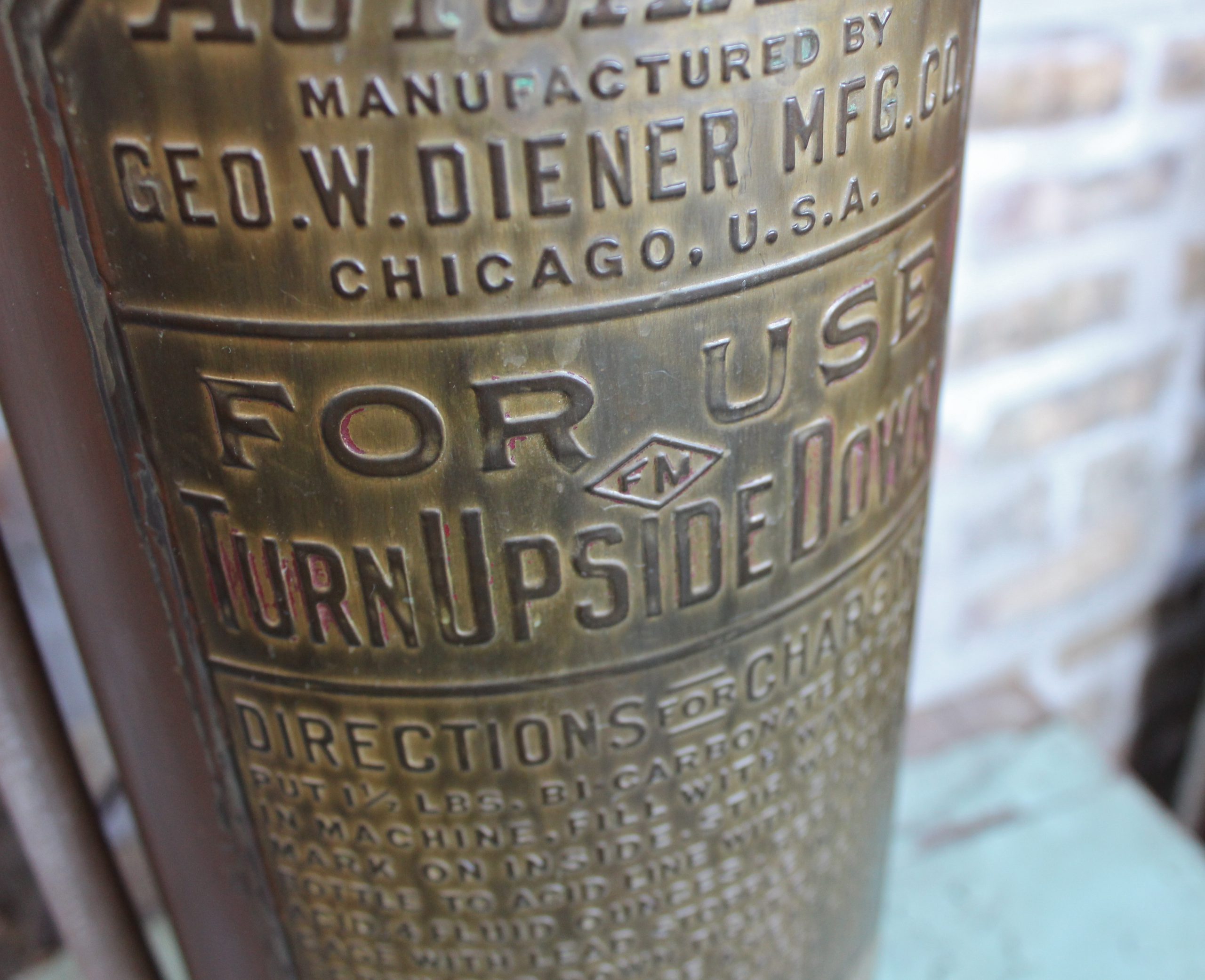 In any case, that whole necessity of turning a heavy, cumbersome copper tube upside down not only could prove challenging in a pinch, it also left the extinguisher susceptible to "accidental activation." That doesn't even mean randomly spraying fire repellent all over your house. It just means that if you turned the device on its side at any point—like, say, moving it from one room to another—if could inadvertently mix the water with the chemical solution. Once this happens, and the reaction concludes, the extinguisher essentially becomes a dud and will leave you feeling pretty helpless when an actual fire starts.
A Diener employee, Albert Waggoner, came up with a solution to this in the mid 1920s, patenting an indicator that would alert users as to whether the extinguisher were still activated. That indicator could be added on to existing extinguishers, extending their usefulness. While it doesn't look like our artifact had an indicator, we do know that it was in use and tested regularly all the way into the early 1970s! A sticker on the side of the cannister reveals it was tested by a company in Elmwood, Indiana, during that period. That's about 50 years of service as a fire extinguisher. Being a lamp ought to be a piece of cake.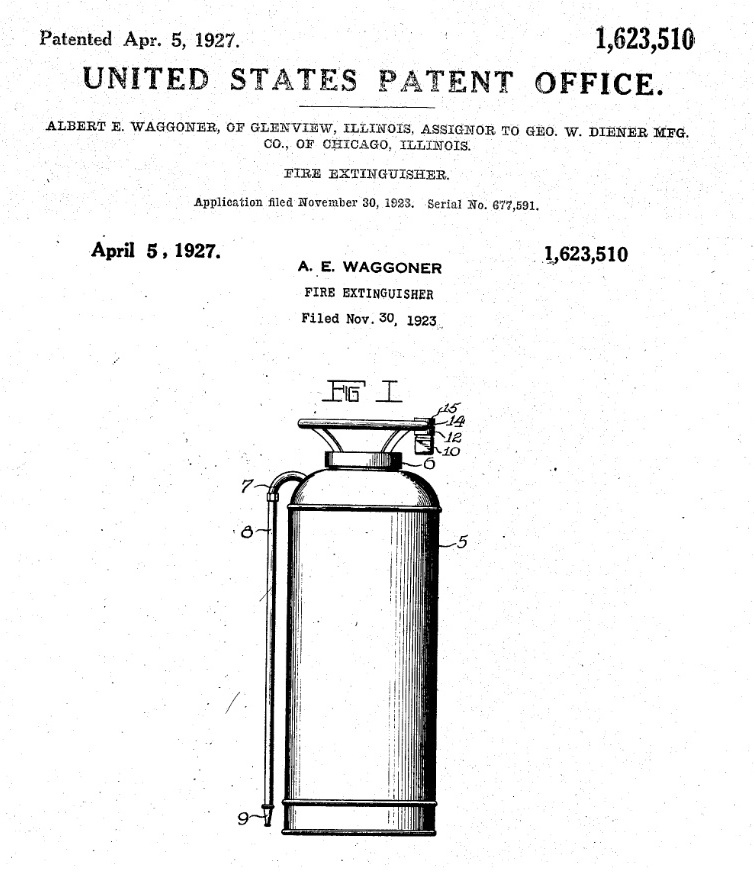 The Geo. W. Diener MFG Co. itself carried on at least into the 1940s, with George Sr. still at the helm. From there, the path of their eventual demise is hard to follow. There is also a confusing bit of Diener history in the 1930s, as a company called the Diener-Dugas Fire Extinguisher Corp. came into existence, putting out its own catalogs and even hosting fire-fighting exhibits at the Hall of Science during the 1933/34 Chicago World's Fair. This company, which still operated out of the Monticello Ave. address, appears to have been a merger between George Diener (who was secretary and treasurer), H.W. Diener (VP and presumably George's son?), and a gentleman named Lodias J. Dugas—who came from somewhere to serve as the Corporation's President.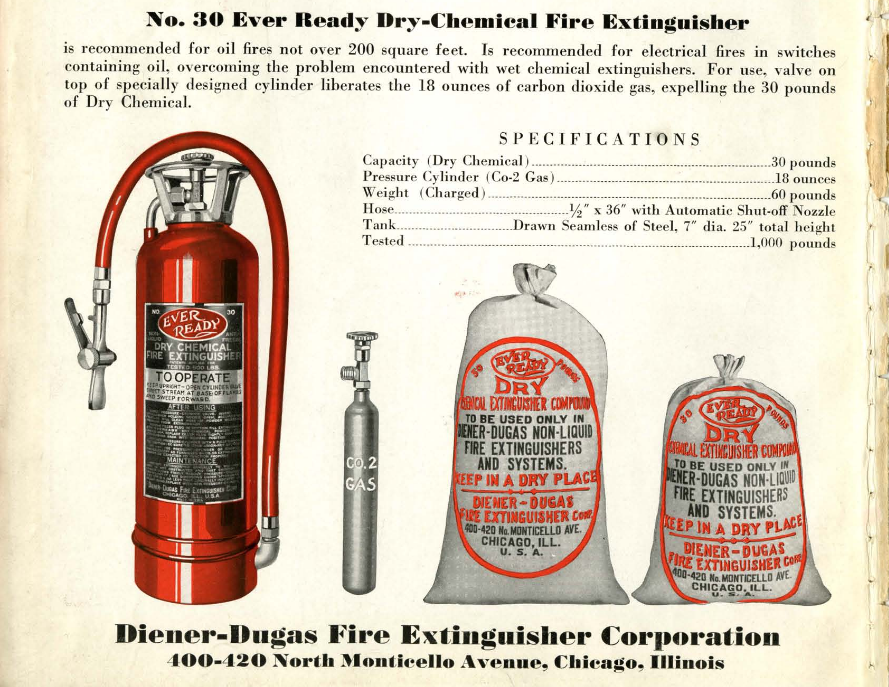 Some evidence indicates that Diener-Dugas and Geo W. Diener MFG Co. carried on simultaneously in some capacity, but believe it or not, there's not a ton of information out there about the complexities of the fire extinguisher business during the Great Depression. If you can shed any light on all this (pun intended, cuz our extinguisher is now a lamp), please feel free.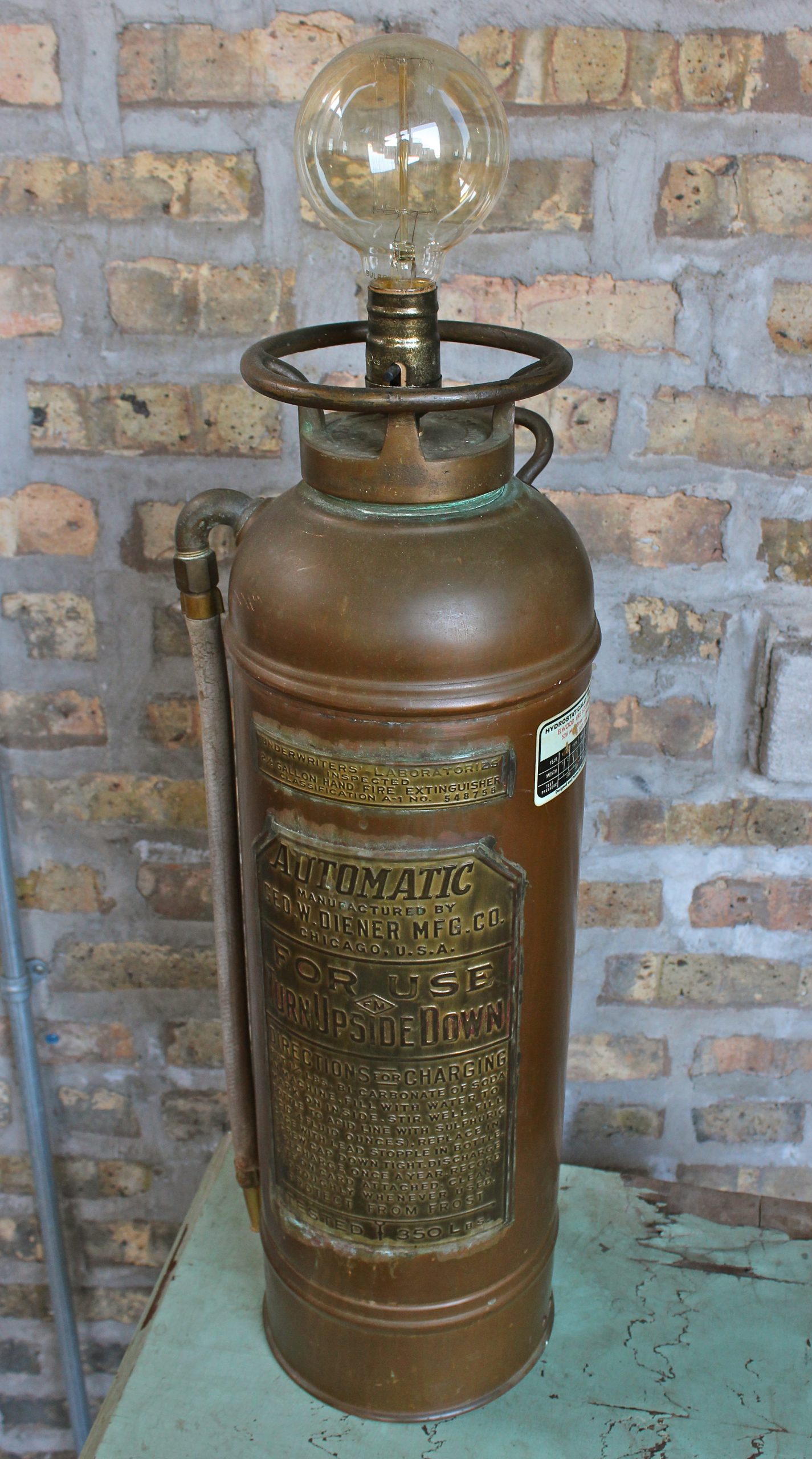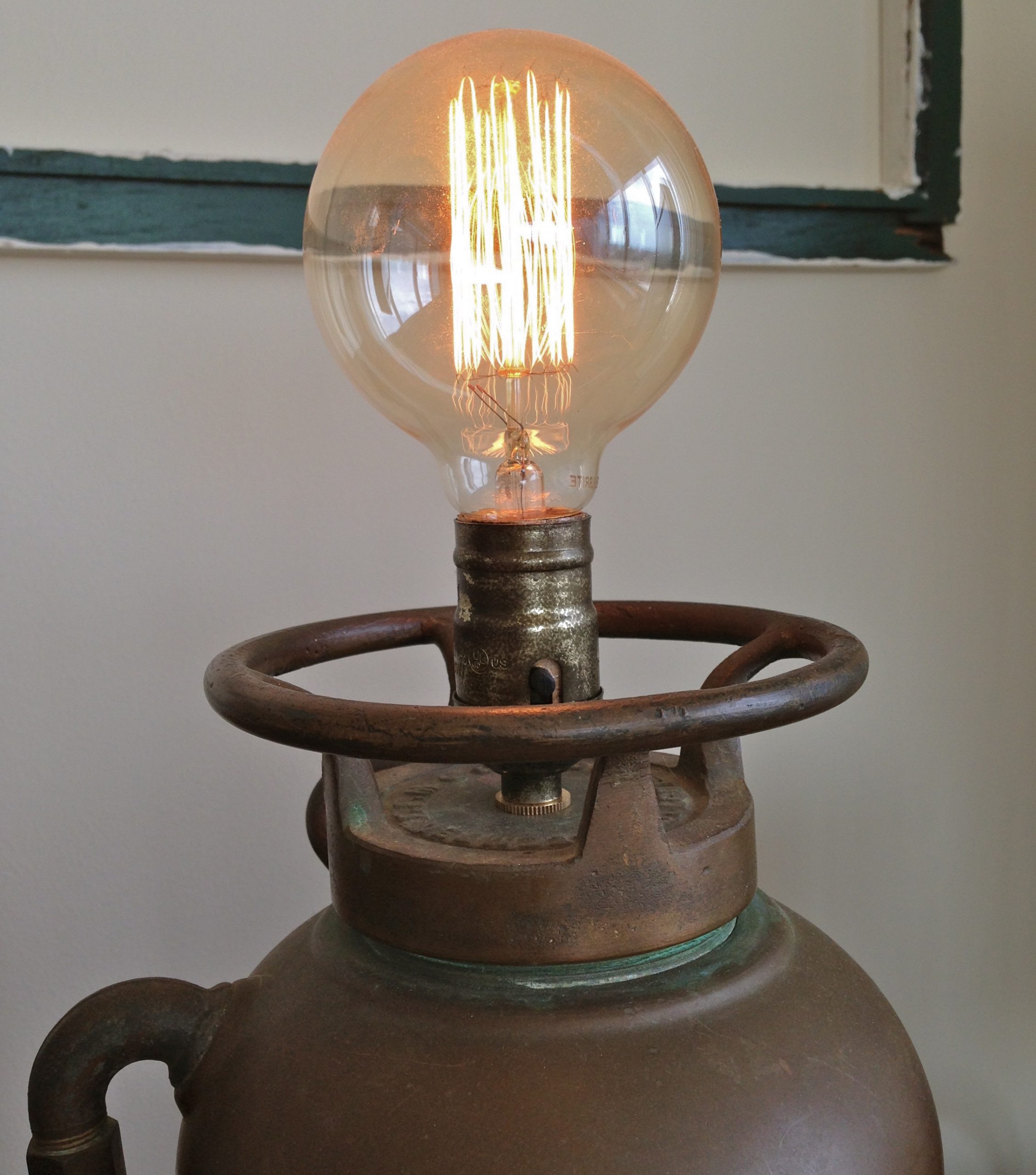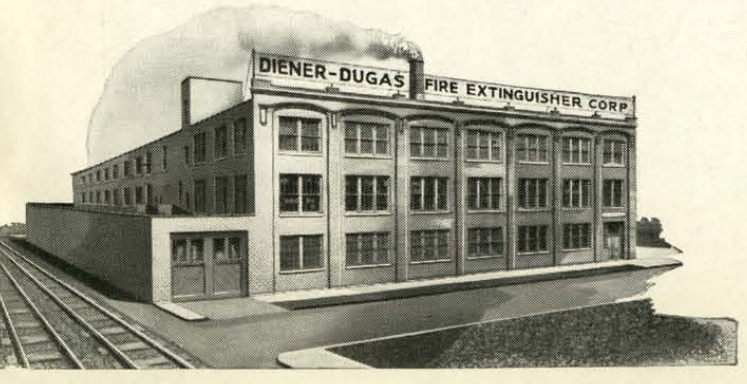 [400 N. Monticello Ave, then (above) and now (below)]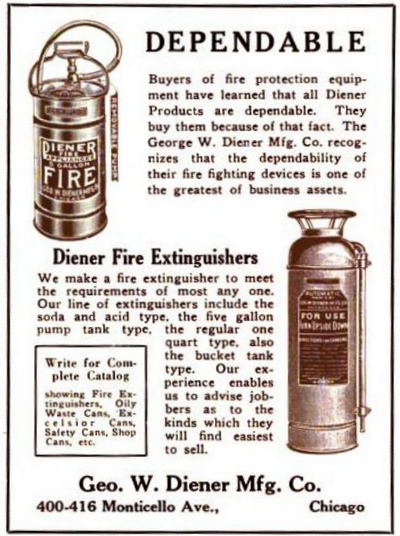 Archived Reader Comments:
"My Grandfather H.W. Diener was George's brother & Secretary/Bookkeeper at the business." —Susan Diener Eifert (Wisconsin), 2020
"I knew George Diener Jr. He would have laughed and enjoyed his fire extinguisher being used as a lamp. He was a joyful friendly person." —Nick B., 2019
"George Jr was my 2nd cousin, does he have any children?  Would love to get in touch!  I would love to hear from you!" —Susan Diener Eifert
"I have the number zero 34 torch kerosene oil can made by geo.w diener manufacturing company Chicaco.

All brass." —G. Jemison, 2017