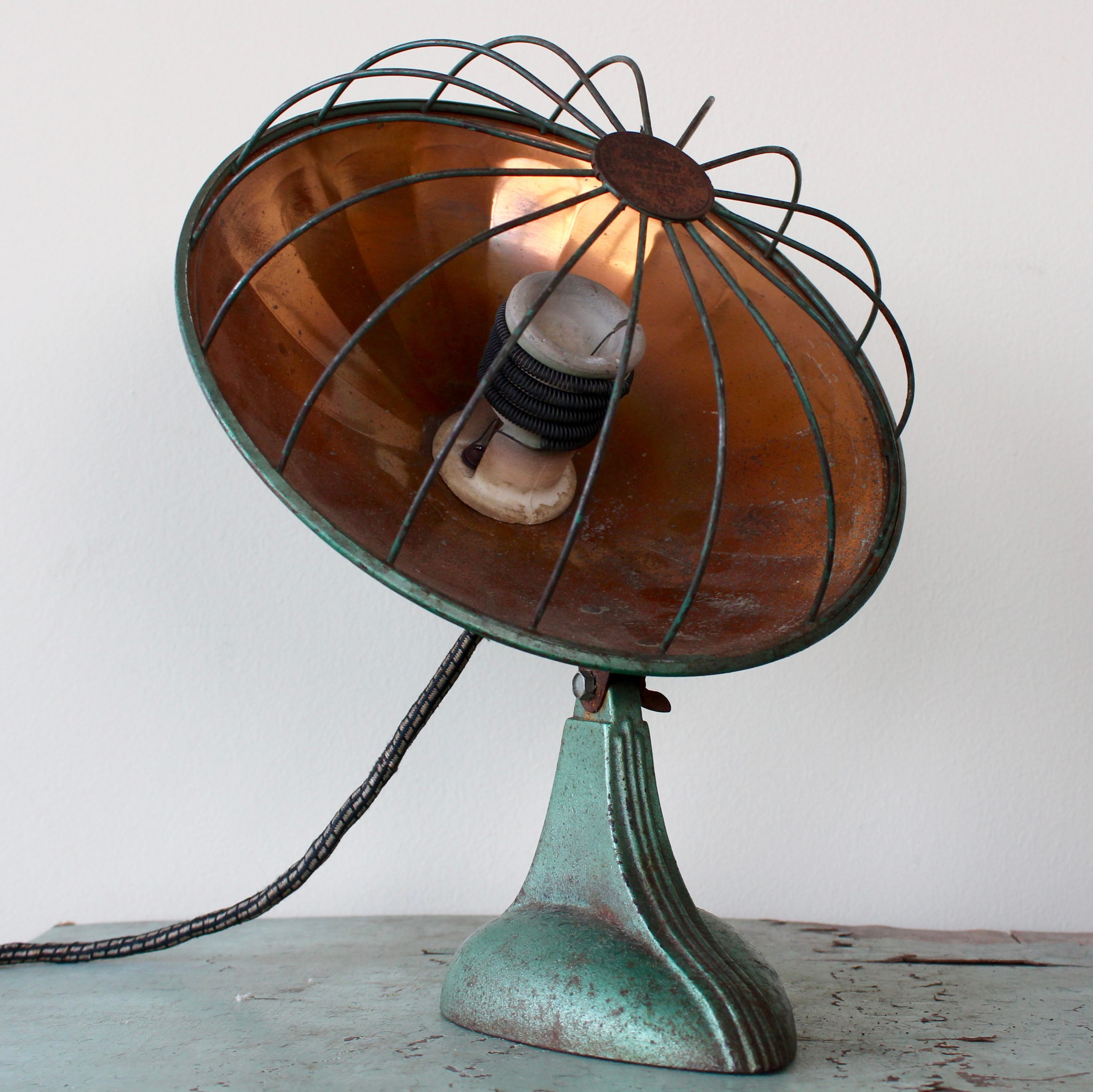 Chicago Electric MFG, Co., 6333 W. 65th Street., Chicago, IL [Bedford Park]
This impressive looking mid-century coil space heater is one of two items in our collection made by the Chicago Electric Manufacturing Company. You can read the full epic tale of Chicago Electric and its most famous president, Errett Lobban Cord, on our page for the heat lamp's summertime sister, the Sterling Desk Fan.
Read the Full Company History of the Chicago Electric MFG Co. Here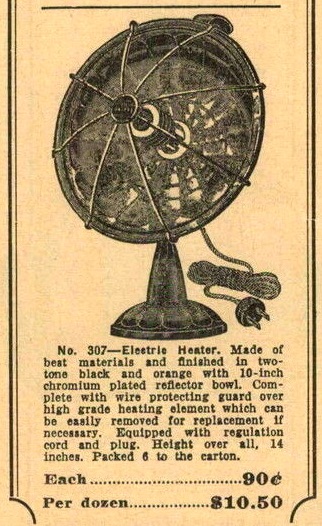 Sterling was a popular brand utilized by Chicago Electric in the '30s and '40s, although it never quite matched the success of the Handybreeze line, which survived even after Chicago Electric was purchased by the Silex Corp. in 1953. The advertisement shown here is one of Chicago Electric's Handybreeze Electric Heaters, as it appeared in a newspaper in 1938. That 90-cent price tag would be equivalent to about $16 today.
This space heater was designed with virtually the same green cast-iron base as the Sterling desk fan, and would have theoretically been swapped out with the fan when the weather shifted. These units were a must-have for 1940s offices where air conditioning didn't exist and radiators didn't always reach every corner of a room. The coil mechanism generates the heat when the unit is plugged in, and the copper reflector bowl amplifies that heat, creating a warm and toasty space for at least a 6 foot radius maybe.
The neck of the heater allows the user to angle it up and down, and the protective front cage keeps little kids from frying their paws on the coil. It's also removable for easy access for cleaning or replacing the coil.
Above all else, though, the Sterling Electric Heater is a photogenic space-age marvel from the pre-space-age. It looks like a gremlin's satellite dish or a doomsday laser device from Flash Gordon. And from an ant's perspective, who's to say it isn't?