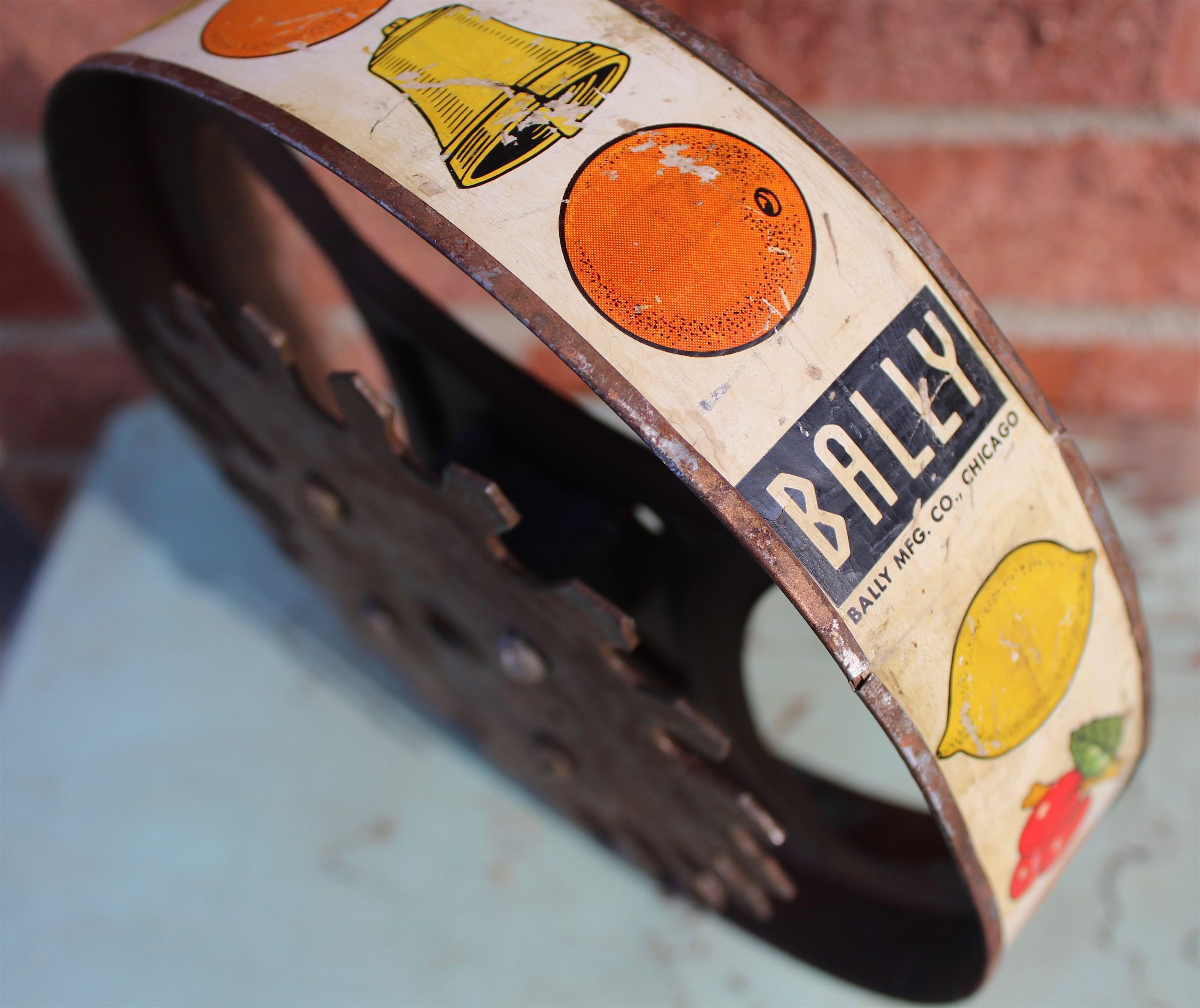 Museum Artifact: Bally Mechanical Slot Machine Reel, c. 1930s
Made By: Bally MFG Co., 2640 W. Belmont Ave., Chicago, IL [Avondale]
Bally is one of the most recognizable and yet seemingly untethered brand names in America. It's been associated—depending on your age and demographic—with arcade video games, casinos, rollercoaster theme parks, fitness club chains, and, starting in 2021, a stable of regional TV sports networks. The consistent thread, I suppose, is "amusements," and that can certainly be traced all the way to Bally's oft-forgotten Chicago roots as a maker of coin-operated games in the midst of the Great Depression.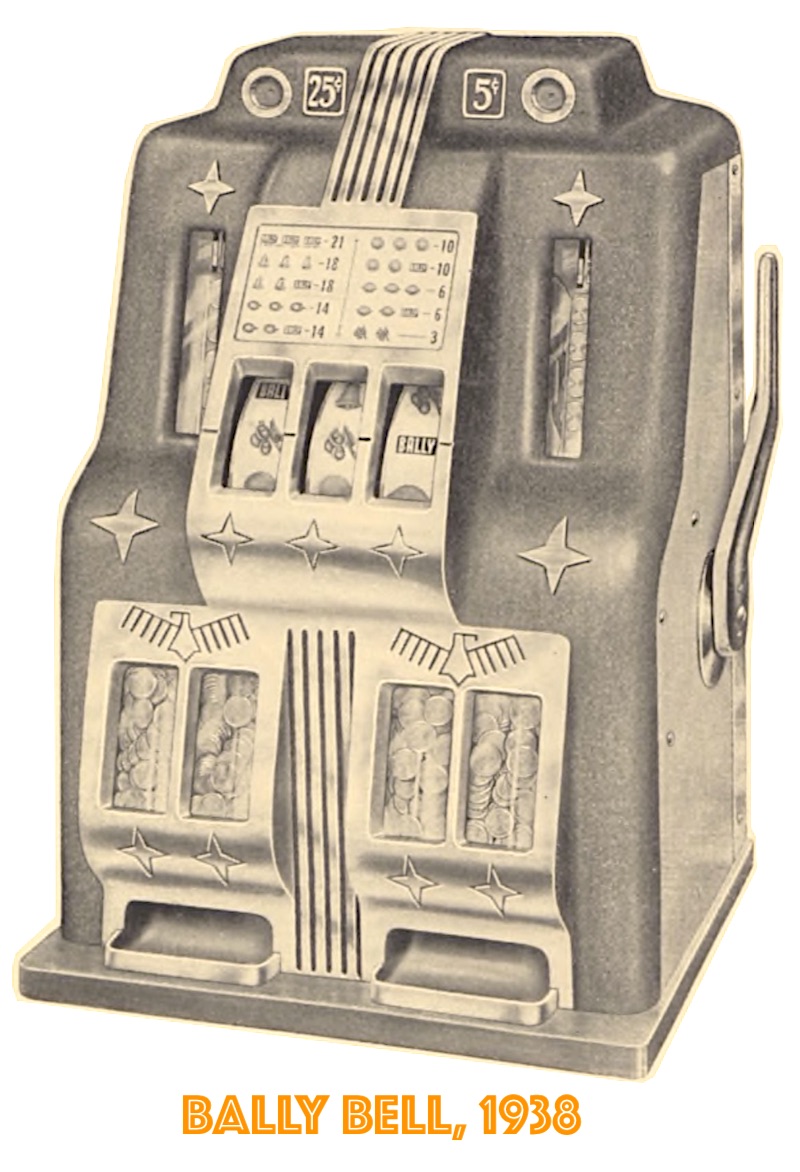 Though not necessarily thought of as a "gaming destination" a la Vegas or Atlantic City, Chicago was the undisputed hub of coin-op (and gambling related) manufacturing for much of the 20th century. Most of the biggest producers of pinball machines—including Gottlieb, Williams, and Stern—were Chicago-based, and before World War II, the same could be said of the slot machine industry, as the Watling MFG Co., Mills Novelty Co., and Jennings & Co. all operated here, along with future jukebox leaders Rockola and Seeburg. Bally—unlike all of its competitors just mentioned—wasn't named for its founder, nor does it have any connection to the Swiss fashion company of the same name (which actually was established by a guy called Carl Franz Bally). Instead, the BALLY entertainment brand we've known for nearly a century comes from a shortening of the word Ballyhoo—the name of the popular pinball game that launched the business in 1932.
The artifact in our museum collection likely dates back to the 1930s, as well, and would have been used in one of Bally's early slot machines (aka "bell consoles," "three-reelers," or "fruit machines"), such as the lovely Bally Bell pictured above. Even back then, there was no shortage of controversy when it came to the building, distribution, and management of gambling devices, and without question, Chicago's ever-lurking criminal underworld was always an arm's reach away from any so-called "one armed bandit." Still, Bally's founder Ray T. Moloney seemed genuinely intent on bringing the joys of modern gaming out of the shadows and into the mainstream, setting the tone for how we still think about testing our luck and distracting our minds in the 21st century.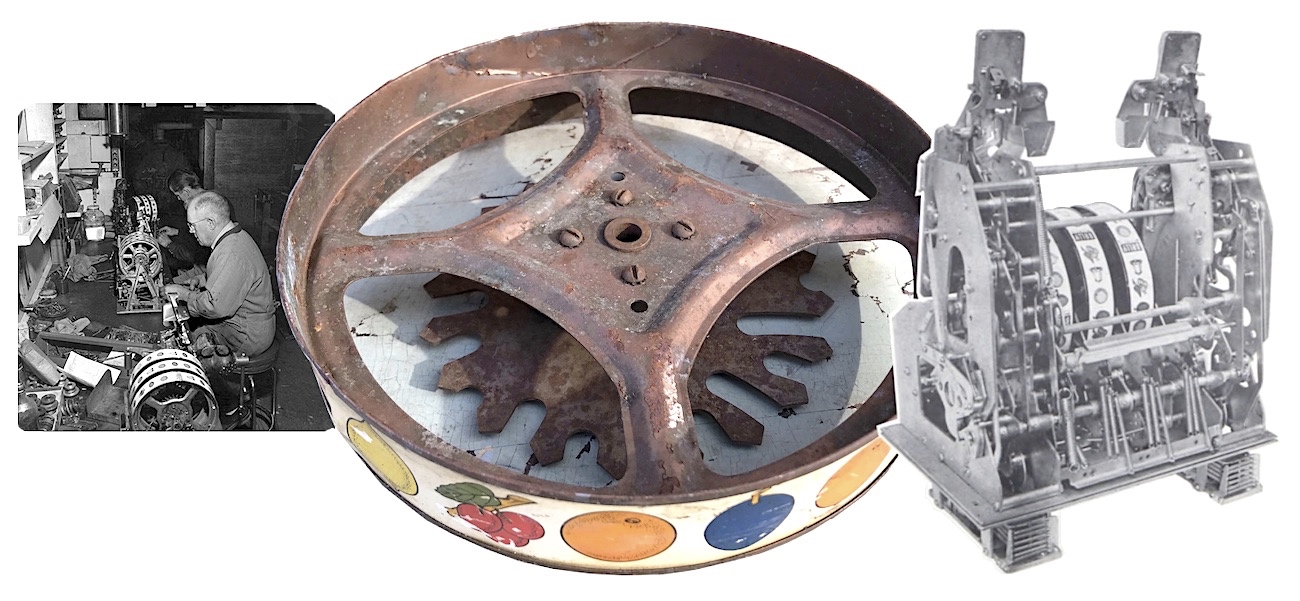 [The slot machine fruit reel from our collection would have been installed in one of Bally's early mechanical slot machines. The fruit symbols on the reel dated back to earlier trade stimulators which dispensed chewing gum (cash payouts being illegal). If a player matched three fruits when the reels stopped spinning, they'd win that flavor of gum. The fruit icons stayed even as slot machine prizes evolved.]
History of the Bally MFG Co., Part I: A Lion Awakens
"Meeting Ray Moloney for the first time, you feel the spirit of boyish friendliness that he radiates. Then before long, as you swap ideas with him, you discover that here is a born organizer of productive effort . . . a man who knows how to use his time to get things done." —Automatic Age magazine, September 1932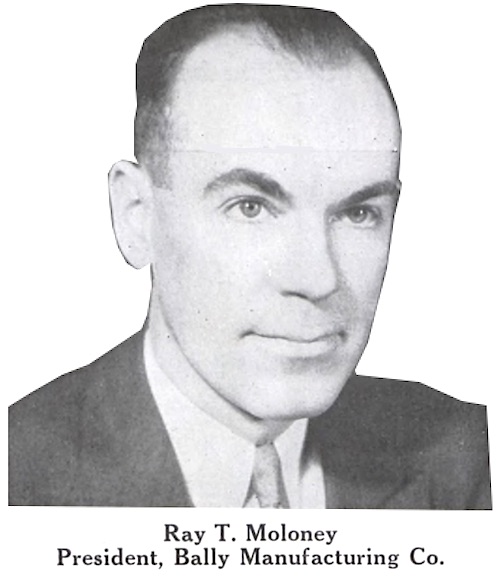 Raymond Thomas Moloney was born in Cleveland, Ohio, in 1899, the son of a steelworker. As a teen, he briefly worked in the mills himself before setting out on a sort of hero's journey across the new American motor age, finding employment in the "oil fields of Texas and Oklahoma; the harvest fields of the West; and the sugar refineries of the South," according to one 1934 feature in Automatic Age, ". . . until at last, while still in his early twenties, he found himself in Chicago."
A practical jokester with an amiable Irish charm, Ray made friends with ease, and it helped him plot his course. After just a couple years working for the Joseph P. Linehan Printing Company, his bosses liked the cut of his jib enough to put him in charge of two new subsidiary businesses. The first—launched in 1922—was the Lion Manufacturing Company, which focused on producing "punch boards," the low-budget trade-stimulators that were basically the unregulated scratch-off lottery tickets of their era. Three years later, the Midwest Novelty Company was established to distribute all of the prizes or "premiums" associated with the punch board business—usually little things like pocket knives and wallets. By the end of the decade, Midwest Novelty had also become a distributor for some bigger-ticket items, including gaming machines—thus introducing Ray Moloney to the wider world of coin-operated entertainment.
At the outset of the 1930s, both Lion and Midwest Novelty were still occupying relatively small offices in the Lineham printing plant at 308 W. Erie Street, but Moloney saw great opportunity on the horizon, despite what the deepening economic depression might have suggested. With Americans out of work and not even legally permitted to drink away their troubles, a new gaming industry was rapidly filling the void, offering welcome distractions in all shapes and sizes.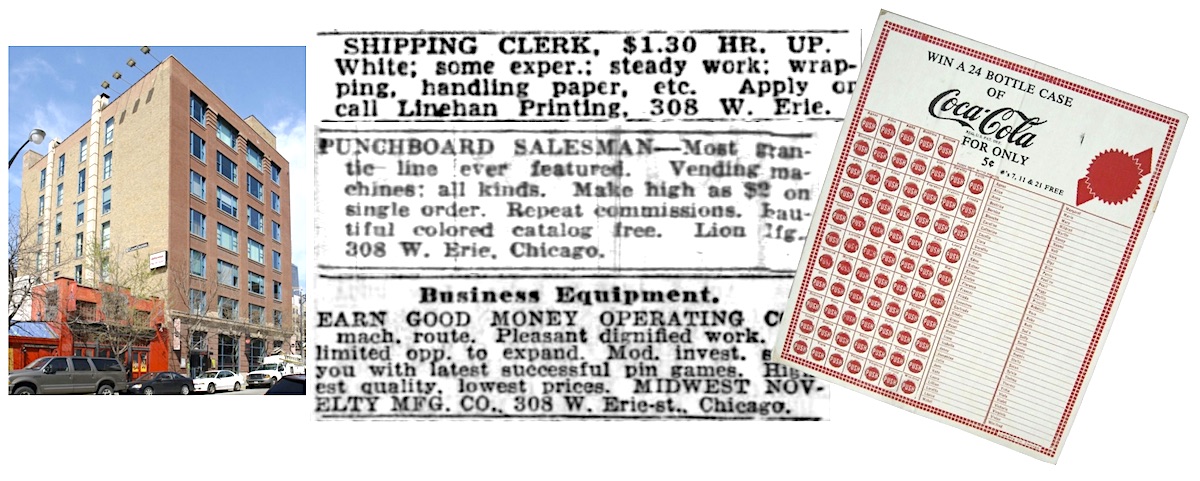 [Left: 308 W. Erie Street, former home of Bally, Lion MFG, Midwest Novelty, and Linehan Printing. Center: Classified ads for three of those entities. Right: A punchboard produced by Lion]
Ray was particularly intrigued by an extremely popular new bagatelle-style tabletop game called "Baffle Ball," which Midwest Novelty started distributing in 1931. Created and manufactured by Chicago's D. Gottlieb & Company, Baffle Ball was played on a flat board with sporadically placed pins and round cups of varying point values. The player would fire a marble onto the board, via a plunger, and hope to get it to land successfully in one of the cups. At the time, the word "pinball" wasn't even a part of common parlance yet, and this game used no electricity, let alone flippers, bumpers, and bells. Nonetheless, the public was already enamored with the concept and more than willing to pay a penny for seven shots at a big score. Those coins, in turn, added up fast, appeasing any shop owner who installed the game in his establishment.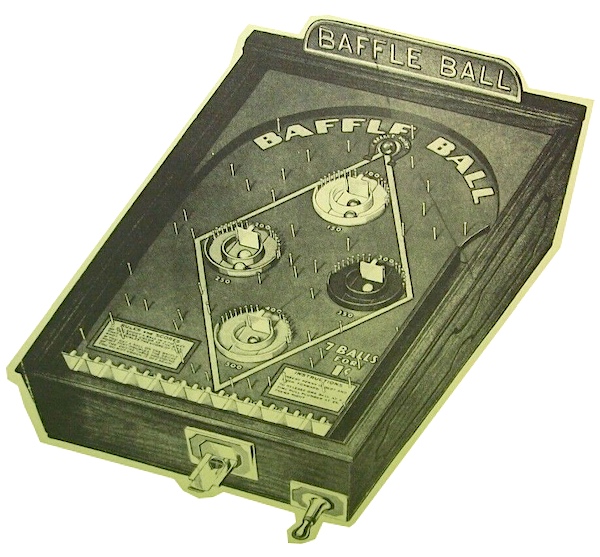 In a matter of weeks, demand for Baffle Ball had grown far beyond what the small factory of Gottlieb & Co. could handle, leaving Ray Moloney and other distributors unable to fill all their orders. The next step, for an ambitious 31 year-old, was all too obvious.
Ray's son Don Moloney—who was born just months after the events described—would later say that his father came up with the idea for his own flat pinball game and promptly built it himself. The more likely narrative seems to be that Ray got the idea to undercut Baffle Ball, and went out in search of viable designs for doing so, eventually paying royalties to a couple fellas named Oliver Van Tuyl and Oscar Bloom to manufacture their similar pin game. If not always an idea-man himself, Moloney was a very enthusiastic recipient and assessor of other people's ideas, which might be no less valuable a trait.
Ray's zeal was also advantageously contagious, enabling him to convince his Lion business partners—Joe Linehan and Charlie Weldt—to fund his new project with a massive cash investment. The printing men had no experience in coin-op game manufacturing, but they agreed to give it a go, seeing the effort more as a short-term gamble on a fad, rather than an exciting new frontier for their business.
The only thing missing from Van Tuyl and Bloom's game design, Moloney had determined, was some sex appeal—the type of eye-catching colorful artwork that had been vital to Lion's punch board sales. As the story goes, Ray solved this dilemma when he randomly walked past a newsstand and caught sight of an issue of the popular new men's humor magazine, Ballyhoo. Once again, he was inspired to "borrow" an existing idea, swiping not only the magazine's name for his first pinball game, but the distinctive proto-Playboy style of its cover art, as well [it seems likely that some sort of financial agreement was ultimately reached with the magazine's publishers].

And so Ballyhoo, the game, made its debut in January of 1932, and another new subsidiary business, shortsightedly called the Bally Manufacturing Company, was established to produce it. Again, wasting no time and displaying no shame, Moloney booked a Bally + Ballyhoo coming-out party at the 1932 Coin Machine Expo in Chicago, and soon had the 10,000 attendees singing along with him to his new promotional jingle:
"What will they do in '32?
Play Ballyhoo!
Rainbow colors catch the eye,
Profits climb right to the sky!
Bally-Hoo's the game for you!"
Briefcase sized at 31" x 16" and relatively affordable to operators at about $16.50 per machine ($315 after inflation), Ballyhoo also quickly roped in the general public with its looks, ease of play, and cheap investment: 7 balls for a penny. Orders quickly outpaced Baffle Ball, and the effervescent Ray Moloney had a hit on his hands. His far greater achievement, though, was somehow being fully prepared for what that actually meant.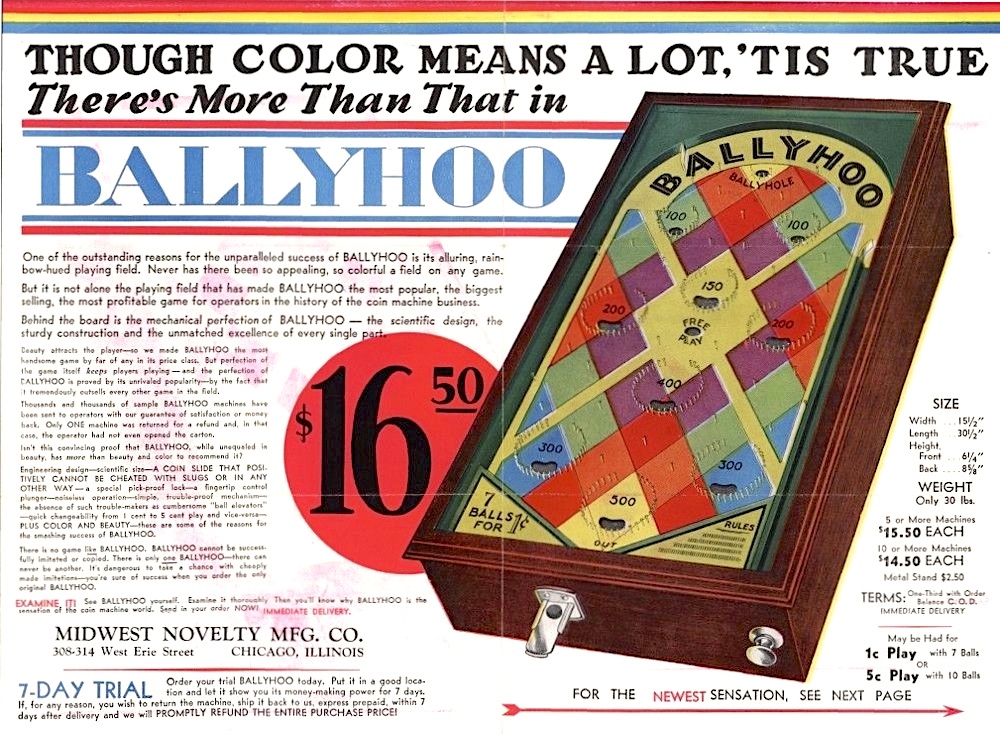 II. Bally Go Boom
"Right now, hundreds of thousands of men, women, boys and girls are playing BALLYHOO—and the popularity of this sensational new machine is only just beginning. BALLYHOO became a smashing success almost overnight. It is destined to be the most amazingly popular game ever introduced. That's why we say: What'll they do through '32? Play BALLYHOO!" —Bally advertisement, 1932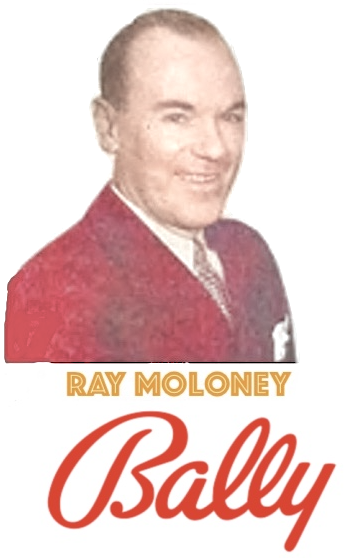 The Ballyhoo pinball game sold over 50,000 units in its first seven months on the market, which would put a production strain on a well established coin-op manufacturer, let alone a brand new one. And yet, the fledgling Bally MFG Co. handled its warp-speed rise to the top of the industry with improbable preparedness and finesse, well represented by its soon-to-be iconic cursive logo.
"My father had beautiful handwriting," Don Moloney later said. "Everyone learned the Palmer method back then—so he just wrote the name. That's been the logo ever since."
Even grizzled coin-op veterans couldn't help but be impressed by Bally's swaggering debut, and the trade magazines routinely lavished praise on the upstart organization.
"Within a few month's time," Automatic Age noted, "and during the most acute period of business distress the world has yet known, a new leader has forged boldly to the front in the field of coin-operated amusement devices. That leader's growth has been rapid. Its success has been one of the sensations of 1932. Yet there is nothing mysterious or baffling about this record of achievement."
Once Ray Moloney made the decision to go all-in on Ballyhoo, he recruited a new team of similarly minded go-getters to be his cohorts in the venture, including fellow Irishmen James M. Buckley (sales manager) and Patrick Millette (production manager), as well as advertising managers Alfred E. Fox and Herb Jones. While most of these men were no older than Moloney, they had well established connections and reputations in the coin-op universe, and a keen understanding of how to get a game built, sold, and distributed.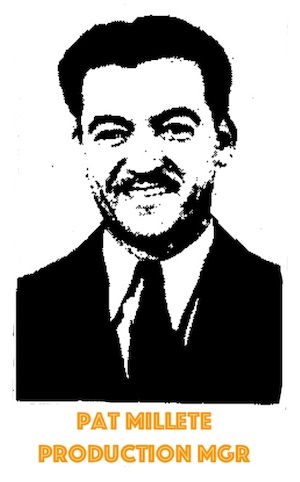 On the practical side, Pat Millette (1896-1954) knew how to run a major manufacturing operation, having served as factory superintendent for Chicago's Grigsby-Grunow Company when it was churning out 3,000 of its famed Majestic Radios each day. Putting that experience to use, he laid out a viable plan for Bally's production efforts, starting by reconfiguring the Erie Street plant to house up to 1,000 dedicated workers and all the tools, machinery, and materials needed to build Ballyhoo en masse. A large percentage of the assembly line workers were young women, many of whom were entering the workforce out of economic necessity, and all of whom could be paid less to do the same work as their male counterparts.
"While mass production methods are utilized to their fullest wherever these are best," Automatic Age reported at time, "there are several processes painstakingly performed by hand. Every one of the brass nails in the playing board of a Bally board is driven into its exact place by hand. No magnet hammers are used, for the reason that the location of the nails and their straightness on the board influence the playing of the game."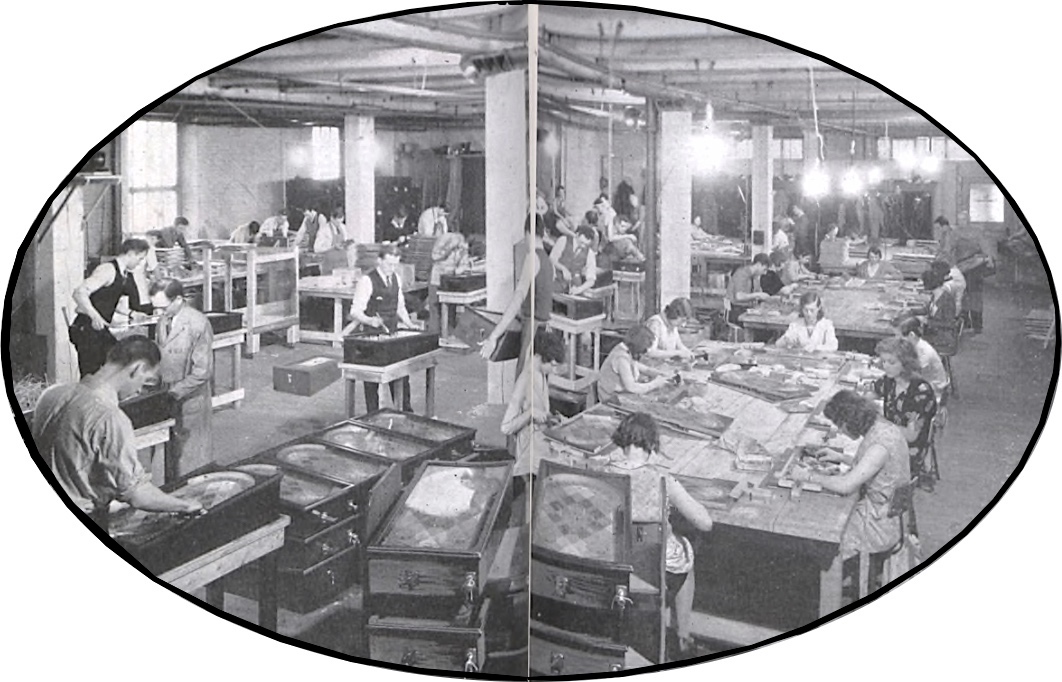 [Workers assembling Ballyhoo at the Lion/Bally plant at 308 W. Erie Street, 1932]
With the games built up to the needed quality and quantity, it was time for sales guru James Buckley (1897-1947) to shine.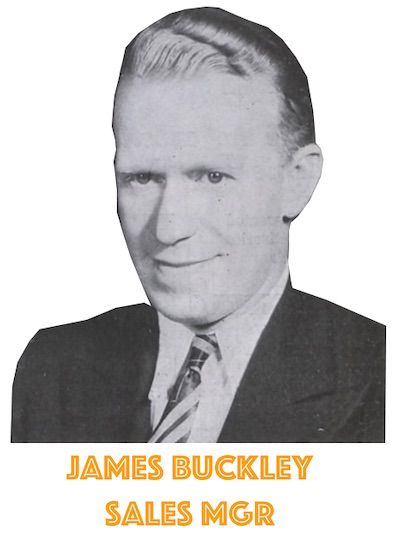 Described by Billboard magazine as a "wavy haired young man of artistic appearance," Buckley perhaps eclipsed even Ray Moloney when it came to showmanship, exemplified by a performance at the Chicago Coin-Op Show in which he theatrically bashed the marbles from the Ballyhoo game with a hammer to show how resilient they were. "Jim," as jobbers around the country knew him, was able to sign up a vast network of distributors in record time, setting up Ballyhoo for almost inevitable success.
The final member of the so-called "Four Horsemen" of Bally was the ad manager—starting with Alfred Fox, but quickly followed in the spring of 1932 by Herbert B. Jones, a former newspaper man who took to coin-op copywriting like a duck to water. With the powers of the Linehan printing presses at his disposal, Jones was able to curate a quick mythology around each new Bally product, exemplified by his description of the Ballyhoo follow-up game, Goofy, as a "blaze of color; an orgy of thrills."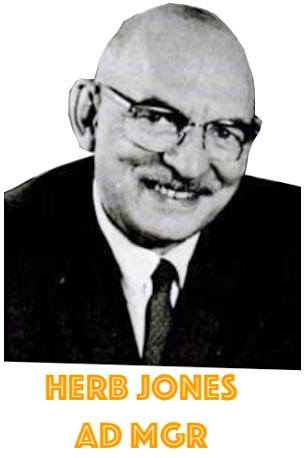 "The truth of the matter," the oft-quotable Jones told reporters after a few years on the job, "is that the American people, who found so much comfort in coin operated machines during the past few dismal years, have learned to love the whimsical gadgets of our industry so much that no amount of prosperity can wean them away from the pleasure released by pushing a coin chute."
Famed humorist Will Rogers came to a similar conclusion after attending one of the big Chicago coin machine trade shows. "It's replaced golf, bridge, Kelly pool and the New York Stock Exchange for exercise and gambling," he said. "We will win the next war in a walk if they let us shoot marbles at 'em."
Indeed, any ideas of pinball and other slot machine games being part of a short lived "fad" were extinguished in Ballyhoo's wake, as Ray Moloney wisely stepped on the gas pedal rather than coasting on his first big win. Along with buying out Linehan and Weldt's shares in the Lion MFG Co., he made an aggressive push to build up a fleet of new Bally games—some designed in-house, others purchased as part of the company's open-door policy.
"Some of our most successful games have been developed from the crudest kind of models," Moloney said in 1933, having already rolled out a series of new best-sellers, including Goofy, Screwy, 3-Ring Circus, Bosco, Crusader, Blue Ribbon, Airway, and Rocket. "Judging from the letters we receive, many people are almost bashful about submitting ideas. They seem to feel that they are asking us a favor to have us consider their ideas. Every idea naturally needs development and thorough testing, but you can never tell when a crudely drawn sketch will have the germ of a knockout game. For this reason, every idea submitted to us is studied, not only by myself but by at least three other members of the organization. If any of us sees merit in the idea, it is turned over to the development department. And, if we later put the machine on the market, the man who sent in the idea gets a royalty on every machine sold."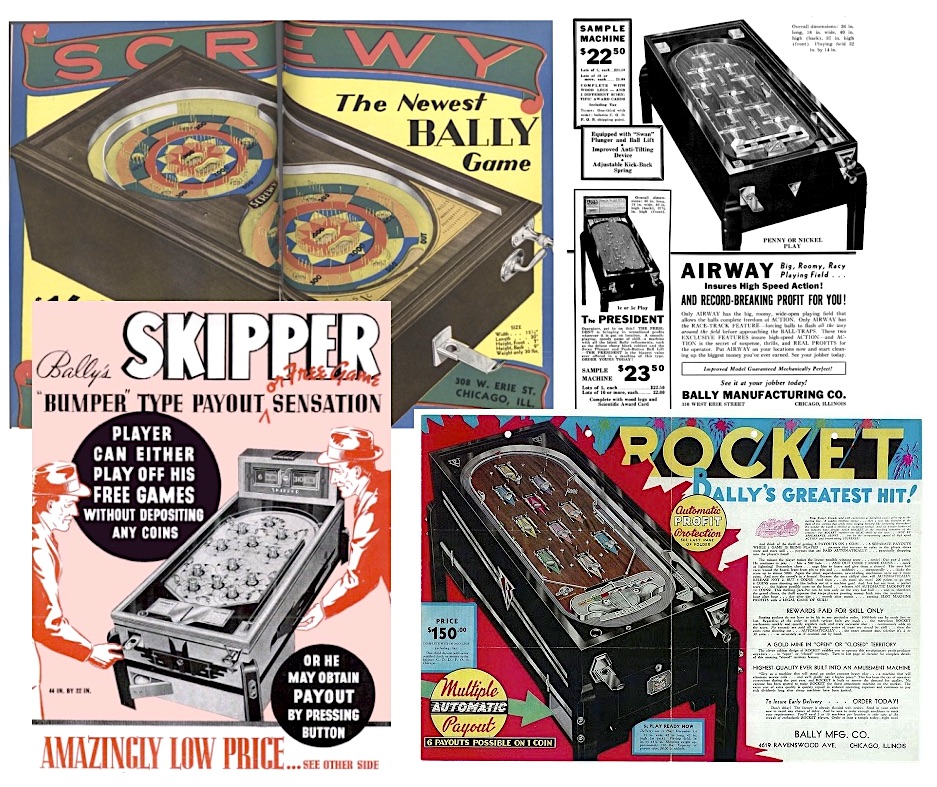 Moloney acknowledged that Bally lost a hefty sum paying out royalties, but the investment certainly seemed to be well worth it, as the company became associated with many of the most important gaming innovations of the era, including the first ball-trap feature (Airway), the first progressive scoring format (Monarch), the first automatic payout pin-game (Rocket), the first over-sized table (Jumbo), and the first spring bumper design (Bumper).
With dozens of games in development by the end of Bally's first year of existence, the Erie Street plant was already pushed beyond capacity. And so, by December of 1933, an additional three-story, 50,000 sq. ft. factory was put into operation at 4619 N. Ravenswood Avenue. Remarkably, this didn't solve the problem either, and by 1935, the third and largest of the Bally plants opened at 2640 W. Belmont Avenue, giving the organization over 125,000 total square feet of space across three Chicago facilities—not to mention a growing network of regional warehouses around the country.

"Today we are again forced to expand in order to satisfy the overwhelming demand for our new line of machines," Ray Moloney said ahead of the Belmont Avenue plant's opening.
Notably, Ray recruited his own father, Daniel "D. J." Moloney—the former Cleveland steel worker—to come out of retirement and organize the "small army" required to move machines and materials into the new building. "It's all in a day's work," D. J. said after the successful migration. "If there are any medals to be passed out, hand them to the boys who stood by on this job."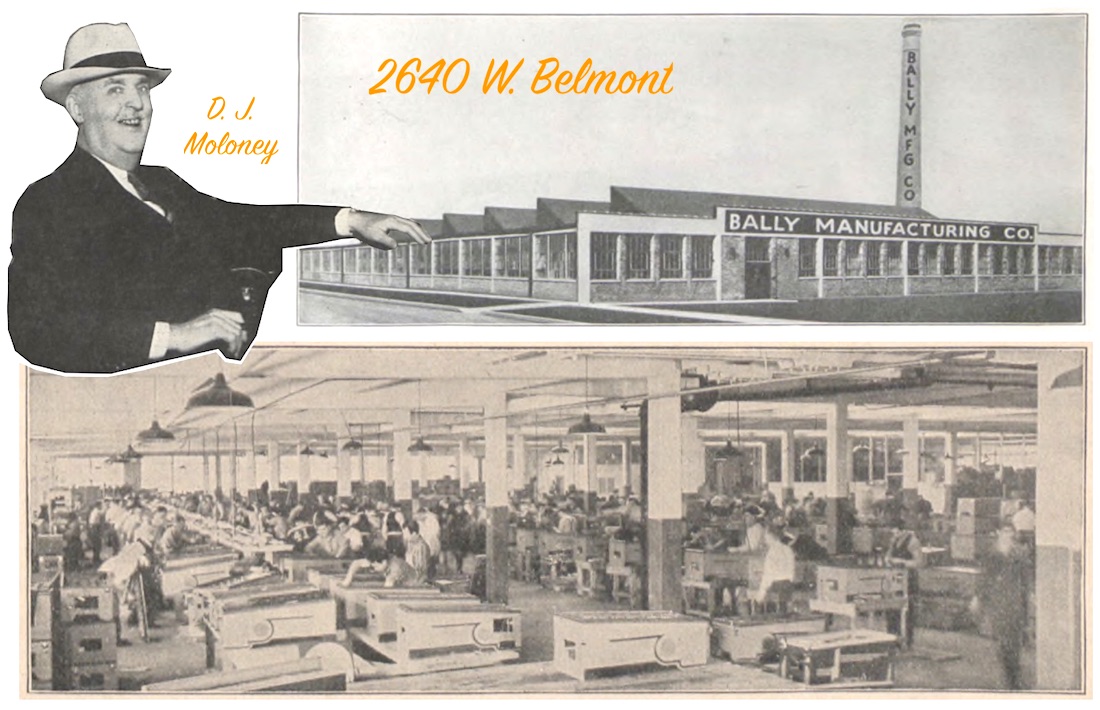 [A look outside and inside Bally's Belmont Avenue plant in 1935. The building would remain in use by the company until the early 1980s. It has since been demolished.]
III. "Unethical Operators"
In 1937, still just five years into Bally's existence, Ray Moloney was toasted by 500 leading coin-op industry representatives at a surprise Chicago banquet in his honor. There, Lee S. Jones of the American Sales Corporation proclaimed that "No one man has done as much to promote prosperity in the coin machine industry or so richly deserves the gratitude of everyone in the industry as Ray Moloney."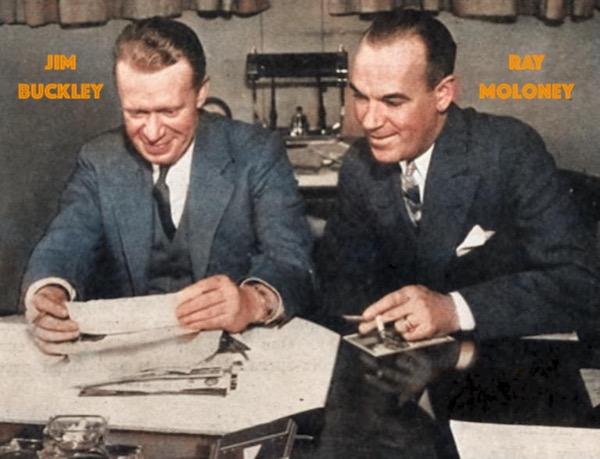 That same year, the Bally workforce had rounded out to 500 men and women, each of whom received a welcome 10% pay raise, announced by Moloney on Thanksgiving Day.
"Bally's busy!" he told a reporter, claiming to be in the midst of the company's best year yet. "We keep the factory going by offering a hit game for every type of amusement operation, from counter to console class, and everything in between."
Moloney had a team of eleven engineers on staff, tasked with completing another exciting, marketable game design nearly every other month in order to keep up with the other 20-odd coin-op manufacturers in Chicago alone. The "everything in between" strategy also included an awful lot of games that relied more on chance than skill, including—arguably—the pinball machines themselves, which still didn't have controllable flippers, and thus didn't necessarily favor a steadier hand.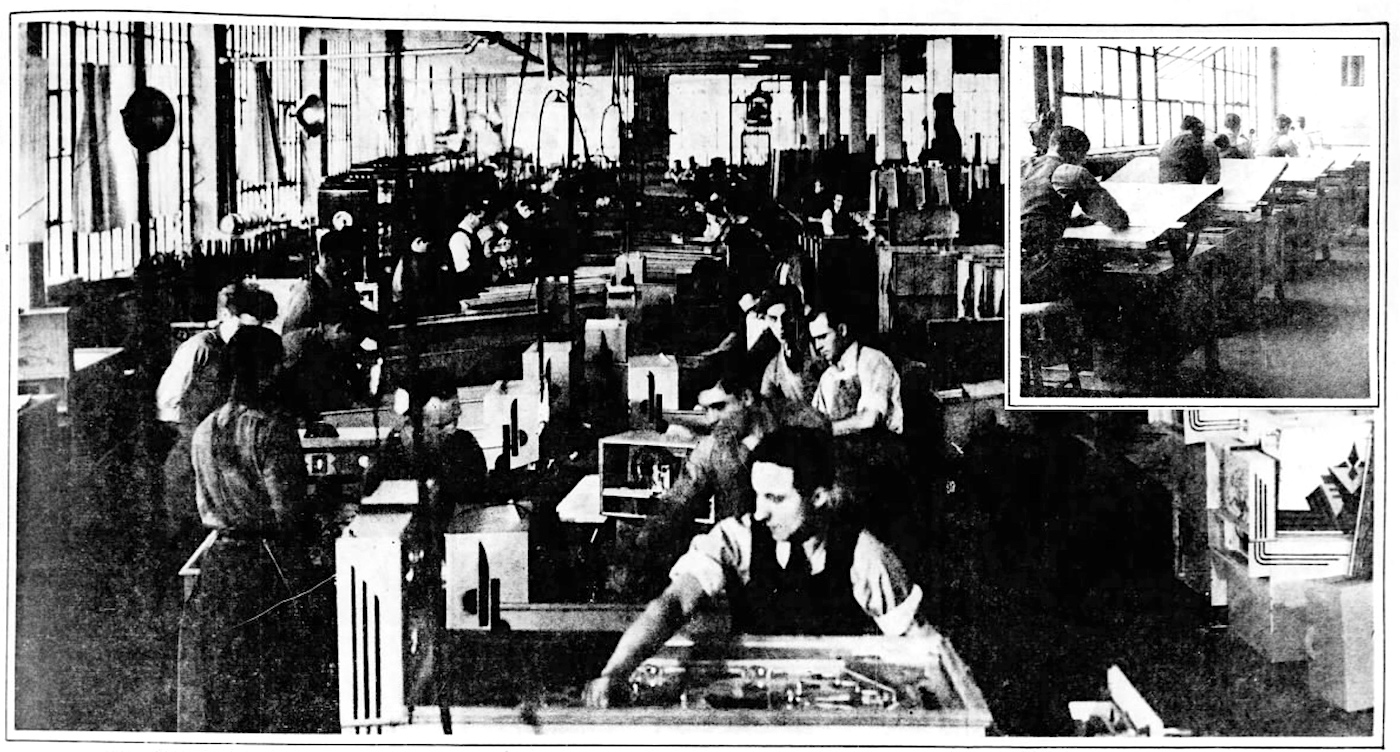 [Main image: Bally pinball assembly line, 1937. Upper right corner: Engineering department]
While game operators, politicians, and police increasingly debated the merits and legality of pinball, some of Bally's more popular new offerings landed far more blatantly into the "gambling game" category, particularly its new reel-based bell consoles—what we'd now generally refer to as slot machines.
Early Bally slots, like the "Bally Bell" and its upright cousin the "Bally Reserve Bell," utilized the familiar spinning fruit reels like the type in our museum collection. Operating these machines with actual cash payouts was illegal in most places outside of Las Vegas, however—and even slot machines that dispensed gum, cigarettes, or other prizes to winners were still widely frowned upon for their well-known connections to illegal gambling rings and the underworld.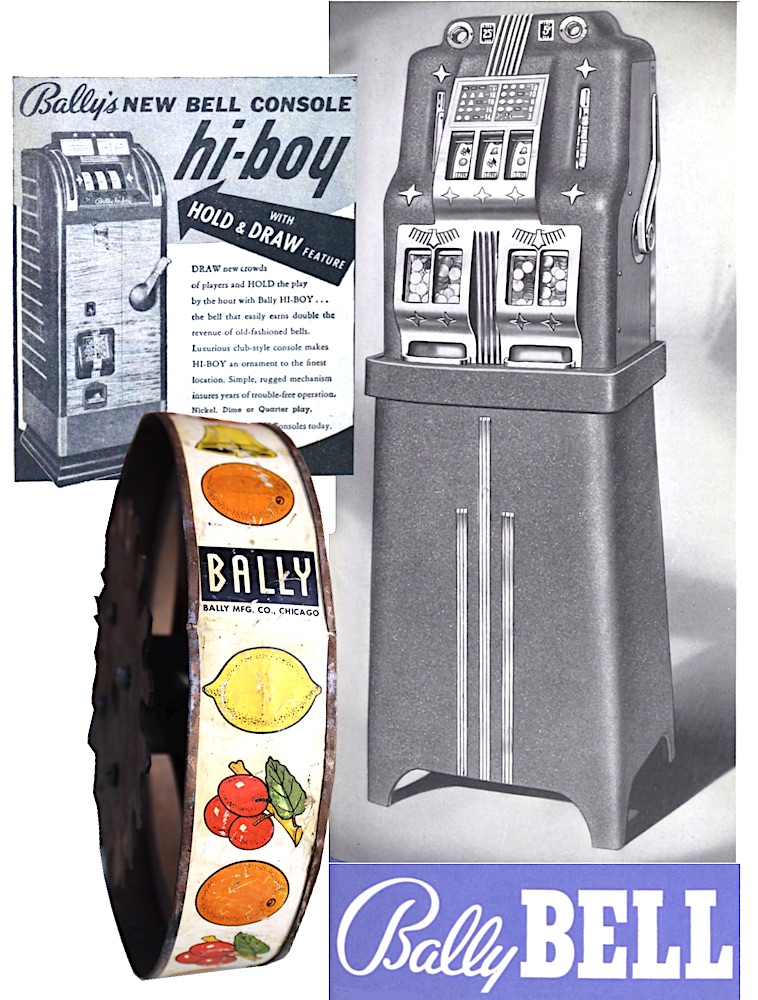 Ray Moloney was fully aware of this unsavory association, and heard no shortage of complaints from Bally customers who'd had their games confiscated by the cops as part of nationwide crackdowns. Slot machines were far too profitable to abandon—particularly with brand new Vegas casinos as prime clients—but Bally did make some efforts to appeal more to the law-fearing crowd, including ventures into beverage dispenser machines and "music selectors," i.e. jukeboxes.
There were some more family-friendly games put on the market, too, such as 1938's "Bally Baskets," which Ray Moloney described as a "one-hundred percent, simon-pure legal game with no ifs or buts about it. In fact," he added, sounding more than a little bit defensive, "it is absolutely impossible to devise any kind of award system to apply to the game. That means that the operator who opens up his territory with Bally Baskets will be able to keep it open, as no unethical operator can come along and spoil the situation by offering prizes."
It was easy to blame "bad operators" for exploiting Bally products, but in Chicago, there was only so much suspension of disbelief one could manage when it came to separating a gambling machine manufacturer from the mobsters who ran the gambling rings.
"I know the Mafia tried [to get involved]," Ray's son Don Moloney later recalled, "but my father was very cautious."
Cautious or not, the Bally MFG Company was implicated in 1941—along with Mills and several other Chicago manufacturers—for selling carloads of slots machines directly to one of the city's most notorious gambling syndicates, led by longtime Al Capone crony Jack "Greasy Thumb" Guzik. America's entrance into World War II largely helped bury that story just a few days later, but Ray Moloney still took the step of employing a former Secret Service agent, Tom Callaghan, as a personal aide in the years that followed.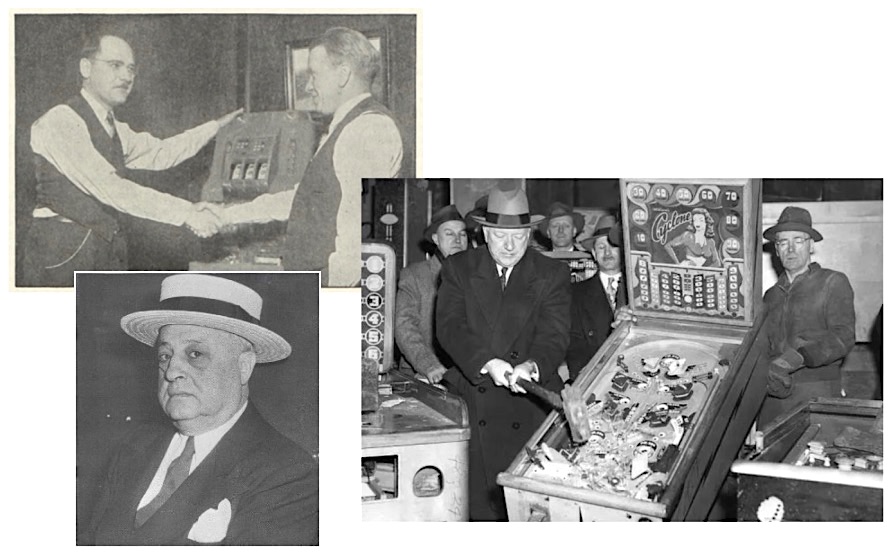 [Top Left: Bert Perkins, assistant sales manager, greets Jim Buckley next to a Bally Bell slot machine, 1939. Bottom Left: Jack Guzik (aka Jake), head of the 'Big 4' gambling syndicate and a big buyer of Bally slots. Right: New York City police commissioner Willam P. O'Brien smashes a pinball machine in a raid in Brooklyn]
IV. "Giving the Axis the Ax"
"Excuse me for living has too often appeared as the motto of the coin machine industry," Bally ad man Herb Jones wrote in September of 1941, "a motto which, while never expressed in written or spoken works, has been implied by the apologetic manner in which we have discussed our industry with the public. . . . Let's tell our story straight. Our industry exists because the hard-working, hard-playing American public eagerly buys our product—welcomes the relaxation, the release from worry, the low-cost amusement we create and sell. Let's forget the economic double talk and concentrate on selling what we really have to sell—America's greatest, most democratic, nationwide, continuous-performance show!"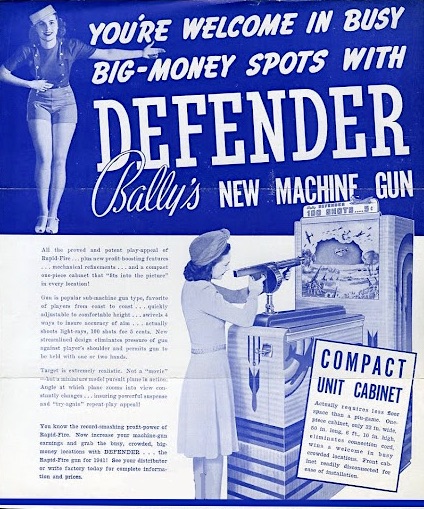 With war on the horizon, Jones further noted that "pinball games, too, are among the items Americans are getting ready to defend. . . . The men whose blood and stubborn wills gave life and liberty to America—they also put their okay on the frills and fancyworks. You know what they wrote and signed on that midsummer day 165 years ago. 'Life, liberty and . . . the pursuit of happiness."
Herb Jones, as Bally's chief wordsmith, was doing his best to re-frame coin machines as a patriotic part of American life, rather than a growing symbol of post-Prohibition crime and excess. In the end, the manufacturing demands of World War II helped his propaganda campaign more than any long-winded ad copy could.
Bally had already taken on some government contracts for the Allied cause before Pearl Harbor, and by January of 1942—a month after the U.S. officially entered the war—Ray Moloney announced more defense contracting on the way, but also a firm commitment to keep making gaming machines. "Plans are being rushed to convert additional Bally production lines to Uncle Sam's big job of giving the Axis the Ax," he said. "Along with our war work and consistent with our industrial duty, we will, of course, continue to serve the American operators—who, in turn are serving America by providing the convenient, low-cost recreation so vital to morale."
Moloney might have been resistant to shift 100% of his factory strength to defense contracts at first, but by 1943, that's exactly what had happened—and it actually proved more profitable and beneficial to Bally's reputation than he might have expected, beginning with the government-aided expansion of the Belmont Avenue plant to 125,000 square feet.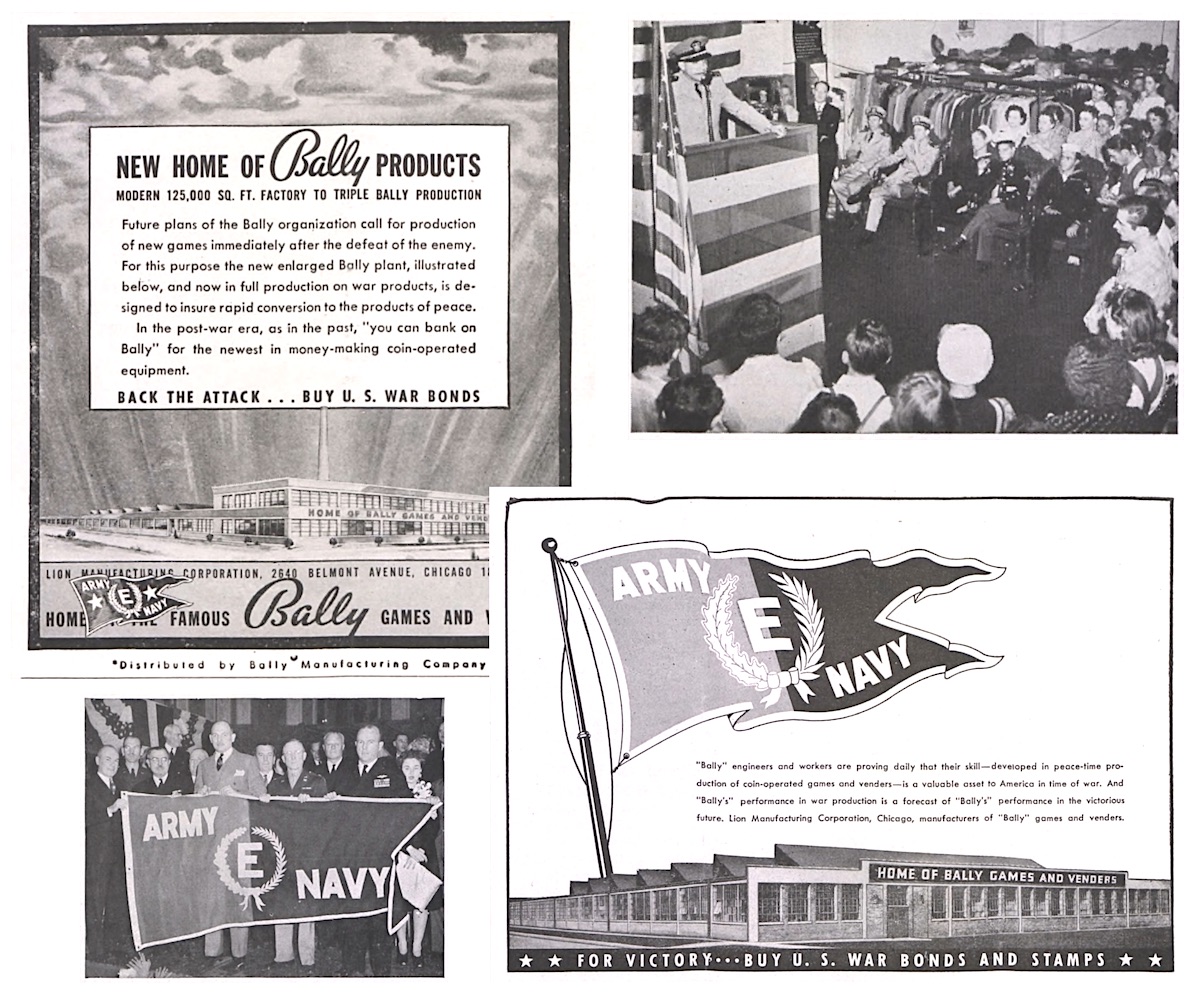 [Bally expanded its plant and earned an "E" Flag for its war production, thanks to the efforts of Ray Moloney, his brother George Moloney (production), Herb Jones (advertising), Bert Jenkins (sales), Ralph Nicholson (personnel), Roy Guilfoyle (VP and controller), Don Hooker (chief electrical engineer), Herm Selden and Nick Nelson (development engineers), Ed Berkley (superintendent), Jerry Girardin (chief inspector), Hugh Harries (supervisor of materials), and W. C. Billheimer (purchasing agent), among many others]
Keeping things in the family once more, Ray put his younger brother George Moloney in charge of much of the war production effort, while on the promotional end, Herb Jones called on the public to "Buy U.S. War Bonds!"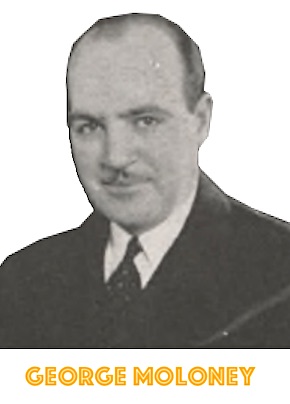 As a credit to the considerable contributions that Lion MFG / Bally made to the fight, they were bestowed with an Army-Navy "E" Flag award in 1943, presented at a ceremony in Chicago that October. George Moloney was ill at the time and couldn't attend—days later, he died from surgery complications at the age of just 36.
"[George] Moloney's death is particularly tragic," Billboard reported, "coming at a time when he should have been wearing the laurels of official recognition for his part in the war effort. . . . Chiefly to him belongs credit for the rapid conversion of the Bally from civilian to war production."
V. Succession
Losing his brother was just one of many difficult blows a still young Ray Moloney faced at the height of his success, having already lost his father three years prior. There were hardships of a business sort, too, as a fast return to civilian production after WWII was hampered by another major military conflict, the Korean War, along with a new federal law which made it illegal to ship slot machines and other gambling-associated games across state lines.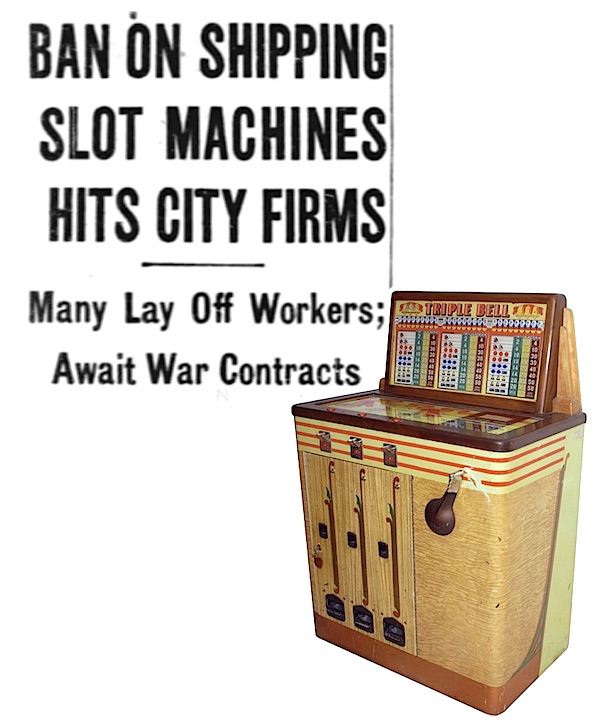 Since Nevada was the lone state with legalized gambling—and the destination for a large percentage of post-war Bally slots—this was bad news enough. The fact that pinball games were deemed to fall within the same category was worse yet. While crime-ridden cities like Chicago and New York had already banned pinball years earlier, a national prohibition seemed to spell doom for the type of amusement that had birthed Bally in the first place.
"All the major slot machine manufacturers had been in Chicago until that time," Ray's son Don Moloney explained in a 1996 interview. "And then all of them except Bally moved to Nevada. But my father felt he didn't want to eliminate 500 jobs in Chicago . . . so he started concentrating on arcade games and the kiddie rides."
In the 1950s, Bally gradually re-emerged with a new line-up of cuddlier offerings, from arcade bowling, billiard, and shooter games to the coin-operated kiddie rides that enticed visitors outside of five-and-dime stores, candy shops, and groceries.
In a 2007 interview, Ray Moloney's nephew Earle Moloney Jr. recalled visiting his uncle's factory as a kid and getting to try out the new games before they hit the market.
"It was like having a swimming pool in your backyard," he said. "To be able to take all your buddies over to Bally and take them into the showroom and let them play all the new games made you a real popular guy."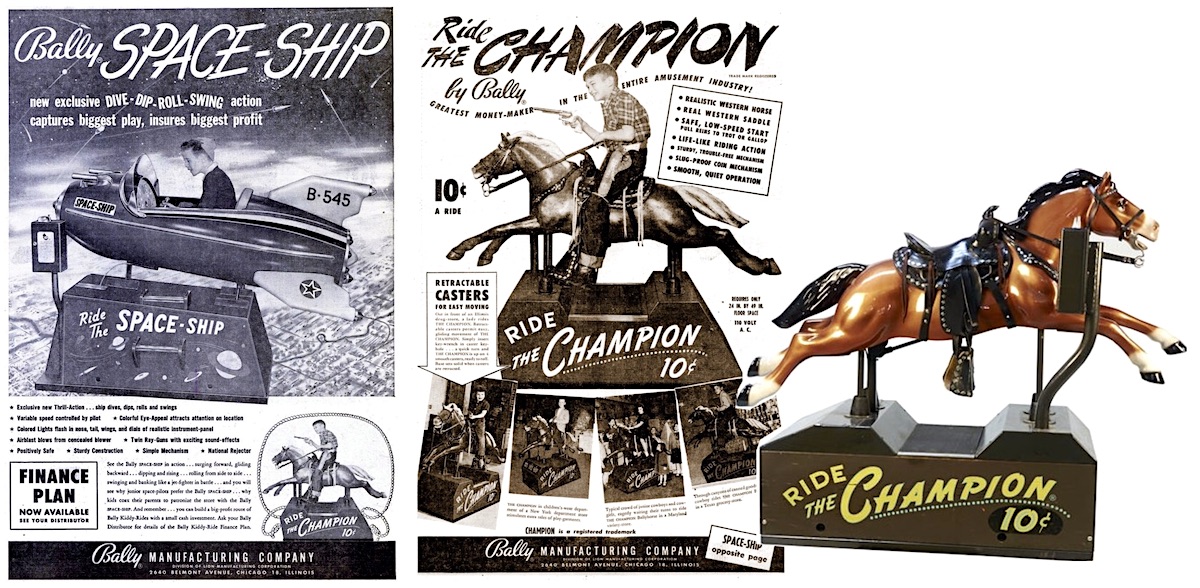 The good times, again, didn't last for long. Ray Moloney died in 1958, shy of his 60th birthday, leaving his wife Edna and sons Ray Jr. and Donald in charge of the family business. The parent company of that business, incidentally, was still the good old Lion Manufacturing Co. that Ray had formed back in the 1920s; only now it came with a whole hive of subsidiaries that all contributed to the gaming machine empire, including Bally, a separate Bally Vending Corporation, the Grand Woodworking Company, Como Manufacturing Co., Ravenswood Screw Machine Corp., Marlin Electric Co., and Comar Electric Co. (headed by Ray's brother Earle).
In theory, Ray Moloney would have taken comfort in his sons, both in their 30s, taking over where he'd left off, but according to one of those sons, that wasn't necessarily the case.
"He didn't want us at Bally," Don Moloney said in 1996. "We never understood why. It was very curious. When I was in high school, I would go over to the factory just out of curiosity, so I could understand the games. But he never wanted us in the business."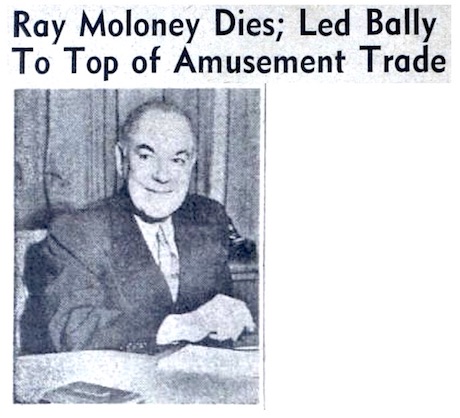 Once Don and Ray Jr. did take over, it was a very bumpy transition. While they succeeded in winning back the legal right to ship Chicago-made slot machines to Nevada, Don later claimed that there simply "wasn't enough money in the estate for us to continue once Uncle Sam got his share. So in 1964, we had to sell the company."
Upon the death of Ray Moloney in 1958, Tribune scribe Herb Lyon wrote, "The town will miss one of its sweetest, happiest guys—Ray Moloney, electronics manufacturer, who passed away at Columbus Memorial hospital. Ray lavished gifts and dough on obscure people, as he did the town with a never failing grin, bringing cheer to those who needed a lift." Another longtime friend of Ray's, Jack Sloan, wrote in Billboard: "Ray was of a school of dedicated men, dedicated to the proposition of providing low-cost amusement for the 'man-on-the-street,' the man who could not afford to patronize the race tracks, grand opera, My Fair Lady, etc. Among the now comparatively few hardy and enterprising manufacturers of amusement machines who have survived in this difficult industry, Ray had no peer."
VI. The New Irishmen
The Moloney era at Bally ended on a particularly sad note, as the sale of the business was quickly followed by the death of Ray Moloney, Jr., at the age of just 42. There was also some questions about the new investment group that acquired the business, led by longtime Bally employee William O'Donnell, and how it had scraped together $1.2 million out of the ether. Whispers of mafia entanglements returned.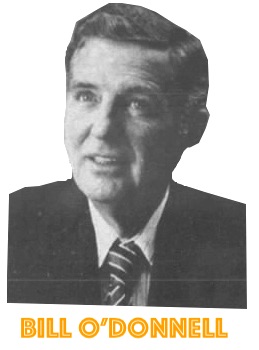 In the short term, though, there were few complaints about the O'Donnell regime in Chicago. According to a story published years later in the Tribune, once Bally introduced an electronic slot machine that could supposedly foil cheaters, "the company was able to dominate Las Vegas in short order; supplying all but 10 percent of the slots used in America's gambling capital."
O'Donnell dissolved the Lion MFG Co. and re-formed it as the Bally Manufacturing Corporation in 1969, with shares offered to the public for the first time. In the '70s, the upswing continued, as Bally purchased Chicago Midway Manufacturing, which was already pioneering a new era of arcade amusements with video games like Pac Man and Galaga.
Company president James J. Barrett guided the new video game craze much as Ray Moloney had decades earlier with Ballyhoo, and also established a new plant in suburban Bensenville to ramp up pinball manufacturing, now that many cities were finally loosening outdated bans on the machines (thanks in part to The Who's rock opera Tommy establishing the talent-based aspect of the game).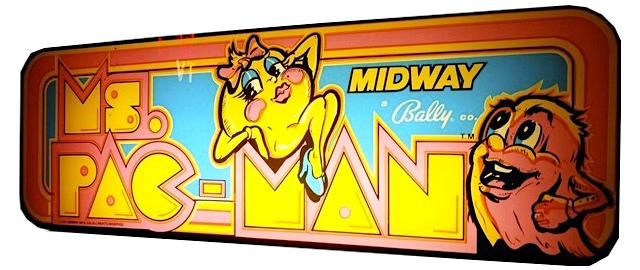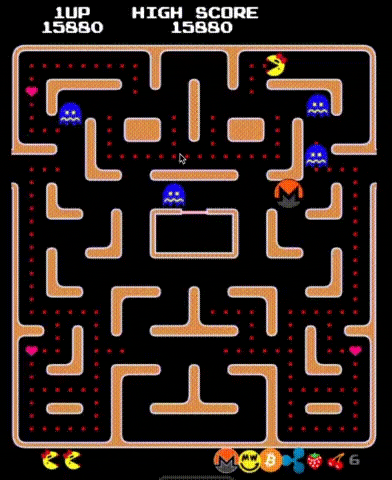 Unfortunately, when CEO Bill O'Donnell made his first move to establish a Bally-exclusive casino in New Jersey, he left the rapidly growing company vulnerable to a level of scrutiny that might best have been avoided.
The New Jersey Casino Control Commission started digging around, and soon followed the breadcrumbs between some of Bill O'Donnell's key investors and organized crime, including New York mobster Gerardo Catena. The Commission responded with an ultimatum: Bally could have its casino if O'Donnell left the company, which he reluctantly did.
Depending on who you ask, then, Bill O'Donnell either transformed Bally into the diversified corporation it is today, or he recklessly nearly killed it entirely. His successor, yet another Irishman named Robert Mullane, made some immediate big moves of his own, acquiring the popular Six Flags chain of theme parks and a fitness club business called the Health & Tennis Corp. of America, which paved the way for the Bally Total Fitness chain of health clubs (Mullane was notoriously a chainsmoker himself, but correctly saw good money in the fitness sector). He also helped get Bally into the state lottery racket; the government-sanctioned formed of gambling that congressmen never seem to crack down on.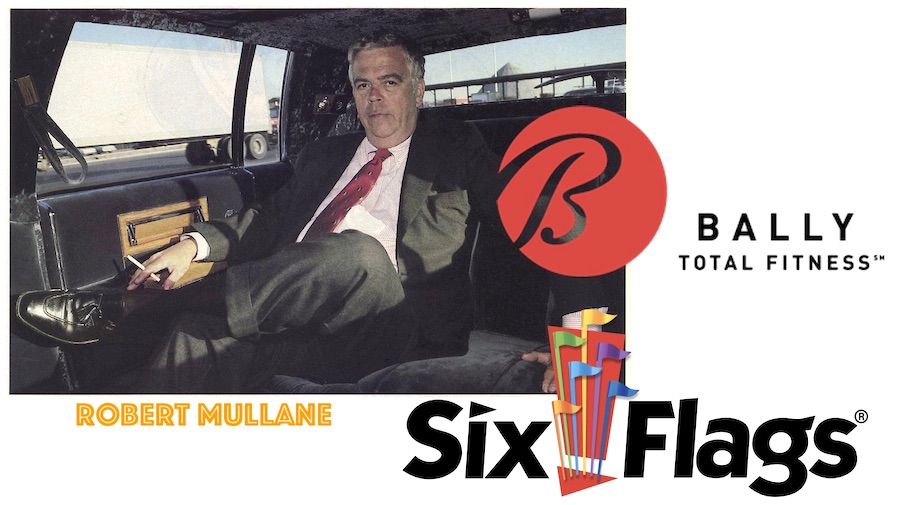 On the down side, Mullane did miss the boat on a few critical things, including the video poker phenomenon, despite having the concept laid at his doorstep at its inception. Distracted by theme parks and fitness centers, Bally was straying from its roots to the point that it sometimes let golden opportunities fall straight between its flippers. The company also ceded most of its game manufacturing to its Midway division, and left the Belmont Avenue plant behind after 50 years, moving the corporate headquarters to a high-rise near O'Hare Aiport at 8700 W. Bryn Mawr Avenue.
VII. Bally vs. Trump, and the End of an Era
In 1985, with Bally seemingly getting in over its head in the casino business, one of its stockholders—a silver-spoon real estate developer named Donald Trump—threatened a hostile takeover. Trump already owned two casinos in Atlantic City, and wanted to add Bally's Park Place Hotel to his collection. Robert Mullane responded by not only suing Trump, but outfoxing him. Since New Jersey regulations prohibited anyone from owning more than three casinos, Bally quickly purchased a second one, the Golden Nugget. The reason? If Trump tried his takeover, he'd now be in possession of four casinos in total, rendering the move illegal under state law.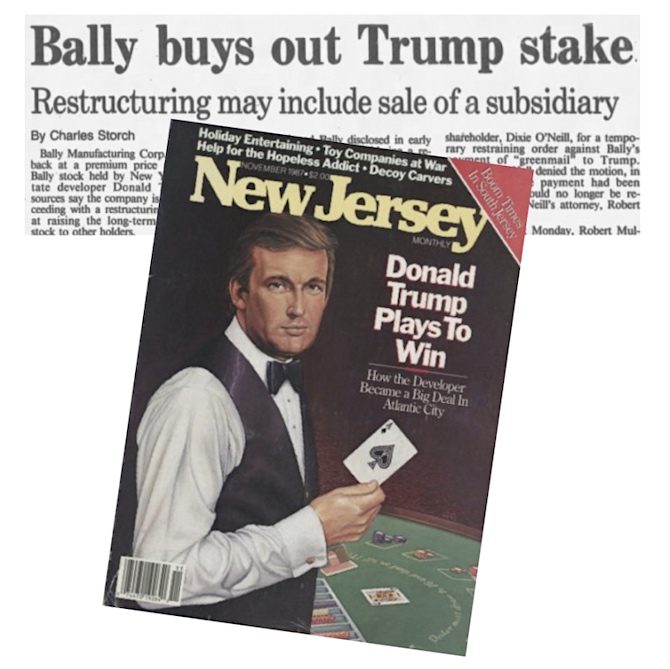 "Donald Trump is past history for us," Mullane said when the dust had settled and Trump had retreated. "It was an unfortunate occurrence."
It was also a costly one that soon led to a financial reckoning.
Bally was, by any measure, the largest gaming company on Earth at this point, but keeping the juggernaut moving in the right direction required lightening the load. "By 1990," according to the Tribune, "the company was defaulting on loans and struggling to turn profits at its casinos." Sadly, Mullane had also failed to secure a deal with the Illinois state lottery, and responded by re-assessing his remaining Chicagoland facilities in Franklin Park and Bensenville.
In 1988, Bally sold off its amusement games division—the pinball and arcade games that the brand built its identity on—to a competitor, WMS Industries; the former Williams Electronics. A year later, a new factory was built in Las Vegas, and the exodus of jobs from Chicago began.
"After 58 years, Bally and 1,000 jobs are moving out of state," Don Moloney mourned in a letter to the editor of the Tribune in 1989—although he didn't blame Bally executives for the decision. "It's because of shortsighted, intransigent elected officials," he wrote, "who somehow remain in office despite the damage they do to the state's economy."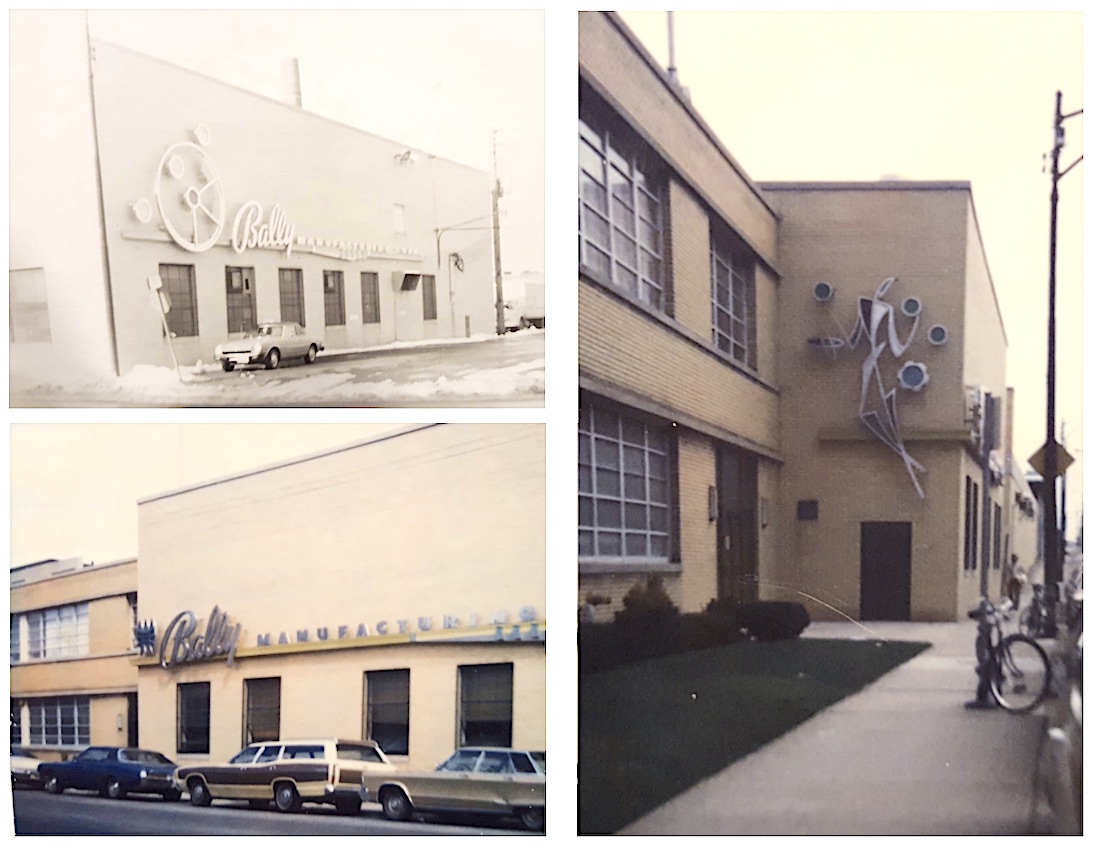 [Photos of the longtime Bally plant at 2640 W. Belmont in the late 1970s, posted by "Mr. Bally" on pinside.com. The company left the plant in the early '80s, and ended most remaining Chicagoland manufacturing by the early '90s]
Ultimately, another wealthy New Jersey businessman, Arthur Goldberg, succeeded in the same sort of Bally takeover that Trump had tried a few years earlier; grabbing the reins from Mullane in 1990—to add insult to injury, Mullane was later sued for having misappropriated Bally assets and "other abuses."
Not to be outdone, Goldberg eventually ran into some legal troubles of his own, accused of bribing Florida politicians while trying to get gambling legalized in the state. Goldberg would also famously sell all of Bally's casino properties to Hilton Hotels in 1996, effectively severing any connections to the original Chicago era of the Bally MFG Co., and beginning a new age of "Bally Entertainment."
Ray Moloney's original Bally script logo has changed hands through a half-dozen different licensing deals over the past 25 years, culminating in a Rhode Island gaming company called Twin River Worldwide Holdings buying the trademark for $20 million in 2020 and rebranding itself as "Bally's Corporation." Having no connection to Bally history outside of the logo, the new Bally's Corp operates close to a dozen casinos, and its sports betting services will be integrated with the programming of the former Fox Sports regional TV networks in 2021.
Real estate, mass media, national legalized sports betting . . . quite an evolution from a little tabletop diversion called Ballyhoo.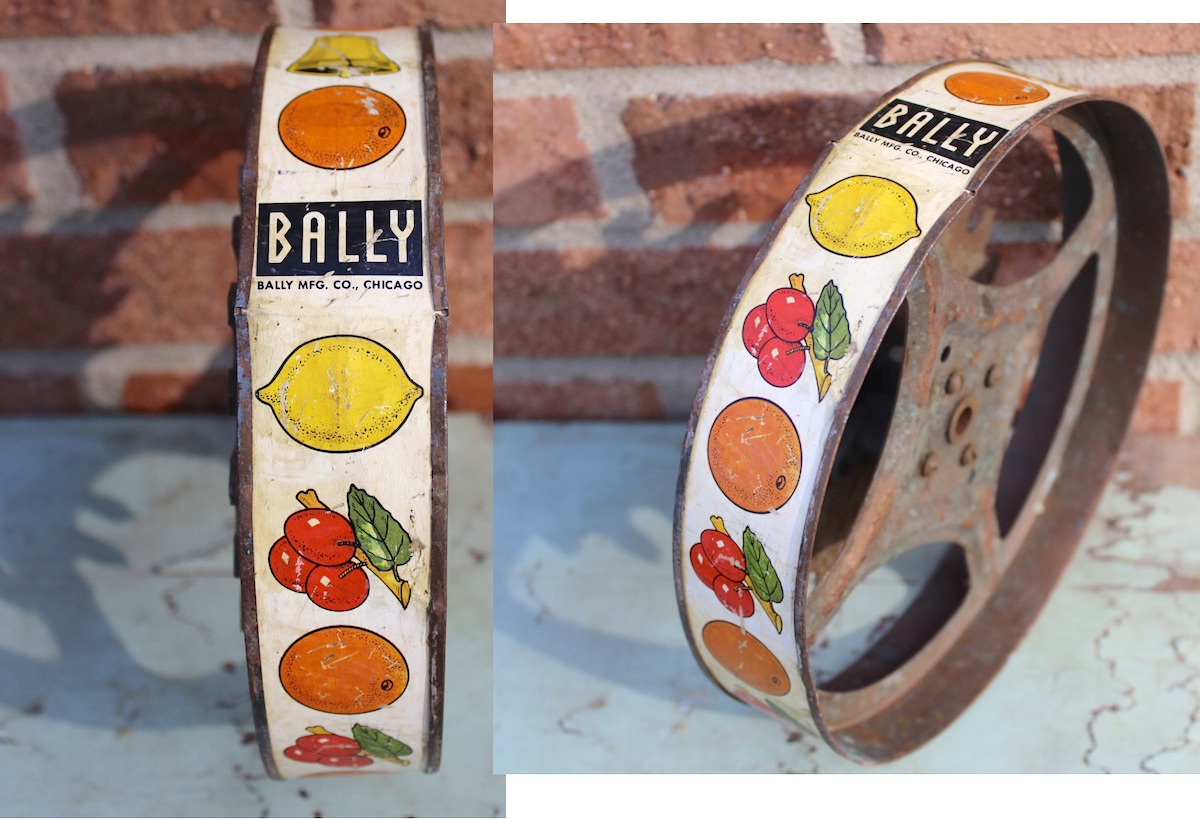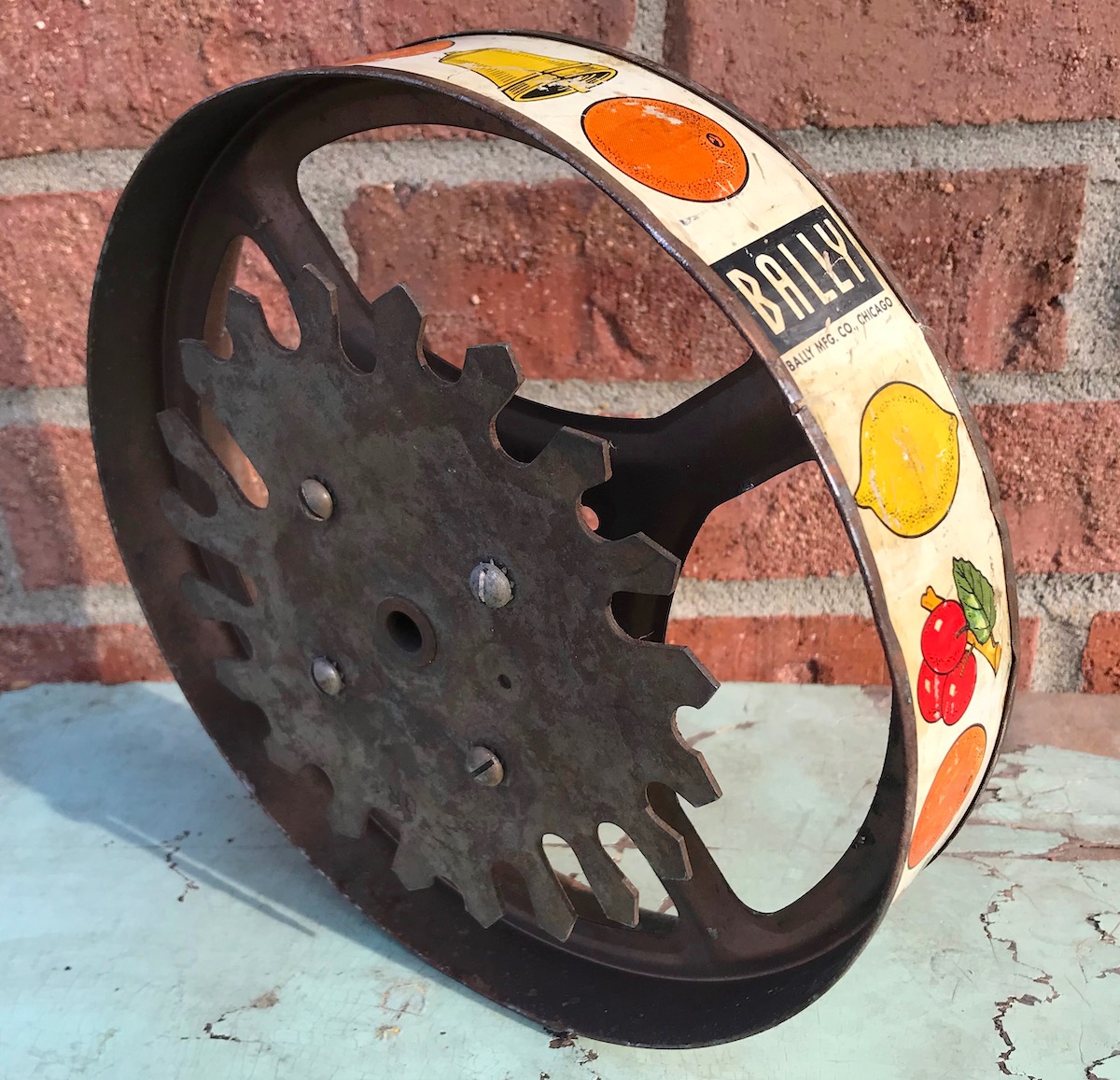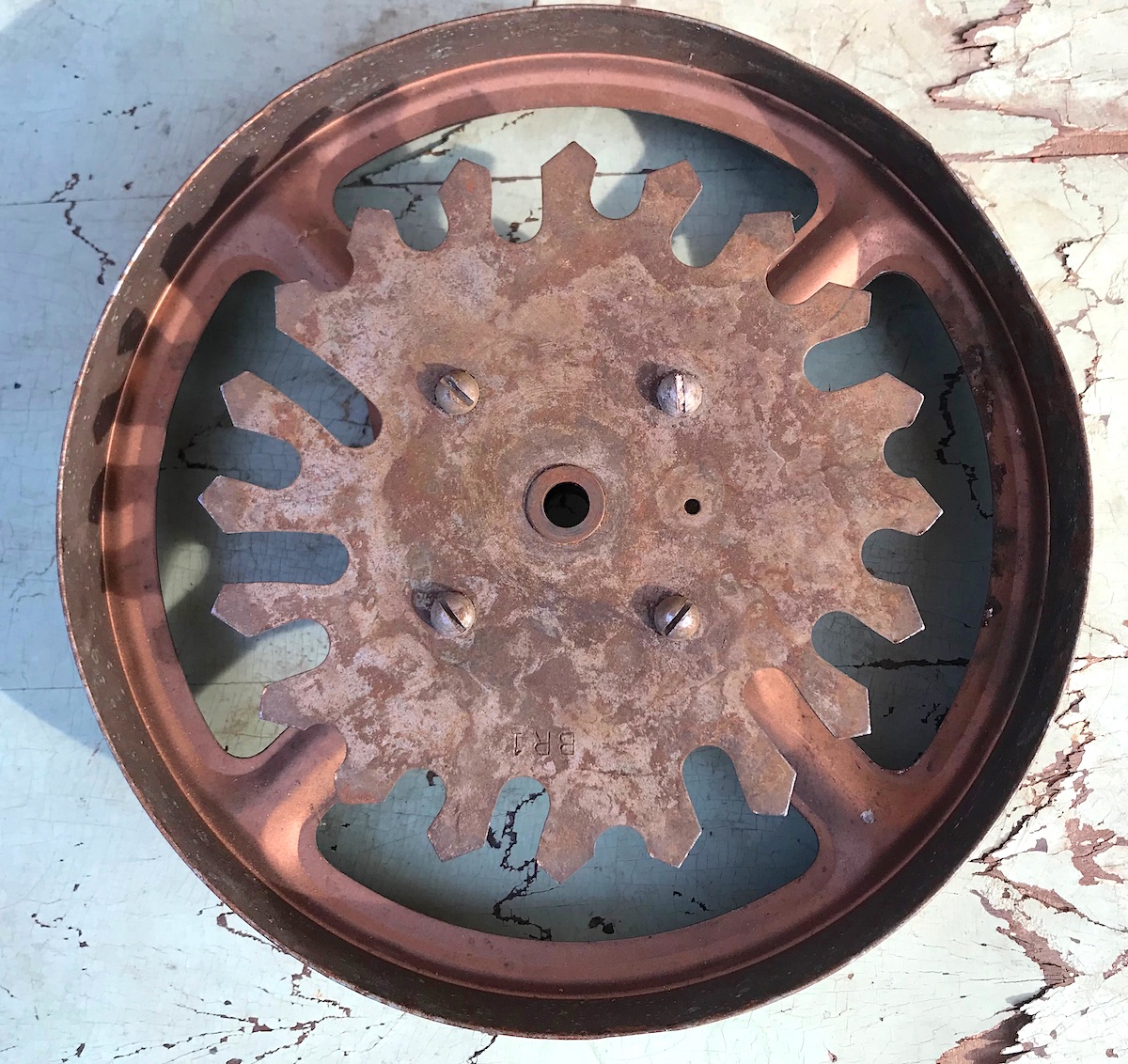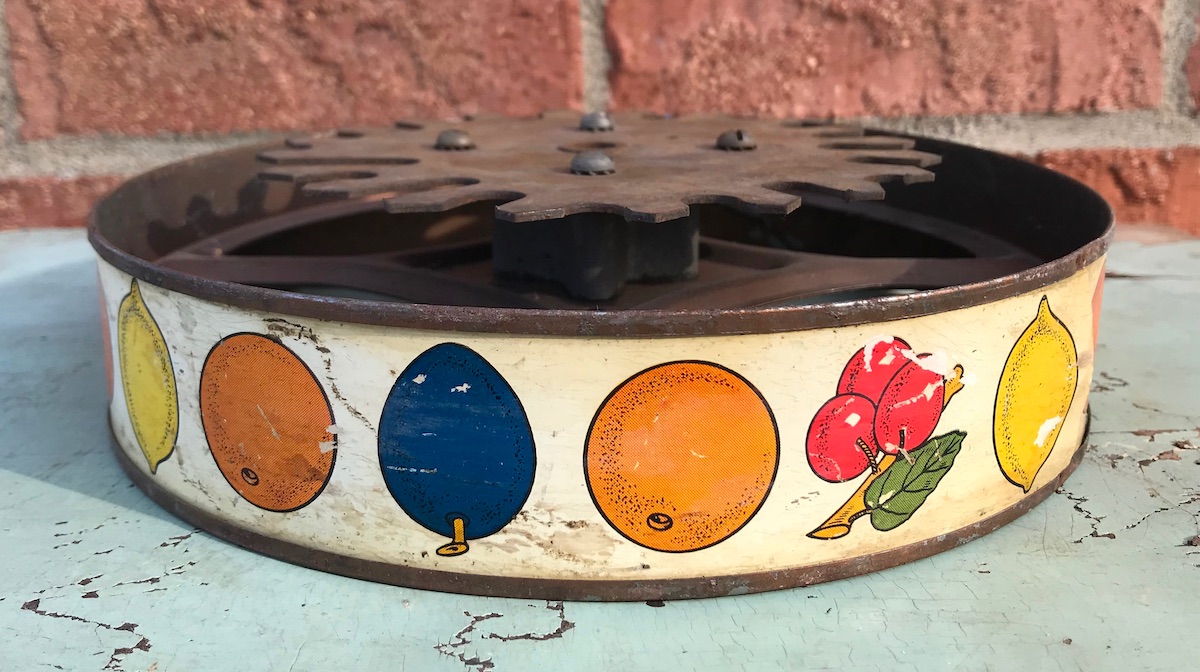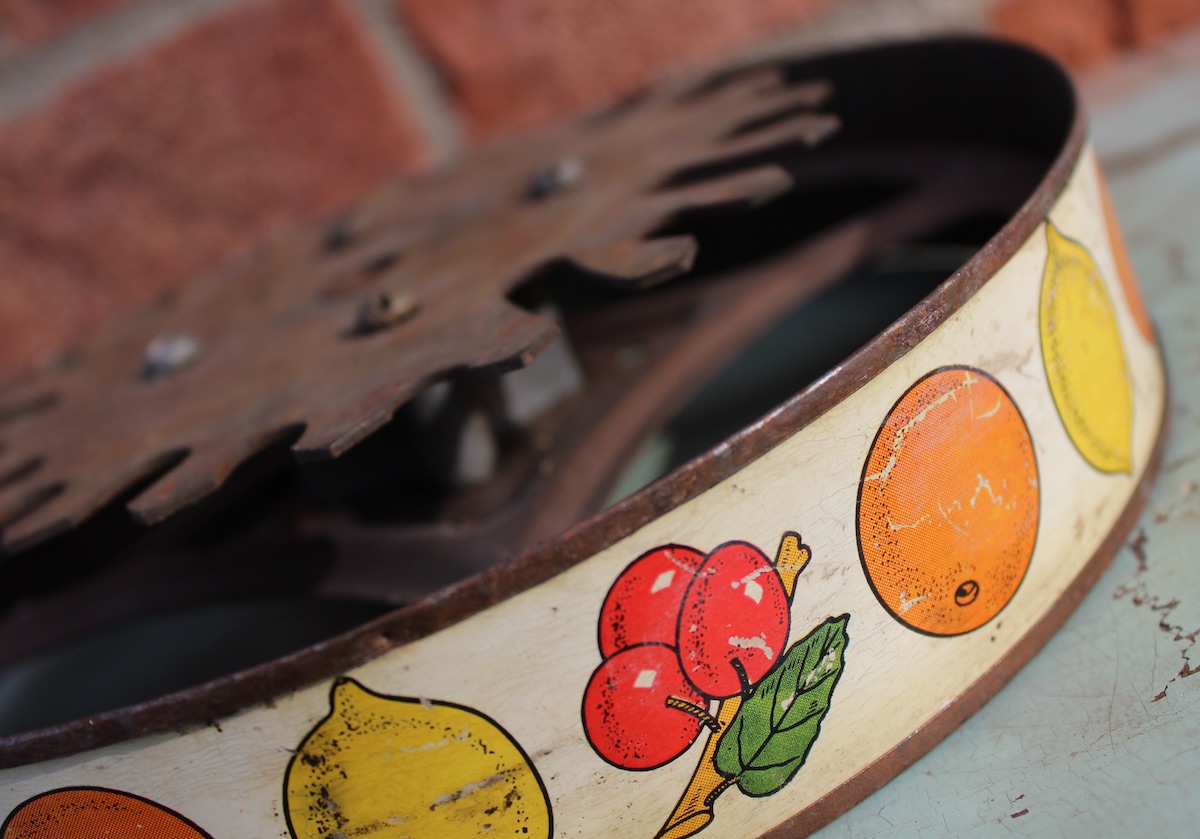 Sources:
"The Bally Story: 1931-1966" – Billboard, October 29, 1966
Bally: The World's Game Maker, by Christian Marfels
They Create Worlds: The Story of the People and Companies That Shaped the Video Game Industry, Vol. I: 1971-1982, by Alexander Smith
"Ideas with a Punch Put Bally on Top" – Automatic Age, September 1932
"The Process of Converting Ideas Into Games" – Automatic Age, September 1933
"Bally Housed in New Modern Plant" – Coin Machine Journal, December 1933
"Interview of the Month" – Automatic Age, July 1934
"Bally Adds Giant Factory to Present Facilities" – Automatic Age, April 1935
"Bally Boasts Complete Line" – Automatic Age, December 1937
"Bally Baskets in Production" – Automatic Age, January 1938
"Big Four Pocket Riches; Capone Believed Cut In" – Chicago Tribune, Oct 28, 1941
"Slot Machine Maker's Books Confirm Expose by Tribune" – Chicago Tribune, Dec 5, 1941
"Ban on Shipping Slot Machines Hits City Firms" – Chicago Tribune, Jan 3, 1951
"Diversification Keys Lion Mfg. Organization" – Billboard, Jan 7, 1956
"Ray Moloney Dies; Led Bally to Top of Amusement Trade" – Billboard, March 3, 1958
"Bally Manufacturing Eager to Make Big Play for Profits" – News-Press (Fort Myers, FL), Jan 10, 1988
"Bally to Build Manufacturing Plant in Nevada" – Reno Gazette-Journal, May 5, 1989
"The Loss of Bally" – letter by Don Moloney, Chicago Tribune, May 14, 1989
"Bally Manufacturing Corporation History" – International Directory of Company Histories, Vol. 3. St. James Press, 1991
"Ballyhoo Over Goldberg Hardly Whole Bally Saga" – Chicago Tribune, June 17, 1996
"James J. Barrett: Bally Chief, Imported Pac Man" – Chicago Tribune, Jan 17, 2004
"Family Ties Weigh on Bally, Ex-CEO" – Chicago Tribune, April 3, 2005
"Pinball Wizard Bally Celebrates 75th Anniversary" – Daily Spectrum (Saint George, UT), June 15, 2007