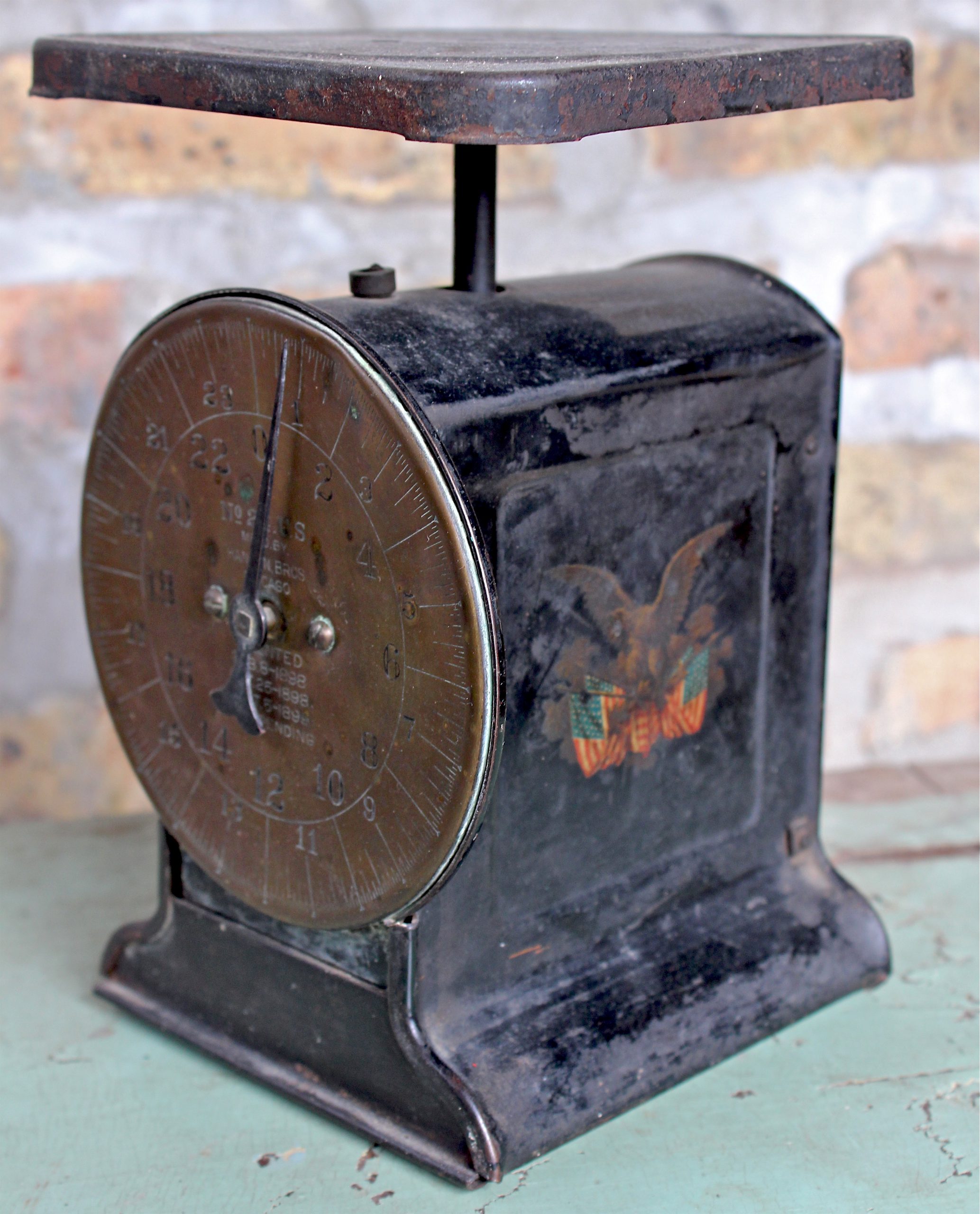 Museum Artifact: Hanson No. 24 U.S. Family Scale, c. 1900
Made By: Hanson Bros. Scale Company, 427 W. Randolph St. / 525 N. Ada Street, Chicago IL [West Town]
"Judging from the large increase in orders reported by the Hanson Bros. Manufacturing Company, 18-30 Randolph street, dealers and jobbers are finding the U.S. family scale a very profitable, quick-selling article to handle. The Hanson Brothers manufacture a high grade family scale, fully tested and guaranteed . . and not cheap in any way except the price." –Iron & Steel magazine, October 1899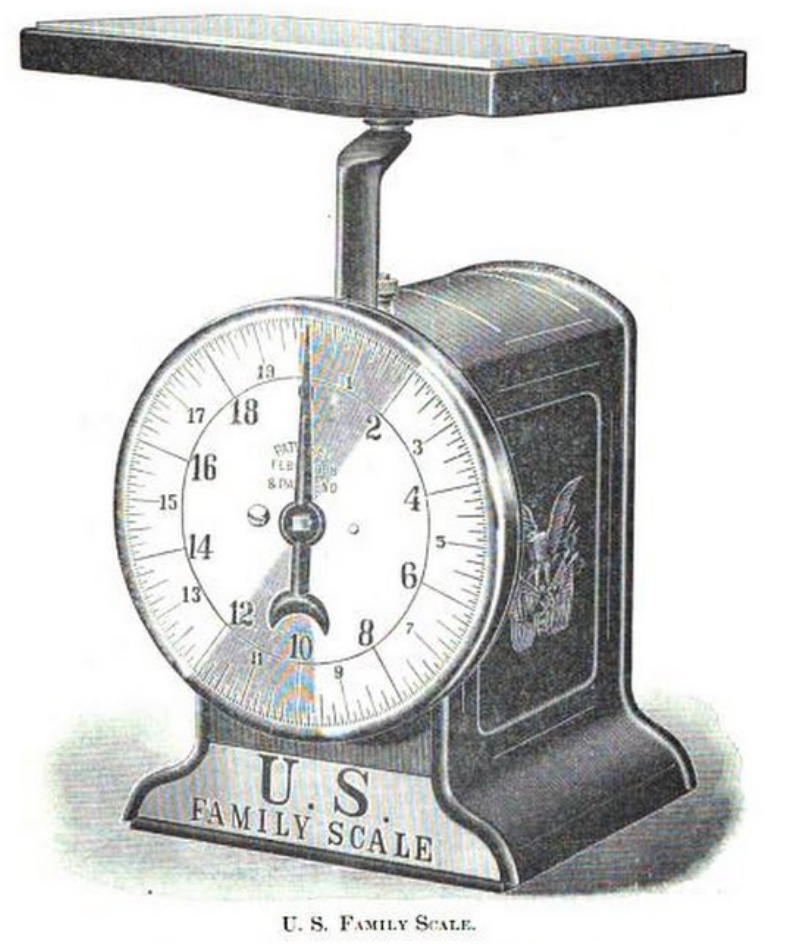 Not to be confused with the Hanson Brothers of the cult hockey film Slapshot, nor the blonde siblings behind the 1990s bubble-gum pop hit "Mmmbop," Marius and William Hanson were, instead, accomplished masters of everyday weights and measures.
Natives of Denmark, the two men actually spelled their surname the proper Danish way, Hansen, but elected to Americanize it when it came to business pursuits. To further muddy the waters, Marius's son Stan legally changed the family name to still a third spelling in the 1910s, becoming Stan L. HANSSEN (with two S's) simply to avoid confusion with another Stan Hansen who had an account at the same bank. Drastic measures!
Anyway, no matter how you spelled it, the Hanson name was among the best known in the spring scale trade for the better part of a century. And for most of that time, it was very much a family affair.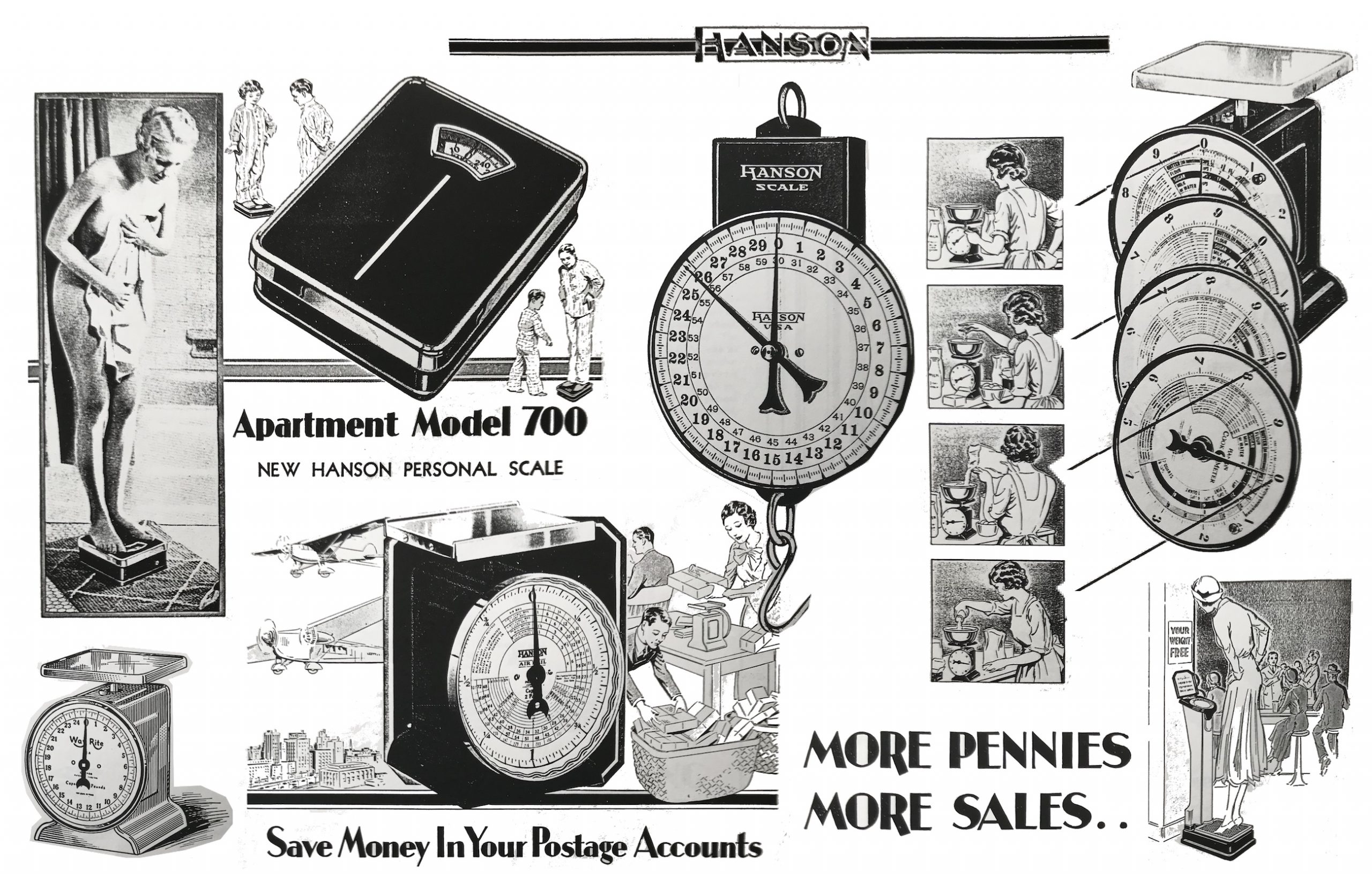 [Collage of Hanson scale ads from the 1930s]
History of the Hanson Scale Company, Part I: Sheet Metal Men
The original and titular "Hanson Brothers," Marius and William, first arrived in the States in the late 1880s; both in their early 20s, but wise beyond their years. Marius, in particular, was a man of the world, having already worked as a marine engineer in Copenhagen and as a munitions factory machinist in St. Petersburg, Russia. According to his own grandson Stan B. Hanssen (as told in 2007's Book of Scales), Marius left that gig with copies of actual Russian torpedo designs in hand. His attempts to covertly sell them elsewhere in Europe, however, met with failure, as the plans were deemed "obsolete."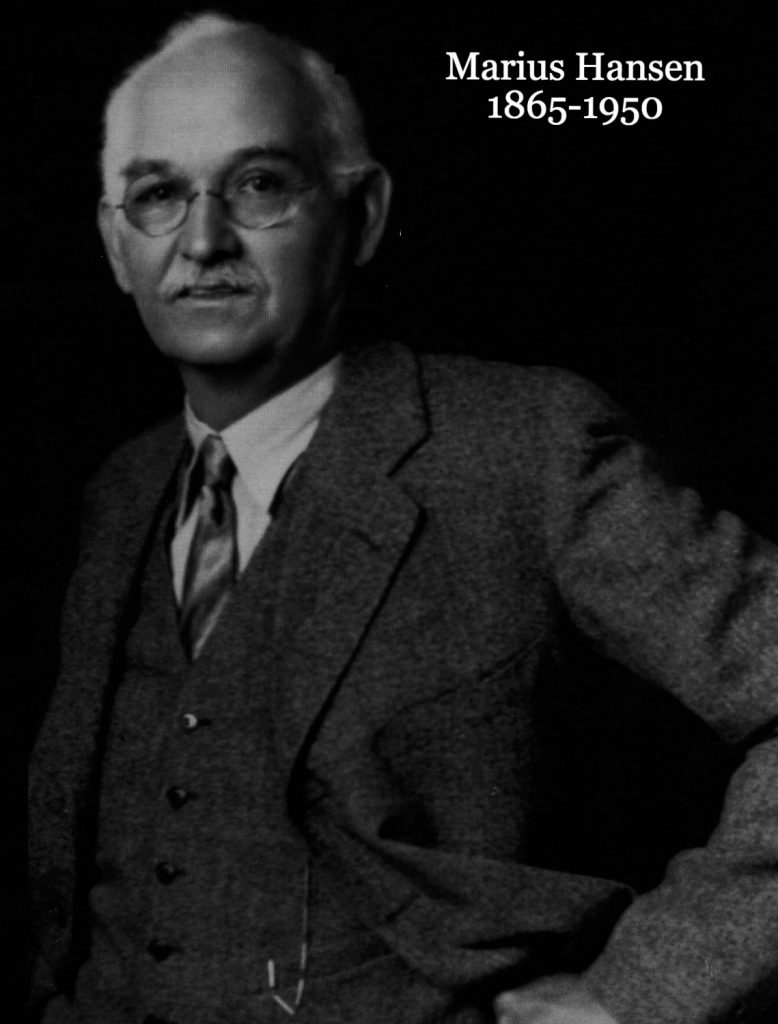 And so it was off to America in 1888, where it didn't take long for both Marius and his younger brother to gain employment as machinists in greater Chicago (Marius with the A. Plamondon Machinery Company and William with the Elgin Watch Company). Within another six months, Marius Hansen had already managed to climb the ladder from factory man to business owner, co-operating his own repair shop at the corner of Randolph and Canal Street. He was dabbling in engines and automobiles when he apparently got the random notion of building a kitchen scale out of sheet metal instead of cast iron, as had been the norm. From there, his grandson tells it this way:
"The firm built 300 scales but didn't know what to do with them. A visiting salesman told Marius that he ought to go see Mr. Wrigley, the chewing gum man, who bought items as give away premiums to promote the sale of his chewing gum. Marius saw Mr. Wrigley, who bought the 300 scales, and said, 'When can I get 300 more?' With this order Marius Hansen was in the scale business. Wrigley became a customer for many years."
Shortly thereafter, Marius's business partner Christian Drews sold his interest in that fast-growing operation to William Hansen, and the Hanson Bros. Manufacturing Company (spelling change in effect) was officially off and running.

The original Hanson factory was a small downtown space at 18 W. Randolph Street (427 W. Randolph by today's street numbering), and the staff totaled just seven workers at the turn of the century, with another Hanson brother, John, counted among them (this same building was shared, at least in part, with the F. H. Smith MFG Co.). As Marius continued to show a knack for innovative scale designs, however, his patents gradually turned into profits.
One of the company's first big sellers was the U.S. Family Scale, a kitchen scale of Marius Hansen's own creation, utilizing several of his early patents from 1898 and '99. It's the very scale we have here in our museum collection; still striking after 100+ years thanks to a character-rich brass face and a surprisingly vibrant painting of an eagle on the side panel. It's clutching a big batch of American flags in its talons, as such birds can't help but do.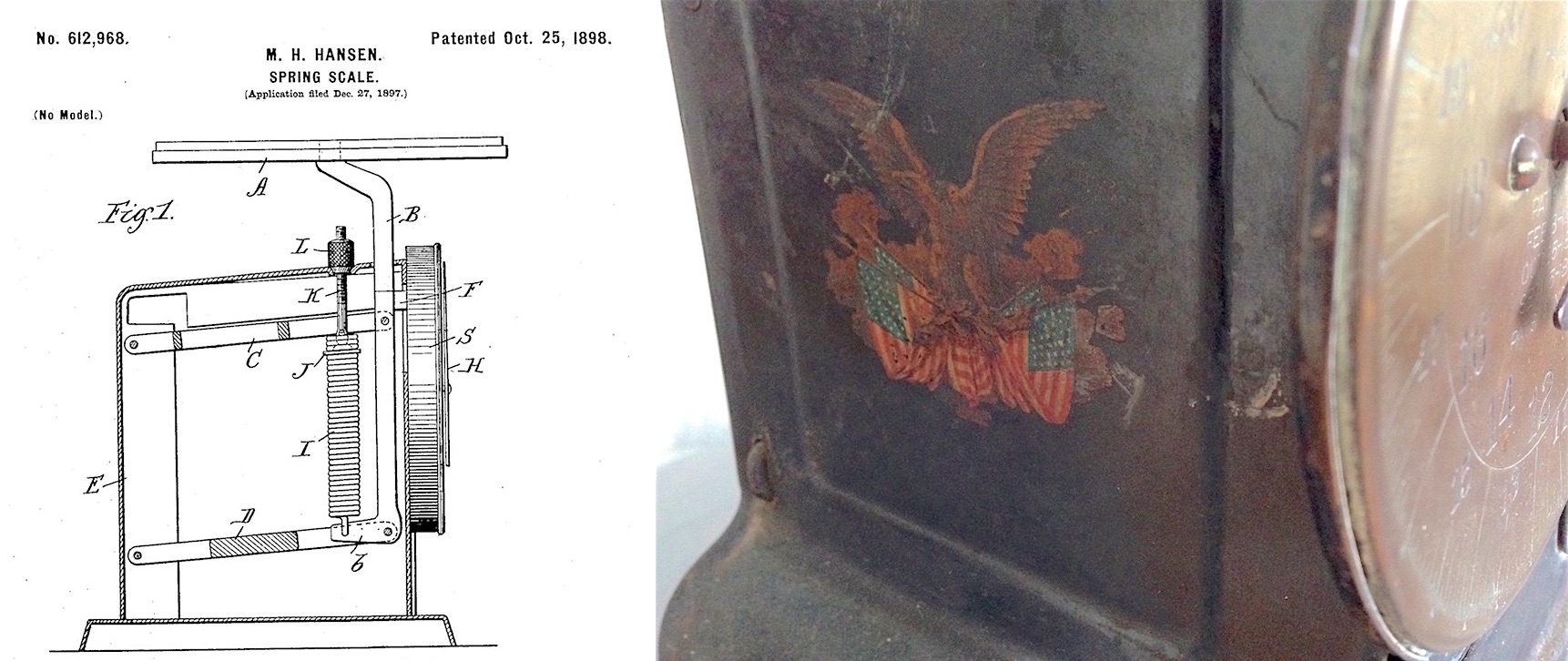 "Under no circumstances will the high standard of excellence of the U.S. scale be lowered," Iron & Steel reported in 1899. "It is a scale the merchant can honestly recommend to his customers, and having the guarantee of its manufacturers back of it."
By 1912, when Marius introduced his first postal scales, Hanson Bros. was a major player in the industry, competing head-to-head with the other giants of Chicago's cutthroat spring-scale biz—Pelouze, Triner, and American Cutlery, among them. To keep pace, a factory upgrade would be required.
"More than ordinary significance attaches to the announcement that Hanson Brothers, manufacturers of improved spring scales, are planning the erection of a new factory which will about double their facilities," the National Corporation Reporter duly reported in 1914. "They have purchased a desirable site at 525-529 North Ada Street . . . the modern, two-story factory will cost approximately $15,000.
"Having specialized in the scale industry, Hanson Brothers have built up an excellent reputation for their products, which include Hanson's U.S. Family Scales, Hanson's Reliable Computing Scales, Hanson's Universal Balance, Fruit and Vegetable Scale, and allied hardware specialties."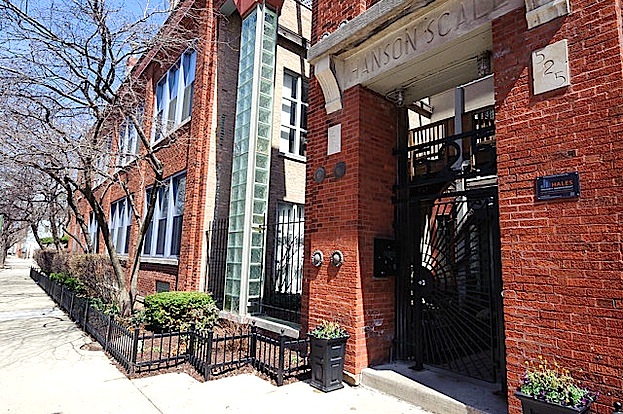 [Current view of the former Hanson Scale factory at 525 N Ada Street]
The Ada Street factory, pictured above, was expanded to take on a team of 60 employees, and it would remain Hanson's home base for nearly 40 years. The building is still standing today, and has since been turned into lofts, as is the trend. The original "Hanson Scale" name can still be seen etched above the front entrance, however.
In 1918's Manufacturing and Wholesale Industries of Chicago, the Hanson factory is described as "one of the admirable industrial plants of Chicago," and the U.S. Family Scale, in particular, is stated as having "gained wide reputation for superiority of construction and for absolute reliability and accuracy."
Within that same publication is a brief Hanson company bio that appears to have come straight from the pens of the Hanson brothers themselves, complete with a thinly veiled contempt for their fellow Chicago scale-makers.
"The Hanson Brothers' Scales of today are the result of twenty-five years' experience in the manufacturing of scales, and during this period a number of important patents have been secured on special features. Hanson Brothers manufacture scales only, and every scale is made under their personal supervision, besides being tested by them before it leaves the factory.
"That they are better than others is clearly proven by the following details. Our scale boxes are made from one piece of steel, and rest, as they should, on a flat bottom. It is natural that this makes the best foundation, as the scales stand solid and do not easily get out of level. Our scales have a removable steel post resting in the center of the weighing mechanism, this insuring accurate weight. No other scales possess this very important feature. Our scale indicators or hands are tapered to a needle point, by which the divisions are easily read. These hands are made of extra heavy spring steel, and not a soft material that easily bends or breaks. All of the Hanson scales have special hand-made, oil-tempered springs. These springs are manufactured by a special process of our own, and after constant use for an indefinite time will be found as accurate as when they left the factory.
"There are many other mechanical and scientific principles employed which make our scales superior to all others—but above all is the fact that our scales are made with care, by skilled workmen, and nothing left undone to make them the acme of perfection."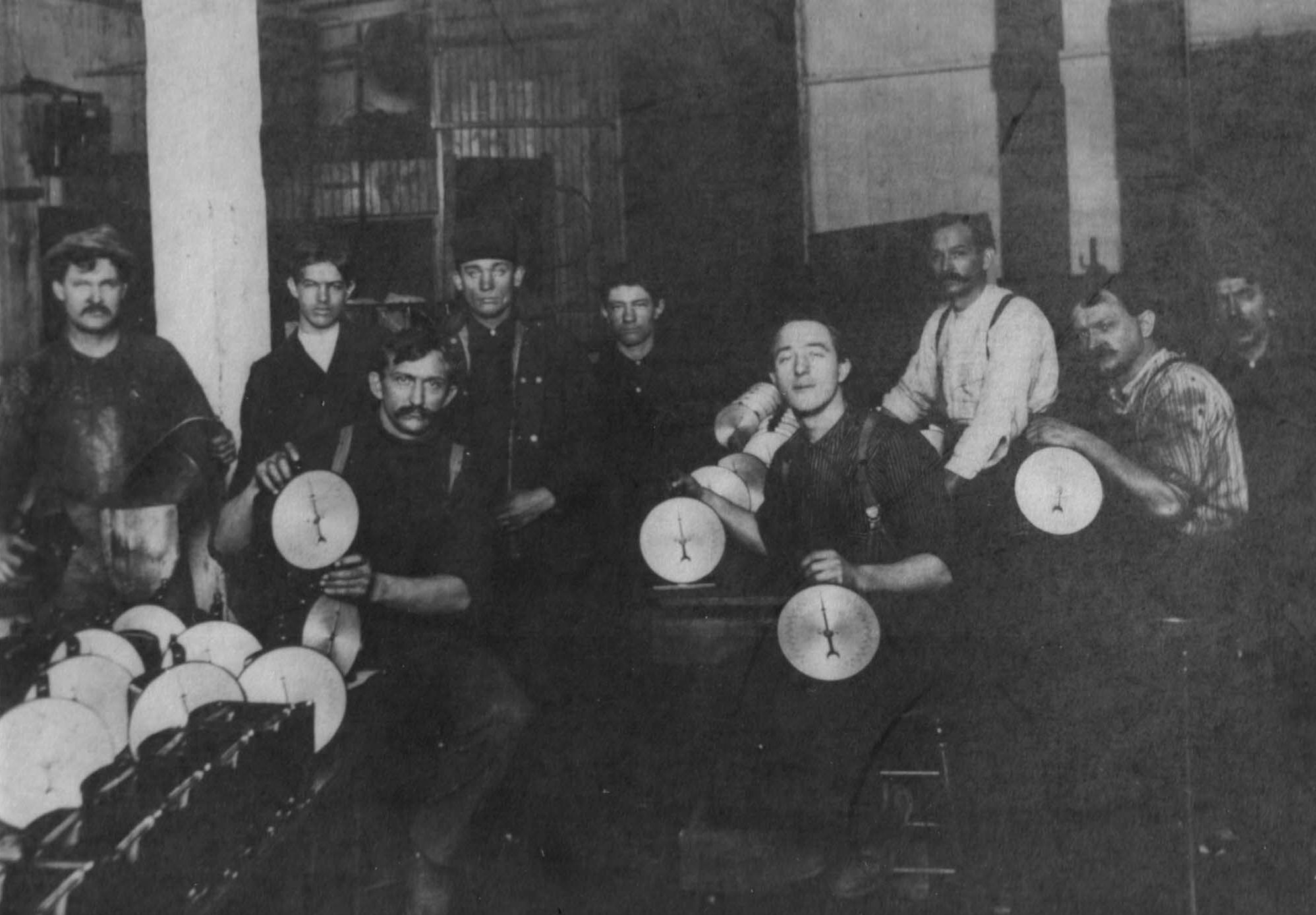 [Hanson Brothers Scale Co. factory workers, early 20th century]
II. Hanson 2.0
For many years, Marius Hansen and his wife Jenny lived in Rogers Park, at 6969 N. Ashland Ave., where they raised their two children; one of whom—the aforementioned Stan L. Hanssen—would eventually join the family business following his service in World War I. To that point, much of the company's success had come about almost exclusively through word-of-mouth marketing and the sterling reputation of Marius's designs, which were expanding to include hanging farm scales, baby scales, public penny scales, and eventually, bath scales.
After the sudden death of William Hansen in 1922, however, things began to change. The business, being short now on siblings, was re-incorporated as the Hanson Scale Company, and young Stan soon took more of a lead role in getting his father's products out of the anonymous wholesale ranks and into a more prominent place in the public eye.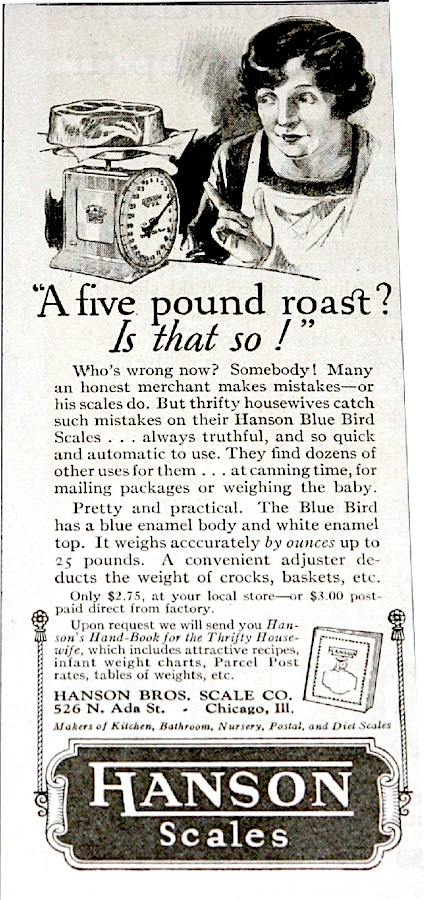 Throughout the 1920s, Hanson scale advertisements appeared in major national magazines. A campaign for its new line of "Blue Bird" kitchen scales, for example, encouraged housewives to purchase their own home scale in order to test and challenge the prices their local grocer was putting on weighed meats and produce.
"A five pound roast? Is that so! Who's wrong now? Somebody! Many an honest merchant makes mistakes–or his scales do. But thrifty housewives catch such mistakes on their Hanson Blue Bird Scales . . . always truthful, and so quick and automatic to use."
During this same period, Marius Hansen, now in his 60s, rightly became convinced that bathroom scales would soon hold a far bigger market than kitchen or baby scales, but his best efforts to perfect his own flat bath scale never resulted in a home-run design. His son Stan, meanwhile, was using his business savvy to keep the business afloat.
A few years later, when the Depression was threatening the entire housewares industry, Stan Hanssen looked to establish a wider support system, becoming the first president of the new National Housewares Manufacturing Association, which began holding large trade shows and bringing hundreds of like-minded businesses into contact with one another from across the country.
Buoyed a bit by the manufacturing boom of World War II (the company produced steel toolboxes, steel blocks for tank gun sights, and its usual line of farm scales, which were still deemed viable during wartime), the Hanson Scale Co. suddenly couldn't keep up with demand when the war finally ended. The family business had also welcomed its third generation, as Stan's son, Stan B. Hanssen—fresh out of the army—joined the fold.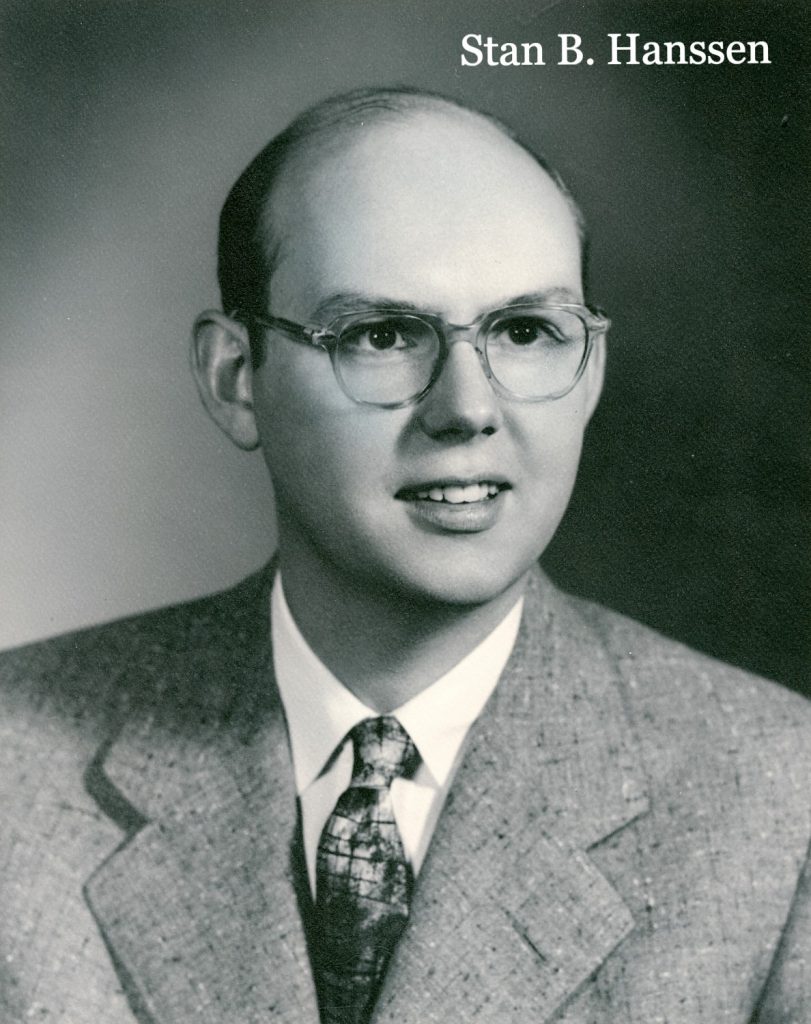 After Marius Hansen's death in 1950 at the age of 85, Stan B. was instrumental in both moving Hanson into international markets and moving the factory out of Chicago and into the more economically friendly burbs, specifically Northbrook.
Unfortunately, elder Stan and younger Stan didn't see eye to eye about shifting so much focus to Europe, despite the fact that increased exports finally gave the company a chance to gain ground in the challenging bath scale market. Father and son clashed, and while Hanson did indeed build a successful factory in Ireland, the decision was made in 1968 to sell the original Hanson Scale Company's U.S. operations to the Sunbeam Corp, another company with strong Chicago roots.
The Sunbeam deal allowed Hanson Scale to carry on independently in Europe, but the U.S. operations moved down south to Mississippi in the early 1970s, ending the Chicago chapter. The untimely death of fourth generation manager Jim Hanssen in 1985 (at just 32) started the international business down its final road, as well, as Hanson Scale Intl. was sold to a French company in 1989.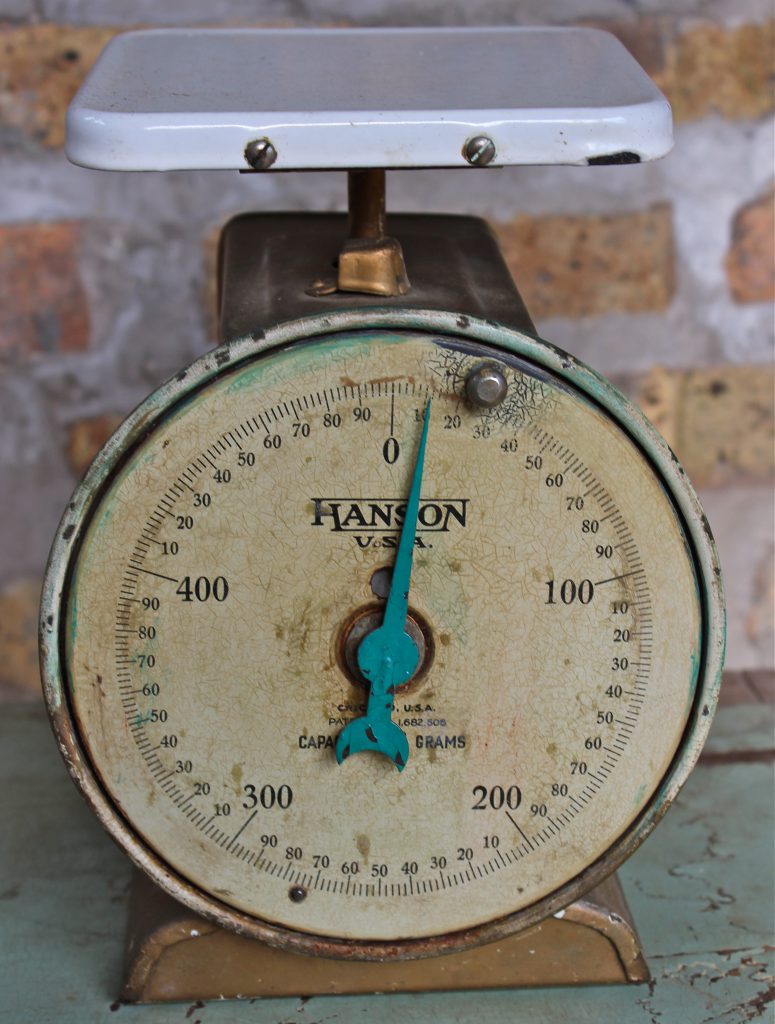 Back in the states, Stan B. and his son Eric Hanssen (generation No. 4) went on to pursue new opportunities for scale manufacturing out in New Mexico under the revived brand names "Metro" and "Detecto," both of which had once been Hanson rivals. Those operations proved profitable but were ultimately sold off by the end of the century.
"It is interesting to note," Stan B. Hanssen wrote in his 2007 book, "that most all the mechanical and some digital scales manufactured in China today are based on the strip lever patents of Hanson."
The legacy, however indirectly, lives on.
PS. We also have a 1930s Hanson Diet Scale in our museum collection, pictured above, which you can read about here.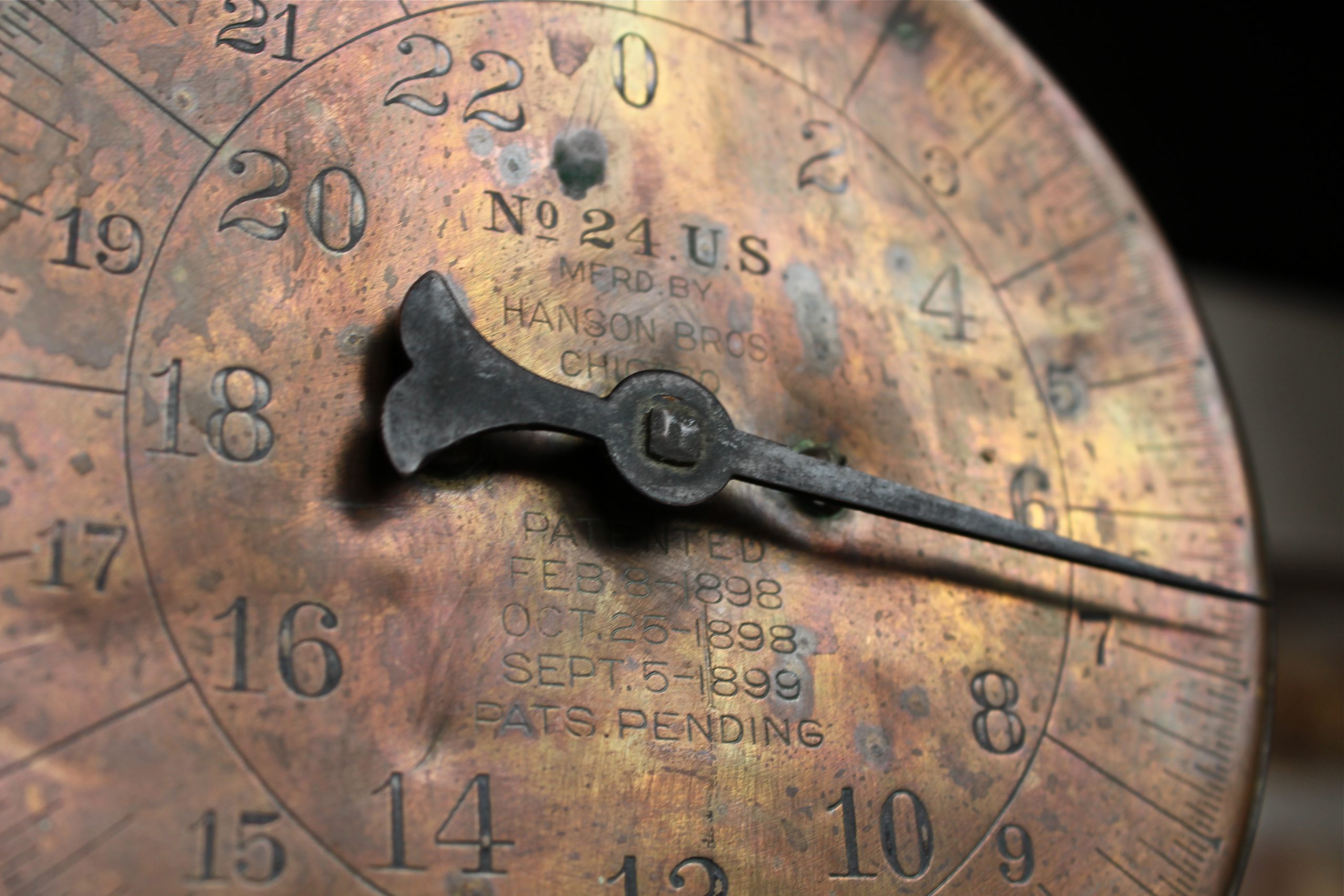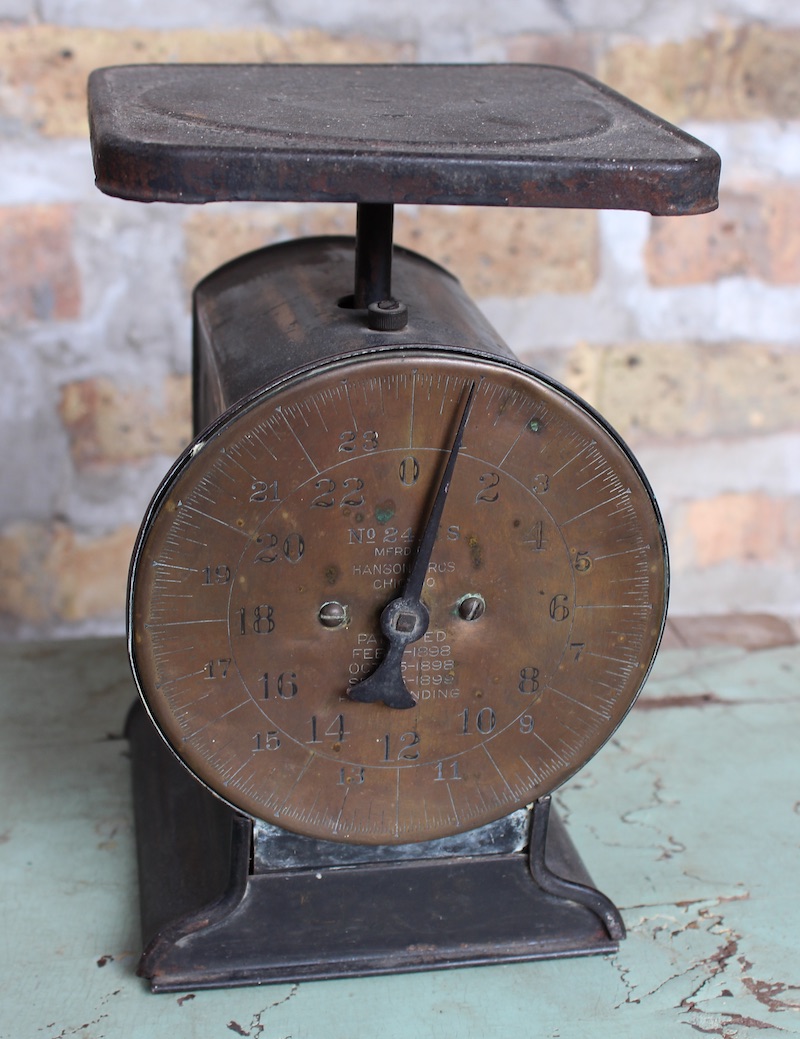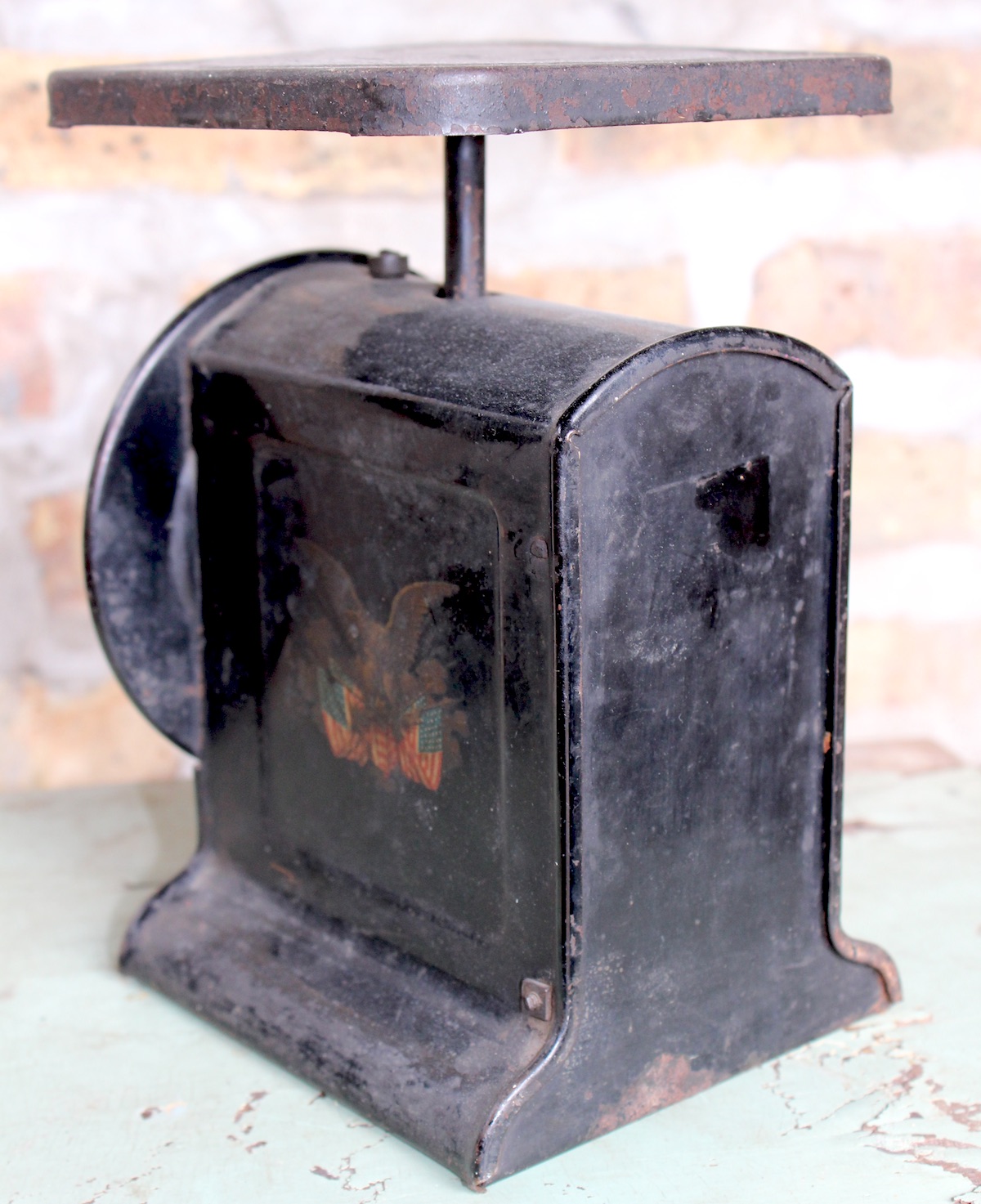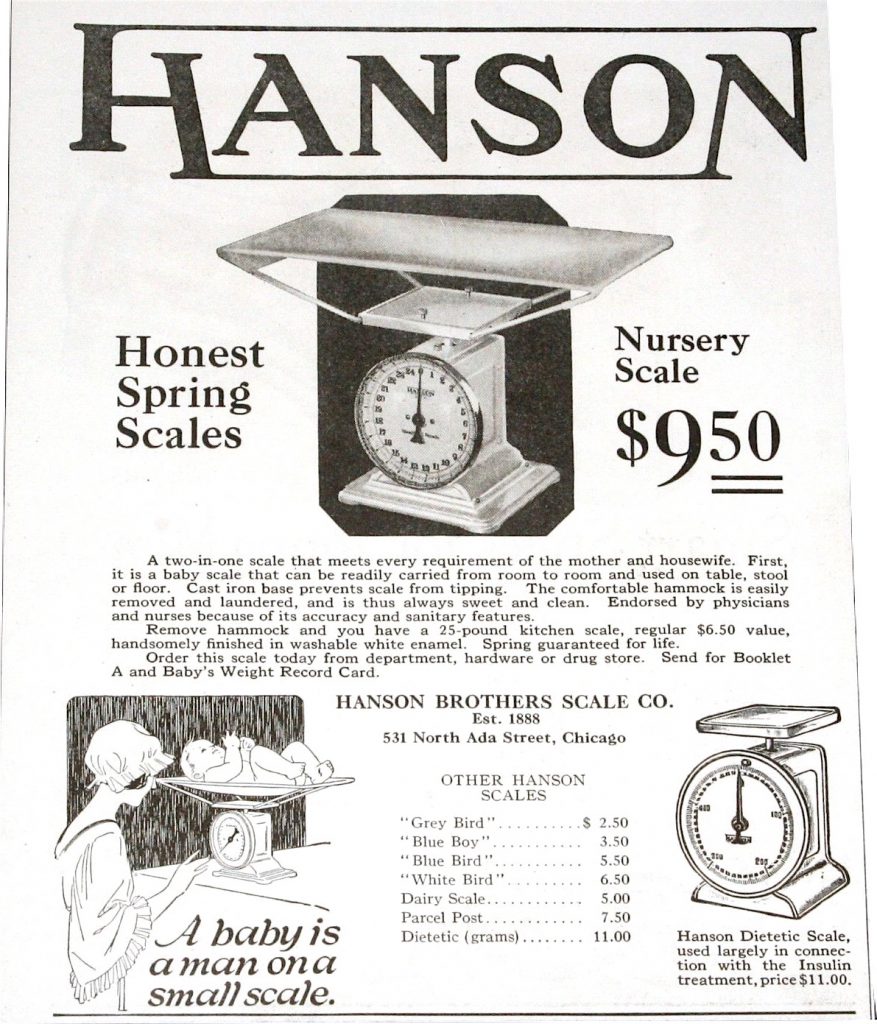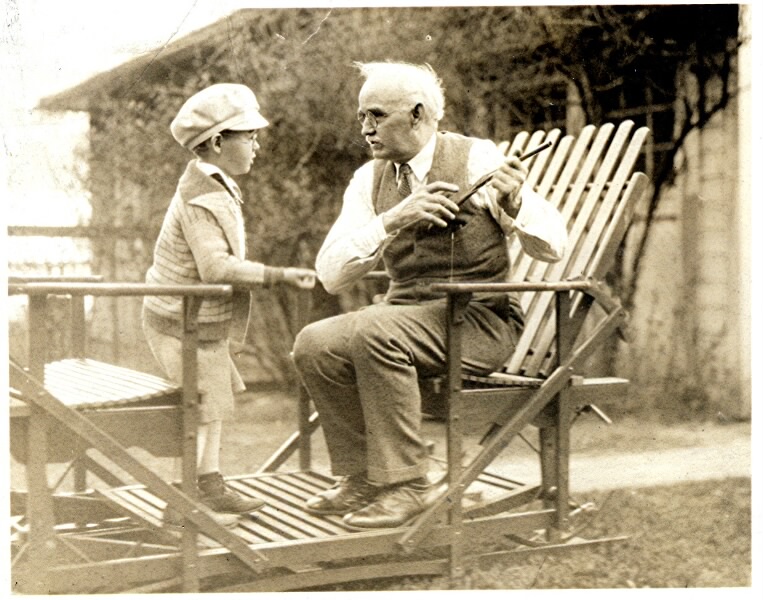 [Marius Hanssen and grandson Stan B., 1930s]
Sources:
Special thanks to Eric Hanssen and his nephew Jordan Hanssen for their personal assistance.
Book of Scales, by Stan B. Hanssen
"A Scale of Quality" – Iron and Steel, Vol. 75, 1899
"Scale Makers to Build Plant" – The National Corporation Reporter, Vol. 49, 1915
"Hanson Scale Nears 100 Years of Progress" – Clarke County Tribune (Quitman, MS), April 29, 1987
Jordan Hanssen also has a book of his own, not about scales, but a rowing adventure across the North Atlantic: Rowing Into the Son