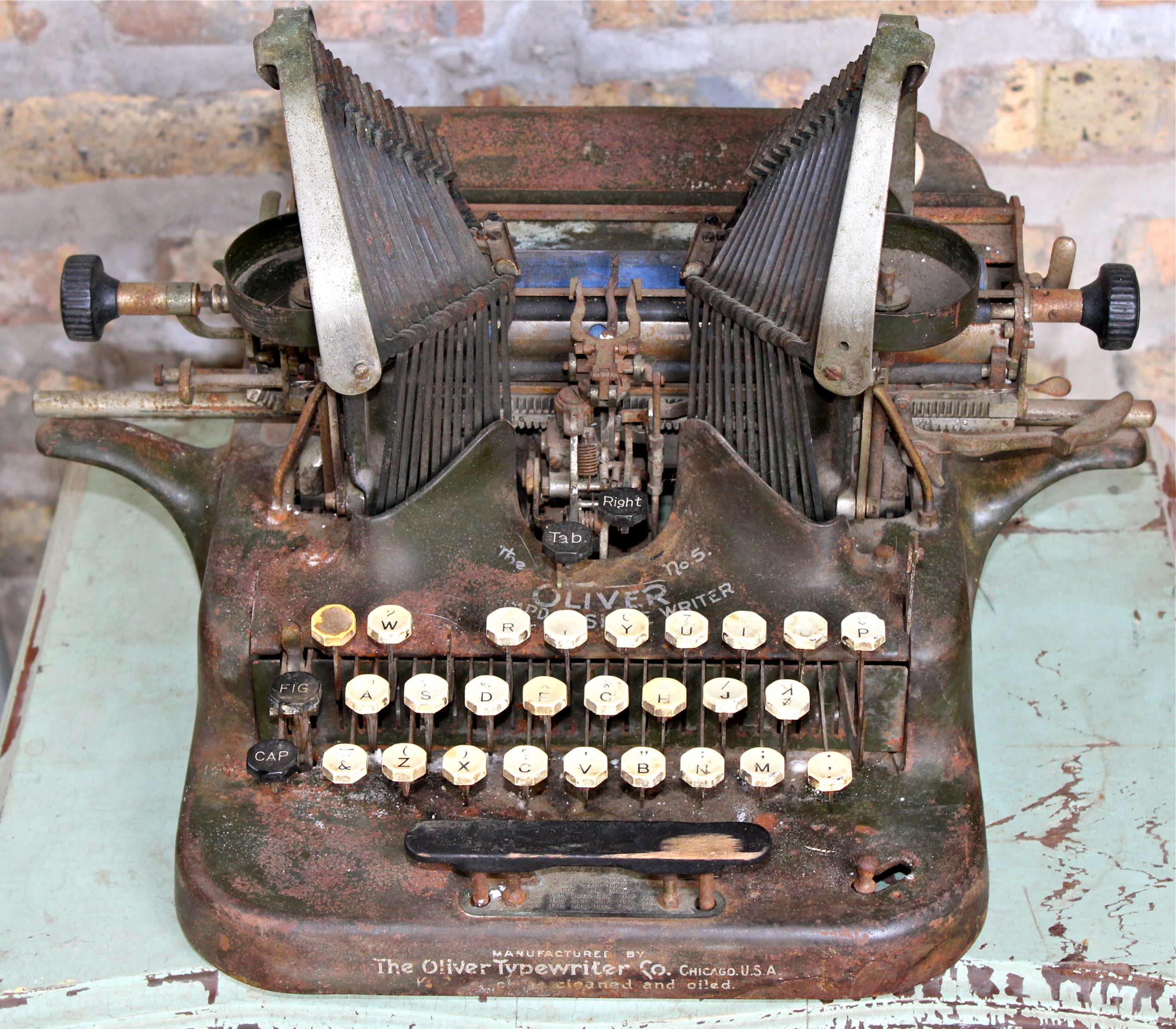 Oliver Typewriter Company, 159 N. Dearborn St., Chicago, IL. Factory: Woodstock, IL
"The Oliver Typewriter No. 5, which is now being placed on the market, is the 'last word' in typewriters—a Symphony in Steel. It is scientific in principle, flawless in construction, accurate in adjustment, splendidly efficient in operation."—Oliver Typewriter Co. catalog, 1908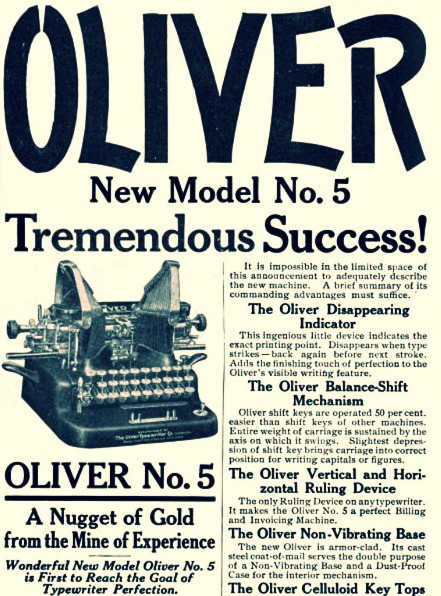 Produced between 1907 and 1914, the Oliver No. 5 was also the last offering from Thomas Oliver himself, as the inventor of the "standard visible writer" died of a heart attack in 1909, leaving behind well over 1,000 co-workers at his plant in suburban Woodstock and dozens more at the company's new home office on Dearborn Street in Chicago. Fortunately, Oliver's enterprise carried on gallantly without him, producing several more popular models of bat-winged typewriters right up until a surprising downturn led to a buyout from British investors and a shutdown of the Woodstock plant in 1926.
You can read the Made in Chicago Museum's Full History of the Oliver Typewriter Co. on our corresponding page for the No. 9 model.
As for our No. 5 here . . . well, it has certainly seen better days. One key is missing, and rust has gnawed away the original olive green paint work a bit. But even in this state, wearing its 100+ years shamelessly, the unmistakable Oliver is still quite a sight to behold. If anything, the aging process has given this one more gravitas, turning it into a steam punker's fantasy, like something Mad Max's secretary would type with.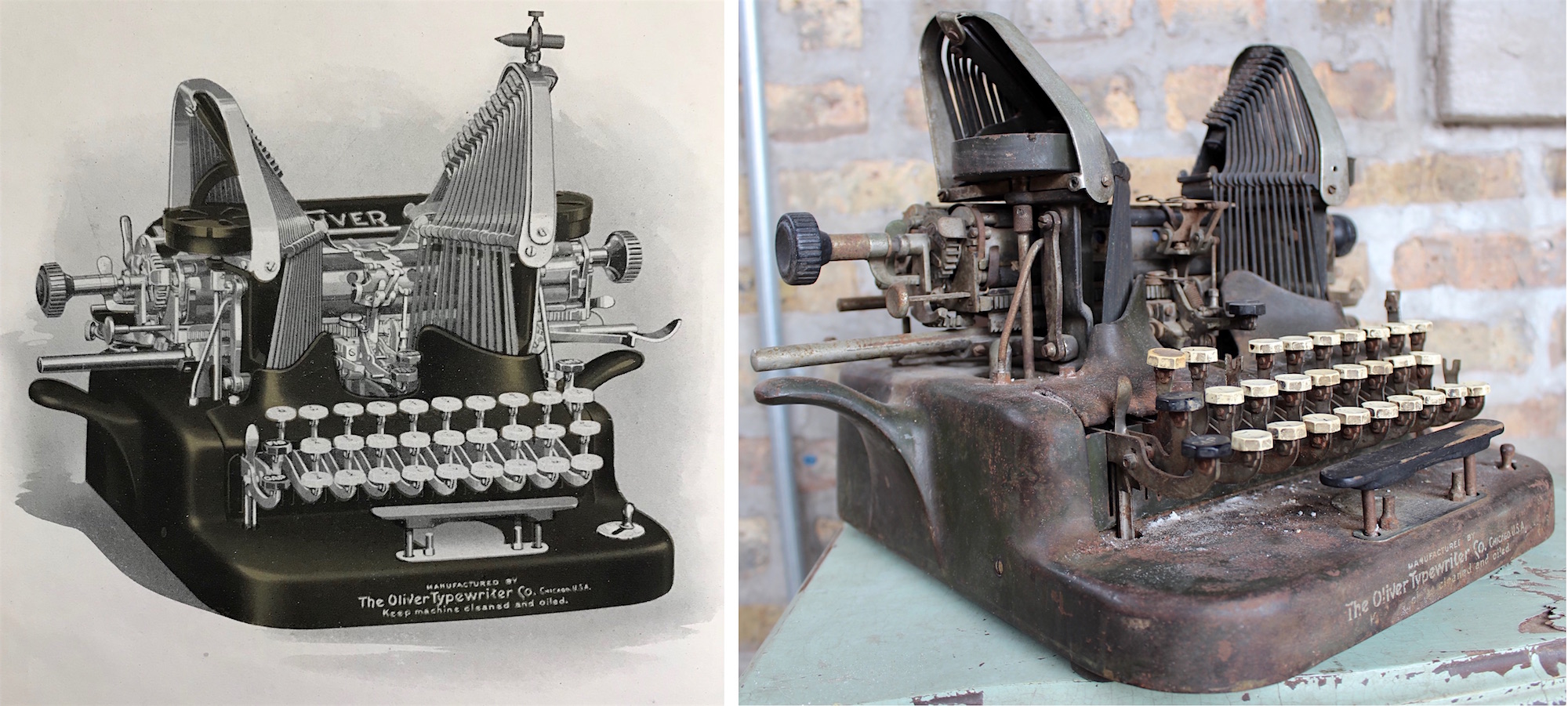 [The Oliver No. 5 as it appeared in the 1908 catalog vs. the same machine with a century of aging]
Back in its day, this machine would have sold for something in the $100 range, which translates to roughly $1,500-2,000 in today's money. It was a huge investment on par with our own high-end computers. As such, many people paid in installment plans, with Oliver repossessing any typewriters owned by deadbeat customers.
In the days before radio and television and most other electronics, a typewriter like this would have been one of the prized possessions in a home; a critical vessel for communication and a centerpiece for both work and amusement. Each machine was also an impressive testament to quality American engineering and manufacturing, as the tiny town of Woodstock, Illinois—home to both the Oliver Typewriter Co. and Woodstock Typewriter Co.—became the unlikely producer of nearly half the world's typewriters.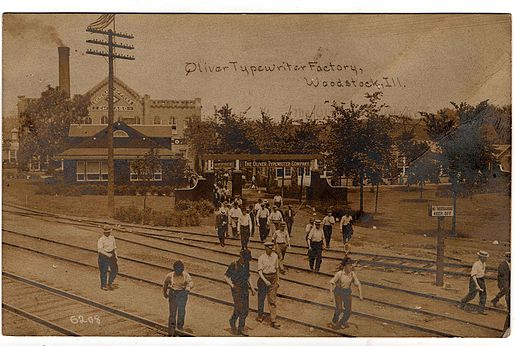 Innovations added over the production lifespan of the Oliver No. 5 included a new bell clap, the addition of a tabulator and simple pencil carrier, the first backspacer, an updated shifting mechanism, and the arrival of the famed "Printype" typeface, which was designed to look like traditional book print.

There are plenty of No. 5 Olivers that have been restored to working condition, but the artifact in our collection is probably best utilized as a storytelling piece or perhaps a component in a modern art installation; a symbol of the slow demise of the printed word.