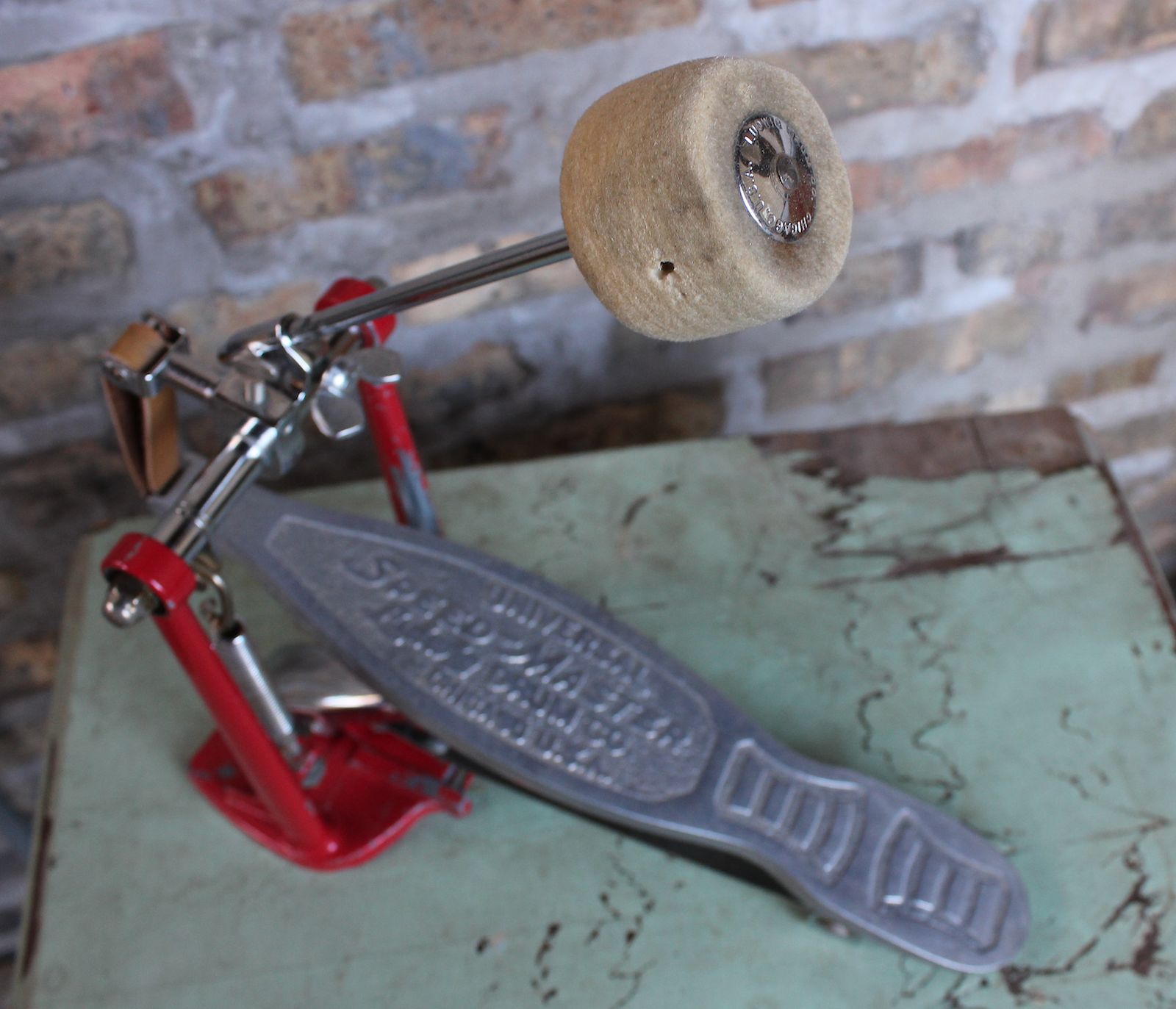 Museum Artifact: Ludwig Universal Speed Master Bass Drum Pedal, 1960s
Made By: Ludwig Drum Co., 1728 N. Damen Ave., Chicago, IL [Wicker Park]
The night that famously marked a sea change in American pop culture—the Beatles' 1964 performance on the Ed Sullivan Show—was also the dawning of a new golden age at a certain musical instrument factory in Wicker Park.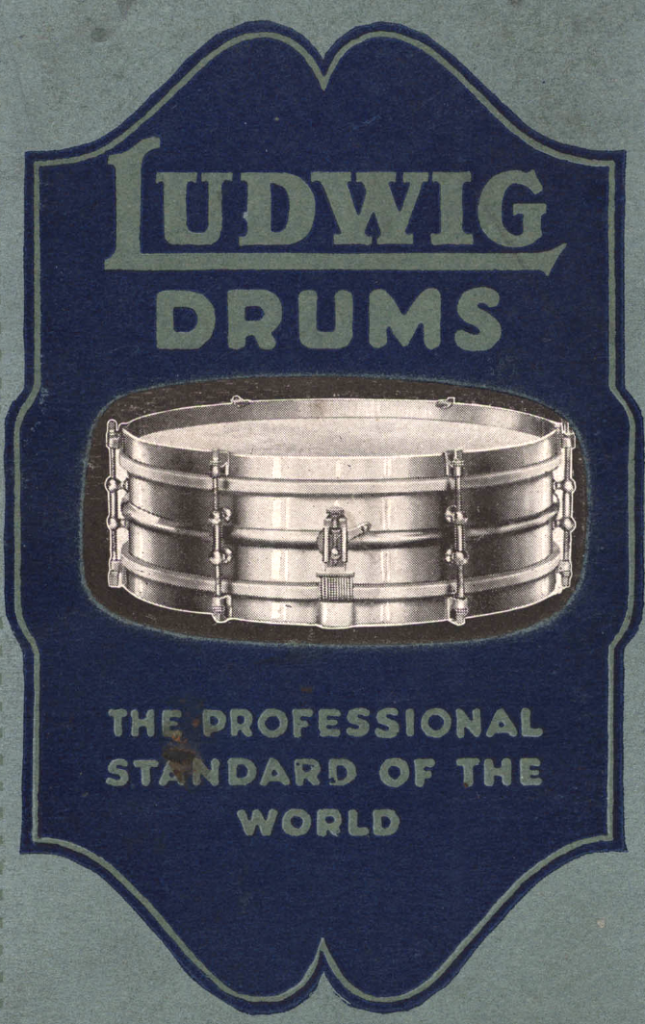 Before that night, the family-operated Ludwig Drum Company had already been in business—in one form or another—for more than 50 years. It was a highly respected Chicago institution with a devoted nationwide following among purveyors of the percussive arts. They equipped everything from high school marching bands to renowned orchestras and Dixieland jazz outfits, meeting with enough success that even music shops as far away as London were stocking their kits. It would take one particular customer at one of those London shops, however, to finally turn Ludwig from an esteemed niche brand into an international icon.
A year before the Beatles invaded America, Ringo Starr bought himself his first black-pearl Ludwig drum kit, switching from his usual Premier brand. It wasn't necessarily because he thought Ludwig would be functionally superior, he later admitted, but for slightly more aesthetic reasons. As he also acknowledged in later interviews, "I loved anything American"—which comes as little surprise from a guy who'd grown up idolizing the first wave of stateside rock n' roll.
From there, the story becomes a little bit apocryphal. In Ringo's version of events, the salesman at the music store—while packing up the new kit—began removing the "Ludwig" decal from the head of the bass drum. Ringo, in a rush of enthusiasm, stopped him in his tracks. "No, no, no, you've got to leave that on!" he protested. "It's American!"
According to William Ludwig, Jr., who was president of the company at the time, things played out a bit differently. In his account, Ludwig drums didn't actually come with any branding or decals at the time. Instead, Ringo had hatched the concept himself.
"Ringo bought the Ludwig set under the condition that the name Ludwig be painted on the front of the bass drum head," he said. "[The salesman] said he'd do it, but asked why, and Ringo said he wanted everyone to know he had Ludwig."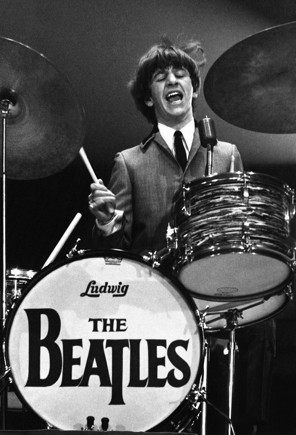 Later that same year, after Beatlemania had exploded, William Ludwig, Jr., met with one of his UK distributors at a convention, and was asked to add the Ludwig name to all the bass drums on the next big order. "I told him we couldn't do that," Ludwig recalled, "as we weren't geared up for such a demand. And besides, it seemed ostentatious! He said he wouldn't give us the order without the name, and that he would pay for the decals himself. So, we ordered the decals and started putting them on the sets for England. From then on, we got orders from all over with requests for the name on the front of the bass drum head."
Whichever story is accurate, the result was the same. One shaggy Liverpudlian's freelance marketing decision had forged a permanent association between a Chicago drum company and the biggest band in the world. In the process, Ludwig became arguably the second most visible name in popular music (and the second most popular "Ludwig" to Beethoven), leading to a massive rise in sales during the 1960s. To adapt, the company undertook a 100,000 sq ft. expansion of its Damen Avenue plant, and employed upwards of 300 workers.
Among the products they made during that period was the Universal Speedmaster Bass Drum Pedal from our museum collection. If you're wondering, this is not the same style of kick pedal that Ringo took on that maiden voyage to the states. He used a similar "Speed King." According to a lot of drum nerds, though, the distinctive red Universal Speedmaster (which was produced from 1959-1974) was actually the superior model.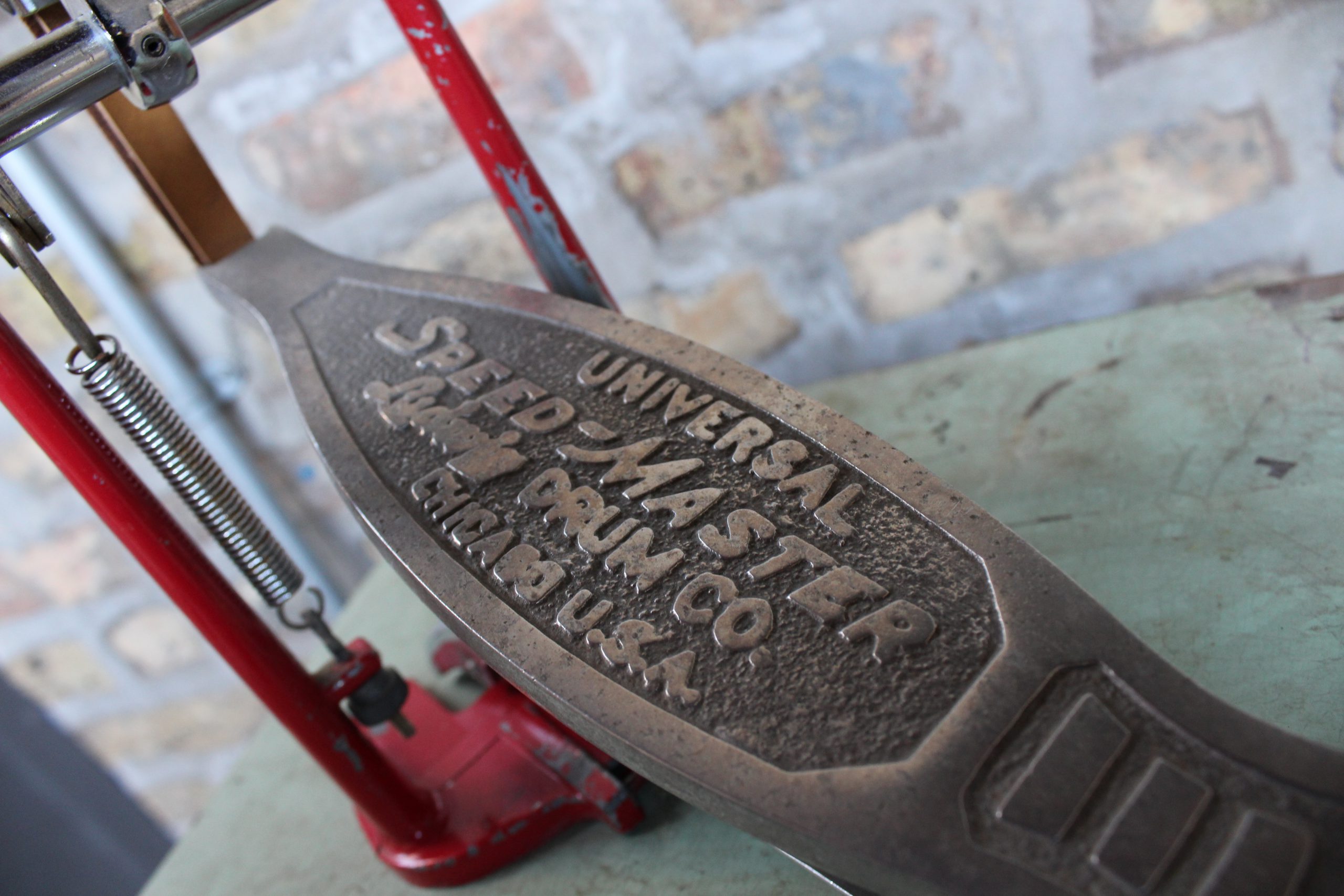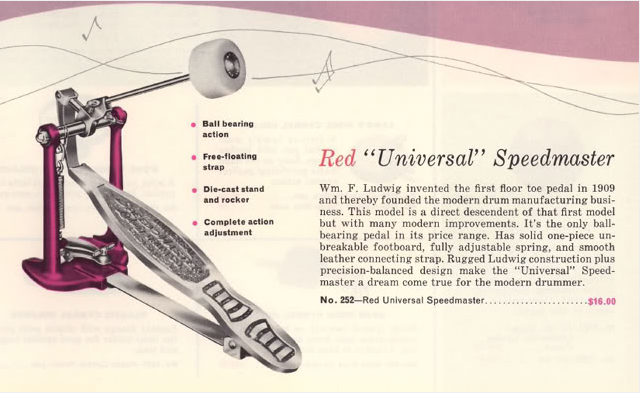 The Pre-Ringo Era
Lest it be forgotten, of course, the Ludwig story does not begin nor end with the Beatles. It does, however, start with a bass drum pedal.
From the age of 13, William Ludwig Sr. had built his life around the drums, first playing with his father, a trombonist, in a traveling circus, then later going on to gigs with low-class minstrel shows and high-class opera companies. In 1909, at the age of 30, he took the first step on an unexpected foray into the industrial end of the music business.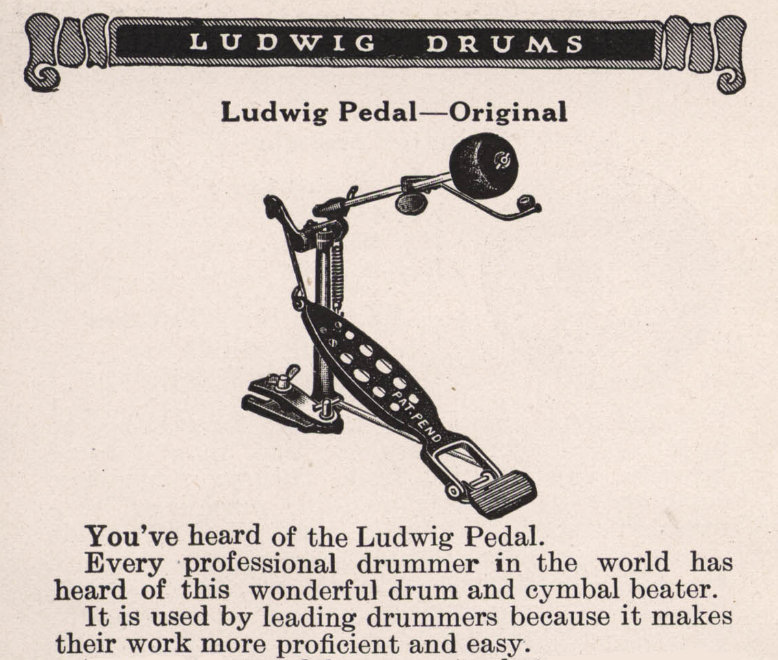 [The "original" Ludwig drum pedal, as shown in the Ludwig & Ludwig 1922 catalog]
"Bill Ludwig crashed into the new era when Ziegfeld brought his 'Follies' into the Auditorum Theater, Chicago," according to a bio inside the 1937 Ludwig catalog. "Ragtime was the vogue, and down in the pit, young Ludwig found that the foot-pedal of that day had never been planned for this new musical craze. But, combining his native ability with the resourcefulness discovered during the 'lean years' on the road, he soon solved the problem. He designed and built his own pedal. Other drummers saw it, tried it, and asked him to build pedals for them. When Bill Ludwig patented the new pedal he laid the foundation for the modern drum business."
Working out of a small house in Pilsen at 1026 W. 20th Place, Bill and his brother Theobald—also a drummer—put months of effort into transforming that wooden prototype pedal into a patented metal version, equipped for eventual mass production. Somewhere along the line, they also hatched the idea of turning this one-off concept into a full-scale business—Chicago's first music shop focused on the unique needs of the percussionist.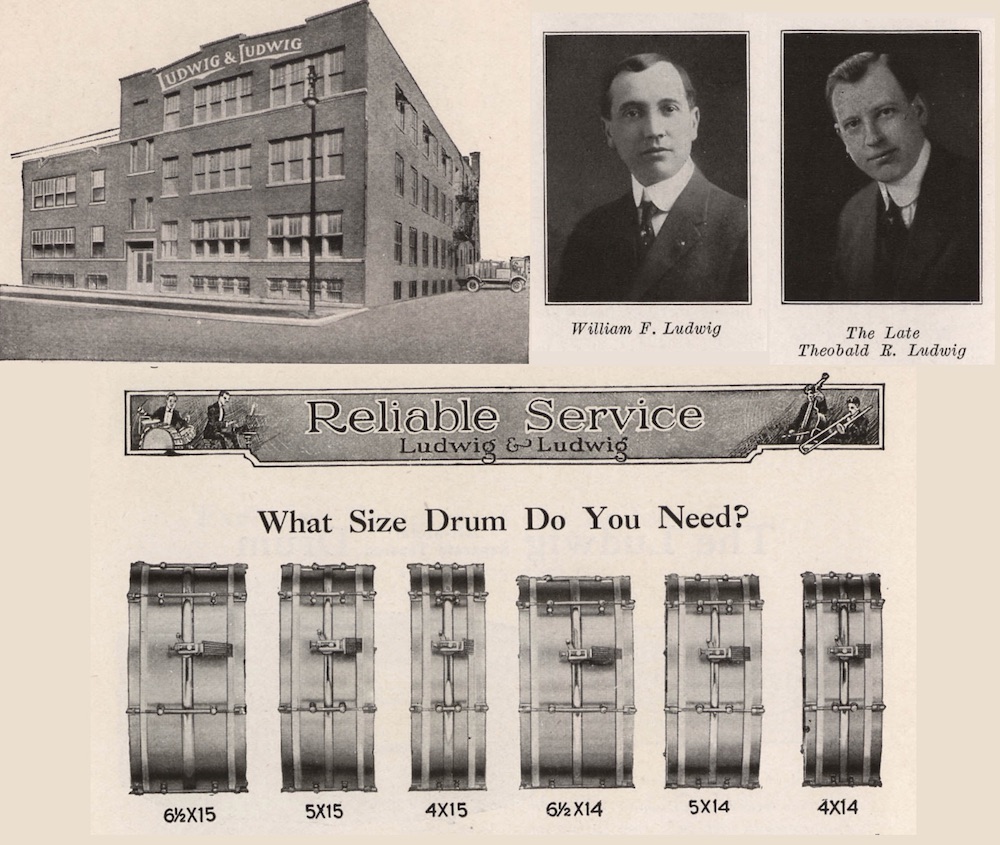 With help from their sister Elizabeth (who kept the books) and her husband Robert C. Danly (the company's first lead engineer), the Ludwig brothers expanded their workspace into a nearby barn, and began developing their own models of drum frames, leather heads (sourced from the nearby Union Stockyards), fiber cases, pedal timpani (the first of its kind), and other gear. These original products were then combined with backstock from other manufacturers to form the first proper Ludwig & Ludwig drum plant at 1611 N. Lincoln Street (present day Wolcott Avenue) in Wicker Park. The business's debut catalog was published in 1911.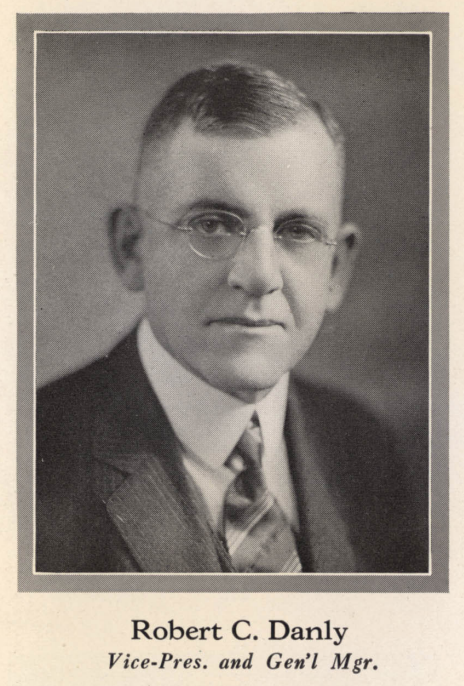 According to Harry Cangany's book, The Great American Drums and the Companies That Made Them, "Robert Danly's contribution to the firm's success was critical. He designed the one product that set Ludwig & Ludwig apart from the competition: the strainer [tensioning mechanism on snare drum]. Lots of companies had great shells; there are European snare drums with tube lugs that predate the 1912 Ludwigs, and Duplex probably had separate tension first. But no one had as quiet and strong a strainer, because no one else had Danly. It's no wonder that Ludwig grew so rapidly."
Despite all the work involved in keeping up with that rapid growth, elder brother Bill Ludwig wasn't willing to completely abandon his old life as a drummer for this new career as a drum maker. For nearly a decade, he balanced both worlds, touring the country with the Chicago Grand Opera Company and eventually earning a spot in the revered Chicago Symphony Orchestra. When his brother Theo died suddenly during the great flu epidemic of 1918, however, Bill was forced back to the shop, leaving behind his sticks for good.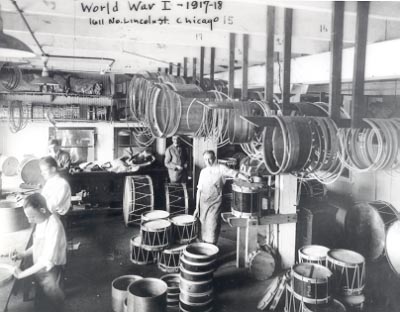 [Workers at the Ludwig & Ludwig factory on Lincoln Street / Wolcott Ave., c. 1917-18]
Nonetheless, the personal experience that William Ludwig brought to the table as an accomplished drummer in his own right would always remain an important selling point for his company.
"Knowing How counts for a whole lot in this world," Ludwig wrote in the intro to his company's 1922 catalog. "But there is more than one kind of Knowing How."
[Photo Below: William Ludwig Sr., in his later years, showing off the original drum pedal he'd designed in 1909]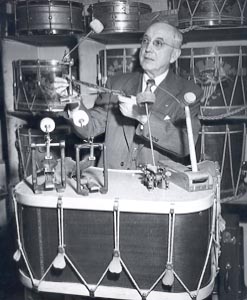 "There is an army of college professors who can tell you all about the theory of sound as it relates to music," Ludwig continued. "But it's dollars to doughnuts that probably not one of them would know how to scientifically construct any of the instruments they describe. By the same token there is a lot of theory about drums and trap drummers' outfits. But when you want drums for a special purpose—when you may be 'just a little shy' yourself as to what will give you the best service—then is the time it pays you to come to experienced professionals who have the 'know how' actually at their finger ends, both in theory and practice."
Ludwig bullet-pointed these facts for emphasis:
♦ We are professionals—we are practical drummers and have had long experience.
♦ We know that professionals must have the best.
♦ With us a drum is not a drum unless it is perfectly constructed, plays easily, and is snappy.
♦ Therefore, no drum, regardless of its price, leaves the house until it has had my personal inspection and proves itself to be a worthy sample of our art.

[Ludwig factory workers on the job, circa 1920s]
Crash & Rebirth
Ludwig was soon the largest drum manufacturer in the world, but despite the success, it was never smooth sailing. After Theobald Ludwig's death (he was just 29), William did his best to expand the company's line of products and its clientele, from drum corps and early jazz musicians to the "mini orchestras" hired to play the live soundtracks at silent film theaters. In the late 1920s, when some cinema fans were eagerly awaiting the rumored arrival of "talking films," Ludwig probably saw it as an ominous threat. Sure enough, the release of "The Jazz Singer" in 1927 took a chunk out of Ludwig's market, and two years later, things got a whole lot worse.
Sad fact: after a stock market crash, people don't buy a lot of drum kits.
Ludwig & Ludwig was devastated by the economic collapse. Even before 1929 was over, Robert Danly left to focus on saving his other business, the Danly Tool and Die Company, while William Ludwig was forced to accept the inevitable. Roughly 20 years after inventing his first base drum pedal, he agreed to sell his once mighty drum business to the C.G. Conn instrument company. The Lincoln Street factory was closed shortly thereafter, and manufacturing was moved to Indiana.
Disappointed but not defeated, William Ludwig regrouped and eventually worked his way back into the drumverse in 1937, starting a new company with his son William Jr., called the Wm. F. Ludwig Drum Co., or "WFL." They opened a large factory at 1728 N. Damen Avenue, and though the company couldn't be affiliated with the original Ludwig brand name, they managed to re-establish their reputation swiftly, signing top drummers of the day like Buddy Rich to promote the WFL product.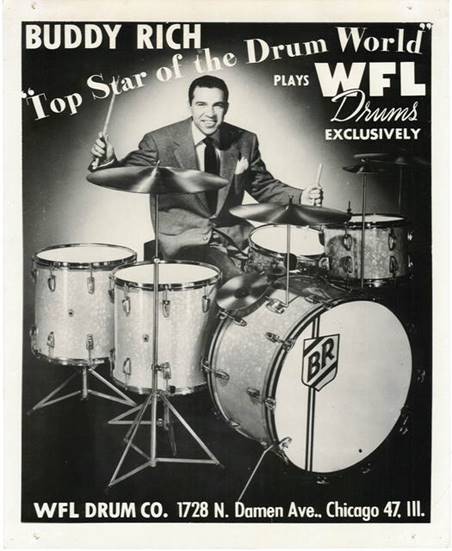 [A 1950s WFL Drum Co. ad ft. famed drummer Buddy Rich, shortly before William Ludwig re-acquired the "Ludwig" brand name]
By the mid 1950s, the Ludwig family was finally able to re-acquire the original Ludwig brand name—just in time to ride a new wave of popular jazz, country, rhythm and blues, and rock n' roll.
The Damen factory remained in operation until the mid 1980s, after which the Ludwig family sold out to the modern version of the same company they'd sold to in the 1920s, Conn-Selmer. This time, it was fear of competition from the electronic drum makers in Asia. The Ludwig name was and still is retained under the Conn-Selmer banner.
There was a Ludwig factory in LaGrange, IL, up through 2013, but all operations are now based in North Carolina and Elkhart, Indiana.
Here is a look at the old Ludwig Drum factory on Damen Avenue, as it was in 1955 vs. 2015, now converted into lofts.

The Golden Snare
Closing back where we started on a Ringo note, here's William Ludwig II's take on the day he met with the Beatles ahead of their first show in Chicago, as described in Paul William Schmidt's 1991 book, History of the Ludwig Drum Co.:
"When we got news of the Beatles' performance in Chicago, I suggested we make a Super-Sensitive 5 x 14" all-metal snare drum, and gold-plate it in 14kt gold to present to Ringo. It was very expensive, but we did it, and when the day came to present it we went to the Ampitheater as we had been granted five tickets to a press conference.
"As we approached the location, I was amazed at the people trudging through the winter weather towards the theater carrying signs bearing slogans of their enthusiasm for the Beatles. I couldn't believe it! We finally found the heavily guarded door, displayed our tickets, and we ushered up the stairs to a small riser and tables for the press conference. All of a sudden there was a flurry of excitement and in came the Beatles and sat down. Afterwards we were told we could stand with the Beatles to have our picture taken. The Beatles were nicely dressed and very pleasant young fellows, and when it was our turn, I had the drum ready to give to Ringo. When we were all lined-up I said to Ringo, 'We made up this special gold-plated drum for you in the honor of this occasion.' He said, 'Oh, that's nice.' He held the drum and they took pictures, and I introduced him to my daughter who was sixteen at the time and absolutely astounded by the event. But I'm not really certain if it really hit home with him who I was and what it was all about, because the policeman took the drum away after the photo, and the last I saw of it he had the drum under his arm walking through a door following the Beatles. I rather imagine it got lost in the shuffle."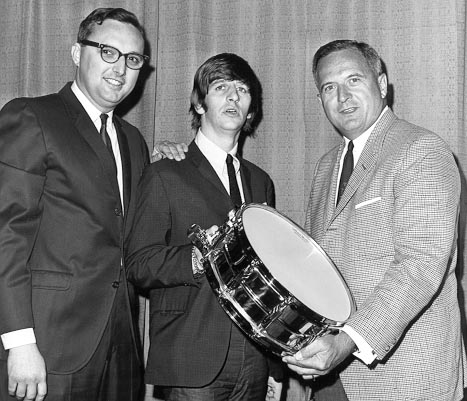 [William Ludwig II (right) and company marketing director R.L. Schory (left) taking their photo op with Ringo in Chicago, 1964]
"We didn't even get to the concert as we'd only had tickets to the press conference and not the performance. We were ushered out of the press conference and went home; it was a terrible let-down. I never pursued it because he was already so famous, I doubt he cared about what the manufacturers of his drums cared about. But he still insisted on using Ludwig drums with the name on the front of the head, and he always did."
William Ludwig II died in 2008, so I don't know if he ever got a resolution to this story, but the Made-in-Chicago Museum can report that the mythical gold Ludwig snare drum, presented to Ringo Starr in September of 1964, was never truly "lost in the shuffle," after all. It appears to have remained in Ringo's own personal possession all these years. And in 2010, it resurfaced for the world to see in a display at the Metropolitan Museum of Art in New York City (we like to consider The Met a sister-institution of the Made-in-Chicago Museum, even though they most definitely ain't). So rest easy wherever you are, Mr. Ludwig. That thoughtful gift did not go unappreciated.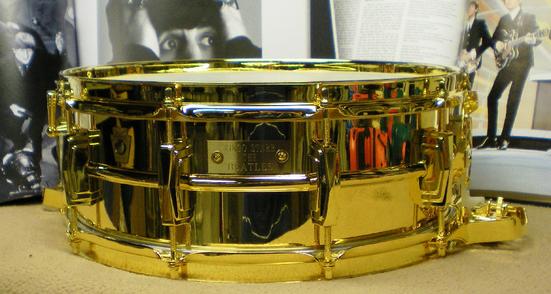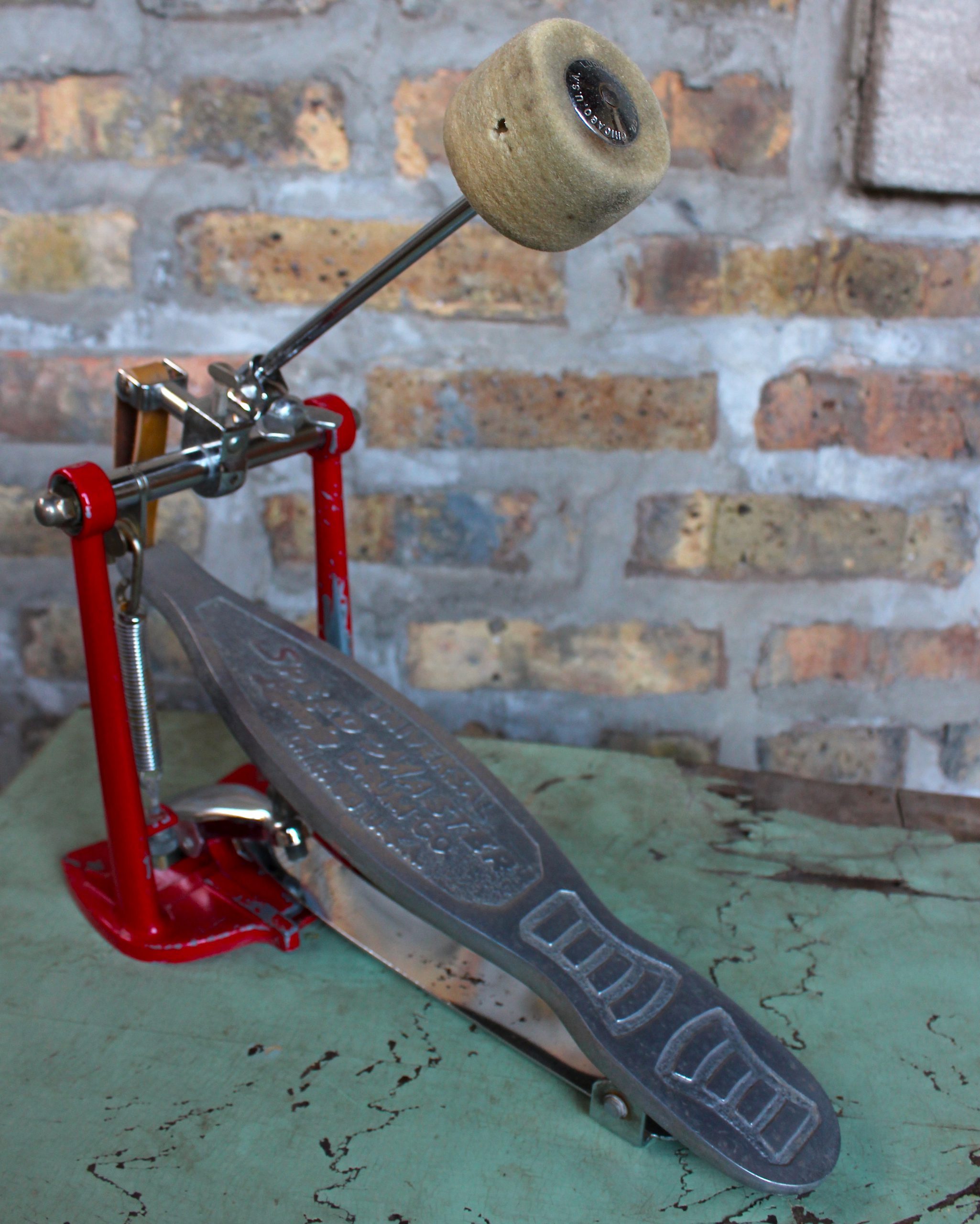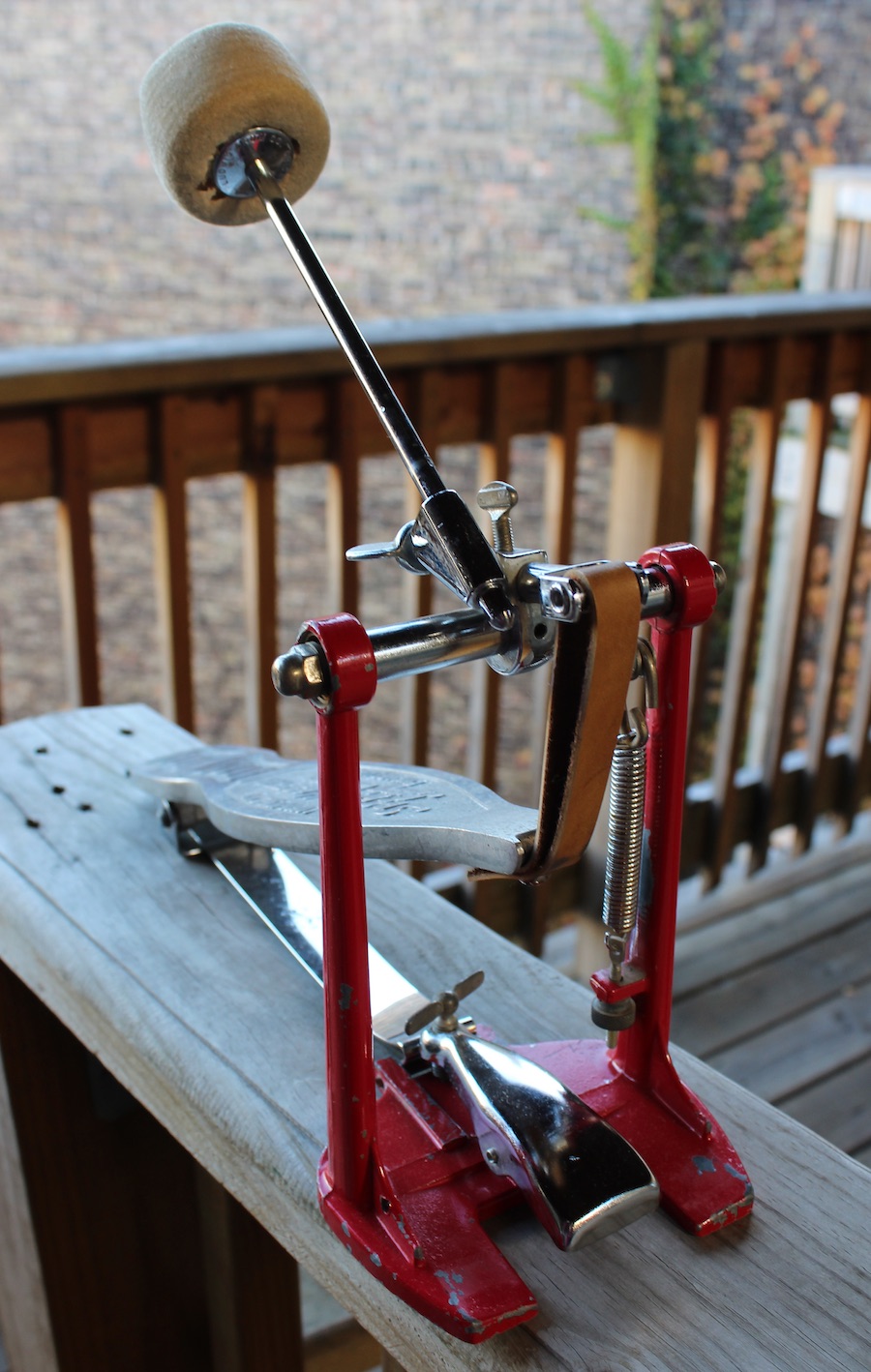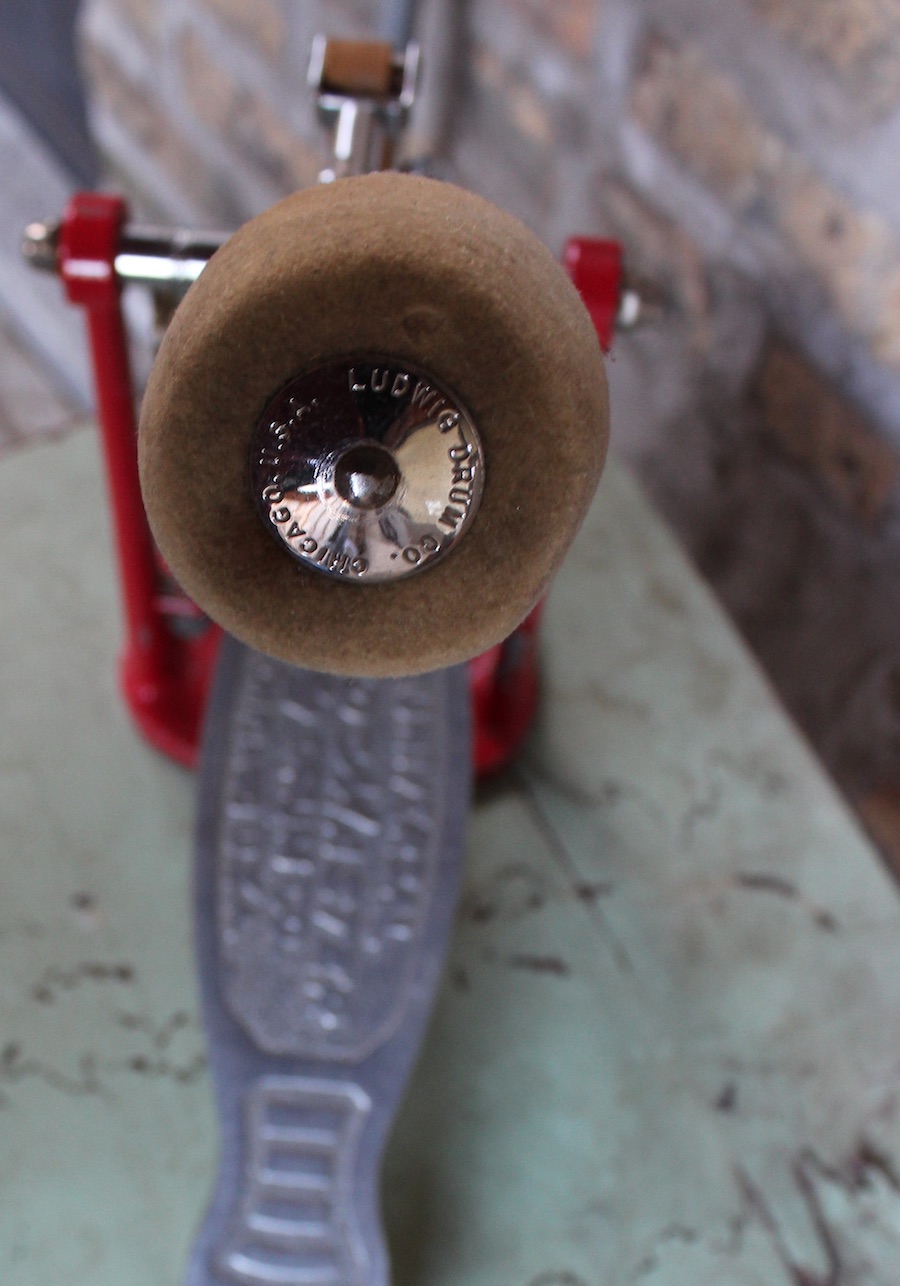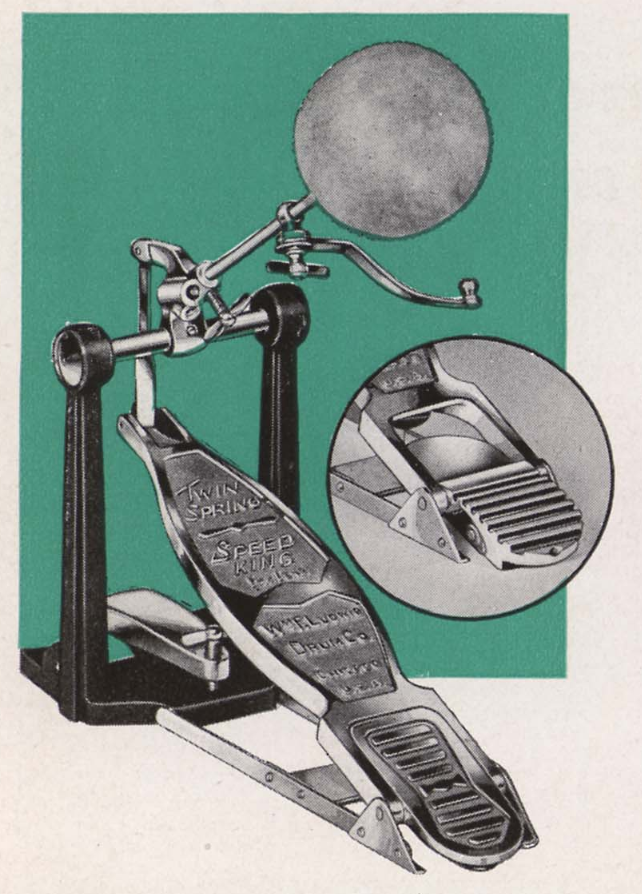 Sources:
"The Origins of Ludwig Drums" – Chicago Reader
History of the Ludwig Drum Co., by Paul William Schmidt
Ludwig & Ludwig catalog, 1921
National Music Museum, University of South Dakota
The Great American Drums and the Companies that Made Them, 1920-1969, by Harry Cangany
Archived Reader Comments:
"I'm wondering if the Ludwig family members had any direct contact with John Bonham. It was because of Bonham that I first heard of the Ludwig brand when I was 13 and play Ludwig today at 56." — Jack Kramer, 2020
"

Wonderful factual story, I had often wondered how the "WFL" name was derived. What did the "F' initial stand for…..curious? I am an 82 year old drummer and play "LUDWIG" BREAKBEAT but unfortunately they are NOT made in the US and A. I also have a very early "WFL" 14inch X 3 inch Maple Shell ….5 inches deep overall….where would I find a serial number to lean or trace it's history. Would it have any real value? It is in above average condition. Looks GREAT, plays beautifully!

Thank you." —Owen Smith, Australia, 2020
"My father was the Chief Engineer there during the 70's and early 80's.  I have very fond memories of visiting him at the factory!" —D. Mikosz, 2019
"I applied for a job there in 1978 or 1979. I was told we have no need for drummers here." —Michael Romero, 2018
"I used to work there, it was a great company to work for." —Carmella Beasley, 2018