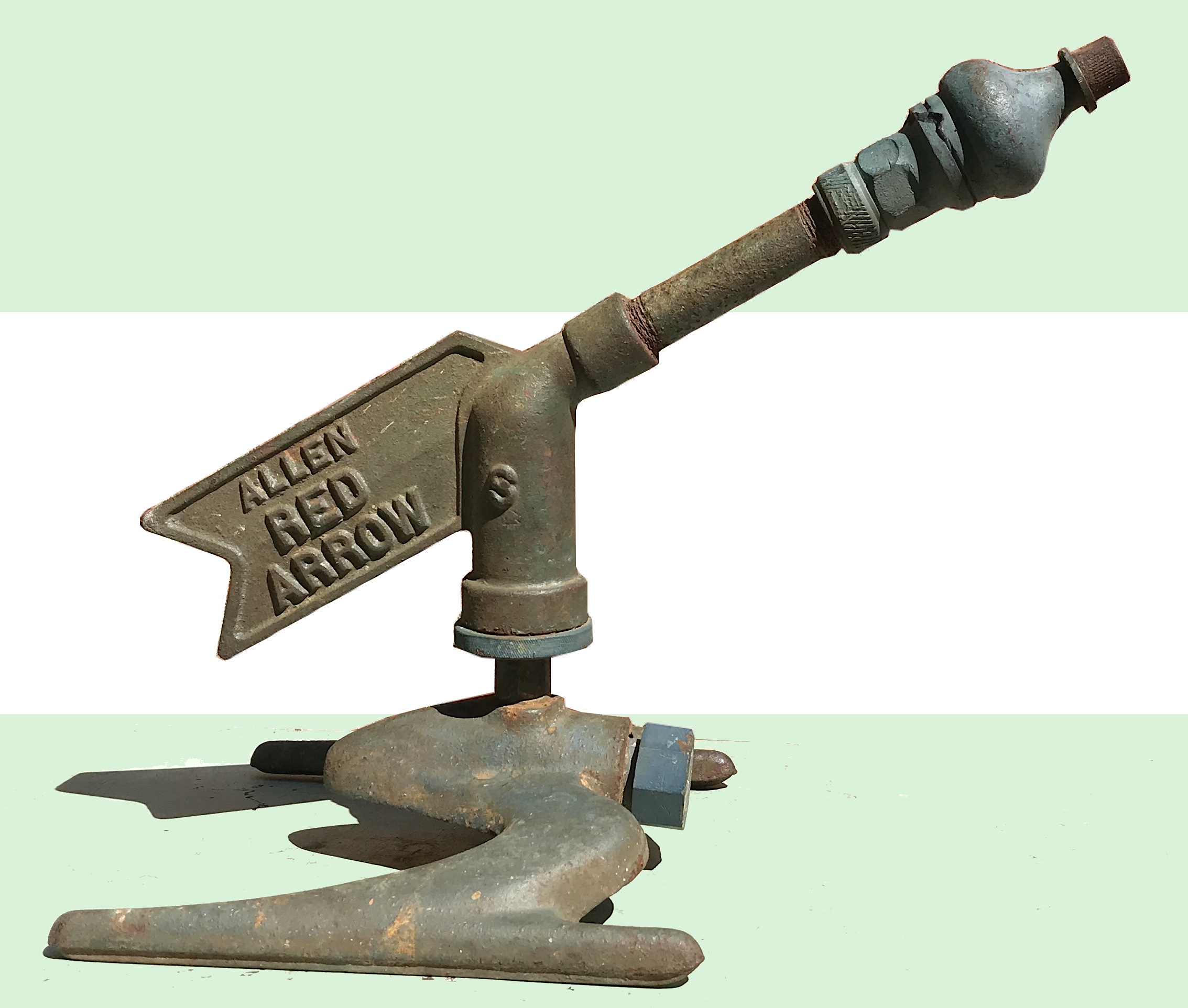 Museum Artifact: Allen "Red Arrow" and "The Ring" Lawn Sprinklers, c. 1940s
Made By: W. D. Allen MFG Co., 5650 W. Roosevelt Rd., Chicago, IL [Cicero], offices at 566 W. Lake Street
W. D. Allen's cast-iron "Red Arrow" lawn sprinkler first blasted off in the late 1930s, taking on an eventual space-rocket shape that landed it somewhere between the trends of Streamline Moderne and Atomic Age design. Patented by a company engineer named John George Evans, this model was described as "a practical sprinkler of the rotary type" in one Allen catalog, which also warned that its 70-foot spray range made it better suited to "large lawns, estates, cemeteries, parks, and golf greens. . . . DO NOT USE FOR SMALL LAWNS." Wouldn't want to put someone's eye out!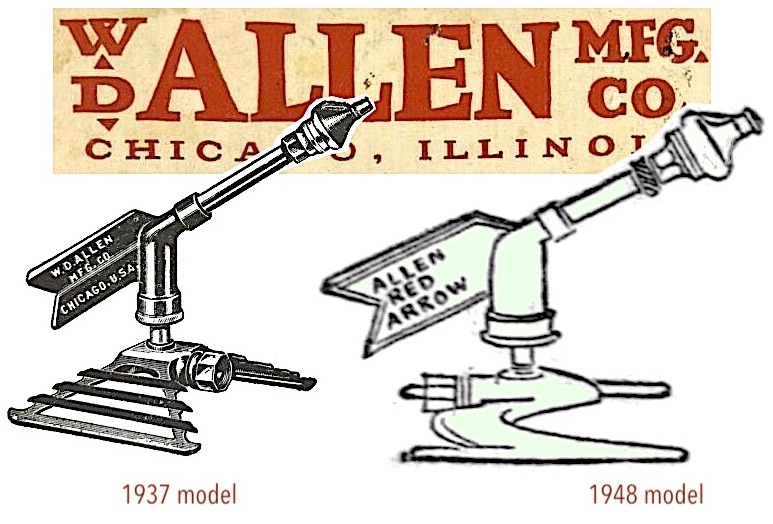 Most of the early Red Arrow sprinklers (which were clearly sometimes painted green) would have been produced at the W. D. Allen Manufacturing Company's large factory campus on Roosevelt Road in Cicero. That complex, coincidentally, directly abutted the even larger plant of the Chicago Flexible Shaft Company (soon to become the Sunbeam Corporation), maker of the nationally popular "Rain King" line of lawn sprinklers. So, for at least a short while, one city block in Cicero was arguably the center of the yard hydration universe.
Unlike Sunbeam, W. D. Allen didn't produce many other recognizable household appliances—instead, their warehouses were mostly full of brass valves, rubber hoses, leather belting, and fire protection equipment for the industrial sector. The sprinkler division, it appears, was fairly unique in targeting the general consumer.
Dating back to the early 1900s, Allen promoted dozens of commercial sprinklers, perhaps most notably "The Ring"—a perforated brass model that was produced for over 60 years, and which we also have represented in our museum collection.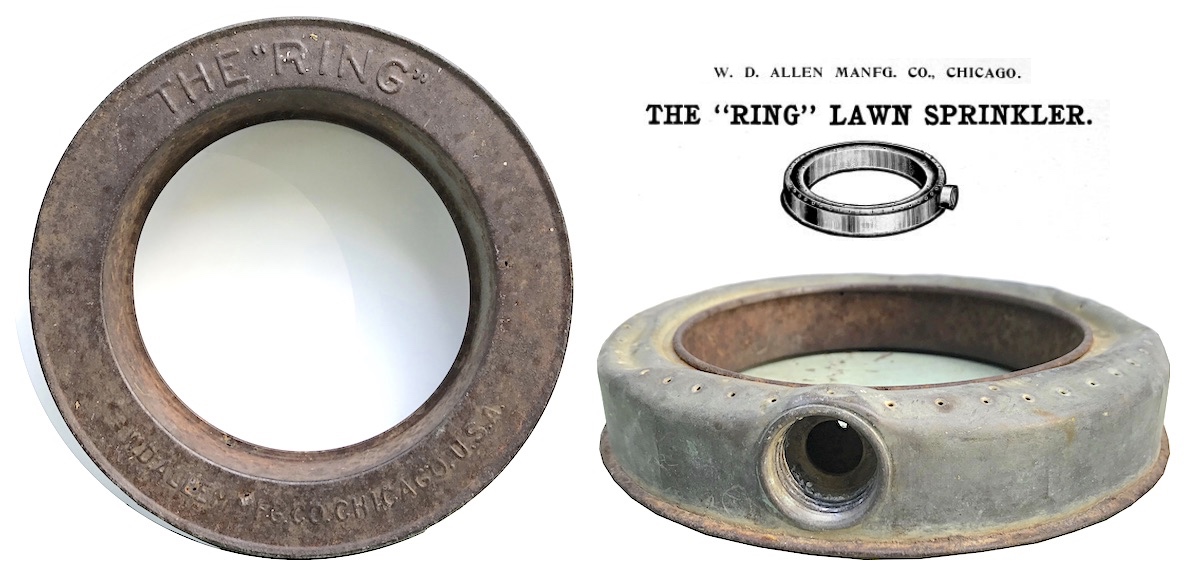 [An early "Ring" lawn sprinkler from or museum collection, donated by Janet Stockhausen]
By the '40s, newer rotary designs like the Red Arrow could be purchased at Marshall Field and other department stores, right alongside the Rain Kings. As such, a sort of neighborly rivalry developed between the W. D. Allen and Sunbeam factories—not just in the battle for sprinkling supremacy, apparently, but also on the basketball court—where employees from the two companies routinely squared off in the Columbus Park Industrial League during the late 1930s and early '40s.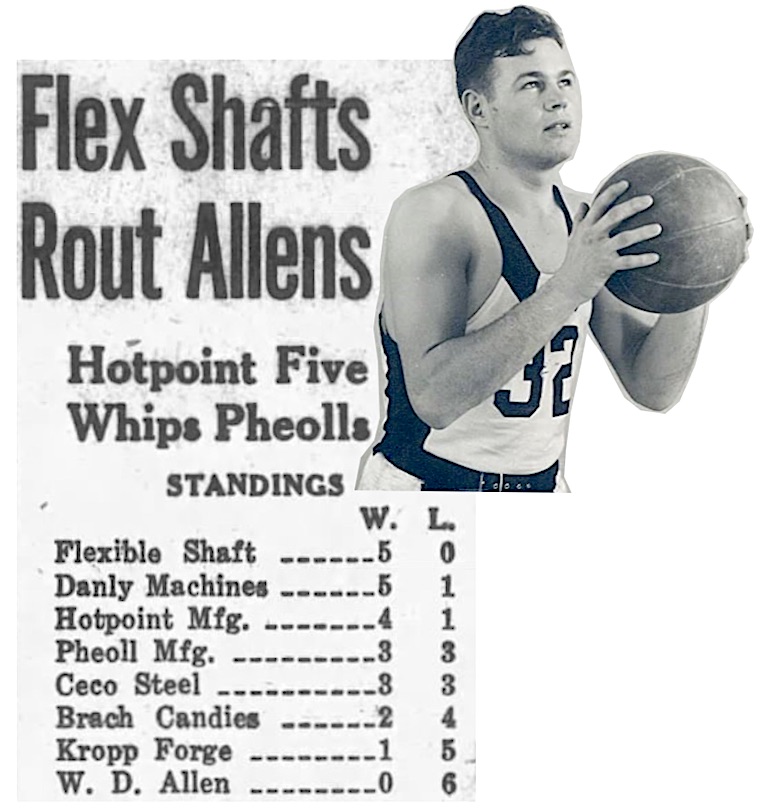 This competitive confederation, which played its games at the Columbus Park Gym a half mile north of the Allen plant, also included factory teams from Ceco Steel, Danly Machines, Brach Candies, Pheoll MFG, Hotpoint MFG, and Kropp Forge. As best we can tell, the undersized line-up from W. D. Allen, which included amateur ballers Bob Herzog, Bob Sherry, Al Lankford, Frank Kazelas, and "Muff" Mims, was no match for the Sunbeam squad, which stormed to a league championship in 1941.
The story was similar in the marketplace, where Allen's workhorse lawn sprinklers couldn't overtake the increasingly cheap, powerful, and plastic models of the mid-century. The company ceased manufacturing in the 1970s, and it's really only now—90 years after the death of William D. Allen himself—that somebody on the internet is taking the time to review his company's contributions in any real depth.
History of W. D. Allen MFG Co., Part I: Belts, Brass & Thieves
Most sources track the establishment of the W. D. Allen MFG Co. back to either 1869 or 1887. The first option takes into account the firm's pre-Allen origins as "E. B. Preston & Company," one of Chicago's first rubber goods manufacturers. That business was organized by a former Union Army captain from Hartford, Connecticut, named Everett B. Preston. His wife Ellen, also a Hartford native, had a younger brother named William Day Allen (b. 1855), and thus the dominoes were aligned.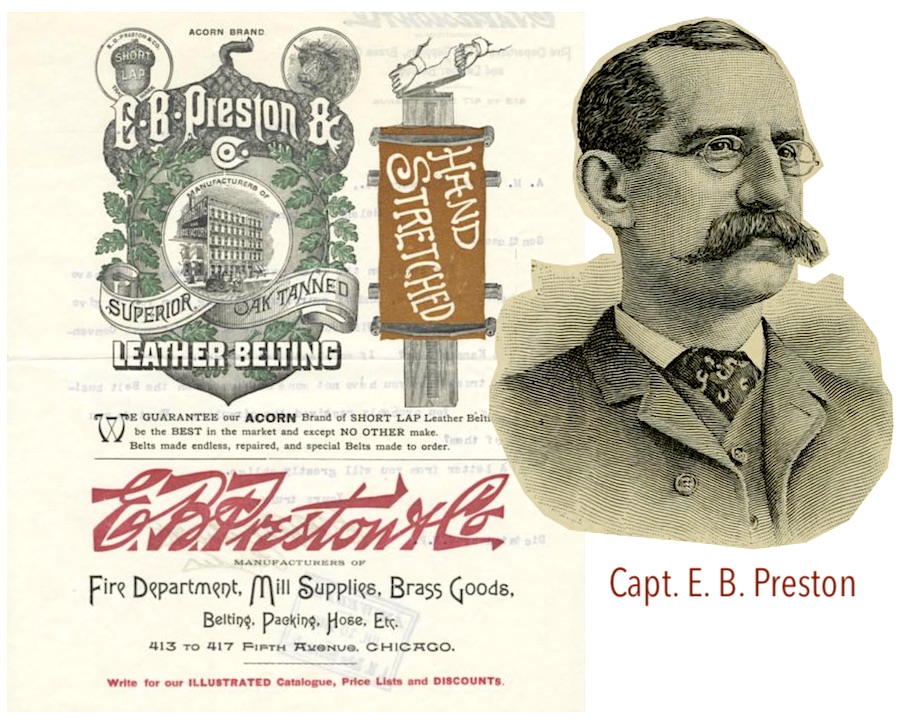 In 1880, shortly after graduating from Yale with a philosophy degree, William Allen took a train out west and joined his brother-in-law's business. Being part of the family, he was immediately brought into the firm's inner circle, and by 1887, Everett Preston agreed to sell Allen some resources and contacts to establish his own firm, initially known as W. D. Allen & Company.
Headquartered at what is now 133-135 W. Lake Street, Allen & Co. began as a western distributor for several East Coast mill supply companies, but after a few years, it began producing its own line, utilizing the Preston factory at 413-417 Fifth Avenue and another plant at what is now 2318-2324 S. Western Avenue. Now, as a combination wholesaler and manufacturer, the business was well positioned to be part of the new wave of industrial innovation that followed Chicago's Columbian Exposition.
By 1895, one trade magazine described W. D. Allen as offering "an extensive line of rubber goods," as well as "leather belting, link belting, sprocket wheels, elevator machinery, steam and water fittings, engine governors, heating radiators, pulley blocks, tools, and hardware." The company's catalog that year was about 250 pages; by the 1904 edition, it had doubled to over 500 pages, "listing more than 700 articles" mostly targeted toward the needs of mills and factories. "This company is one of the largest of its character in the West," the Manufacturer's Record reported that year, "and is catering to a large and rapidly increasing trade."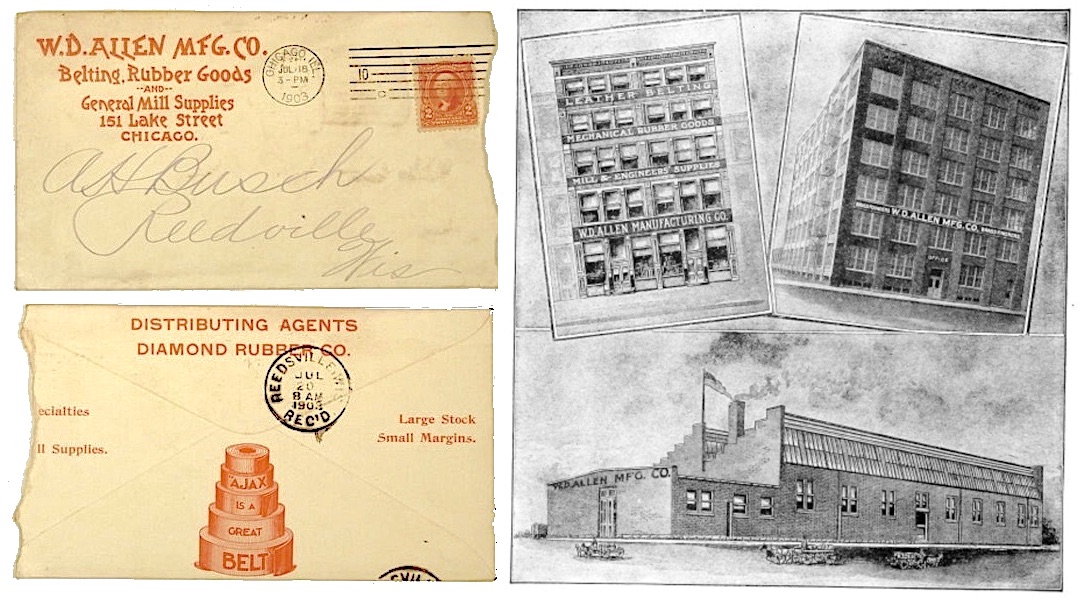 [Left: W. D. Allen advertising mailing, 1903. Right: Allen's facilities in the early 1900s, including the offices at 133-135 W. Lake St. (top left) and the factory and foundry at 2318-24 S. Western Ave. (top right and below)]
At the Lake Street offices, William Allen was joined by C. Frank Bowles, VP, Edward H. Pease, treasurer, and Thorval Ryerson, secretary. By 1908, Ryerson was elevated to vice president and William H. Symonds—a key figure in the company's future—was secretary. Also on the payroll were J. J. McCauley, superintendent of the belt factory; Henry Gibbs, superintendent of the brass shop; and close to 100 employees, from lathe operators and assemblers to office staff. Many of them were underpaid teenagers, including Jennie Bobysud, a fresh-off-the-boat Czech immigrant working in the foundry; Barbara Walters, a stenographer (no, not the TV personality); and Edward Wieren, an office errand boy.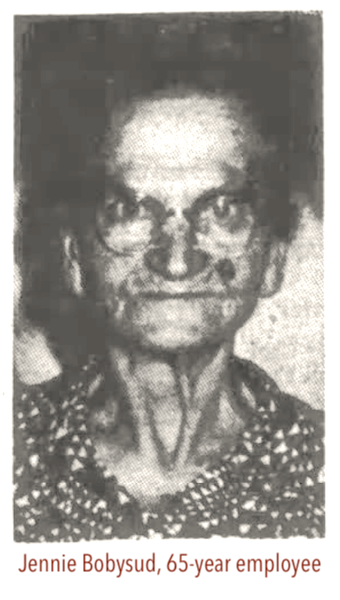 Sometimes, these young employees made a life-long career out of the gig, like Jennie Bobysud, who wound up working for W. D. Allen for 65 years, finally retiring in 1972 at the age of 82. "I want to take life a little easy while I'm young enough to enjoy it," she said after wrapping up her last day in the light assembly department. On the other end of the spectrum was the young delinquent Ed Wieren, whose brief tenure in the Allen offices ended in a criminal offense.
On the afternoon of September 25, 1908, Wieren, aged 19, jumped into the vault in the factory office on Western Avenue and made it his secret hiding place for the next four days, going without food or water. When superintendent Henry Gibbs finally opened the vault on payroll day, holding $700, a masked Wieren leaped out, armed with a pistol. He struck Gibbs in the head with the weapon, then raced out of the vault with the stolen cash. Nearing the exit, Wieren was suddenly blocked by bookkeeper Henry Gallagher and the aforementioned young stenographer Barbara Walters.
"If you raise a hand to stop me I'll kill you both!" Wieren supposedly shouted at them, according to newspaper reports the next day. He then darted over a railing and escaped to the street and an awaiting horse and buggy. Catching their breath, Gallagher and Walters went to help Mr. Gibbs, who had a bloody gash on the head, but made a full recovery. Wieren was later identified and apprehended when he tried cashing in the stolen funds at the bank.
Thanks to this bizarre incident, we have a surviving photo from inside the W. D. Allen factory office taken the day after the robbery, September 30, 1908, featuring Gibbs, Gallagher, and Miss Walters sitting at her Oliver typewriter. Meanwhile, somewhat remarkably, we've yet to find a single surviving photograph of William D. Allen himself. In a way, perhaps it's poetic justice.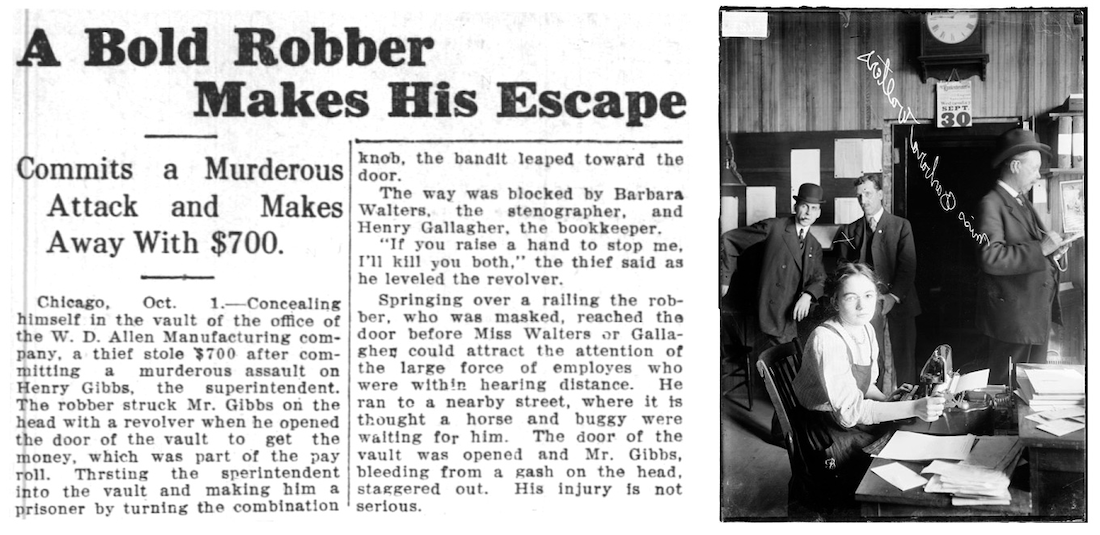 [Left: News reports of the unusual 1908 Allen factory robbery were printed in papers across the country, including this story in the Akron Beacon Journal. Right: The W. D. Allen office the day after the robbery, as photographed by the Chicago Daily News, with stenographer Barbara Walters in the foreground and superintendent Harry Gibbs behind her, second from right. The man on the left might be bookkeeper Henry Gallagher, and the other may be an investigating police officer]
While Allen seems to have been a perfectly decent fellow overall, his story is probably a tad less endearing than a young stenographer standing up to a thief. The Allen family traced its New England heritage back to the Revolutionary War, and even further back to the Mayflower, and William's privileged background led him on to the Ivy League, corporate board rooms, and membership in elite Chicago clubs like the Union League and Skokie Country Club. To his credit, he was also a juvenile court adviser and a member of both the Evanston Hospital board and the First Congregational Church of Evanston, which he attended every week with his wife Cora and their daughter. The only record we could find of W. D. Allen's own words, however, also comes from 1908, and somewhat unfortunately, they show him aggressively taking a stand against the push for a more reasonable 8-hour workday in America's factories.
"We want to go on record as filing a vigorous protest against the passage of this [eight-hour] bill," Allen wrote to the U.S. House of Representatives. "If this bill becomes a law it will disarrange all business conditions with the manufacturer who does work with the Government. It is simply an entering wedge for the labor unions to enforce later a universal eight-hour law, and to this the country can never submit. Such a law is entirely illogical and without any rational basis from the point of view of the manufacturer. We can not in this country submit to have our plant idle sixteen hours out of twenty-four, as we can not stand the heavy fixed charges which follow from this sort of thing. Yours, very truly, William D. Allen."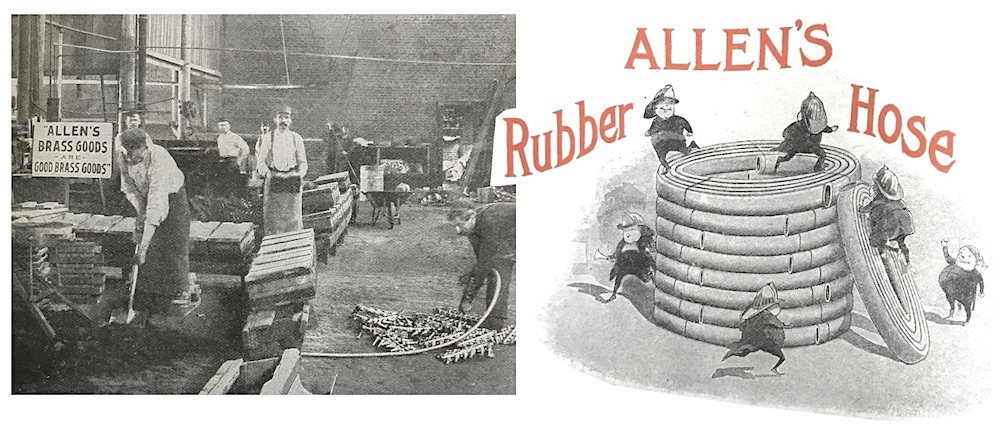 [Inside the W. D. Allen foundry, 1912, along with an ad from the company's 1912 catalog]
Part II: Cicero Bound
During the 1910s, the W. D. Allen MFG Company's catalog had become jam packed with dozens upon dozens of exclusive brands of industrial belting (still essential for most big factory machines of the era), along with clamps, couplings, fittings, pipes, pumps, and a growing line of home and garden equipment, including lawn mowers, water hoses, and of course, sprinklers.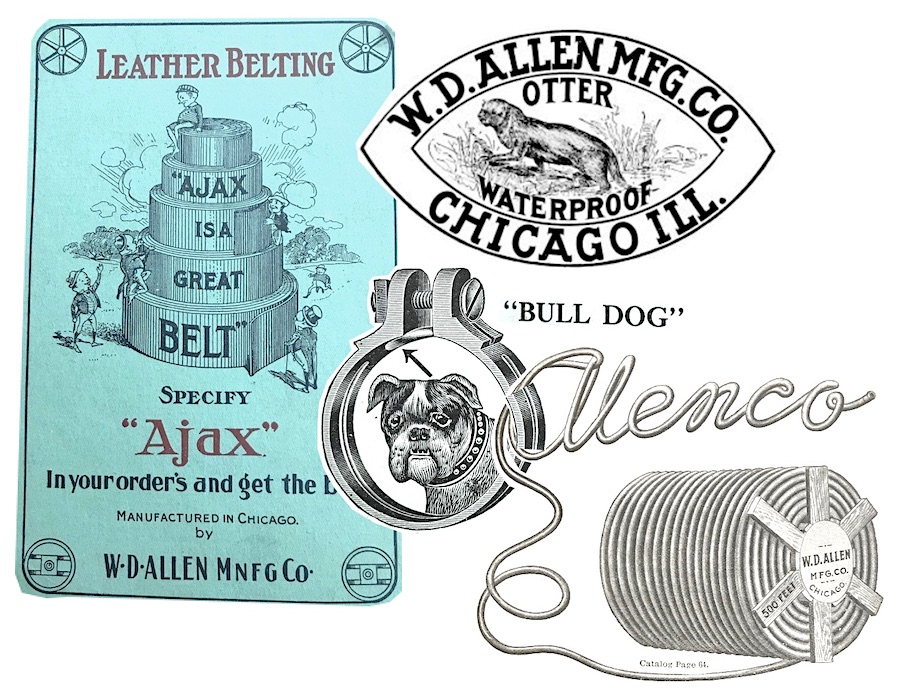 Many trademarks were reused across the different genres of Allen products, including names like AJAX, DYNAMO, DEFIANCE, BULL DOG, YALE (for William Allen's alma mater, of course), HARTFORD (for his hometown), EVANSTON (for his adopted hometown), and some weirder ones, like OTTER, MASCOT, and ALENCO—the latter of which intentionally misspelled Allen for some matter of convenience, I guess. A number of products were also named after employees, such as the Gibbs Spray Nozzle, Ryerson Hose Reel, and Symonds Oil Burner.
The best names might have been reserved for the sprinkler department, though, where you could choose models called the MAYFLOWER, MIDGET, SUNSHINE, PLUVIUS, CYCLONE, ANACONDA, and VOLCANO, among others. Each had its own distinct design and specific functionality, but the simplest and perhaps most popular was The RING, so-called because it was basically just some sheet brass stamped into an 8" diameter circle with perforated holes all around it for expelling water outward in all directions.
"The Ring throws a fine spray," claimed the 1910 catalog, "covers a large circle and can be conveniently moved about without shutting off the water. . . . There is considerable demand for this sprinkler, and the jobber will satisfy the artistic as well as the utilitarian demands of the public by buying the 'Ring.'"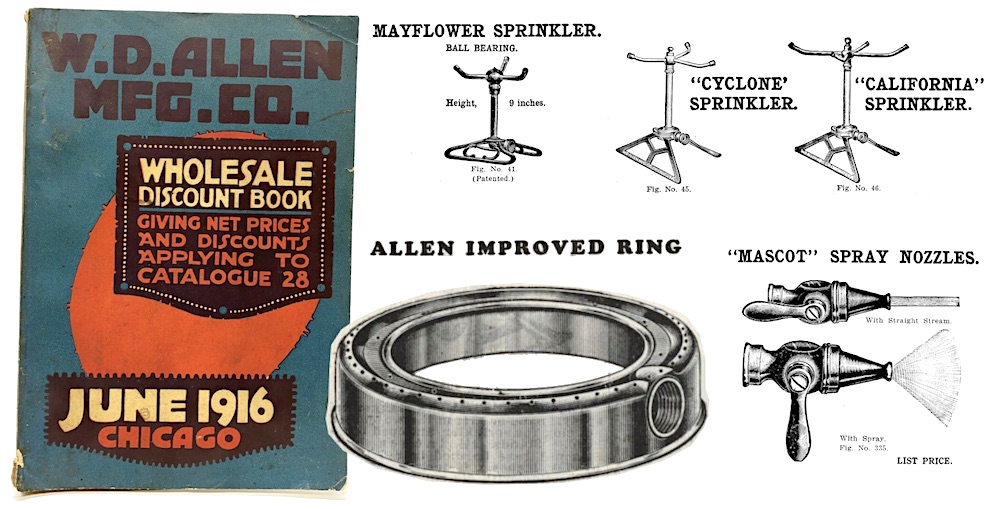 By 1917, after three decades in the same Lake Street offices, Allen upgraded its headquarters to a bigger 70,000 square foot facility a short distance down the street at 566-570 W. Lake Street. Here, they had their warehousing and belt manufacturing right alongside the corporate offices and distribution. Most of the other manufacturing, including sprinklers, hoses, and fire protection gear, was still done at the 50,000 square foot Western Avenue plant, but the company was outgrowing this location, as well. "Business has grown slowly but surely until the firm now is one of the largest mill supply businesses in the middle west and their manufactured products sold throughout the world," according to 1918's Manufacturing and Wholesale Industries of Chicago.
Finally, in 1920, a move was completed to a new consolidated mega-plant in Cicero, at 5650 West Roosevelt Road, with 150 employees in tow. As noted, the Chicago Flexible Shaft Company controlled the plant next-door, but the two firms arrived in Cicero within months of each other, and it's not 100% clear who got there first.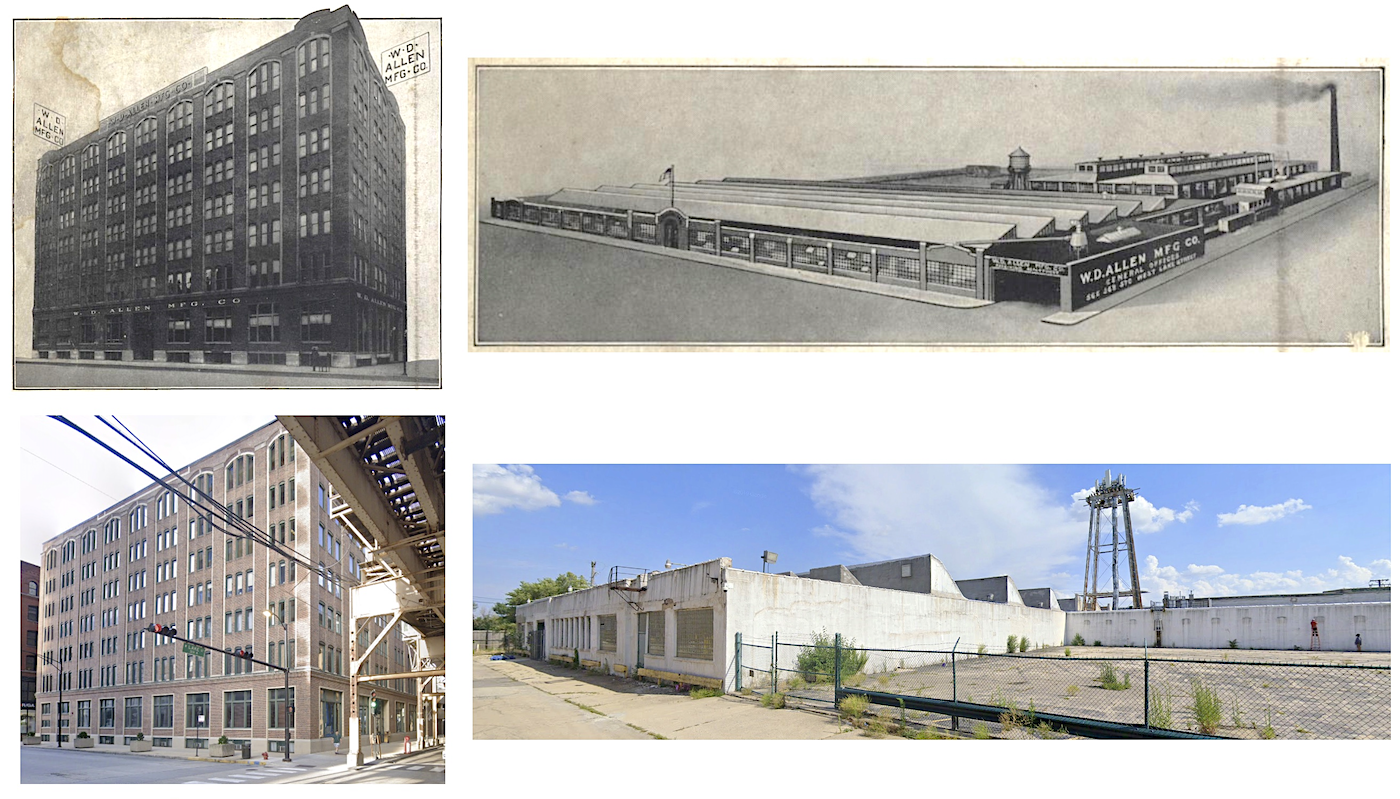 [Above Left Side: Former W. D. Allen building at 566-70 W. Lake Street, 1937 vs. today. Above Right Side: W. D. Allen plant at 5650 W. Roosevelt Road in Cicero, 1937 vs. today. Below: 150 employees and 50 guests attend a Lincoln Day celebration at the Roosevelt Rd. plant in 1920.]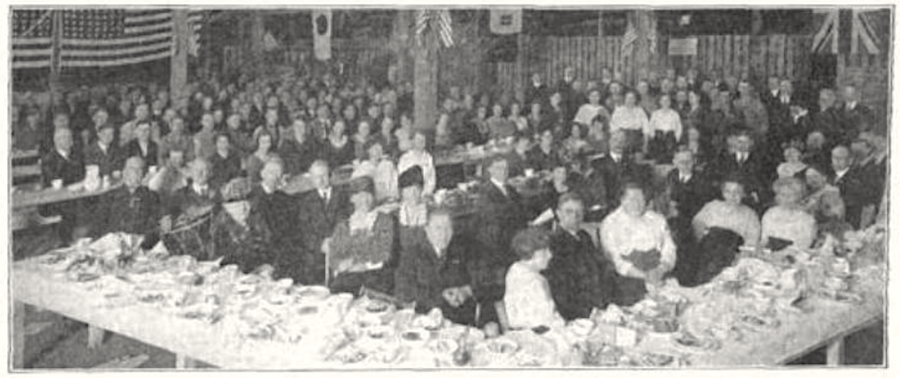 A staunch Republican, William Allen gathered everyone together to mark Abe Lincoln's birthday that first February in Cicero, decorating the factory in flags and bunting and encouraging all attendees—particularly the foreign-born employees—to sing along to patriotic songs.
"W. D. Allen was called upon by Superintendent Henry Gibbs for an address," Chicago Commerce reported after the event. "Among other things Mr. Allen made the interesting statement that this was the first celebration in the new plant, and that the task of moving was accomplished without interfering with work, and actually increased production."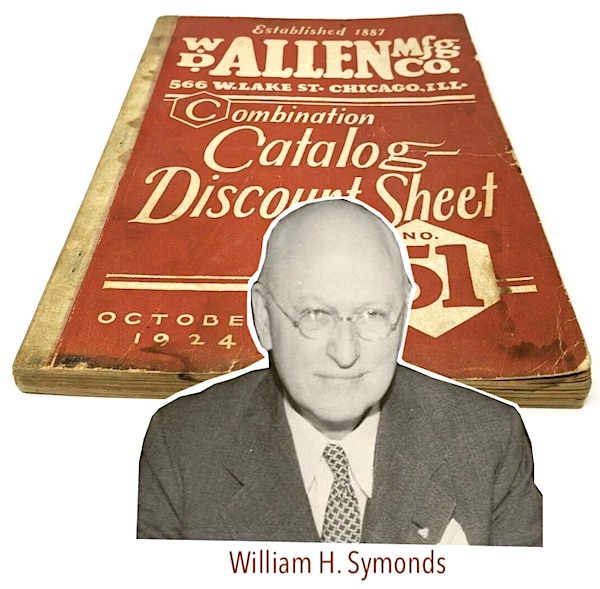 As success continued during the 1920s, William Allen—by now in his 60s—was able to take more of a back seat, as his proteges Thorval L. Ryerson (b. 1874) and William H. Symonds (b. 1876) managed the firm's day-to-day affairs. Symonds, like so many of Allen's employees, had joined the fold as a teenager and never looked back; moving up from office boy to the board room. He'd only ever experienced forward momentum at the company, so the change in trajectory between 1928 and 1933 must have really thrown him off his axis. During that relatively brief period, he had to deal with the death of longtime company treasurer Edward Pease (1928), the collapse of the stock market (1929), the death by heart attack of William Allen himself (1931), and the unexpected death of Allen's successor, Thorval Ryerson, in 1933, after complications from a surgery. In the aftermath of these events, and in the depths of the Great Depression, William Symonds was now suddenly the company president, tasked with keeping W. D. Allen going into an uncertain future.
Part III. Allen After Allen
As the W. D. Allen MFG Co. approached its official 50th anniversary in 1937, the new generation of leadership at the firm included Symonds as president, Harry E. Meng and Edgar H. Nelson as vice presidents, and Ethan S. Boone as secretary.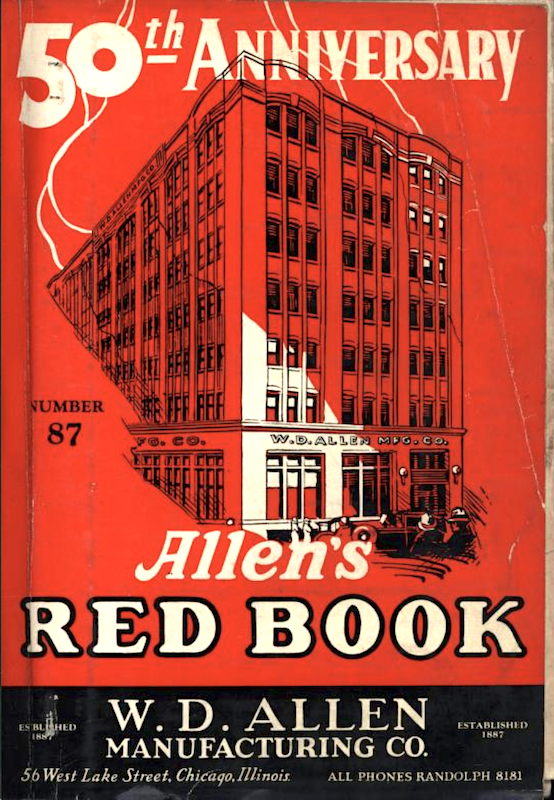 Like most factories during the Depression, Allen's Cicero facility was forced to cut costs and corners, while also competing for the last scraps of resources and manpower it could afford. As it had throughout its history, the company relied a lot on young workers willing to accept a meager wage. One of these youngsters was 19 year-old Henry "Bud" Veer, a farm boy from North Dakota who came to Chicago in 1936 looking for any factory work he could find.
"I suddenly had a choice of three jobs at three different factories in the Cicero area," Veer wrote in his 2008 memoir, A Farm Boy's Journey. "I accepted a job at the W. D. Allen MFG Co. It was paying 40 cents an hour. Sunbeam in the same block was paying 35 cents an hour, and a third prospect only paid 30 cents. I should have kept going; I might have gotten $1 if I went long enough."
Describing the job over 60 years later, Bud Veer seemed to remember his tasks at the Allen brass foundry quite vividly.
"This job at Allen's was dumping molds filled with hot brass (liquid) and letting them set long enough until the brass cooled enough to dump it," he wrote. "Then I had to riddle the sand so the molder could use it again when it cooled. Then on to the next molder rack and do the same thing. Meantime the castings were sent to the grinding room to cut off the brass that was not part of the casting. It was hot work, but at 40 cents an hour, in 40 hours I would make $16. That's a lot of money when you've never really had any before. On Saturdays I would make $6 so then I was really in the clover."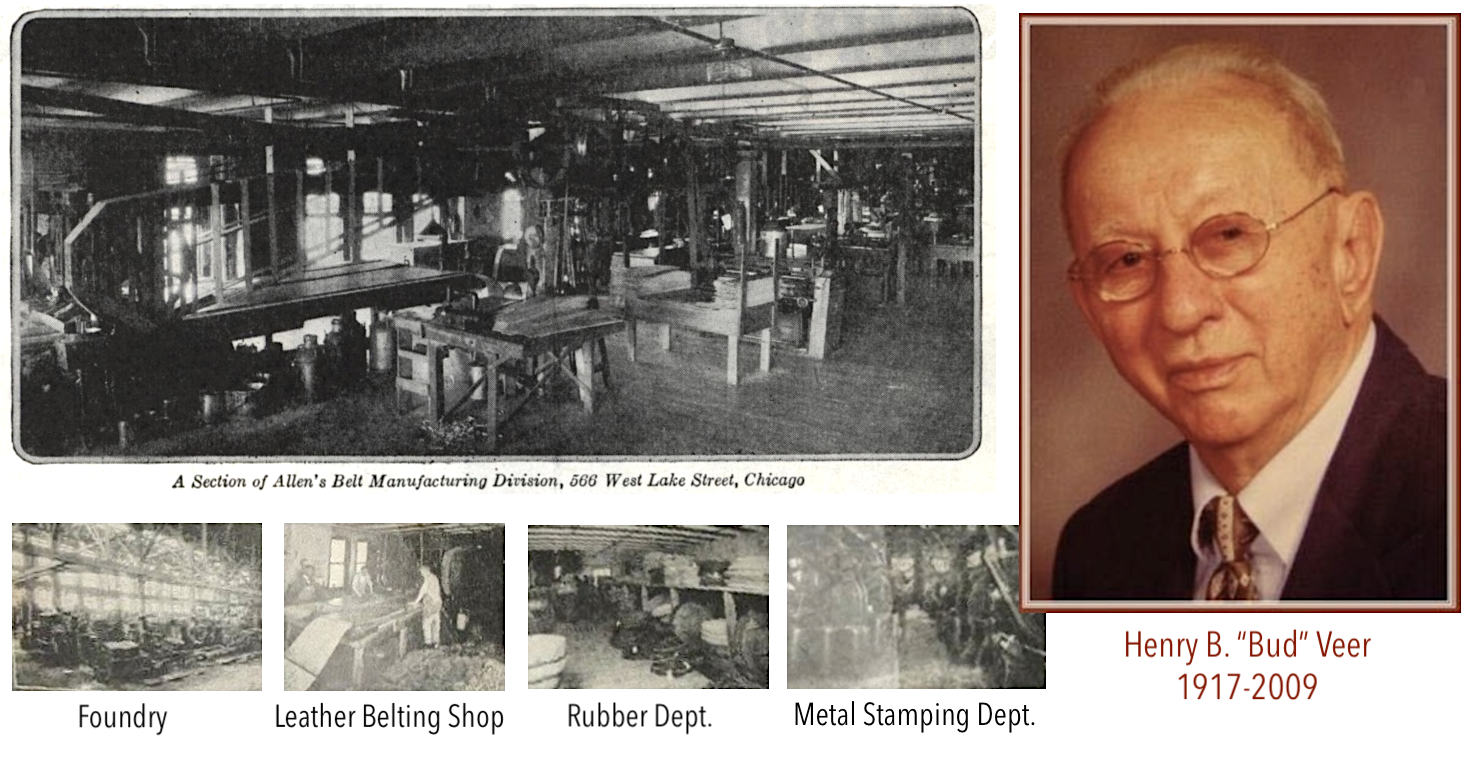 After a while, Veer became a sand blast operator, which included inspecting and approving castings before sending them off to the machine shop. "We had one molder, the boss's nephew, who was a molder on small sprinkler nozzles," Veer remembered, presumably referring to a nephew of the foundry superintendent. "He was so careless that when I inspected the nozzles I had to dump 100% of his nozzles in the trash barrel to take back to the furnace room. I think the nephew finally got fired for being drunk on the job. He was leaving the plant one day by the front lobby door leading to the street exit door; he was pushing the wrong way while the C.E.O. of the plant (presumably William Symonds) was on the other side of the door. When the door got open he nearly fell down. The C.E.O. said 'You're fired! Don't come back for your things until you're sober.' Ray, the molder, had bilked the company for who knows how much money by just making scrap."
Fortunately, W. D. Allen had more productive employees, too, including mechanical engineers like John G. Evans, who introduced his design for the Red Arrow lawn sprinkler in 1935, and Harry E. Meng, who patented many of the company's sprinkler heads and nozzles.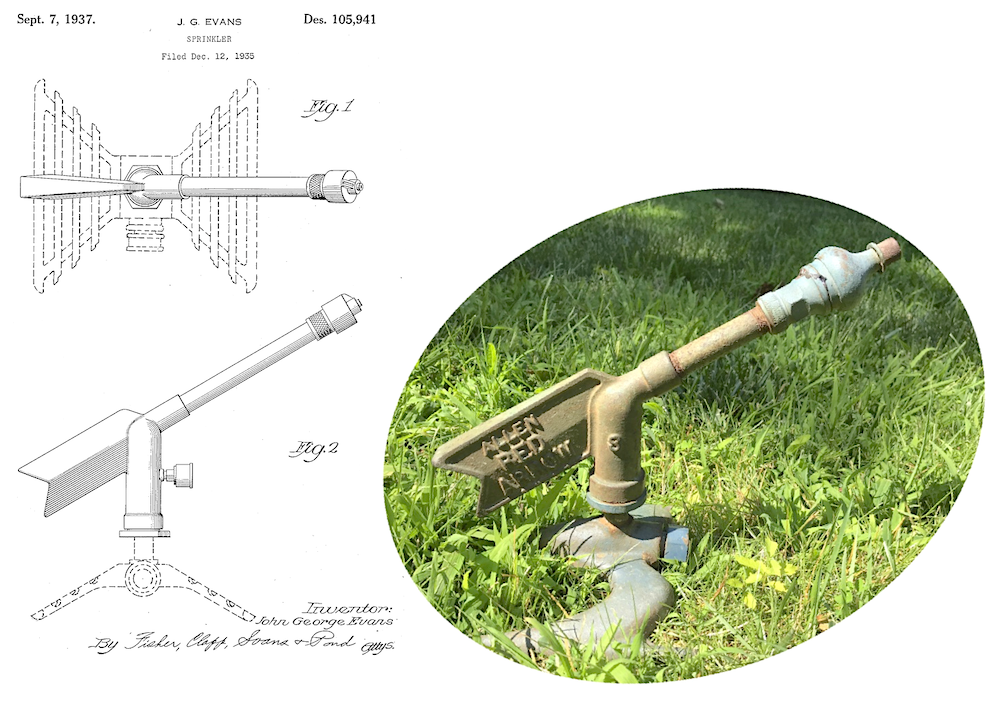 The Allen foundry likely switched over mainly to military contracts during World War II, and while it's unclear what their contributions were, the plant was recognized several times during this era for its high safety rating, credited to superintendent Joseph J. Turek.
Even so, by the conclusion of the war, the decision was made to leave the Cicero plant behind in favor of a new foundry in suburban Bellwood, at 650 S. 25th Avenue. This was part of a post-war migration to the burbs that was typical of many manufacturers looking for more modern facilities at cheaper costs (Sanford Ink, Jefferson Electric, and Borg-Warner also ended up in Bellwood). The Allen offices, however, remained in the same location downtown at 566 W. Lake Street.
William H. Symonds didn't see the Bellwood plant open. He died in 1945 at age of 69. Both of his sons, Allen Symonds—an Army captain named after his dad's old boss—and William F. Symonds, took majority ownership in the business afterwards, and eventually became executives, initially working under new chairman Harry Meng and president Edgar H. Nelson.

Into the 1950s and '60s, W. D. Allen was still producing fire safety gear and trusty lawn sprinklers, including the classic Ring, which had changed little over the course of half a century.
In 1965, work was completed on a new 100,000 square foot plant in Broadview, Illinois, at 2200 16th Street, while the old Lake Street building was slightly re-designated as the home of a subsidiary business, W. D. Allen Tool & Machinery.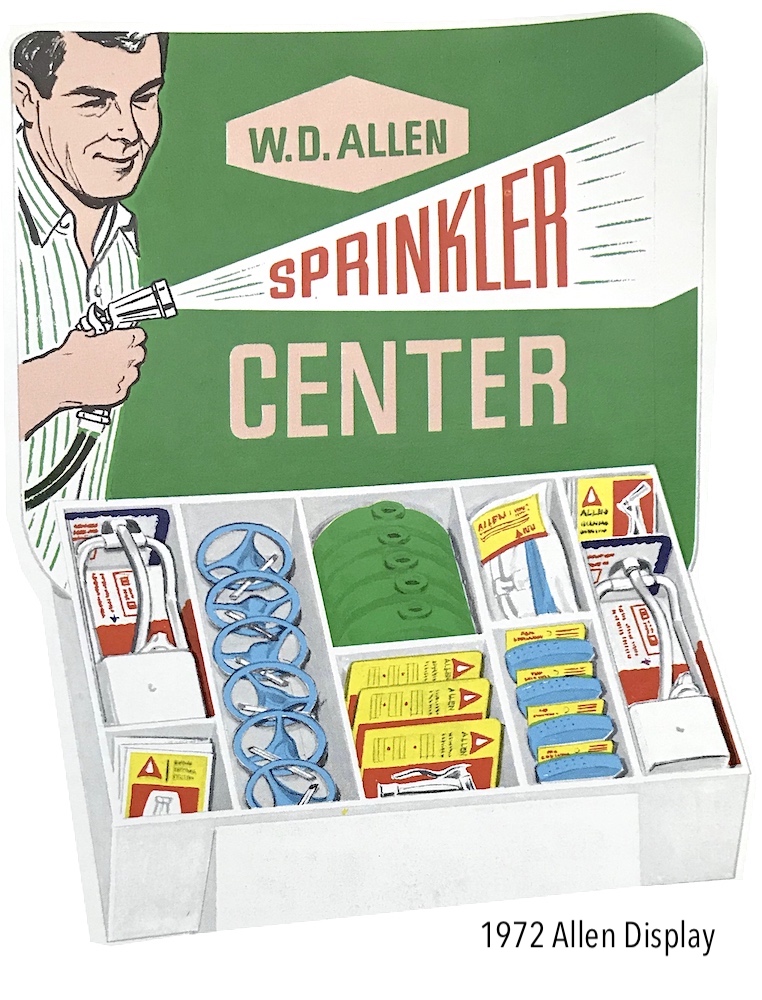 Somewhere along the line, it probably became apparent to the Symonds brothers that cheaper imported hardware would soon be impossible to compete with, and by 1974, they had sold off the business to new ownership, sending the W. D. Allen MFG Co. off in a wildly different direction.
Having already shifted more into distribution by the 1980s, the company did a hard turn into the new world of supply chain management and advanced logistics once Ken Everett took over the business in 1987. All manufacturing was now scrapped, as the "WD Allen Group" came into being, scoring a lucrative distribution deal with Caterpillar, Inc. The firm moved to Crystal Lake, Illinois, in the late 1990s, and was purchased by another supply chain business, World Class Industries, in 2013. From there, after 125 years, the W. D. Allen name was put to rest.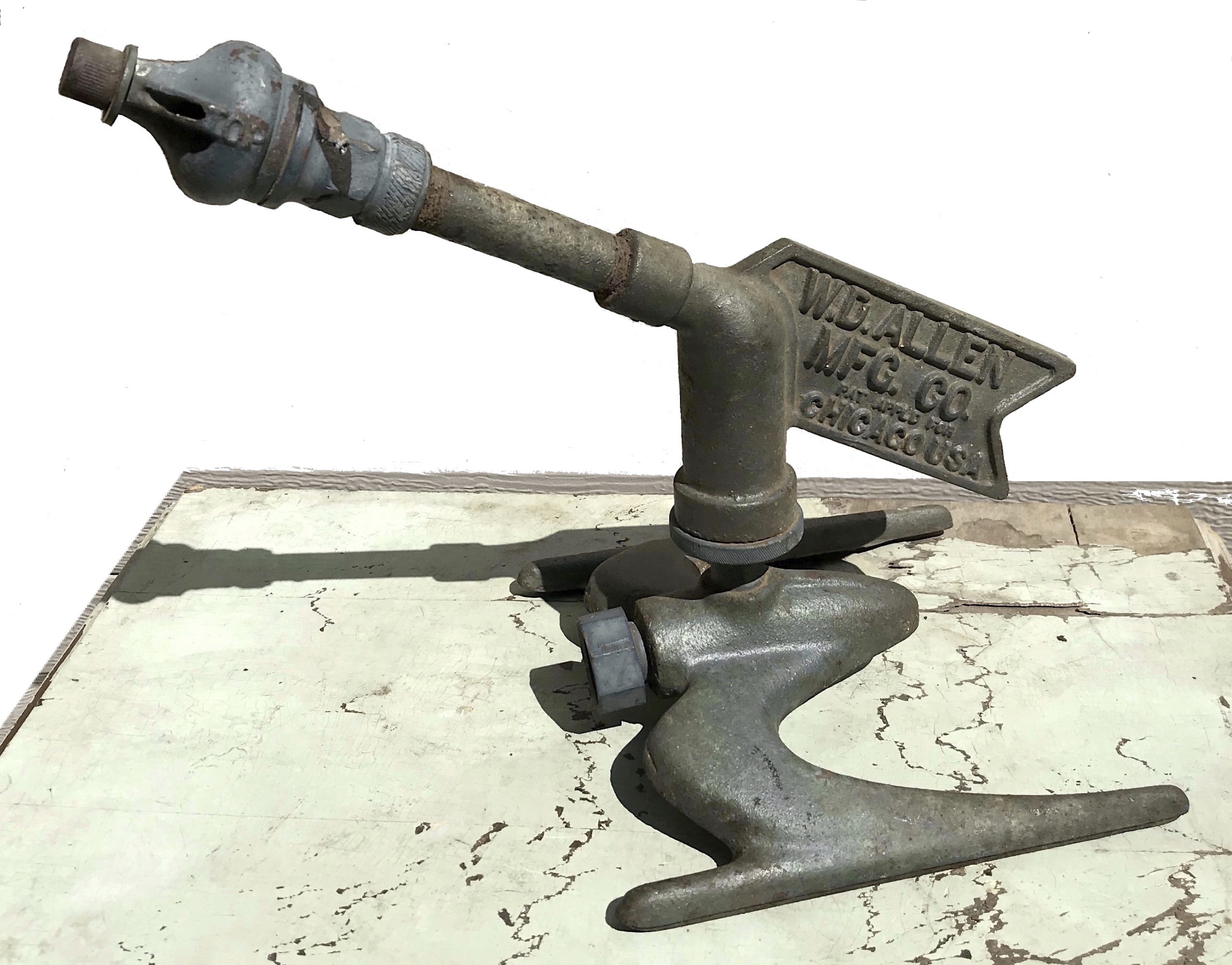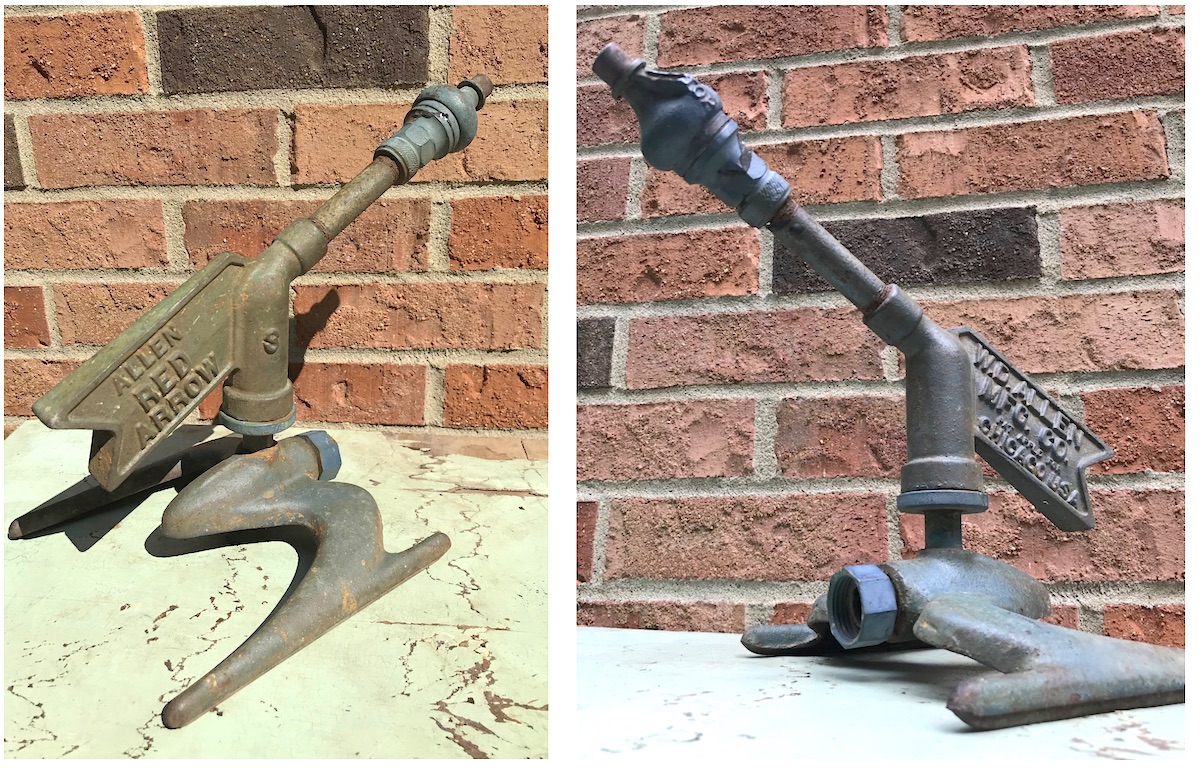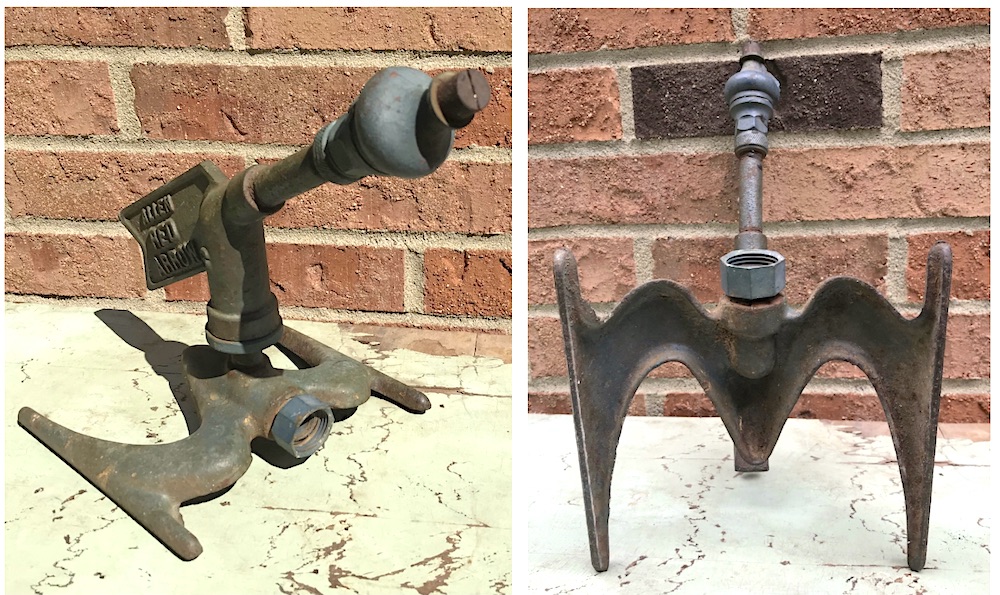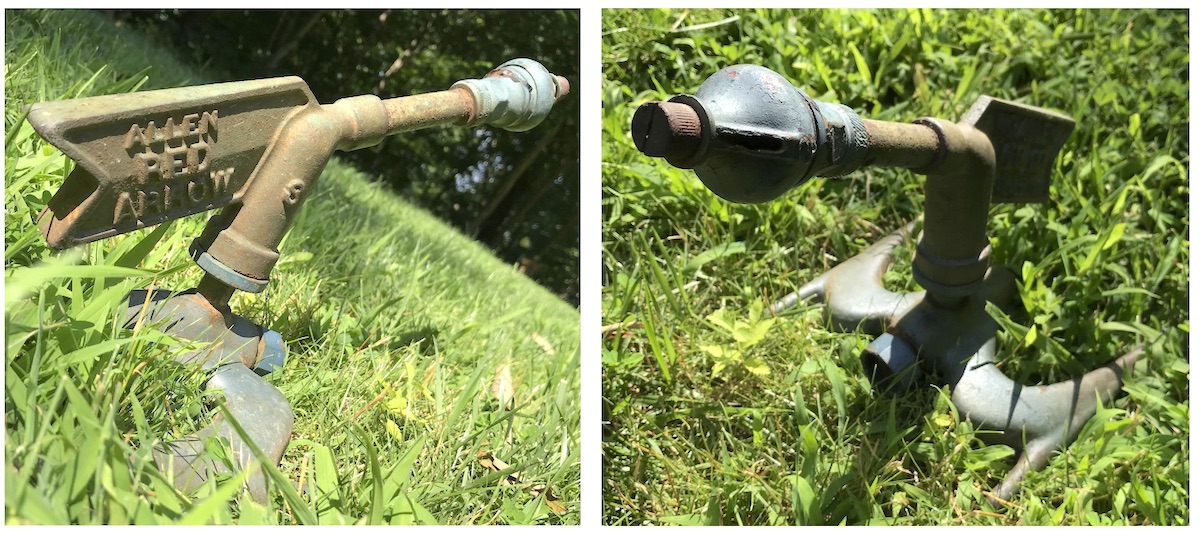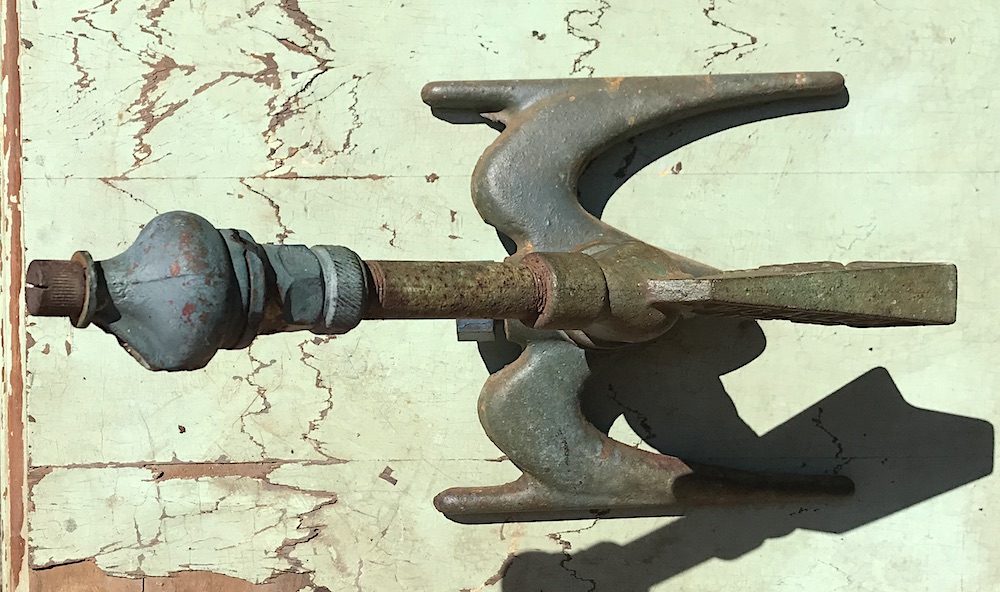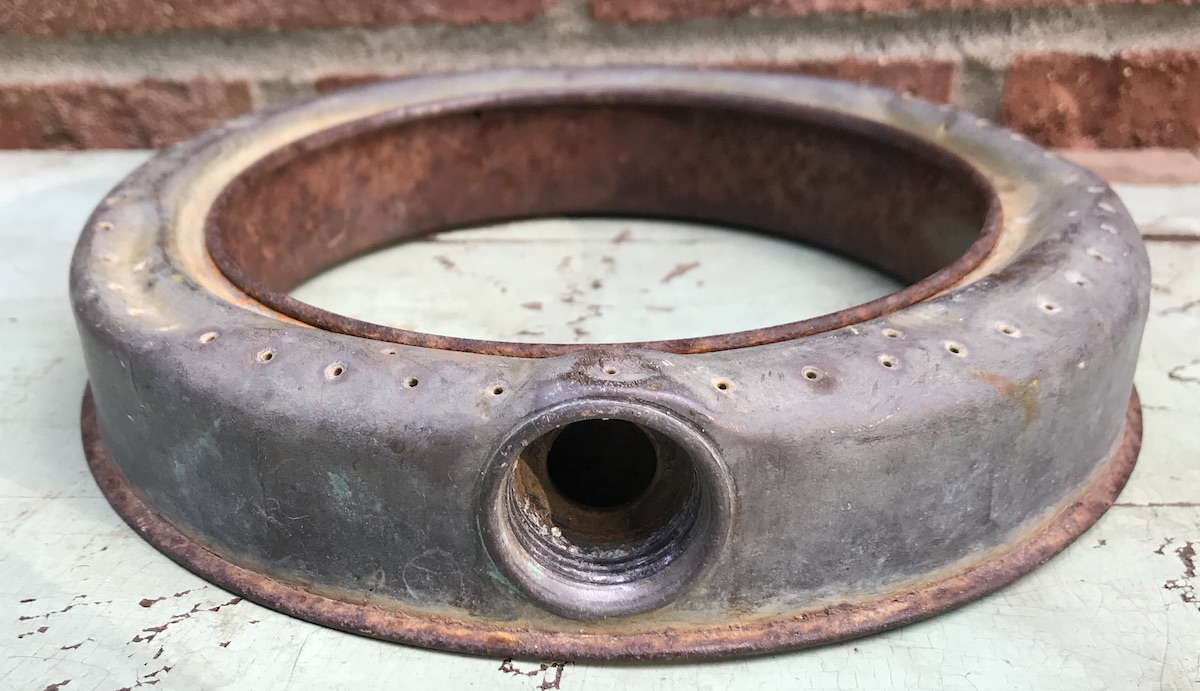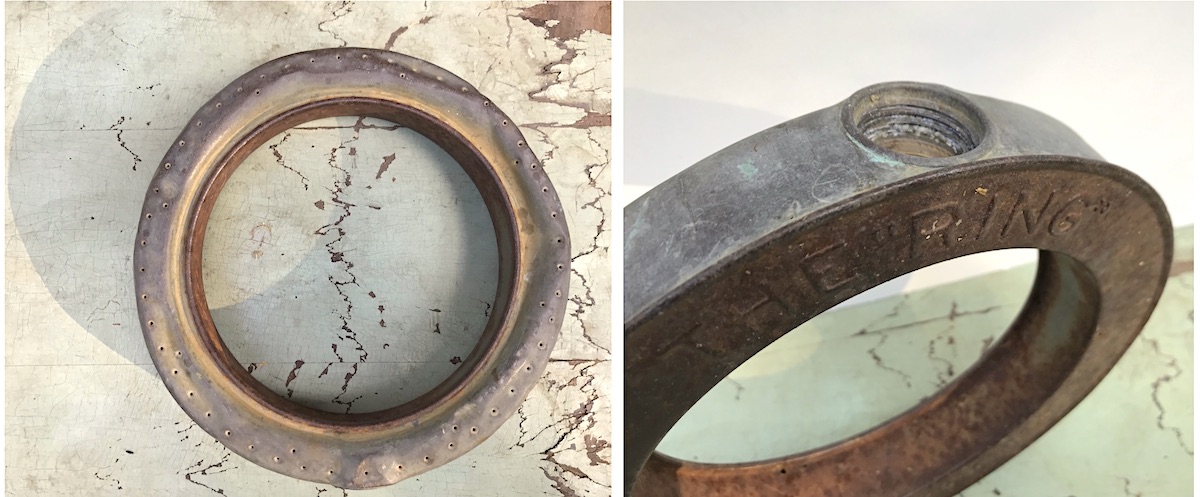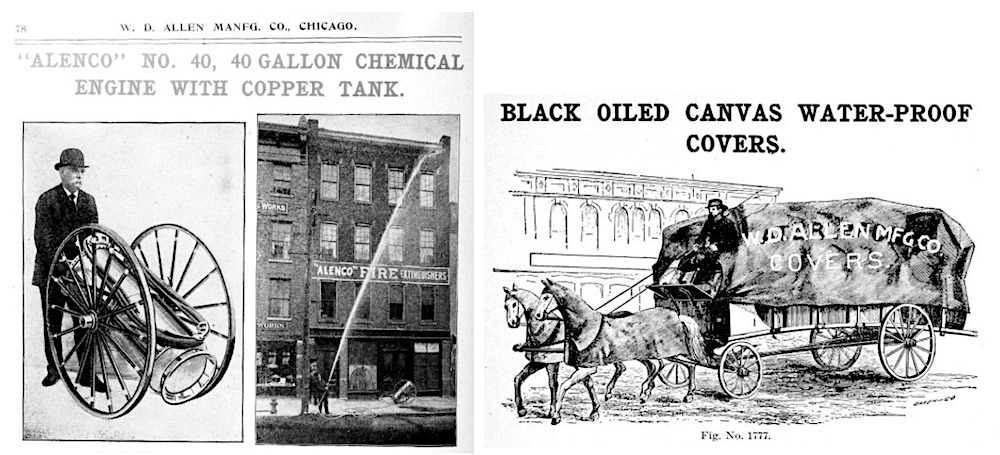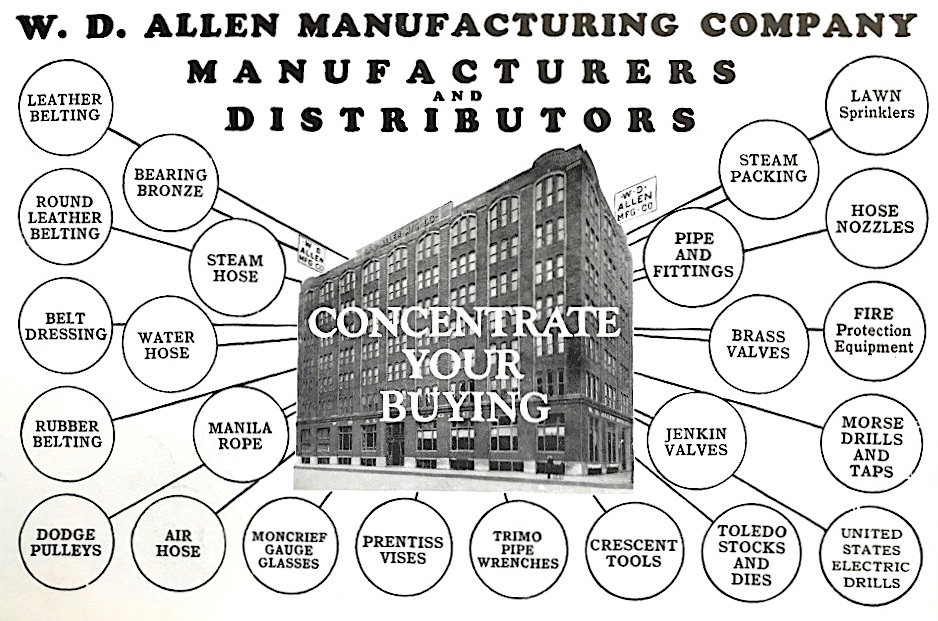 Sources:
"Co-Partnership Notice" (W. D. Allen & Co.) – Chicago Tribune, Jan 1, 1887
"W. D. Allen & Co." – Factory and Industrial Management, Vol. 9, 1895
"Funeral of Everett B. Preston" – Chicago Tribune, April 29, 1895
"W. D. Allen Manufacturing Co." – Manufacturers Record, July 28, 1904
"A Bold Robber Makes His Escape" – Akron Beacon Journal, Oct 1, 1908
"In Vault Four Days to Rob" – Champaign Daily News, Oct 10, 1908
W. D. Allen Catalog No. 28, 1912
"W. D. Allen Manufacturing Co. Moves" – India Rubber World, May 1, 1917
"The W. D. Allen Manufacturing Company" – Manufacturing & Wholesale Industries of Chicago, 1918
"Lincoln Day Celebration of the W. D. Allen Plant Americanization Class" – Chicago Commerce, February 21, 1920
"William Allen Dies Suddenly in Loop Club" – Chicago Tribune, Oct 11, 1931
"William Day Allen, Ph.B., 1878" – Obituary Record of Graduates of Yale University, 1931-32
Allen's Red Book, No. 87, 1937
"Flex Shafts Rout Allens" – Berwyn Life, March 5, 1941
"William Henry Symonds" (Obit) – Chicago Tribune, June 2, 1945
"Allen Co's New Plant" – Review and Forest Parker, June 12, 1946
"Work to Begin on Plant for Allen MFG" – Chicago Tribune, Nov 5, 1964
"60 Year Pin Given Allen Co. Worker" – Berwyn Life, Jan 18, 1967
"Jennie Bobysud Retires" – Berwyn Life, Jan 19, 1972
Allen Lawn Sprinkler and Accessories catalog, No. 247, 1972
"William F. Symonds" (Obit) – Chicago Tribune, Feb 17, 1978
A Farm Boy's Journey, by Bud Veer, 2008
Former Allen Group Website – History page, 2008
"World Class Industries Recognizes and Re-Brands W.D. Allen" – Press Release, Dec 30, 2014