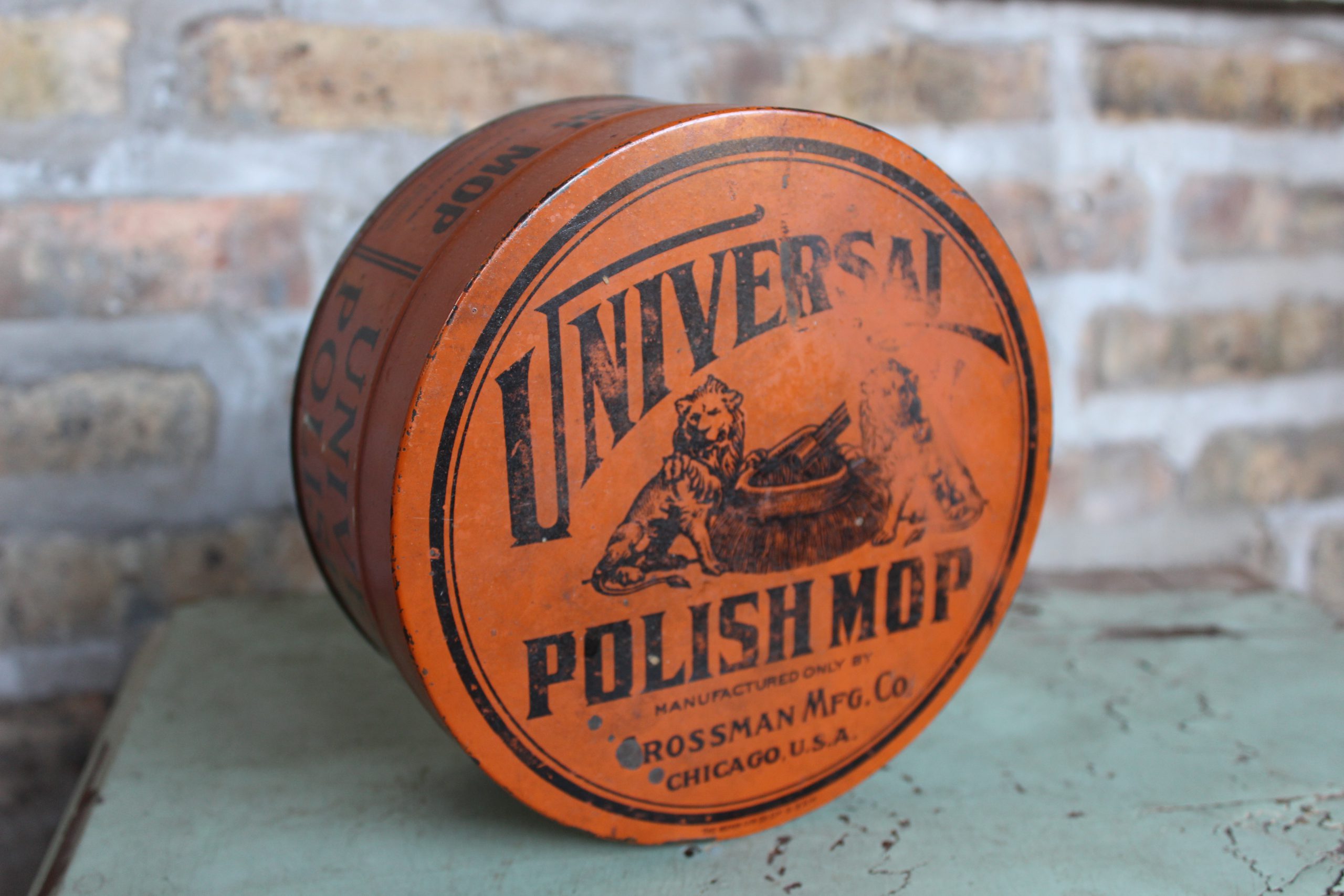 Museum Artifact: Universal Polish Mop, 1920s
Made By: Grossman MFG Co. / Western Steel & Chemical Co., Inc., 4000 S. Cottage Grove Ave., Chicago, IL [Bronzeville]
No it's not a Polish mop as "in the style of Poland," but 'tis instead a polish mop, as in to clean and polish one's floors. Pre-treated cedar oil mops were routinely sold in tins like this one during the early 20th century, giving "the woman of the house" an instant grab-and-go weapon against kitchen spills and devilish dust bunnies. What else was she gonna do with her time; pursue her dreams?
The maker of this rather impressive, double-lion approved "Universal Polish Mop" was Chicago's Grossman Manufacturing Company, a stupendously obscure outfit that operated out of a small Bronzeville factory for a relatively short period during the late 19-teens and early 1920s. A rare surviving advertisement for this specific product, printed in 1922 and seen (in a colorized version) below, hails the Universal Mop for its "good quality twine . . . The triangular shape of this mop makes it especially effective in cleaning corners and narrow spaces, and it removes the dust and renews luster of all varnished and painted surfaces."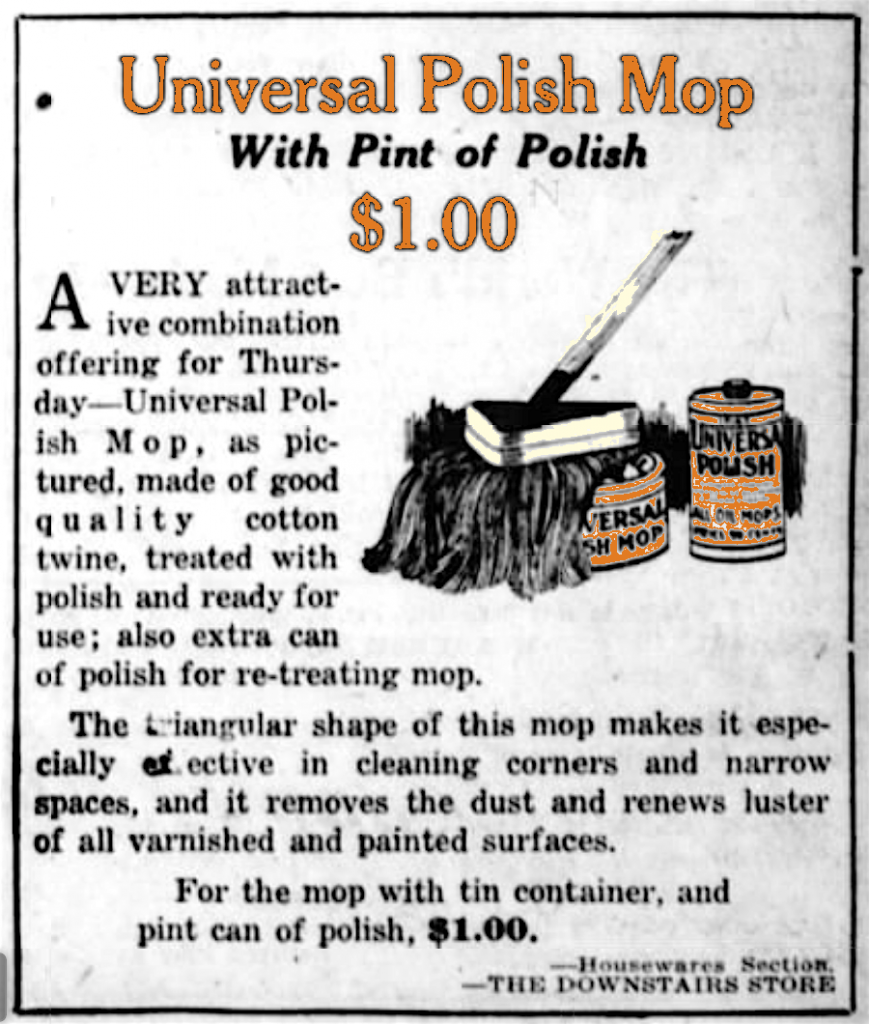 The only real trouble with Grossman's mop—and perhaps one of the reasons the company isn't specifically name-checked in the ad above—is that it was, by most accounts, a mere knockoff of its chief competitor: the well-established O-Cedar Mop, made by Chicago's Channell Chemical Company.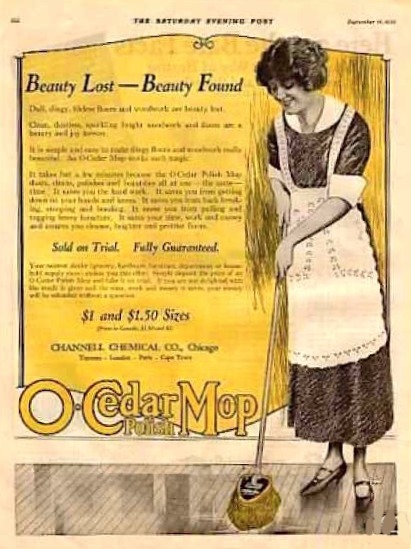 The fact that the O-Cedar brand is still going strong 100 years later should speak to its place as the ultimate victor. During the early years of Channell Chemical, though, their lawyers they were constantly in court, defending the company's patents against copycat upstarts.
Interestingly, it doesn't seem like Channell ever took up arms directly against J.H. Grossman, the little-known president of that little-known company down the road. But several separate court cases of the period make reference to Grossman's "Universal" and "Big Wonder" brands as examples of products interfering with O-Cedar's patents and marketshare in both the U.S. and Canada. This included the use of that clever triangle-head design, which O-Cedar apparently also pioneered.
The "Big Wonder" was probably Grossman's first big entry into the oil-mop scene, making its debut in 1914 and earning trademark status a year later. In 1917, it was the subject of a blurb-tastic assessment in an issue of the trade publication Dun's Review: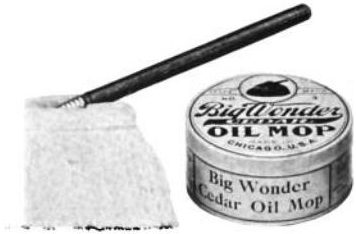 "The Grossman Manufacturing Co of Chicago have produced an oil mop made of a fine grade of cotton and so protected by a padded steel frame that there is no danger of marring furniture, but at the same time so shaped that it can reach into all corners and under radiators, The handle is adjusted to any angle, thus permitting use of the mop from any position. lt is easily washed because of the opening in the center. All these mops are treated with a high grade furniture polish that contains cedar oil, which has the additional advantage of being a germicide A cedar polish is produced by this company that contains cedar oil besides several other oils that serve to increase its value. lt gives quick results, and as it contains acids, is not injurious to brilliant surfaces. lf additional information is desired concerning these products, inquiries should be directed to the company at its address, 4000 Cottage Grove Avenue Chicago, ILL, USA."
And here's what 4000 S. Cottage Grove Ave. looks like today. . .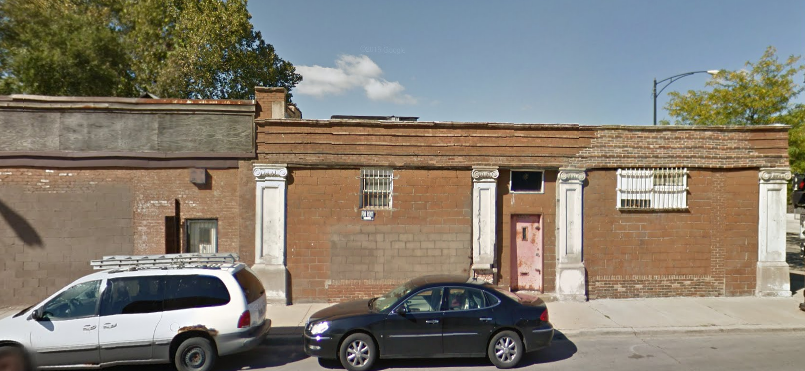 Not exactly an encouraging scene over at the old Grossman MFG stomping grounds. The last oil-mop tin likely left this establishment some 90 years ago, and while the building is still standing, it's teetering on a foundation of broken dreams.
Unfortunately, the faded orange tin in our museum collection is similarly empty on the inside. While you can occasionally go to an estate sale and find similar artifacts in which the original mop and a lingering musty smell of cedar oil are still included, our Universal Polish Mop holds no such surprises. It is, however, a unique reminder of a certain era in America's polish history, which again, should not be mistaken for America's Polish history.
If you have any insider knowledge about the good people at the Grossman MFG Co. and their various mop stuffs, let us know about it. Information is very hard to come by on this long-lost operation, so please help us piece their story together if you can.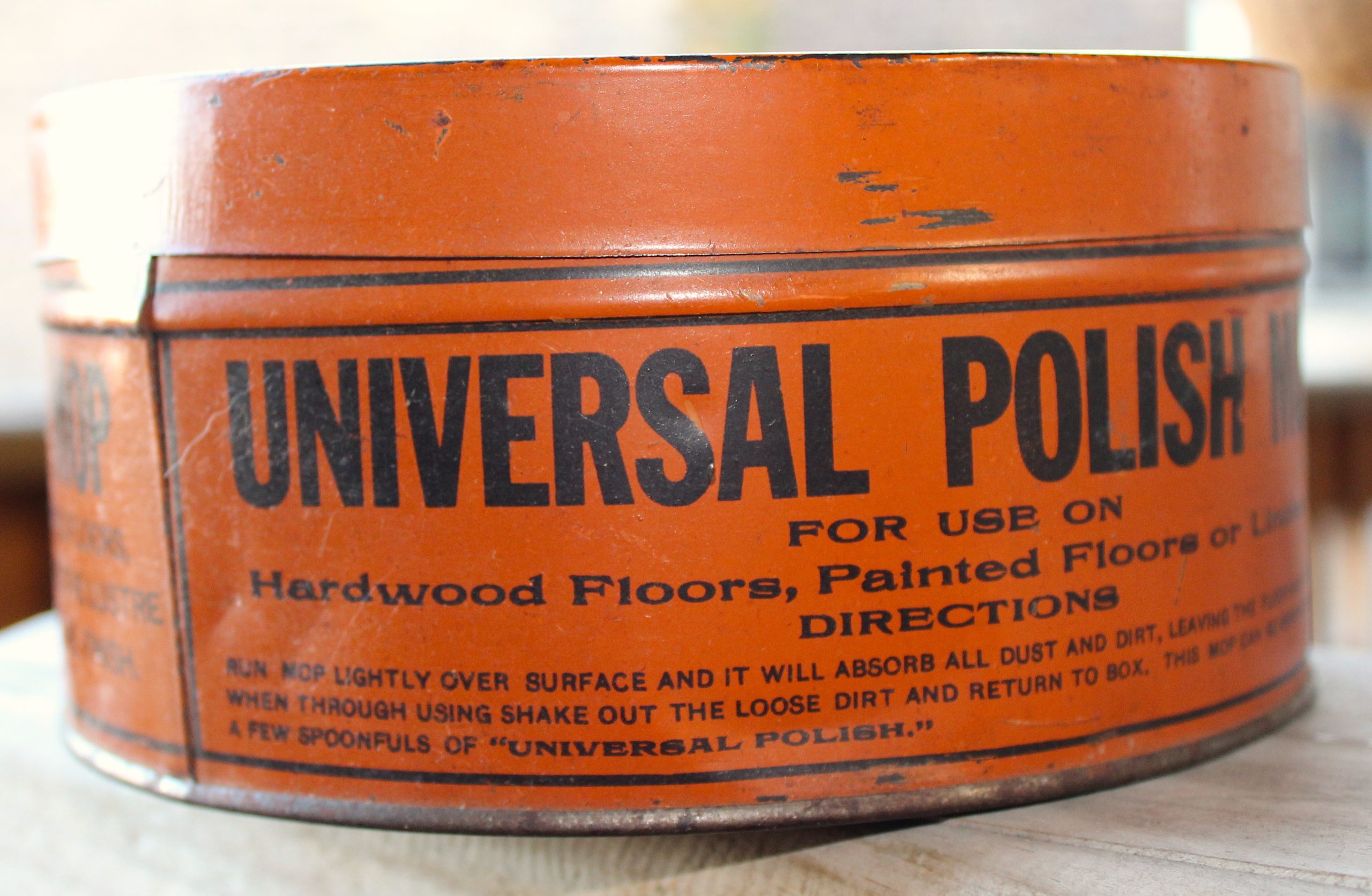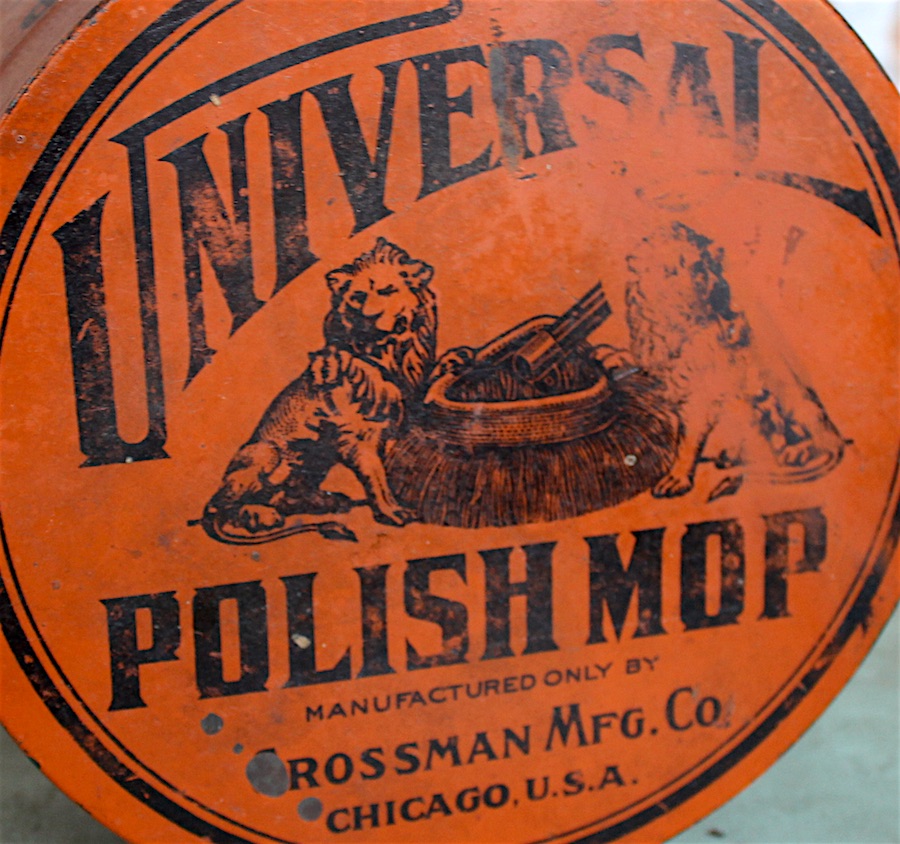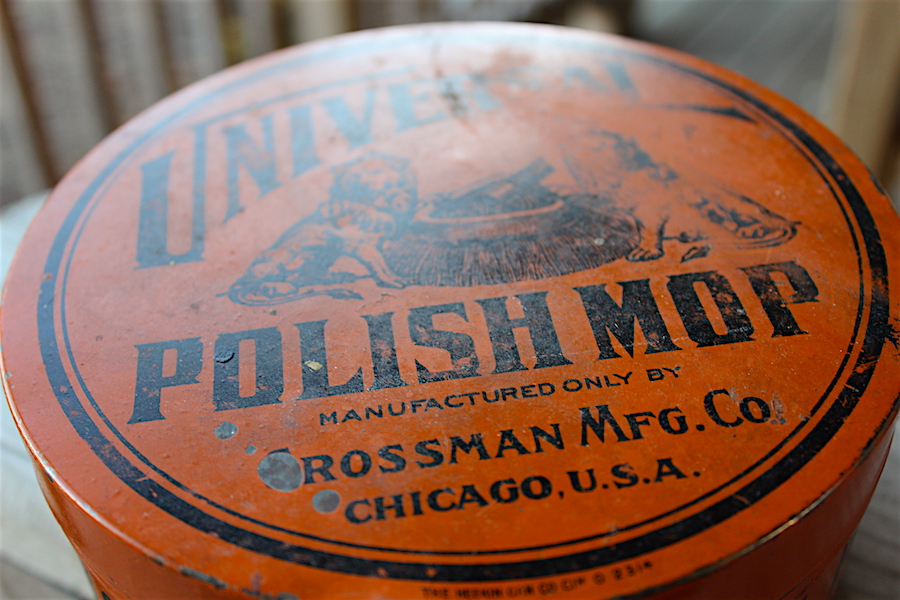 It should probably also be noted that the tin was made for Grossman by the Heekin Can Co. of Cincinnati, soon to rise into one of the largest can makers in the world, still in business today under the ownership of the Ball Corporation.