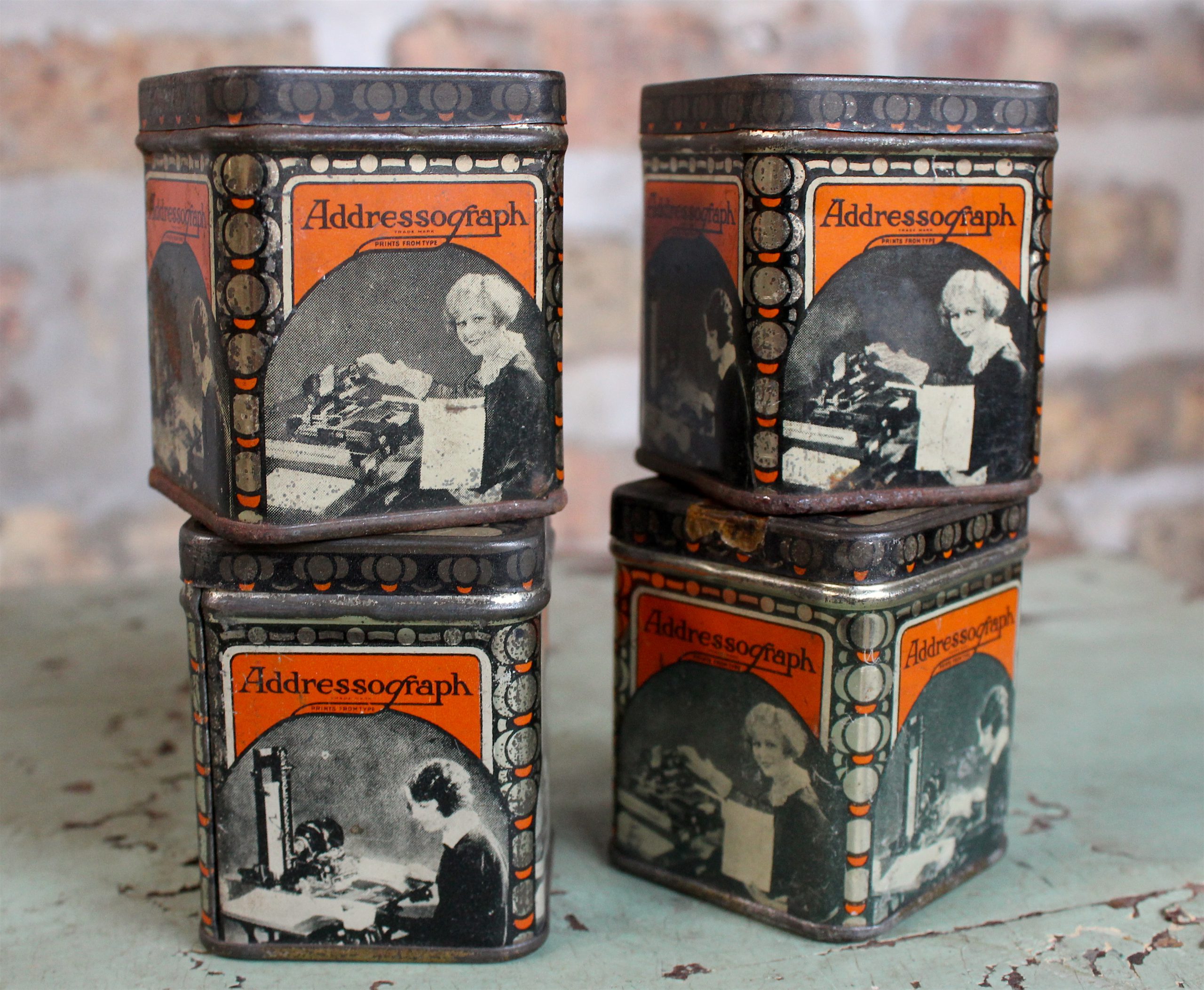 Museum Artifact: Addressograph Print Ribbon Tins, 1920s
Made by: The Addressograph Company, 915 W. Van Buren St., Chicago, IL [West Loop]
While the terrific 1920s ornamentation suggests something rare and precious, these small ribbon tins were more like the printer ink cartridges of their day; stacked in office storage rooms to keep a business's addressograph machine up and running. What's an addressograph, you ask? Why, it was a big, clunky label-making device manufactured by the Addressograph Company of Chicago. And who were they? Well I'm obviously going to cover that. Let's ease in.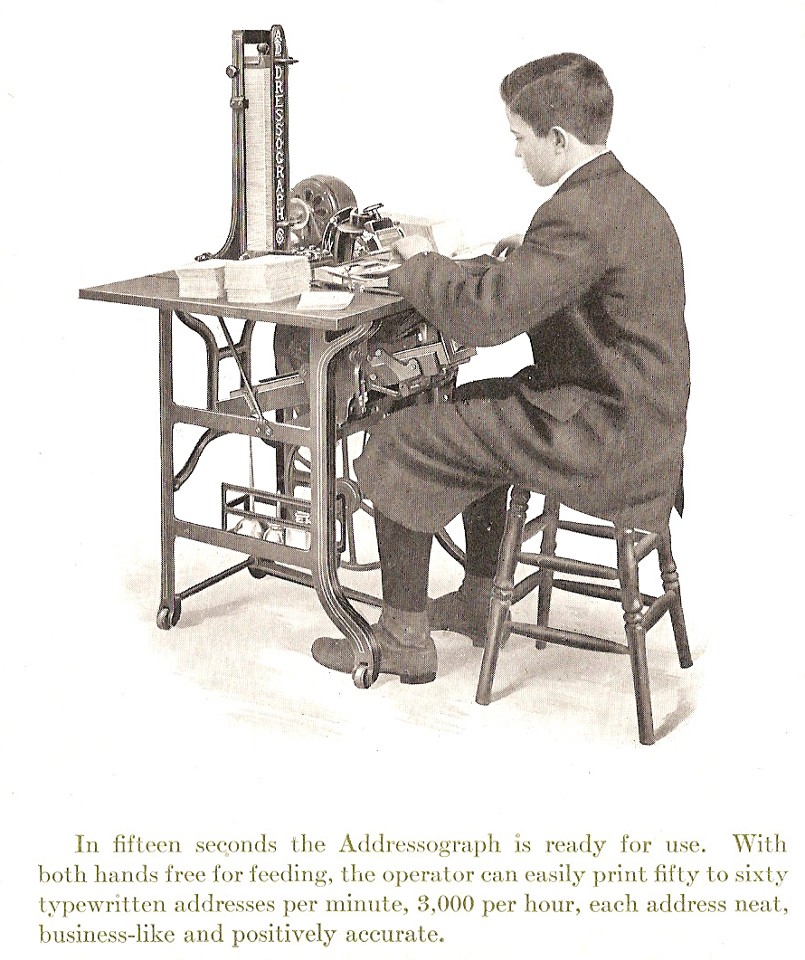 We often look at major technological innovations in terms of the legacy they leave in the culture or within the larger industry in which they exist. But what about measuring how far the ripples of a major splash extend for the innovators themselves? For the Addressograph Company, the development of a major leap forward in "duplicating equipment" created a wave that crested in the early 20th century and didn't entirely fizzle out until the very end of it—1996—when the last vestiges of Joseph S. Duncan's old business finally went poof in a little-publicized sale to some Cincinnati investment bankers. Turns out you can build quite a bit of momentum with an invention that every office in America can use. And even though everything about the addressograph's labeling technology went obsolete by the Xerox age, momentum like that takes a while to putter out.
J.S. Duncan started the Addressograph Company in Sioux City, Iowa, in 1892. A year later he set up shop in Chicago and applied for a patent on an addressing machine that could churn out 2,000 envelopes per hour. The first one went into production in an office within the original Caxton Building (Dearborn St.) in the summer of 1893, while the "White City" Columbian Exposition was going on down the road. Within a few years, the machines were all over the city. They originally looked like monsters out of a Ray Harryhausen movie or Pink Floyd's The Wall: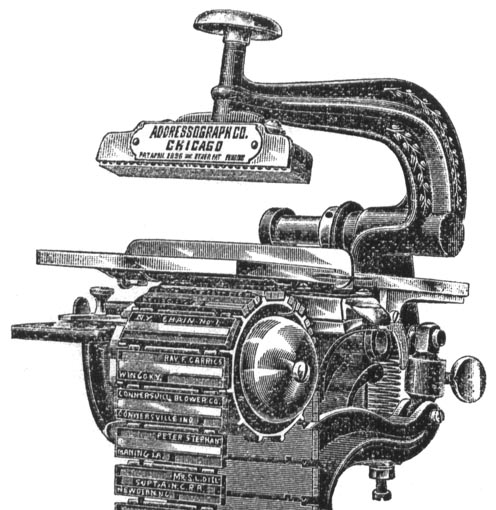 How did J.S. Duncan become the labeling king of the Midwest? Well, it started with a simple frustration over the lack of efficiency he witnessed each day at his job in a grain mill, as office workers individually addressed price lists and bids to clients, one by one. Duncan went in search of some sort of labeling machine to automate the process, but found nothing. Around the same time, a collapse in the U.S. economy left Duncan focused on a means of ensuring his own financial security, and his growing obsession with that labeling problem created the perfect storm for innovation.
"The addressing machine idea had been clinging to me persistently," Duncan recalled in a 1918 article in Manufacturing and Wholesale Industries of Chicago, "and as I had a good deal of mechanical experience in my work at the mill, I decided to experiment with the hope of producing a device which could be marketed."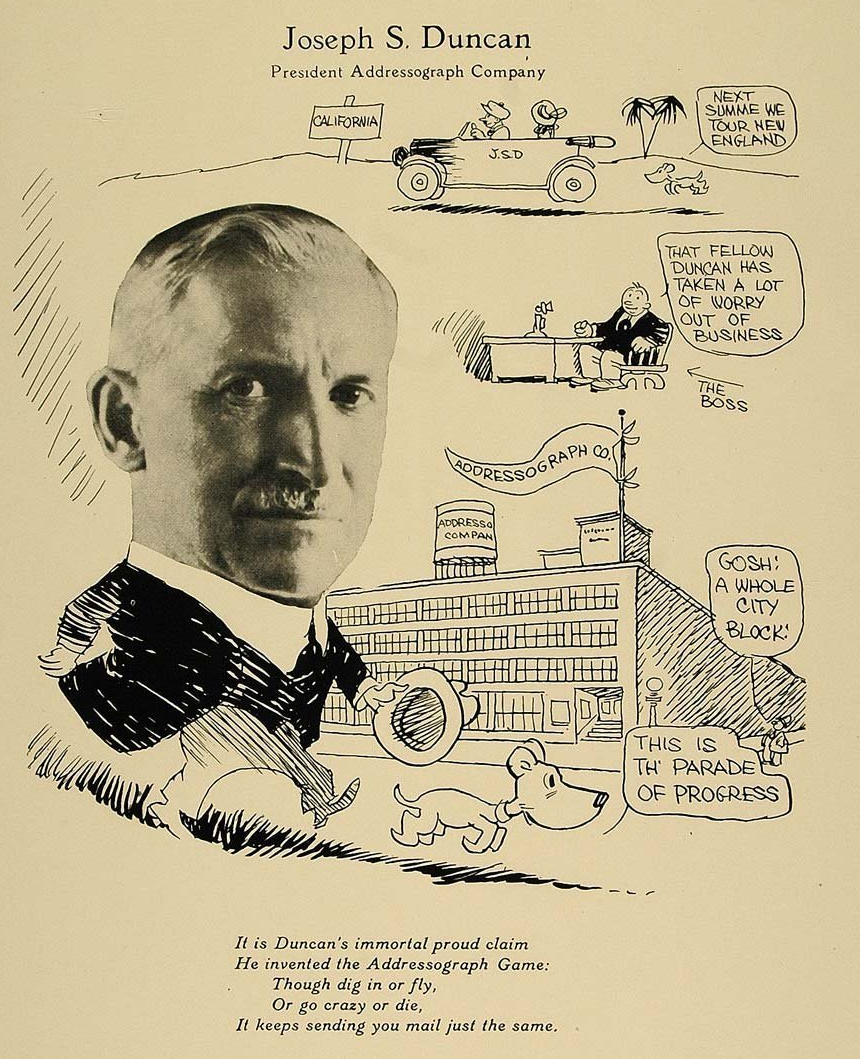 "My first experiment was pretty crude," he continued. "I glued the rubber parts of a number of hand stamps onto a big wooden drum. This drum was then revolved from one address to another to do the printing. The work was readable, and there was no chance to make mistakes in the address. But the drum only held a few names. How was it to take care of even a small mailing list such as we had? Clearly the plan was a failure, because it was not practical."
What follows in Duncan's account is a pretty crystal clear portrait of the mindset that separates successful innovators from the rest of us.
"Further trials were not encouraging. At times I tried to convince myself that it was hopeless, that I was wasting my time on a wild idea, and that I had better abandon it and try to get some sort of a position. But 'myself' would not be convinced. The conviction that the business world needed a machine to take the place of slow, tiring hand work in routing addressing, and that I could solve the problem if I kept at it, never left me.
"One day it occurred to me that the difficulty might be done away with by setting up the address in individual rubber type, and linking them in detachable chains of carriable length. I made a model along these lines and showed it to several of my business friends. Most of them thought the idea very clever, but all were skeptical as to its practicability; in fact, several of them laughed at the thing, and told me I was foolish to waste time in trying to commercialize a device of that kind.
"But no doubting or ridicule could disturb my conviction. Encouraged by a very good friend, I came to Chicago in the latter part of '93 and rented a small room on Dearborn Street where I proposed to begin the manufacture of the Addressograph."
You have to admire this Duncan fellow. He saw a problem, and with little encouragement from the outside, he developed a vision and carried it through. It didn't end with that first patent, either. The Addressograph Company, which set up its headquarters at 900 W. Van Buren Street (seen below) was constantly updating its designs, first with larger machines to produce more labels (as personally suggested by J.P. Morgan himself), then with gradually more compact, convenient machines for smaller offices.

[The former Addressograph building is now owned by the University of Illinois-Chicago, and is known as CUPPA Hall, with the address at 412 S. Peoria Street, on the corner of Van Buren. Before & After: 1918 and 2017]
By the late teens into the 1920s, the electrically-operated model F2 Addressograph, pictured below, became the new standard, printing through a ribbon (as sold in our colorful tins) from metal address plates embossed with permanent typewriter-style type.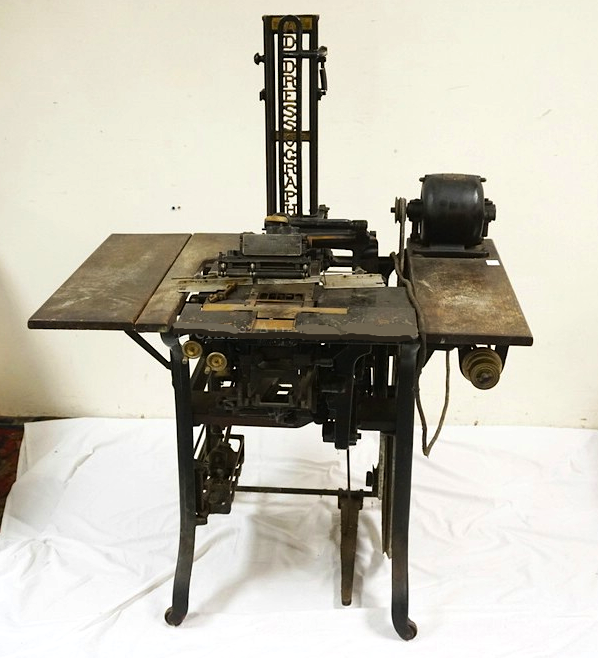 Duncan sold his company and retired in 1926 (he died in 1950 at the ripe age of 92). Addressograph merged with the American Multigraph Co. in 1930, becoming Addressograph-Multigraph and relocating to Cleveland. Later renamed AM International Inc., the company bounced from Los Angeles and eventually back to the Chicagoland area in Rosemont, scuffling for decades to survive the Xerox apocalypse.
They didn't quite make it to the 21st century, and by now, few living businessmen or women would even know the Addressograph name. But the ease of communication so many office workers "enjoy" today is at least partly indebted to J.S. Duncan and his stubborn drive to fix a thing that annoyed him.