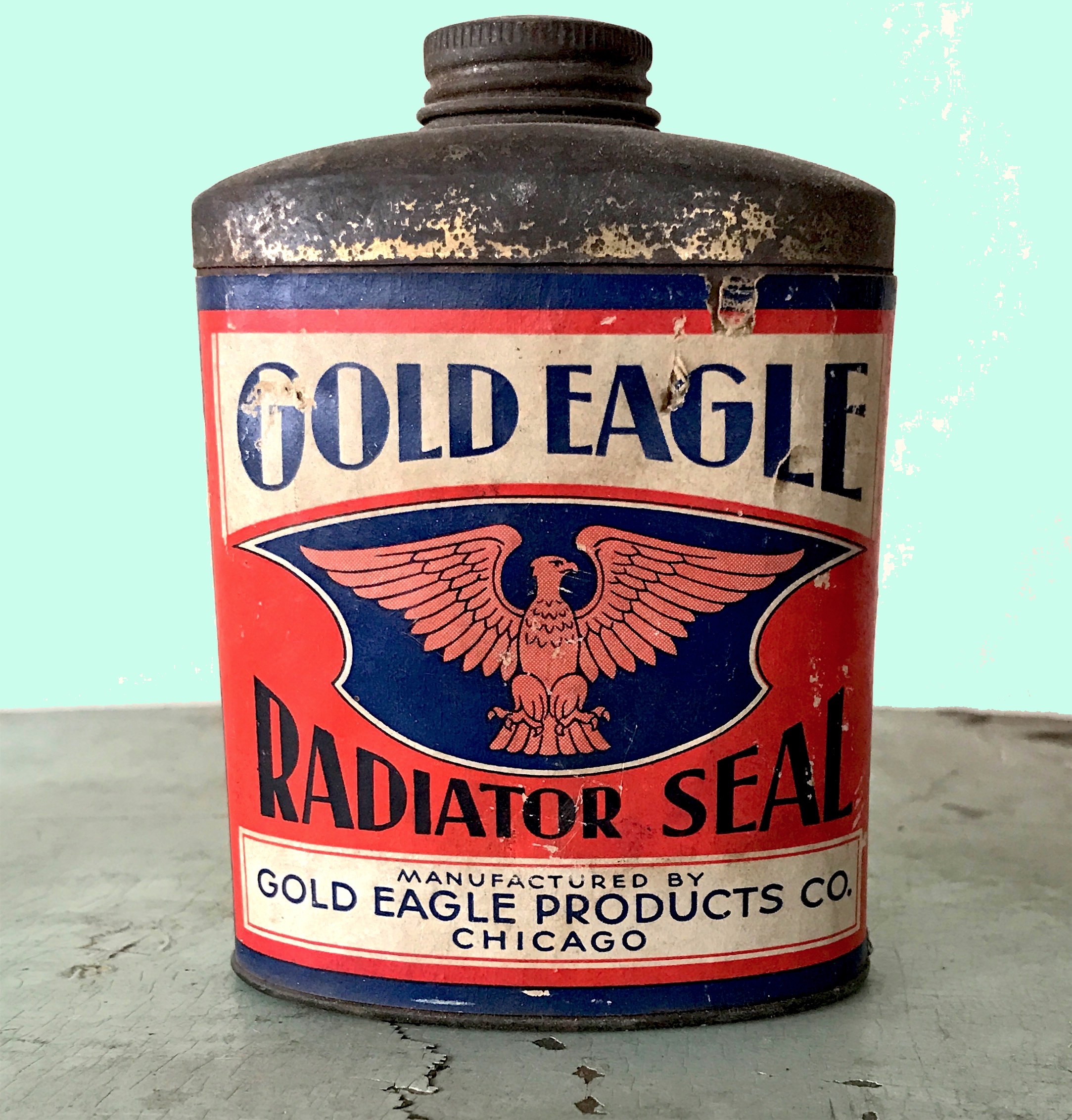 Museum Artifact: Gold Eagle Radiator Seal, c. 1940s
Made By: Gold Eagle Products Co., 1050 W. Kinzie Street, Chicago, IL [Near West Side]
In the early 1990s, when a lot of Chicago's remaining "mom and pop" manufacturing businesses were reluctantly cashing in their chips, the family-owned Gold Eagle Company was bucking the trends—50% annual revenue growth, to be specific, with tailwinds into the 21st century. So, how did a relatively small producer of automotive fluids manage to turbocharge its own metaphorical engines after 60 years in business? Well, new product acquisition and international expansion certainly helped—but we'd be remiss if we didn't mention these three beautiful words: lawn . . . mower . . . racing.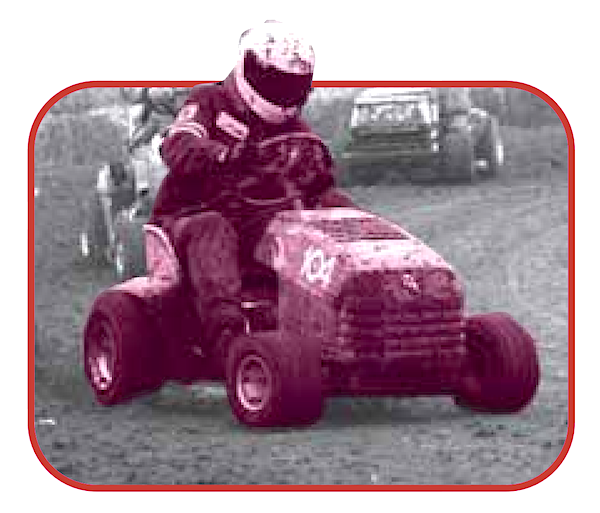 For 25 years now, Gold Eagle and one of its flagship brands—STA-BIL fuel stabilizer—have served as the official sponsors of the U.S. Lawn Mower Racing Association (USLMRA) and the STA-BIL Lawn Mower Racing Series. And yes, it's very much what it sounds like: i.e., grizzled middle-aged men on their trusty garden tractors (blades removed, thankfully), tearing up turf in a glorious cavalcade of suburbia's favorite four-wheelers.
What admittedly began as something of a silly promotional gimmick on April Fool's Day, 1992, has since evolved into an annual octane booster for the Gold Eagle Co., with events across the country drawing rabid crowds and dedicated racers—many of them known by shamelessly pun-tastic alter-egos like Geronimow, Sodzilla, The Lawn Ranger, Turfinator, Weedy Gonzalez, and Mr. Mowjangles. A once comically slow-motion sport has revved up its pace in recent years, too, as mowers from the "Factory Experimental" class can top 70 miles per hour (about 4x the max speed of your typical riding mower).
In theory, Gold Eagle probably could have spent considerably more money attaching the STA-BIL name to, say, a college football bowl game. But the unorthodox option has proven wiser and probably far more fruitful.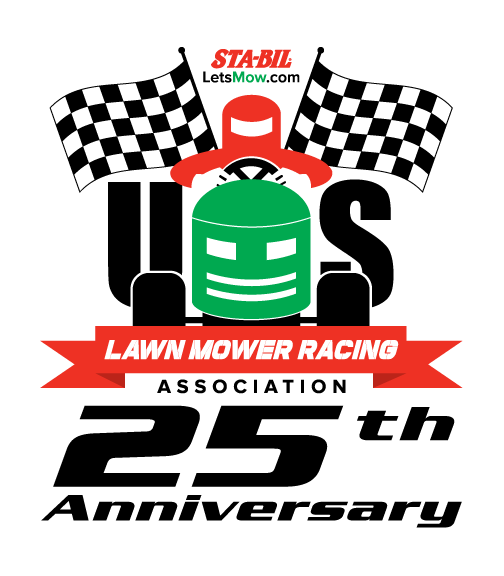 For one thing, STA-BIL isn't just the arbitrary corporate sponsor of a sporting event—it's a product people can actually use to improve their own lawn mower engines. There's a method to the madness! Secondly, Gold Eagle's enthusiastic efforts to cultivate this new racing subculture have only helped solidify their reputation as a good-natured and forward-thinking business. Three generations in, they've managed to outlast and/or acquire much of their old competition, and they've done so while remaining firmly headquartered in Chicago for 86 years and counting.
"We're proud of our people," says 84 year-old company chairman Bob Hirsch, "and for being recognized for impeccable devotion to our customers and core values."
"Our brands are leaders in their respective categories," adds Rich Hirsch, Bob's younger brother and Senior Vice President. "Gold Eagle Co. is the number one manufacturer of gasoline antifreeze, gasoline treatments and fuel stabilizers. This is a long way for our company to have come from where it started – with one man determined to make a product that helped prevent and cure engine problems."
That one man was Bob and Rich's dad, Armin Hirsch, who founded Gold Eagle during the darkest years of the Great Depression. Hard times or not, he bet on the presumption that people would still want to get from Point A to Point B as quickly and efficiently as possible. And soon enough, he had an arsenal of different products to help them do so.

[An assortment of Gold Eagle auto chemical products from the mid 20th century]
History of the Gold Eagle Products Co., Part I: Mr. Hirsch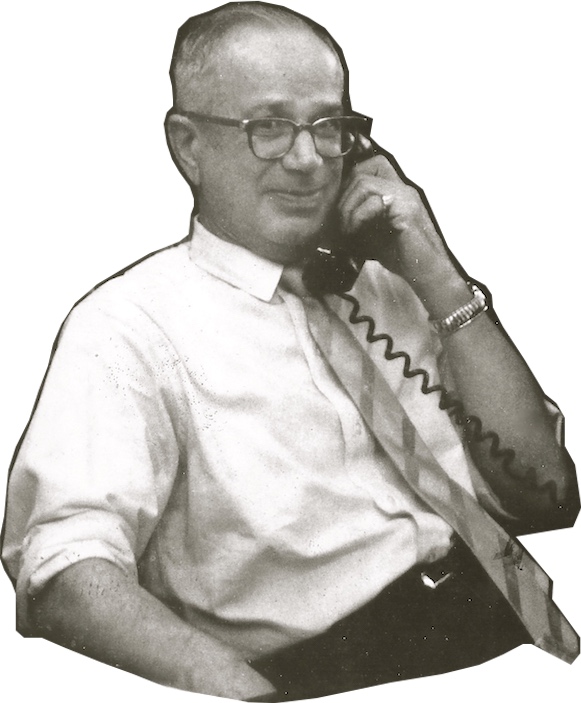 Armin Hirsch [pictured] was born in Chicago in 1895, the son of Jewish immigrants from Hungary. His father worked as a carpenter and sheet metal worker, and for a time ran his own shop making architectural cornices. Space and money were tight, though, with four kids to feed in a small apartment (located at 2018 W. Division Street in Wicker Park).
When he was old enough to seek his own line of work, young Armin quickly wrangled a job as a buyer for the Western Electric Company, seemingly more inclined to cut deals than cut lumber. Soon after, he began doing similar work for an automotive chemicals company—the Black Swan Products Co., which had a popular radiator seal it was selling throughout the 1920s.
"Be prepared with a can of Black Swan," a 1926 newspaper ad urged. "This metallic POWDER—not a liquid—forms a tough, flexible patch in five minutes. Not a makeshift, but a permanent repair that resists pressure and alcohol and antifreeze solutions."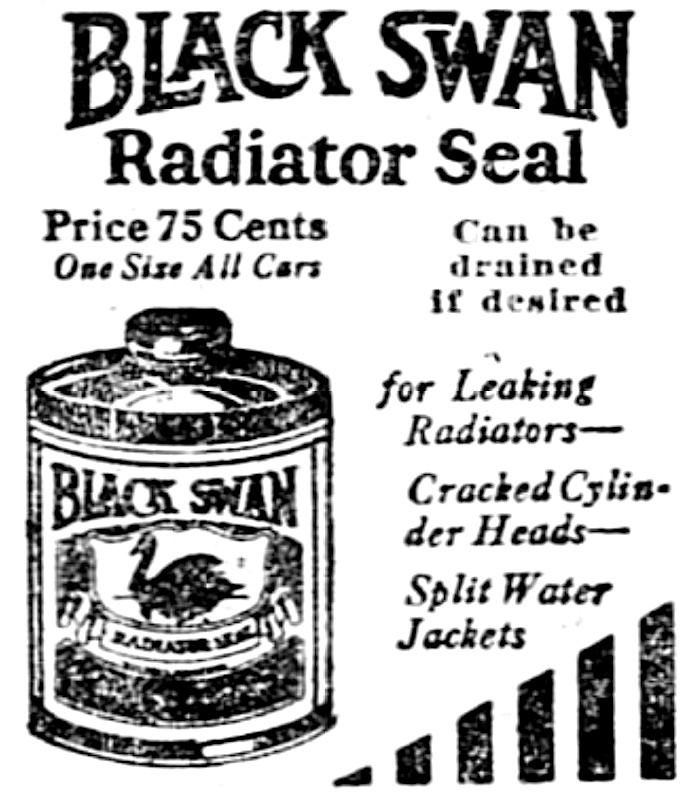 If you were a typical fella of the Roaring '20s, driving your rickety Model T through a Chicago winter after tipping back a few at the local speakeasy, this little can of Black Swan could be a lifesaver—and Armin Hirsch was more than happy to sell you one. Over time, in fact, whether through employment obligations or a keen personal interest, Hirsch became a genuine authority on the product and the niche industry of car chemicals as a whole. His family's long involvement with the automotive aftermarket had begun.
Much like Natalie Portman's career, however, the success of Black Swan was not a guarantee of better things to come. In fact, the stock market crash of 1929 appears to have sunk the original Black Swan business entirely (although the brand re-emerged years later and is still produced in Chicago by the Black Swan MFG Co.), leaving a 35 year-old Armin Hirsch at a difficult crossroads. His next move—not unlike sponsoring a lawn mower race—was more than a little risky, but rooted in a very steady logic.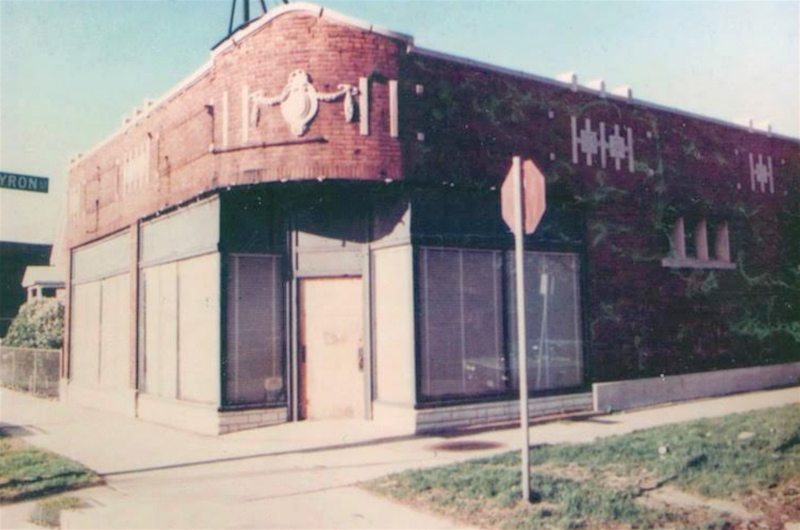 Being well acquainted with the existing market for Black Swan Radiator Seal, Hirsch elected to fill in its absence by going into the radiator seal business for himself—along with related auto fluids. He also amusingly replaced one colorful bird name for another, dubbing his new enterprise the Gold Eagle Products Company, with its first storefront opening in 1932 at 3860 N. Cicero Avenue [pictured above]. Armin's wife Esther, the company's secretary, was also its only other employee.
There's not much evidence of Gold Eagle's chemical products being sold on the consumer market in the 1930s, but it's likely they were finding their way to garages and auto repair shops. In any case, the Hirsches did well enough to outlast the Depression, and by the war years, they'd established a new, larger plant at 1050 W. Kinzie Street, with offices first at 2830 W. Lake Street, then 836 S. Paulina Avenue.

[The second Gold Eagle headquarters here at 1050 W. Kinzie Street still looks much as it did when the company operated it during the 1940s and '50s]
II. The Next Generation
By 1953, after 20 years making radiator seals, hydraulic brake fluids, and the like, Gold Eagle still employed just 8 full-time workers at the Kinzie plant. Armin Hirsch hadn't exactly built a juggernaut, but he had succeeded in establishing something invaluable for the long term hopes of the company: a stellar reputation.
Integral to this were the business principles that would later become Gold Eagle's so-called "five core values"—the mission statements that still serve as the company's prime bulletin-board material to this day. These values were and are as follows: Balance, Commitment, Customer Focus, Integrity and Quality. There is admittedly some potential overlap across those subjective categories, but you get the general idea.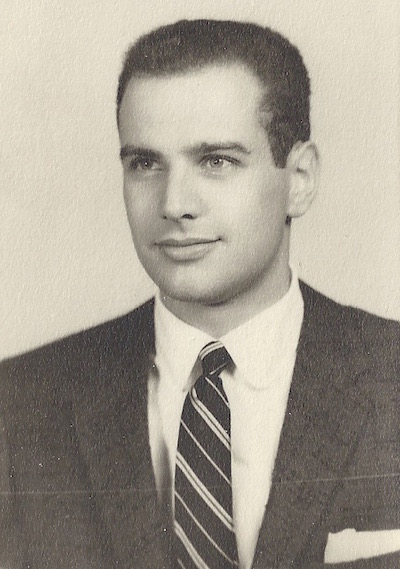 When Armin's eldest son Robert "Bob" Hirsch [pictured] joined Gold Eagle in 1957, he took his dad's "core values" to heart, while adding a fresh perspective on product development and a healthy ambition to boot. Brand-building became a key focus, and in 1960, stable growth led to another factory upgrade, this time to a 10,000 sq. ft. plant at 2700 N. Halsted Street.
Much as they were for the country at large, the 1960s were a transitional decade for Gold Eagle. When you make products that help other products operate better (in this case, cars), standing pat is never an option anyway—but this period required a particular readiness for adaptation, as much bigger chemical conglomerates were elbowing in on their turf. To keep pace, Gold Eagle jumped into aerosol products (1960), shifted to more cost-efficient plastic bottles (1961), brought pre-mixed gallons of windshield washer fluid to the U.S. market (1967), and moved to yet another new factory space before they'd even carved their initials into the old one (1965).
After Armin Hirsch's death in 1964, Bob Hirsch officially took over as company president, and within a year had relocated the business to a new 100,000 sq. ft. facility at 1872 N. Clybourn Street—a former paint factory that was 10 times the size of the Halsted plant.

[Above: 1872 N. Clybourn Street was Gold Eagle's central plant from 1965 to 1983, after which it was converted to lofts, as seen on the right]
[Below: A 1967 wanted ad in the Tribune, seeking a line leader for the Clybourn factory]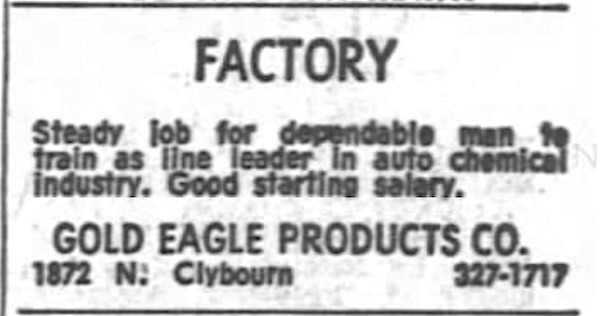 On the down side, the new six-story digs were located in a rough neighborhood (the since rejuvenated North/Clybourn area)—sketchy enough that Bob's wife didn't like their daughter Joni visiting him at the office. Nonetheless, young Joni went all the same, "spending countless hours there, playing on typewriters, riding the freight elevator and watching filling lines in the 1960s and 1970s," as she recalled to the Chicago Jewish News in 2018. Now a journalist, Joni Hirsch Blackman's continuing love for architectural history has its roots in the old Gold Eagle plant, and it's among the buildings featured in her recent book, This Used to Be Chicago.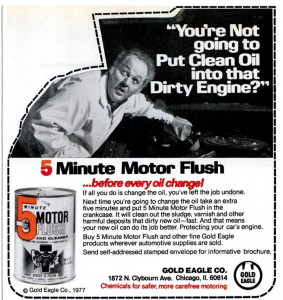 Several years after the Clybourn plant opened, in that tumultuous Chicago summer of 1968, Bob's younger brother Rich Hirsch joined the business. The determined sibling duo quickly went to work, purchasing another 25,000 sq. ft. plant at 3307 S. Lawndale Ave., dedicated to their growing washer fluid business. The ad budget was ramped up, too, as Gold Eagle's increasingly diverse range of products required a more diverse marketing strategy to match. [The example above is a 1977 ad for "5 Minute Motor Flush," which ran in national consumer mags like Popular Mechanics].
It's hard to overstate the sea change that Gold Eagle experienced over this period. That humble team of eight workers that had greeted Bob Hirsch back in 1957 had grown to well over 100 by 1977, and overall sales had increased 100-fold. Virtually every auto amplifying concoction under the sun was now available in a Gold Eagle can, from starting fluids and de-icers to power steering brake fluid, gasket shellac, oil additives, carburetor cleaners, motor flushes, and good old radiator seals.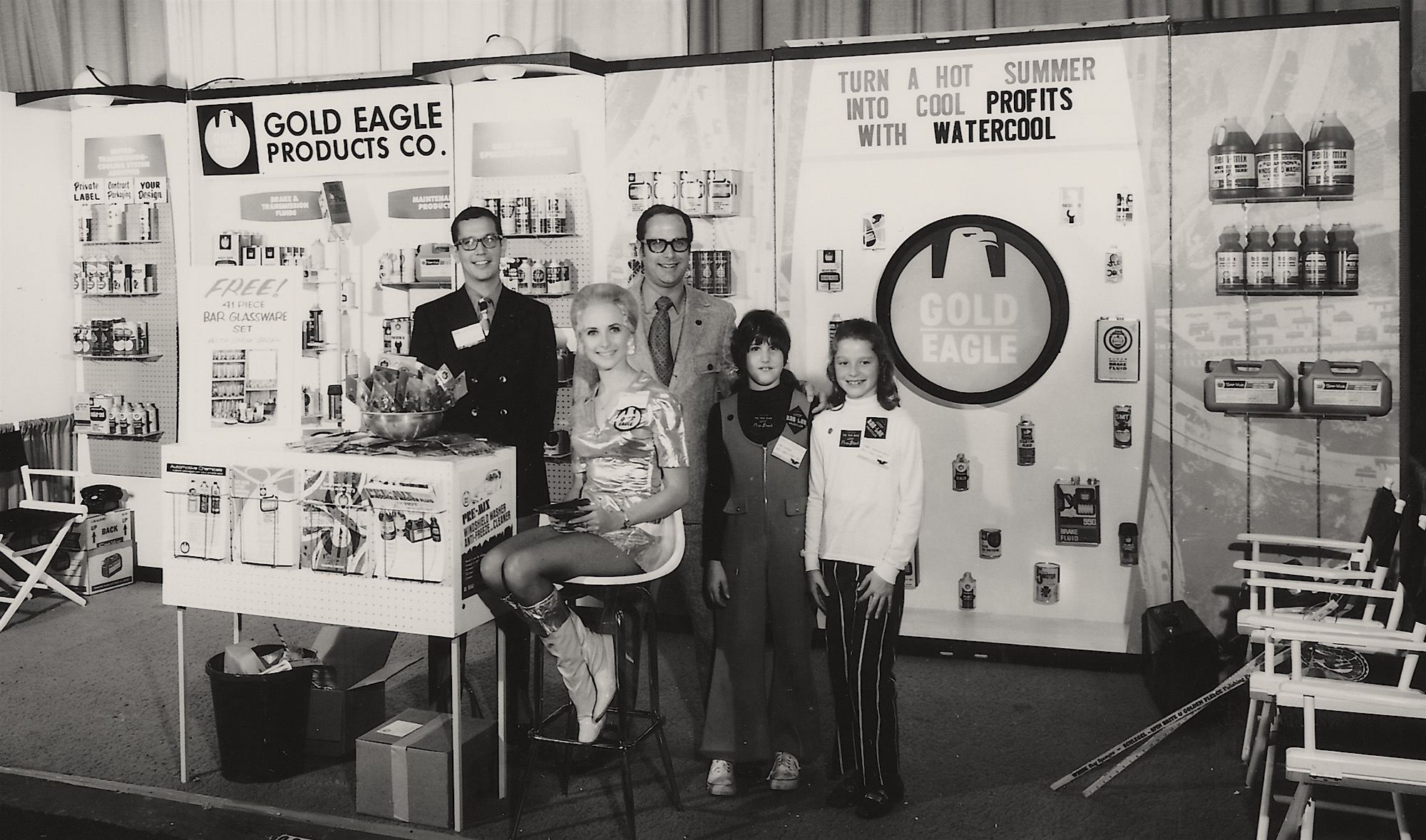 [Above: Several Hirsch family members manning the Gold Eagle booth at a trade show, circa 1970]
[Below: Bob Hirsch, left, and Rich Hirsch at the Gold Eagle factory, 1980s]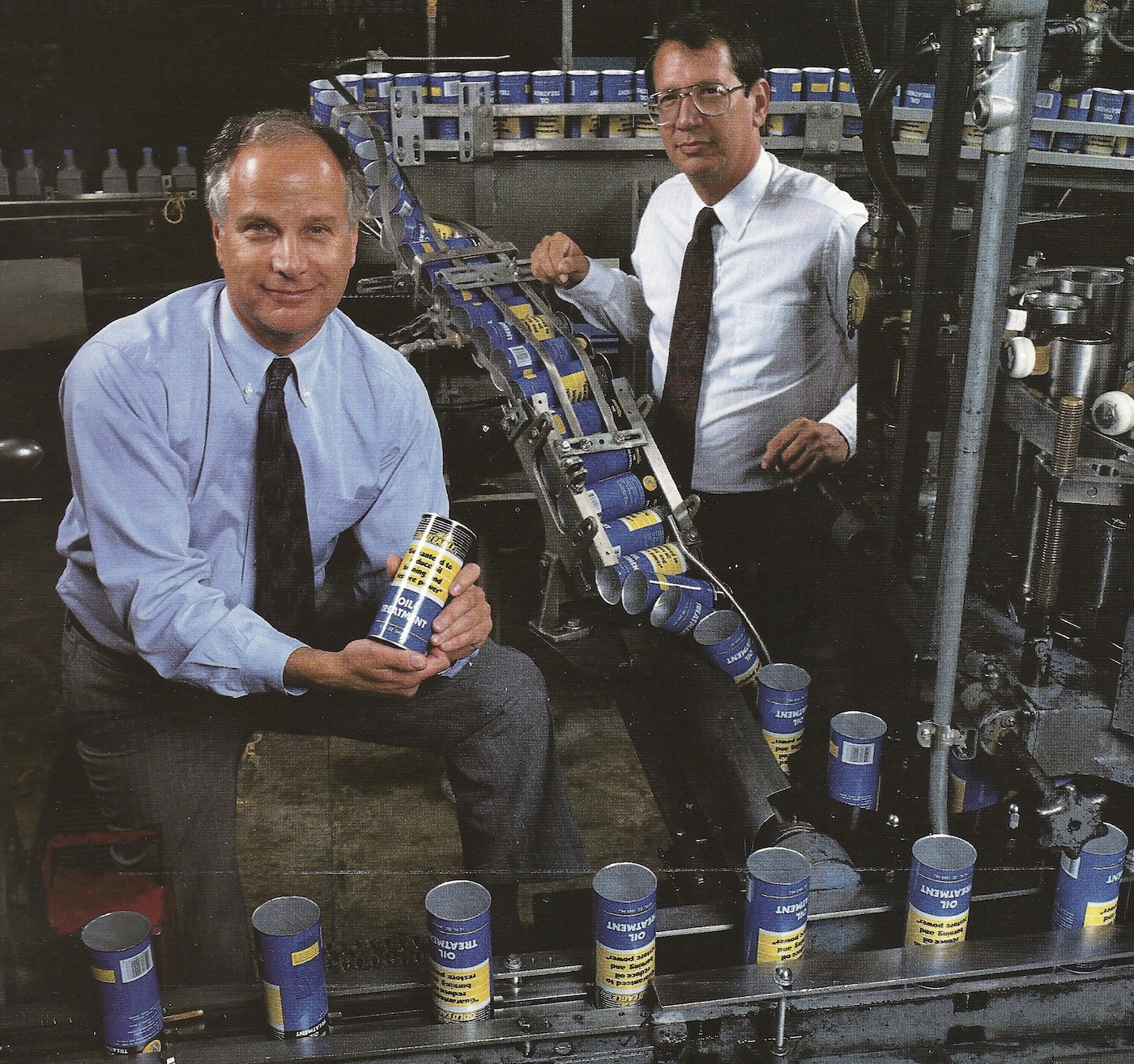 III. The Eagle Has Landed
Gold Eagle consolidated its Chicago plants and moved into its current 200,000 sq. ft. mega-facility at 4400 S. Kildare Ave. (Archer Heights) in 1983. Three years later, the Hirsch brothers acquired the STA-BIL line of products from Chicago's Knox Laboratories, giving them a new flagship brand. This helped set up the formation of an International Department in 1991, pushing Gold Eagle products to 50 countries. Economic recession be damned! Basically all that was missing was a clever way to spread the word about STA-Bil to a larger audience.
"The flukiness is what attracted us most," former marketing services manager Jim Brown told the Detroit Free Press back in 1992, explaining how he and marketing director Gerry Smith brought lawn mower racing under Gold Eagle's banner. "We're a medium-sized company, and an event like this—if it catches on—could give us advertising and promotion benefits that will exceed far and away anything we could afford through regular advertising."
"We thought it was a cute idea at the time," Bob Hirsch admitted ten years later, "but, no, we never thought it would take off the way it has." To be fair, Bob Hirsch had bigger fish to fry back in '92.

[The current Gold Eagle HQ at 4400 S. Kildare, before and after a 2016 renovation]
Nearing retirement age, and with none of the third-generation Hirsch children showing interest in entering the family business, Bob and Rich had to start looking for someone with a different last name to join the team and potentially take the reins. Fortunately, the search didn't wind up stretching much beyond the Thanksgiving table.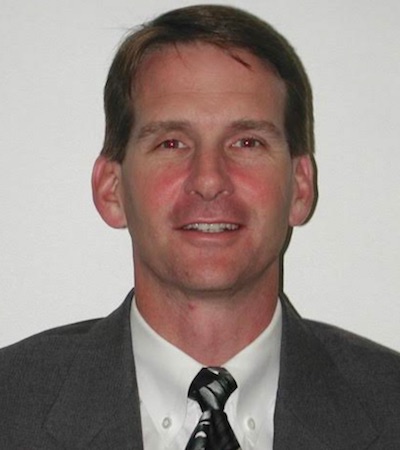 Bob's son-in-law, Marc Blackman, was invited to join the business as a salesman in 1993, and by 2001, he'd become just the third Gold Eagle president in 70+ years. He's since ascended to the role of CEO, leading a company that now has the capacity to produce more than 600 different products (water, alcohol, solvent and petroleum based) over seven different filling lines, sold in containers as small as 4 ounces all the way up to 55 gallon drums.
Along with STA-Bil, Gold Eagle has picked up other respected brands like Heet, 104+, AlumAseal, and 303 while under Blackman's watch. In 1998, they also added a 250,000 sq. ft. distribution center at 2635 Western Avenue, showing what Bob Hirsch called "a continuing commitment to remain in Chicago. Most of our staff live in the city."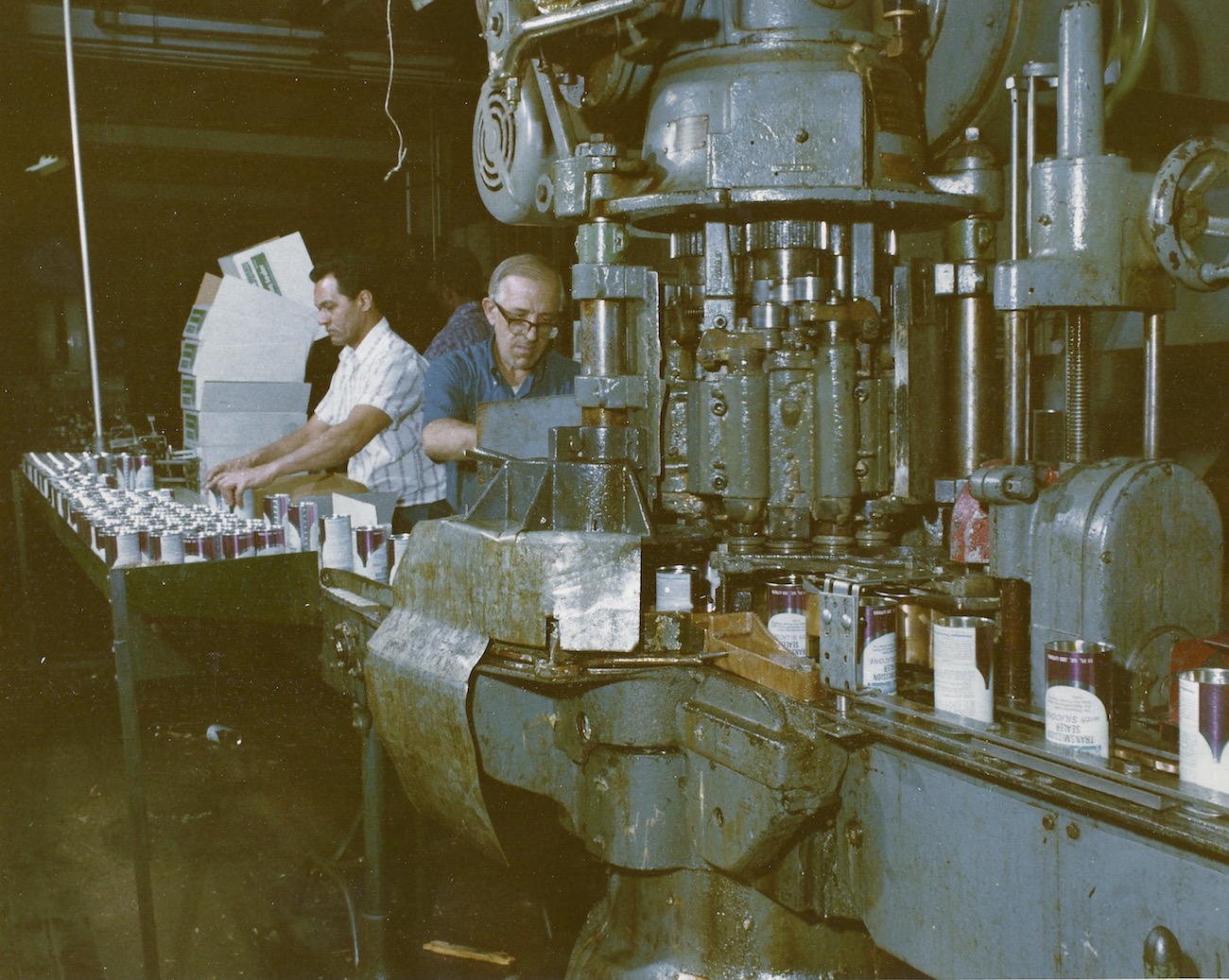 [Gold Eagle factory workers, circa 1980s]
Twenty years later, they're still here, uniquely immune—it seems—to the industrial magnetism of the suburbs or cheaper property much further afield. You might call it a rebellious commitment—like the kind you need to start a business in the Great Depression or to turn a John Deere into a stock car. But according to Dan Stewart, current VP of Human Resources, it's really more about loyalty.
"We have always been a family-oriented company," Stewart says. "We invest in our people and we treat our team members like family. From the assembly line all the way to executive management, each individual is given the utmost value and respect. This shows in the fact that some of our team members have been with us for over 30 years. Generations of families have been part of the Gold Eagle team."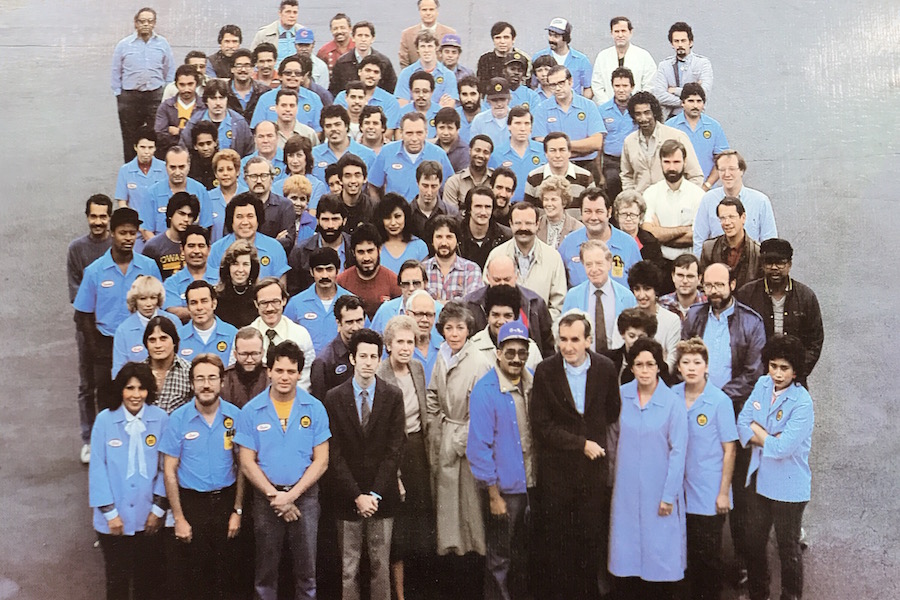 [Gold Eagle team photo, 1980s]
Not the least among those would of course be the ownership group itself, still led by the Hirsch brothers and Marc Blackman.
In an amusing way, Blackman—who joined the company right around the same time the United States Lawn Mower Racing Association was founded—has come to embrace the sport as much as anyone, having seen its development parallel his own. When the USLMRA marked its 25th anniversary in 2017, Blackman wrote a letter to the association's fans, promoters and competitors, recognizing another type of "family" that's emerged from Gold Eagle's fabled core values.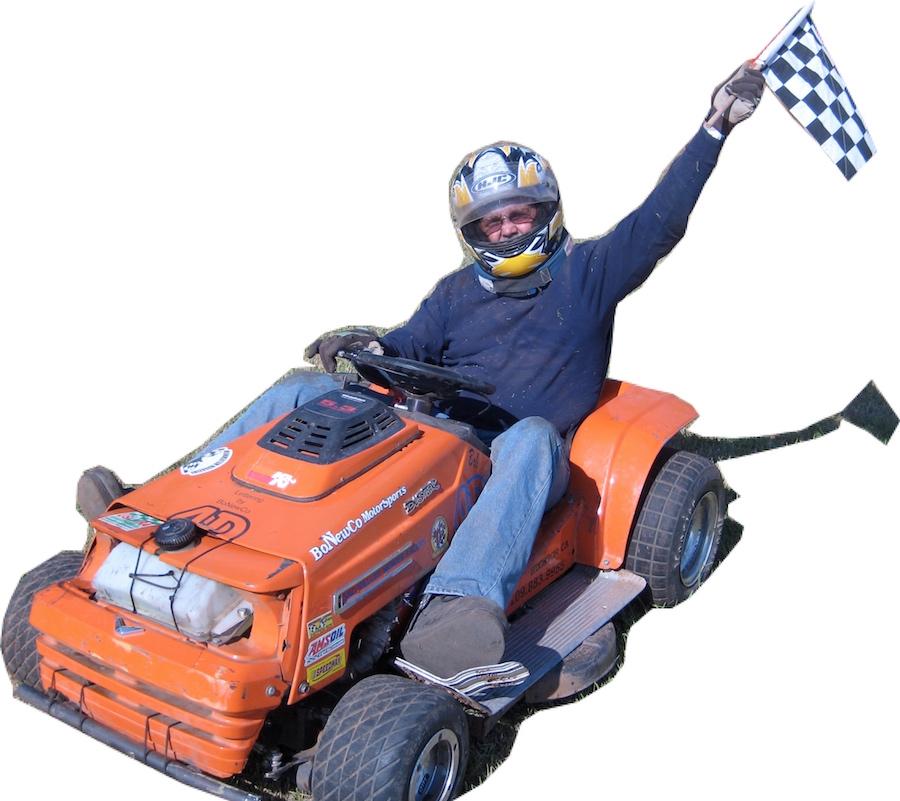 "As we gathered at the Speedway Club," he wrote, "I saw and felt first-hand the passion, commitment and love of lawn mower racing—and for Gold Eagle Co., who helped bring this sport to America 25 years ago. I sat back and watched the trophies, awards, Hall-of-Fame inductions, racing commendations—and a few tears fell as we celebrated what we have all created. I saw families, grandpas, grandsons, husbands and wives, uncles and nephews, neighbors and co-workers from coast to coast joined together by a common love of sport and good fellowship. From the Pacific Northwest to New England and from the Gulf of Mexico to the prairie of the American Heartland, we came together. . . On behalf of both Gold Eagle Co., your friends at STA-BIL and the USLMRA Board of Directors, Happy 25th Anniversary! And may there be MANY MOW !"

Thanks to Bob and Rich Hirsch, Marc Blackman, Howard Donnally (president of Gold Eagle Brands), Dan Stewart, and particularly Gold Eagle marketing team members Tiana Grande and Melissa Taylor for their research assistance.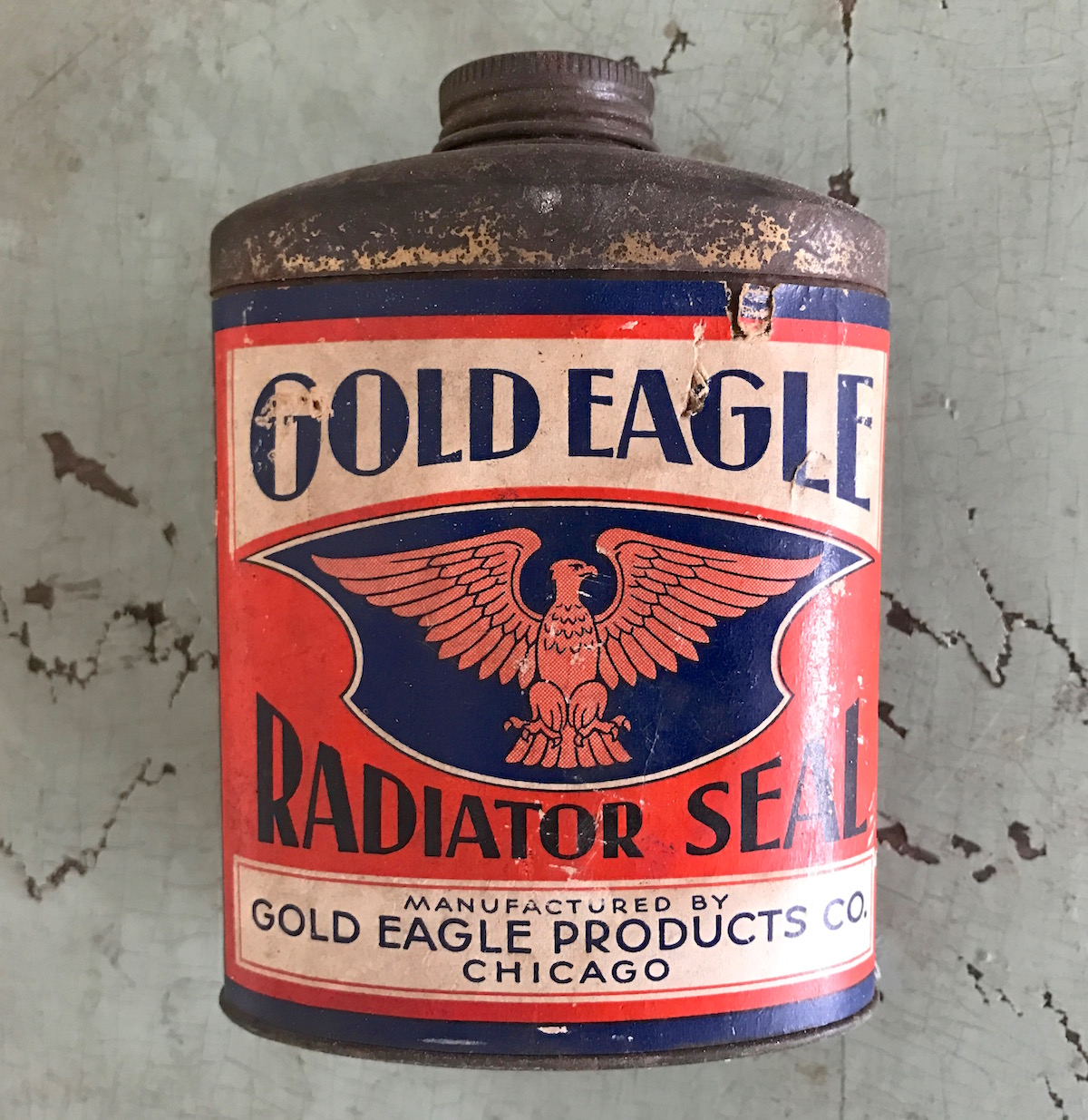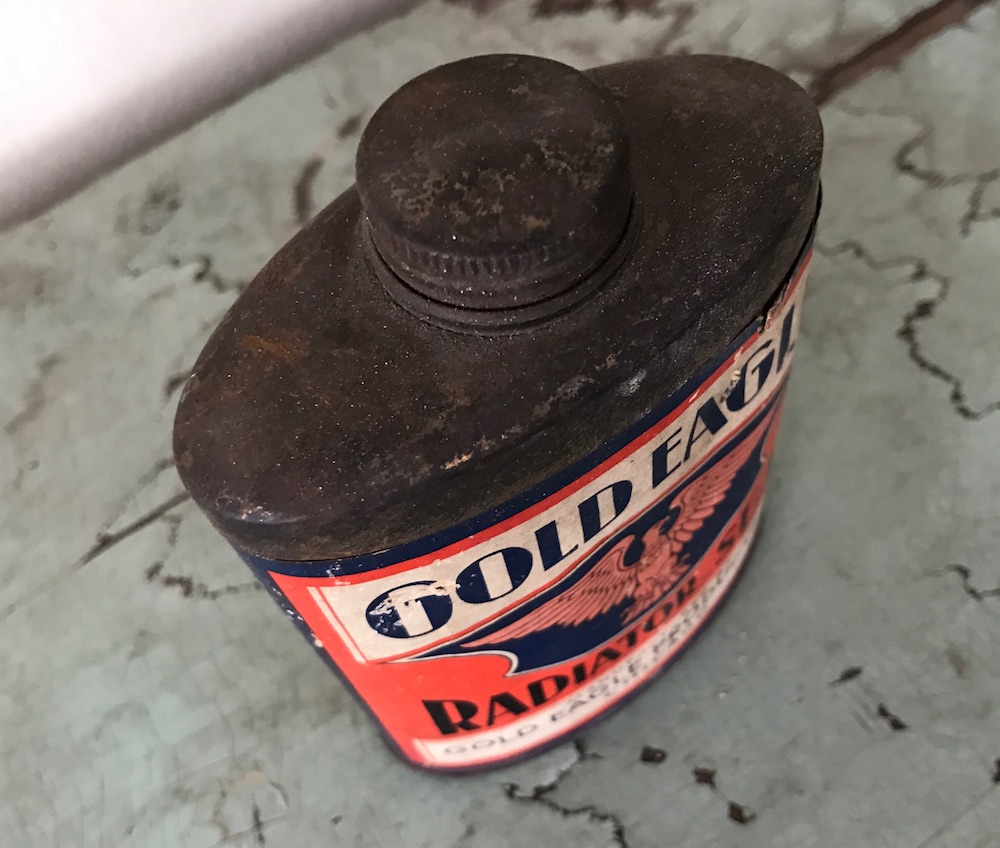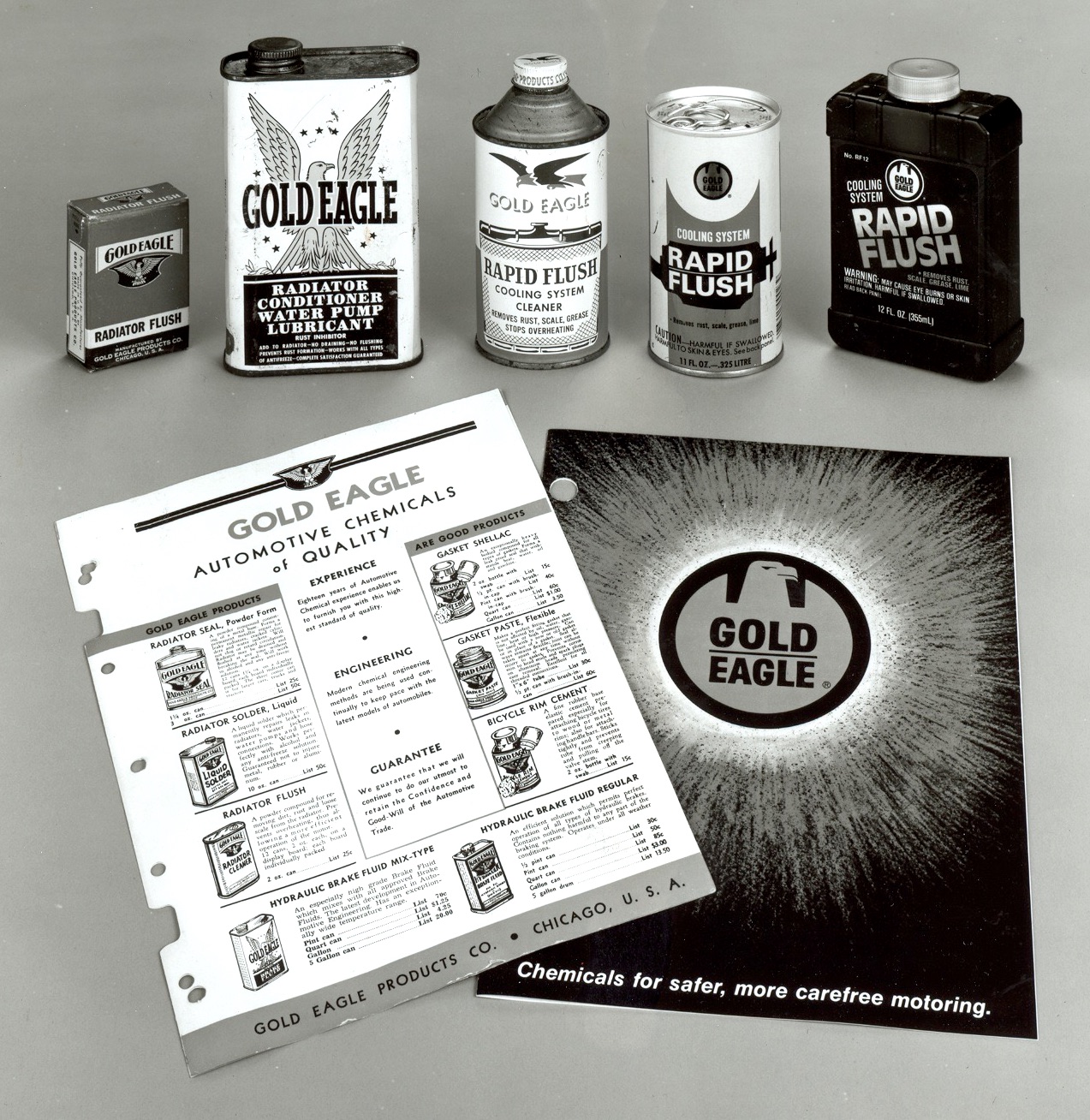 Sources:
Gold Eagle – Official Site
United States Lawn Mower Racing Association – Official Site
"Bricks That talk: A New Book by Joni Hirsch Blackman Looks at Buildings That Tell the Story of the Chicago That Was" – The Chicago Jewish News, January 4, 2018
"Blackman Named Gold Eagle President" – Daily Herald (Chicago), Nov 30, 2001
"Grass Prix" – Detroit Free Press, April 9, 1992
"Gold Eagle Has Opened Its New Distribution Center" – Northwest Herald (Woodstock, IL), Feb 20, 1998
"Mower Racers Go For Green" – Gannett News Service, August 11, 2002
"Dem Days Are Here" – Crain's Chicago Business, Aug 26, 1995
"Keep Business Alive with Succession Plan" – Wall Street Journal, August 5, 2007
"Clybourn Ave. Factory to Be Converted to Lofts" – Chicago Tribune, April 17, 1983