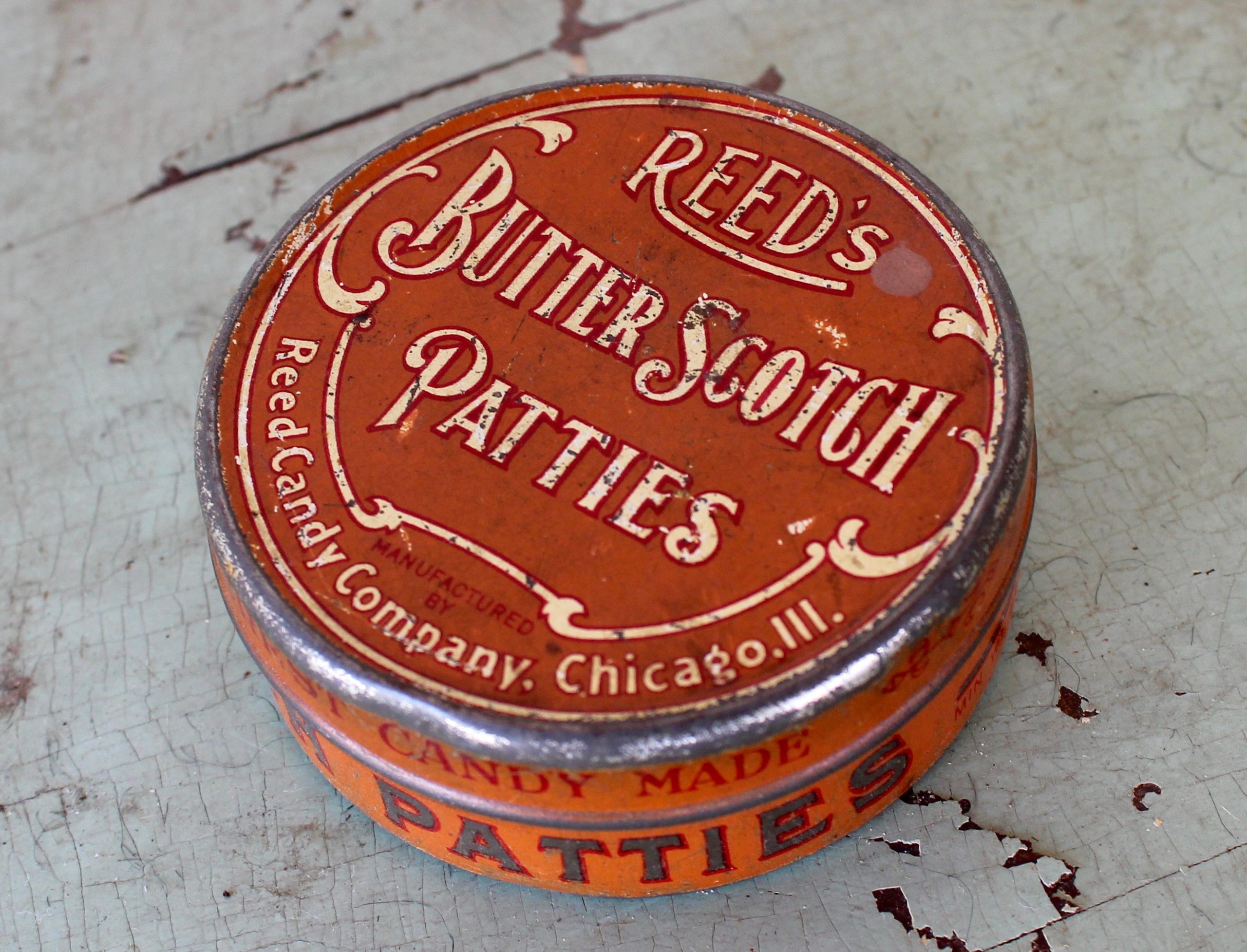 Museum Artifact: Reed's Butter Scotch Patties Tin, c. 1920s
Made By: Reed Candy Company, 1245 W. Fletcher St., Chicago, IL [Lakeview]
Research is underway on this one and a full write-up will be coming soon.
Archived Reader Comments:
"I maybe able to help you. My great grandmother was Mildred Reed. I have pictures of my father and uncle at the Reed factory. Also my uncle would have all the information about the company. I think we still have a Reed copper tin." —KKuehler, 2019
"I was a teenager working at reed candy in the 70 I love working there at night I had so much fun I was in high school going to Waller high school

" —Jeanette, 2019
"My aunt, Flora Lang, used to work for Reed's in the 1940's through the 60's in the "accounting/payroll dept" (?).  She was there when they computerized.  She was one of the first to be trained on the IBM keypunch machines and could not only operate them but set them up for different jobs and troubleshoot them.  She would then train the others in her department. She lived on N. Hamilton Ave near W Fletcher St and walked to work when it was not raining or snowing too bad. I remember her talking about when Lorillard took control from the Reed family.
I lived in California with my parents and we would always go back to Chicago to visit during the spring, and come home with lots of Reed's Rolls and Paloops.  I remember one year Reed's experimented with chocolate flavored Rolls, but I guess they didn't work out…but I liked them!!!" —Dan Danielson, 2018
"I lived on clifton av. nearby the plant on fletcher fora few years in the early 70's.  what wondrous olfactory delite  of  cinnamon butterscotch summers and spearmint winter nites so crisp they cruncked.. alas..  captive victims in the clutches of inner city industral pollution. if only they could make all industrial pollution just so lethal and  noxious


sad  its gone the way of the world. they usta get a dime for a pack of em i think. hunh and still made money.

" —Paul Filkorn, 2017
"I lived on Roscoe and Racine, and we could tell the day if the week by which candy we smelled. I don't know why, but I seem to remember a wild cherry flavor. The neighborhoid used to be good. Sweet memories of a better time." —Pony, 2020