Museum Artifact: Duro "Sign Maker" Letter and Number Decals + Display Box, c. 1960s
Made By: Duro Decal Co., Inc. / Duro Art Supply, Inc. / Duro Art Industries, 1832 W. Juneway Terrace, Chicago, IL [Rogers Park]
Donated By: Jeff Levine
"Duro Letters and Numbers speed up work and are easy to transfer, making every sign a perfect job. Each character is precision made of Best Grade Black Lacquer and Gold Bronze to insure uniformity and quality. They are long wearing, strong and durable, and reduce sign costs by 90% [compared with Gold Leaf]" —Duro Decal catalog, 1955
The Duro "Sign Maker" sales kit in our museum, pictured above, was donated to the collection by Jeff Levine, a talented typeface designer who's also responsible for the Lampost JNL font style featured in the banner of our website.
Jeff explains that this specific Duro Decal stock box "was usually shipped complete with an initial inventory of decals. The dealer [often a hardware store or paint shop proprietor] would then re-order whatever letters or numbers they needed from an order sheet as certain characters depleted."
Across his own career, Mr. Levine has regularly found inspiration from the distinctive styles of mid-century signage typography and "decalcomania," as the decal transfer process is known. There were dozens of companies in this field during its hey-day, but as is often the case in niche specialities of the printing trade, Chicago was a national hub.
The Meyercord Company (est. 1896) was arguably the American pioneer of mass decal production for ornamental home decoration, but the Duro Decal Company took that ball and ran with it; particularly in the years after World War II—the golden age of slap-on decorative kitsch.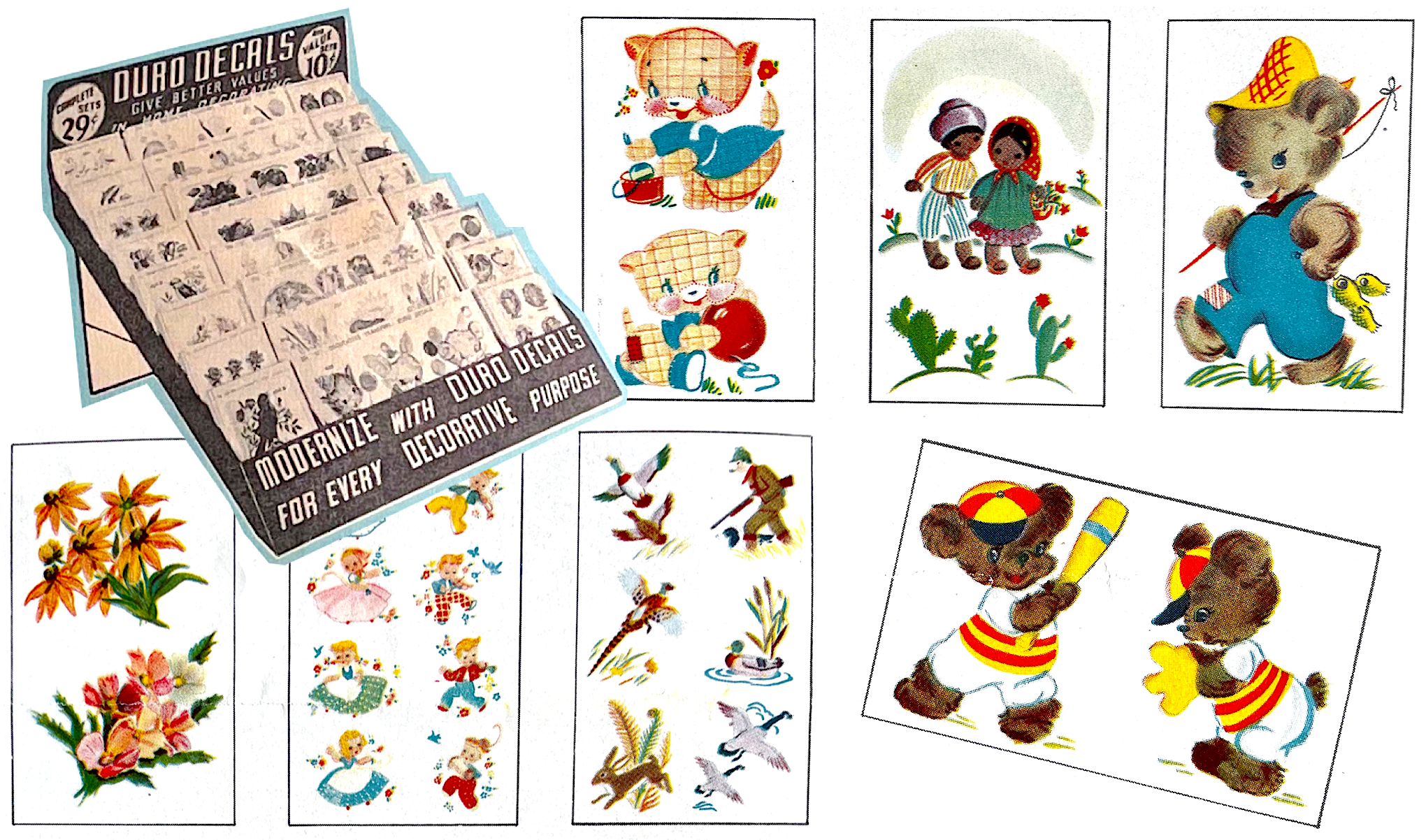 By the mid 1950s, the firm was operating out of its own dedicated plant on the North Side and taking on as much business as it could handle, specializing in "commercial and industrial decals," as well as "window signs, name plates, truck signs . . . special decals for every purpose."
Essentially a printing business at its core, the Duro factory utilized a variety of different processes to create its designs (silk screening, four-color plate, etc.) and employed in-house artists and designers to help customers create custom decals for their businesses, schools, organizations, etc. With just a little varnish, anyone could make a sign or design that would last for years, leaving it to the next generation to frustratingly chisel them off and start over.
When America's "decalcomania-mania" began to decline in the '60s and '70s, Duro turned itself into a more diversified art supply house, adding exclusive lines of oil and acrylic paints, brushes, paper, and canvases to its catalog. As the Duro Art Supply Company, and later Duro Art Industries, Inc., the business remained viable, if small, for many years, only shutting down its Rogers Park plant for good in 2015.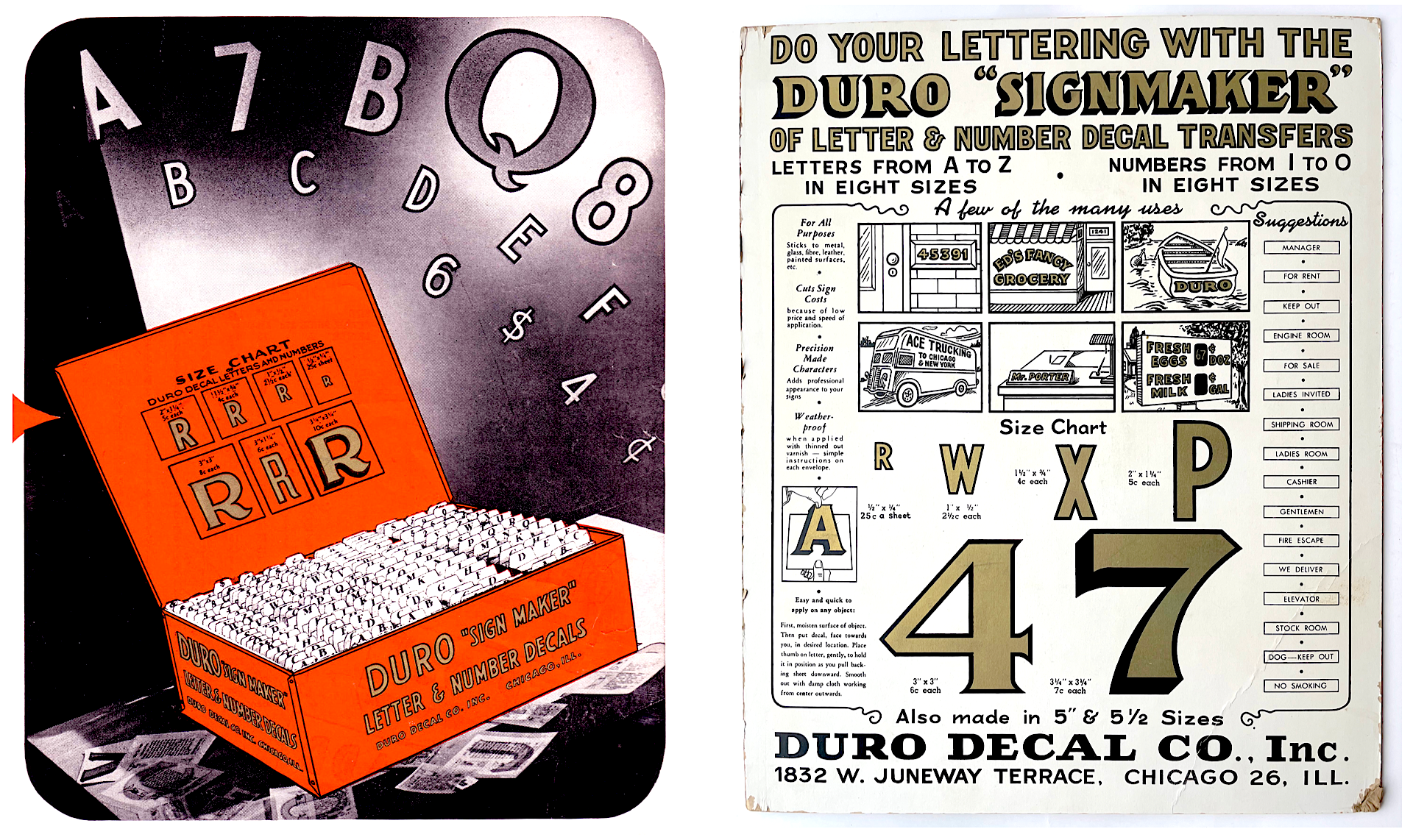 History of the Duro Decal Company, Part I: Colorful Touches
Rudolph R. Rathslag (or Rathschlag) was born in Chicago smack in the middle of the World's Fair summer of 1893. The son of German immigrants, he was the fourth of five children, and—in the old world tradition—trained from an early age as an apprentice to his father Carl, a cabinet maker.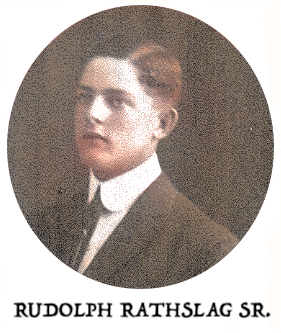 More than just learning a "trade," Rudolph's years in the pattern shop taught him about design, color, geometry, and everything else he needed for a career ostensibly in the arts.
After working as a wood pattern maker for the Illinois Steel Company in his 20s, Rathslag started a family and, shortly thereafter, his own business—first in commercial painting, then screen process printing; working largely within the amusements and gaming industry in the 1930s.
Toward the end of that decade, Rathslag organized the Duro Decal Company, with an early office on the 6th floor of a building at 622 W. Lake Street (long since demolished). Rudolph's younger brother Albert Rathslag, an insurance salesman, was the company's vice president. Their choice of brand name, "Duro," was used by quite a few manufacturers in the early 20th century as a catchy marketing term for "durable."
The company slowly grew during World War II, marketing its products in two primary formats: (1) letter and number decals that could be added to signs and vehicles without the need of a professional, and (2) decorative decal additions to help beautify walls and appliances in the home.

"A room may gain charm and individuality through the use of Duro decals," claimed a 1943 home improvement article in the Corpus Christi Caller-Times. "These transfers can be used on walls, lamp shades, furniture, and waste baskets. Designs for a nursery are always in demand. Hunting scenes are ideal for a masculine room. There are selections for the bathroom, kitchen and any room which needs a bright touch."
"Be your own decorator," read a 1945 ad in the Newark Advocate. "Add those important, colorful touches to your room with Duro Decals. . . . Mexican, fruit and nursery rhyme patterns."
Duro employed a team of regional sales reps to convince hardware stores to carry its products, and as more dealers signed up, Rudolph Rathslag soon had a successful national enterprise on his hands ($75,000 worth of raw materials were turned into $300,000 in gross sales in 1943 alone). With a war on, however, there wasn't much room for celebration. Rathslag's own son, Rudolph Jr., was serving in the Navy, and on the homefront, running a small business during this period was no easy task, German heritage or otherwise.
Rathslag, Sr., was still acting as his own lead salesman during this period, and was regularly on the road. In the spring of 1944, while on an exhausting business trip in Los Angeles, he decided to treat himself to a brief nap beneath the sunshine in Pershing Square. When he woke up, according to the next morning's L.A. Times, he'd been robbed of $200.
Back in Chicago, Rathslag was also struggling with the day-to-day demands of running a growing manufacturing outfit. During World War II, when the business was operating at 616 W. Adams Street, most of its Chicago factory workers were temporary "female replacements," and—due to the shortage of machine maintenance and repair options at the time—much of the work in the plant was reverted back to slower manual labor. By 1944, many of Duro's new employees were looking to collectively bargain as members of the Warehouse & Distribution Workers Union, Local 1208, but Rathslag and his partners were slow to recognize the group, arguing that Duro would soon be releasing most of its current staff and going to back to male-oriented machine work once the war was over (or sooner). The National Labor Relations Board was ultimately tasked with resolving the dispute, and found in favor of the union, which in Duro's case included "maintenance employees, inspectors, order fillers, packers, stencil cutters and helpers, touch-up men, photo-plate men, shipping room employees, paint mixers, full-time porters, substitute foremen, and working foremen."
[Duro Decal was regularly seeking employees during World War II, posting the Wanted ads above in the Tribune between 1943 and 1944. On the left is a flyer produced by the Warehouse & Distribution Workers Union, which feuded with Duro for collective bargaining power in 1944]
It's not clear if Rathslag did indeed clean house and replace most of these workers after the war, but he certainly improved the working conditions for the staff he retained. In 1947, the Duro Decal Company moved into its new permanent home at 1832 W. Juneway Terrace in Rogers Park.
"We are extremely proud of our new plant," read a Duro Decal catalog from this period. "With its modern, up-to-date equipment and facilities, it enables us to manufacture the finest decals and to give our customers the best possible service.
"Every customer's order that enters our door is assured of competent handling, prompt attention, and service. When you buy Duro all-lacquer decals, you are assured of receiving the best."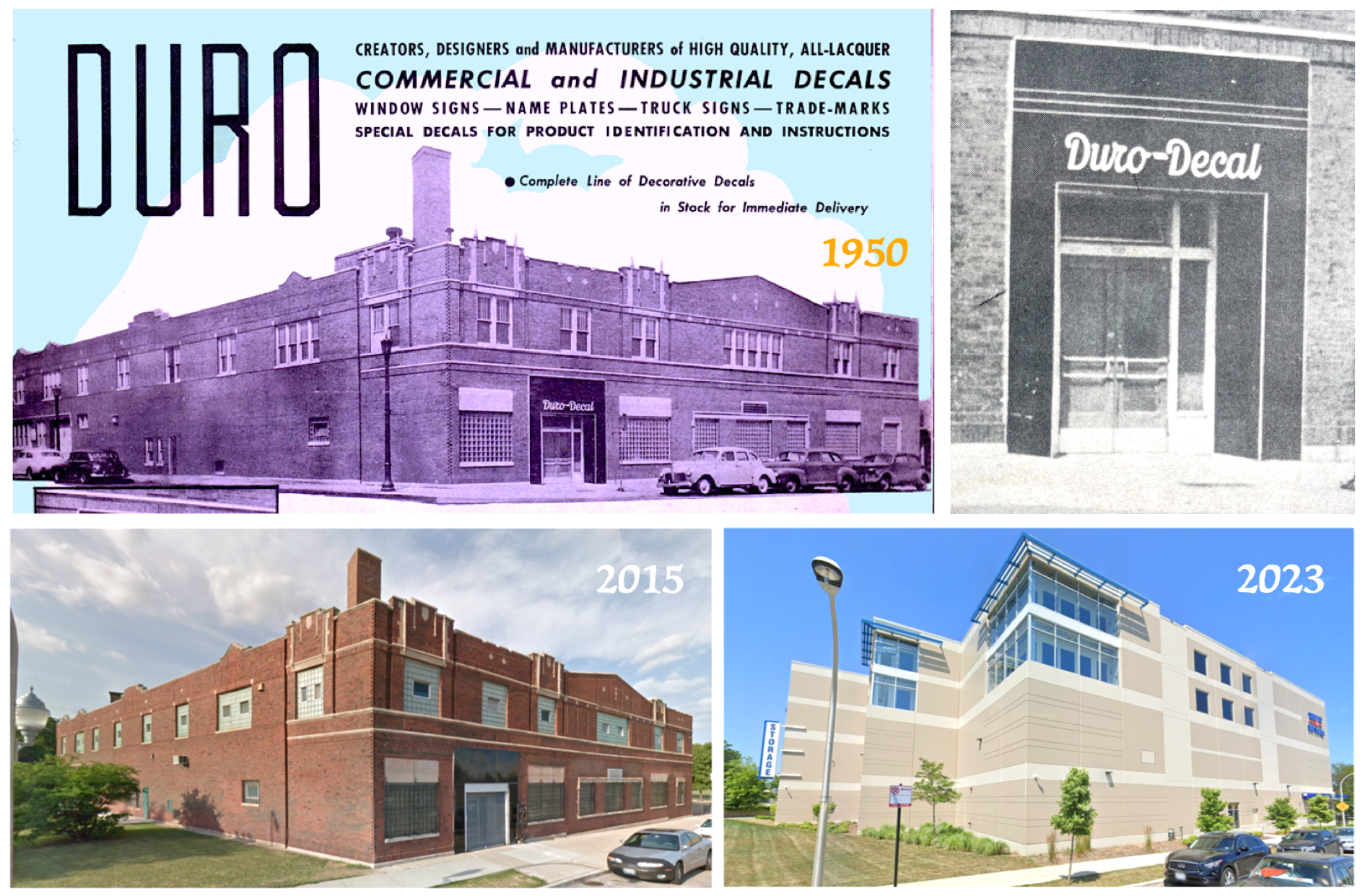 [The Duro Decal Company plant at 1832 W. Juneway Terrace in Rogers Park. This was the company's HQ from 1947 to 2015. The building was demolished shortly thereafter and replaced with the storage facility seen in the bottom right picture.]
II. The Best Laid Plans of "Duro Dan"
As the popularity of decals continued to soar in the 1950s, the Duro Decal Co. and its new subsidiary, Duro Decorative Products, were in regular combat with Chicago's other big name in the industry, the Meyercord Company. While Meyercord cut into its profits, however, Duro also likely benefited from its rival's heftier marketing budget, which spread the word about decals and wall borders in national magazines like Ladies Home Journal.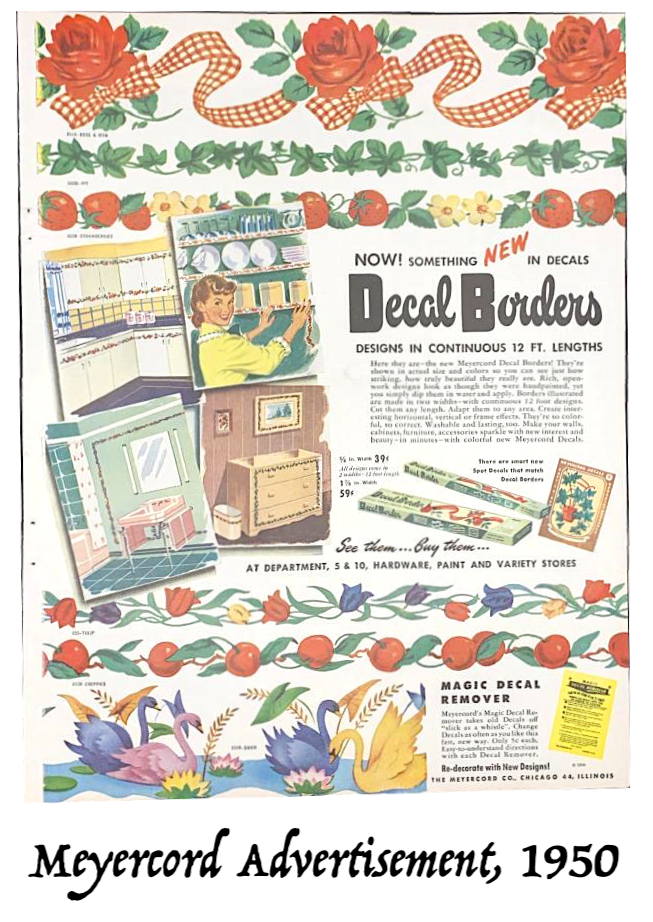 The 1950s also saw company founder Rudolph Rathslag, Sr., take a reduced role in the running of the business. Now in his 60s, Rathslag and his wife Marie made their home in Wilmette, but also moved much of their focus to a prized cattle farm they owned in Kenosha, Wisconsin.
This left the decal business increasingly in the hands of a new generation, including Rudolph "Rudy" Rathslag, Jr., his brother Thomas "Tom" Rathslag, and their brother-in-law Edward Davies. Proving quite capable of the responsibility, this young leadership crew helped Duro expand and adapt to changes in the marketplace in the 1960s.
The Duro Art Supply Company was created as another subsidiary, and would soon take over as the primary identity of the business as it morphed into a wide-ranging dealer of arts and crafts products. Around the same time, the company introduced a new mascot, "Duro Dan," a mustachioed elf-type character who can be seen adorning the 1960s era Sign Maker box in our museum collection, as well as the early 1970s catalog below.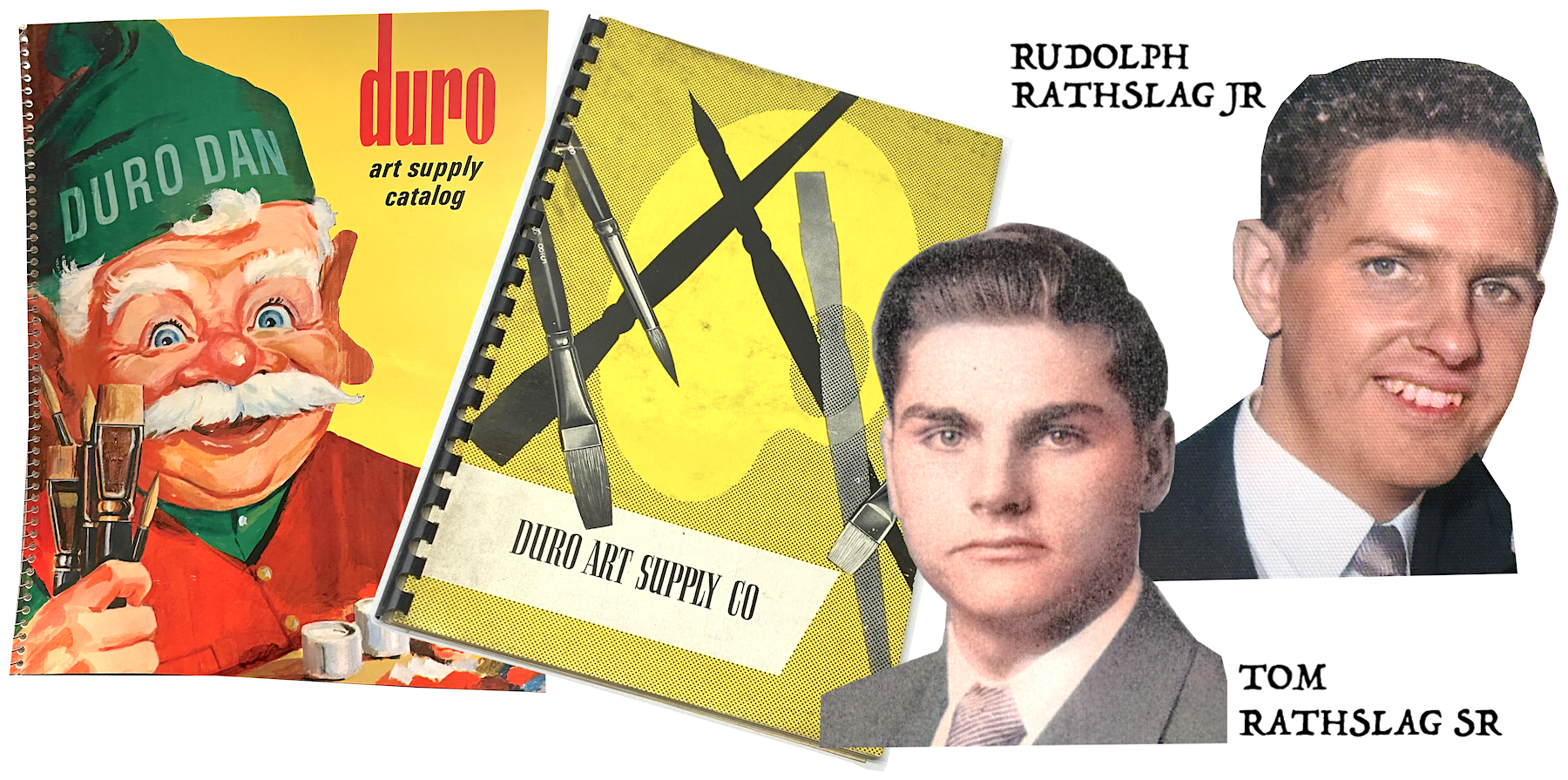 While one doesn't necessarily envision the production of decals and pre-cut letters as heavily "industrial" in nature, the processes in use at the Duro plant in the 1960s didn't have the benefit of streamlined digital technology. Edward Davies, who knew more about the daily operations of the plant than anyone, described Duro's die-cut letter-making process while testifying before the United States Customs Court in 1969 (he was lobbying to have tariffs lifted on certain imported parts of the company's die cut press machines).
"Rubber is inserted in the spaces surrounding the letters," Davies explained, "and the cutting form, or die, as it is called, is placed in the center of a chase, which is a metal frame used on a platen die cutting press. The space between the die and the edge of the chase is filled with wood; the die is locked into the chase which is then put into the die cutting press. When the press is opened the paper which has been die-cut is ejected from the die by the rubber which was compressed between the die and the platen.
"The cutting form is used with [Duro's] Krause die cutting press, as well as with the Thompson, Chandler & Price, and Bobst die cutting presses, which are operated electrically. All but the Bobst machine, which is automatic, are hand-fed presses."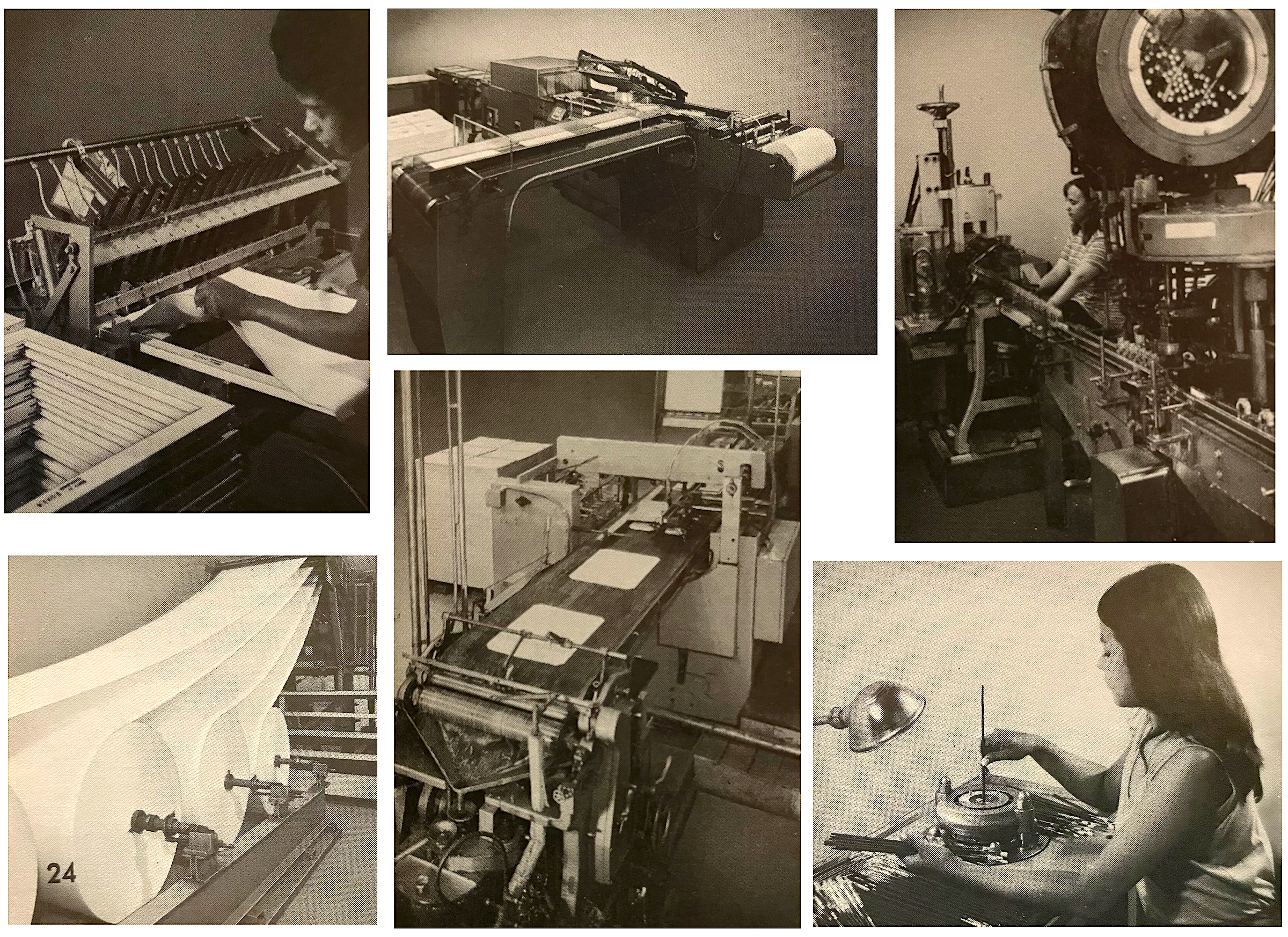 [Above: Interior views of the Duro Art Supply factory, circa 1970. Below: Duro banner ad, circa 1960s.]

If not entirely simple on the manufacturing end, Duro's letters and numbers were always advertised for their simplicity and cost effectiveness.
"A job costing $40 with gold leaf," one ad read, "can be done for $4 with DURO DECAL lacquer gold bronze transfers." These stock letters could also "double your capacity for work," "make your sign look better," and were guaranteed to be "easy and quick to apply on any object."
During the 1970s, newer styles of decals emerged, including Duro's "Stick-Lite" vinyl letters and "Stik-On" Mylar laminate letters. Increasingly, though, the company made its bones selling paints, paper, canvases, and brushes; requiring a wholly different set of machinery and chemical processes inside the aging Rogers Park factory.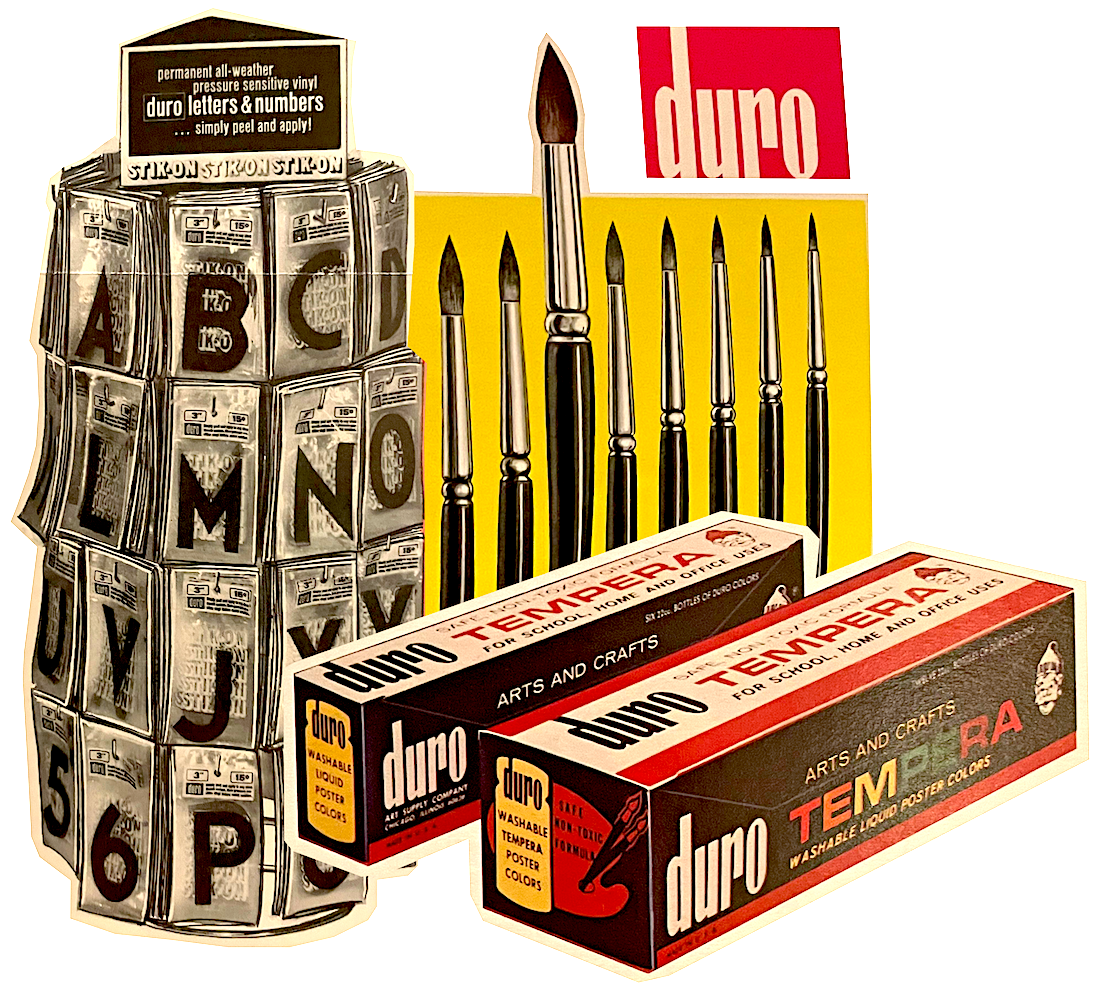 In 1981, with the Rathslag / Davies family entering its fifth decade in charge of the firm, Duro changed its identity again, this time to Duro Art Industries, Inc. There were 65 men and women on the payroll at this point, and that would soon grow to include the next generation of family leadership in the form of Tom Rathslag, Jr., and Kurt Rathslag, who would lead the company into the 21st century.
Duro Art still had a staff of 80 workers and a sterling reputation in the 2000s, but the deteriorating condition of the Juneway Terrace building and the all too predictable wave of cheaper art supplies from China put the company increasingly on its back foot.
At a hearing before the U.S. International Trade Commission in 2006, Kurt Rathslag spoke specifically on the difficulty Duro was facing with its "Lions" brand of artist's canvases.
"The last three years," Rathslag testified, "my company has faced incredible price competition from Chinese manufacturers. We have lost customers, both large and small, to the Chinese suppliers. These customers were happy with the quality, delivery and variety of our products, but they switched to the Chinese imports because costs were significantly lower than ours. It was nearly impossible to compete. Our canvas business was being eaten away with every customer that I lost.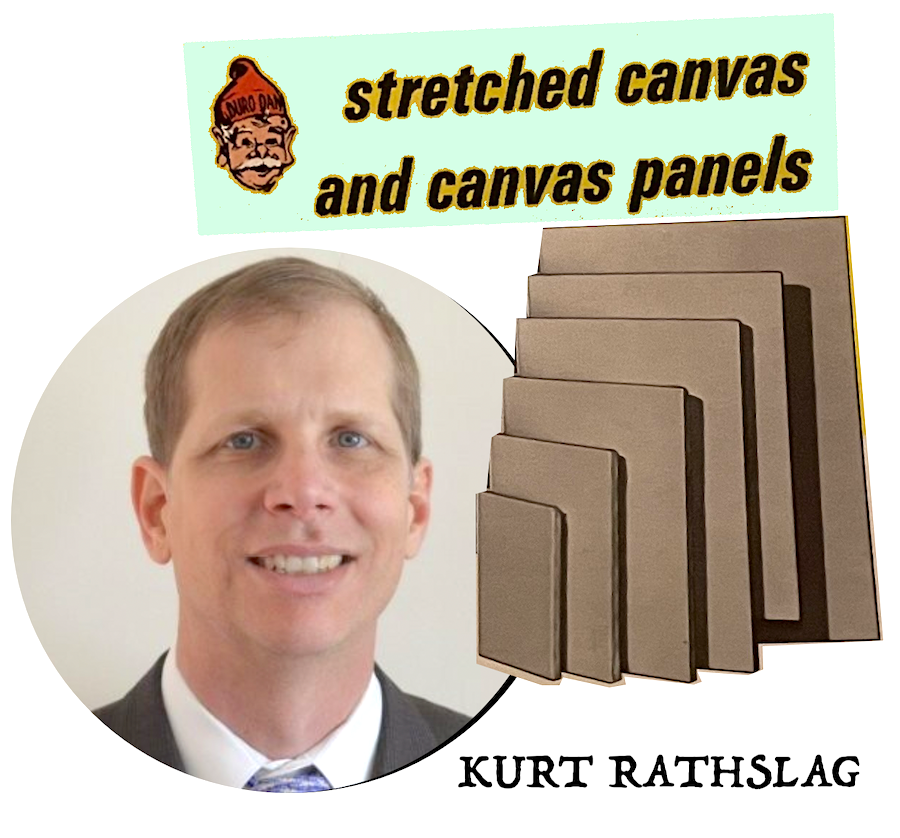 "The Chinese imports have frozen our ability to compete in the canvas market. As a result, we stopped developing new products and concentrated only on survival. Duro Art is a very lean manufacturing company, but no amount of cost cutting could lower my costs to the levels of what the Chinese manufacturers were willing to sell my customers. If the Chinese dumping is allowed to continue, the negative effects to my company and my employees would be significant."
The writing was on the wall, and not in the preferred form of beautiful Duro decal transfers.
In 2015, a buyout/merger with the Graphic Products Corporation of Carpentersville, Illinois, led to the closure of Duro's Chicago plant after almost 70 years in use. The building was subsequently demolished and replaced with a new public storage building.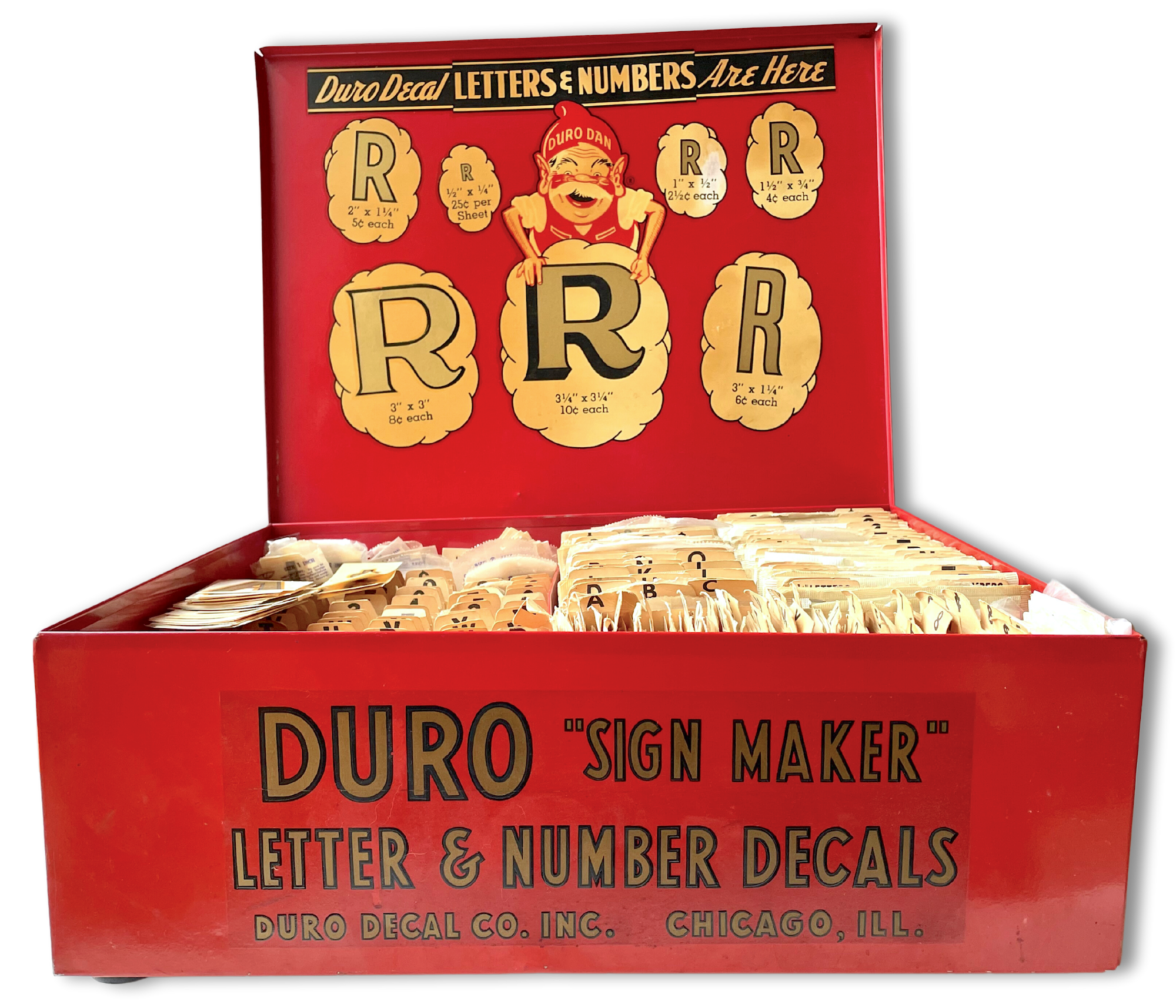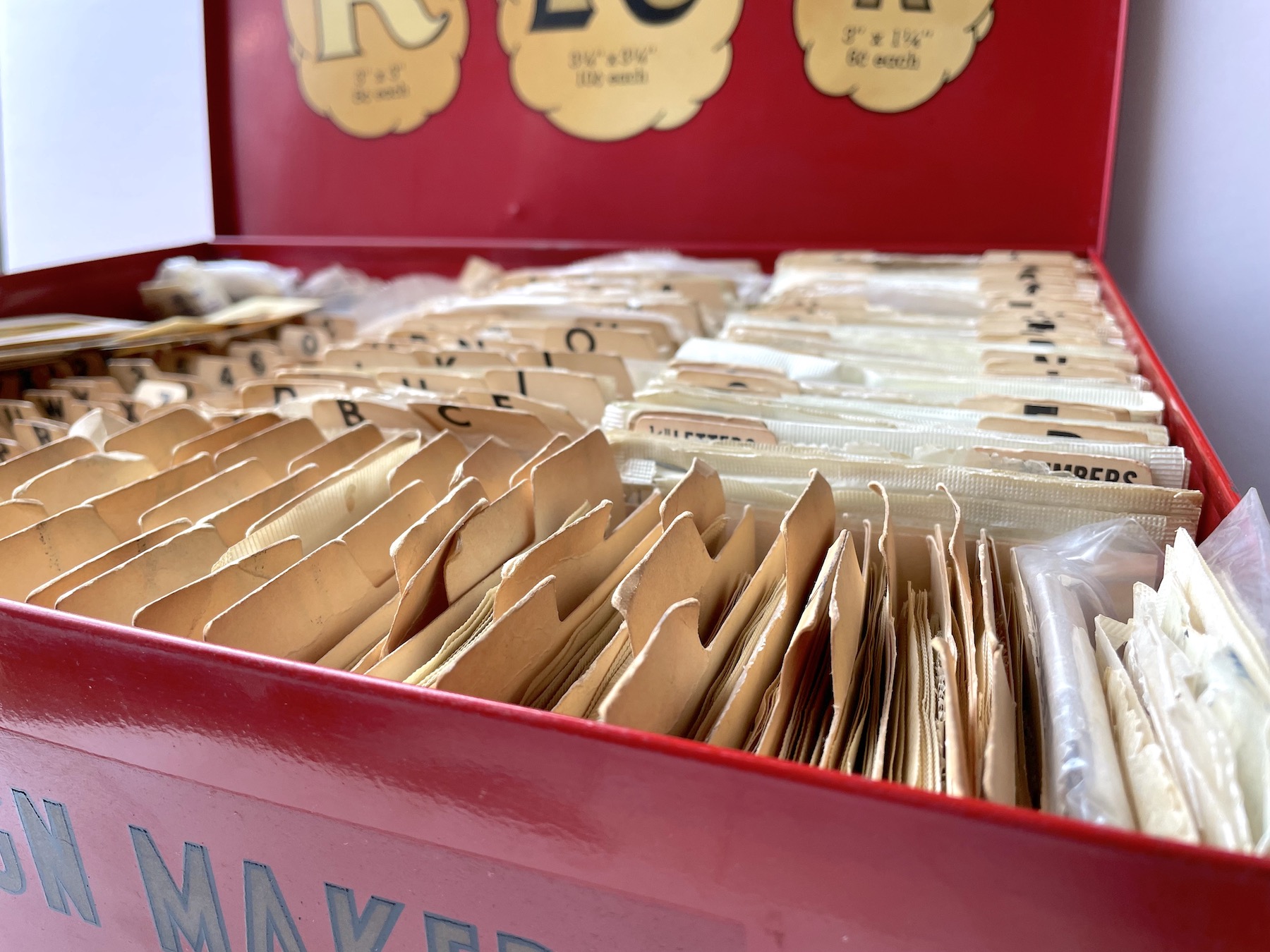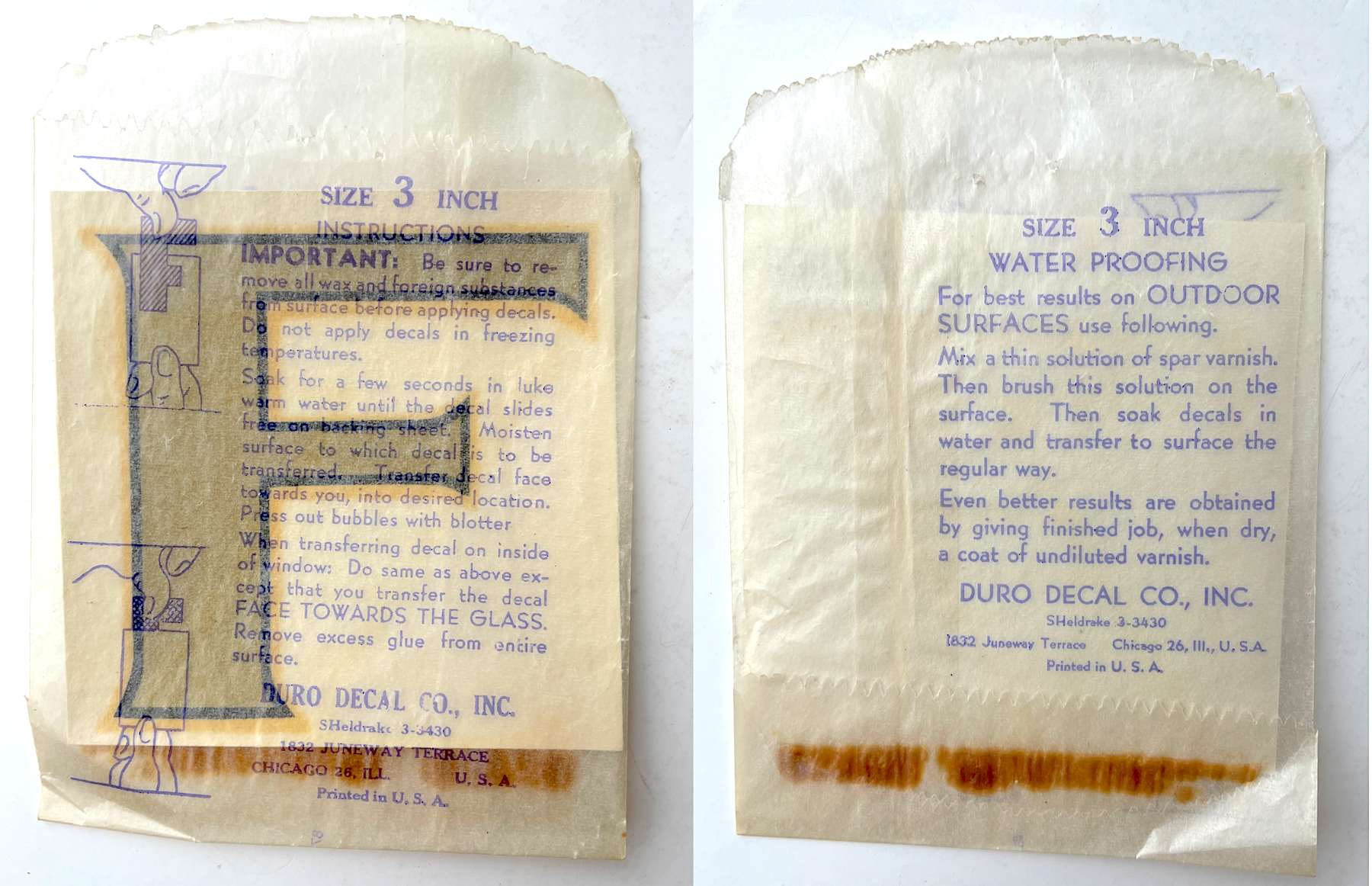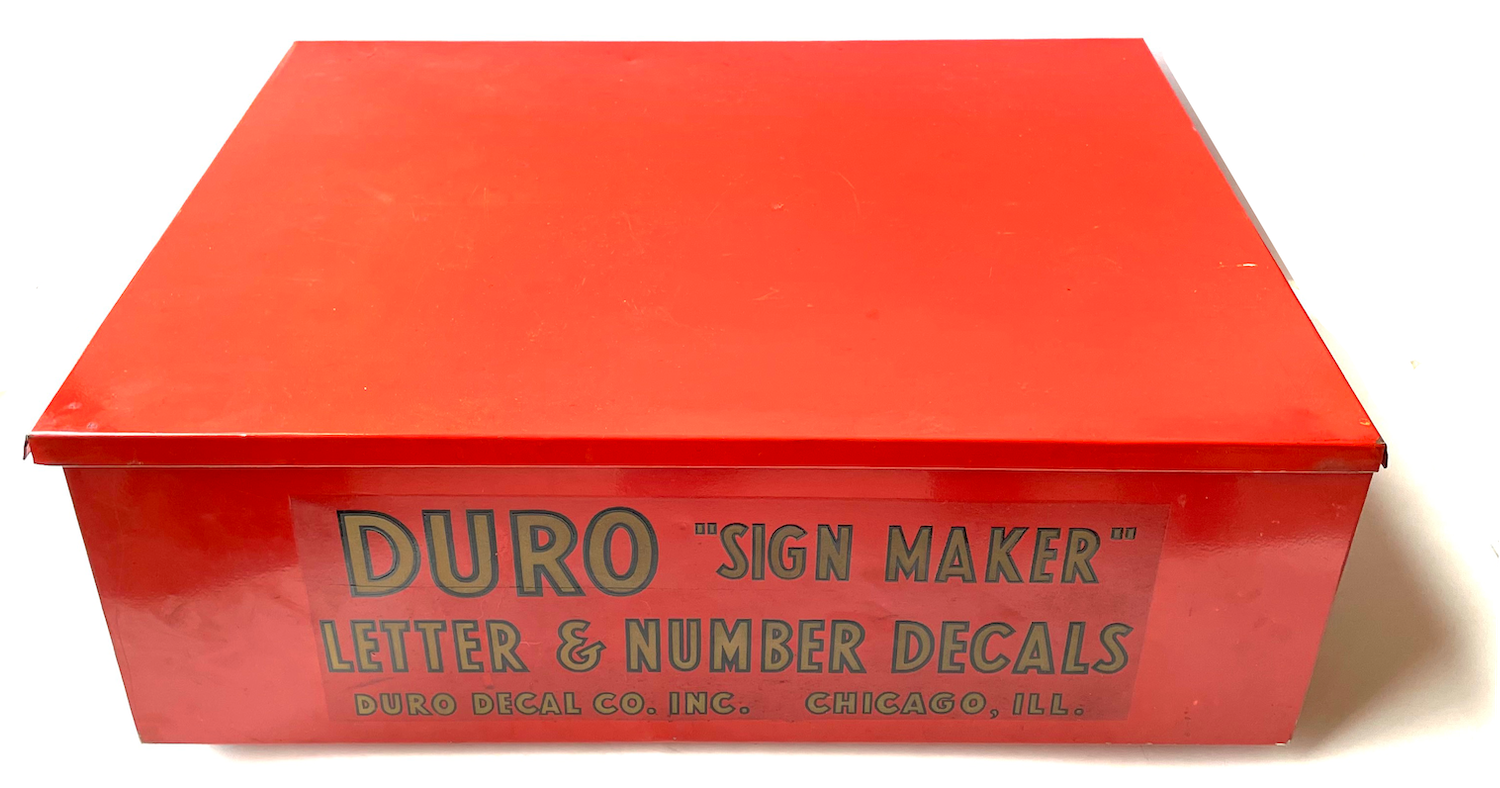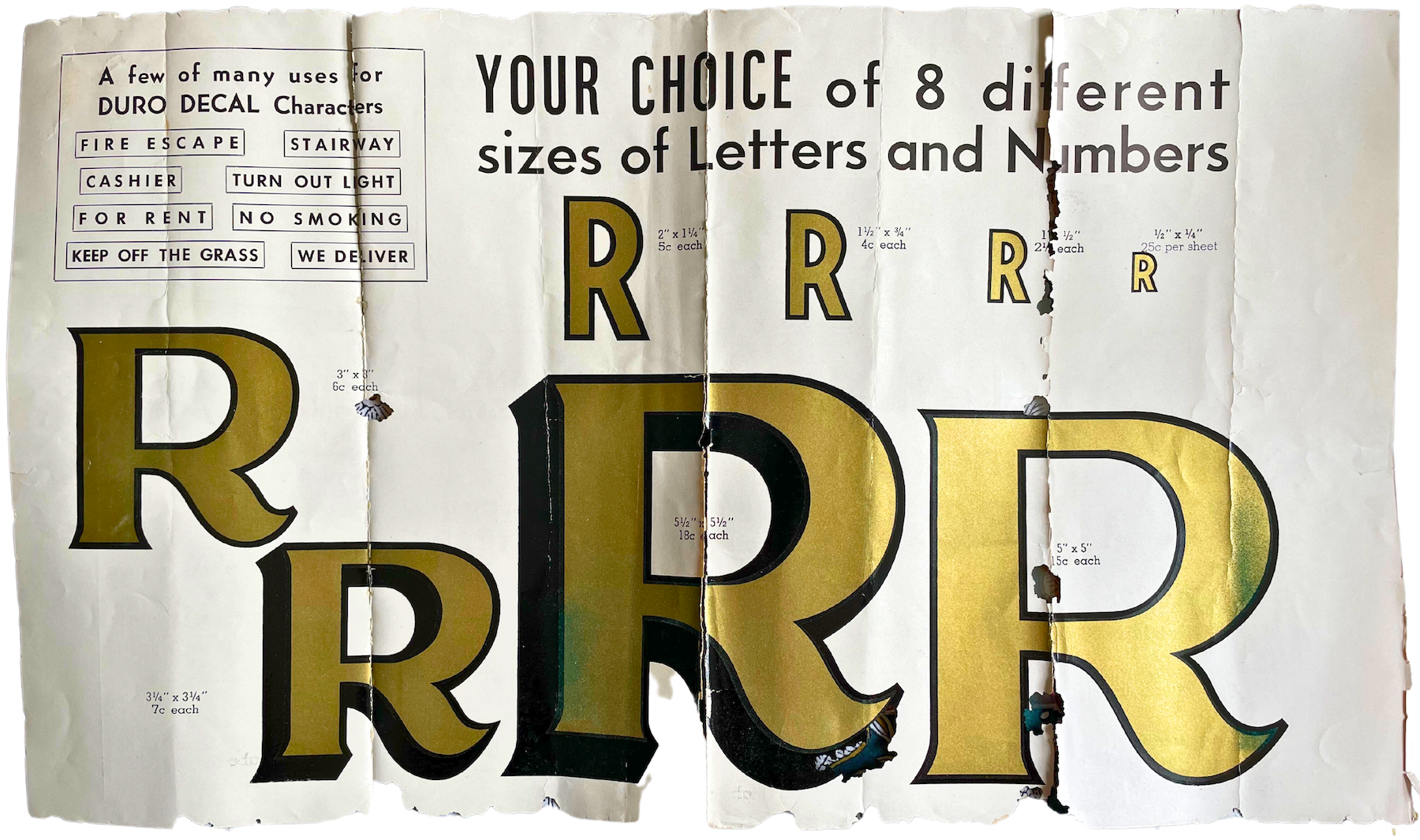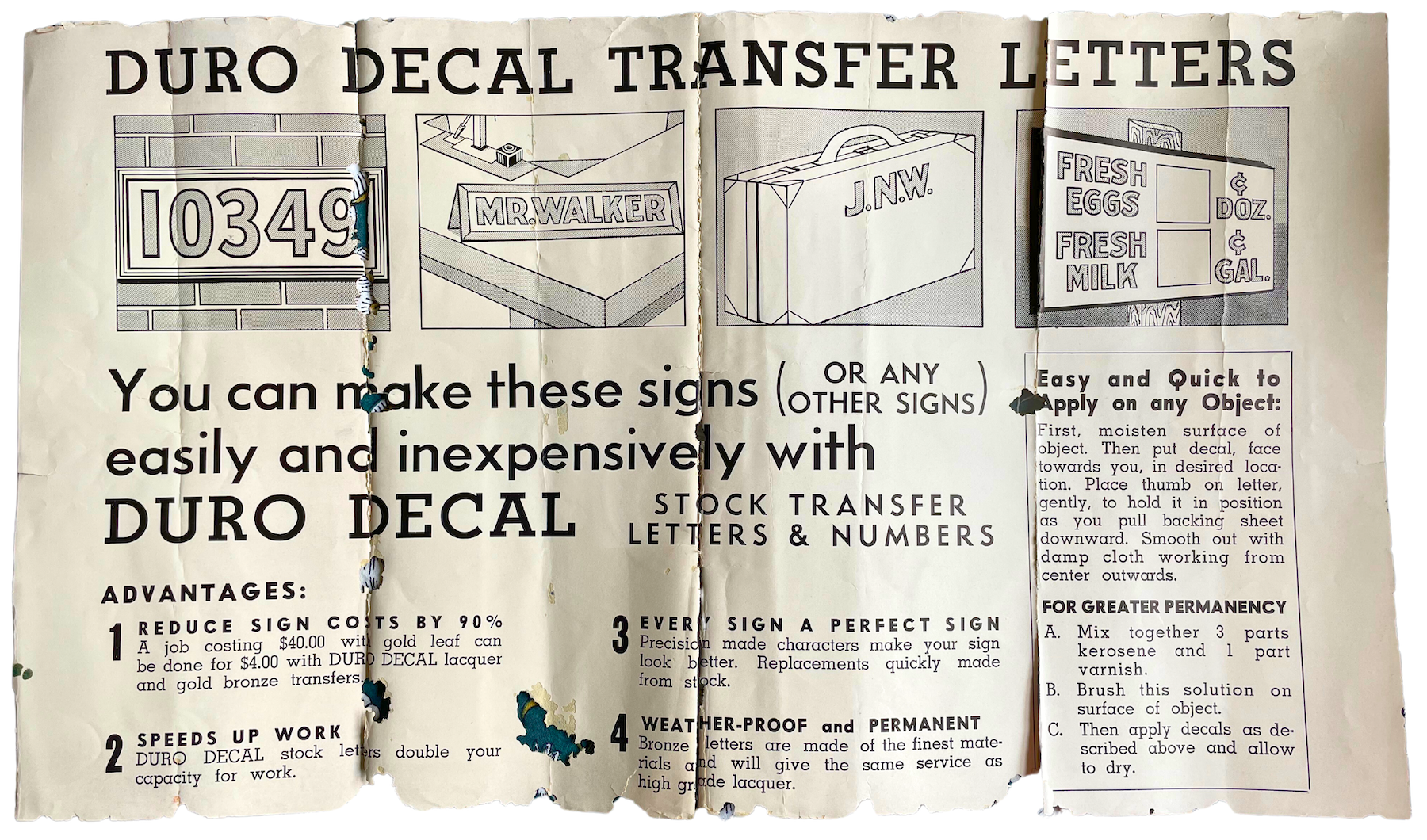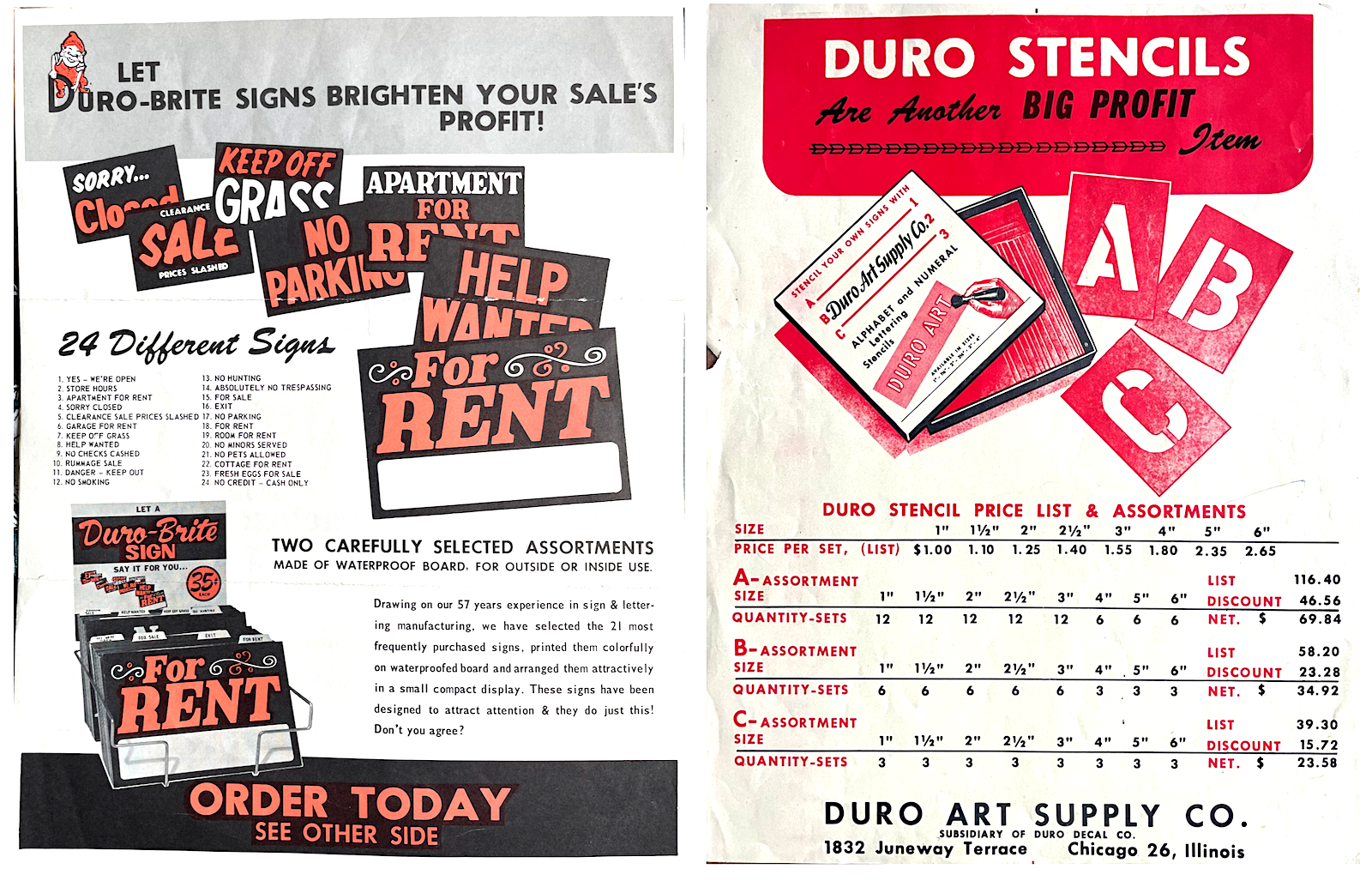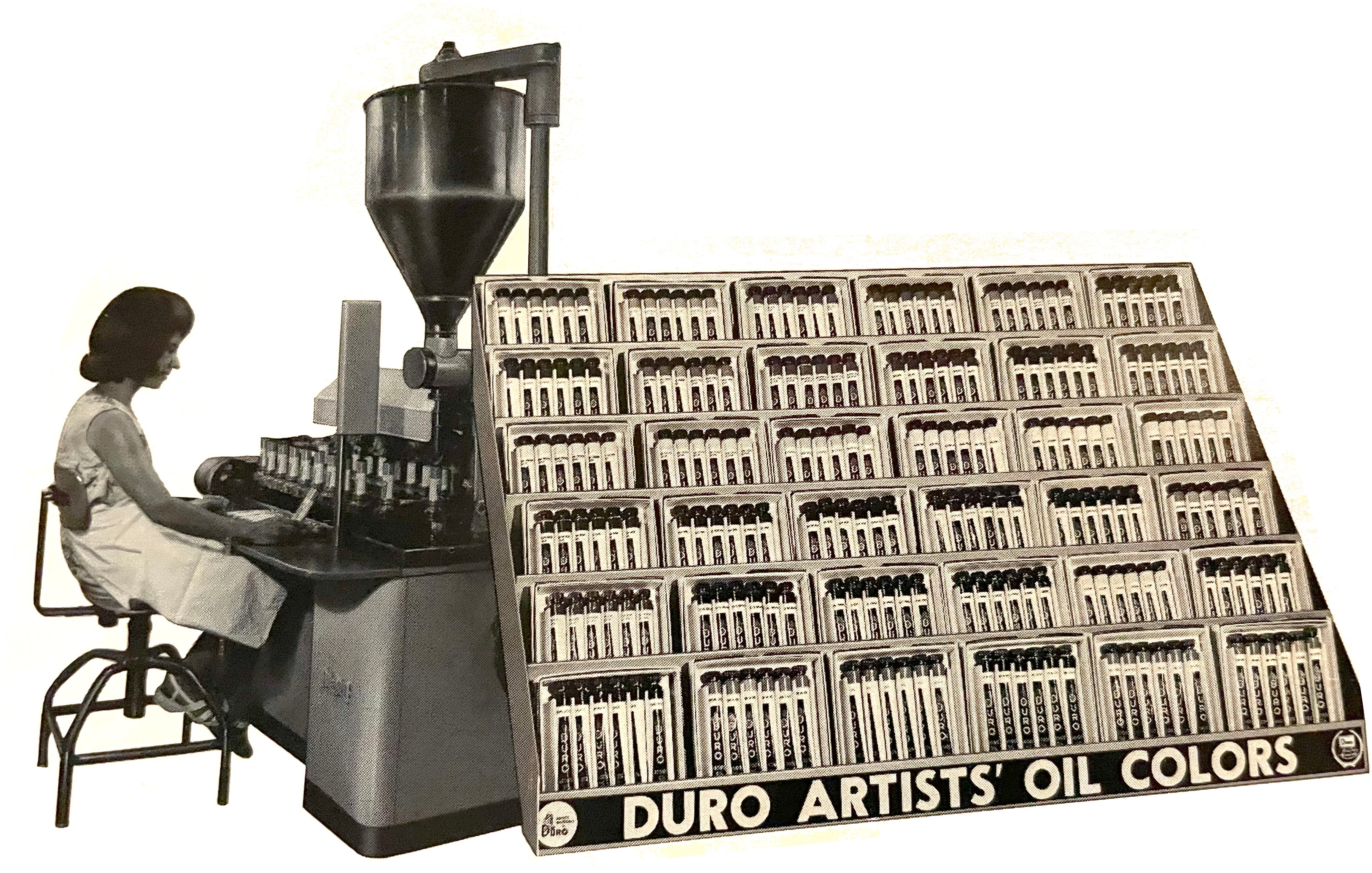 Sources:
". . . Hot Weather House Painting Time" – Corpus Christi Caller Times, May 30, 1943
"Salesman Robbed" – L.A. Times, March 21, 1944
"Duro Decal Co., Inc. and Warehouse & Distribution Workers Union, Local 1208" – National Labor Relations Board, Dec 28, 1944
"Be Your Own Decorator . . . " – Newark Advocate, Jan 15, 1945
"J. E. Bernard & Co. vs. United States" – U.S. Custom Courts, May 29, 1969
"Artists' Canvas from China" – U.S. International Trade Commission Hearing, March 28, 2006
"Scanning Around With Gene: The Almost-Lost Art of Decal Printing" – creativepro.com, Aug 1, 2008
"Meeting Tuesday for Duro Arts Demolition, New Storage Co. in Rogers Park" – dnaInfo.com, Sept 8, 2015