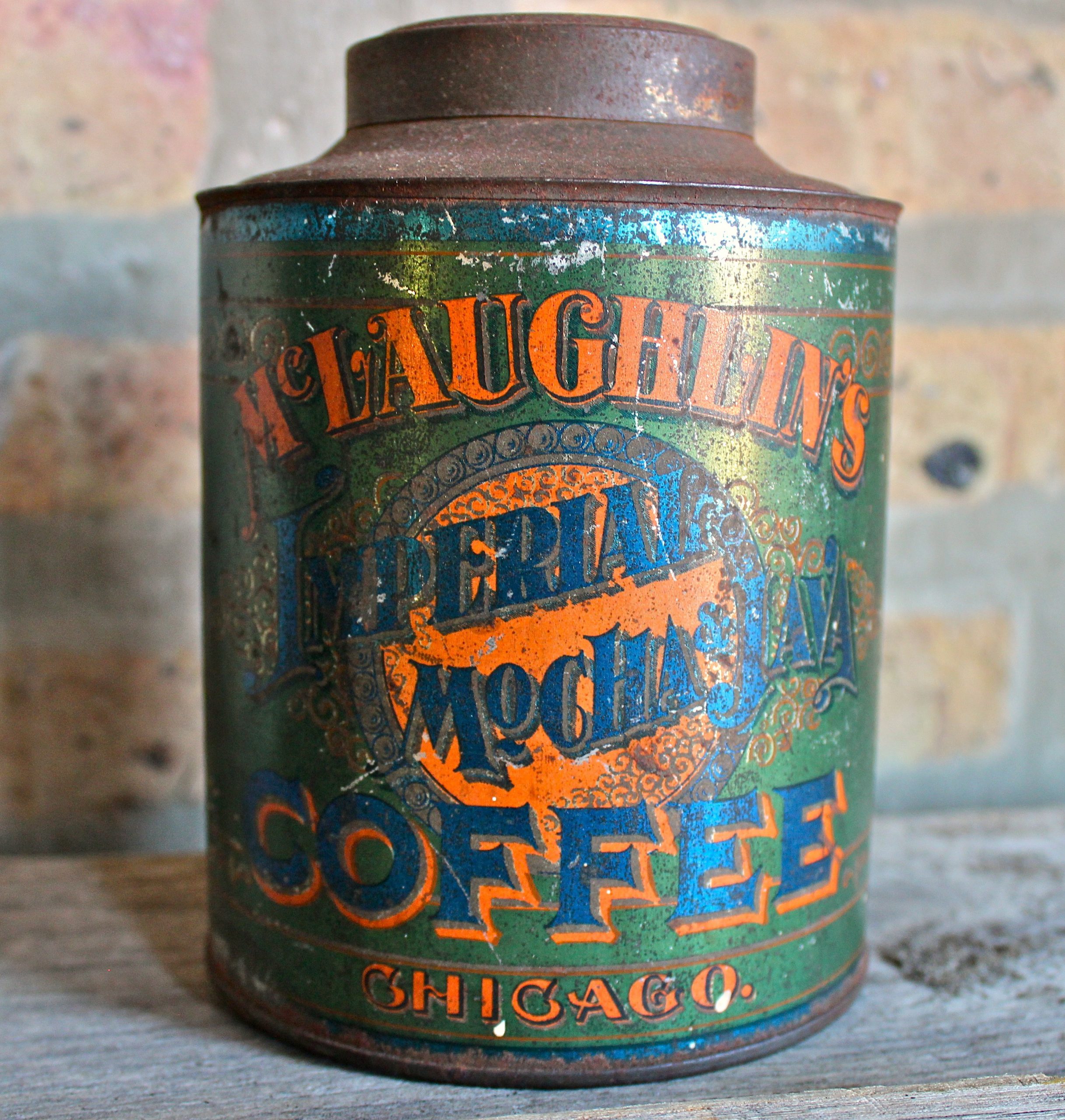 Museum Artifact: McLaughlin's Imperial Mocha & Java Coffee, c. 1900s
Made By: W. F. McLaughlin & Co., 610 N Lasalle St., Chicago, IL [River North]
Right up until Kraft bought out the company in 1968, the argument could be made that McLaughlin's Manor House coffee was the quintessential 20th century cup of joe, at least in the Midwest. In the broader scope of the remarkable McLaughlin family story, however, coffee amounts to little more than a literal hill of beans.
Some companies have a "back-story." W.F. McLaughlin & Co. has an epic saga—like a Hemingway novel made into a four-hour Martin Scorsese period piece. It has everything you could want from a classic American tale: an Irish immigrant with a dream, a devastating fire, the building of an empire, legacy power grabs, 1920s urban playboys, ballroom dancing, hockey fights, fuzzy animals, romance on the high seas, swashbuckling—okay maybe not swashbuckling. But nothing else there was hyperbole.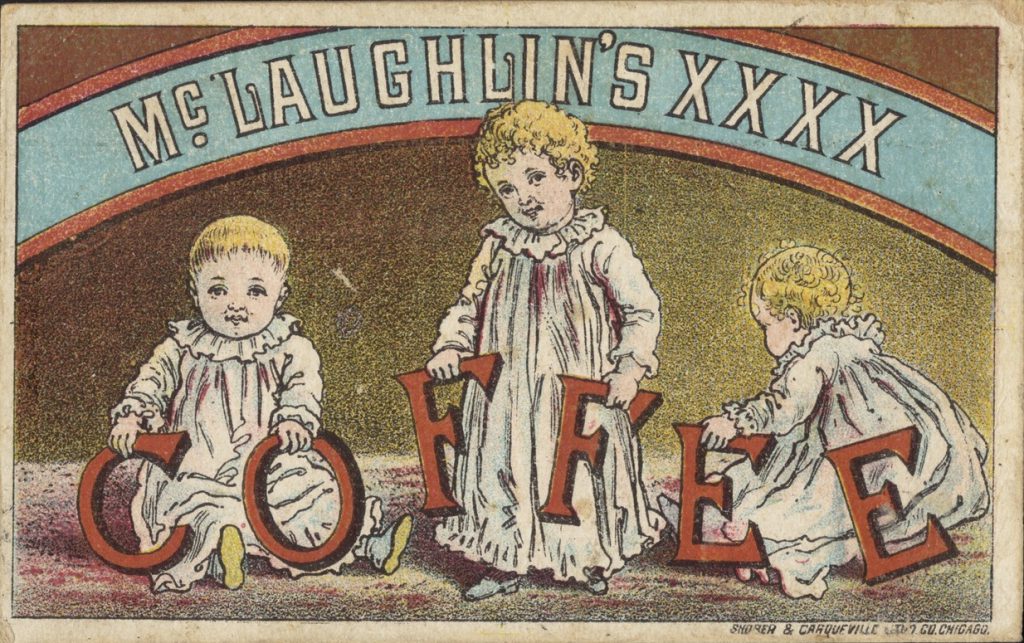 Fortunately, to help bring it all into focus, the Made in Chicago Museum is grateful to have the assistance of a uniquely qualified expert.
Dr. Castle McLaughlin is not only a noted author of American history and a museum curator at Harvard's Peabody Museum of Archaeology and Ethnology, she's also the great-granddaughter of William F. McLaughlin (founder of McLaughlin & Co.), granddaughter of Frederic McLaughlin (founder of the Chicago Blackhawks hockey team), and daughter to William Foote McLaughlin—a man who dedicated countless hours to preserving the history of his family's business long after Kraft Foods had destroyed most of the records acquired in its purchase.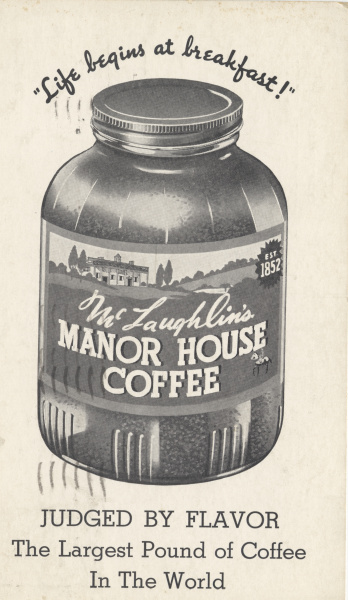 "The larger company, W.F. McLaughlin and Co., was generally known to the public as McLaughlin's Manor House coffee," Dr. McLaughlin explains. "William Francis McLaughlin came from Cloneybecan House in county Laois, Ireland, and that inspired the brand name. He was from a well-to-do family and a college graduate, but started from the bottom in Chicago, first selling coffee beans from a wheelbarrow and then a wagon. He eventually owned several mansions on Rush Street and the family had several estates in Lake Forest. His children all lived in Lake Forest, which is where my father was born."
Apparently, the Irish origins of the "Manor House" name weren't exactly common knowledge back in the day. In a 1952 Chicago Tribune article noting the 100-year anniversary of McLaughlin's coffee, they asked the oldest living employee of the company, 80 year-old E.B. Blair, where the "Manor House" name came from. Blair, who'd worked alongside W.F. McLaughlin himself in the 1890s, didn't have a clue. Or maybe, just possibly, it had slipped his mind.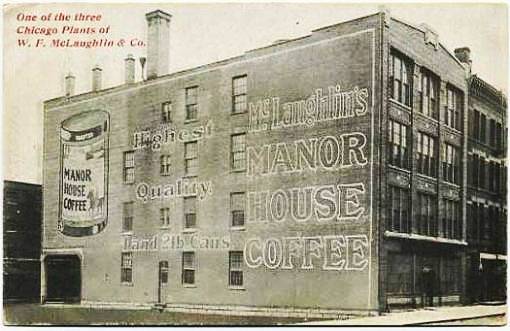 So how exactly did W.F. McLaughlin go from the bean wagon to the penthouse? Well, living in a hard-to-conceptualize Chicago of the early 1850s (the city was only incorporated in 1837), he used the good fortune of his education to his advantage, re-thinking how coffee could be packaged and sold. While virtually all of his competitors were selling raw or green coffee beans in bulk for customers to roast in their own ovens, McLaughlin realized he could stand out by pre-roasting and packing the beans prior to distribution. The only other company that jumped on this concept, Arbuckles, became the only coffeemakers to outsell McLaughlin in the years ahead.
The Great Chicago Fire of 1871 destroyed all records of W.F. McLaughlin's first two decades of operation, but its founder lost little ground, opening a new coffee factory at State and South Water streets.
"The success [of McLaughlin coffee] was really predicated on the expansion of markets made possible by the transcontinental railroad," Dr. McLaughlin says. "In the late 19th century, the company also owned several coffee plantations in South America which were lost during World War I. After that the company concentrated on the regional market rather than competing nationally."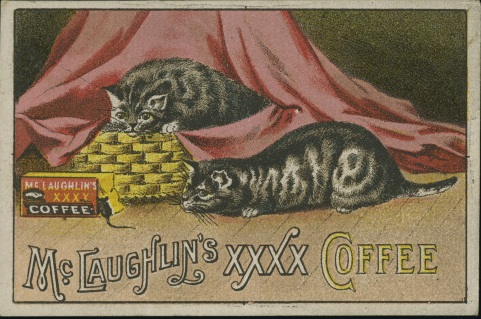 [The XXXX in McLaughlin's slogan from the late 1800s simply denoted high quality.]
World War I marked a new era of sorts in McLaughlin history. The patriarch William F. had died back in 1905, and his son George D. McLaughlin was now in charge. George might have decided to focus on regional sales, but it didn't mean he wasn't out for dominance. McLaughlin & Co. moved into a new eight-story plant at 610 N. LaSalle St. in 1919, where more than 100 employees handled the roasting, processing, packing, and even taste-testing of the company's dozen or more different coffee brands. This is around the time that our Imperial Mocha & Java container—one of the nicer looking tins in our collection—likely entered the world, though it could date from a decade or so earlier.
Around the same time the LaSalle Street plant opened, George's little brother Frederic—the secretary and treasurer of the company—returned from the war. At 42, Fred was no spring chicken himself. But he certainly still had a reputation around town.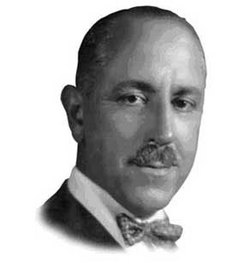 "Frederic was the youngest of eight surviving children," Dr. McLaughlin says of her grandfather, "and he was considered one of the most eligible bachelors in Chicago. He was primarily known as a crack polo player, and was captain of the national polo team at the Panama Expo in 1915. [In the early 1920s], he had a famous bachelor apartment in the old brick coffee company warehouse along the river—the building is still standing. It apparently had 25-foot ceilings and windows with velvet curtains. During a family reunion in 2011, we took one of those architectural boat tours and the guide pointed out the building so it is still known and remembered."
Along with being a polo-playing playboy, Frederic was also now a proud military man. He'd earned the rank of Major while serving with the 86th Infantry "Blackhawk" Division in the 333rd Machine Gun Battalion. If you know your hockey, you can see where this is going.
In June of 1926, Frederic—who knew polo a hell of a lot better than he knew ice hockey—purchased an expansion franchise in the National Hockey League, and dubbed the team the Blackhawks in honor of his old division.
From the beginning, he was a hands-on owner, constantly fidgeting with the team's rosters and hiring and firing coaches like a proto George Steinbrenner. He made a point of trying to sign mostly American players (patriotism over wisdom) and supposedly hired one of his coaches, Godfrey Matheson, because he had a good conversation with him on a train (Matheson was eventually fired after two games). The legendary Toronto Maple Leafs owner Conn Smythe (1895-1980) assessed Fred McLaughlin as such: "Where hockey was concerned, Major McLaughlin was the strangest bird and, yes, perhaps the biggest nut I met in my entire life."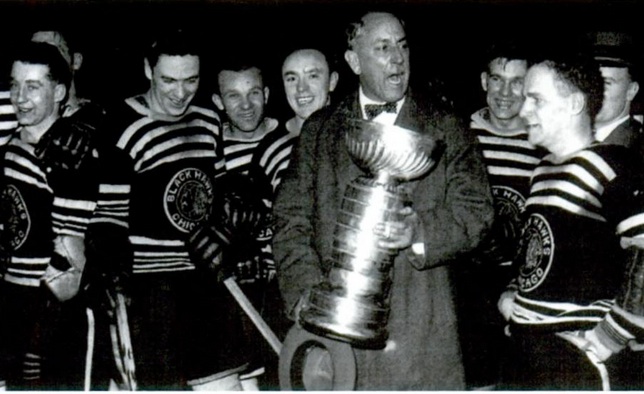 [Blackhawks owner / coffee mogul Frederic McLaughlin holds the Stanley Cup in 1934]
By 1933, following the sudden death of his brother George in a car accident, Frederic was now president of both McLaughlin & Co. and the Hawks. In many ways, he did an admirable job keeping both enterprises afloat during the Depression, including winning Chicago's first two Stanley Cup titles (1934 and 1938). The backdrop to all of these years, however, was a love story—of sorts.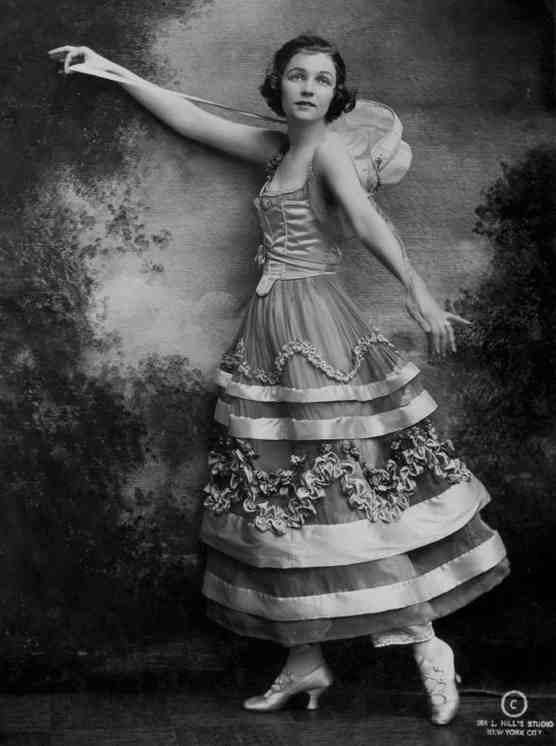 Back in 1923, Fred had finally ended his bachelordom, entering into a very high-profile marriage with the renowned ballroom dancer and fashion icon Irene Castle, who at age 30, was 16 years his junior—but already on her third marriage. In her 1958 memoir Castles in the Air, Irene described the night she first met Frederic. She was performing in Chicago, and he had requested—through the appropriate rich people channels—that she attend a very intimate dinner party at his apartment.
"The chauffeured limousine called for us at the theater, and we drove a short distance to a two-story building facing the river on the Loop side of the bridge on Michigan Avenue. We went up a long flight of stairs into the most beautiful bachelor apartment I had ever seen. The living room was 60 feet long, with a raised dais, at one end, which held two grand pianos.
"But what I remember best about that evening was Frederic McLaughlin, our host. When we came in he walked down that long room to take my hand. From that moment on, he dominated the evening. Little did I know how he was to dominate my life.
"He was not handsome. He had a long face and rather a flat head at the back. He had a high forehead with thinning hair and a weak chin and a mustache. He was nearly 16 years older than I. But he was a man of great distinction, and although he was only 6 foot 2, he seemed much taller.
"Following the dinner, Frederic announced his intentions of seriously pursuing me. I was forced to step on his intentions. I rarely had free time when I was dancing and much of the time I was too tired to see anyone.
"He took me home that night and on the way to the hotel he tried to kiss me. I blushed and dodged."
Only 6-foot-2? Geez. Anyway, Irene was a true one-of-a-kind. She and her first husband Vernon were legends of modern dance in the 1910s, both on Broadway and in early silent films. Her bob haircut was even credited with starting the style craze in America.
[Irene and Vernon Castle performing their "Castle Walk" in 1915]
After Vernon Castle was killed in a plane crash in 1918 (a tragedy retold in the 1939 Fred Astaire & Ginger Rogers film The Story of Vernon and Irene Castle), Irene carried on as a solo act, and eventually married the well-to-do Robert Treman of Ithaca, NY. He invested much of her income and lost it in the stock market. She parted ways with him swiftly, but wasn't technically divorced yet when she found her way into Frederic McLaughlin's complicated Windy City world.
"My relationship with Frederic McLaughlin started perhaps as a flirtation," she wrote in her memoir. "I was flattered by his attentions. He was charming, but I was a little scared of him. Robert Treman had been a gentle wooer, of the old romantic school. Frederic was the cave man type and a man of sudden and irrevocable decisions. He had decided he was going to have me, and as far as he was concerned, that was that."
Irene actually was quite against the prospect of ever marrying Frederic, even after her divorce from Robert Treman was granted. But Fred dogged her tirelessly across the country in a courtship that spoke to some level of spoiledness. Still, like the aroma of a fresh cup of McLaughlin coffee in the morning, Irene kept getting drawn back in.
In 1923, Castle agreed to set a wedding date, then almost immediately regretted it, and set forth on a plan to cancel the engagement on the day of the wedding, like a roaring '20s version of a Julia Roberts movie (which, by the way, is a slam dunk Hollywood pitch). She was finally forced to confront Frederic face to face.
"I was no match for him. The Irish are clever. He started by putting me on the defensive.
"'I thought you were a good sport,' he said, 'and no good sport would do a thing like this.'
"'I don't see that sportsmanship has anything to do with it,' I said. 'I wouldn't marry anybody just to keep them from thinking I wasn't a good sport.'
"'Have you ever thought how this is going to make me look?' he said.
"'Well, nobody knows about it,' I said. 'You've been so careful to keep it from everybody.'
"He advanced 8 or 10 reasons why I was in too deep to get out of it. I gave him 20 reasons why I shouldn't marry him.
"When all else failed, Frederic turned to an Irishman's last resort—tears. I don't mean he sobbed out loud or threw himself on the floor crying buckets. This was a manly display. He stood erect, but tears welled up in his eyes and threatened to spill over. I have never been able to see a man cry. I gave in.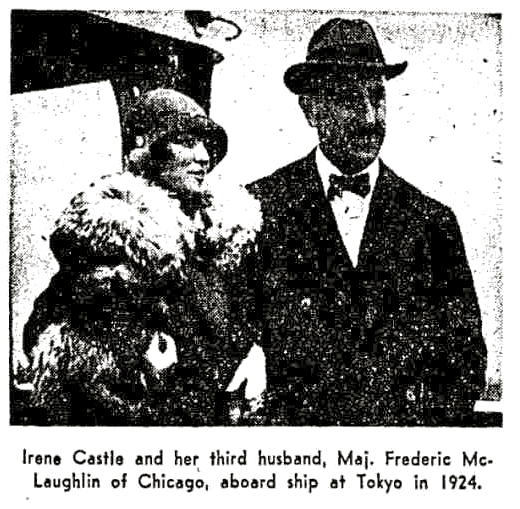 What started as a dark comedy, however, was sometimes just plain dark. For their honeymoon, the new couple took a ship across the Pacific to tour Japan and China. Frederic was seasick most of the way, and at two different points in the tour, turned to violence when arguing with his wife.
"I walked over in his general direction, and the next thing I knew I was lying on the floor. I hadn't fallen. I had been felled with a neat right cross. It was my first acquaintance with his ungovernable temper.
"I overlooked it after pouting a while. He was just seasick, I told myself. He didn't know what he was doing.
"These stormy episodes did nothing to convince me I had made a right choice. From the distance of a few hours I could always look back and feel sorry for him because the last thing he wanted to do was to alienate me. He just couldn't help it. He was his own worst enemy, and he took offense so easily. Once he had punched somebody, he was dreadfully embarrassed, and this only made him madder."
Improbably, the rocky marriage lasted 20 years, all the way to Frederic's death in 1944. To her credit, however, Irene Castle always found plenty of positive ways to direct her time and energy. Though she gave up her dancing career to raise two children, she was still an active socialite and contributed a great deal to the community as well as the worlds of art and fashion. She is even credited with creating the original design for the Blackhawks logo that's still essentially in use 90 years later.
Irene also turned her attention to one of her life's greatest loves—the care of animals.
"Irene would most like to be remembered for Orphans of the Storm," her granddaughter says. "That's the animal shelter she started [in Deerfield, IL] and which is still in operation. She was an avid crusader for animal rights."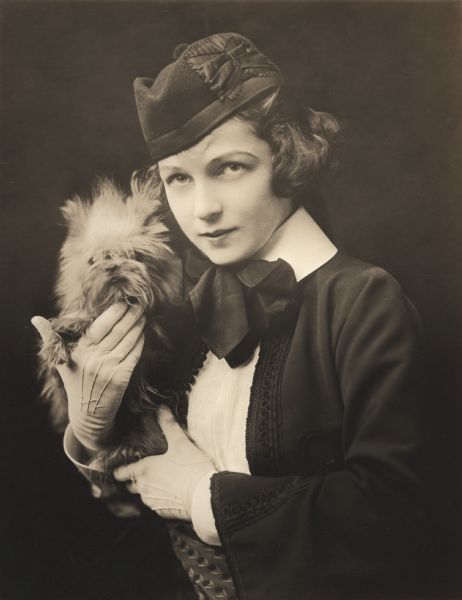 Irene married again after Frederic's death, but after her own death at age 75 in 1969, she was interred with her first love, Vernon Castle. The two surviving children she had with Frederic—Barbara and William—both went on to successful careers of their own. The latter, in the stylish manner of his family tradition, raced sports cars for a time in the mid '60s, and was involved with the McLaughlin Coffee Co. up to its sale in 1968. He later worked in real estate management in the South, but continued to preserve the legacy of his grandfather's coffee company and his mother's animal shelter. His daughter Castle, named for her grandmother, is carrying that torch while also pursuing her own areas of historical interest. She has published several books on the American West, most recently A Lakota War Book from the Little Bighorn: The Pictographic "Autobiography of Half Moon".
Coffee is always helpful for historical research. Unfortunately, I will never know if the taste of McLaughlin's Manor House, or the Imperial Mocha and Java, live up to that supposed XXXX level of quality.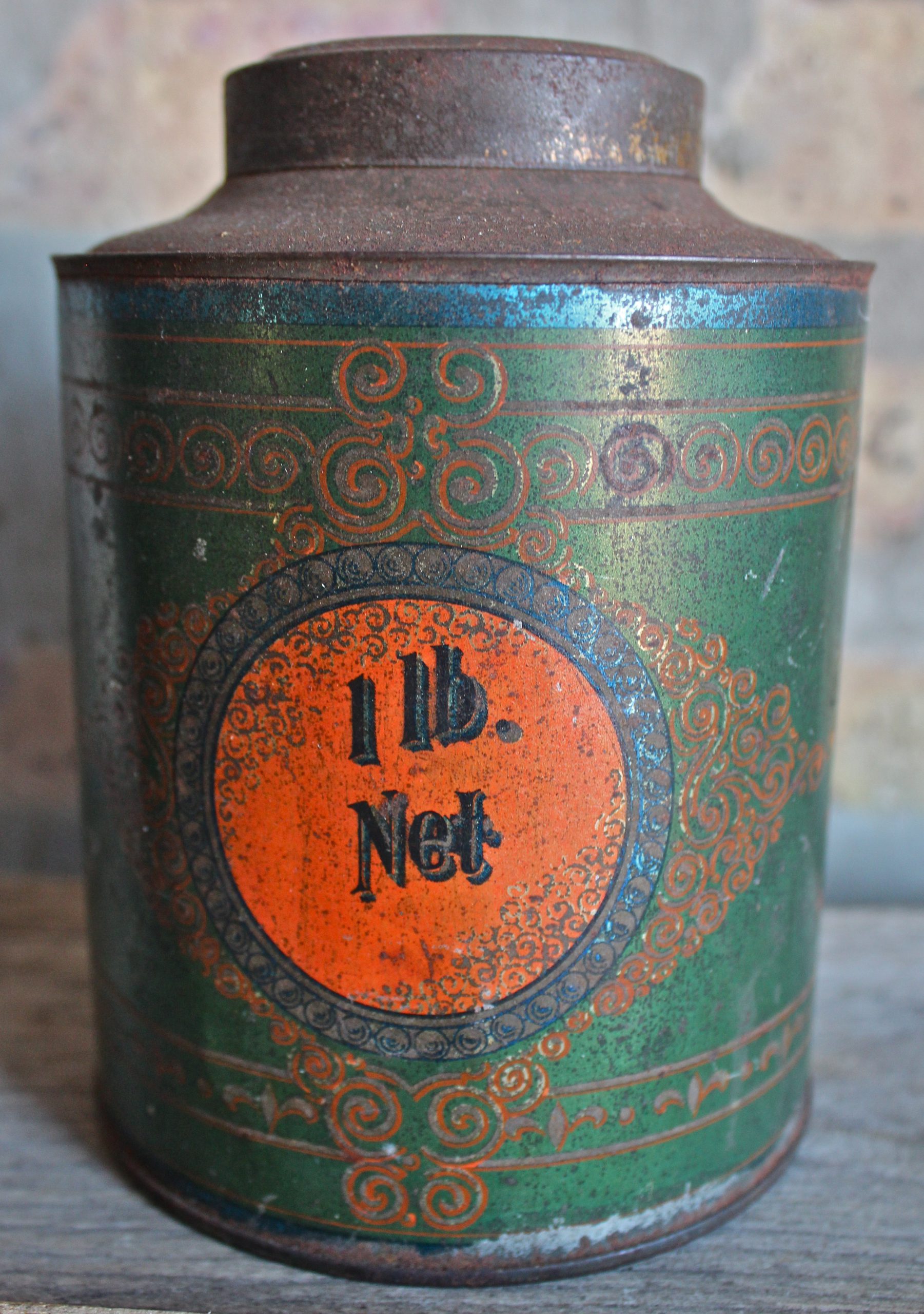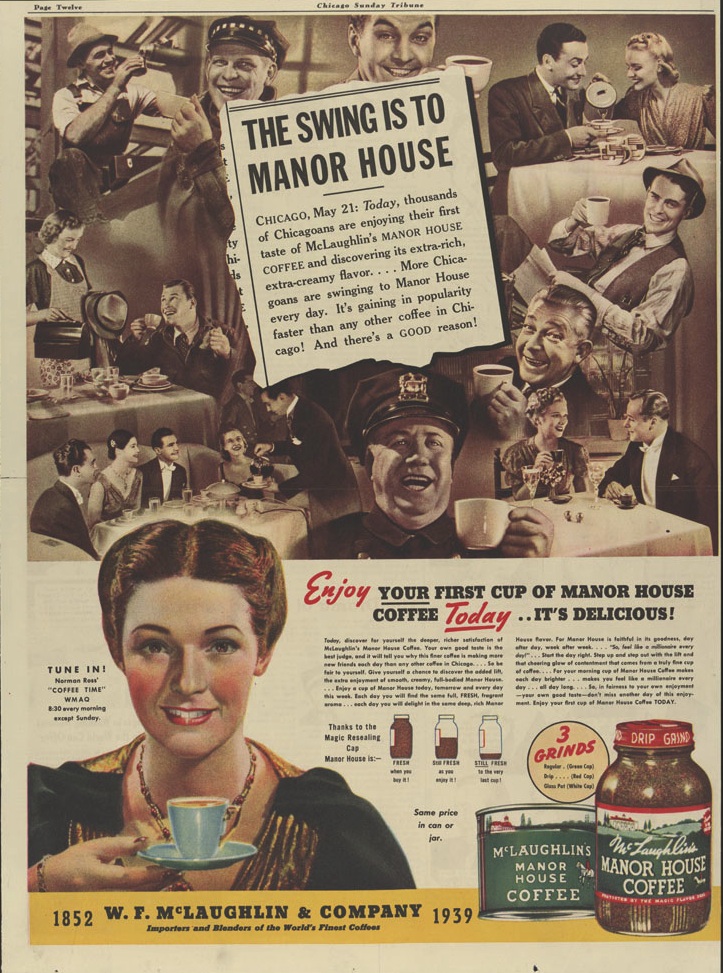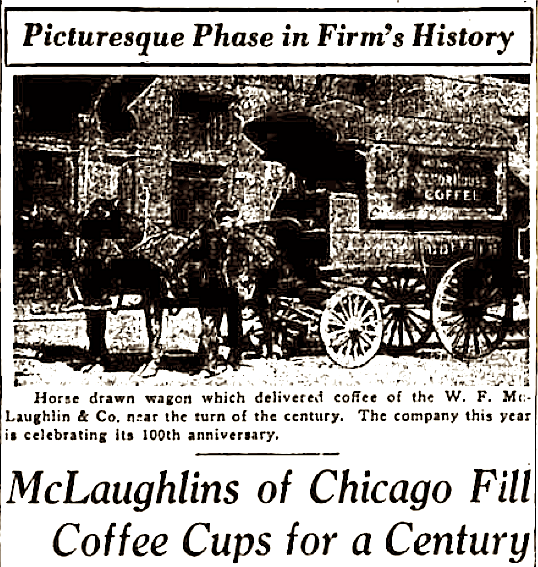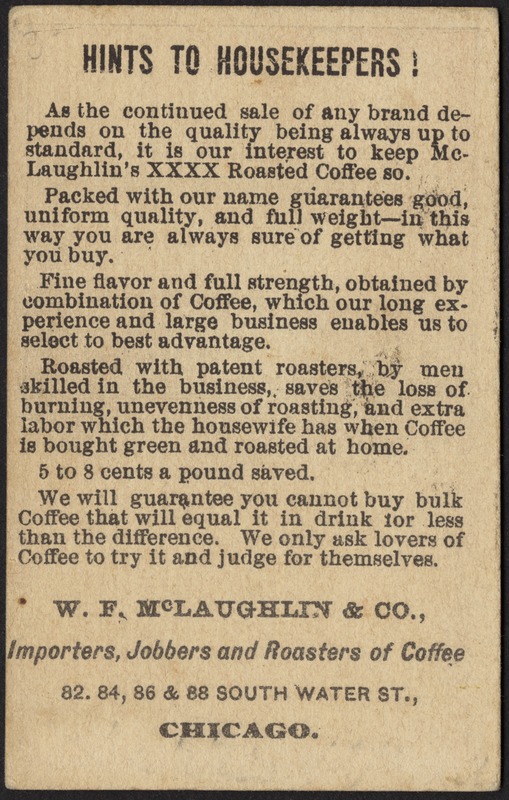 Additional Resources:
Castles in the Air, by Irene Castle
Chicago Stadium, by Paul Michael Peterson
Archived Reader Comments:
"Thoroughly enjoyable read. W.F. McLaughlin was my father's name. I believe I'm the great grandson of the founder, though that link was severed by divorce in the 1930's.  No coffee dynasty money for me!" –Brendan McLaughlin, 2020
"My great great grandfather was Andrew McLaughlin (San Francisco), brother of W.F. McLaughlin… as for never having a chance to taste the coffee, I have a sealed can still full of coffee granules so there's a chance! " —Shay Miller, 2019
"Astonished! My family has a few collectibles from this company. I wish there was more information out there, I'd love to find out if im related!! " —Brett Ashley McLaughlin, 2018
"Hi…great read..i was surprised to read the family came from Co. Laois in Ireland as the McLaughlin is from Co.Donegal in Ireland…" —Vinnie McLaughlin, 2018
"Am looking for TV commercials featuring the coffee.  Please notify me at mmclaughlin@mail.com, thanks." —M. McLaughlin, 2017