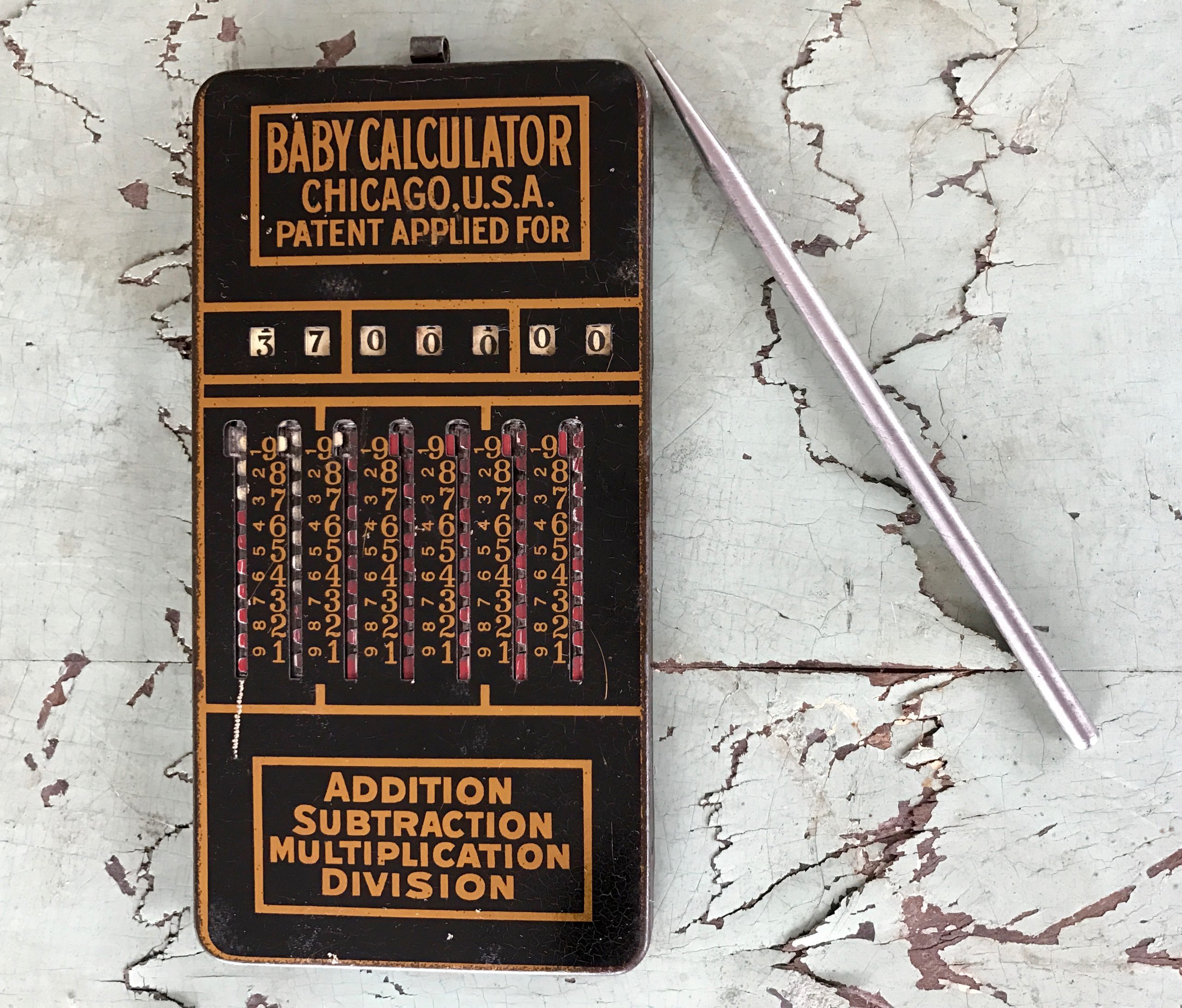 Museum Artifact: Baby Calculator, c. 1928
Made By: Baby Calculator Sales Co. / Calculator Machine Company, 318 N. Pine Street, Chicago, IL [South Austin]
Just about everybody knows about "The Day the Music Died"—the plane crash on February 3, 1959, that killed rock n' roll legends Buddy Holly, Ritchie Valens, and the Big Bopper. But did you know there was a much deadlier airline crash in the U.S. on the exact same night?
If your response is: "No, I didn't know that, but I'm also here to read about Baby Calculators, so I don't really see the relevance," then stick around. I promise it all comes together.
Part I: Making Tabulations
It was about the same size and weight of a smartphone, but the Baby Calculator didn't have to be charged, backed up, or upgraded. It couldn't be hacked either. Instead, this little device put all the wonders of complex mathematics into your pocket for the first time, and all you had to do was delicately jab a stylus up and down a centimeter-wide column repeatedly, with laser precision, to make it work!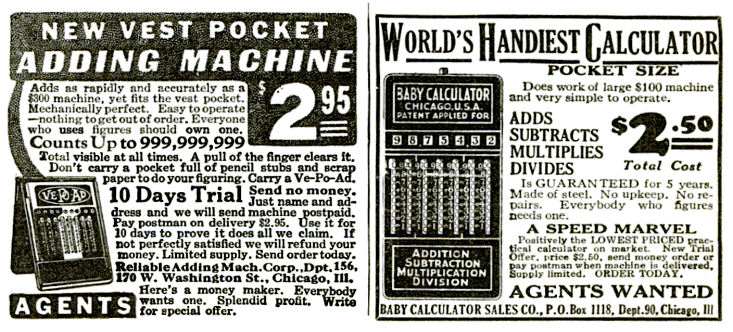 [Baby Calculator advertisement (right) appearing right beside an ad for its slightly pricier rival, the Vest Pocket Adder, aka Ve-Po-Ad, in a 1928 magazine]
Okay, so perhaps the concept of a fully manual, one-trick blackberry doesn't sound too exciting in the age of the lightning fast microprocessor, but the Baby Calculator (named for its tiny size rather its ability to count infants) was genuinely marketed, in its time, as a "Speed Marvel"– and the "World's Handiest Calculator!"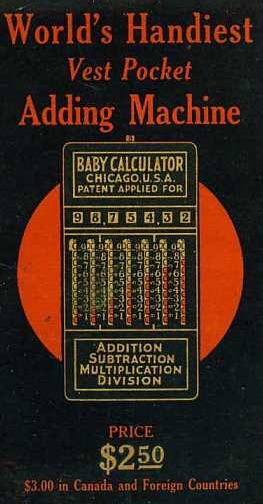 Keep in mind, in the 1920s, when this instrument first hit the market, the average person's conception of a "calculator" was one of two things—either an enormous and laughably non-portable office "adding machine," or a flimsy elementary school slide-rule. Solid hand-held devices like the Baby Calculator and the similar Vest Pocket Adder (aka the "Ve-Po-Ad," made by Chicago's Reliable Typewriter & Adding Machine Corp.) opened up a new frontier: Addition, Subtraction, Multiplication, AND Division—all right there in your paw whenever you needed it.
"Does the work of a $300 machine," a 1929 ad claimed, right next to a comparatively mouth watering $2.50 price tag. "Guaranteed 5 years. NOT A TOY. Made of steel and indestructible. Will not make mistakes. So simple a child can operate it. Everybody should carry one for figuring."
Lots of bold statements to absorb there—particularly the part about how children take to the calculator like it's a toy, despite the fact that it is very much NOT A TOY, and anybody saying otherwise is asking for a punch in the kisser, see!
Now, from the perspective of 21st century eyeballs, the Baby Calculator doesn't actually look as simple and self-explanatory as its marketing would suggest. In fact, I'd wager that I could split a dinner bill six ways—using inebriated mental math—in less time than it would take me to figure how to work the slides on this 90 year-old machine. But come on! I'm sure that a quick gander at the Baby Calculator's convenient instruction manual will set us all straight as to how simple it really was to use a state-of-the-art piece of tech during the Hoover administration.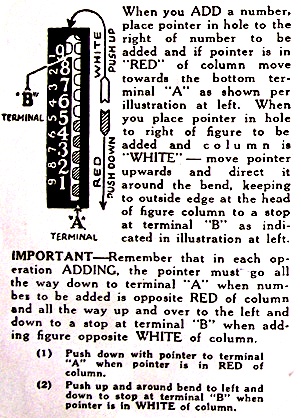 There now, was any of that confusing? I certainly hope not, because that was merely a brief guide to using the Baby Calculator for addition only, which the designers admit up front is the primary intended function of the device. If you've got a minus sign on the brain, or, god forbid, some serious long division, you may soon get carpal tunnel trying to manipulate that stylus into the necessary notches.
Maybe I'm just being unfair. It's easy to be dismissive or condescending toward obsolete tools when we're sitting in our silicon towers. The important truth, however, is that the Baby Calculator sold quite successfully for more than 20 years, with minimal design changes along the way (besides aesthetic updates). This speaks to the fact that most customers were clearly quite pleased with the unit's functionality and interface. It WAS fast, and it WAS a worthy heir to the abacus, if nothing else.

Part II: The Man Behind the Machine
This brings us to the question: who birthed the Baby Calculator in the first place?
From its first appearance in 1924, the lil' machine was always made in Chicago, but the manufacturer itself went through several name changes in its first decade—Baby Calculator Sales Co., Baby Calculator Machine Co., then just Calculator Machine Co.—and all of its advertising listed only a Chicago P.O. Box, never a physical address. We know from the front facing of the calculator in our collection that there was a "PATENT APPLIED FOR," but I've had no luck tracking down the design patent in question, despite the fact that Baby Calculators were sold all the way into the 1950s, when the Calculator Machine Co. was operating somewhere out of suburban Glenview, IL.
Just as I was fearing I'd never find a single human name with a direct connection to the Baby Calculator saga, a lead finally emerged. On May 8, 1928, a Chicagoan named Harold S. Zewiske applied to register the "Baby Calculator" name as a trademark with the U.S. Patent Office, and that record DOES exist.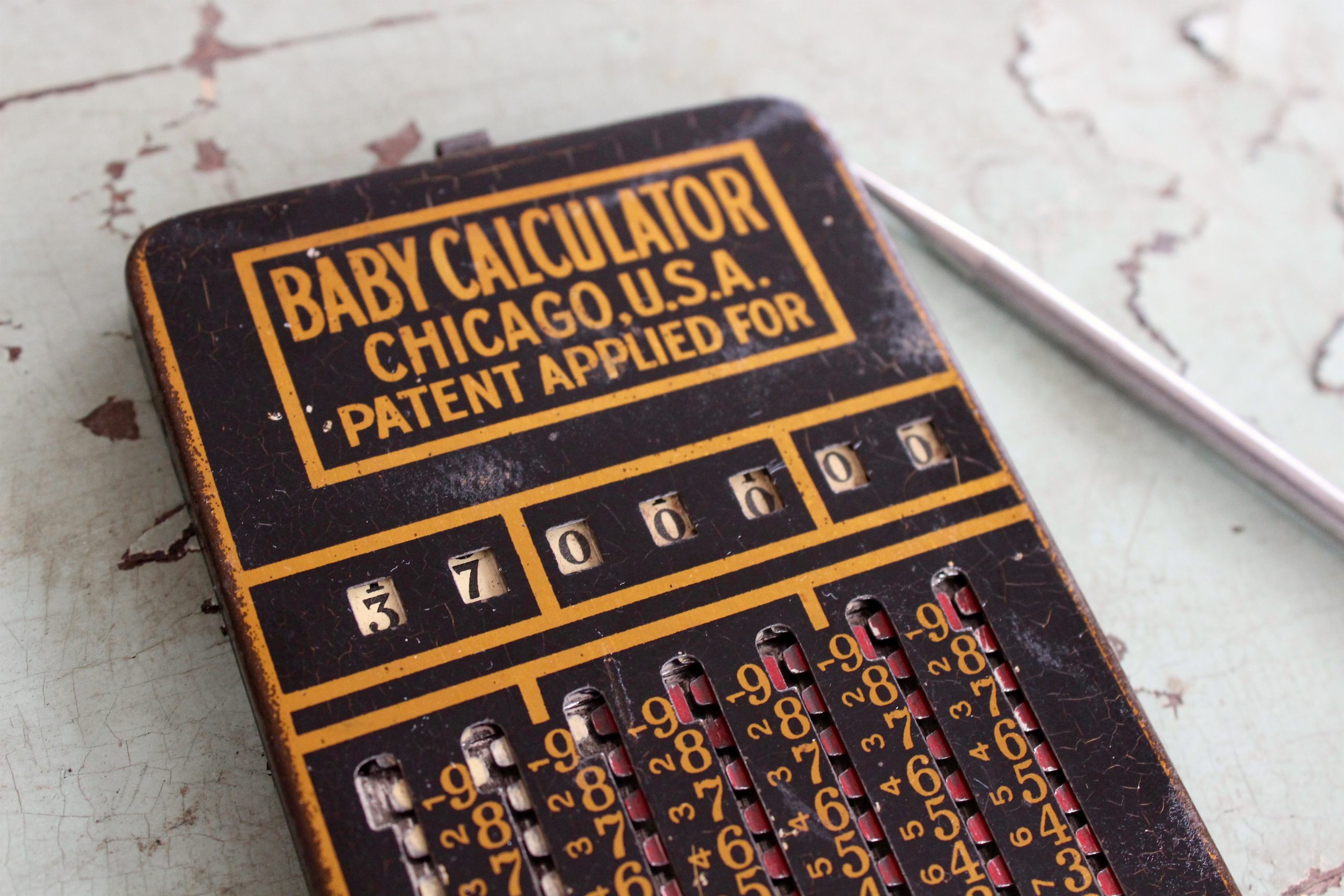 "Harold S. Zewiske," it states, "a citizen of the United States of America, residing in Chicago, Illinois, and doing business as the Baby Calculator Sales Company, at 318 North Pine Street, Chicago, Illinois, has adopted and used the trade-mark shown in the accompanying drawing [pictured], for CALCULATORS, in Class 26, measuring and scientific appliances, and presents herewith five specimens showing the trade-mark as actually used by applicant upon the goods, and requests that the same be registered in the United States Patent Office. . . The trade-mark has been continuously used and applied to said goods in applicant's business since June 1st, 1924. The trade-mark is applied by stamping or printing the same upon the goods."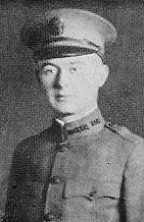 At first, it appears that this Harold Zewiske fellow was the brains of the whole operation, but this may or may not have applied to the actual invention of the device. Zewiske's background was in advertising and publishing, and he may have taken on the Baby Calculator more as a promotional gig—a mail order business—rather than as the passion project of an inventor. Either way, following the breadcrumbs of his story winds up as a surprisingly jarring journey.
Zewiske was born in Whiteside County, Illinois, in 1899, served in the military toward the end of World War I, and started the Baby Calculator venture shortly after graduating from Dubuque College, age 24. The company's address, listed on the trademark application (318 N. Pine St.), isn't a factory—it was actually Zewiske's apartment in the South Austin neighborhood of Chicago, where he was living with his widowed mother.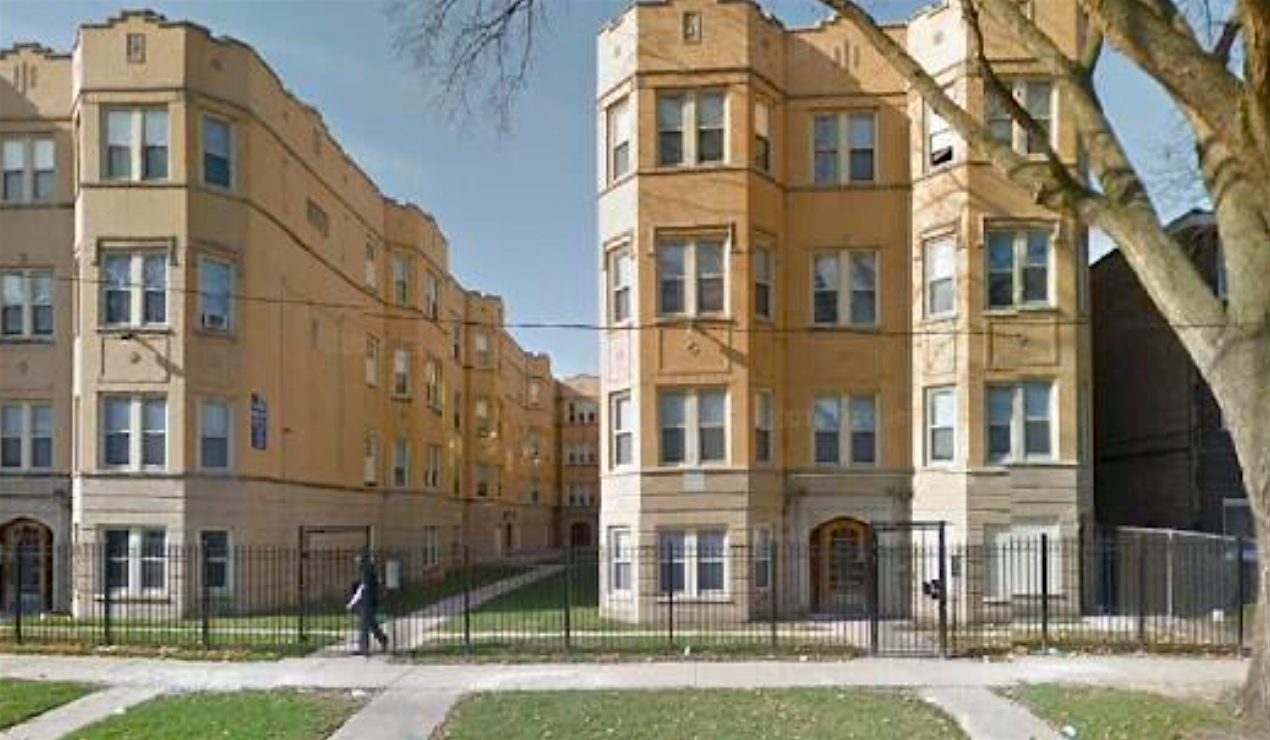 [318 N. Pine Ave. in South Austin, Chicago: birthplace of the Baby Calculator Sales Co.]
It's unclear whether Harold stayed with the calculator business through the Depression. It's possible he jumped ship in 1933, when the company changed names to the Calculator Machine Co., or later on when it moved to the burbs. But these are merely guesses. We really have no sense of the scope of the business or just how many other people were involved.
By 1940, Harold was 40 years old, working as an advertising solicitor, and still living in an apartment with his mom (and his sister) in Austin, this time on Mayfield Road. Zewiske never married, but he was hardly a sad sack despite how the circumstances sound.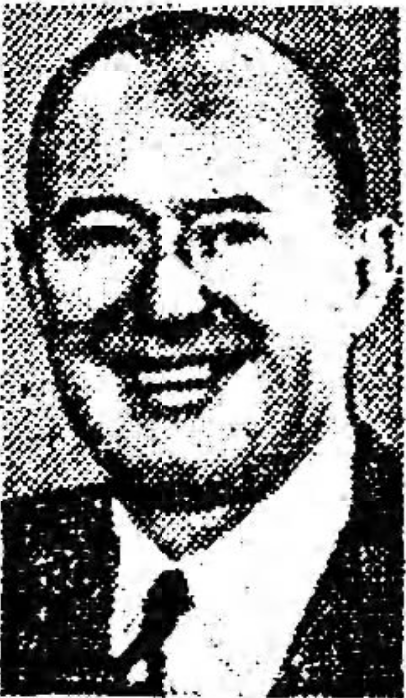 In fact, his career experienced a considerable upswing after World War II, and by the '50s, he'd become the western advertising manager for Vogue magazine. He also upgraded to a fancy new high-rise apartment at 880 N. Lake Shore Drive. Then, on February 3, 1959, Harold Zewiske said farewell to his 88 year-old mother, and boarded a flight at Midway Airport bound for New York's Laguardia—likely for a meeting at the Vogue offices.
He never got there.
"A glistening new jet-powered American Airlines plane with 73 persons aboard plunged into the chilling, fog covered waters of the East River with a shattering crash late last night," the Associated Press reported the next morning. "Sixty-five apparently perished, despite feverish rescue efforts by harbor craft.
"The plane's pilot, using instruments because of the murky weather conditions, was feeling his way gingerly toward a runway at LaGuardia Airport after a flight from Chicago.
"But for some undetermined reason, the big four-engine turbo-prop craft smacked into the water and burst apart about half a mile from the shore end of the runway. Some of the passengers and crew were flung from or floated out of the wreckage before it sank to the river bottom 30 to 36 feet below."
[Newsreel footage from the aftermath of the American Airlines 320 crash in 1959]
The crash of American Airlines Flight 320 happened at virtually the same moment that Buddy Holly and his friends had met their doom over Clear Lake, Iowa.
To heap tragedy upon tragedy, Harold Zewiske's body was not quickly recovered from the wreckage in New York, leaving his elderly mother and other friends and relatives to wait for final word of his fate. His remains weren't found until four months later, on June 10, 1959.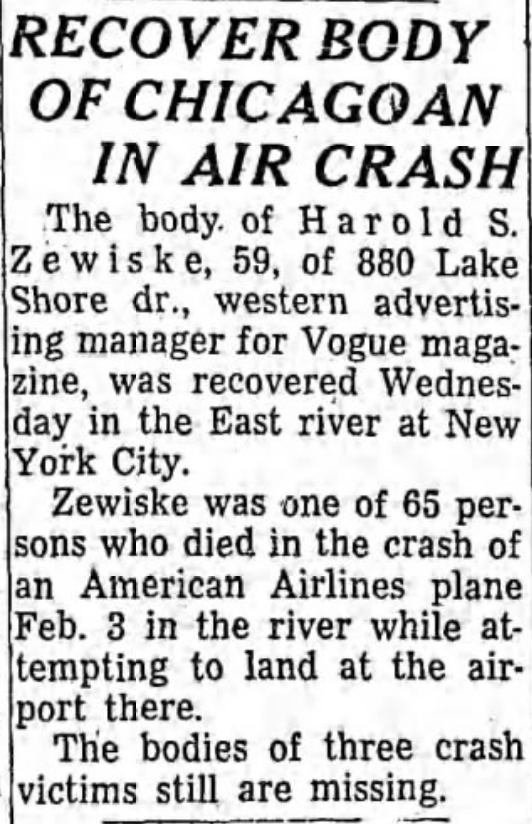 No mention was made in Harold's subsequent obituaries as to his contributions to a humble little calculator business. But as promised in those ads he wrote up so long ago, the Baby Calculator—unlike mortal men, and in some cases, large aircraft—has proven itself indestructible. And maybe in some ways, ahead of its time.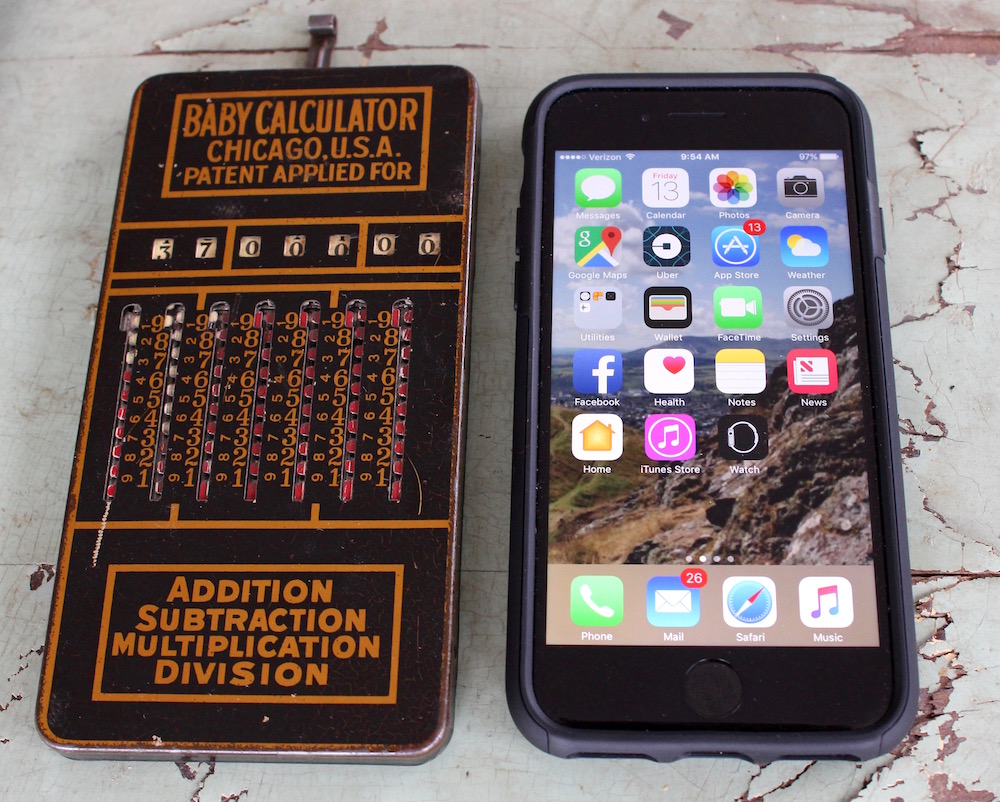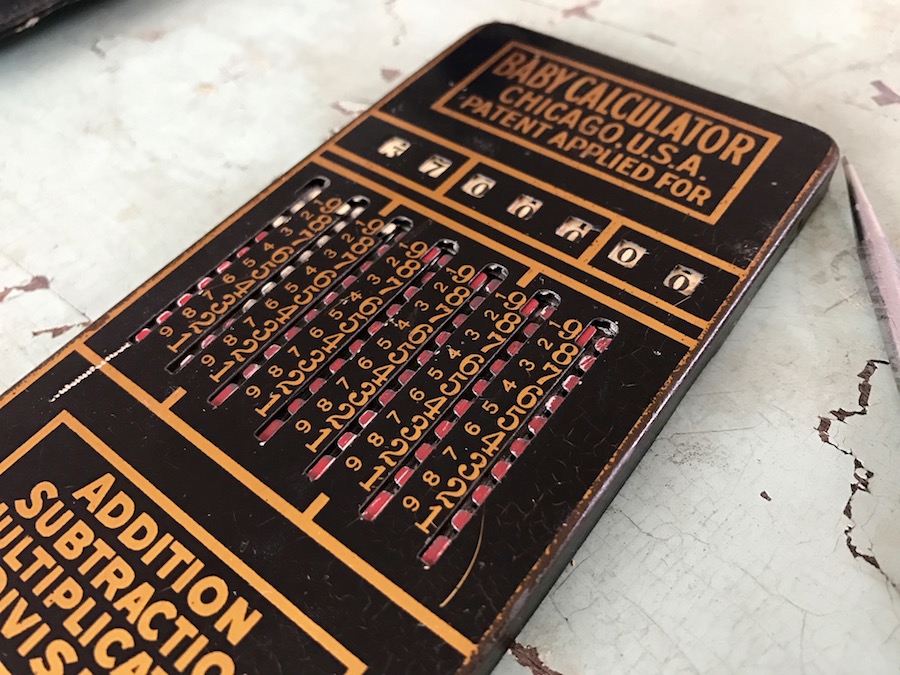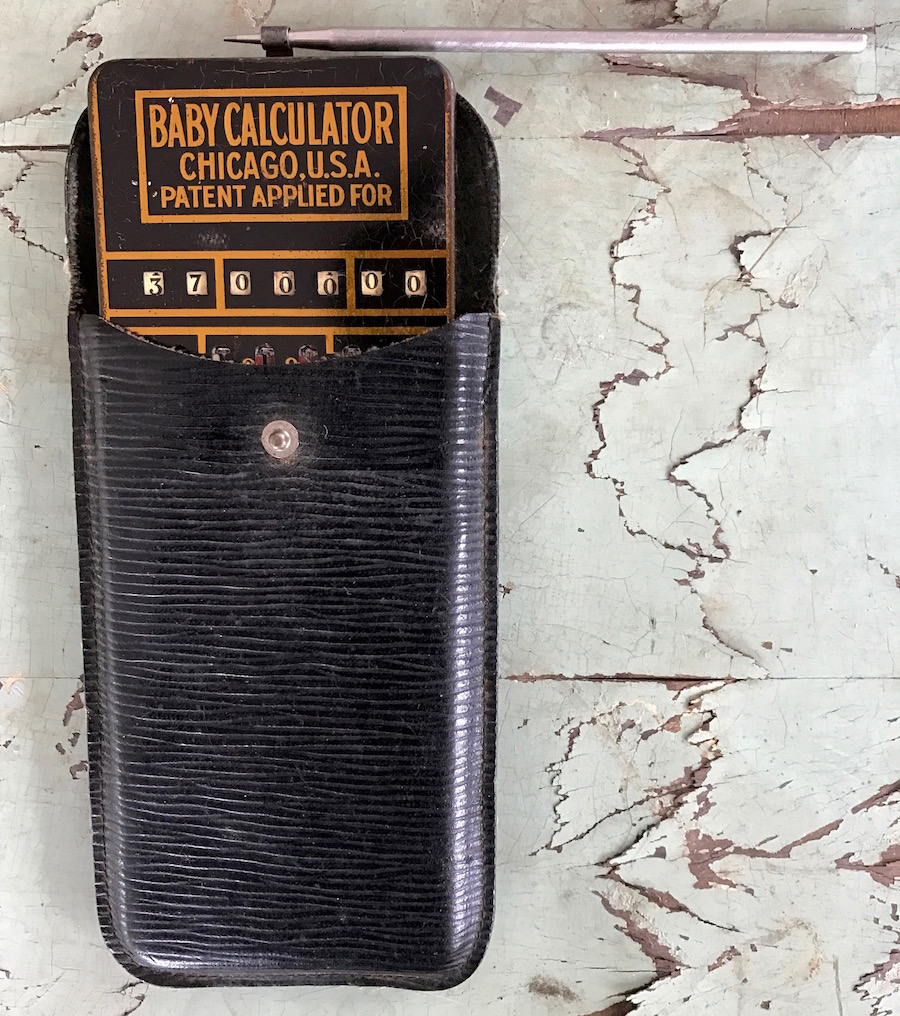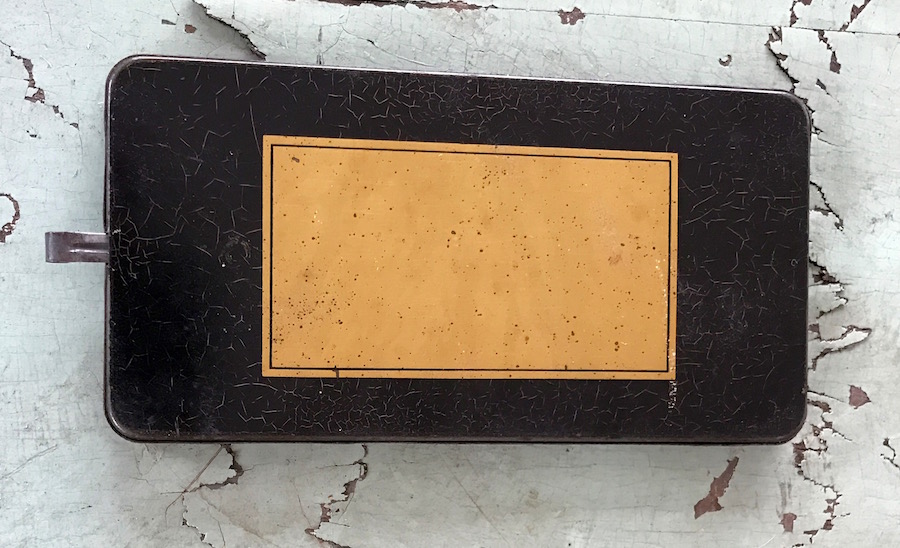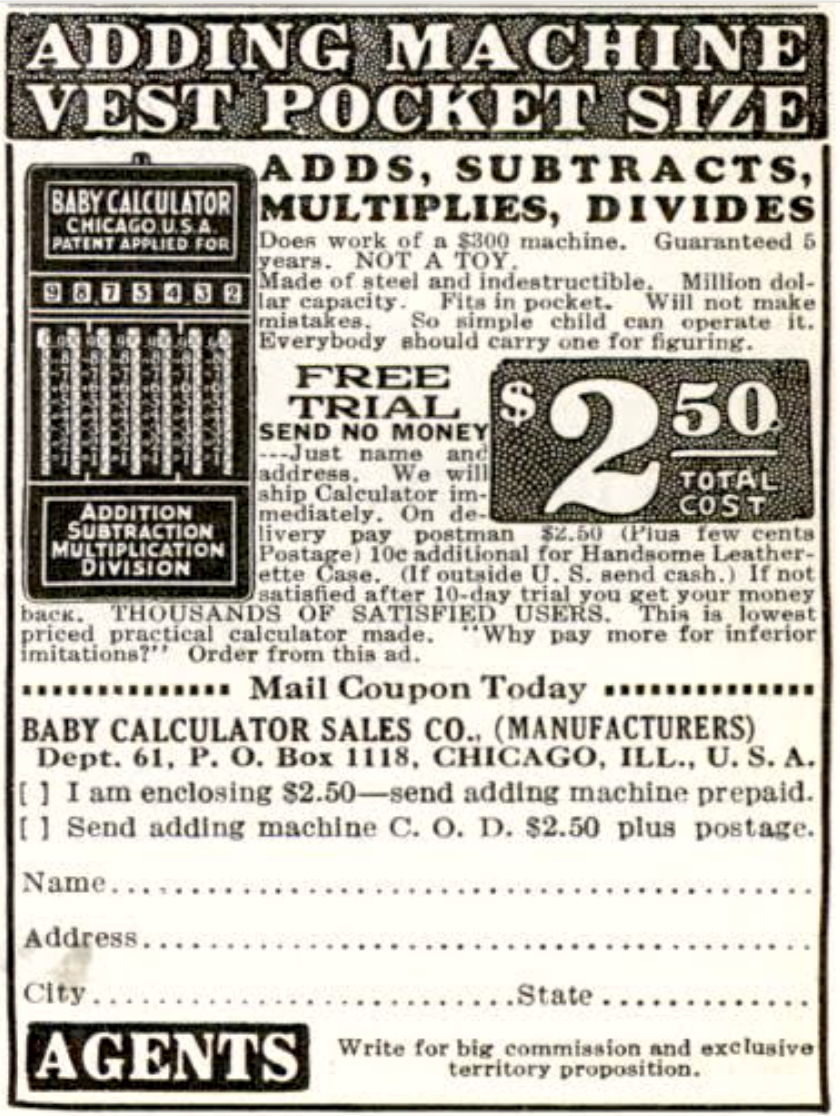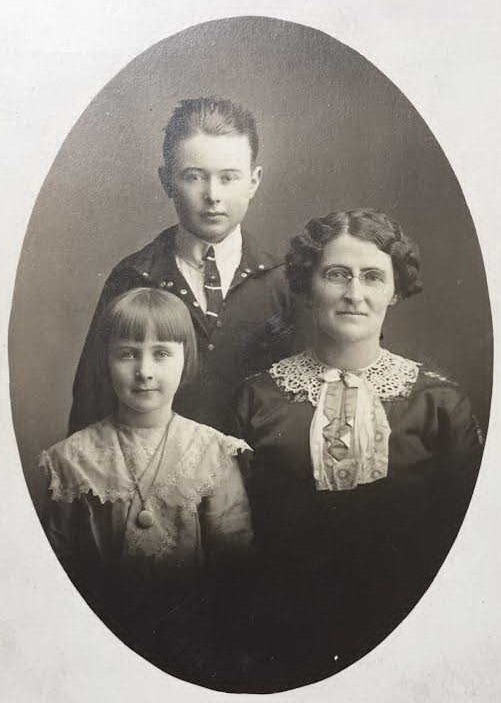 [A young Harold Zewiske with his mother and sister, circa 1910]
Archived Reader Comments:
"Thank you for this very informative article.  I just purchased the Baby Calculator (instructions, stylus, case and all) at a rummage sale thinking maybe it was from the 40's. I wanted a little more information on it.  I had no idea it was as old as it is with such an interesting history! " —Nikkie, 2019
"When I was a child I bought a cheap version of this in a toy shop for pocket money prices.  It worked perfectly, easy to use and was surprisingly robust.  Genuinely useful before electronic calculators were the norm.  For adding and subtracting it was almost as fast as an electronic one." – Andrew Scales, 2018
–