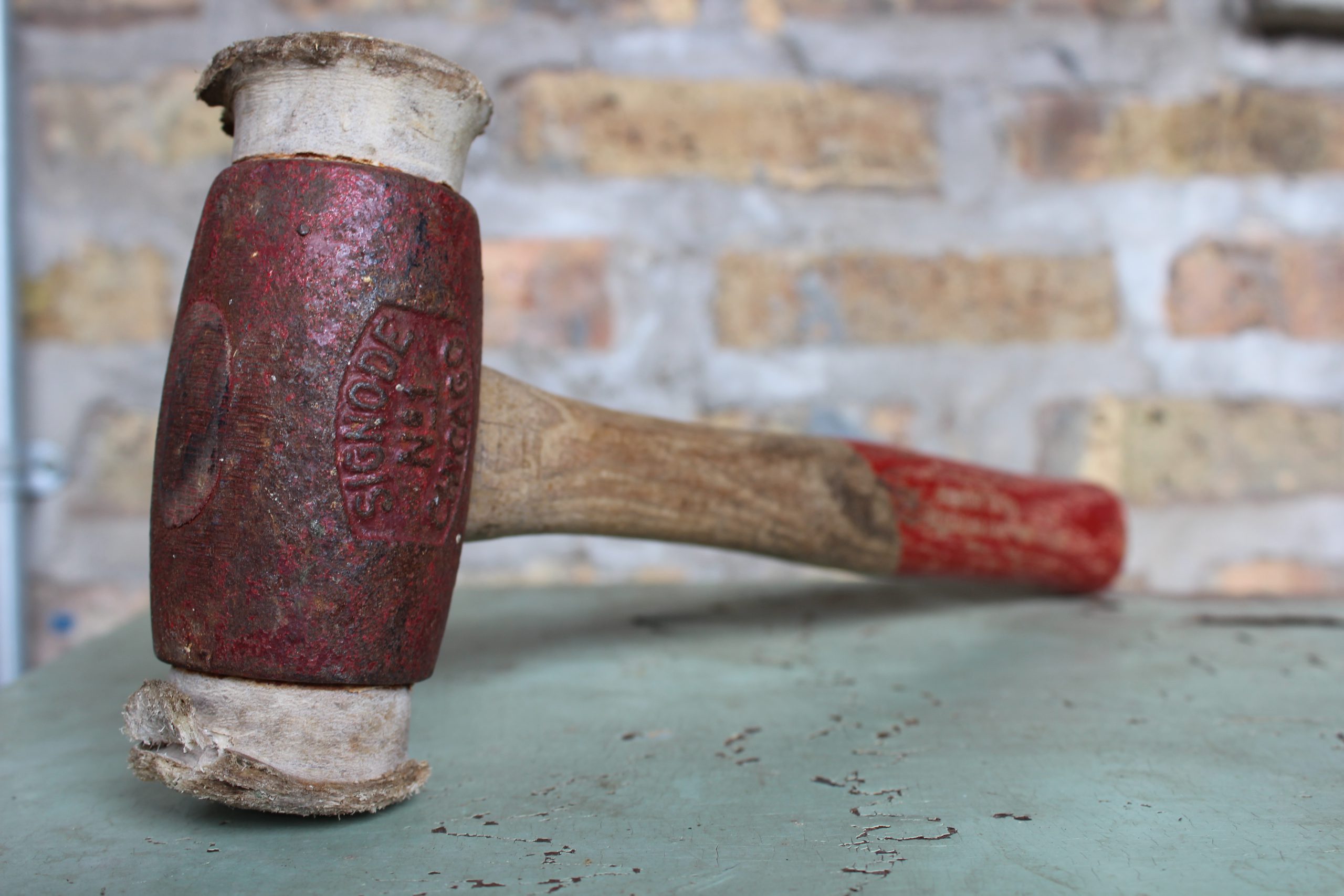 Museum Artifact: Signode No. 1 Rawhide Mallet, c. 1940s
Made By: Signode Steel Strapping Co., 2618 N. Western Ave., Chicago, IL [Logan Square]
Despite its century-long history and former Fortune 500 status, Signode has never quite become a household name—nor has the firm ever concerned itself much with the household. The company's natural ecosystem, instead, has always been the warehouse; the docks; the receiving departments—any industrial landscape where they could wrap themselves around the cargo. To clarify, Signode makes heavy-duty strapping systems for shipping containers. It's not a glamorous export, perhaps, but it certainly makes other glamorous exports possible.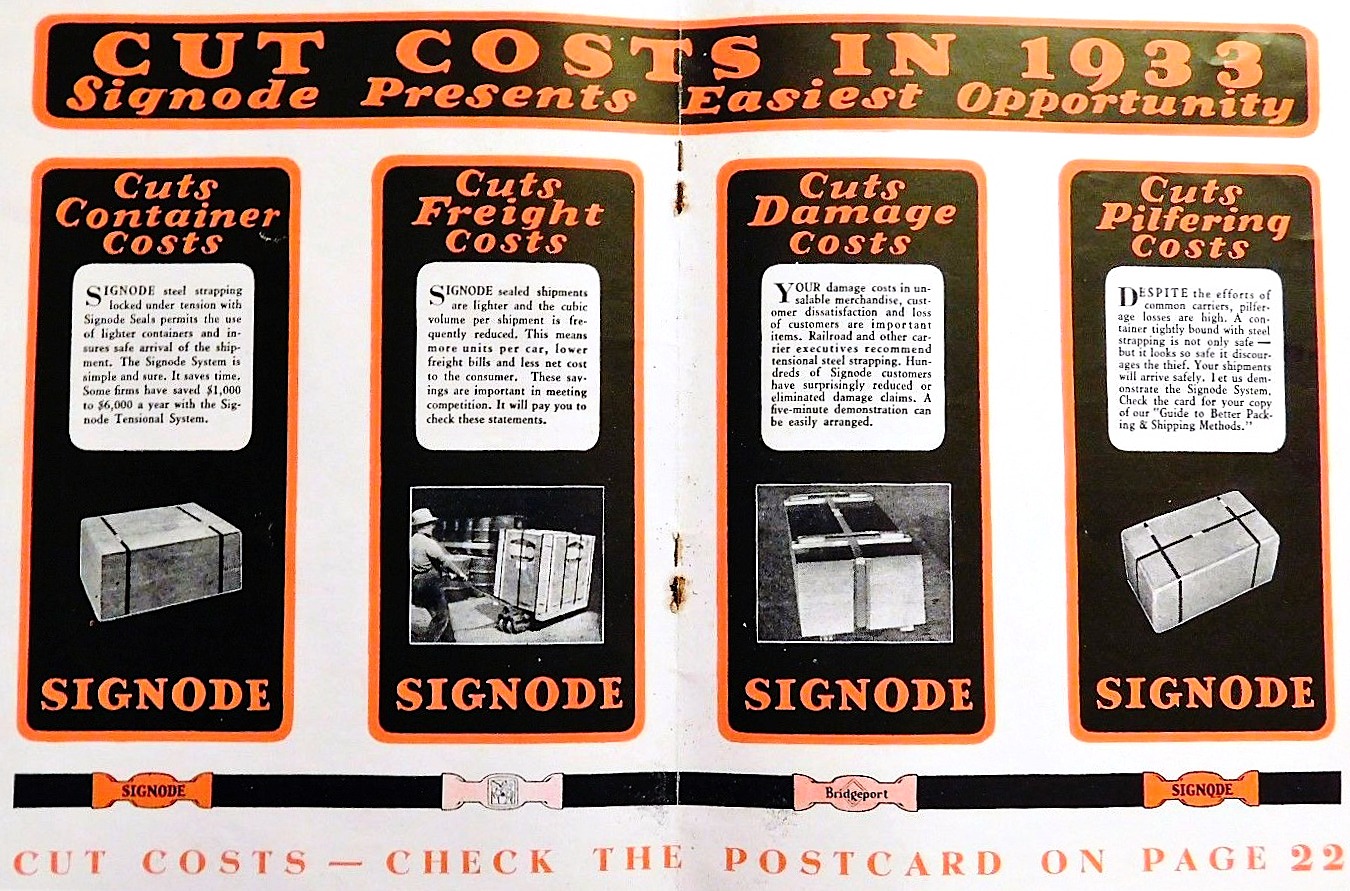 The artifact in our museum collection—a lovingly abused rawhide mallet—has the words "Signode Steel Strapping Co." cut into its handle. That was the company's official corporate identity from 1928 to 1964, before the emergence of plastic strapping led to a rebranding as the Signode Corporation. This was never a "tool company," per se, but they did produce tools and accessories related to their main product. A soft-headed mallet like this one, for example, would have given warehouse workers a way to round-out unruly joints without damaging the merchandise.
The personal journey of this particular hammer will have to remain a mystery—it was found in a resale shop far from home. But the story of Signode itself is a bit easier to piece together.
. . . Oh, man. I clearly should have said the story is easier to "strap together," considering the context, etc. But there's no going back now. What's done is done. Let's move on.
History of Signode Corp., Part 1: Deep Roots
The company known today as the Signode Industrial Group (a subsidiary of the Carlyle Group) began in 1913 as the humble "Seal and Fastener Company"—launched by a Chicago inventor and possible Dr. Seuss character named Ellsworth Elmer Flora. Along with his business partner J. Fremont Murphy, Flora began shopping around a new 100% nailless steel strapping system, which was specialized for use on wooden boxes. It didn't take long for some interested investors to latch on to the idea, including a business-savvy 27 year-old by the name of John W. Leslie.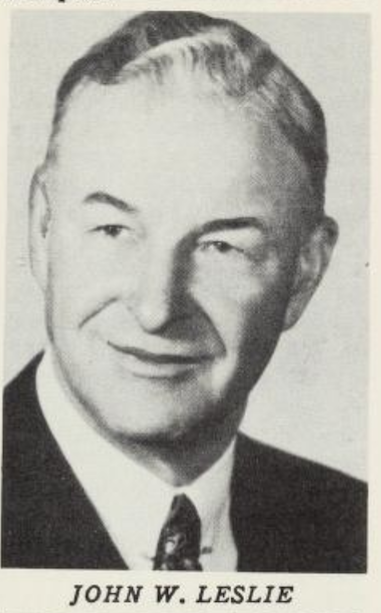 Interestingly, there is no mention of Leslie in the company history section of Signode's own official website, but for all intents and purposes, this was a family business for the better part of 50 years, with John W. Leslie as the massively influential patriarch.
If Ellsworth Flora introduced the product, the actual steel strapping business clearly began with Leslie—a fellow who'd been raised with an insider's understanding of the shipping industry. His father, a Scottish immigrant of the pre-fire period, was president of a long-running Chicago mercantile firm, John H. Leslie & Co., which specialized in the import of dried fruit, canned goods, spices, sugar, etc.
John W. eventually became a partner with the family business, but the position wasn't handed to him. According to a 1954 profile in the Tribune, the 6-foot-4 golden boy graduated from the University of Wisconsin in 1907, then "worked his way to Europe on a cattle boat" before finally returning to Chicago to join his papa. John W.'s first role with Leslie & Co., according to myth, involved preparing shipments of seeded raisins from abroad and nailing shut the outgoing boxes. It's no wonder that he took a special interest several years later when a friend gave him the inside scoop on Ellsworth Flora's nail-free strapping technology. "Ooh, that sounds sweet," he might have said, or thereabouts.
By 1916, a 30 year-old Leslie had bought out the majority ownership of the Seal and Fastener Co., which he rebranded Signode. A subsequent stint in the aviation service during World War I nearly left the whole project sinking into financial ruin, but with an assist from daddy, John W. returned home to rescue the business in 1918, committing himself to its growth in the years ahead. As a well-traveled man, he had global goals from the get-go, and most of them were realized in pretty impressively short order.
Unfortunately, Ellsworth Flora would never see his own vision come to fruition. He died of some sort of stomach ailment in 1917 at the age of 56.

II. Ties That Bind
Even before he'd taken over the business, John W. Leslie had been actively promoting the Signode System from the West Coast to the UK. He was a true believer, and he recognized that no bit of clever engineering could succeed if the product didn't find its target audience.
The campaigning paid off. In the 1920s, Signode grew exponentially, converting throngs of railroad shipping men, asphalt shingle manufacturers, and particularly textile mill workers, with advertisements claiming that Signode "Bale Banding" could handle 600 LBS at a time—all shipments reaching their destinations in "perfect condition."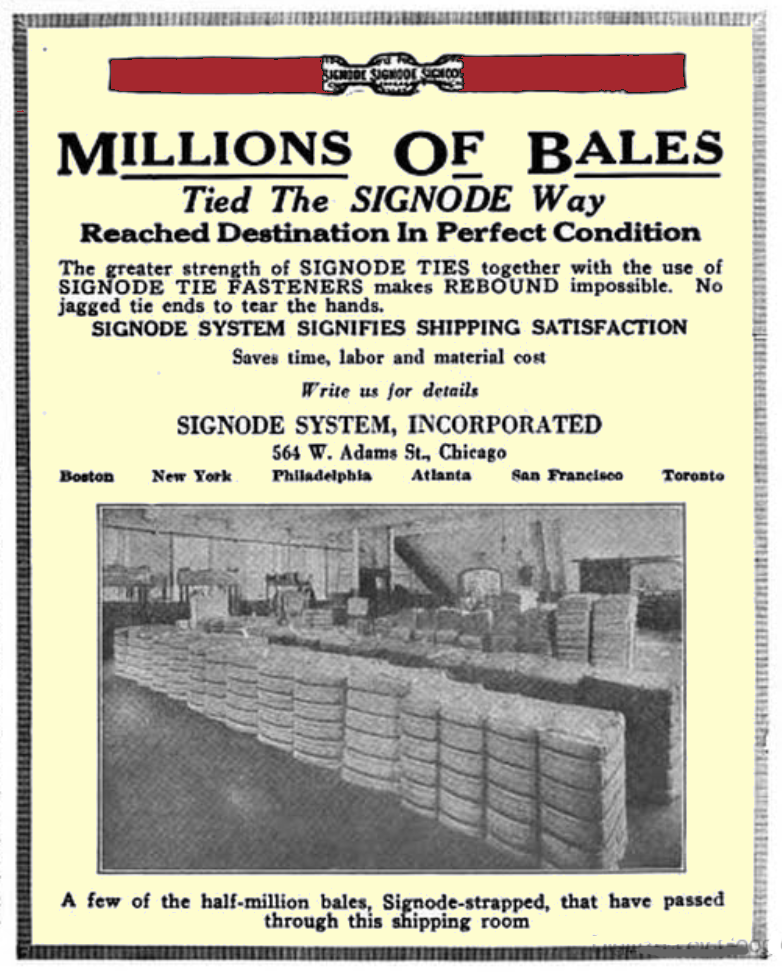 "The greater strength of SIGNODE TIES," read a 1921 ad, "together with the use of SIGNODE TIE FASTENERS, makes REBOUND impossible. No jagged tie ends to tear the hands. SIGNODE SYSTEM SIGNIFIES SHIPPING SATISFACTION."
Wow, alliteration, too?! What couldn't they do?
From the looks of things, Signode was as much about preaching a new methodology as it was about selling its goods. The early company name was the "Signode System, Inc.," and the lead sales office was located at 564 W. Adams Street, with half a dozen satellite offices across the country. In the early '20s, a few acquisitions led to a rebranding as the short-lived "Consolidated Steel Strapping Company," which Leslie established in a large factory space at 2607 N. Western Avenue in Logan Square. This facility would remain the Signode HQ for several decades to come.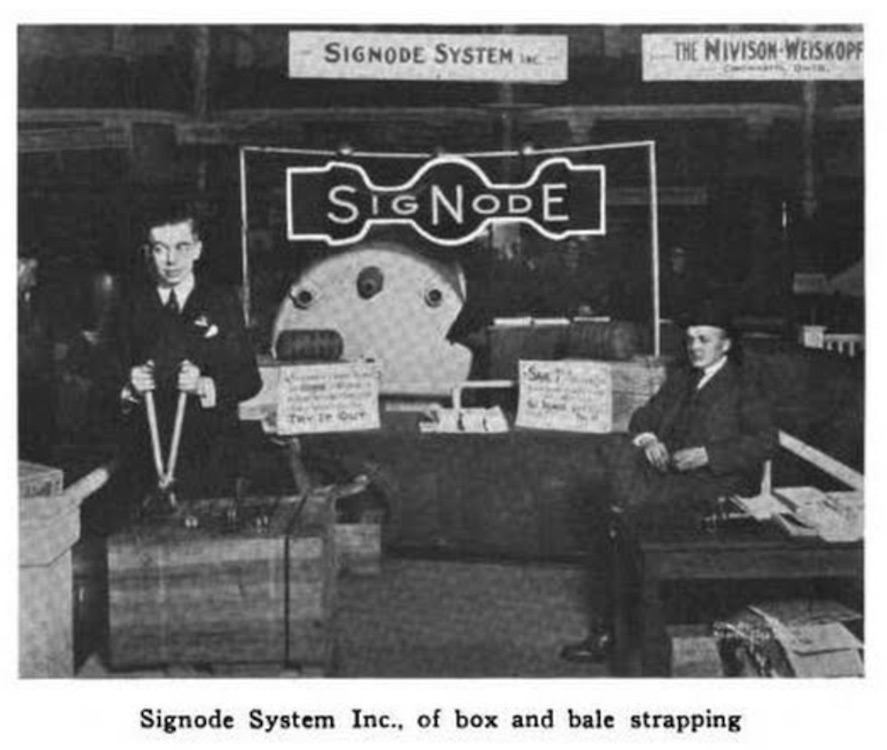 [Signode reps at an exhibition in the 1920s]
The word Signode, meanwhile, functioned as a simple catch-all—it was the product, the technique, the business. It was whatever you wanted it to be!
"Leading concerns including General Electric, Fairbanks Morse, and Sears Roebuck are using a sealed steel strapping called 'Signode,'" read a 1925 ad in Industrial Digest. "It holds the shipping containers together regardless of all pounding, falling, crushing or tearing, and prevents pilfering as well—easily applied and will save shipping costs too."
Logically, the Great Depression should have ground things to a halt for a business so dependent on the movement of other businesses, but Signode adapted in the 1930s—particularly on the innovation front. This included appealing directly to the pride of their big-name corporate clients. Customized strap designs were offered for the first time, allowing a company to wrap its shipments in its own logo. It was described as a means of "insurance against damage, with valuable advertising as a by-product." Signode also did the hard sell on business owners, using the "cleanliness next to godliness" argument to explain why shipping was paramount to surviving hard times.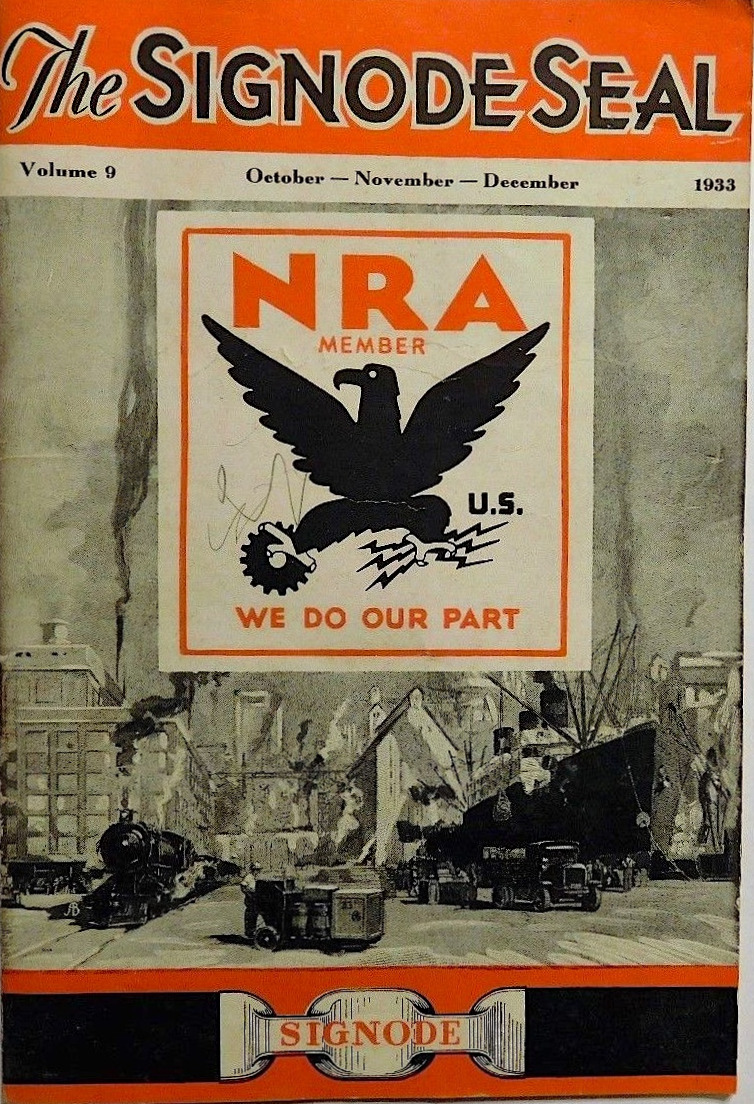 "No department of a business is more important than the shipping room," a 1934 Signode service brochure claimed, "for no sale is completed until the product is delivered to the buyer in a condition satisfactory to him. This is why we continue to insist that the Signode message is well worth the attention of the head executives of any plant. When Signode Strapping goes into a plant, a long list of leaks, losses, and troubles goes out–for good."
Perhaps most importantly of all, John W. Leslie kept Signode pushing forward into new products—especially tools and machines that made it easier to apply Signode straps.
"Signode developed the tools to make strapping more usable and economical," former company manager Robert Reilly told the Tribune in 2004. "It started with the stretching tool and the sealing tool [John W. Leslie] bought from a French inventor [in the late 1930s]. The stretching tool took the slack out of the strapping. The sealing tool was like a pliers . . . that when squeezed together around the metal clip that joined the straps indented the edges and formed a joint."
Selling its expanded line of products, Signode achieved an all-time record in sales in 1937, then topped it again in 1939. The company was in the catbird seat, ready for anything—including the demands of a world war.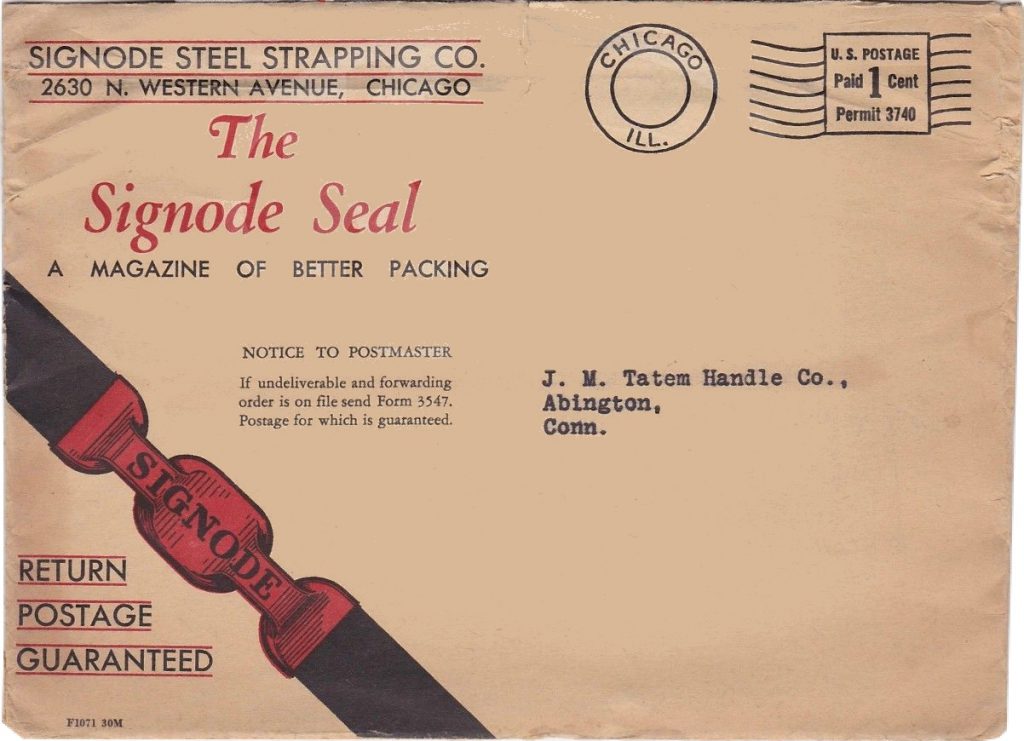 III. "Prime War Products"
"Steel strapping will be needed in increasing volume as the war program develops," the Tribune reported on April 12, 1942, "and the Signode Steel Strapping Company, Chicago, will realize its share, John W. Leslie, president, said yesterday in the company's annual report for the year ended Dec. 31 last.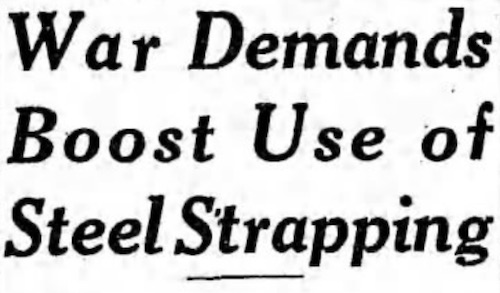 "He reported that a recent check of 25 consecutive Signode orders showed 43 percent, by weight, went to army and navy depots and government-owned ammunition plants, 42 percent to steel companies, and 15 percent to miscellaneous industries. . . . 'More than 80, or two thirds of our engineers and toolmakers, are busy on prime war products,' Leslie said. 'We are negotiating ordinance contracts which, if booked, will require more than half of our factory capacity.'"
World War II cut off many of Signode's international exports, but their new government contracts were enough to catapult the company to more record profits in the years ahead.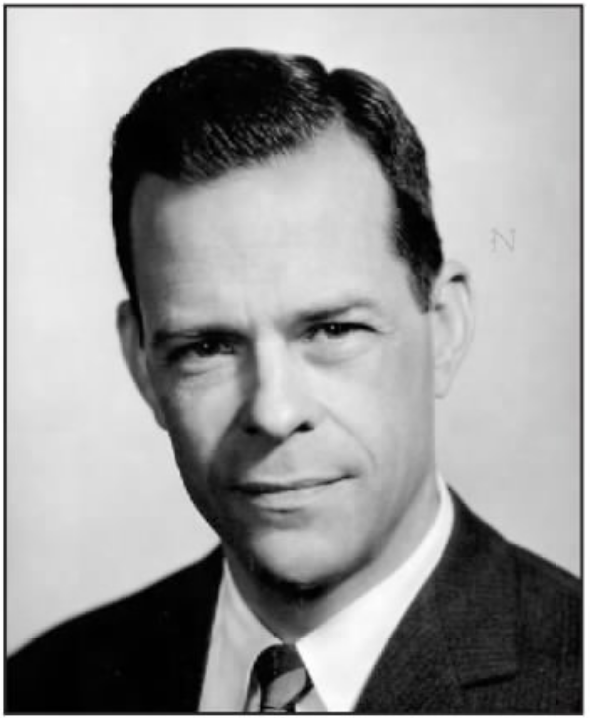 During this same period, another man named Leslie was leading a similarly successful wartime operation in Chicago. John H. Leslie—son of John W., grandson of the original John H.—wasn't even 30 years old yet, but he was already a chief engineer at the Stewart-Warner Corporation, building wing de-icers for U.S. war planes. He'd graduated from Harvard in 1937 with an engineering degree, and much like his own dad, wanted to earn his stripes elsewhere before returning to the family business.
After the war, the reunion finally unfolded. John H. Leslie went to work for John W. at Signode, and by 1949, he'd assumed the company presidency (aged just 34), with his father sliding over to Chairman. At this point, Signode was fat off its government work and raking in new profits from the development of the first fully automatic power strapping machine. Within John H.'s first decade on the job, the family business was a Fortune 500 company with a dozen facilities worldwide and more than 1,000 employees in the Chicago area alone.
IV. Strapping Lads
Both John W. and John H. Leslie were tall, somewhat imposing men, but they had a way of disarming people and endearing themselves to their many employees. As an example, the elder Leslie was well ahead of the curve in developing a profit-sharing plan for his workers in the 1940s, a system he claimed "creates something like a partnership between the company's stockholders and employees who join the plan. . . . [They] in effect become part owners of the business and have the same interest in increasing earnings and dividends as the stockholders."
In 1957, Signode's Western Avenue factory was singled out as an "Industrial Good Neighbor" by the Association of Commerce, following a concerted effort by the younger Leslie to refurbish the plant and the surrounding area, including the creation of a large employee parking lot. The citation noted that "through creative planning and inspired maintenance of its plant area, Signode Steel Strapping company has become a creditable asset to Chicago and a source of pride to its employees and community residents."
[The Signode plant at 2600 N. Western Avenue, as seen in 1957]
Another hint of the Leslies' merits as "good bosses" can be found years later, in a letter to the editors of the Tribune by a woman named R. C. Johansen in 1967:
"I think Mr. J. H. Leslie, chairman of the board of the Signode Corporation, deserves some recognition. He attached notes to paychecks saying that because of the extraordinary conditions of the Friday following the snowstorm that prevented most people from getting to work, the firm was paying a full day's pay for that day. The Leslie family is not only thoughtful during snowstorms, but on birthdays too. His father, J. W. Leslie, honorary chairman of the board, on his 80th birthday, gave a year's subscription to the Reader's Digest, if you so desired. And, if you already had the Digest, he renewed the subscription for a year. Considering there are four Signode plants in the Chicago area, I think it is marvelous they have taken the trouble to add a warm and personal touch to everyday life."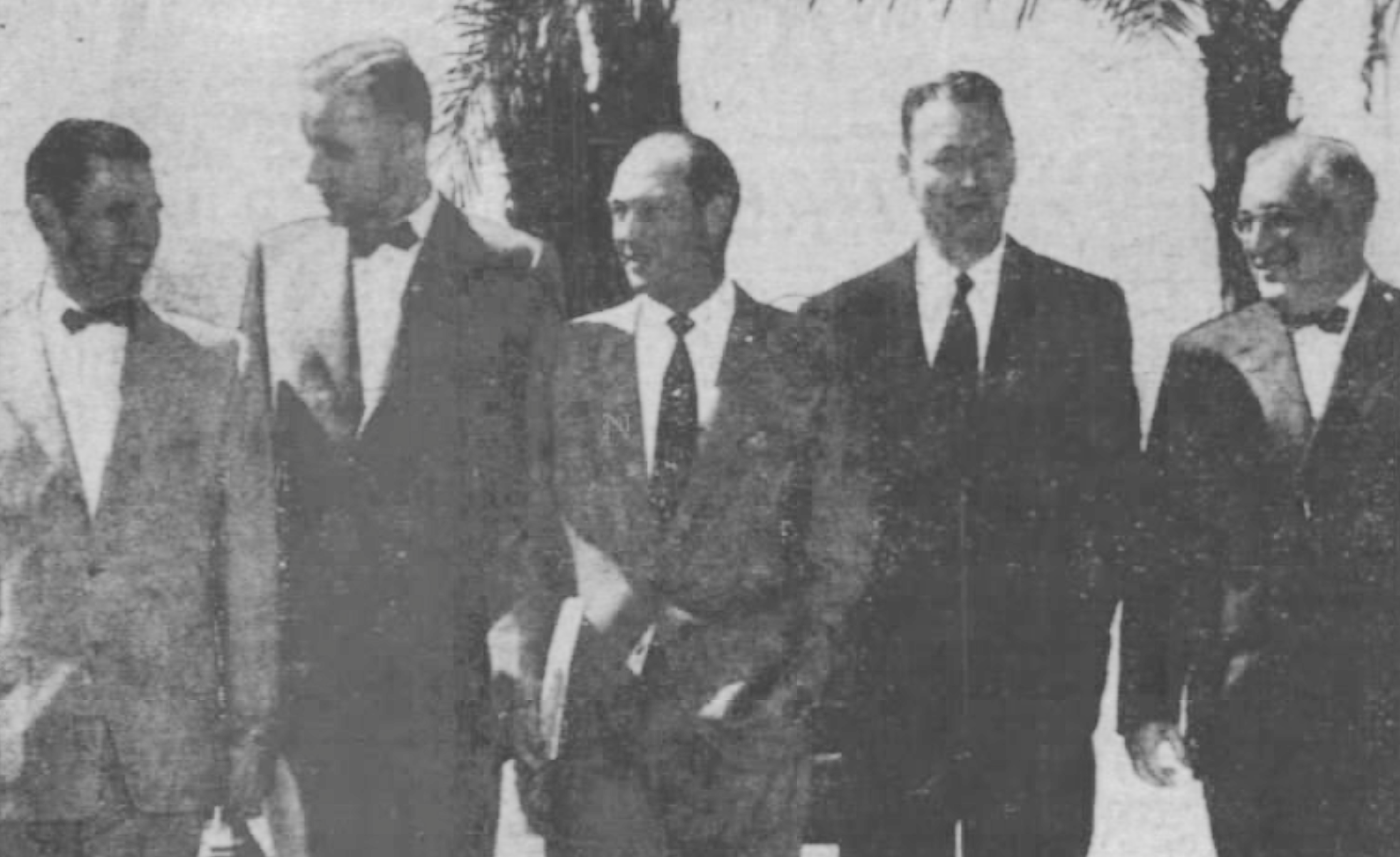 [John W. Leslie, the tall guy second from left, attending a profit sharing conference with a gang of corporate reservoir dogs in L.A., 1951]
V. One Worker's Experience
Right around the same time Signode was earning its "Good Neighbor" kudos in the late 1950s, a man named Bob Harris started working at the Western Avenue plant. Bob is the subject of an amusing 2012 memoir written by his niece Julie C. Morse, called Out of the Box: The Mostly True Story of a Mysterious Man. Compared to some of the globetrotting adventures featured in the book, Bob Harris's time at the Signode factory isn't all that thrilling, but it does paint a pretty vivid picture of the company and the experience of being there in the mid 20th century.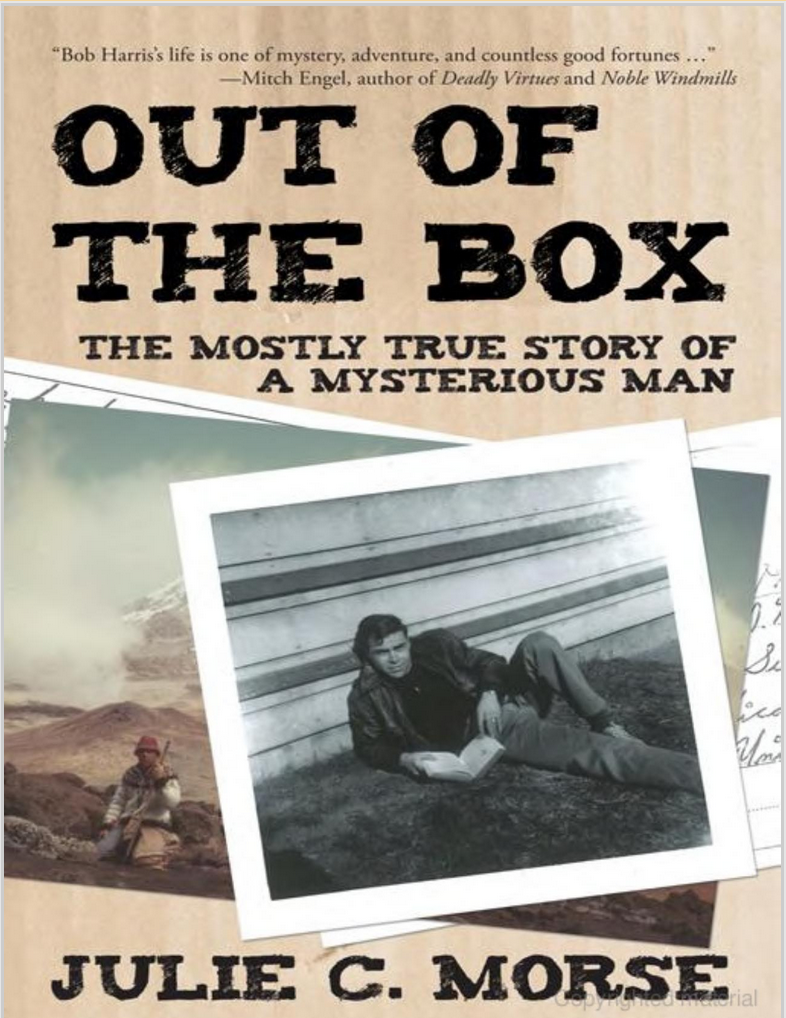 "My first real job was at Signode Steel Strapping Company on Western Avenue in Chicago," Harris recounts in the book. "I got hired as a field engineer, a job for which I had absolutely no qualifications. I think the lady in human resources was more impressed than she should have been that I had worked directly with [famed Chicago architect] Mies Van Der Rohe. And for better or worse, I knew how to charm.
"Fortunately, I also knew how to work and came up to speed with the job pretty fast. The company manufactured steel strapping for all sorts of packaging. As part of the job, I spent time in a box lab there, testing packages that could accommodate different designs of strapping. While I was there, managers started noticing I had a talent for drawing and could manually draw designs and plans in-house, whereas in the past they'd had to field them out for production specs… With the company's encouragement, I drew designs and then made a scale model of my very own pallet invention that summer. They liked it, made a prototype in-house, and tested it out. It worked! I got to apply for and receive a patent for the product in my name. Of course, any future profits would go to Signode as my employer, but that was fine with me. To me, the adventure was inventing something and getting a patent in my very own name. It's still registered, known as the Signode Addison Semmes patent for an Expandable Corrugated Shipping Pallet. It's not sexy, but I'm proud of it nonetheless."
Unfortunately, I found no evidence of any patent for a pallet attributed directly to Bob Harris (or Robert, for that matter), but there is one credited to his boss at Signode, Ray Frase, for roughly the time period in question [see below].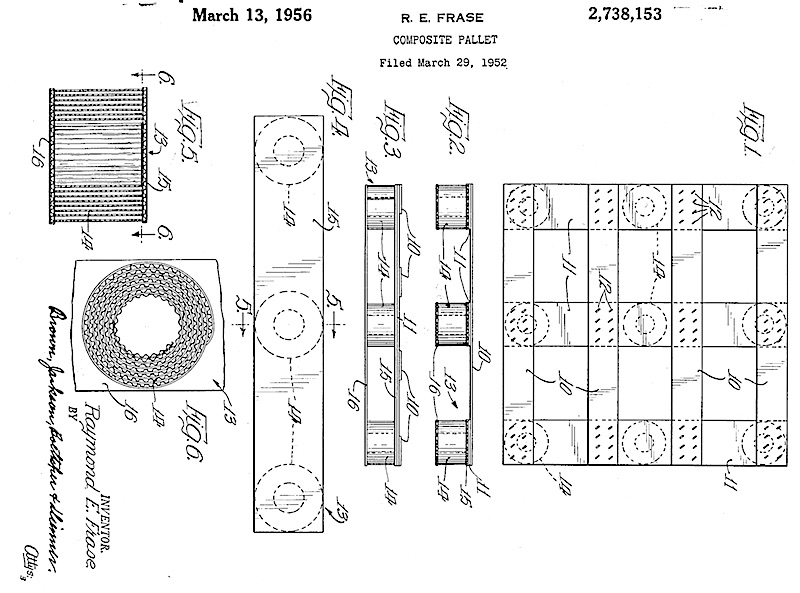 Signode had acquired the aforementioned Addison-Semmes company of Racine, Wisconsin, in 1955, and Addison-Semmes' former VP, Mr. Frase, came to Chicago to lead Signode's new pallet department. That's when Bob Harris crossed paths with him.
"My star rose pretty quickly at Signode because of that patent," Harris recalls to his niece in Out of the Box, "and a great guy named Ray Frase asked me to join his department as a salesman. Signode at that time had started focusing on developing and holding patents on corrugated pallets and then charging other manufacturers licensing fees to use their designs to produce pallets for their own businesses. The overriding goal was to sell more of our steel strapping, which worked specifically with those designs. It was all a very neat business package, literally and figuratively.
"Ray was a big, boisterous, cigar-smoking guy, and he taught me a lot about sales and life both. He was a good role model for me, a little bit adventurous, but mostly hard working. And boy could he talk! I worked for Ray for three years, and he sent me off traveling the country, calling on every size box manufacturing plant from New York to California and everywhere in between. …I found I had a knack for sales and started making a pretty decent paycheck for a kid from the streets. I wasn't exactly rolling in dough, but I was doing well enough that I could start enjoying life a bit more."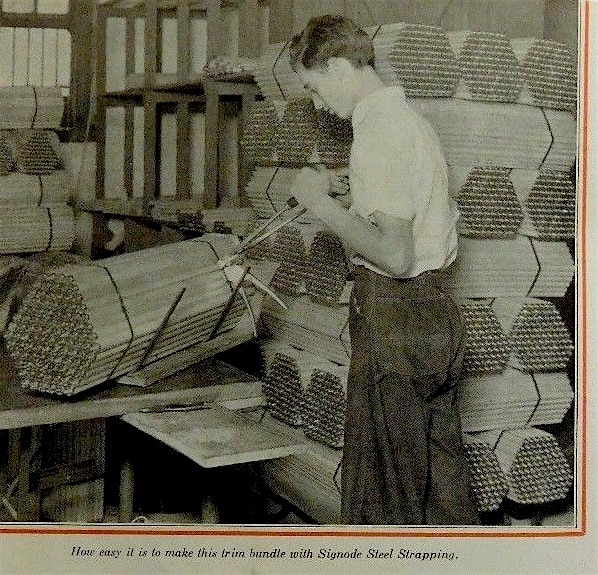 [A factory worker using Signode steel straps in the 1930s]
VI. New Packaging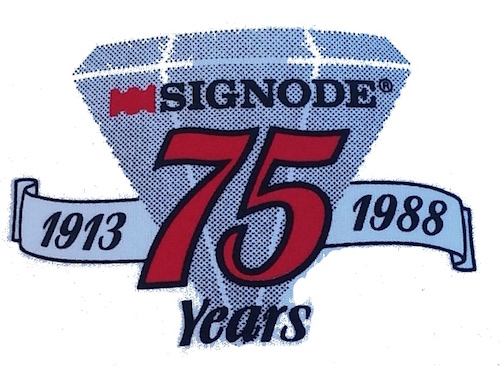 Bob Harris eventually followed his heart toward new adventures and bid Signode adieu. By 1964, in turn, Signode started down a new path of its own, shedding its old Steel Strapping Company name to become the Signode Corp.
The company now had major plants in Bridgeview and Glenview, and got its sales numbers up over $700 million by the mid 1980s—cranking out durable containment strapping thingamabobs like they were going out of style. That's about when Illinois Tool Works swooped in, bought the company, and put the Signode name under its umbrella—with the main offices still in Glenview. Meanwhile, the long-since forgotten Signode Steel Strapping headquarters on Western Ave. was torn down and replaced, eventually, with a Regal Cinemas.
In 2014, the Carlyle Group purchased the business from ITW. As of 2016, Signode was still ranked among the 200 largest privately owned companies in the country (#194). And unlike most of the entries in our Made In Chicago museum / mausoleum, they're still active in the Chicagoland area, headquartered just up the road in Glenview where they've had a presence since 1955.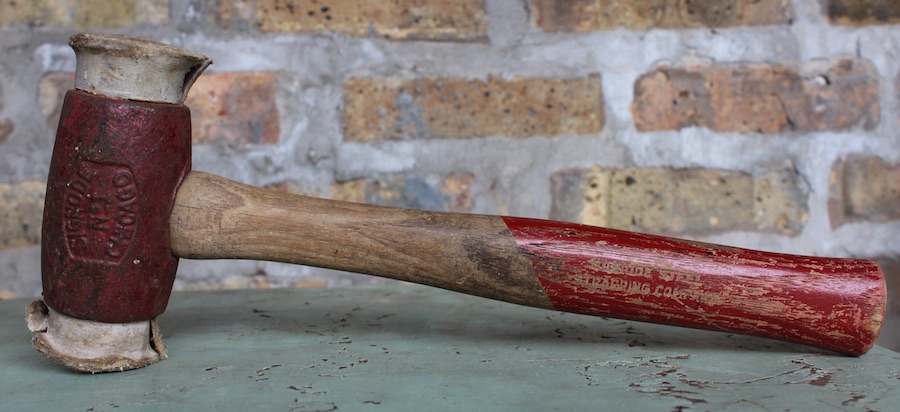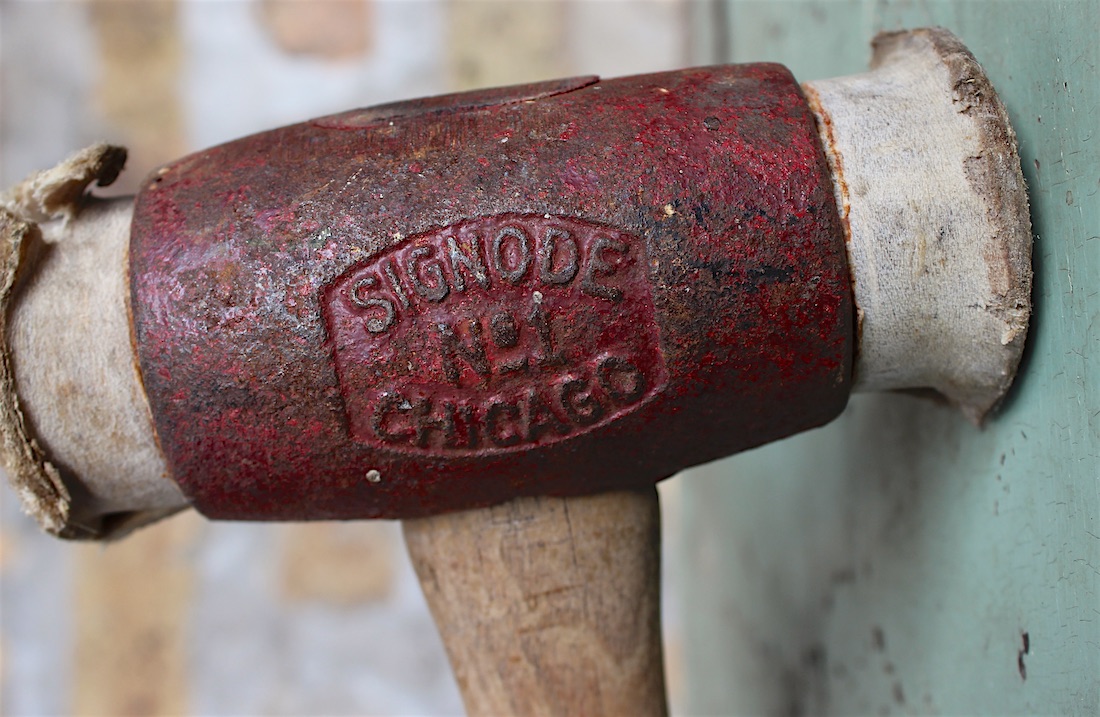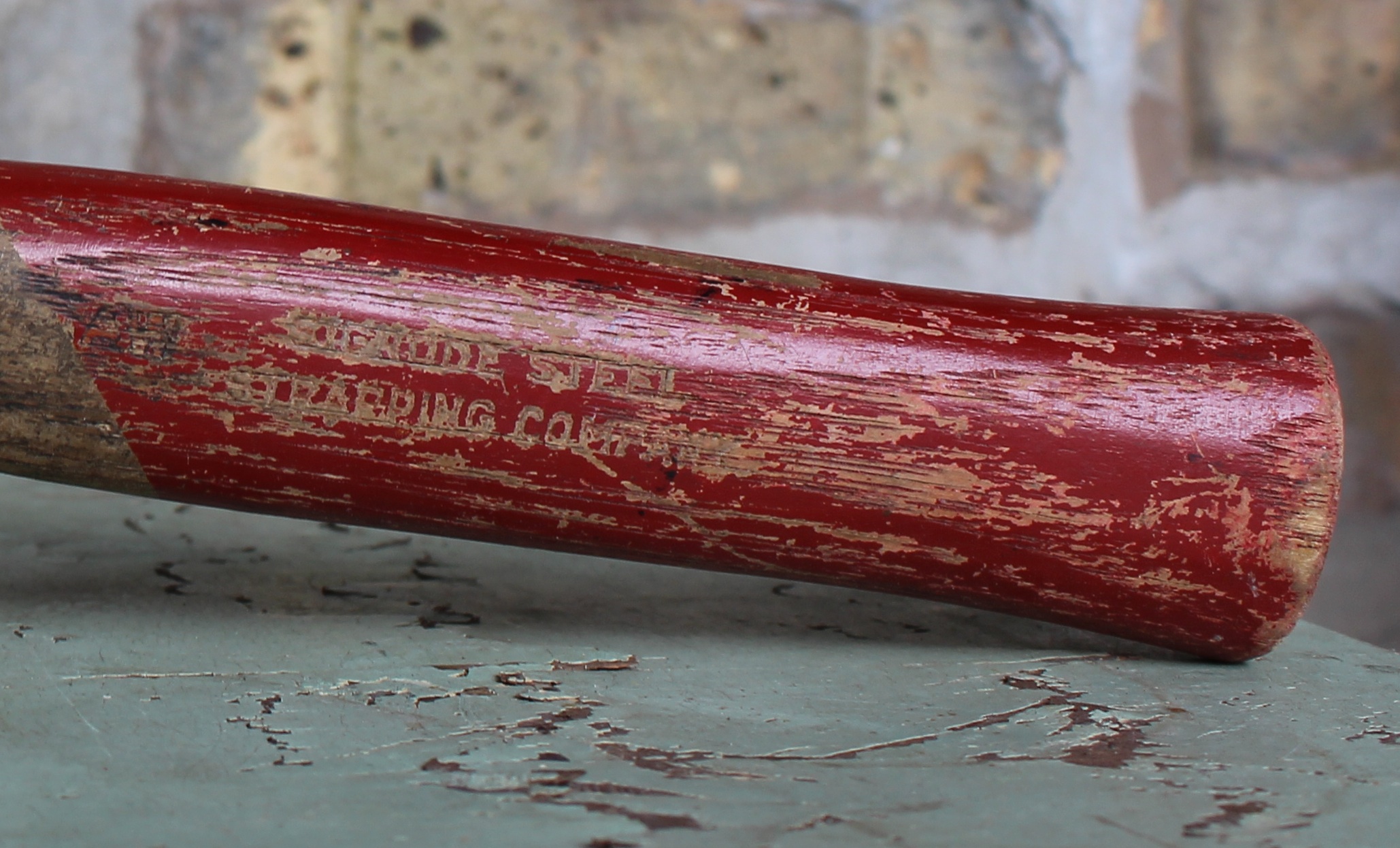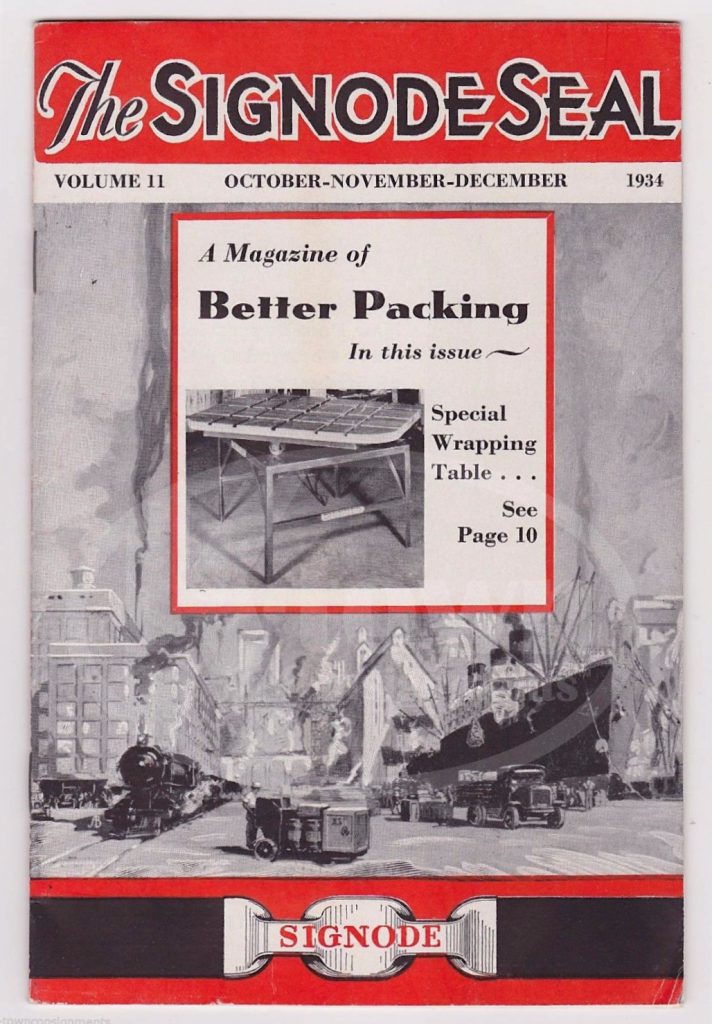 Sources:
Out of the Box: The Mostly True Story of a Mysterious Man, by Julie C. Morse
"The Road to Success: A Sketch of John W. Leslie, Chairman of Signode Steel Strapping," by Philip Hampson, 1954
Textile World, Vol. 59, 1921
Canning Age, Vol. 2, Feb 1921
"War Demands Boost Use of Steel Strapping" – Chicago Tribune, April 12, 1942
"John H. Leslie & Co." – Half Century's Progress of the City of Chicago, International Publishing Co., 1887
"2 Steel Firms Win Awards in Cleanup Drive" – Chicago Tribune, June 20, 1957
John H. Leslie obit, Chicago Tribune, January 6, 2004
"Illinois' private equity business roared back to life in 2014" – Chicago Tribune, Jan 16, 2015
Kiplinger's Personal Finance, July 1960
"Profit Sharing Plan" – Chicago Tribune, Feb 3, 1946
Archived Reader Comments:
"I worked at the Signode plant in Glenview IL during the 1960s while in college. The company created a plastic fasner approach under an engineer named Russ Gould. My dad also worked QC in Glenview. Nothing but really positive feelings and memories for the whole Signode 'experience.'

" —Dave, 2020
"The article is very well crafted and is of special interest to me as I work with Signode in India…….

" —Pritam, 2019
"My father, Ben R. Franklin was employed at Signode Steel Strapping Company, 2600 North Western Avenue, Chicago 47, Illinois. He retired from Signode after 47 years. He was born July 16, 1912. He died January 1961. I have a cotton drawstring bag with "Form F641-9" on the lower right hand corner of the bag. He would bring me the ball bearings that didn't make inspection. I called them "steelies" and I played marbles with them. I am 79 and counting. GOD willing I will be 80 November 3rd. I am writing a book as I am 5th generation from Antebellum Generation. My Dad collected coins and I have a "1944 CANADA CENTS 1944" coin with a "GEORGIVs VI D G: REX ET IND : IMP" inscribed on other side. He would exchange money with foreign workers.  Also, he gave me a "1941 NEDERL INDIE 1/4 G" on face of coin and the other side is in the written language of the country India. Do you know if Signode Steel Strapping Company had workers at those years from Canada and India? Also, can someone give me a history of my drawstring bag. Thank you." —Marlene Franklin, 2019
"


Aa a Signode Employee in India, I was looking for Signode History and you have put it across with great amount of details. Thanks a lot." —Niranjan, 2019