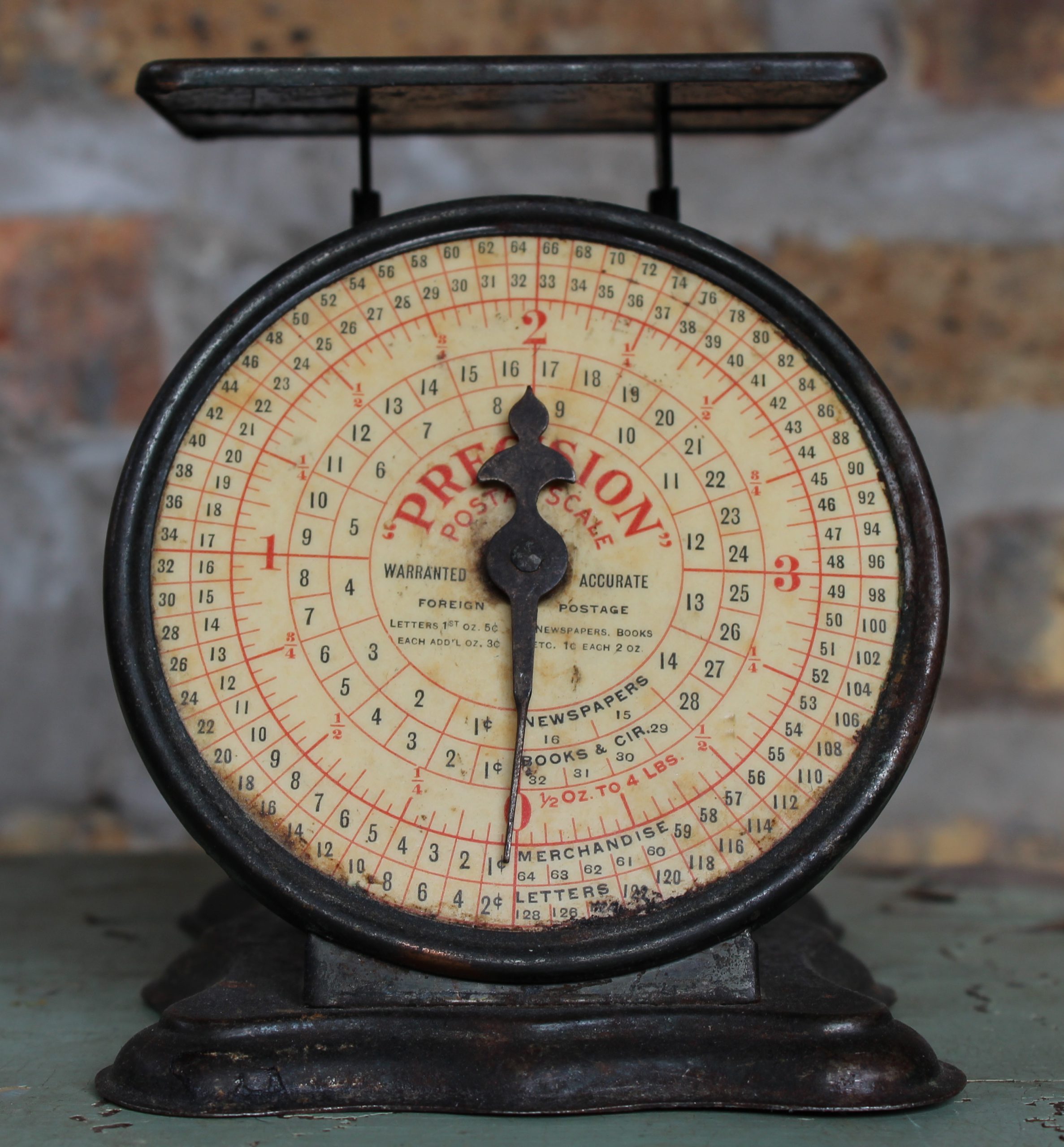 Museum Artifact: Triner Precision Postal Scale, 1910
Made By: Triner Scale & MFG Co., 2714 W. 21st St., Chicago, IL [Little Village]
It's a rare treat that an artifact from the Made In Chicago Museum can actually introduce itself in its own words, but such is the case with our Triner "Precision" 4LB postal scale. When this design was first patented and sent to market in 1906, it was promoted in trade magazines with a fairly unique approach. The copy was written in the first-person voice from the scale's POV.

"PRECISION IS MY NAME," the little scale screamed—well, I suppose all-caps didn't equate to shouting 100 years ago. But anyway, the inanimate object had our attention. "I give the actual weight by 1/2 ounces," it continued, "and show automatically the exact cost of postage, in cents, on all classes of mail matter to all possessions of United States, Canada, Mexico, Cuba, and Philippine Islands.
"My slanting round dial, which is larger than on any other postal scale, has the figures in black and the lines in red, making it very distinct and easily read without stooping, even when packages are extended far beyond the edges of the platform."
Stooping. . . one of the great plights of the early 1900s.
Towards the end of the advertisement, after touting its bad-ass "sword shaped" index and "double steel uprights," our narcissistic postal scale ventures into genuine proto-hip-hop territory. Just read this line of braggadocio with a fresh '80s beatbox in mind: "I am light in weight and strong in make / and guaranteed absolutely accurate" (admittedly it works better if you pronounce the last word accur-ATE).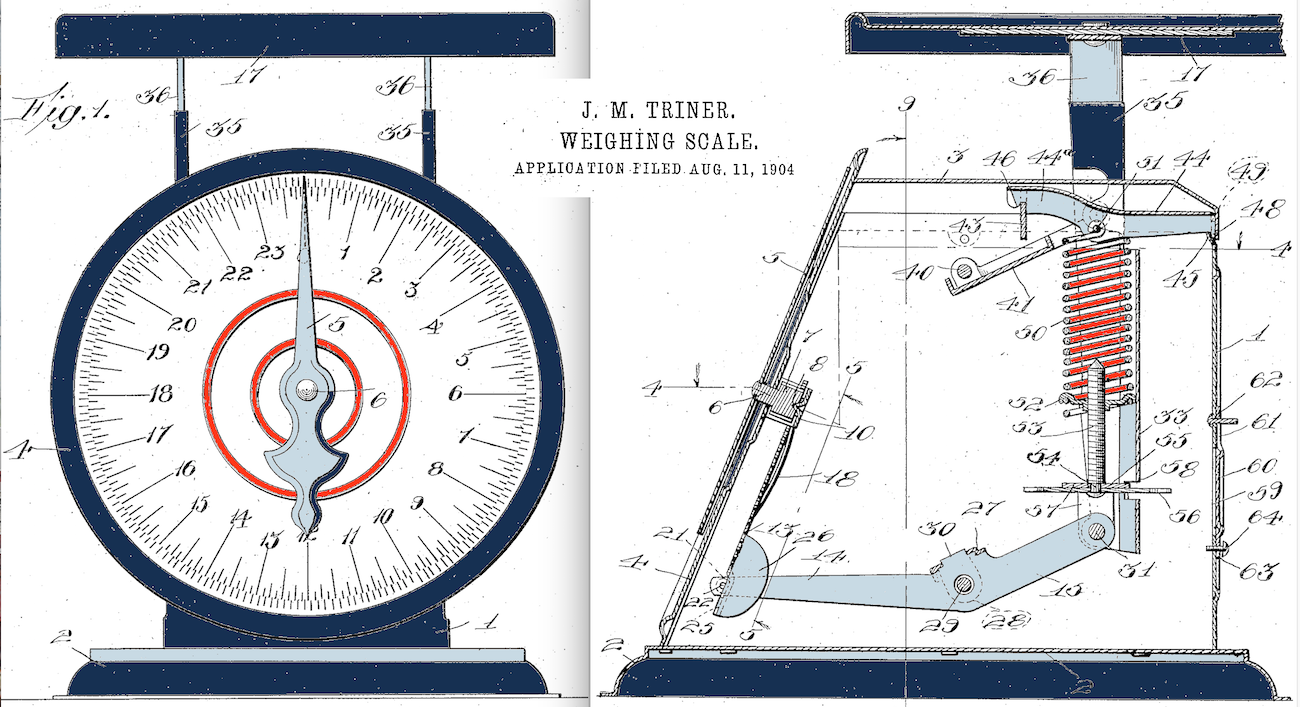 [Spring scale patent applied for by James Triner in 1904 and registered in 1906]
We can forgive the scale for sounding brash. It was merely reflecting the mood of its creators at a time when the Triner Scale & MFG Company was the exciting new kid on the block—taking aim at its high-profile competition in Chicago's world-leading scale industry.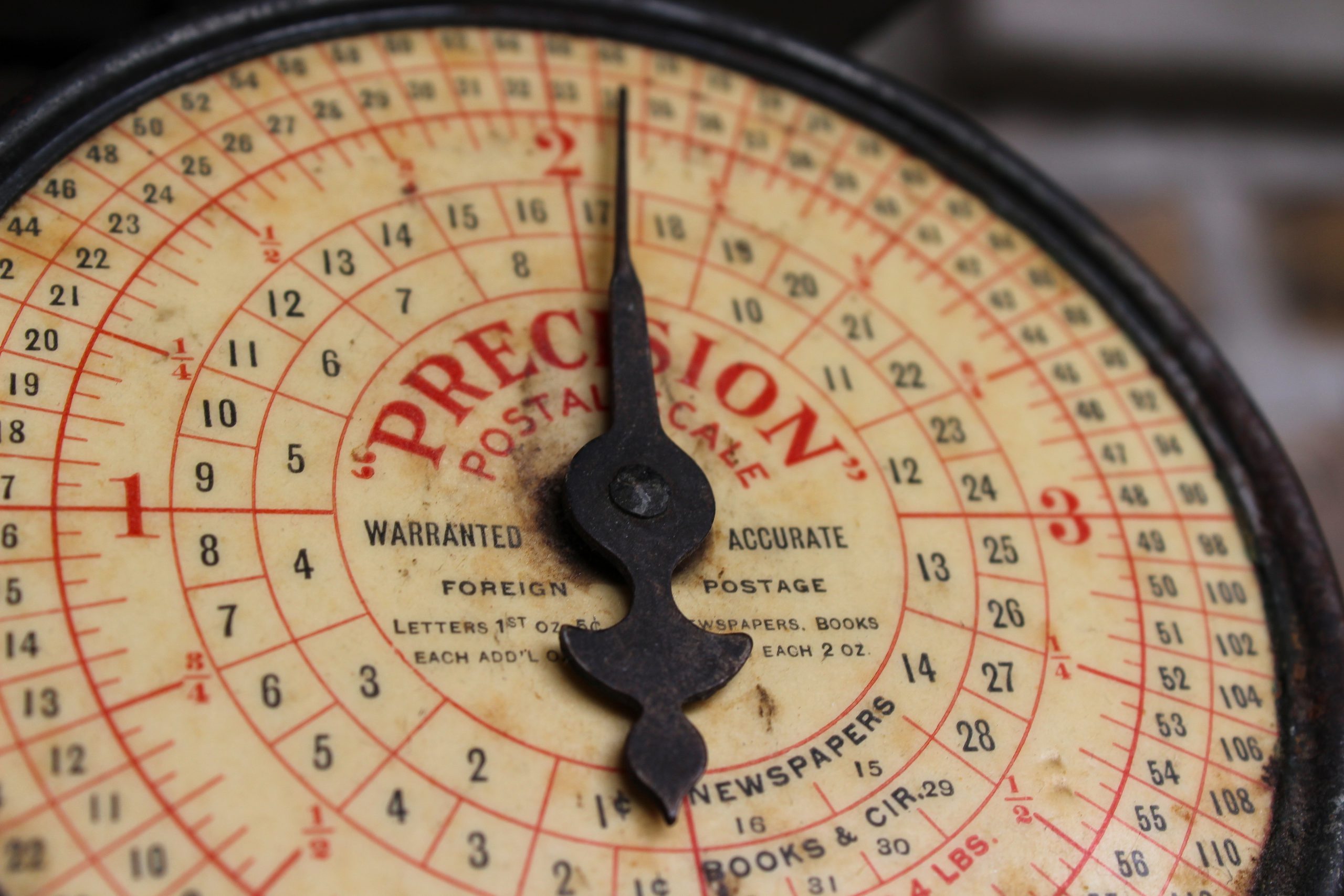 Part I: The Ballad of J.M. Triner
Company founder James M. Triner emerged from the established Chicago scale "scene" himself, having been a former underling of the mighty Pelouze Scale & MFG Co. As a particularly talented mechanical engineer, however, he grew tired of developing innovative new devices only to pass the rewards on to the aristocratic William Nelson Pelouze.
And so, in the spring of 1903, a 30 year-old Triner officially broke free and organized his own manufacturing business with $20,000 capital. He moved into a plant at 128 S. Clinton Street and set forth building spring scales in a city that already included not only Pelouze, but the Hanson Brothers, American Cutlery, and the Chicago Scale Company, among others. The fact that Triner is still a leading scale manufacturer today stands as fairly substantial evidence of Mr. Triner's long term success in that venture.
His great achievement, and the one that arguably sealed his company's relevance for the century to come, was convincing the United States Postal Service that spring scales—more so than balance scales— were the best medium for weighing the mail. Others had waded into these waters before, but it was James Triner—using tactics or charm that his cohorts may have lacked—who changed his industry.

"It has long been known in the stationery trade," reported a 1913 issue of Geyer's Stationer, "that James M. Triner knows how to make scales—one has only to note the rapid growth of the Triner Scale & Manufacturing Co to sense that—but it is not so generally known that Mr. Triner succeeded in showing the Post Office Department of the United States Government that the spring scale was the best kind of a scale for their Parcel Post Service.
"It took many long hours, exhaustive tests, and rigid investigations on the part of Uncle Sam's experts to see the value of the spring scale, but after Mr. Triner went through more than the third degree, the authorities not only saw the wisdom of the spring scale, but placed an initial order with Mr. Triner for 20,000 of his well known Parcel Post Scales. Since that initial order, the Post Office Authorities have issued additional specifications for spring scales only, further endorsing the idea brought out by Mr. Triner, and increased their first order by over 25,000 more.
"Mr. Triner's work at Washington practically revolutionized the postal scale," the gushing article continues, "and brings about a new era in this department of manufacture. Every scale manufacturer will participate in the good work he has accomplished."
[Triner ad from The American Stationer, 1908]
And there it was. Within the first decade of starting his scale business, James Triner's legacy seemed to be in tact. . . . Unfortunately, outside the realm of stationary magazines, proper kudos were not always forthcoming in the years that followed. Among the Chicago industrial titans of his time, Triner remained largely obscured—not just by the likes of Pelouze, but, weirdly, by another dude named Triner.
Part II: A Tale of Two (Or Three) Triners
James Triner, the established hero of our story, was born "Vaclav Trizten" in the lovely town of Pilsen in western Bohemia (modern day Czech Republic) in 1873. He arrived in America with his family at the age of seven. Despite his subsequent, inspiring success as a scale mechanic-turned-magnate, however, Vaclav/James was never even the most famous "Triner from Bohemia" living in Chicago. That title belonged to a fella named Joseph Triner and later his son, Joe Jr.—the latter of whom wound up getting a lot of credit for stuff that poor James Triner actually accomplished.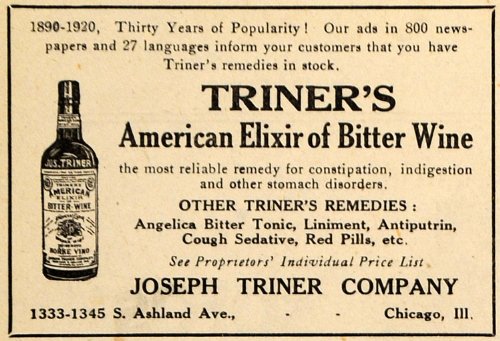 [1920 advertisement for the "Joseph Triner Company" — NO RELATION to the Triner Scale Company]
The elder Joseph Triner (born 1864) was from the same general region of Austri-Bohemi-Vakia as James, and came to America with his family around the same time in 1880. For those keeping score at home, that's two sets of Czechs with the same surname arriving nearly simultaneously in the same city. Using deductive reasoning, you certainly might suspect that James and Joseph were brothers, or at least cousins. But, in fact, there is zero evidence connecting the two Triner clans, either in Bohemia or Chicago. It might seem like a super strange coincidence, but then again, the word "Triner" itself was Americanized at Ellis Island, so perhaps we're putting too much stock into a name.
Either way, there is no denying that both James Triner and Joseph Triner, Sr., went on to become esteemed members of their new Chicago communities. Their paths in business, however—like their origin stories—would remain parallel rather than convergent.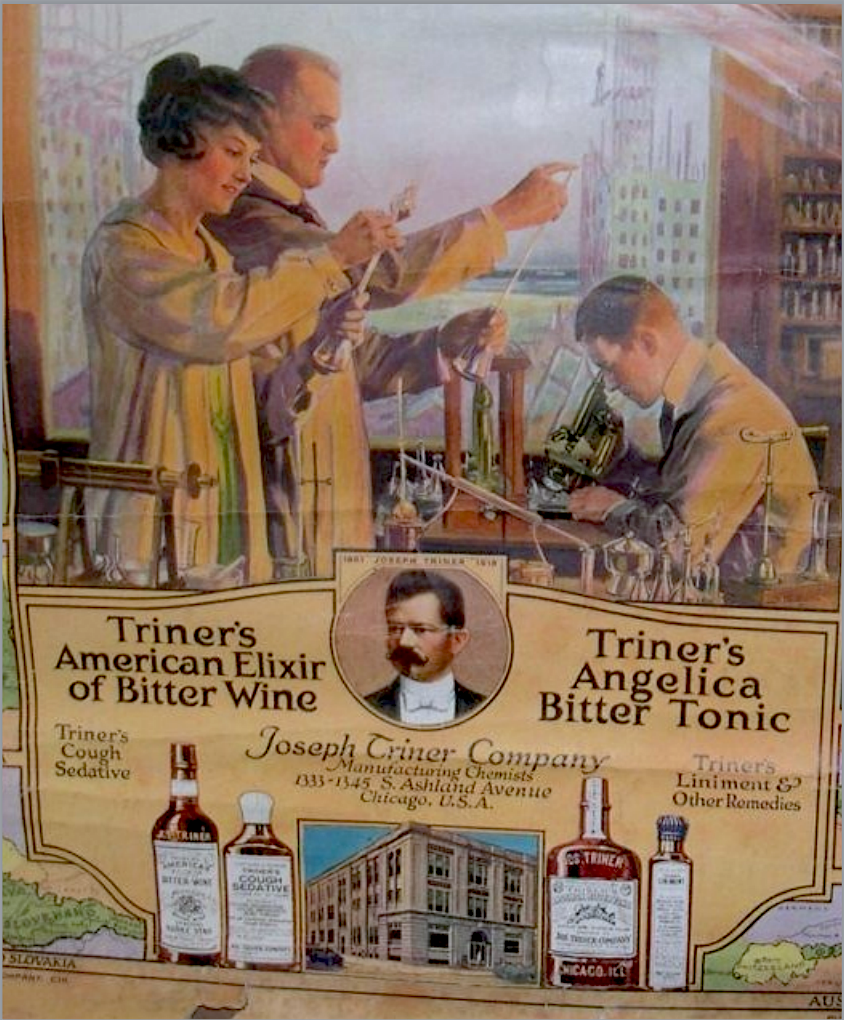 By the time James Triner was breaking into the scale business, Joseph Trainer Sr. was already making hay as a purveyor of so-called "medicinal wines"—bitter elixirs that purportedly cured coughs and other ailments. The patent medicine / snake oil business was huge in the late 1800s, and the Joseph Triner Company profited from it as much as anybody. In the process, Joseph also became a revered figure in his community, using his wealth and clout to help fund various civic and religious organizations. He had the aura of a celebrity, with his face emblazoned on advertisements running nationwide. One ad in the 1900 Chicago Czech Directory posed and answered the question: "Which Bohemian, living today, is now the most famous person in the United States? Without hesitation, it is most definitely Josef Triner."
The Joseph Triner Co. factory (1333 S. Ashland Ave) was located two miles east of the second Triner Scale factory (2714 W. 21st Street) on the Lower West Side, and both employed immigrant workers from the largely Czech community around the Pilsen neighborhood. As for the customers they served, however, magic wine simply had a much bigger appeal to the masses than a handy spring scale, and as a result, James Triner's noble pursuits remained comparatively in the shadows as the 20th century unfolded.
Even after Joseph Triner died in 1918 at the age of 57, his son Joseph Jr. quickly took over his mantle, becoming an even more beloved figure with an even greater sway in the city. He didn't just continue the family business as a "pharmaceutical chemist," he was also an army captain in WWI, an active ambassador of the Czech people at the World's Fair in 1933, and President of the Czechoslovak National Council. On an even more public platform, the no-nonsense Joe Triner became the chairman of the State Athletic Commission of Illinois and the National Boxing Association, setting up high profile fights between the likes of Sonny Liston and Floyd Patterson. And yet somehow, his social circle—like his father's—never seemed to include that other Mr. Triner from down the road.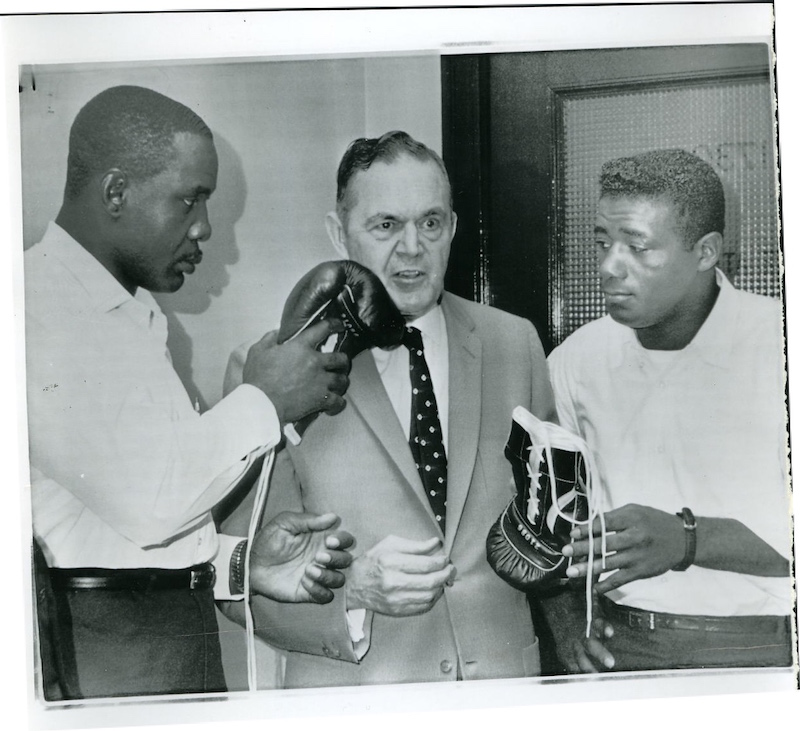 [Joe Triner, NO RELATION to James Triner, here in his later years with boxing champs Sonny Liston (left) and Floyd Patterson, 1962]
James and Joe might not have been related or partnered in business, but it didn't stop media sources from starting to conflate the two industrialists, always at James Triner's expense. In 1929, for example, the Triner Scale & Manufacturing Company started construction on a new four-story addition to its longtime factory at 21st Street and Fairfield Avenue (the address was originally 1255 W. 21st St., then became 2714 W. 21st after Chicago's street name changes in 1909). The Chicago Tribune printed a story on the subject, first giving a backhanded compliment to the company before blatantly mis-identifying its president.
"This firm manufactures the scales before which many of we Americans stand in line and do some heavyweight cussing, particularly at the Christmas season, for they are the scales used by the parcel post department to weigh parcels. . . . Joseph Triner, president of the company, is inventor of the products manufactured by the concern, and he will continue his delvings in the scale realm in [the new factory's] bungalow laboratory."
[The former Triner factory at 2714 W. 21st Street, 1930 vs 2017]
Having his name swapped out with Joseph Triner's probably didn't please James too much as he sat down to breakfast that morning. But hey, it was just a harmless typo in a newspaper article. It's not like the history books would end up similarly confused over the two men's accomplishments.
Well… actually, it appears that has happened, as well.
Likely emanating from another innocent mistake in Daniel D. Droba's 1934 book, Czech and Slovak Leaders in Metropolitan Chicago, some current online accounts now tie the Joseph Triner Corporation (makers of magic elixirs) to the reputable postal scale business of James Triner. Even in modern historian Miloslav Rechcigl Jr.'s meticulous Encyclopedia of Bohemian and Czech-American Biography (2016), you can find the following text under the mini biography of Joseph Triner, Jr.:
"Joseph Triner Corp. was a maker of the first scales in U.S. which appeared in every U.S. post office."
Nope. Twas not.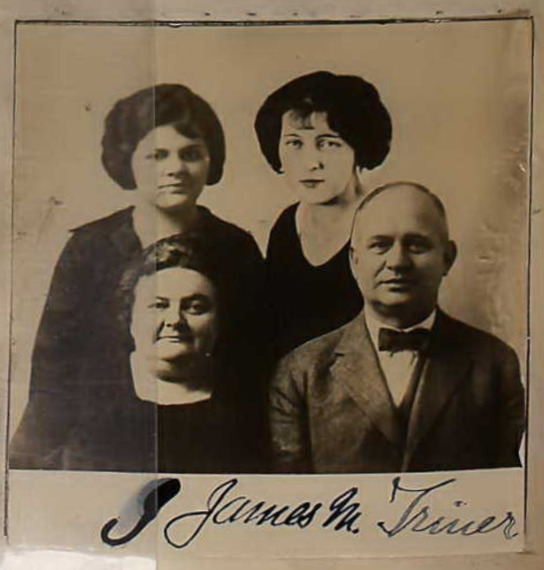 In fairness, that same reference book also includes a passage about James Triner (although it identifies him as "Vaclav Triner" instead of his working professional name), and DOES credit him for starting the Triner Scale & MFG Co and getting the U.S. post office deal. So, we are basically presented with two parallel realities in the same resource, only one of which is true. In this case, in my humble opinion, it was indeed the guy with the scale patents—not the boxing promoter—who ran the scale-making business. [Photo: James Triner with his wife and two of his daughters in 1920]
Part III: Triner, After Triner
James Triner died in 1939 at age 65, leaving behind four daughters. He had remained president of the Triner Scale & MFG Co. straight to the end, helping to keep it afloat through the Depression, largely by staying ahead on the innovation front. The company remained the go-to scale manufacturer of the postal service, while also expanding into industrial scales and specialty scales for farming, laundries, candy shops, airports, and more.
Even as they evolved, however, Triner also succeeded by refusing to fix what wasn't broken. A lot of the simple, effective postal scales James Triner first patented at the turn of the century remained largely unchanged decades later. The "Precision" scale in our collection, for example, can be dated to the 1910s or '20s thanks to the postal rates on its dial (2 cents /1 oz. domestic, 5 cents foreign). But the mid 1950s version of the same scale, as pictured in the catalog image below, was nearly identical from base to platform, right down to the stylish "T" branded into the side panels.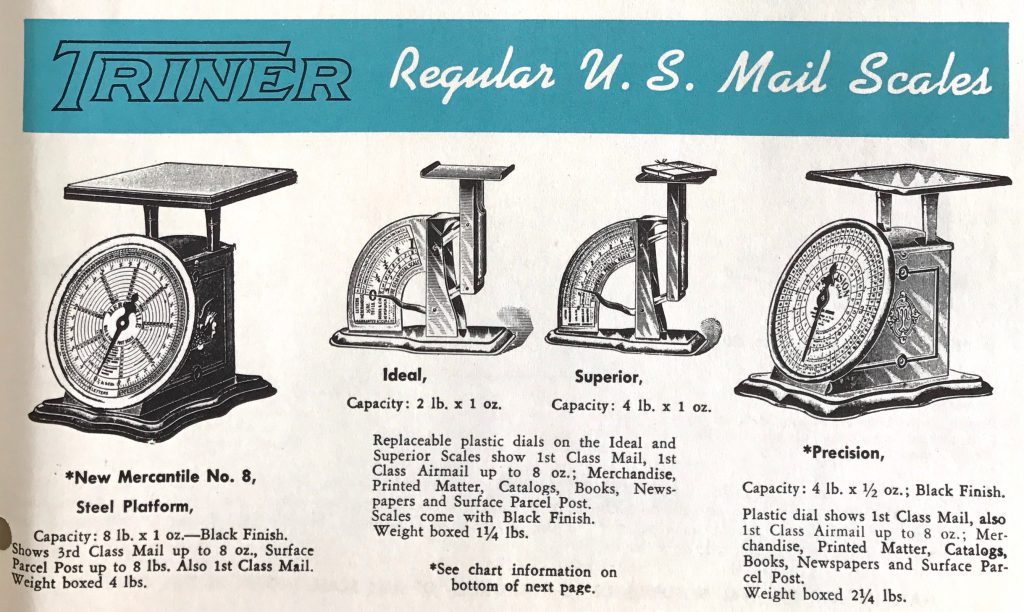 [Page from a 1956 Triner catalog shows how little the Precision scale changed from its original design]
We have a second Triner scale in the museum collection, the "Ideal" postal scale No. 2, which dates from 1963. It, too, is a carryover from the original "Ideal" scales introduced from the outset of the company. You can click on the image below to get more details on that model.
[The Ideal No. 2 Scale, 1963, also part of our museum collection]
After James Triner's death, one of his key colleagues in product development, a fellow Czech named Felix Jansey (adapted from Janovsky), became a leading force in the company through the war years. Felix's son Theodore B. Jansey had also married James Triner's daughter Mildred, further solidifying the bond between the two families and their ties to the scale business.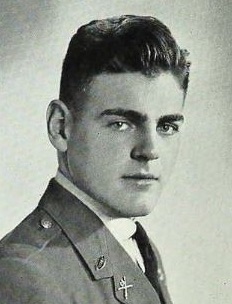 Theodore and Mildred's son, Theodore T. Jansey [pictured], would go on to serve as company president from the 1950s into at least the 1980s. His middle name, as you might have guessed, was Triner—named both for his mother's surname and, in a roundabout way, the company that was his father's lifeblood.
Under the Janseys' watch, Triner got into the electronic scale game and held their ground as a major provider of post office, cargo, airport, and industrial scales.
Around 1993, the Triner headquarters moved to Olive Branch, Mississippi, just outside of Memphis, Tennessee. All traces of the company's Chicago roots faded away, to the point that it's not even mentioned on the corporate website.
As for James M. Triner, his 1939 obituary in the Chicago Tribune said he was to be buried in the Bohemian National Cemetery in Chicago's Albany Park neighborhood. No record of his gravestone being there is currently on record, but you can probably guess who does have a massive Egyptian-style mausoleum in that same cemetery—Joseph and Joe Triner.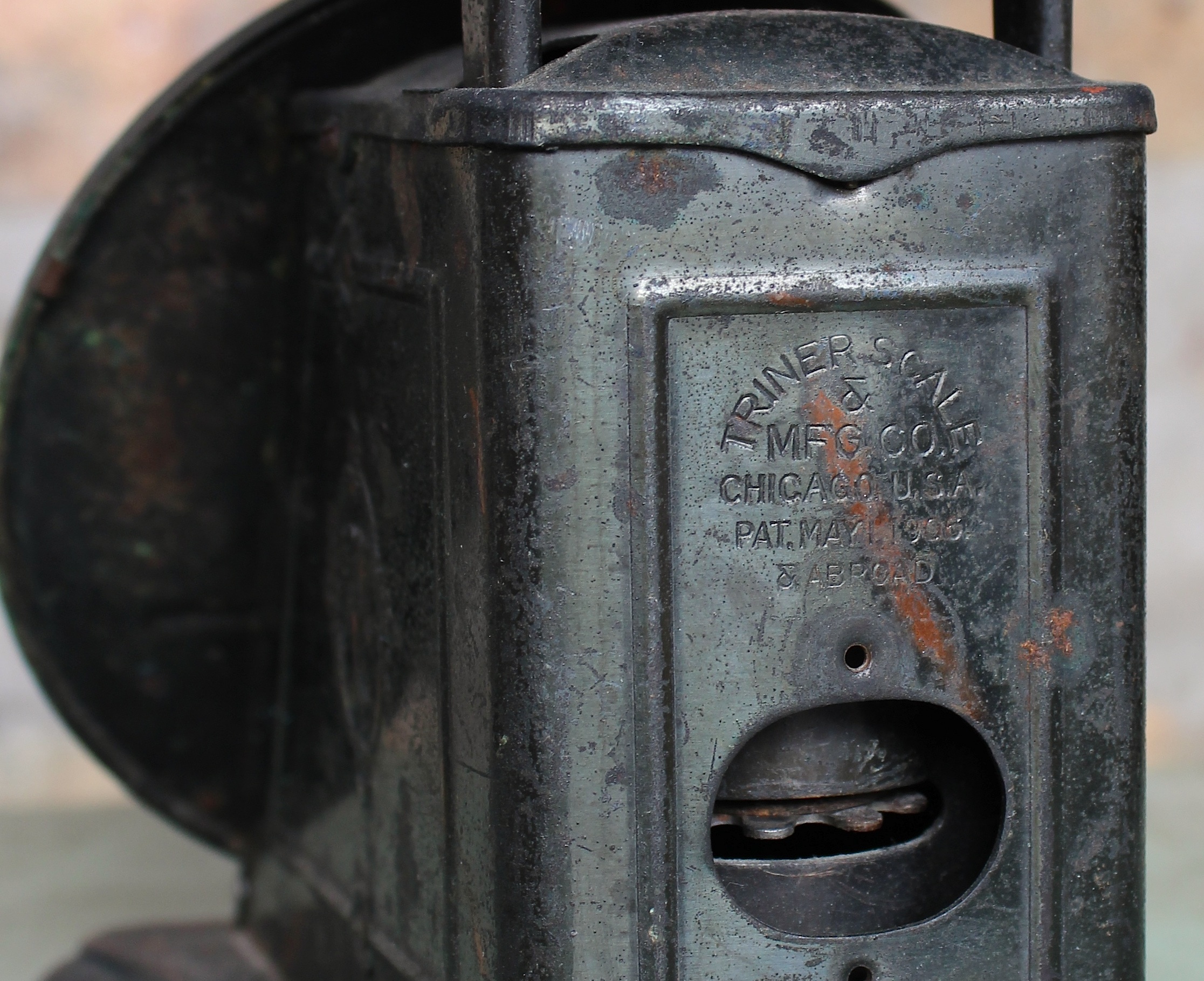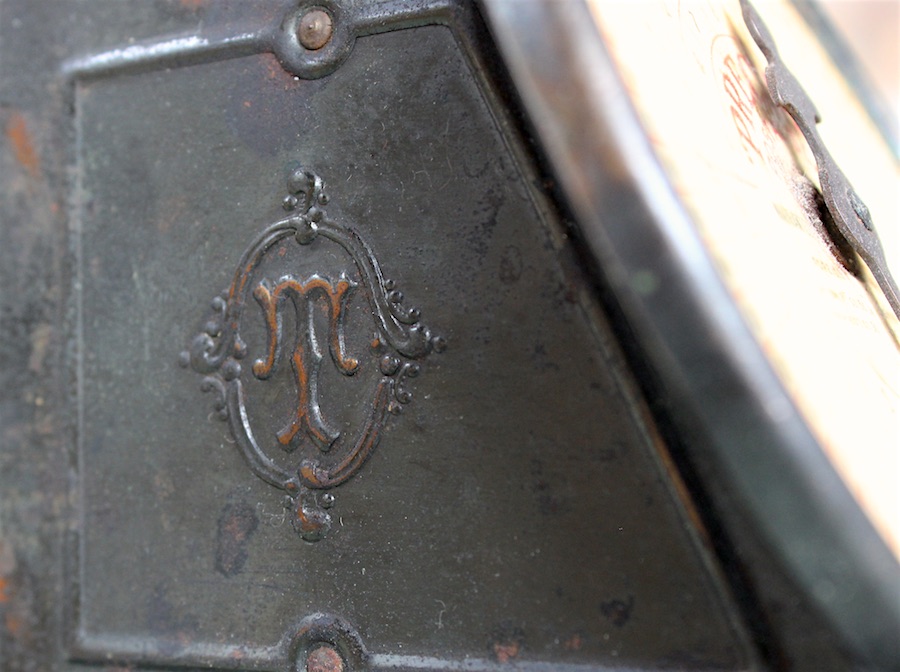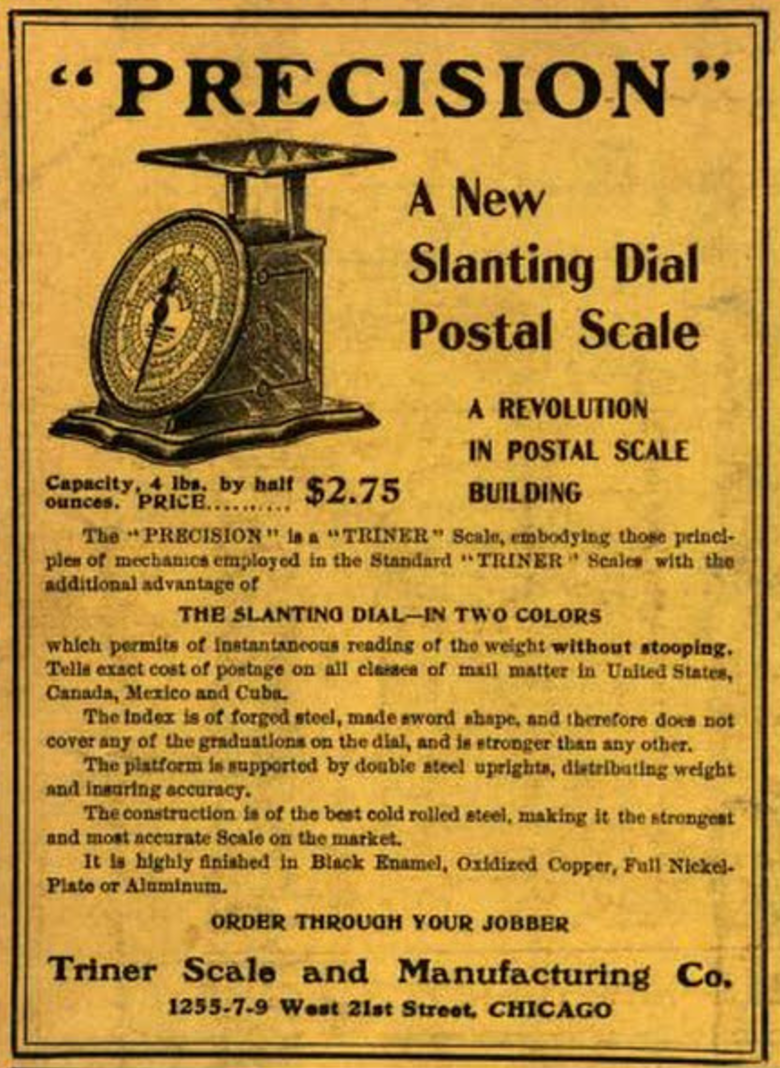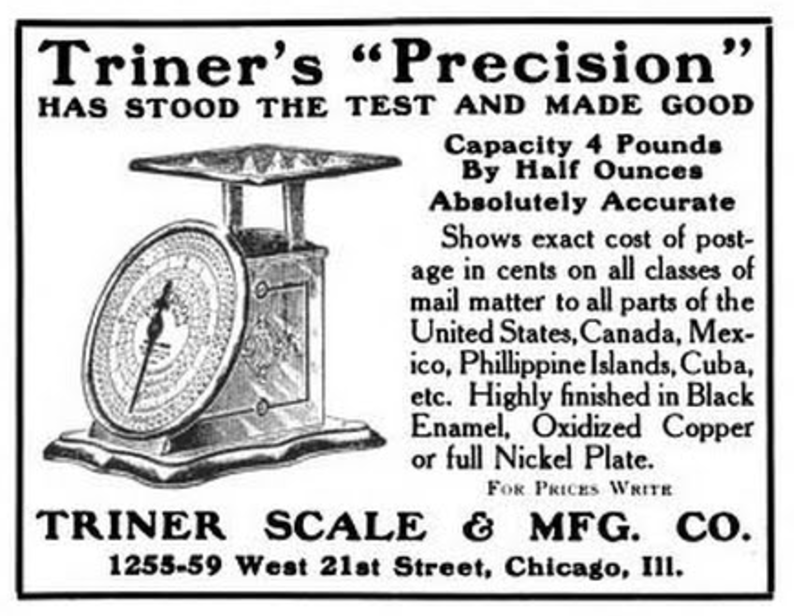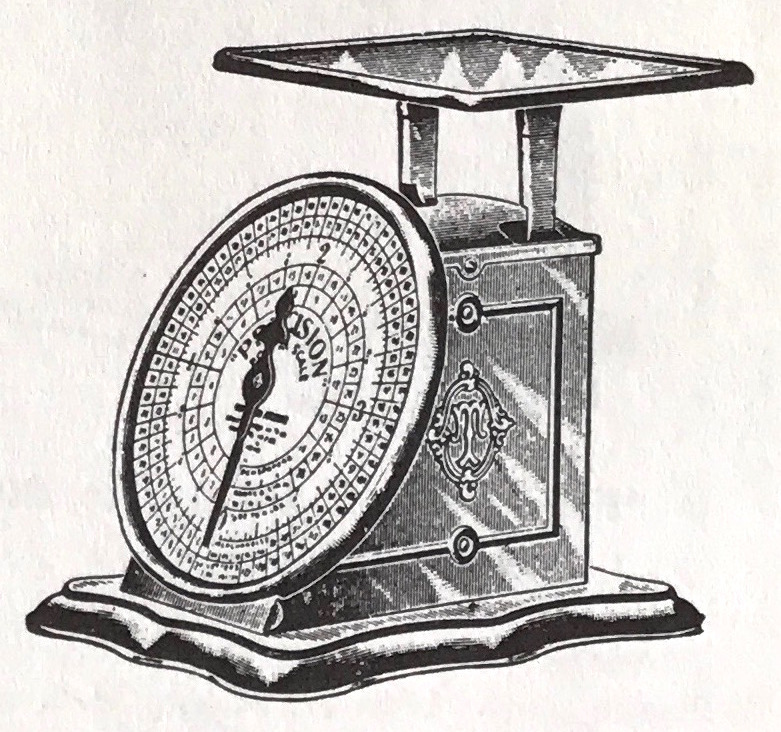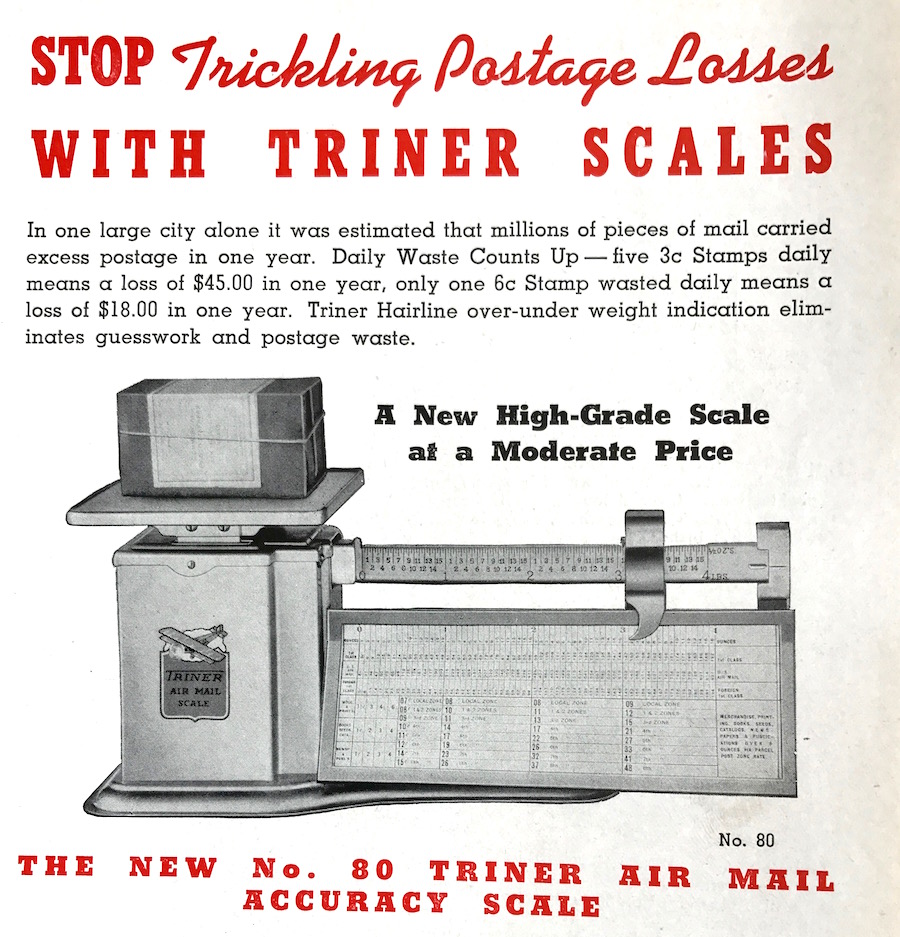 Archived Reader Comments:
"Another great grandson here. My grandmother was the eldest daughter of James Triner. This wonderful story ended up on a false note. There is no record of James Triner being buried there in 1939. He was filed as being buried there in 1940. The family  plot in Bohemia National Cemetary has  a gigantic marker that looks like a mausoleum front but has no actual building attached to it. My Great Aunt, Helen Jansy had been heard to moan how much it cost on several occasions. I have been there and there is a marker for James and his wife Bertha. There is also a marker for a woman whose dates suggest it was James' mother. In addition there is a marker for my uncle who drowed as a child in the mid 20s at James' 'cottage' on Lake Geneva. James Triner was also one of the founders of Medinah Country Club. It is purely a family joke that he paid for the massive dome with all the memberships he bought – one for each of his four daughters husbands as women could not be members in name until fairly recently." —J. Mayer, 2020
"We have a Triner Scale that is a Precision.  It has date patented was 1906.  Looks like the one above . How can we tell what year it was produced though. I believe I got it from my parents farm.  My dad was Czech and my mom Polish. Both grandparents migrated here and spoke only their native tongue while I grew up. Interesting!!!!
" —Beverly (Hrabec) Siradakis, 2018
"I am James Triner Lang, Jr. – my father was a manufacturer's rep for Triner Scale for many years." —James Triner Lang Jr., 2018
"An addition to the previous comment…James Triner Lang, Jr is the great grandson of James Martin Triner (Vaclav Tritzen).  We have a full collection of scales and the full family tree." —Ruth Lang, 2018