Museum Artifacts: Superior Match Promotional Matchbook and Company Catalog No. 612, 1940s
Made By: Superior Match Company, 7530 S. Greenwood Ave., Chicago, IL [Grand Crossing]
"Book Matches are silent salesmen, on the job for you constantly, never taking a day off, never late for work, never taking a vacation or asking for a raise in pay! . . . For just as surely as a match is used to light a cigarette, cigar or pipe; to start a fire, light the gas stove, or hunt for a dropped key in the dark—just that sure are you that your advertising message is seen and remembered." —Superior Match catalog, 1949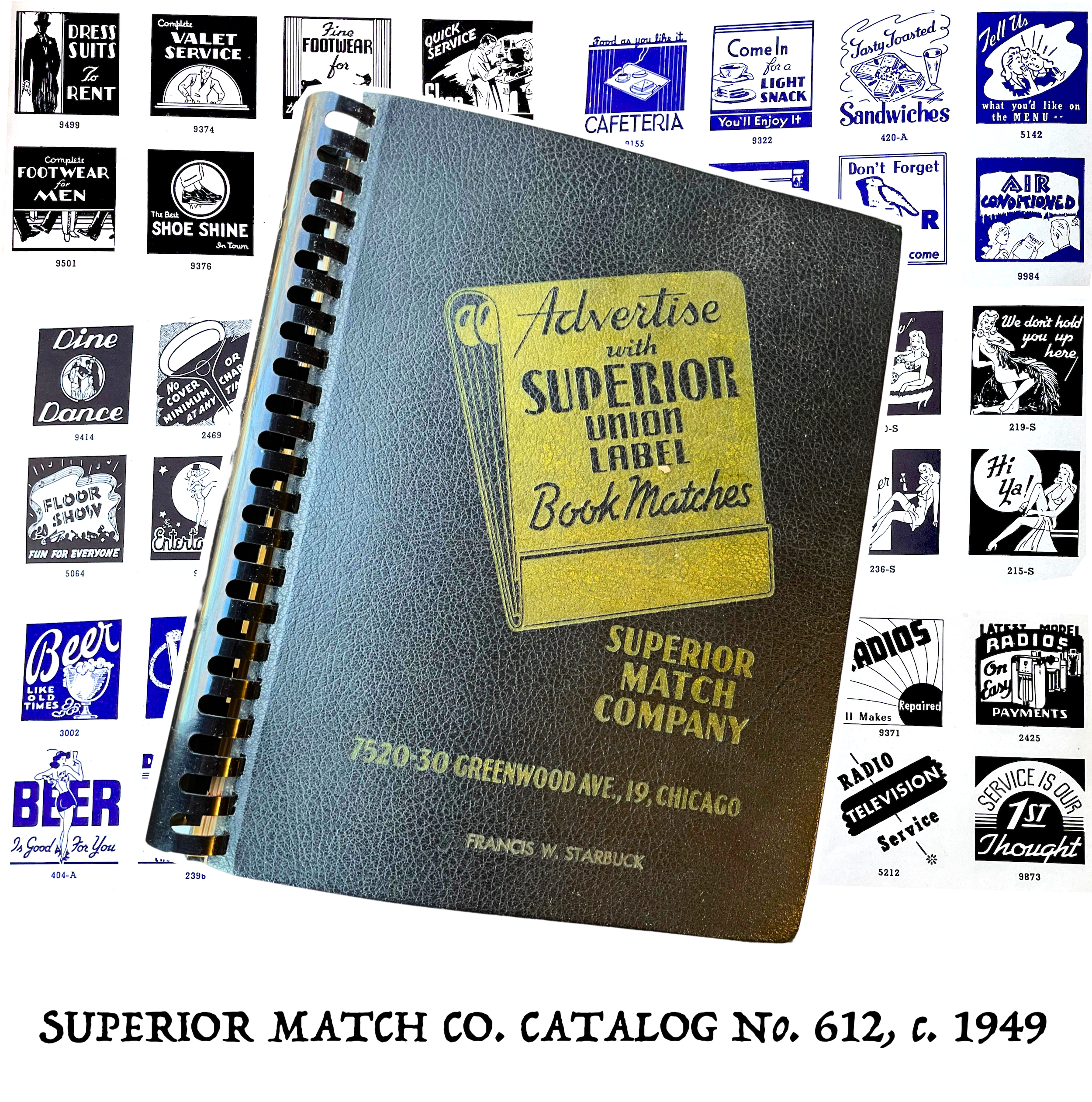 Virtually from the moment Joshua Pusey patented the cardboard matchbook cover in 1892, manufacturers started using them as sneaky little vehicles for low-cost advertising. And in the smoker's paradise of the mid 20th century, few cities had more companies in the match game than Chicago. This included the American Match Company, Chicago Match Co., the Match Corp. of America, and our current business of interest, the Superior Match Co.
Founded by Harold Meitus in the mid 1930s, Superior is often credited with taking the advertising matchbook to its inevitable capitalist conclusion, as the company's army of salesmen scurried across the country signing up every mom-and-pop barber shop, dive bar, and sketchy motel with its own line of promo match covers. The designs thereupon could be eagerly hand-selected by the client from a massive stash of exclusive artwork in the Superior sales book. Some options were essentially the "clip art" of their day: i.e., a bowling alley might be represented by an illustration of scattering pins, or a cocktail bar could have their name above a tilted martini glass. Over time, though, some of Superior Match's more nuanced and popular designs attracted enough attention that people started collecting them on their own merits.
The comedic "Hillbilly" series, for example, earned plenty of devotees during its run from 1949 to 1960, and remains sought after by modern collectors. Created by artist Martin Garrity, these single frame cartoons don't quite hit like a Far Side comic, but compared to similar hillbilly art printed by its competitors, Superior apparently delivered the best chuckle quota.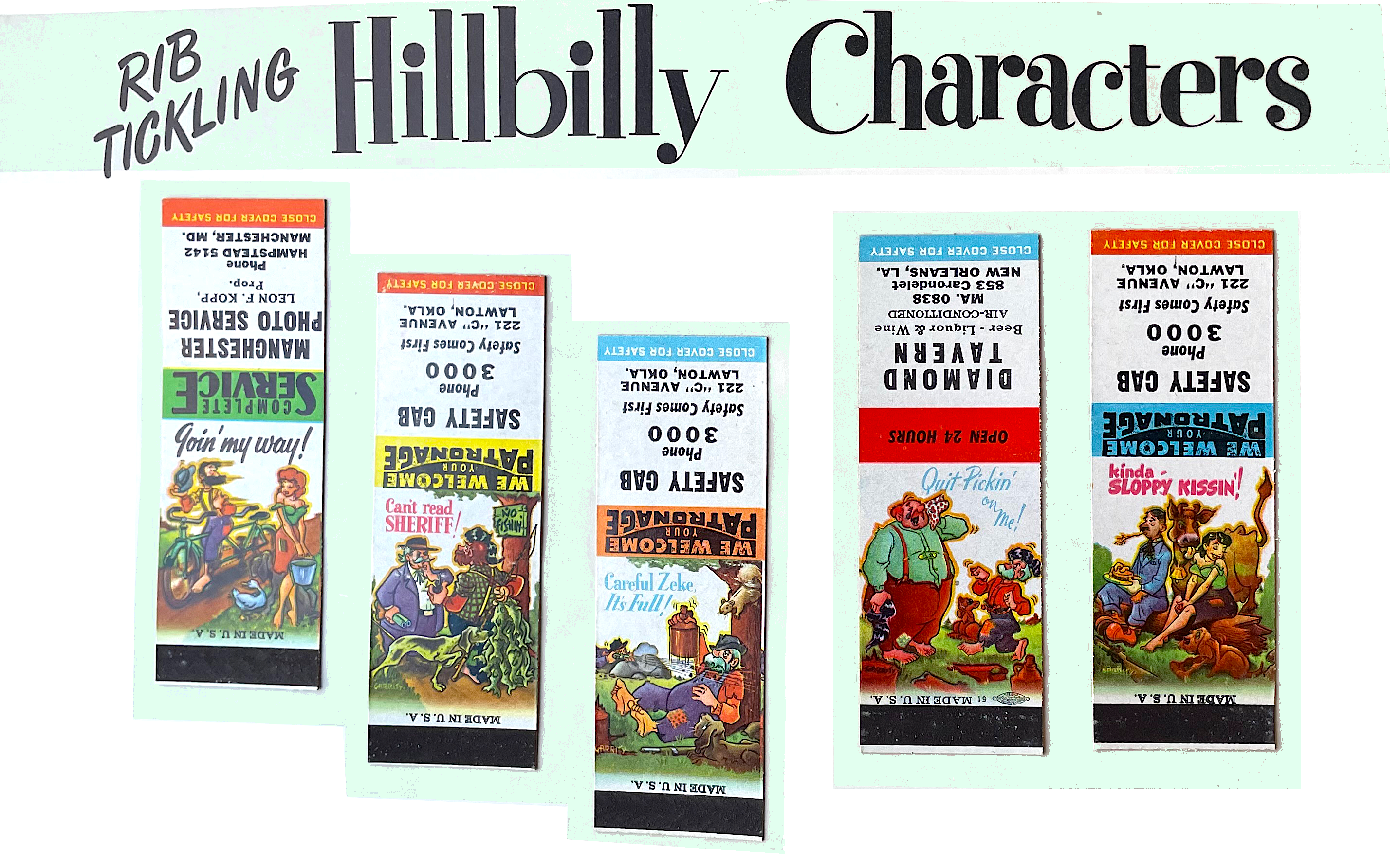 "Hand a man or woman a piece of advertising which will make him laugh," the company's 1949 sales book read, "and it's a safe bet that YOUR advertisement will be remembered. . . . Folks who have used Hillbillies for advertising have discovered that these subjects go a long day toward making the advertising message effective—and that is the purpose, after all, of any advertising medium."
Of course, no advertising subject is more guaranteed to set an attention trap than sex, and Superior Match covered this territory, as well, creating a line-up of "Glamour Girls" matchbooks that represent the iconic pin-up cheesecakery of post-war America about as well as anything.
"There is certainly no argument about it," said the Superior catalog, "GLAMOUR in advertising is mighty hard to beat."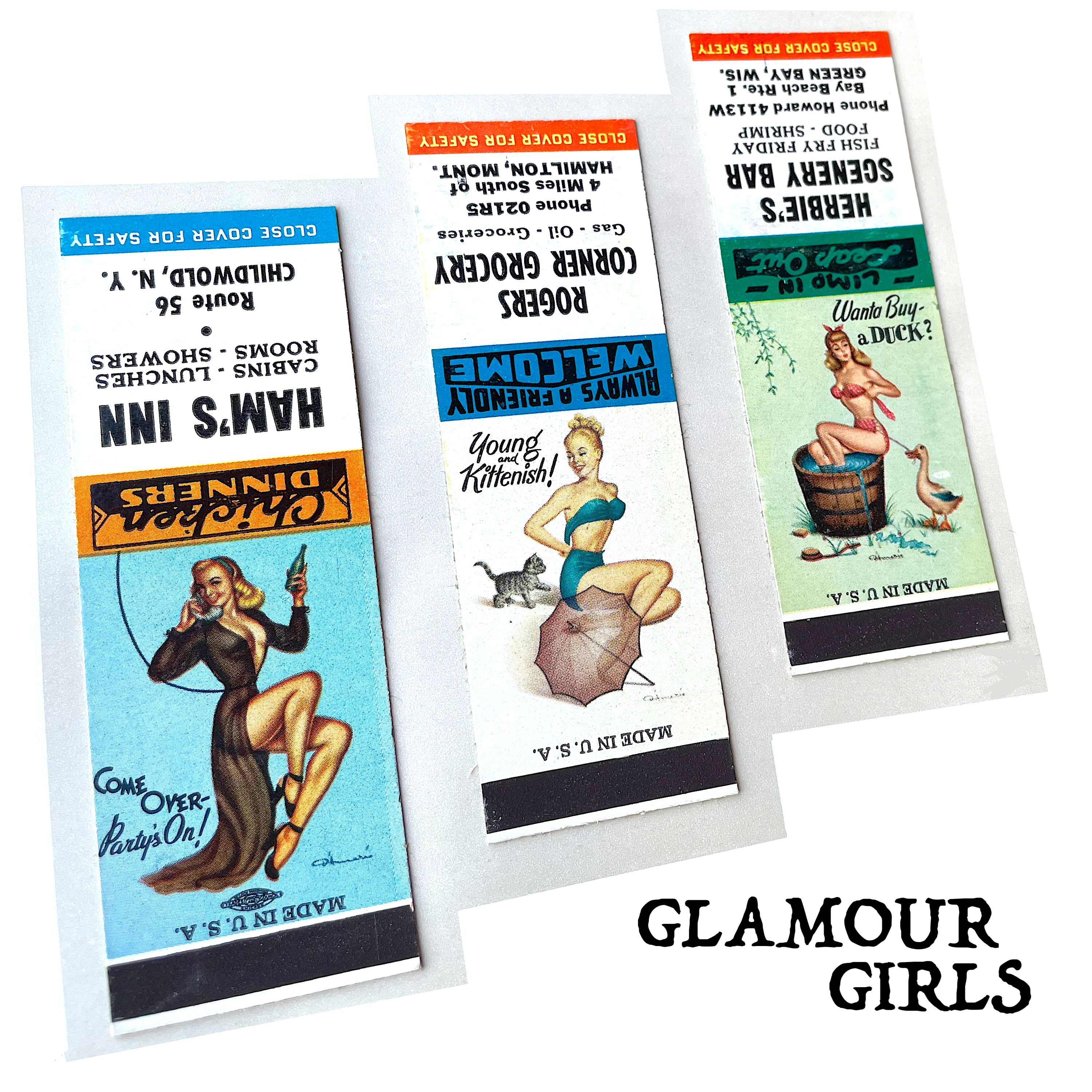 If there's a lasting appeal to Superior Match's girlie books, it's the fact that most of their 1940s and '50s series were adapted from original illustrations by professional pin-up artists; many of whom went on to some level of acclaim or cult status for their work. This includes the likes of Gil Elvgren (whose art is featured on 15 of Superior's girlie sets), George Petty (9 sets), T. N. Thompson (5 sets), and Frank D'Amario (1 set).
For business owners less interested in titillation, Superior Match salesmen had plenty of alternatives to offer: scenic landscapes, holiday themes, political party and union labels . . . there were even hundreds of snappy, pre-written promotional slogans and jokes to choose from.
Options were aplenty because demand was enormous, particularly in the halcyon years before disposable lighters entered the marketplace. To keep all their orders on schedule, the Superior Match factory in Chicago was almost always operating right at the limits of its capabilities, but Harold Meitus had one advantage over some of his competitors . . . his main material supplier was also his big brother.
[Left: Inside the Superior Match Co. offices at 7530 S. Greenwood Ave., 1949. Right: A salesman's order sheet from the same era, with instructions on how to fill it out correctly]
History of the Superior Match Co., Part 1: The Meitus Touch
"Harold Meitus stood in his factory and watched little bits of America marching endlessly off his assembly line," Chicago Sun-Times reporter Jon Ziomek wrote after touring Superior Match's South Side plant in 1973. "John's Texaco Service in Newton, Kan; the Busy Bea Cleaners in Donaldsonville, La; a chief petty officers club in Memphis; the First National Bank of West Point, Miss. Matchbook covers—thousands and thousands of them. Meitus, it so happens, is a match maker."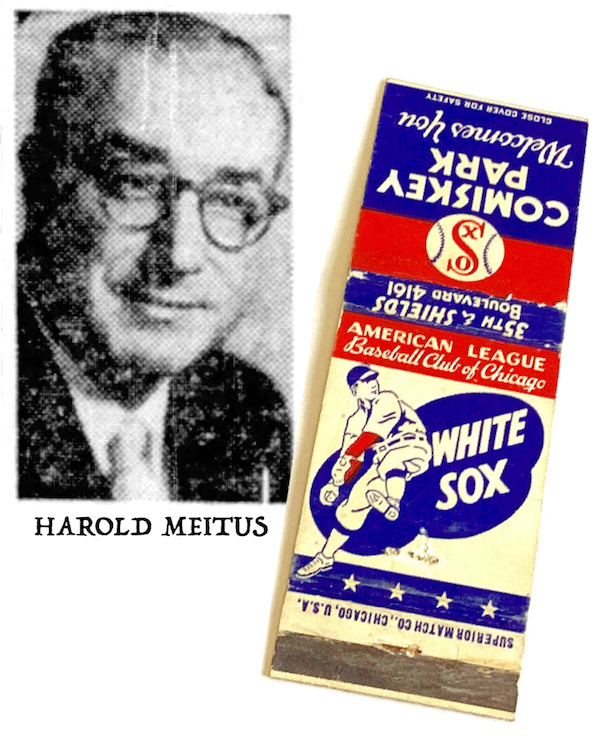 Born and raised on the South Side of Chicago, Harold Meitus (b. 1907) was the son of Jewish immigrants and the fifth of sixth siblings. His father was a fruit merchant in the city's 13th Ward, but his older brother Louis L. Meitus soon became the family breadwinner, earning a degree from Northwestern and carving out a successful career in the lumber industry.
Harold worked alongside his brother in the early 1930s at the Commonwealth Construction Co. and Louis Meitus Lumber Co., and the experience had a big influence on the rest of his career. For one thing, the excess wood from the lumberyard almost certainly sparked the idea for a spinoff matchbook business. On a more personal level, Louis also set an example for Harold as a master salesman; combining keen instincts with a heart of gold and a rather extreme flare for the dramatic.
Case in point, Louis Meitus once traveled up to Sheboygan, Wisconsin in 1938, planning to buy his kids a pet pony from a circus that was closing down. He wound up returning to Chicago with the entire circus in tow—lions, tigers, elephants, even a "football-playing horse." He then built a pop-up circus tent on the adjoining lot of the Meitus Lumber Co., and invited local underprivileged children to come and see the animals, free of charge. A year later, Louis took the entire "King Midas Circus" to Los Angeles and continued to put on free shows for kids, cementing his reputation as a lumberman of the people.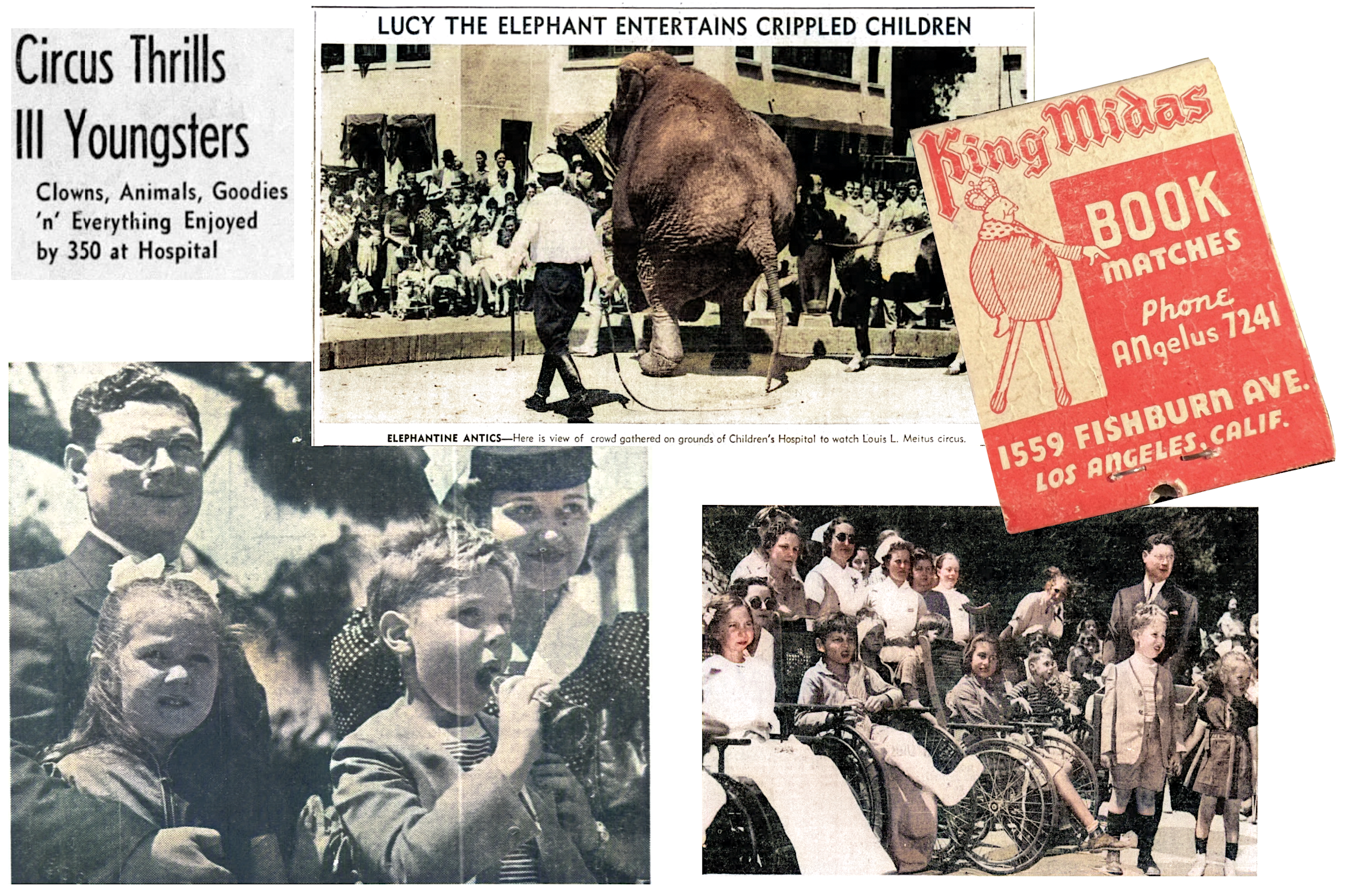 [Louis Meitus, older brother of Superior Match founder Harold Meitus, is pictured above (bottom left) with his family as they watch the "King Midas Circus" perform in Los Angeles in 1939. Louis was a successful Chicago lumberman who helped Harold start the Superior Match Co., and later ran his own match company in Los Angeles, called the King Midas Match Co.]
Interestingly, Louis Meitus also launched his own matchbook company, the King Midas Match Co., which he brought to L.A. with him in 1939. That business never matched the success or longevity of his younger brother's pioneering effort in Chicago, however.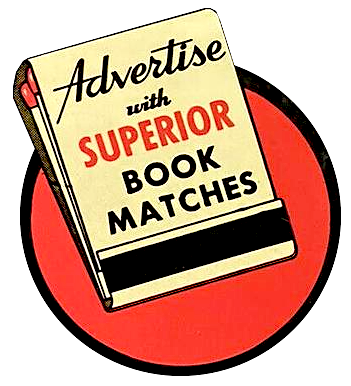 The Superior Match Company had likely begun, in earnest, some time in the early 1930s, but direct references to it as its own enterprise don't start appearing until 1937. In terms of official ownership, the firm was a joint effort between a 30 year-old Harold Meitus and his younger brother Paul Meitus, with their big bro Louis merely offering support from the sidelines. In the heart of the Depression, Harold and Paul acquired a small factory space at 60 W. Superior Avenue—hence the company name—where they could produce matches and matchbooks sourced from family timber. Another brother, Robert Meitus, ran a printing company (Hamilton Printing Co.) in the same building.
Despite the "Superior" branding, it was a humble operation at first, and compared to running a circus on the backlot, it appeared, at the very least, low on risk.
II. Fire and Philanthropy
Unfortunately, the early days of the Superior Match Company were a literal baptism of fire, as one disastrous night shortly before Christmas created consequences that would impact the entire match manufacturing industry going forward.
"Seven girls and a man were burned seriously early today in a spectacular fire that followed a series of explosions in the Superior Match company, 60 West Superior street," the Tribune reported on December 16, 1937.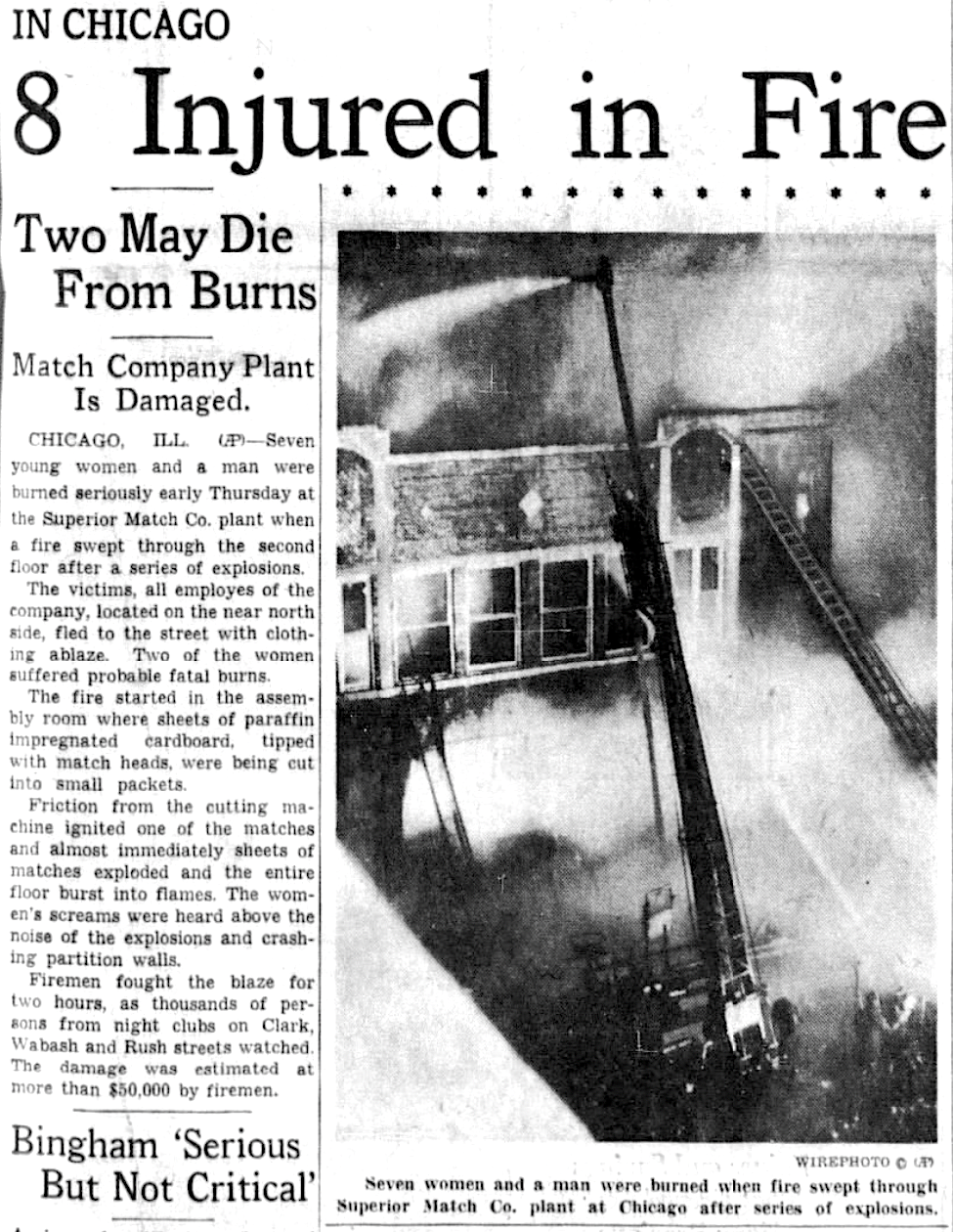 "The fire burned stubbornly for more than two hours, filling the air with acrid smoke. Thousands of persons poured from night clubs on Clark, Wabash, and Rush streets, congesting the area. . . . Immediately after the explosions, girl employees began running into the street, their clothing in flames."
Six young Superior employees ultimately died from injuries suffered in the blaze. Their names were Jean Supelle (20), Anne Monde (21), Olga Kodna (22), Annabelle Murphy (19), Jean Lasowski (19), and Catherine Terleski (19).
From her hospital bed, Miss Terleski had told Chicago police that the fire started "in the assembly room of the plant. There sheets of paraffin impregnated cardboard, tipped with match heads, are cut into small packets. The cutting machine was operated by Olga Kodna and Annabelle Murphy.
"Friction caused one of the matches to ignite. The girls knocked it to one side and it fell into a wastebasket. When they tried to extinguish the burning papers, several sheets of matches were set off. The explosions followed and the second floor of the two story factory burst into flames."
While the circumstances suggested a fluke accident, questions quickly arose as to whether Harold Meitus had put his workers in harm's way by failing to put basic safety protocols in place.
During subsequent investigations into the fire, Superior Match's former night foreman Howard Kaeding—who had been engaged to the one of the victims of the fire, Jean Lasowski—testified that "no fire drills ever were ordered or held in the plant," and "there were from three to five small fires in the place every night . . . but always before the night of December 16 one of the four men employees or the seven girls would get the fires out before any damage was done."

[Left: Firemen try to put out the fire at the Superior Match plant on December 16, 1937. Right: Two victims of the fire – 22 year-old Olga Kodna (center) and 20 year-old Jean Supelle (right)] 
A coroner's jury eventually ruled the girls' deaths accidental, possibly saving Harold Meitus's career and the future of the Superior Match Company. But the ruling came with a strong recommendation that "the manufacture of matches be so regulated that all employees working at machines wear noninflammable uniforms, that a capable watchman be on duty at all times for fire control purposes, and that plants where matches are manufactured be limited to one story brick buildings with plain glass skylights."
We have no way of knowing how these events impacted Harold Meitus on a personal level; whether he felt guilt or responsibility for the girls' deaths, or saw them as an unavoidable tragedy. Either way, like his brother Louis, he managed to earn a positive public reputation in the years that followed.
Just a few months after the fire, Superior Match had already relocated to a much larger and considerably safer building at 7530 S. Greenwood Avenue, which would remain the company's headquarters for decades. As the business thrived through the 1940s, Harold and his wife Edith became pillars of the South Side, raising their three kids from a mansion house at 6740 South Shore Drive.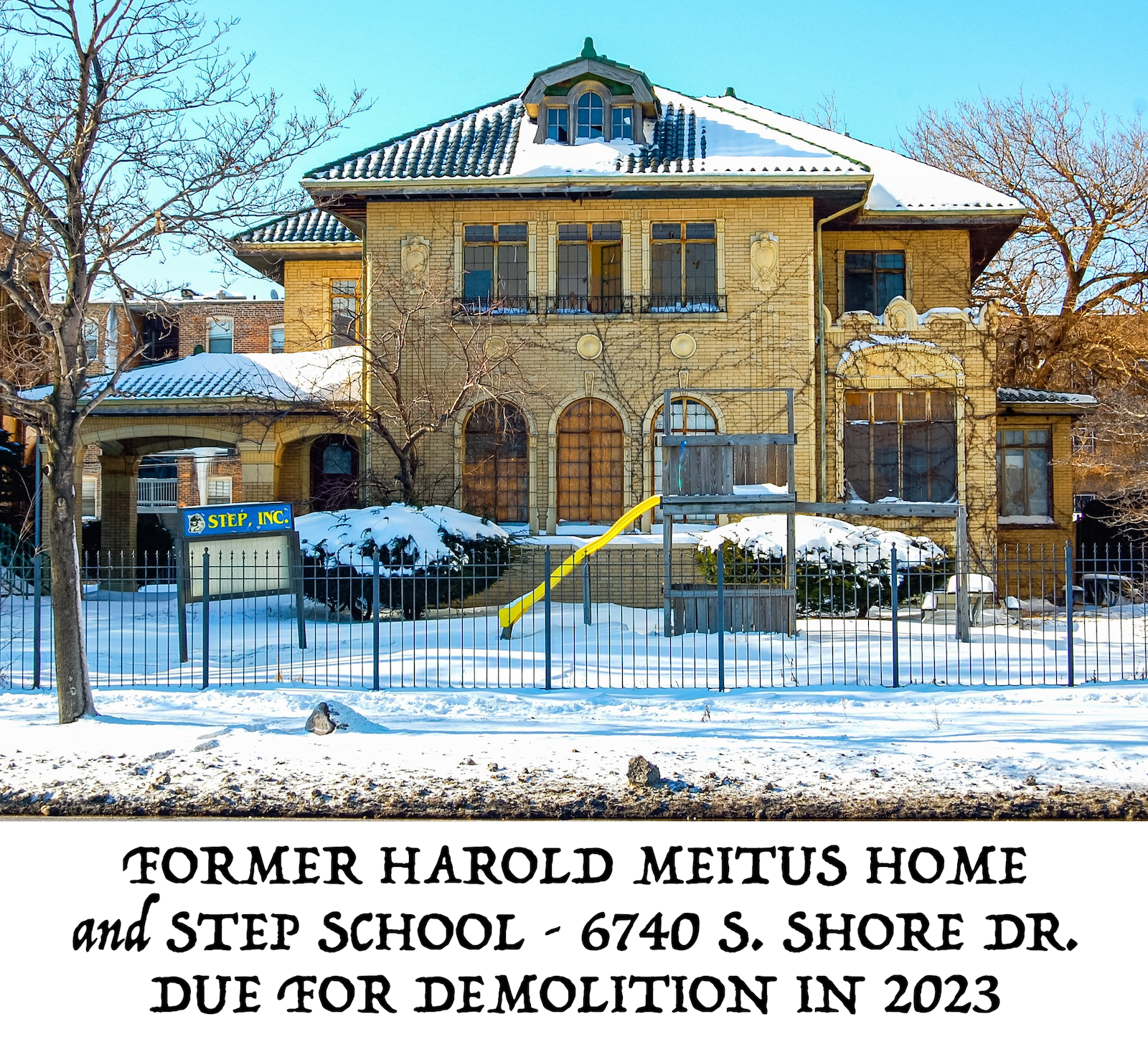 Harold was a vice president and trustee of the Rodfei Zedek Jewish congregation, a director of the South East National Bank, and even a presidential elector (1960), while Edith spent decades doing volunteer work with the blind, including training as a braille typist. In their later years, the Meituses went as far as to donate their South Shore home to an organization called STEP, "a school for the treatment of emotional problems in children."
And yet, simultaneous with these noble deeds, there was still the occasional question mark about ethics over at the Superior Match business.
In 1966, a now 59 year-old Harold Meitus was one of nine matchbook manufacturers indicted by a federal grand jury for illegal price fixing practices. Harold pleaded no contest and paid a fine. By that point, though, his industry was in drastic flux. The golden age was coming to an end.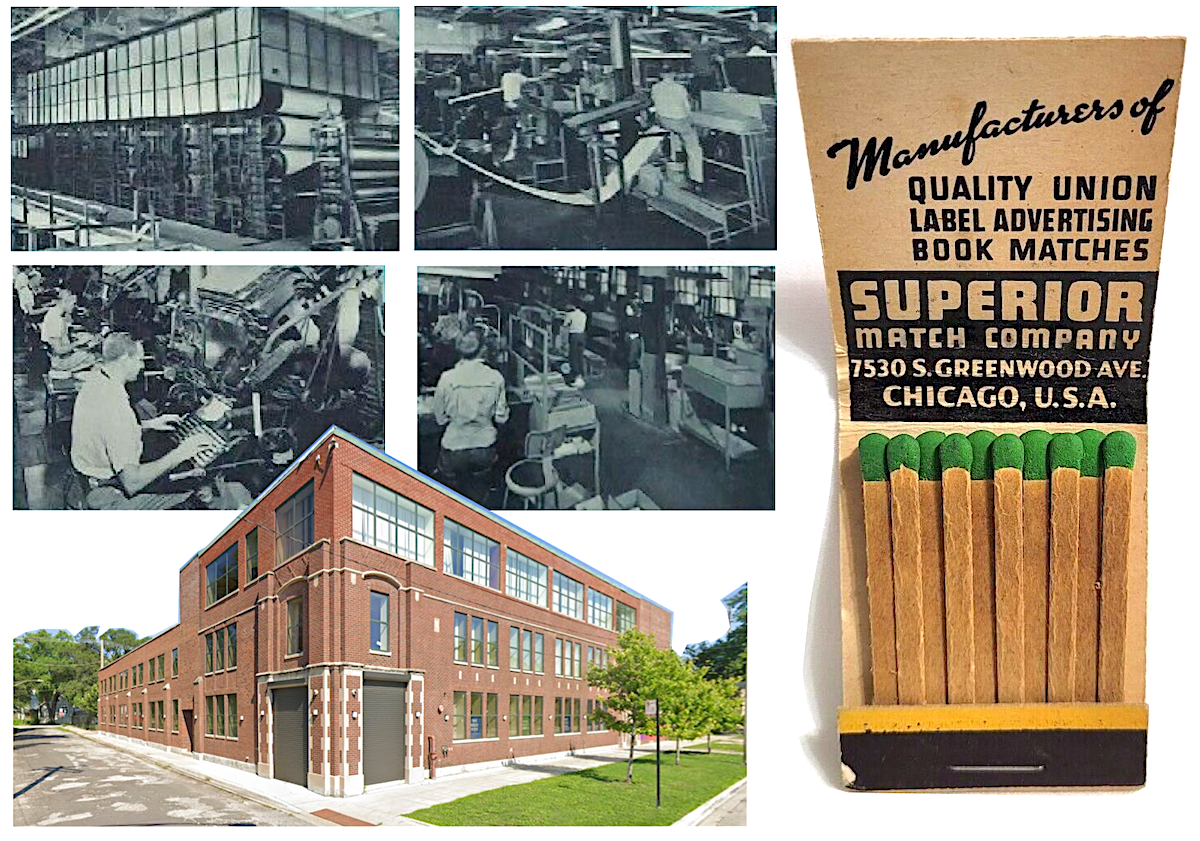 [Interiors views of the Superior Match plant at 7530 S. Greenwood Avenue, c. 1950s, above an exterior view of the same building in 2023. The interior shots show paper stock being made (top left), production of the matches (top right), type-setting for the cover designs (bottom left), and assembly of the matchbooks (bottom right). A finished product is shown on the far right.]
III. "A Great Form of American Advertising"
"Into every Book of Matches we produce goes the finest material available. . . . Even if your order is for a single case of matches, it receives the same careful attention that is given an order for 100 cases." –Superior Match quality guarantee, 1950s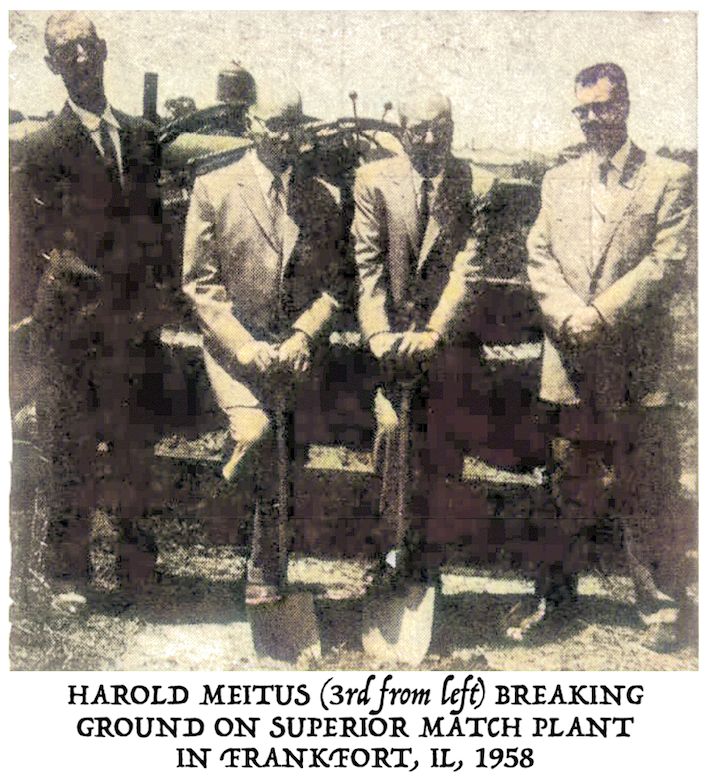 While the Meitus family was directly connected to the Superior Match Co. for the better part of 50 years, the actual corporate overlords of the business changed several times, including buyouts by the Sutherland Paper Company (1958), Gulf & Western (1968), and the James River Corp. (1979). Harold Meitus was also something of an overload himself, as few men wielded more influence in the matchbook field during the mid 20th century.
Shortly after the end of World War II, Harold had launched two more match-making businesses: the Monarch Match Co. of San Jose, CA (which his son Richard Meitus would later manage) and the short-lived Mercury Match Co. of Zanesville, OH. By the 1960s, he'd also built an additional factory for Superior Match in suburban Frankfort, Illinois, and joined the executive board of the Universal Match Co. of St. Louis, MO. Meitus was one of a handful of men producing the entirety of America's book matches, which makes his indictment for price fixing less surprising in retrospect.
When the Sun-Times visited Superior's aging Chicago plant in 1973, 66 year-old Harold Meitus was still there, described by reporter Jon Ziomek as a "pleasant, white-haired entrepreneur with a breezy manner, urging his visitors on a quick tour of his plant. He waved greetings to employees as he walked by giant automatic hands that dipped large 'combs' of cardboard matches into a solution to give them their flammable tip. They were sliced into matchbook size and stapled to matchbook covers, printed in other parts of the plant."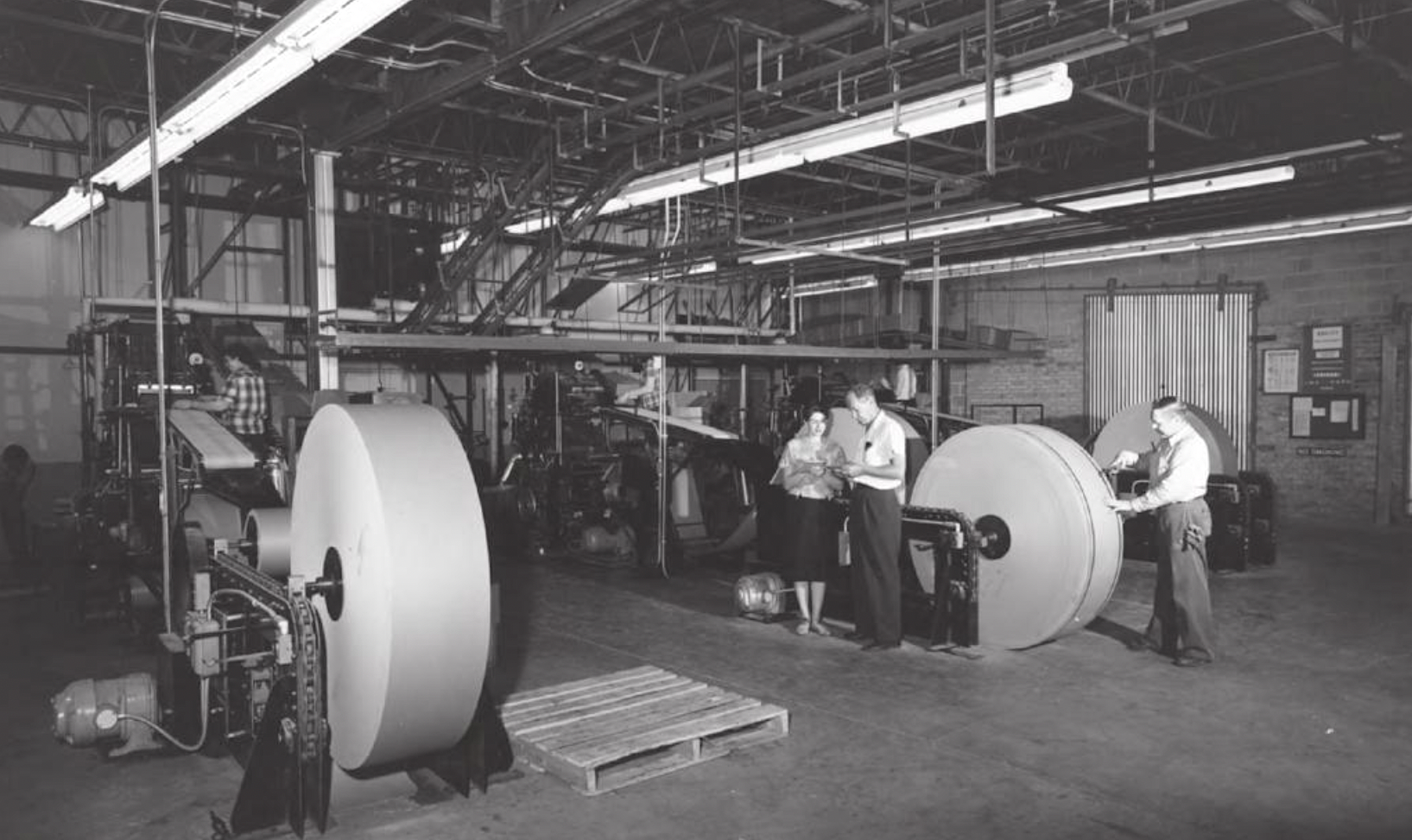 [Inside the Superior Match factory in Frankfort, IL, c. 1960s – from the Robert Porter Collection]
As it had since its inception, Superior was still specializing in small orders of 2,500 to 5,000 matchbooks, and according to Harold Meitus, business in the 1970s was still "pretty steady."
"Our industry is tied directly to the tobacco industry," he said, noting that he wasn't a smoker himself. "The cancer scare and the television advertising ban didn't hurt the tobacco industry and, in turn, the match business hasn't been affected."
We're not sure if that was actually true in 1973, but it definitely wouldn't be in the years that followed.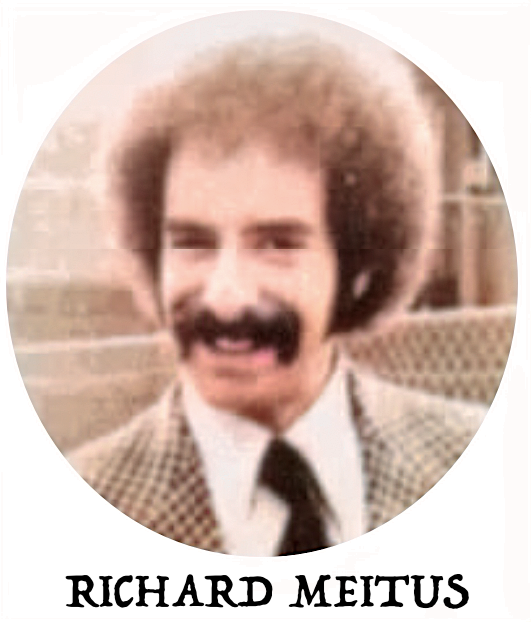 By 1987, when the Tribune published a feature story on America's dwindling matchbook market, Harold's son Richard Meitus estimated that the industry had shrunk by 90% since the early 1970s. Of the six active manufacturers in the U.S., half of them were in Chicago, and two were run by the sons of Harold Meitus.
Richard Meitus had reformed the Superior Match Co. in 1985 after the original business, along with Monarch, had dissolved in the previous decade. His brother David, meanwhile, had his own company in the North Loop, the Atlantis Match Co., which he'd been running to small returns since 1971 (the third remaining Chicago company in the 1980s, the Lion Match Co., was also a short lived relaunch of an older brand, created from a series of mergers).
"The match business has been hurt badly by disposable lighters and by a trend away from smoking," the Tribune reported.
According to Richard Meitus, the slow demise of his industry had also gone largely unnoticed by the general populace, many of whom never pondered where all their matchbooks had come from.
"I've taken literally hundreds of people on tours of the plants over the years," Richard told the Tribune, "and they always go through with their mouths open. They have some impression of a bunch of people sitting there with staples and scissors, individually cutting up matchbook covers [as the Tribune clarified, Superior's plant actually had 1,500 LB rolls of paper and machines that produced 600 match covers per minute].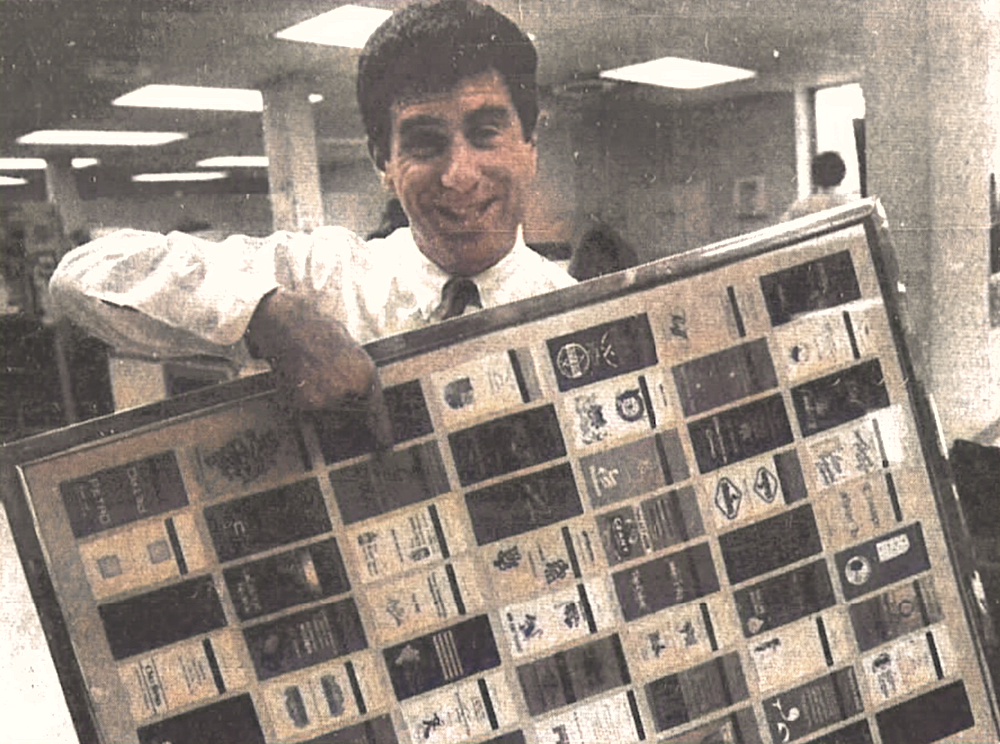 [David Meitus, son of Harold Meitus and brother of Richard Meitus, shows off a selection of matchbooks from his own Chicago business, the Atlantis Match Co., in 1987]
Having followed in his dad's footsteps and spent a lifetime in the business, however, Richard Meitus still spoke romantically and optimistically about the value of his product.
"I have never, ever seen anyone throw a book of matches in the wastebasket," he said, echoing language from an old Superior sales book: a Book of Matches is WELCOMED by everyone, never turned down or tossed aside.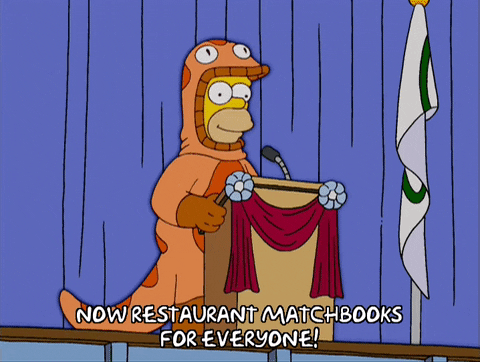 In the same 1987 article, Atlantis Match president David Meitus echoed his brother. "It's a great form of American advertising."
The Superior Match Company would still appear in some business directories as late as 2003, listed at the very same Greenwood Avenue location. And though the business was quietly extinguished not long after, its building remains, now home to a school.
Harold Meitus died in 1995 and was remembered by his son David for his "generosity of spirit and incredibly kind heart."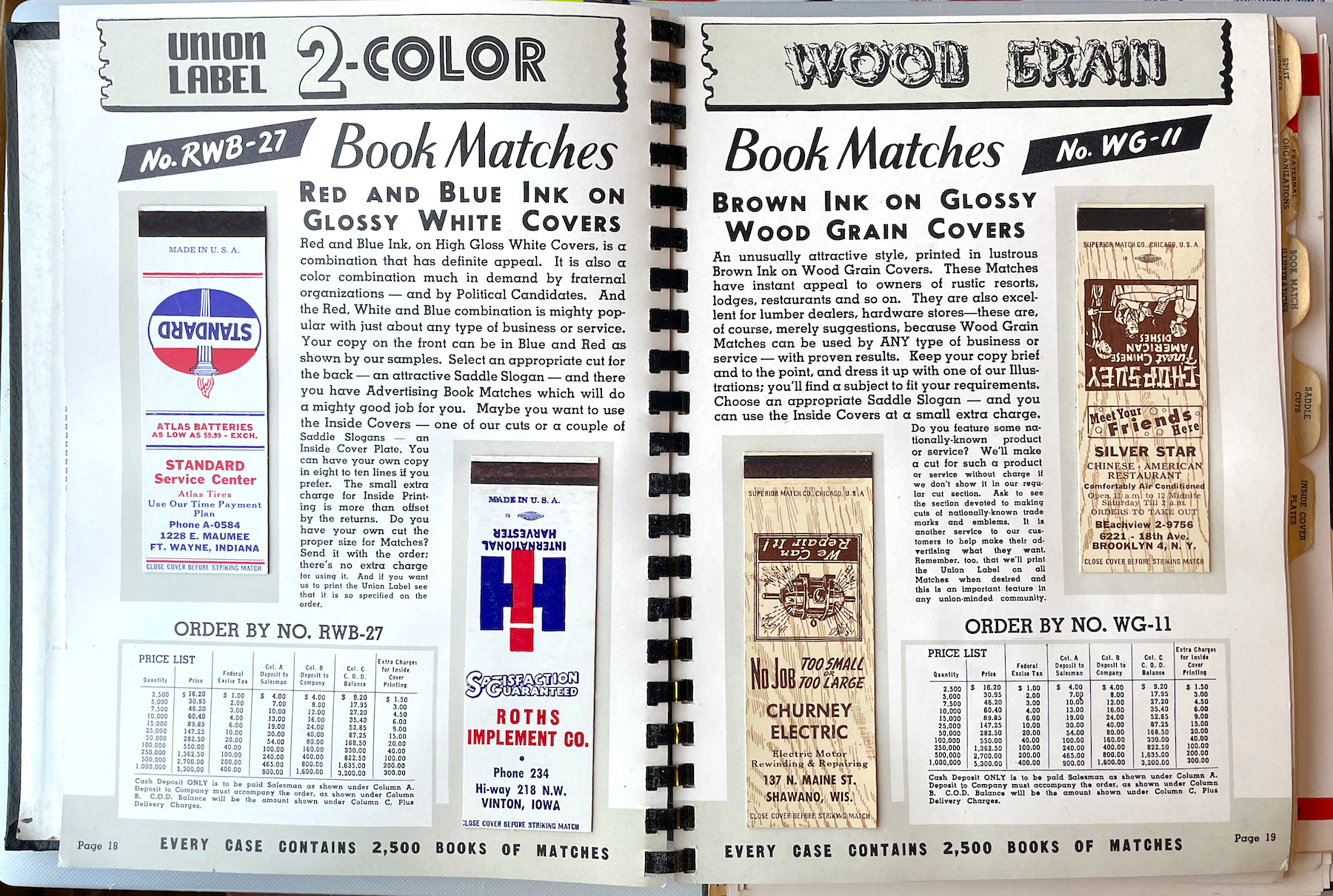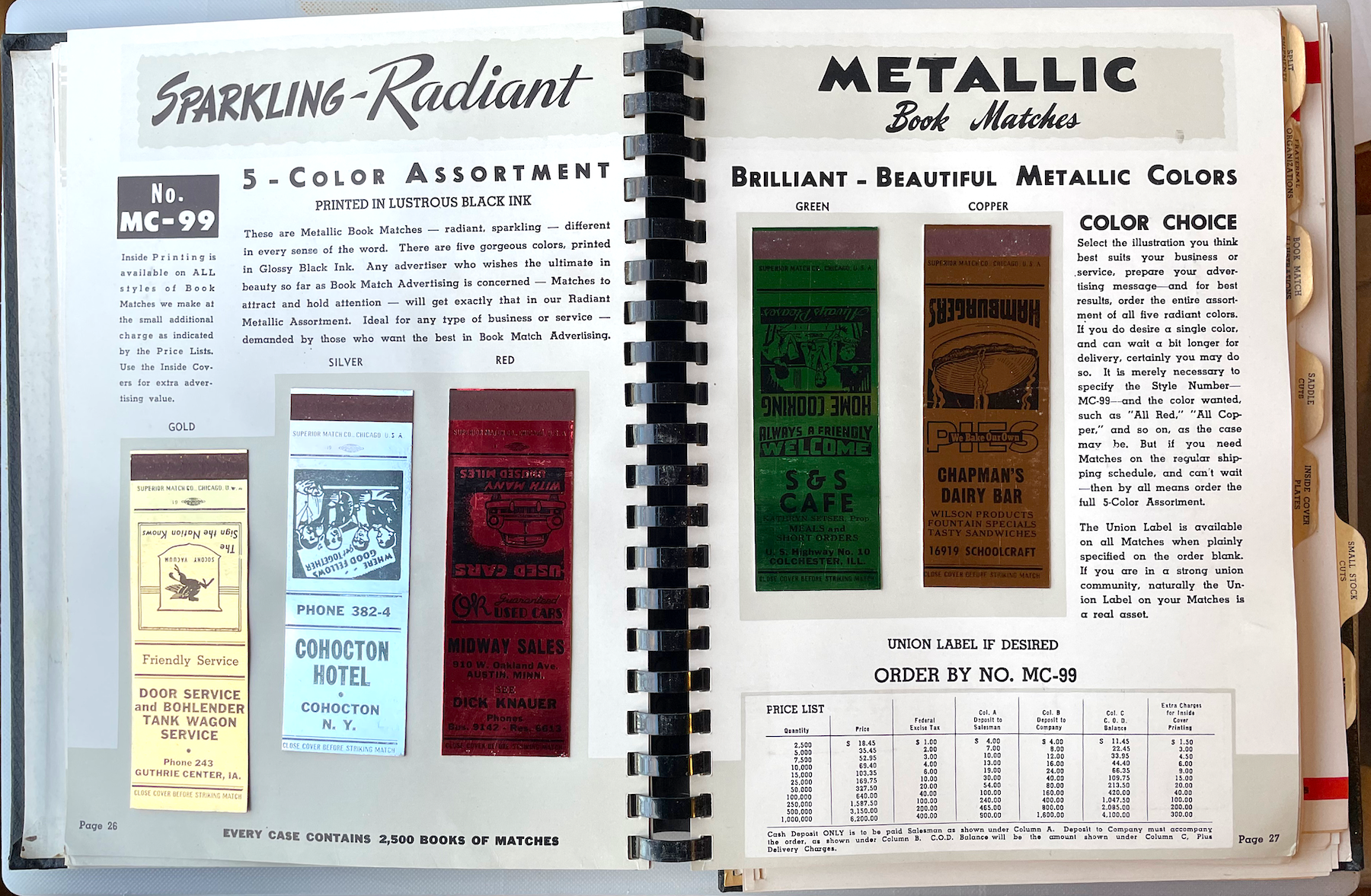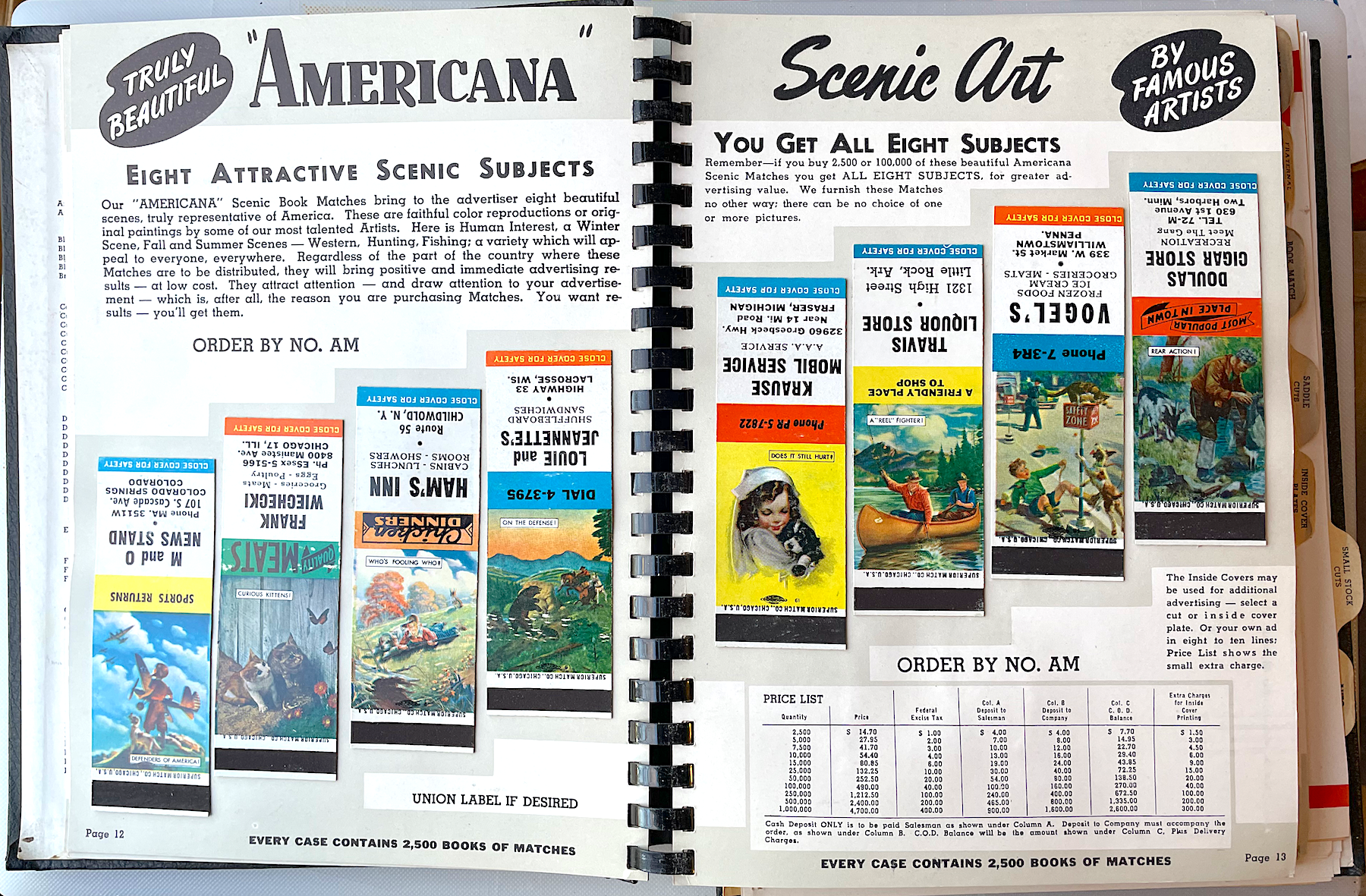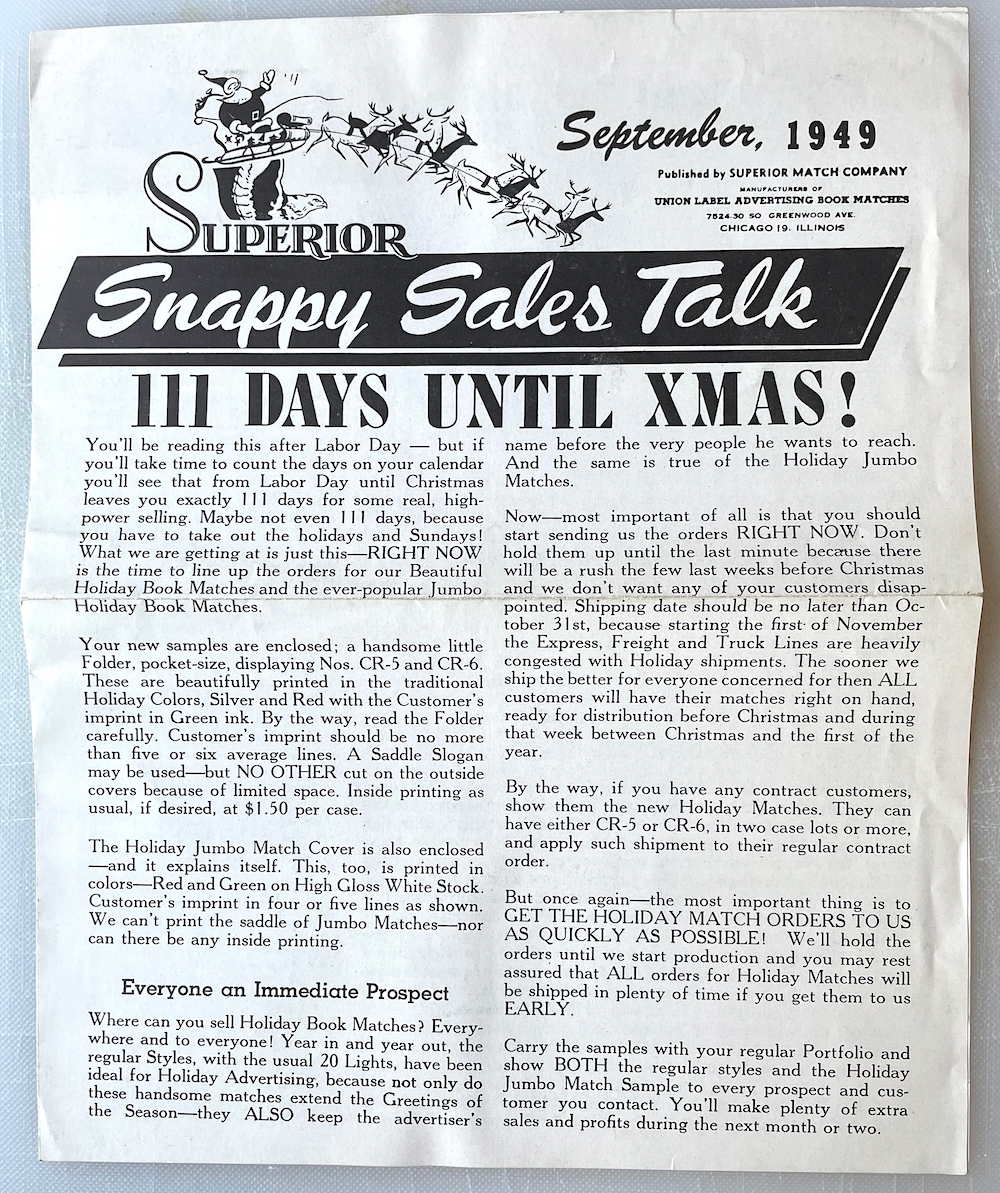 Sources:
"8 Badly Burned as Fire Sweeps Match Factory" – Chicago Tribune, Dec 16, 1937
"2 Girl Workers Die of Burns in Match Co. Fire" – Chicago Tribune, Dec 17, 1937
"Reveals Nightly Fires in Plant Where Six Died" – Chicago Tribune, Feb 3, 1938
"Ask Special Fire Safeguards for Match Workers" – Chicago Tribune, March 10, 1938
"Ivan Gets a Circus" – Associated Press, Sept 23, 1938
"Circus Thrills Ill Youngsters" – Los Angeles Times, May 25, 1939
Super Match Sales Catalog No. 612, circa 1949 (owned by salesman Francis Starbuck)
Superior Snappy Sales Talk (company newsletter), September 1949
"President of Match Firm Made Director of South East Bank" – Chicago Tribune, Feb 5, 1956
"Start Match Factory" – The Star (Tinley Park, IL), May 29, 1958
"New Industry Sparks Future for Frankfort" – Chicago Tribune, July 3, 1958
"Indict 9 Match Firms on Charges of Price Fixing" – Chicago Tribune, Jan 11, 1966
"Matchbooks a Piece of Americana" – Chicago Sun-Times, Sept 19, 1973
"STEP Awards Dinner" – The Daily Calumet, May 17, 1977
"Matchmakers Keep Those Ad Fires Burning" – Chicago Tribune, July 2, 1987
"Harold Meitus, 87, Developed Idea for Matchbox Advertising" – Chicago Tribune, June 21, 1995
"Superior Match Company" by Mike Prero – Hobby History newsletter, Sept/Oct 1997