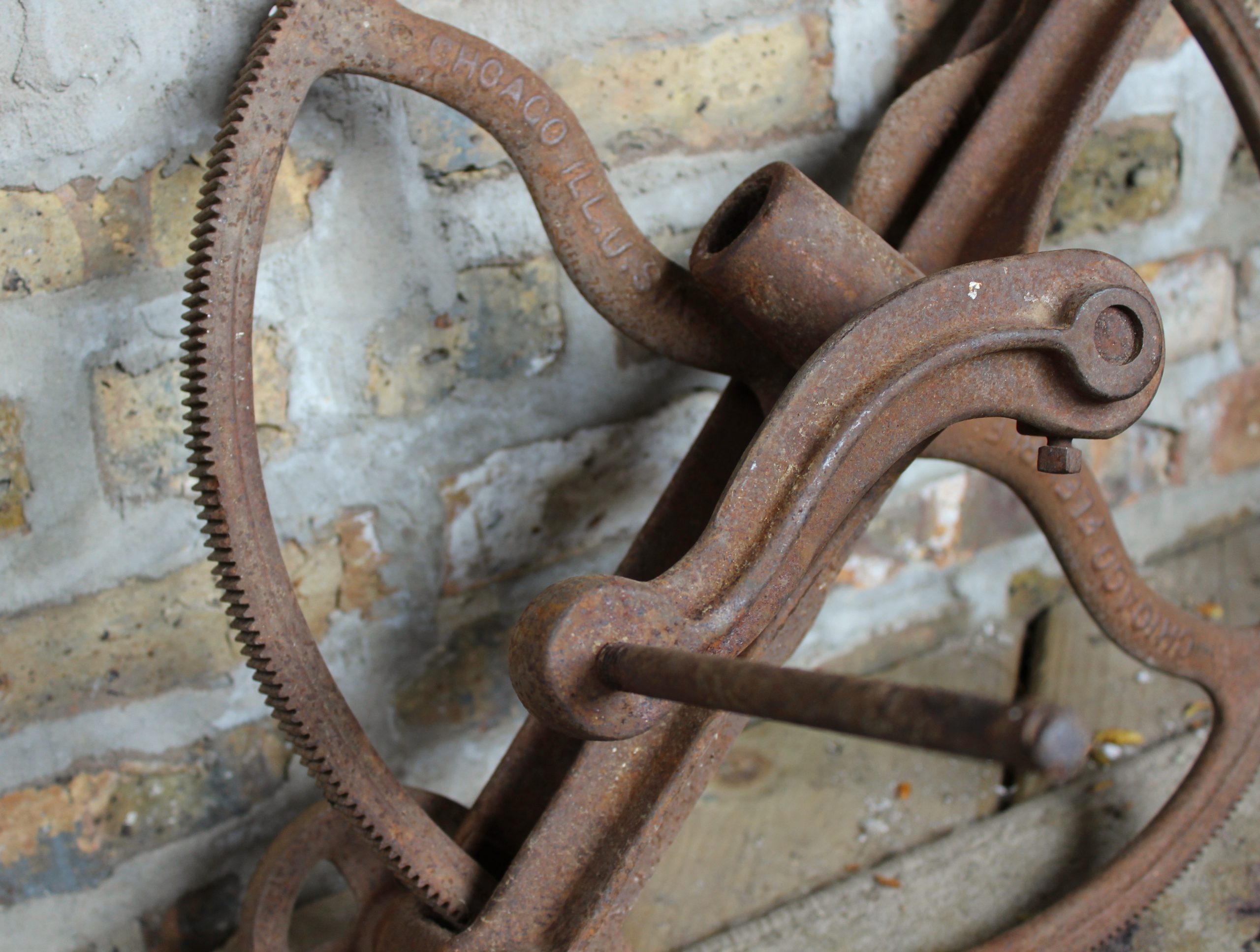 Museum Artifact: Hand Crank Sheep Shearing Machine, c. 1900
Made By: Chicago Flexible Shaft Co., LaSalle Ave. and Ontario St., Chicago, IL [River North]
Of all the businesses featured in the Made-In-Chicago Museum, you might not anticipate that the Chicago Flexible Shaft Company—founded in 1893 with a focus on hand-cranked sheep-shearers and horse clippers—would become the rock star of its graduating class. If you were manufacturing cumbersome, manually operated farm equipment at the dawn of the electric age, logic would suggest that you were trimming wool on a sinking ship. But this particular operation, which would later evolve into the ginormous Sunbeam Corporation, found its longevity the old fashioned way—through, dare I say, "shear genius."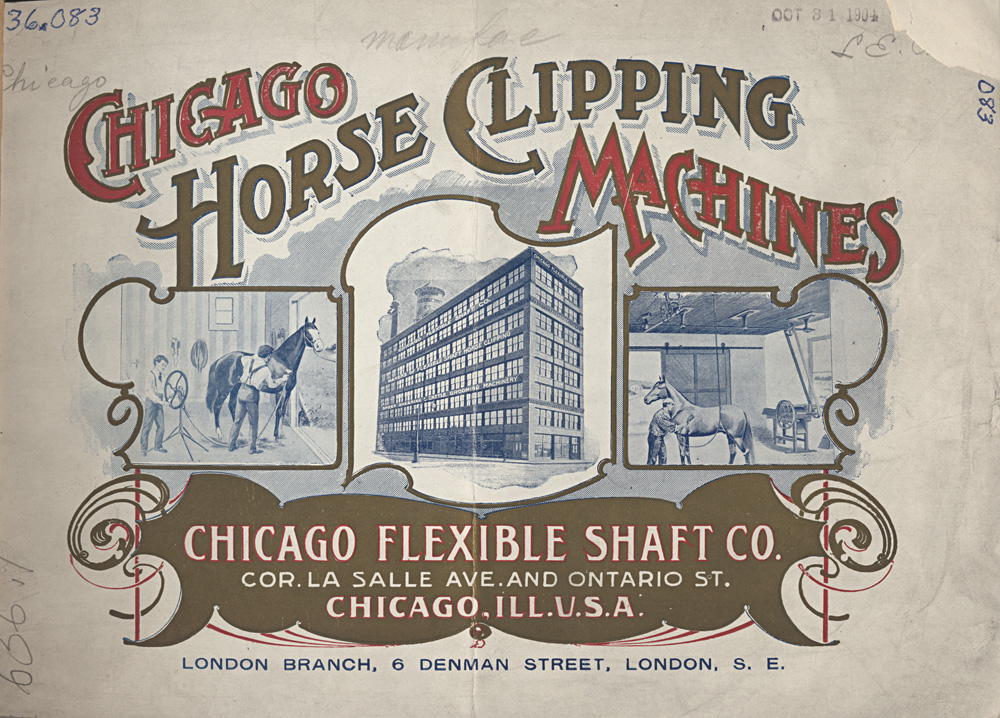 It started with a fellow named John K. Stewart, a New Englander who—along with his business partner Thomas J. Clark—moved to Chicago in that crazy summer of the Columbian Exposition, 1893. Stewart may have been inspired by the glistening "White City" or the growing buzz around Chicago as a center for architecture and trade. But since his background was in sheep shearing equipment, it's probably more likely that he was pulled in by the magnet of the Union Stock Yards and the rampant wealth emerging from it. There was also the wider rural population of the Midwest—a target demographic growing right alongside the cityfolk.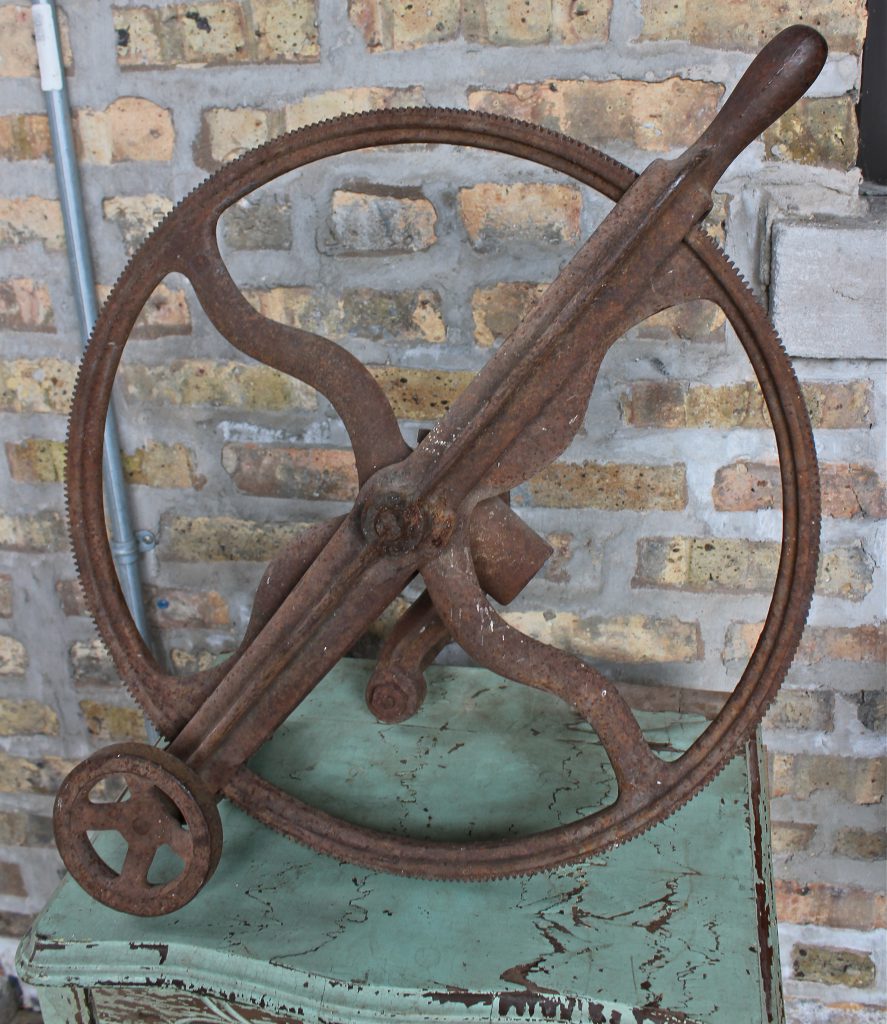 Stewart and Clark quickly went to work introducing their new clientele to the wonders of Flexible Shaft's timesaving barnyard machines. Giant clippers like the one in our collection were among the most popular, though you'll notice that our artifact is lacking some pretty critical components. While the 18" diameter wheel and crank are in tact, the base stand has traveled to parts unknown, as have the flexible shaft cables and the shearing blades themselves. So essentially, we're left with a rusty engine and no wheels. Hmm. That's a bad analogy, because we clearly do have one wheel. But you get my point. Maybe.
Anyway, the clipper was operated by turning the crank (which requires Thor-ish strength on our rusty model). The teeth on the inner edge of the gear would then "engage with a small hardened steel pinion," according to a 1902 article in Iron Age magazine, "which in turn transmits the power to the flexible shaft and knives. …The clipper is alluded to as free turning, fast cutting, simple, and as permitting the clipping of a horse in less than 30 minutes. …It requires no experience to operate, and a small boy can turn the crank all day without tiring."
Yes, Timmy, no baseball for you today. It's 24-hour sheep shearing Saturday.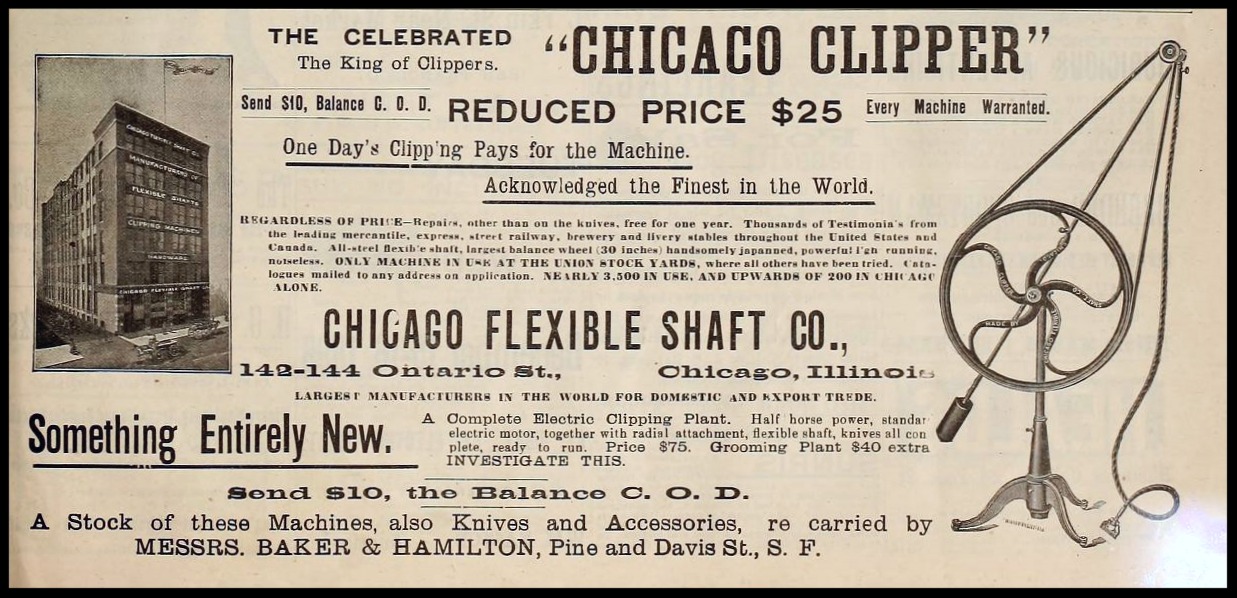 In an early Chicago Flexible Shaft Co. catalog, the company heaps even greater praise upon itself:
"Probably no article that has been placed on the market in recent years for the use of liverymen and horsemen generally, has met with such deserved success as the Celebrated 'Chicago' Clipper.
Designed on absolutely correct principle and intended for hard and continuous service, it has more than met these requirements, and we are constantly receiving testimonials from all parts of this country, Canada, and Mexico from enthusiastic purchasers. …We have spared neither labor or expense to make this machine the FINEST IN THE WORLD."
Here is a sampling of those "enthusiastic" testimonials, so you can get a sense of how farmers expressed their exuberance in 1895:.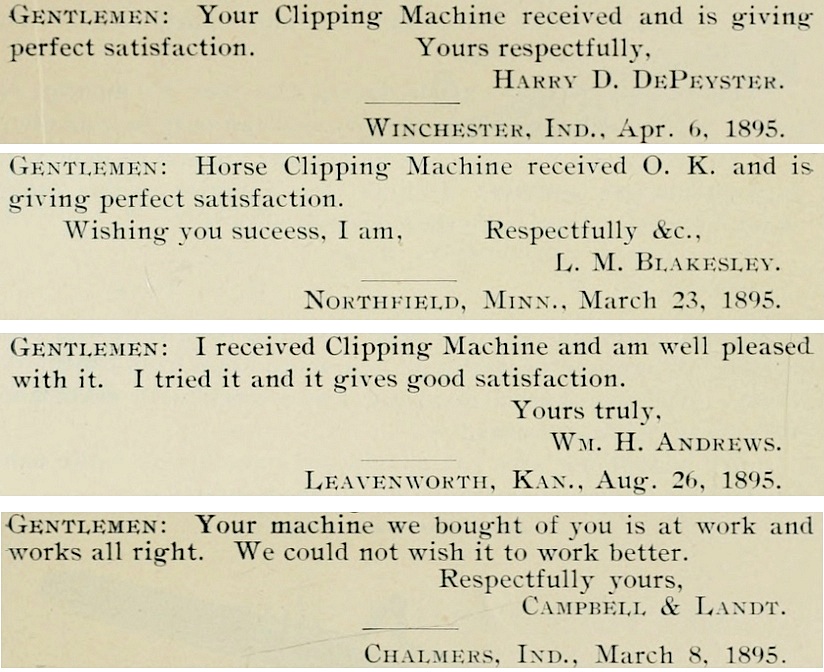 By the turn of the century, the Chicago Flexible Shaft Co. was operating out of a major central factory and office complex at the corner of Ontario Street and LaSalle. Stewart and Clark had also partnered up with investors from a British firm known as William Cooper & Nephews—a well known manufacturer of barnyard pesticides. Since Cooper already produced the world's No. 1 sheep dip, the marriage was logical and instantly lucrative. With the creation of an international marketing wing, known as the Cooper-Stewart Sheep Shearing Machinery Co., John Stewart's clipper design suddenly had mass distribution as far away as Australia, South America, and South Africa.
At that point, Stewart and Clark easily could have basked in their well-earned fortunes and given their weary brains a break. Instead, the two patent-hungry mavericks set their sights on a new industrial frontier, trading the farm field for the open road. They established the Sterk MFG Co. (a clumsy combination of their names, mercifully rebranded as the Stewart & Clark MFG Co. shortly thereafter), which opened its own plant at 1906 W. Diversey Blvd. in Lake View. The new company focused mainly on the production of automobile parts and accessories—using base materials directly from the Flexible Shaft Company to save on production costs. They produced various designs of early car horns, speedometers, and even miniature coal-burning foot heaters designed for winter driving.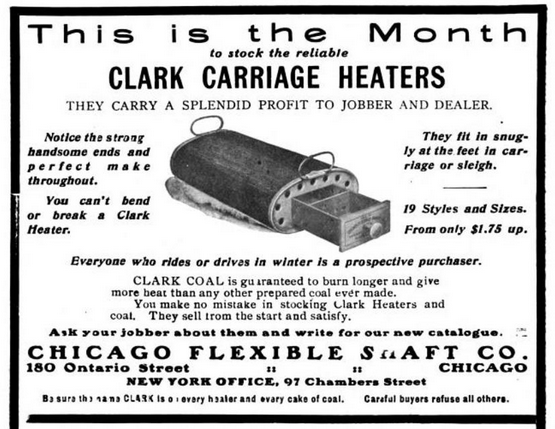 Some of the Sterk products were distributed in collaboration with the Chicago Flexible Shaft Co., but with William Cooper & Nephews now owning half of that company, the Brits and Yanks weren't always on the same page in terms of the automobile's role in the CFSCo's future.
Tensions gave way to tragedy in 1907, when Thomas Clark was killed in an car accident while driving in the "Glidden Tour," an American Automobile Association promotional event. He was there specifically to showcase the Stewart & Clark speedometer, but his Packard turned over on rough roads.
John Stewart had been in business with his friend Tom for 20 years going back to their New Hampshire days. Now he would have to soldier on solo. It was a major turning point in the history of several influential Chicago businesses.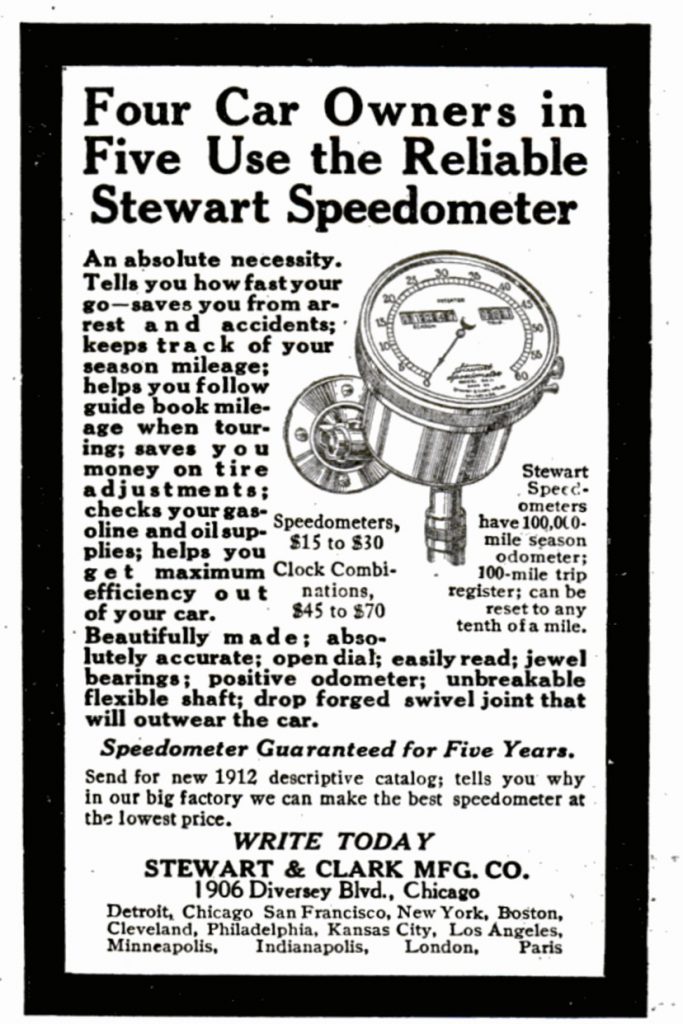 A year after Clark's death, John Stewart successfully sold the Stewart & Clark speedometer to the Ford Motor Company for use in the first Model T—a deal that dwarfed even the success of his sheep-shearing empire. By no coincidence, Stewart sold the remaining 50% of the Chicago Flexible Shaft Company to Cooper & Nephews by the end of 1908. Taking some of that cash, he purchased one of his auto industry rivals, the Warner Instrument Company, and merged it with Stewart & Clark in 1912 to form what would become the Stewart-Warner Corporation—another one of the giants of 20th century Chicago industry [For his own amusement, Stewart also ran the
J.K. Stewart Manufacturing Company and Stewart Phonograph Company up until his own untimely death in 1916].
Stewart's departure from the Chicago Flexible Shaft Company could have spelled doom for its hopes of future innovation. But fortunately, his influence was still tangible. Stewart's own nephew, L. H. LaChance, was named the president of the company as a wise gesture from Wm. Cooper & Nephews. In turn, under LaChance's leadership, Chicago Flexible Shaft made its first forays into electric home appliances in the early 1910s, including irons and small clippers for human use. These products, which would later carry the "Sunbeam" brand name, set the tone for a wholly new era in the firm's history.
During this period, the company left its offices at 142 Ontario Street (soon to be purchased by W.F. McLaughlin & Co.) and relocated to a new building at 56th Avenue and 12th Street. By the early 1920s, they'd established another main address at 5600 W. Roosevelt Road in North Lawndale. Even as competition increased and many of John Stewart's original clipper designs approached obsolete status, Chicago Flexible Shaft was doing its best to keep pace.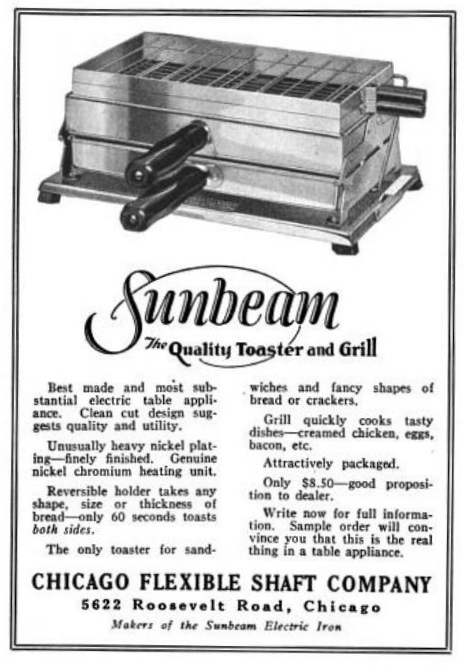 When LaChance left to join the Stewart-Warner Corp, Chicago Flexible Shaft found its new idea man in the form of a Swedish engineer named Ivar Jepson. It was his arrival in 1925 that launched the Sunbeam brand into national recognition, as a sheep supply company's small distraction became an integral part of its business.
During the Depression, new company president Horace Caldwell Wright remained so confident in the potential of Sunbeam products that he bought out William Cooper & Nephews to assume full ownership of the Chicago Flexible Shaft Co. From there, Wright and Jepson's boundless imaginations led to the development of innovative but affordable products ranging from electric razors to toasters, kitchen mixers, and backyard sprinklers.
Since the market for everyday home appliances was considerably larger than the pool of buyers for horse clippers, the Sunbeam name eclipsed the old Flexible Shaft almost overnight. By 1946, Horace Caldwell Wright stuck the final fork in the full pivot, celebrating the dawning of post-war America by re-naming the 50 year-old company the Sunbeam Corp. The Chicago Flexible Shaft Company was officially no more.
In its first years as the Sunbeam Corp., the company employed roughly 1,000 people at its Roosevelt plant. By the 1970s, that number had ballooned to 30,000 workers around the world. The company exited Chicago, like so many others, after a buyout in the early 1980s. The Roosevelt Road factory is no longer standing.
Along with the shearing wheel, we also have two early Chicago Flexible Shaft Co."Rain King" sprinklers in our collection. One of them still carries the Chicago Flexible Shaft name while the other says Sunbeam Corp. You can read more about them here.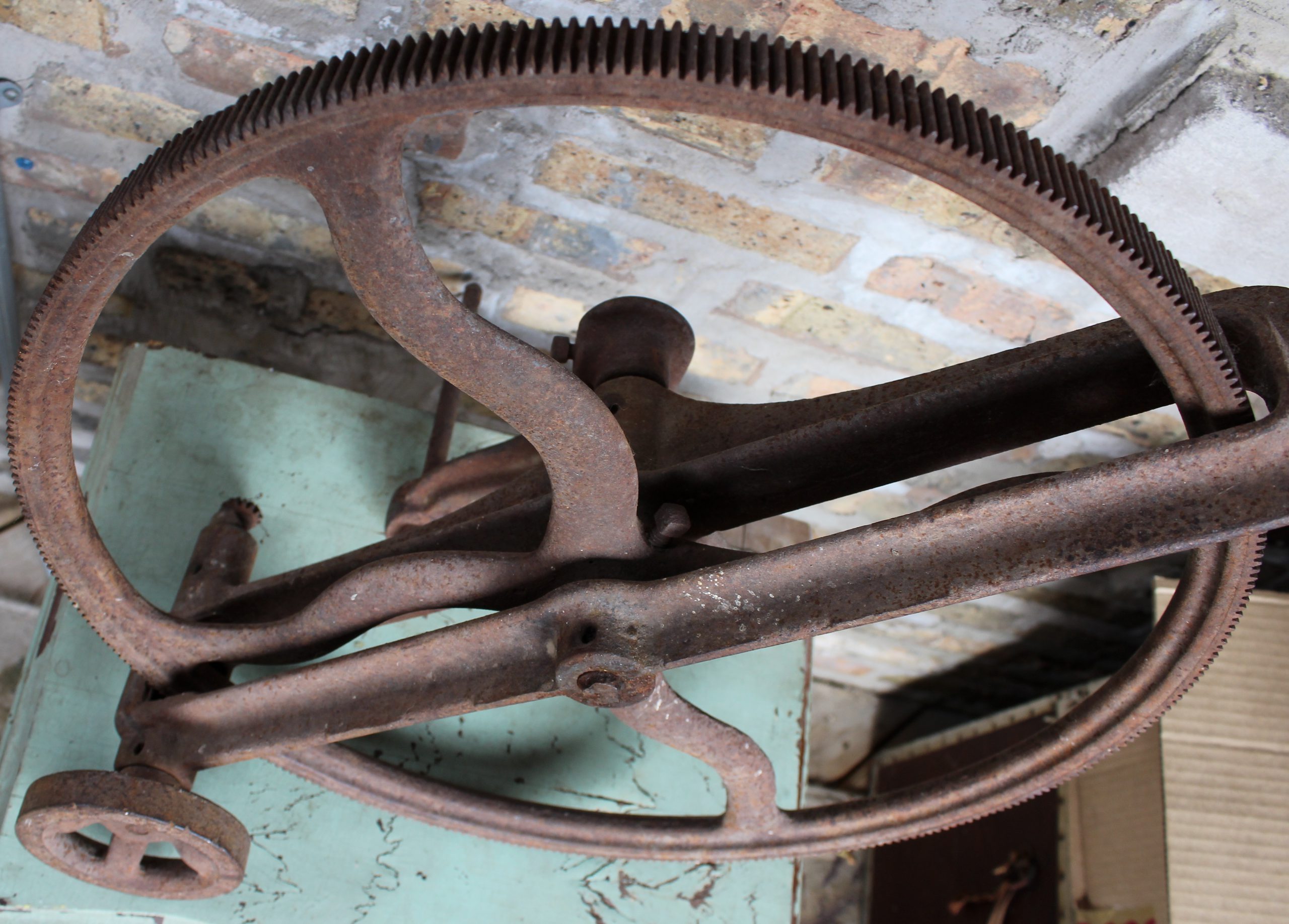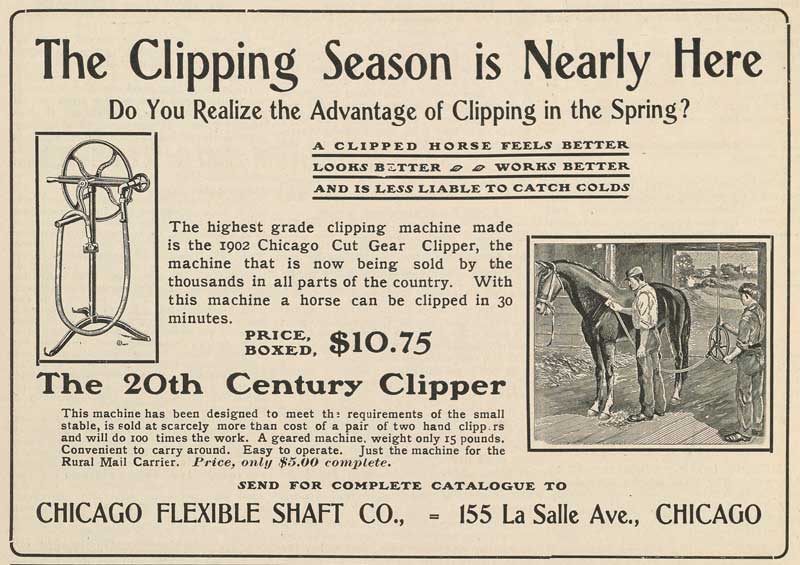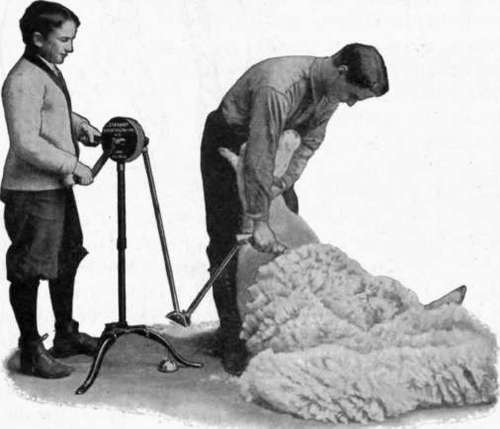 [An original Stewart No. 3 Hand Crank Shearing Machine being used in 2011]