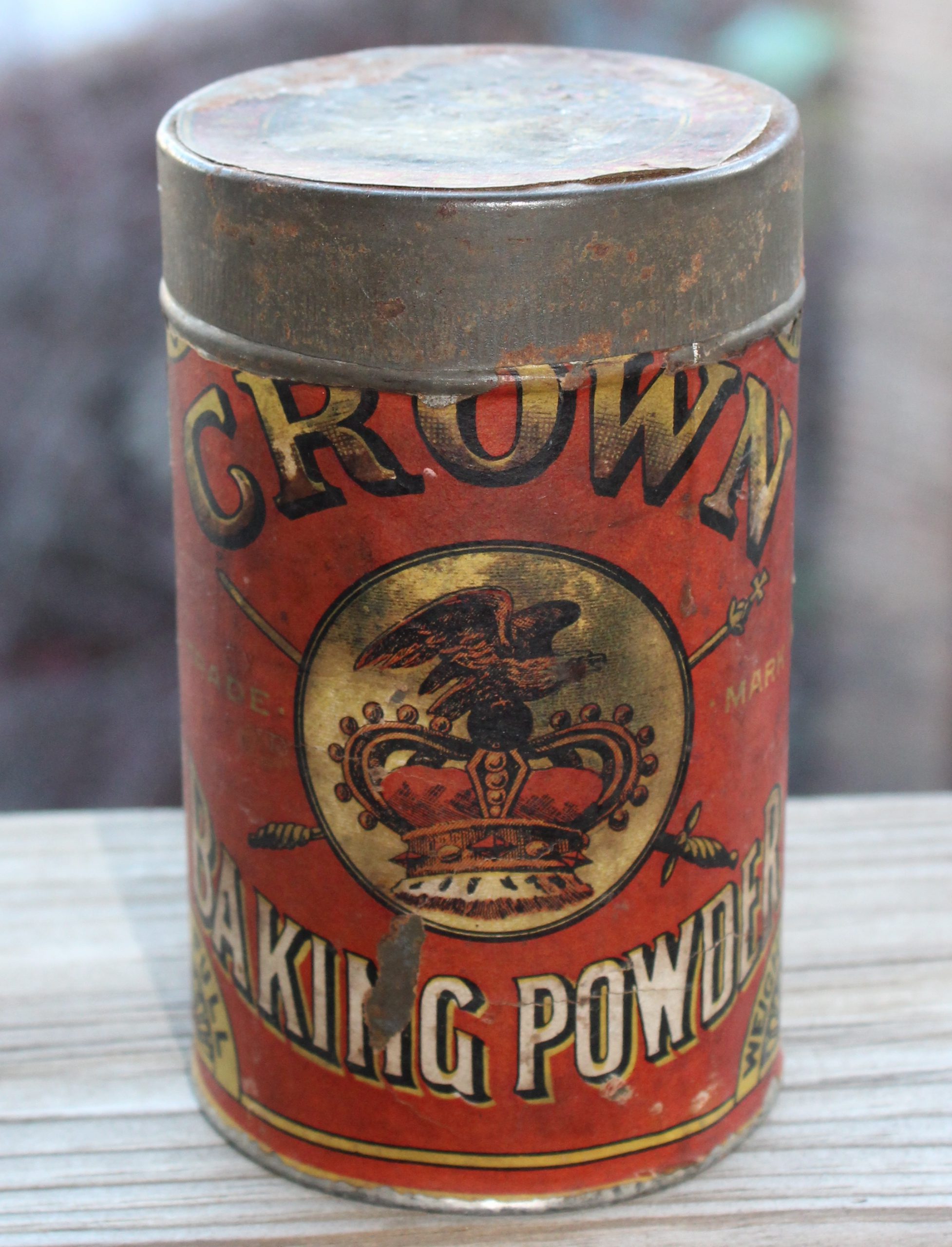 Museum Artifact: Crown Baking Powder Container, c. 1900s
Made By: The J.P. Dieter Company, 60 Waldo Place (Randolph and Desplaines St.), Chicago, IL [West Loop]
Unlike his Chicago contemporaries and rivals over at the Calumet Baking Powder Co., J.P. Dieter's successful food products company didn't survive long into the 20th century. This tin of Crown Baking Powder, however, still looks vibrant in its fire-hydrant-red more than 100 years after it was made.
Because Dieter sold his business to the Franklin Company of Evanston in 1907, a lot of the history that might otherwise have been preserved and passed down wound up lost to the dusts of ages. We do know, however, that the J.P. Dieter Company began around 1880, and that its operations loosely intersected with some rather essential moments in post-Fire Chicago history. In 1886, for example, the famous Haymarket Square Riot—in which eight people died during a labor protest gone wrong—occurred very near the building that served as the Dieter factory for most of the company's existence. The address was 60 Waldo Place. That street was later wiped from the map around the time of the I-90 Expressway's construction, with some small bits remaining under the name W. Court Place, near Randolph and Desplaines St.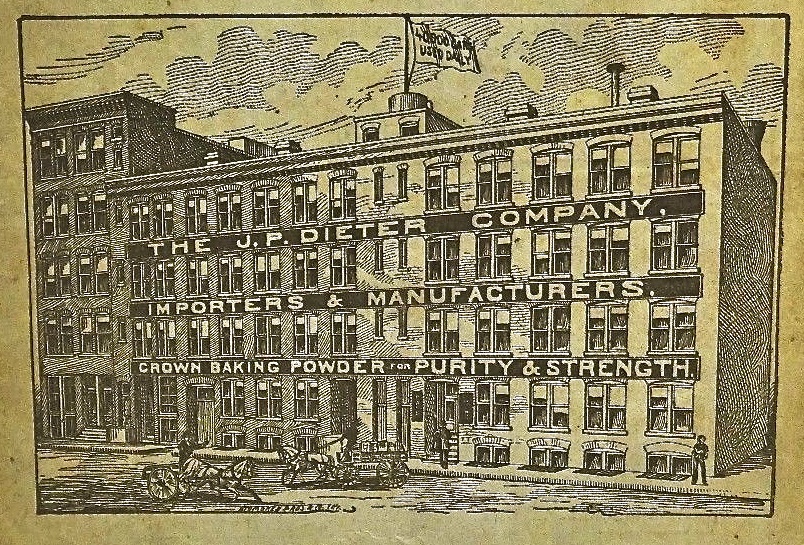 In 1893, Dieter had a presence at the legendary Columbian Exposition World's Fair, too—selling roasted coffee, spices, mustard, and other products at the festival.
As discussed in our Calumet profile, part of J.P. Dieter's eventual demise—or at least Crown Baking Powder's demise—could be attributed to the aggressive campaign being waged at the turn of the century against alum; a key ingredient in Crown, Calumet, and many other brands of baking powder. Dieter was among those who had to defend the safety of his product as some drew connections between alum and rickets, among other diseases and deformities. In retrospect, it may all have been a clever propaganda marketing campaign by the Royal Baking Powder Co. (a popular alum-free brand) to crush its competitors. It didn't work on Calumet, but with fewer resources at its disposal, Crown / Dieter may have suffered a big enough blow from the alum controversies that it hindered their chances of survival in the years ahead.
Or… maybe they just spent too much money creating an original line of weird collector cards with fancy Victorian children on them.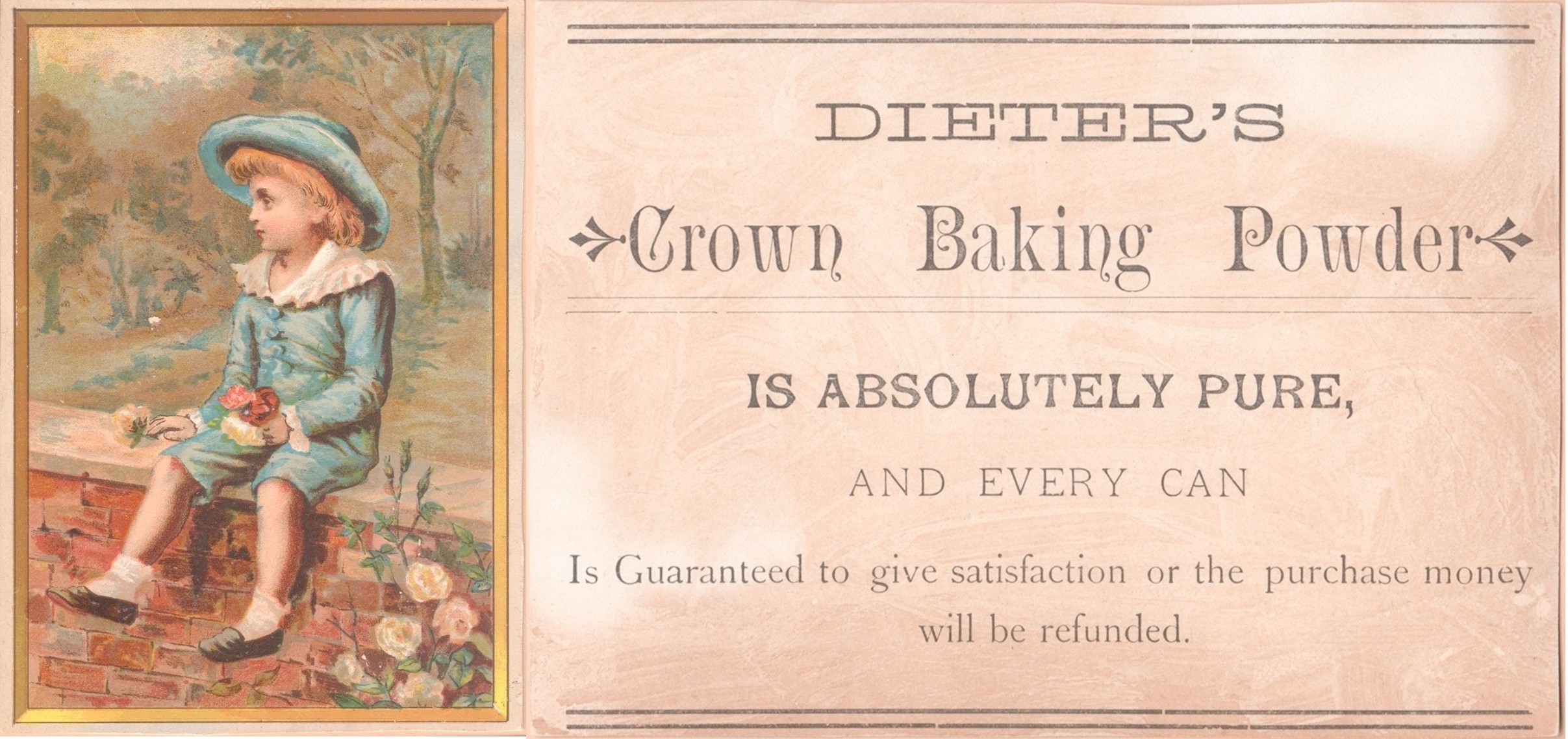 Either way, J.P. Dieter did leave a legacy. Though heavy is the head that bakes with Crown.