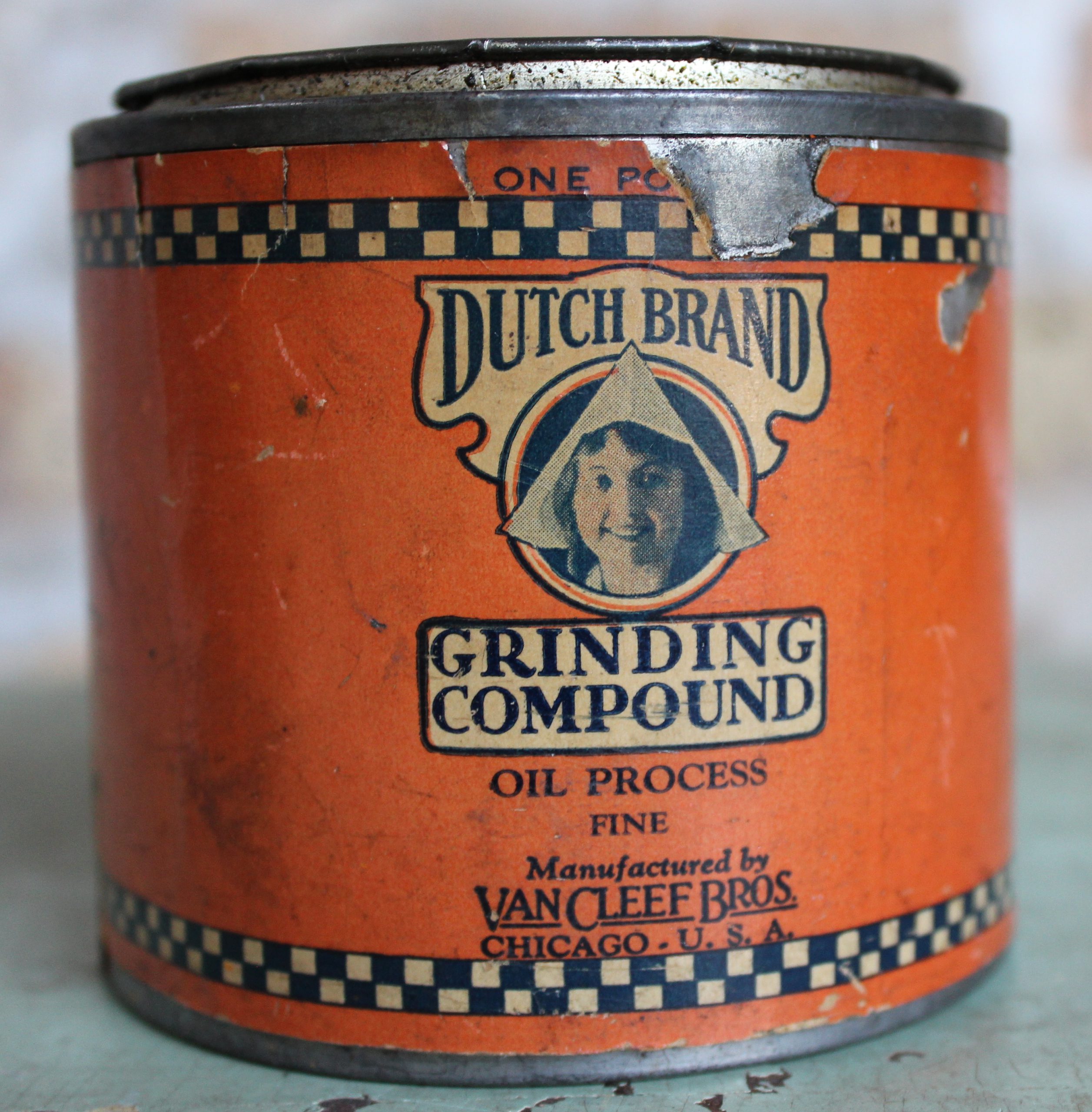 Museum Artifact: Dutch Brand Grinding Compound, c. 1940s
Made By: Van Cleef Bros., 7709 Woodlawn Ave, Chicago, IL [Greater Grand Crossing]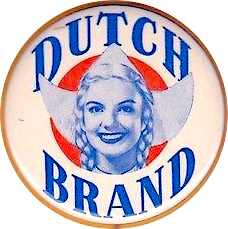 A century-old, gently used can of "grinding compound" sits on a dusty shelf at the going-out-of-business sale of the old Riverside Cafe in Bucktown. The label says "Dutch Brand," but as I'd come to learn, the men behind its manufacture were actually five Chicago-born brothers of Belgian descent; a quintet of ambitious siblings devoted as much to "the betterment of humanity" as the proliferation of quality valve grinding chemicals, sealers, and brake fluids.
I can't help but want to introduce each of the Van Cleef brothers one-by-one like members of the Jackson 5, and fortunately—thanks to personal details provided in the boys' very own "Butterfly Association" newsletter (and a feature article in a 1920 issue of Hardware World)—I can do just that!
Meet the Van Cleefs!
Heeeerrres PAUL!
Hey girls, this is Paul—the brains of the operation. Not only is he the top chemist and factory manager at Chicago's own Van Cleef Bros. Company, he's also widely credited as the inventor of rubber cement. That's right, Paul here came up with that awesome combo of latex polymers and acetone that gave us one of the world's most dependable and flexible dry adhesives. And he accomplished the feat while still in his mid 20s. Oh, did we mention he's a poet, too?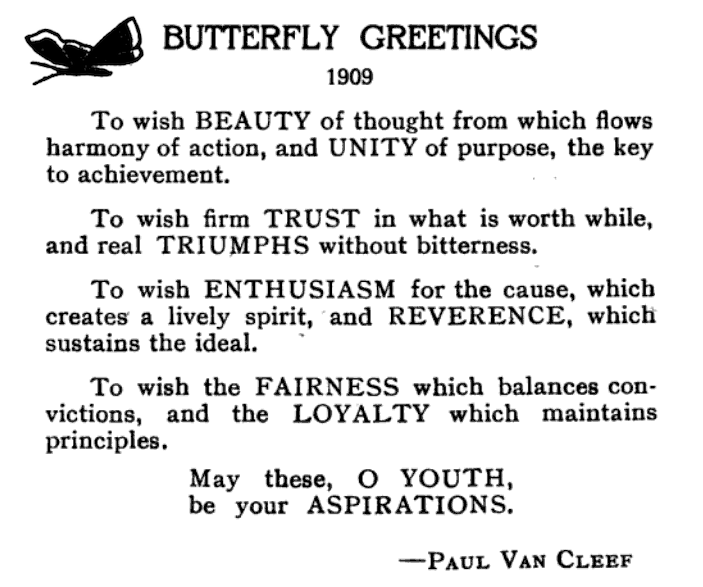 Heeerrrrees NOAH!
Like a guy who takes charge? Meet big brother Noah! He's the Executive Manager of Van Cleef Bros. His interests include the "elimination of graft in politics and business." He's also an "active member of several lodges and various associations." Bet you'd like to lodge up with him, eh?
Heeerrrees FELIX!
He's a former linen salesman who selflessly poured all his resources into helping brother Paul get that rubber cement business off the ground. Felix lived in New York for a while and has "traveled extensively in America and Europe," giving him a "cosmopolitan interest in most all social work." What a fellow!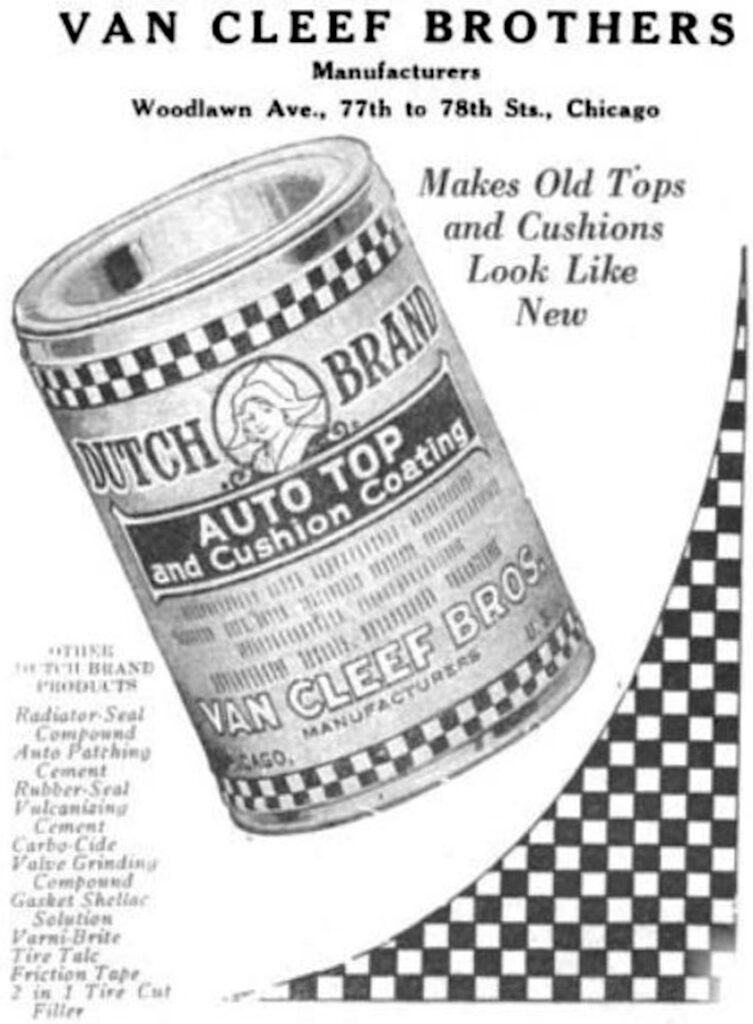 Heeeerrees MAXIME!
Don't be fooled by the name! It's another boy! Brother Max used to sell linens with Felix, but when he heard about Paul's rubber cement dreams, he hopped on board with enthusiasm. Maxime says, "I'm interested in practical social work, especially the elimination of selfishness." From what we're seeing, Max, mission accomplished!
And finally, it's EUGENE!
He might just be the "assistant" to his brother Noah (as of 1920, anyway), but Eugene ain't no black sheep! A former teacher at the University of Chicago and commercial geographer at Rand McNally, Eugene is just as saintly in purpose as the rest of the Van Cleef crew. "I'm interested in increased advantages that may be afforded the mass of people." The mass of people, girls. That means you! [Note: Eugene became a professor of geography at Ohio State and did not take part in the family business going forward].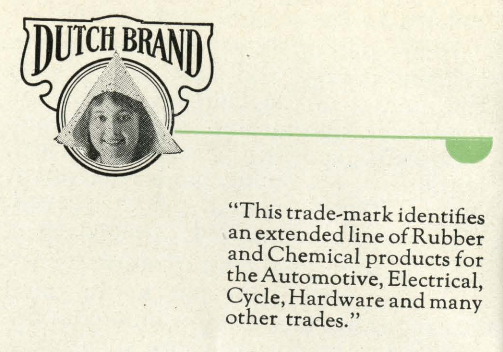 So yes, as you may have gathered, the Van Cleefs weren't just a superstar family of industrial innovation, they were pretty vocal social activists. The Butterfly Association, to which all five brothers belonged, was based in Chicago but counted members across the country and some internationally. Its purpose was the "encouragement of all that is good and beautiful," and each Van Cleef took turns holding meetings and penning editorials for the group, starting from 1907 on. They tackled subjects as diverse as forest conservation, the importance of sincerity in salesmanship, the controversy over dancing in schools, and some heavy social issues—with a generally progressive but square-jawed approach.
"It has been said that 'The world owes every man something.' This is a fallacy," Maxime wrote in Vol. 2 of the Butterfly newsletter. "The world owes us nothing. Only as we put forth our best efforts do we receive returns. It behooves us, therefore, to put something conscientious into this life, and in accordance with it is 'What we get out of life.'"
Did you expect to be getting this level of intense moralizing from a can of grinding compound? Well maybe you should have!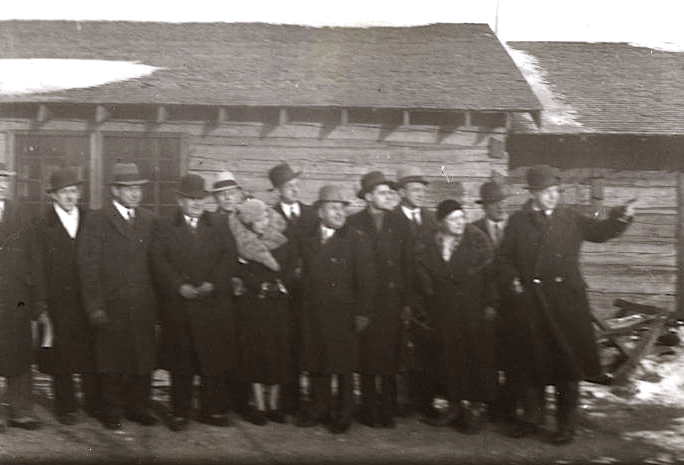 [The Van Cleef sales team at the 1933-34 Chicago World's Fair. On the far right, pointing, is Felix Van Cleef. Fourth from the right, standing in back and wearing a gray fedora, is Paul Van Cleef. Second from the left (not counting the partial view of one man) in a gray fedora and wearing gloves is Noah Van Cleef. Max Van Cleef does not seem to be in the photo.]
After using just $500 to launch the Van Cleef Bros. company in 1909, the brothers had done well enough in 10 years to build a larger factory space on a large chunk of Woodlawn Avenue in Greater Grand Crossing, from 77th to 78th streets. This would remain the company headquarters into the 1950s, when the latter period Van Cleef business—having lost its founders—faded from prominence. The factory, too, appears to have been demolished, with a parking lot now in its place.
For a few decades, though, the Van Cleefs had set a standard for how to run a family business.

"No better illustration of the value of working together has come to our notice than in the organization and development of Van Cleef Brothers," Hardware World proclaimed in 1920. "[Their story] proves the value of cooperation and disproves the old theory that too many cooks spoil the broth and too many relatives injure an enterprise.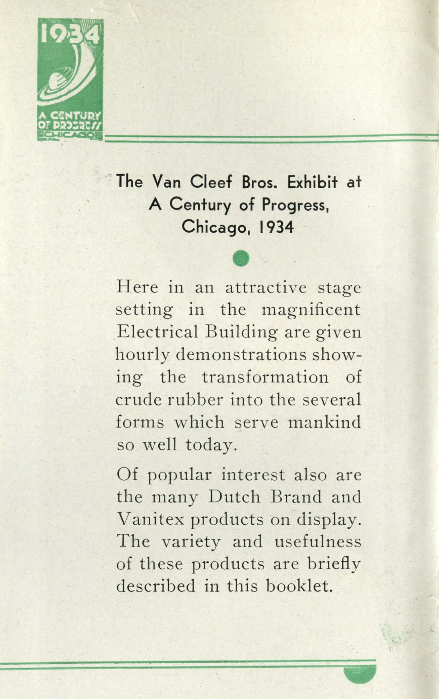 "The Van Cleef line has become nationally famous in several trades. It goes to the automobile industry, the bicycle industry, the shoe finding men, and the millinery trade. The line includes all manner of rubber cements and compounds, automobile chemicals for valve grinding, radiator repair liquids, paints, enamels, lubricants, tape—a complete assortment and one that is known and accepted as standard in the trade."
When the World's Fair came back to Chicago in 1933 and '34, the Van Cleef Brothers had their own exhibit in the Electrical Building, teaching the public about how crude rubber is transformed into working rubber. You can check out the original pamphlet from that exhibit in the University of Chicago archives here.
As we've done on several of our product pages, we'll leave the last word to the industrial innovator himself, in this case, Paul Van Cleef, on the nature of ambition. Keep in mind, he wrote this piece in the Butterfly newsletter several years before launching his company and earning fame and fortune.
AMBITION

by Paul Van Cleef, b. 1883, d. 1979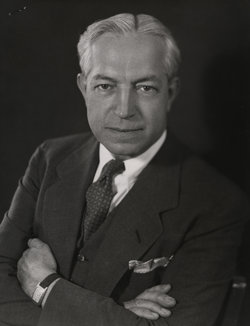 Do you know that Fahrenheit, who invented the thermometer named after him, was at first a merchant? Do you recall that Alvan Clark, renowned for his lens grinding, worked for nine years as a calico printer? Have you ever heard that Chatrian, the French writer, was a glass maker by trade? Do you remember that Oliver Wendell Holmes was eminent as a surgeon as well as a literateur? Did it ever appeal to you that most men are really designed by Nature to develop along specific lines? This tendency is unconsciously recognized by each individual when he feels within himself the desire to follow definite paths of work. This constitutes ambition.
To recognize within ourselves ability and powers, potential though they be, which are granted to us is not always an easy task; but sooner or later, in spite of ourselves, they will appear. The child, Mozart, displayed an unwonted talent at five years old as a musical composer. Landseer could not avoid exhibiting a precocity in art, even before he attended school, which surprised all beholders. But on the other hand, Hawthorne did not achieve success as a writer until he neared the age of forty five. Handel lost two years endeavoring out of filial respect to learn law. Instead music carried him into its dominion at last. Natural inclination is therefore the best guide for the field in which one's activities should be focused.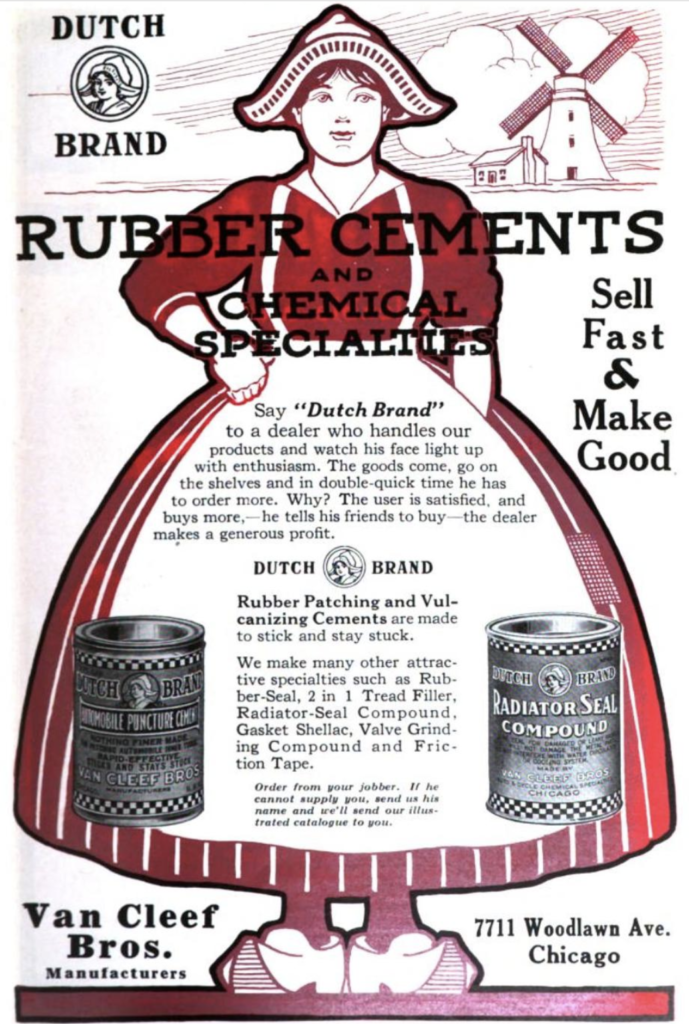 An ambition cannot be tacked onto any man. This touches the cause for many failures in life. Many seek, while unfitted to do so, to emulate the example of others simply because the others have been successful, thereby hoping also to win success. One should strive to sound his soul, to discover the elements which are best adapted for a life's work. These should guide the progress of one's labors. Of course it is not always possible to cling to this idea. Environment checks careers. This is true to a certain extent. But look at John Mitchell, the labor leader—did he not work in the coal mines of Pennsylvania as a laborer? The strong men are those who rise above their environment. Be strong. The world is venal, too, some will assert. This is also true. But even here ambition may be satisfied. Rubens, at Antwerp, was a painter of vast canvases for wall and ceiling, because priest and prince demanded them, because he was a son of the church. On the contrary, Rembrandt, at Amsterdam, was a painter of easel pictures because Holland was Protestant, because it did not decorate its churches, because about the only thing it demanded of its painters was the portrait, the genre piece, or landscape. Nevertheless both followed Nature's direction and became great among the artists of the world. Emerson found that he could not satisfy his conscience by remaining in the clergy, but he became a great and popular lecturer, and thus fulfilled the function for which Nature equipped him.
A person is more likely, then, to become successful and to obtain greatness when he has recognized his own natural aptitudes, has cultivated them and utilized them before the world. The world observes talent, and generally favors it. But it always regards some of the commoner talents, like industry and temperance, highly, and these must be the accompaniments of talent. If one has ambition, he should be certain it is not founded on an imaginary fabric. He should assure himself of his foundation. He must prepare himself to develop, perhaps not swiftly, but surely, in the direction which he believes Nature appeared to intend him. Success must then be his, and ambition can thus only be satisfied. Let him commit as a watchword the words of the poet:
"Build thee more stately mansions, O my soul,
As the swift seasons roll!
Let each new temple, nobler than the last,
Shut thee from heaven with a dome more vast.
Till thou at length art free.
Leaving thine outgrown shell by life's unresting sea"
(Oliver Wendell Holmes)
—Paul Van Cleef, [Rubber Cement dude]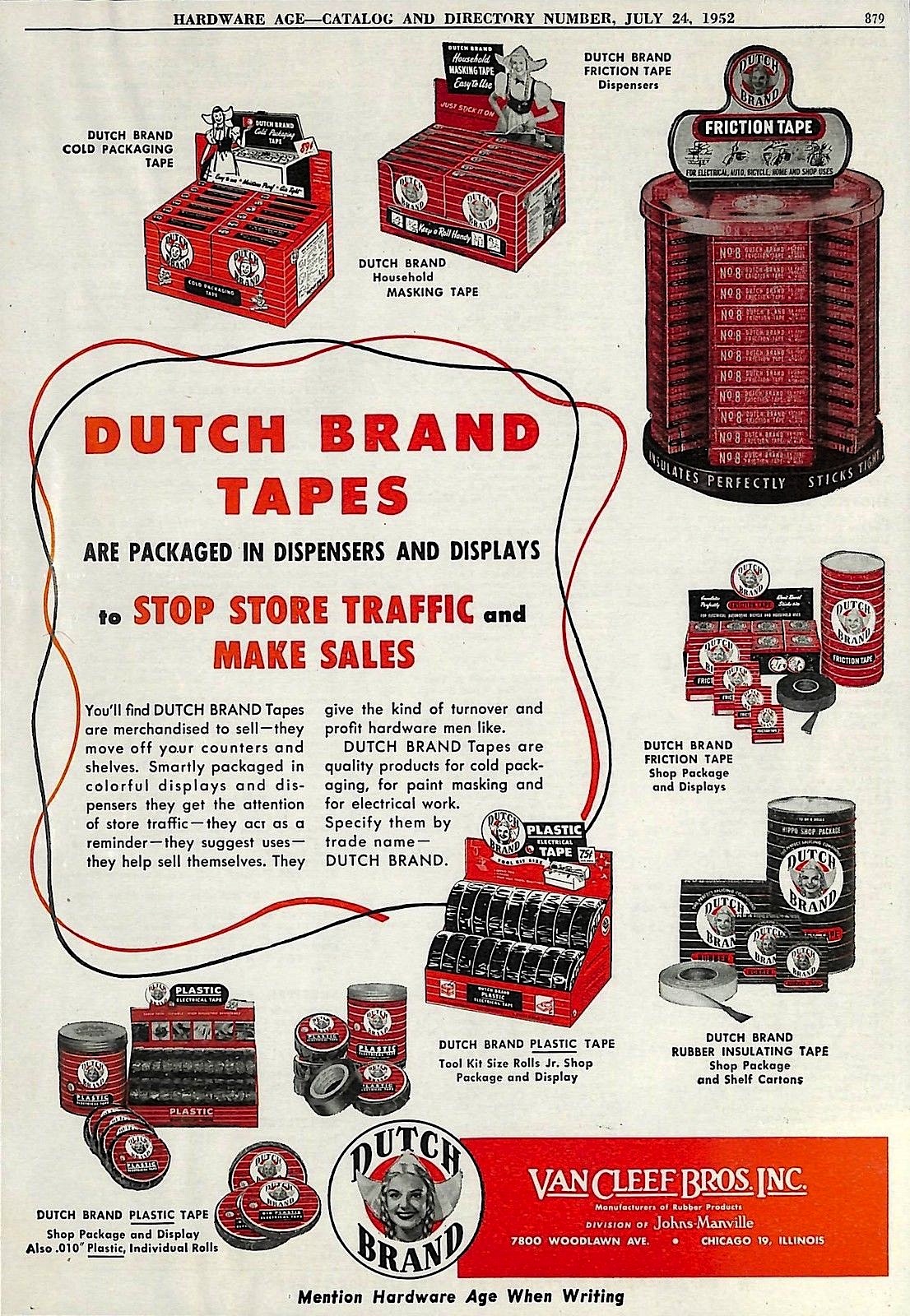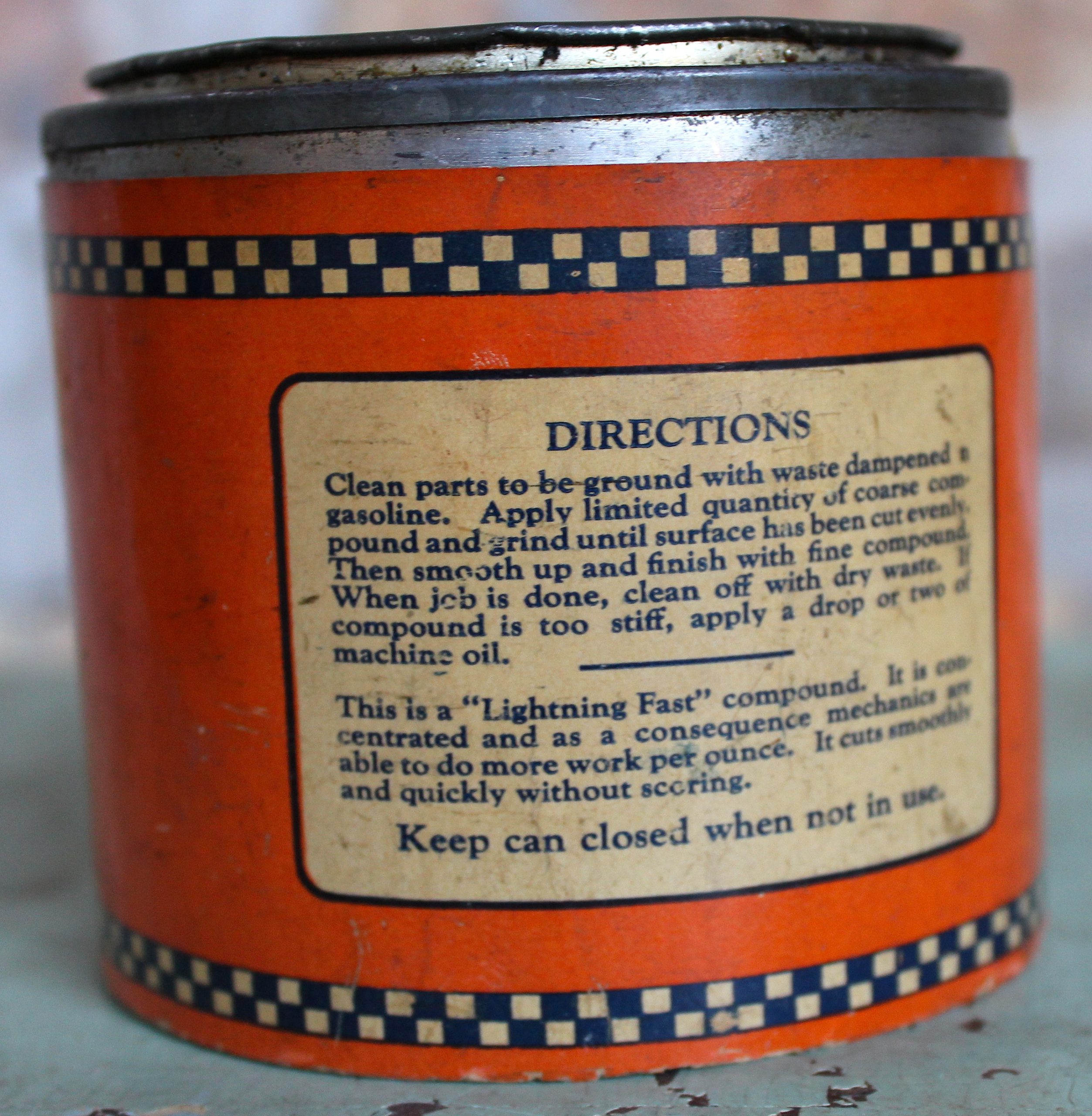 Archived Reader Comments:
"This was this was a most enjoyable read, as have been the several other I have enjoyed. 
While I research Chicago's millinery history, the VanCleef adhesive caught my eye. Although my digging provided some personal aspects of Paul, the advertising for the glue is informative of the times.
Paul was so well established he had been Editor in Chief of the professional journal, Chemical,  from 1920-1922. It was not until 1982 that Paul was awarded the American Chemical Society's Distinguished Service Award.
The use of sewing has long been the method of choice for most millinery work. His glue, Snow White Millinery Cement, introduced the opportunity to cut down on the time spent on trimming a hat. They had hoped to broaden the use with the release of a booklet to publicize the cement. Millinery Without Sewing. Chicago: Van Cleef Bros., 1919.
"Advertising booklet produced by the manufacturers of Snow White Millinery Cement. Directions on how to cover frames with fabric, ribbon and feathers, and to make millinery ornaments using the product." Their packaging had a catchphrase: Sticks and stays stuck. The booklet was advertised to be given free in the Illustrated Milliner 1916 in a full page." –-Mary Robak
"Thank you so much for this amazing page. I didn't know anything about my great-grand father (Paul Van Cleef) and his brothers. This is amazing" —Liz Liebman, 2016
"Liz, I just came across this website and saw your comment.  I am Andy Schwarz and my mom was Jane Shamberg.  She was the daughter of Hanna Ferst Einstein who had a sister, Ruth.  Ruth was my great aunt and was married to Felix Van Cleef.  He was an amazing human who we all adored." —Andrew Schwarz, 2017