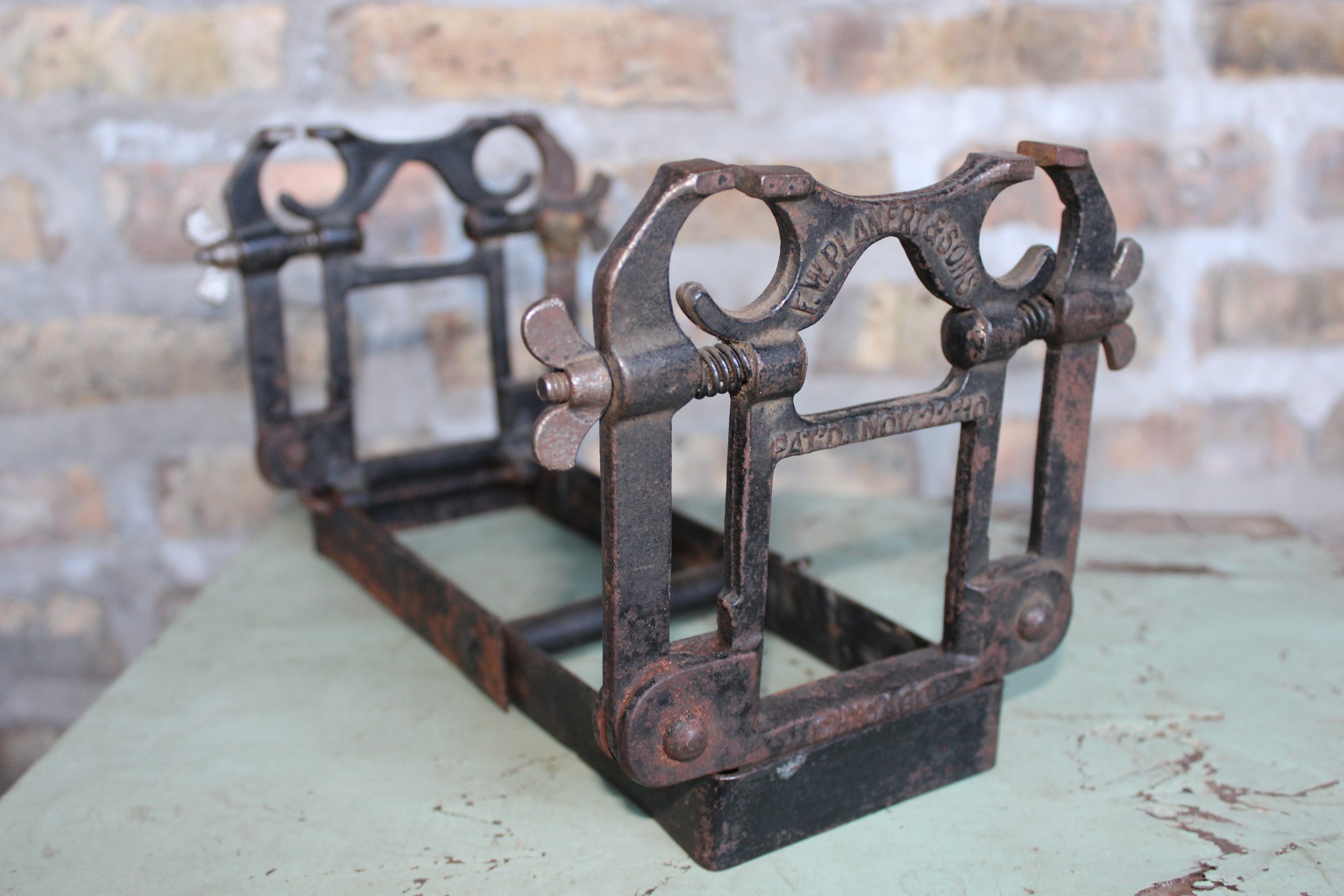 Museum Artifact: Planert Ice Skate Sharpening Jig, 1910s
Made By: F.W. Planert & Sons, Inc., 939 N. Robey Street (aka N Damen Ave.), Chicago, IL [East Ukrainian Village]
Patented in 1910, this elegantly rustalgic ice skate clamping device, or "jig," was used to keep a skate stabilized while its blade was hand sharpened—cuz that's what the kiddos had to do back in the day. The manufacturer, F.W. Planert & Sons, was one of the "The Big 3" in the Chicago-dominated ice skate industry of the early 20th century. The other two notable names, family rivals Nestor Johnson and Alfred Johnson, were also headquartered on the Northwest side. I suppose we should probably count the sporting goods giant A.G. Spalding & Bros. as a major player in the business, too, considering their far wider reach and Chicago roots. But where Spalding made basically every type of sports gear under the sun, Planert and the two Johnson Co's were more focused on hardcore, dyed-in-the-wool ice rink culture.

As you can see from the 1929 Planert catalog excerpt above, a Skate Sharpening Stand like ours (admittedly from a slightly later period) cost 2 bucks, or about $28 in modern translation. It was made from the "highest grade combination oil stone, adapted for sharpening skates," and featured "four vise-like jaws" that would "grip the blade parallel and perpendicular." One-hundred years later, you might say this old jig has long since lost its rhythm. But on second thought, all it takes is a little ingenuity to give it renewed purpose.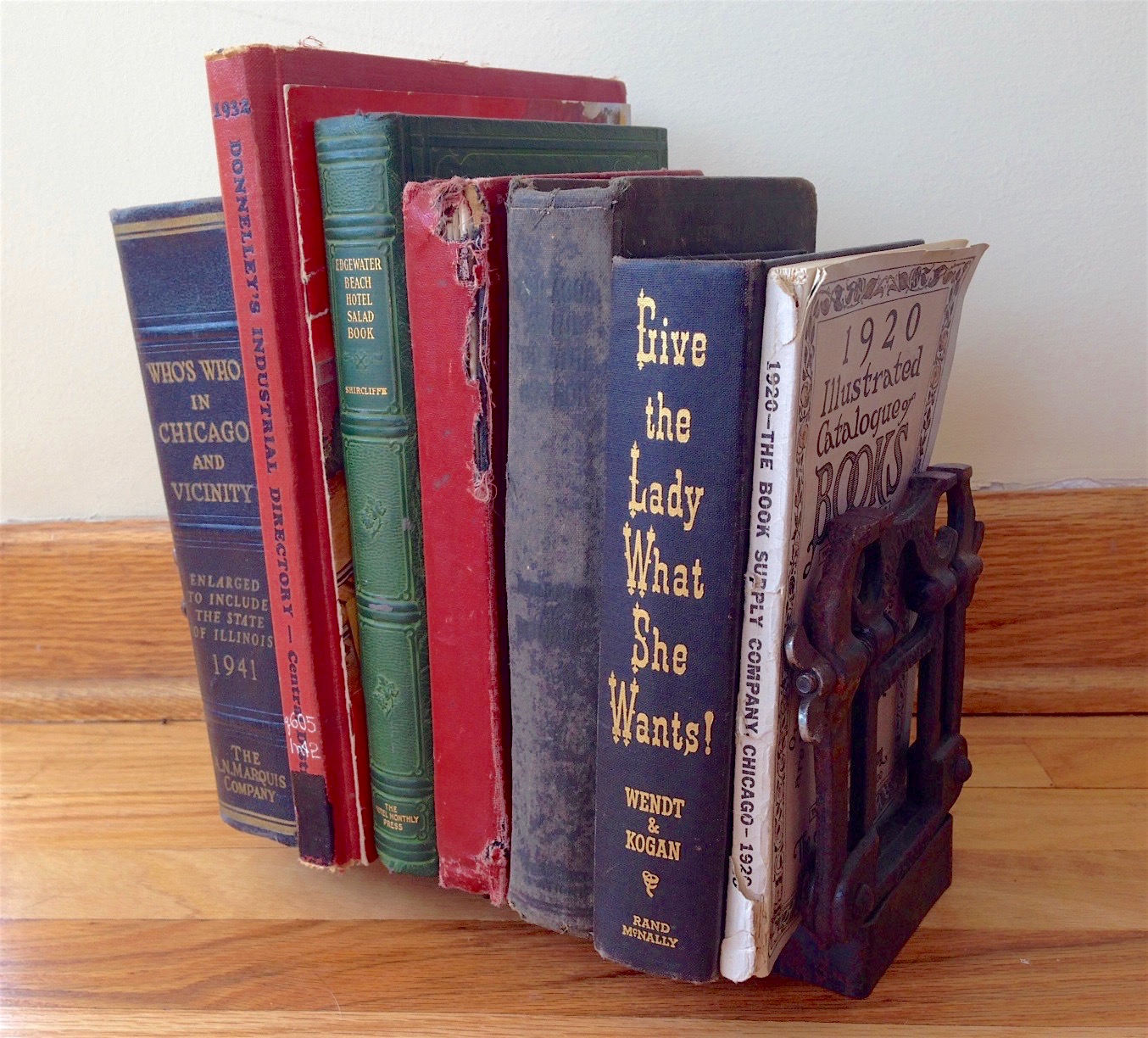 [Bookends, yo!]
From here, we could really just bask in our upcycling victory and leave it at that, but the F.W. Planert story, lest it be forgotten, was the original purpose of this article—and we haven't been fully repurposed yet.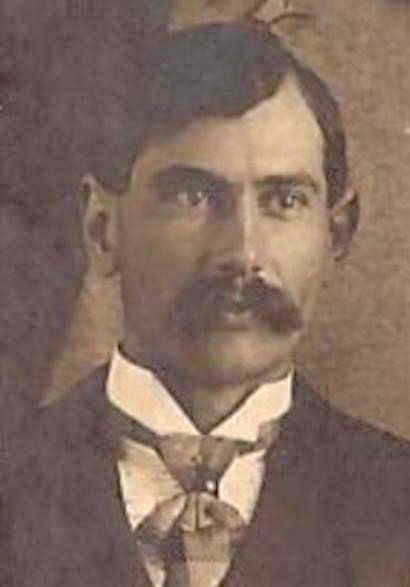 Ferdinand "Fred" Planert [pictured] was born in Leipzig, Germany, and came to the States as a teenager in 1873—bringing with him the precision engineering skills and winter sports prowess of his native land. He married his first wife Anna at the age of 23, and by 1898, they had five kids together. Thus, when Fred started his own ice skate company that same year, he decided to call it F.W. Planert & Sons—being that he had four of those, and it was no use including his daughter in the equation since, ya know, it was 1898.
In relatively short order, the Planert brand gained favor for its advanced tubular skate design, and the company's factory space at 939 N. Robey Street shifted into high gear as the 20th century kicked off. From early on, they produced a mix of hockey skates, speed skates, leisure skates, and the precious footwear of ice ballerinas.
It was no accident that the ice skate industry had become unofficially headquartered in Chicago. The city boasted more than 600 outdoor ice rinks by 1923—most in the country according to the Encyclopedia of Chicago. There was also a large population of Germans, Swedes, Ukrainians, and other immigrant communities with multi-generational ties to skating in all its various forms. Planert skates, to risk a devastatingly bad pun, had true planertary appeal.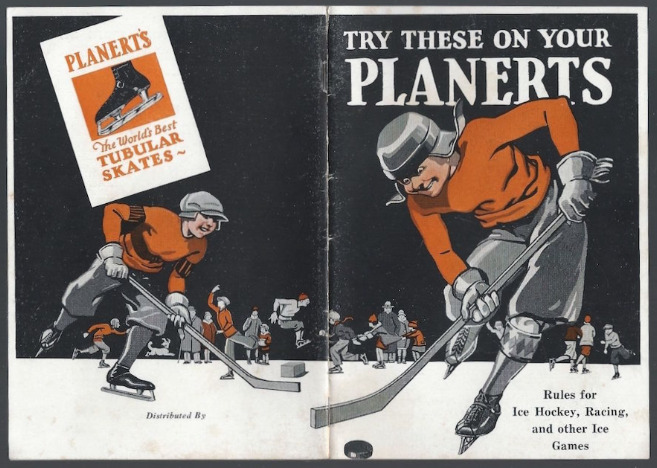 Growing rapidly even amid stiff competition, F.W. Planert & Sons nonetheless remained at its original Robey Street assembly plant for decades, even after Robey Street ceased to exist and became Damen Avenue. Fred Planert remained a constant, as well, staying on as the company president well into his 70s. Even after the death of his wife Anna had nearly derailed him in 1913, he refocused himself with the help of his children. Eldest son George took on a bigger role developing new products at the company; sons Charles and Eddie pitched in, too; and old papa Fred eventually re-married, spending his golden years with his second wife Lillian.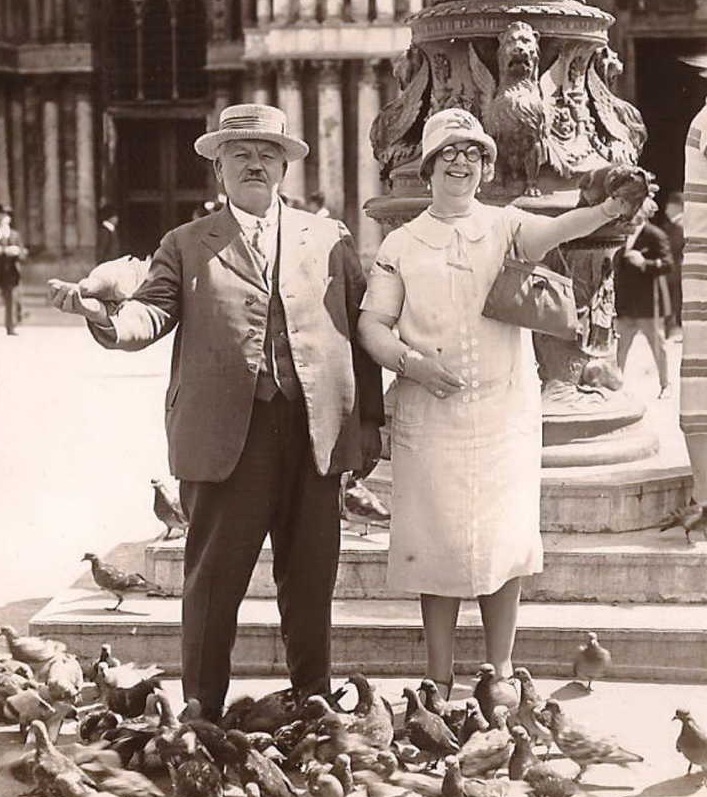 [An older, plumper Fred Planert with second wife Lillian, visiting Germany in the 1920s]
Since he never saw retirement as a legitimate option, however, Fred also spent his golden years trying to win the Great Ice Skate Wars of the 1920s. This would involve staying ahead of the curve, both technologically and on the marketing front.
Planert skates were promoted heavily to kids in magazines such as Boy's Life, but the bigger goal, logically, was winning over those same kids' parents. Planert skates had to be more than cool; they needed to represent world class quality and dependability. So while an advertisement might start out talking about stocking stuffers—"What greater gift for the kiddies than the Joy of Perfect Skating?"—they always eventually came around to describing the product more like a fine German automobile, using the boring but effective slogan: "The World's Best."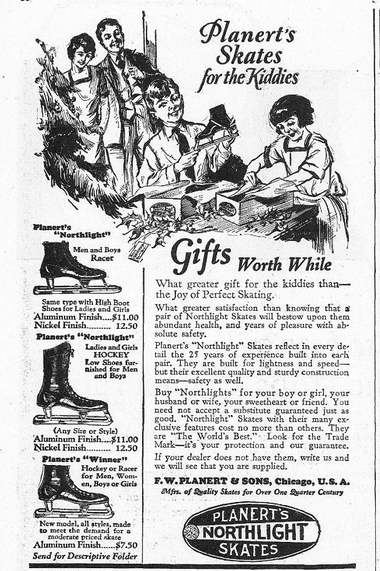 "The high quality and sturdy construction maintained for over 25 years, makes Planert Skates the public's first choice—Champions also prefer them. . . . You will at once recognize Planert Superiority—by the high quality steel runner, so tempered that sharpening is seldom necessary—by the cups, drawn of one piece steel, seamless and flanged over tube—by the custom-made shoes of fine quality leather giving solid foot comfort—the wide tongue which prevents pinching."
"They are built for lightness and speed," read another ad, "but their excellent quality and sturdy construction means safety as well."
When long-winded rants about superior quality weren't enough, Planert did what every sporting good company does today—they went looking for celebrity endorsements. Or, to put it more accurately, they paid players and teams to help pump up the Planert profile.
In the early 1930s, Planert inked deals with speed skating champs and hockey stars, including members of Chicago's own upstart NHL club, the Blackhawks. Tommy Cook and Louie Trudel, among others, proudly hit the ice in Planert's Northlights skates—"because they stand up under the toughest going!"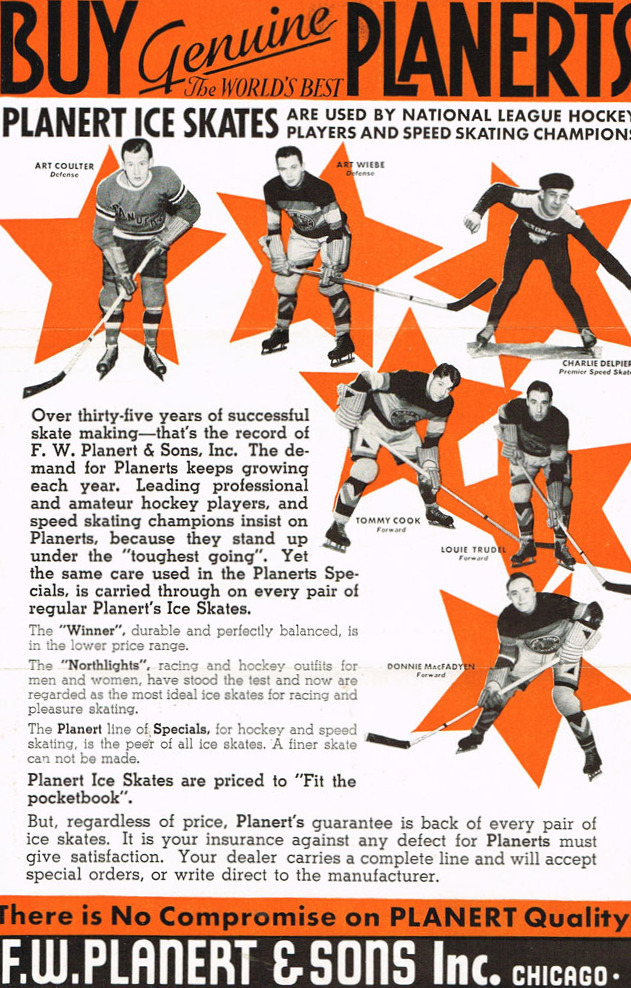 Around this same period, perhaps as safety net in the event that they might yet lose the Skate Wars, Planert and Sons started an offshoot of the skate business called the Planert Tool & MFG Company—which was basically just a general manufacturing firm to get a little extra production out of their machinery. Unfortunately, the timing was shit, as the stock market crashed the same year the company was launched. Ice skates, it turned out, would mostly remain the end-all-be-all of the family business.
And rest assured, the family element did come through. After Fred Planert died in 1936 at the age of 78, the company carried on through the war years and beyond, with the "And Sons" part of the equation now running the operation—still on Robey/Damen Avenue; still doing things much the same way they'd always been done.
In 1949, Chicago Tribune scribe Jane Gardner wrote a profile on the Big 3 of Chicago ice skate manufacturing for the Sunday paper. By that point, Planert had been going strong for half a century, and its ranks included not only some of Fred's sons—like Edward, pictured below—but several grandsons, as well, including the pictured Bob Planert.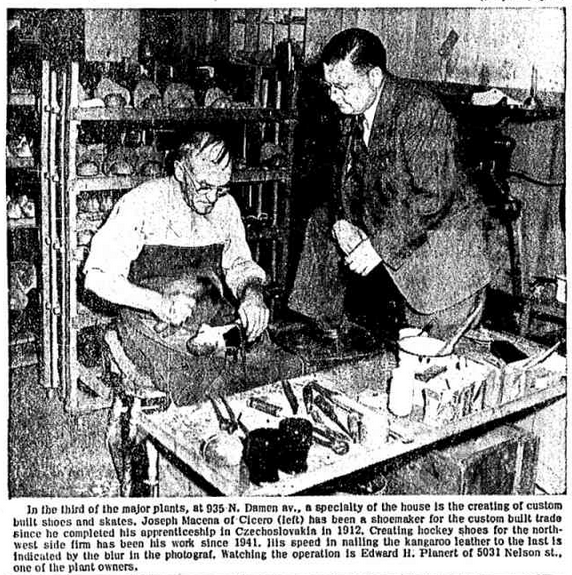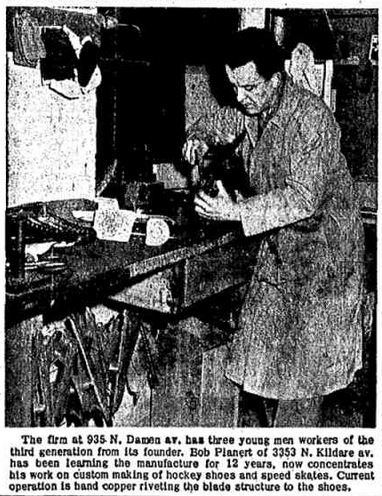 Just a few years after that Tribune story ran, the increase in competition from large-scale competitors (and their cheaper imported products) rendered the hand-made Planert tubular skates—once the proverbial "cutting edge"—old fashioned.
Thanks to insights from museum visitor Susan Planert, we know that the company was sold to the Bauer Skate Company, based in Ontario, Canada, in the 1950s. Bauer claimed to be the first company to produce a skate with the blade attached to the boot, but they're not alone in making that claim. In any case, according to Susan, "Bob Planert moved to Canada to run the new Planert division. Bob left quite a legacy in the Canadian speed skating world, ending in his induction into the National Speedskating Museum and Hall of Fame."
Bob wasn't the only Planert to remain relevant in ice skating circles for years to come. Fred Planert's son Edward, for example, had a son of his own, Edward Jr.—born in 1926. When Edward Jr. died in 2016, aged 90, he was remembered by many in suburban Chicago for his years of work running a local skating rink and working as an instructor. I guess you could say that if the planets revolve around the sun, the Planerts still appear to revolve around the ice. . . . Yup, I went there again.
It's also worth noting that the former Planert factory on Damen Ave. has been repurposed as a restaurant space in recent years (albeit by several different short-lived tenants), as Ukrainian Village slowly morphs into a "happenin'" neighborhood, leaving its industrial roots as ambiance for foodies.
If a skate sharpening stand can become bookends, however, it's probably only fair that a factory can swan itself into a restaurant.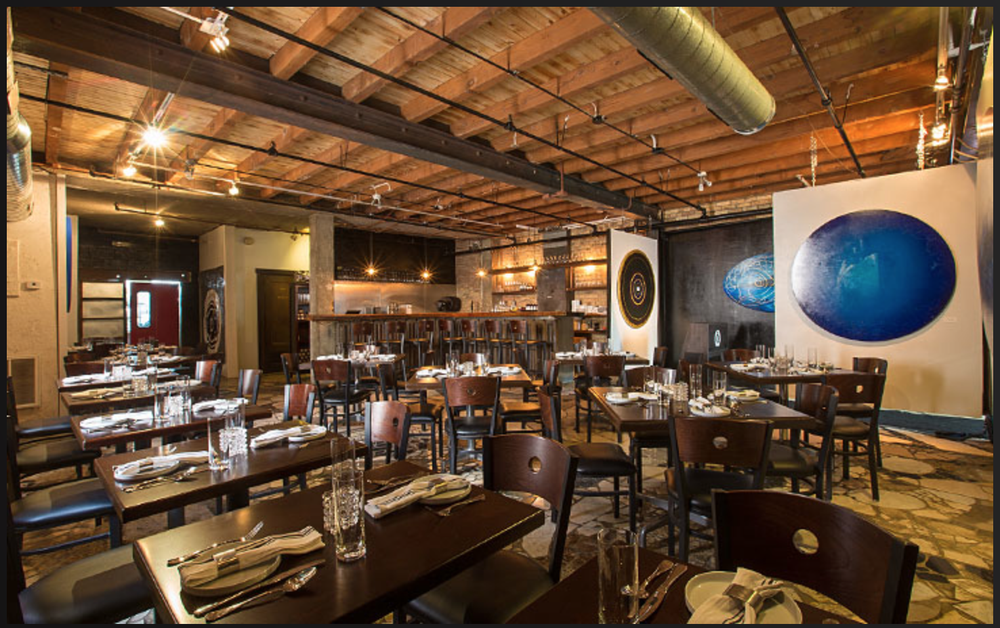 [Restaurant in the site of the old F.W. Planert headquarters on Damen Avenue]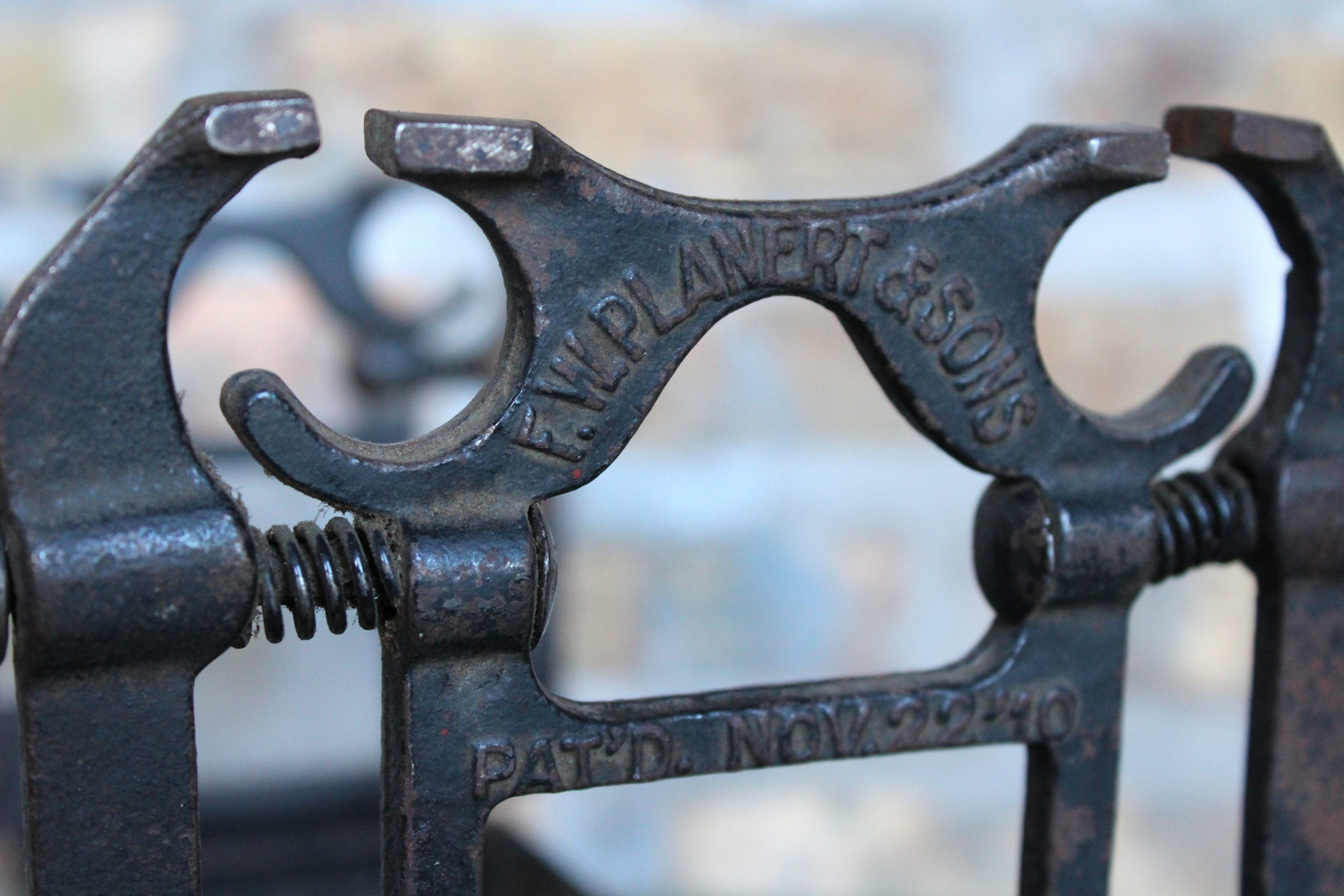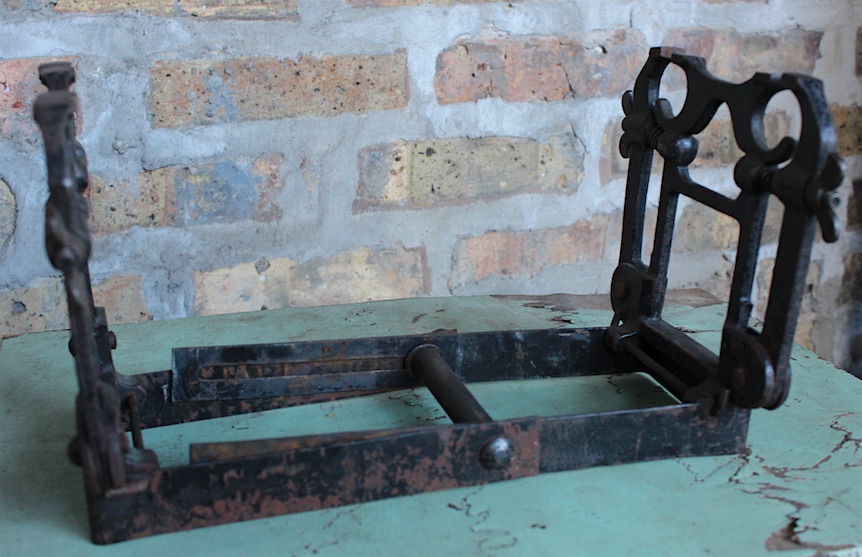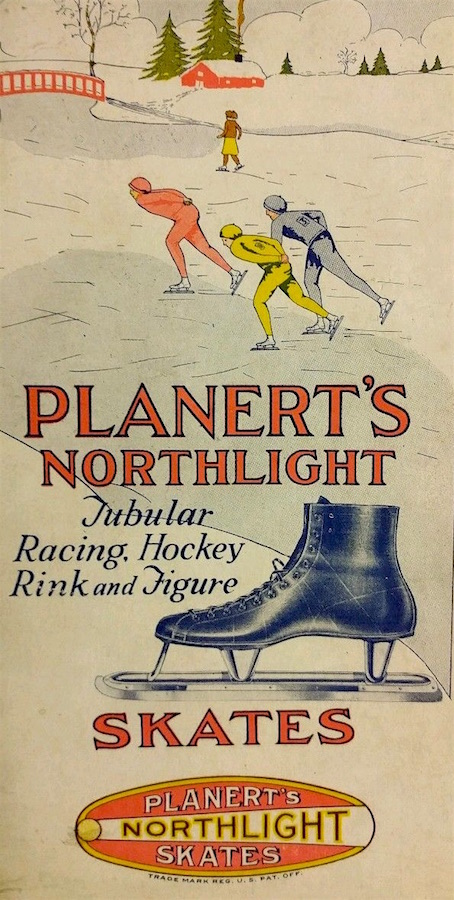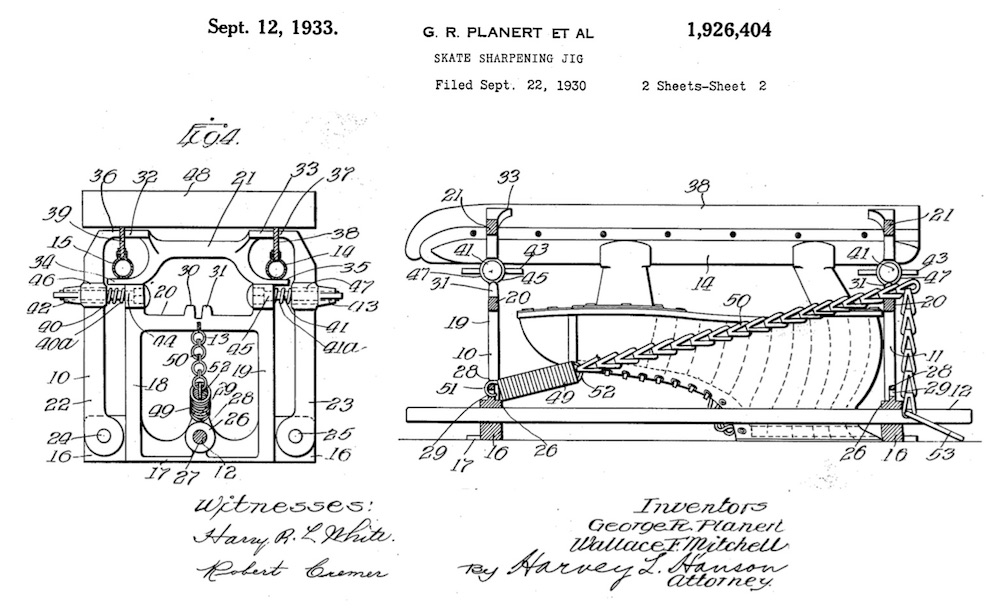 [An updated design of the ice skate jig, developed by George Planert in 1930]
Archived Reader Comments:
"So excited to see all this.  I am the great, great granddaughter of Fred Planert.  It's not surprise that I love to skate!  Loved this history, thank you!

" —Debra, 2020
"This is my great great great grandfather!" —Matt Christian, 2019
"We lived in Glen Ellyn, IL, for nine years while our children were growing up (1970 -79).  They both took lessons at Planert's on Park Blvd., Paul for hockey and Gail for figure skating.  Planert's was an integral part of their growing-up years.  It was a wonderful, wholesome atmosphere.  Both kids, now in their mid 50's, still skate.  Paul has never quit being a goalie (he's on a couple of teams), and Gail has continued her interest, also.  

" —Marge des Lauriers, 2019
"Great grandson Gregg Planert is still a prominent speed skating coach in Canada!"–Lars Lehmann, 2017
"I recently bought a pair of Planerts ice skates from a antique shop in Los Angeles California. They are in the original box and I don't think they have ever been worn. Inside one of the skates there is a second pare of laces and wax still on the rivets. I appreciate the history you shared, it makes these skates so much more special. Thanks

" —Tina, 2017
"Wow! Great summary of the company's history!  Fred Planert also owned the apartment building next to the factory. It is still there.  In the 1950's the company was sold to Bauer in Canada.  Bob Planert moved to Canada to run the new Planert division.  Bob left quite a legacy in the Canadian speed skating world, ending in his induction into the National Speedskating Museum and Hall of Fame." —Susan Planert, 2016